Atomic Blonde stars Charlize Theron as an 80s agent in Berlin, who kicks butt, and doesn't ask questions. Like "do we really need all the male gaze shots?"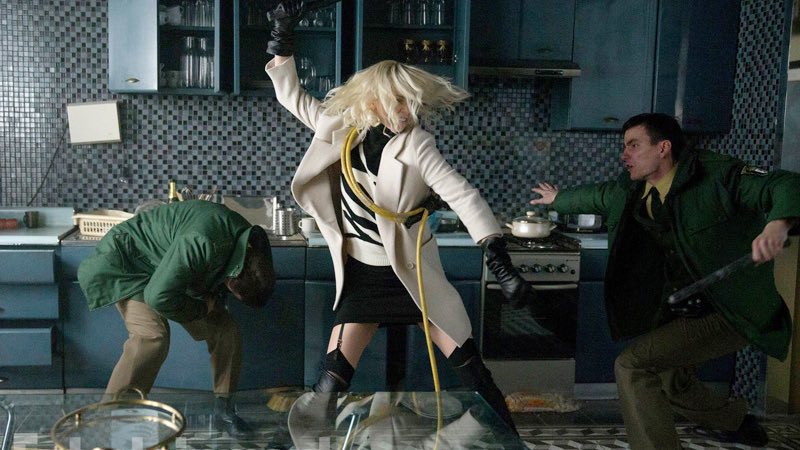 Charlize plays a tough undercover MI6 agent sent to Berlin during the Cold War as the Wall is falling down. She must investigate the murder of a fellow agent, and recover a missing list of double agents. She meets up with James McAvoy's David agent character, and befriends Sofia Boutelle's French Delphine agent along the way.
Charlize's rough action agent Lorraine fights through several rough bloody scenes like James Bond, John Wick, or Jason Statham. Charlize did a lot of her own stunts for the film. The film stands out for probably the toughest roughest portrayal of a female action character. Try to name a film with someone rougher.
The film's highlight is an 8-minute single shot fight of Charlize vs several bad guys attacking her in an apartment stairwell. After the continuous-shot hallway scene in Daredevil and stairwell scene Captain America: Civil War, stairwell fight scenes are definitely in.
While Charlize is certainly tough, the film suffers from the "male gaze" of its stuntman turned director David Leitch. The opening sequence features Charlize naked in a bathtub of ice cubes, with camera panning over her breasts and butt. During some slow parts of the film, there are even several flashbacks to this titillating scene.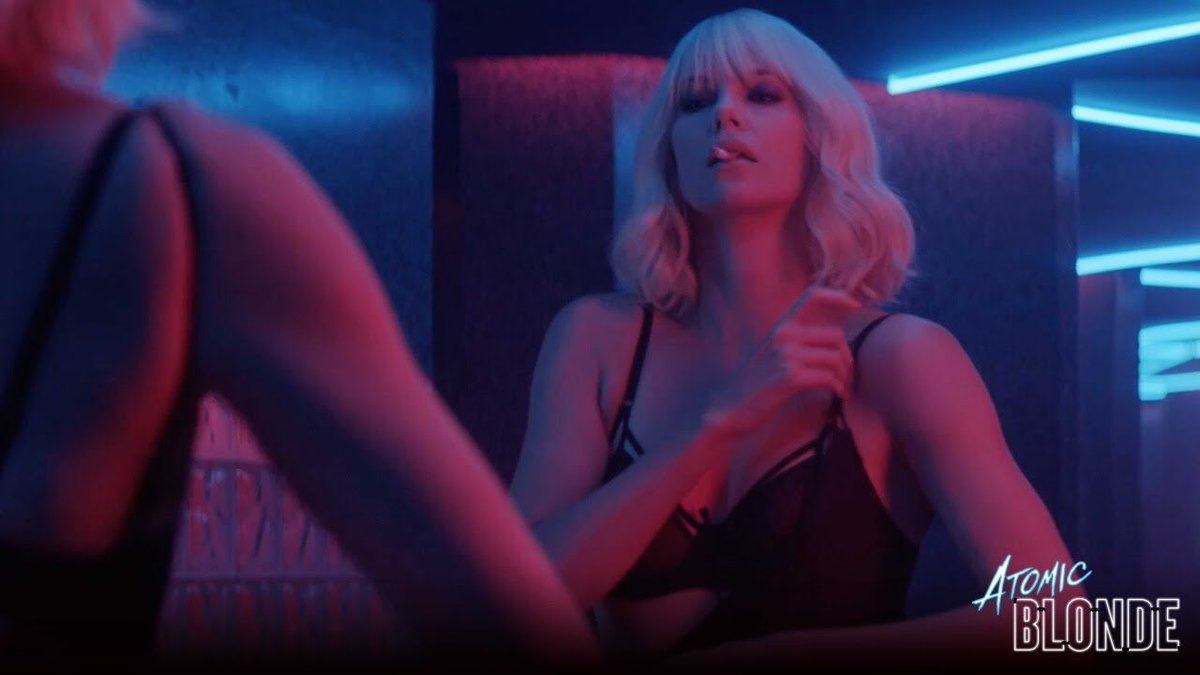 Is this necessary? Wonder Woman has shown us how to have a strong action women lead character, without the sexy learing male gaze shots. Take note male action directors.
The film feels very much like its 80s film source materials, from the set design and production to the cinematography and music.
The film lags at the beginning, but fortunately, several familiar 80s songs pop up to help bring you along until the film picks up in the second half. In fact, the film so captures the 80s feel, it's a wonder this film wasn't actually made in the 80s. Why did it take till 2017?
As Atomic Blonde is based off the graphic novel "The Coldest City," Atomic Blonde was heavily promoted at Comic-Con, held a week before the film's release. Charlize Theron was featured as the sole speaker an Entertainment Weekly's annual Women panel in Hall H, and Charlize was on the cover of an EW feature magazine. Lucky fans also attended a free advance screening of Atomic Blonde.