Bros is a hilarious romcom starring Billy Eichner, which sets multiple records:
– First gay romcom by a major studio with national theatrical release
– First major film with all LGBTQ+ main cast. This let actors be more free in story, dialogue, and on set
– First major film written by and starring an openly gay lead, Billy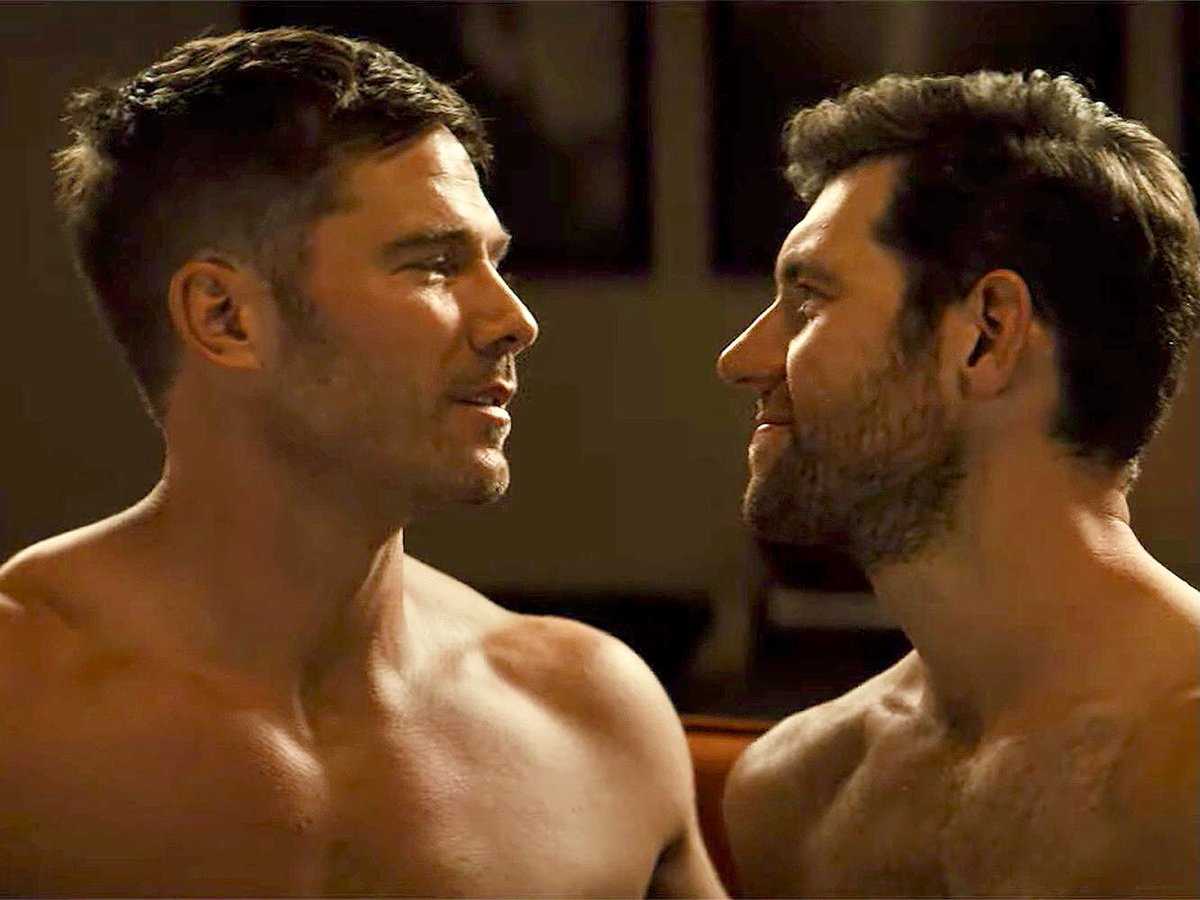 It makes you wonder why it took so long for these things to finally happen in 2022, in supposedly progressive Hollywood.
It finally happened when director Nicholas Stoller, known for comedies like Forgetting Sarah Marshal and Neighbors 2, wanted to direct and write a romcom starring two gay men, because it had not been done before. He approached actor Billy Eichner, know for his Billy on the Street interviews in New York, and comedy acting (voice of Timon in Lion King, etc.).
While Billy had never written a screenplay, he said he was excited to bring his stories and experience as a 40-year old gay man to the table. In interviews, Billy has said that when he was growing up, he loved watching straight romcoms like When Harry Met Sally. But realized there has never been something like that for gay lead characters. So he set out to write Bros in a similar relatable, funny way. There's even a scene in the movie, where his character is watching the When Harry Met Sally email scenes, as he is text-flirting.
In the film, Bobby (Billy Eichner), a 40-yr old podcaster who develops an it's-complicated relationship with a hunky attorney Aaron (Luke Macfarlane), while also trying to raise funds for a LGBTQ+ history museum in New York. The film is filled with fun situational humor related to gay dating and relationships, code-switching to 'act straight', and straight attitudes towards gays. There are also several macro issues, such as queer representation and erasure in history, and education, that are especially relevant today.
The main cast are LGBTQ characters played by LGBTQ actors, including gay, lesbian, non-binary, and more. There's even a thruple!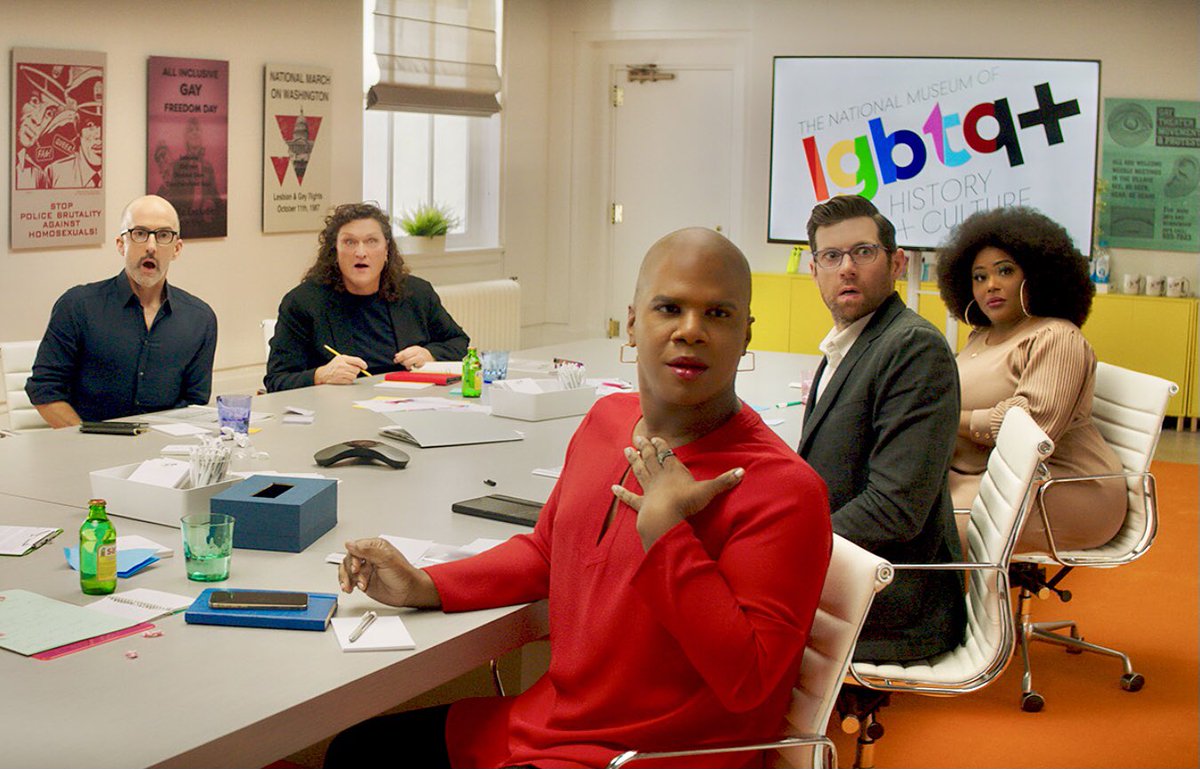 Bros refreshingly introduces and addresses several gay issues and situations directly, rather than dance around them like most films (mostly by straight filmmakers) seem to do, including:
– Dating via Grindr, and other apps
– Finding out an old friend you fancied long ago is now available
– Why films about pained gay cowboys played by straight actors get nominated for awards
– How to represent LGBTQ+ history in a museum that's informative, yet not depressing
Bros openly portrays several sex scenes, including two foursomes, without cutting away, fading to black, or music swelling. This is surely also a record for a major studio film. The bedroom scenes are both sexy and playful, as queer and straight sex usually is. There is no nudity in the film (just some buttcrack).
Billy's acting and dialogue are perfect: snappy, quick, sarcastic, witty, to match his dry humor character. Some of Luke Macfarlane's scenes seem somewhat stiff and stilted, but perhaps that's exactly his straight-acting bro-like character. The supporting cast is wonderful and funny.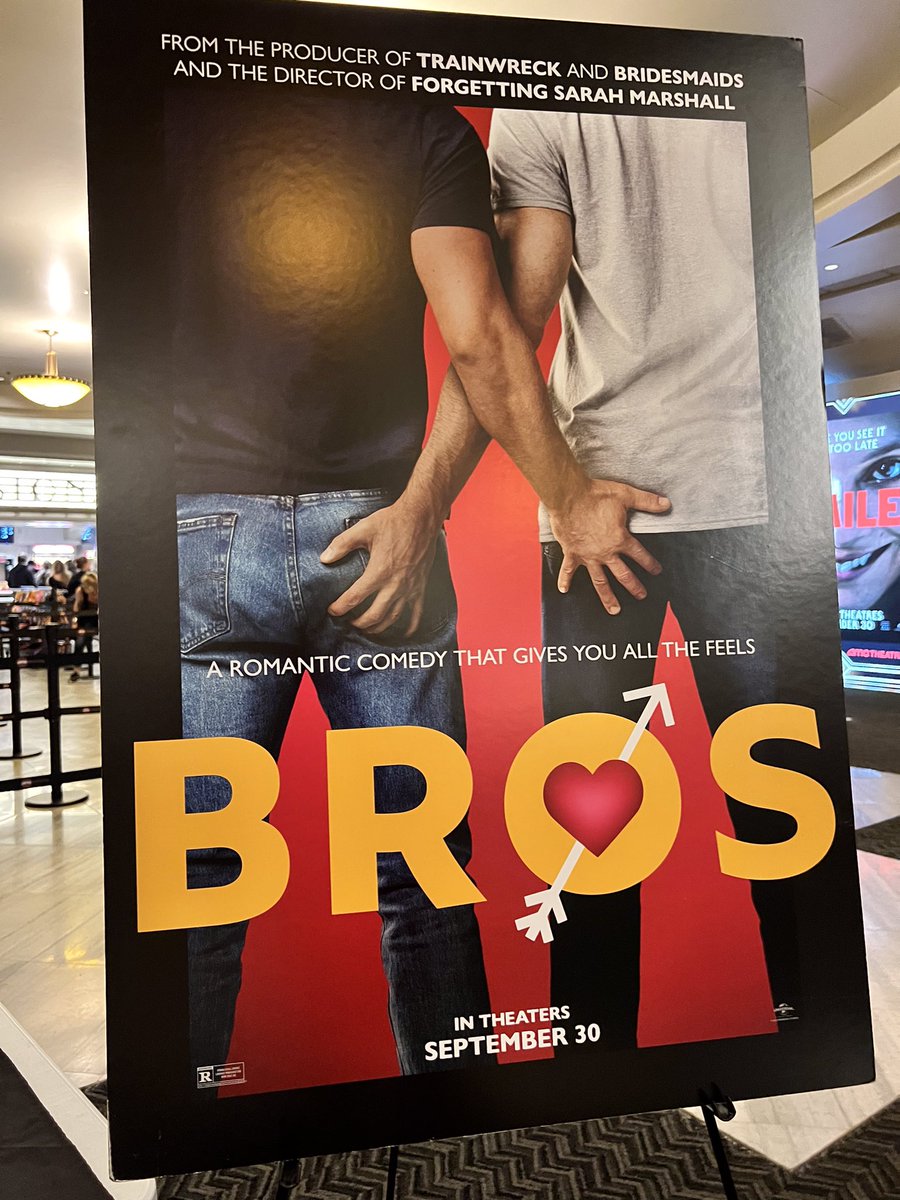 A few candid issues:
First, some find issue that the two main leads are cis white male gays. While there are many BIPOC and LBTQ+ supporting characters, it would've been nice for more lead representation. Billy has said he didn't feel comfortable telling those stories because they're not his experience; but he hopes hopefully this film inspires others to make films about their stories too. Fair point, but still, the guys he chats with on Grindr are mostly chisel-jawed white guys, and his boyfriend Aaron could easily have been played by a person of color.
Second, some feel the title Bros and marketing is very straight-centered. Most romcom posters show the faces of the lead characters. Here, we just get some butt-clutching, which doesn't even happen in the film.
In interviews, Billy has joked that for an industry which has made two films about talking animated hedgehogs, it's about time that there's a mainstream film about a gay couple. Universal Studios, which has made several films about talking (?) banana-loving creatures, leads the way with Bros.
Overall, both straight and queer audiences will find this romcom funny and relatable. It is a must-see for LGBTQ+ audiences, especially gay men over 35. And this film will help straights start to understand some things, and will open up conversations that need to be had. 4 out of 5 stars.
Bros releases wide September 30, 2022.