At our Clubhouse tips panel, Clubhouse experts shared lots of terrific tips on the popular new app. Speakers discussed how to optimize your bio, in-app behavior, and turning your convos into connections via offline behavior.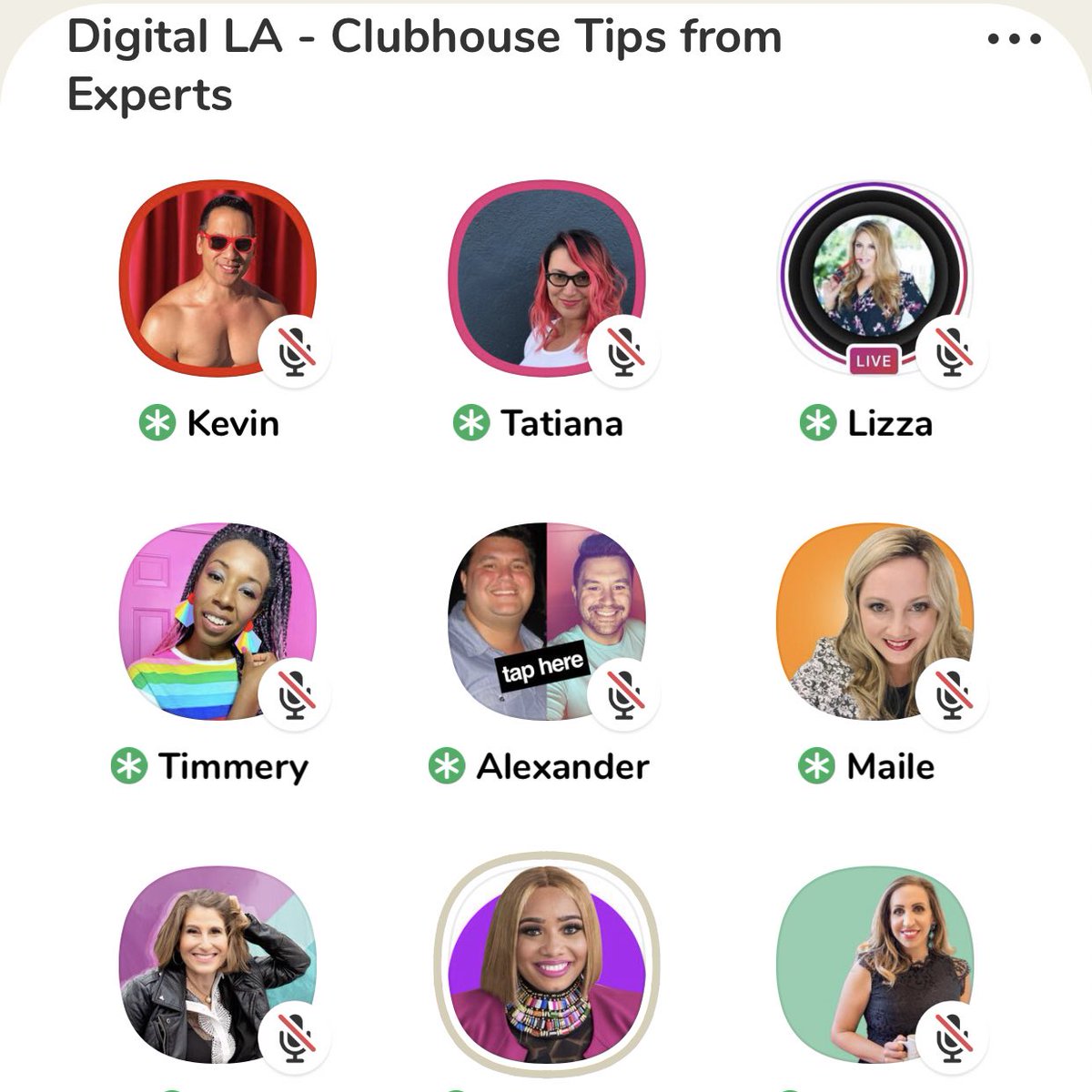 Thanks to amazing speakers and moderators! Follow them on Clubhouse or IG @xoxolizza @tatianaelkhouri @thefitdad @timmery @mailePRmedia @SueBZimmerman and more!
Your Profile
Your Photo. Most photos show your face, smiling, looking friendly. But don't have to: match your brand.
To make your profile photo stand out: Add a solid color background, or a border using the CHpic feature.
Many people use the same photo for brand recognition, altho some people change the background to match a specific room, event, seasonal events (holidays) or your brand. For example, some fashion, style, art, and photography people change their photo regularly to showcase their work.
@TatianaElKhouri is an artist and founder of Road to Artdom, so she regularly changes her profile photo to showcase her work, her different color hair, or match her room or brand. She keeps an iPhone photo album with several profile photos, so she can quickly change them.
Alexander @thefitdad has a split photo photo showing his before and after weight loss photos, telling a story that relates to his transformational coaching and motivation. He also added a "Tap Here" text label, which seems to work and some other people have started to do as  well.
Your Bio. The first three lines of your bio should describe what you do succinctly, and encourage people to click to see more.
Your entire bio is keyword searchable, so be sure to include key words related to your brand.
Use emojis to break up long lines of text. Emojis are searchable too.
Don't cut and paste your long LinkedIn text.
Some people change the first three lines of their bio to match the room they happen to be in. @timmery is an artist and designer who changes her bio to match the room she's in. For example, she adds a bio emphasizing her diversity work if she's in a diversity and inclusion room.
In-App Behavior
Speakers said be real, authentic and genuine. Be polite, respectable and sincere, said @xoxolizza, Latina livestream pioneer and expert moderator.
Raise your hand to get on stage and ask a question or share knowledge.
Think how can you add value and be of service to others in each room you're in, said @thefitdad, not how can you benefit or sell / promote something. If you provide value, people will reach out on Instagram and Twitter to follow up.
Follow Clubs and people that align with your interest. Your Clubhouse feed – rooms that appear – are based on rooms that people you follow are currently in.
Your Clubhouse friends don't have to match your Facebook and Instagram friends. If you find that someone you follow is in rooms that don't align with your interests, it's ok to unfollow them, and just follow them on other social media instead, said @tatianaelkhouri.
If you're curating a room as a moderator, ensure you have a diverse stage with women, different ethnicities, etc. to have multiple viewpoints and voices, said @xoxolizzza. This will also help new people feel welcome when they pop into your room.
Off-App Behavior: Connections
If you want to direct message someone to follow up on a conversation, follow the Twitter and Instagram links in their bios to reach out that day while the convo is still fresh in their mind, said @xoxolizza. Reference the room convo, and then follow up with a message, phone call, etc.
If you're creating a Clubhouse event, promote it on your social media, newsletter, etc. with the link directly to the room.
After a room ends: if you post a screenshot of your Clubhouse room, include what you learned, or why it was important to you. Tell a story that adds value; don't just say "I was in a room!", said Sue. In fact this article itself adds value by providing highlights of awesome advice from the room!