At LA's first virtual hackathon,  teams created tech tools, sites, and apps to address various aspects of the pandemic at our Digital LA – COVID-HACK on the sixth Friday of quarantine.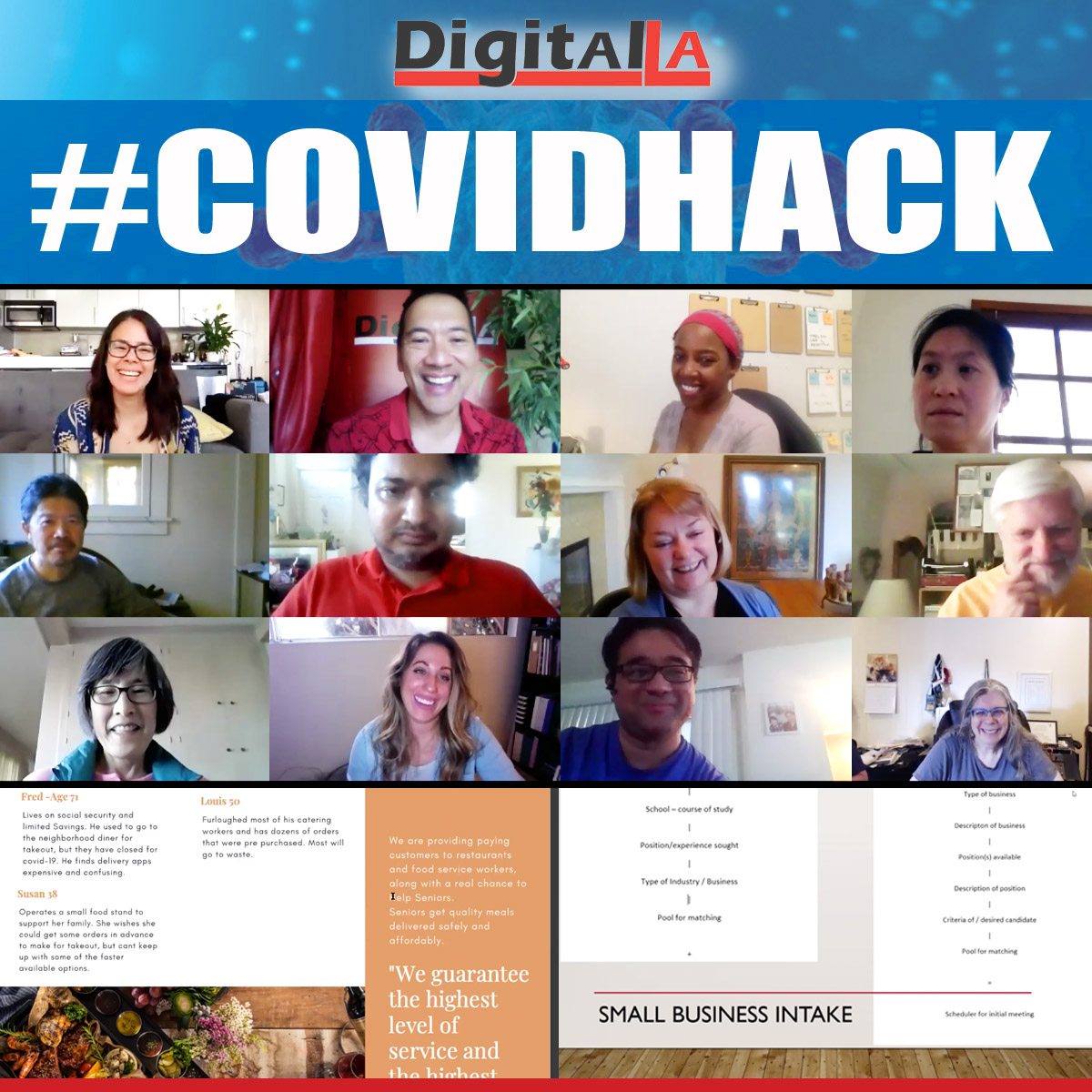 This was the first all-virtual online hackathon among the LA tech community where participants and judges all participated from home.
Attendees met each other for the first time in a Zoom meeting room, and three people pitched their ideas for tech solutions to address some aspect of the pandemic. Teams then split up into breakout rooms and had 2 hours to flesh out their idea, product, marketing and promotion, and team bios. Then, teams returned to the main room to pitch their ideas to the judge.
Thanks to our judge, Miki Reynolds of Grid110 accelerator, which has helped dozens of startups across multiple industries, based in downtown
LA
. Miki is also a SXSW Pitch judge, along with Digital LA founder and hackathon moderator Kevin Winston.
First Place: Golden State Plant. A platform that helps restaurants feed seniors, according to the new announcement by California Governor announced earlier that Friday. The platform lets seniors who meet the program requirements to sing up to use an app or text to order meals from restaurants who've registered.
Second Place:
A startup that helps small businesses ramp up their online and
digital
strategies and presence. Many small businesses need help moving online, including building a web site, adding e-commerce, digital marketing and social media marketing help,  and other features. This service would be free during the pandemic, with potential revenue from charging for services later on, the team said.
Third place idea was a site that helped people with continuing education, especially healthcare workers.
Attendees enjoyed the chance to come up with tech ideas to help solve various problems. For some, it was their first time ever on Zoom, and they enjoyed it.
"It was great. I'm glad you guys organized it," said Richard To, idea lead on the senior meals team. "It gave us as strangers the opportunity to brainstorm together virtually in seeking creative solutions to challenging social problems in one of the first, if not the first, virtual hackathons in Los Angeles."
"The time two and a half hours was right," said another attendee.
One of the attendees commented it was fun, just wish there were some way to provide food, like pizza, a staple of in-person hackathons. He joked maybe it'd be a good idea configure the restaurant delivery app to provide food for hackathons.
Thanks for attendees for amazing ideas! Thanks judge Miki Reynolds for judging and you thoughtful comments, questions and advice!
First and second place winners get comp passes to the virtual Silicon Beach Fest this summer.