Cryptocurrency experts discussed what you need to know about Ethereum, DASH, EOS, Ripple and new models of ICO at our Digital LA – Cryptocurrency Beyond Bitcoin symposium.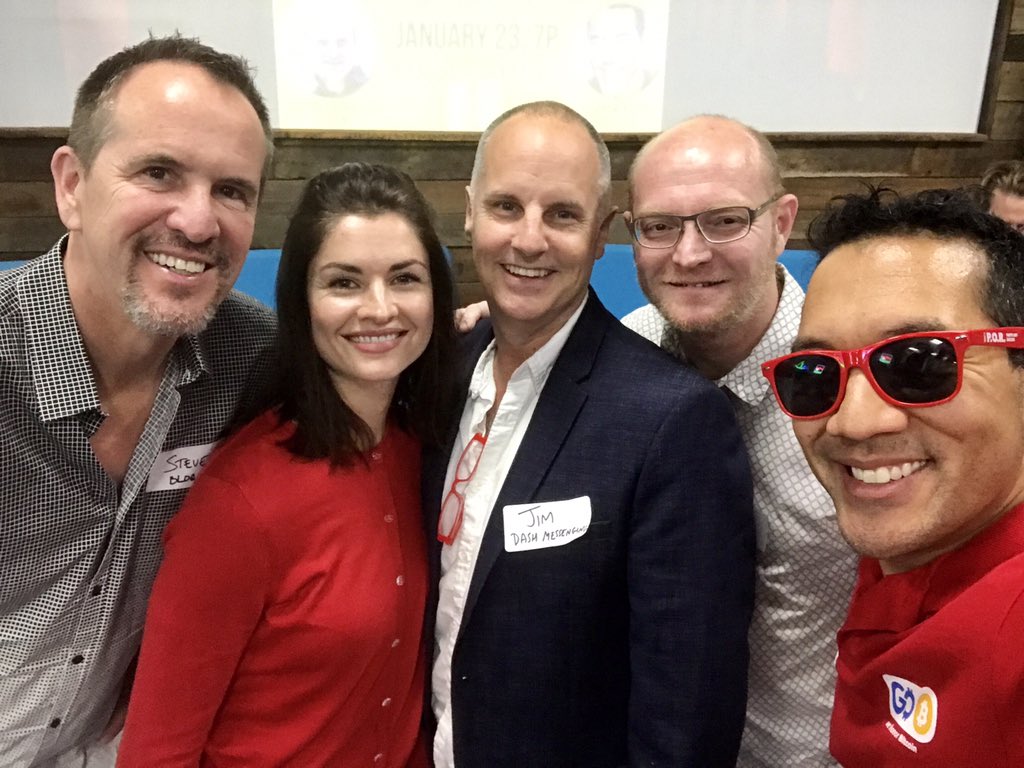 This intermediate – advanced level cryptocurrency symposium featured eight experts on two panels, held at at CTRL Collective Playa Vista. Our previous Cryptocurrency panels have focused on Bitcoin, whereas the other currencies get rolled into brief mentions in the last 15 minutes. This panel feature experts answering the audience detailed questions about Ethereum, DASH, EOS and more for more than an hour.
Ethereum
Ethereum is for contracts and public ledgers, speakers said.
DASH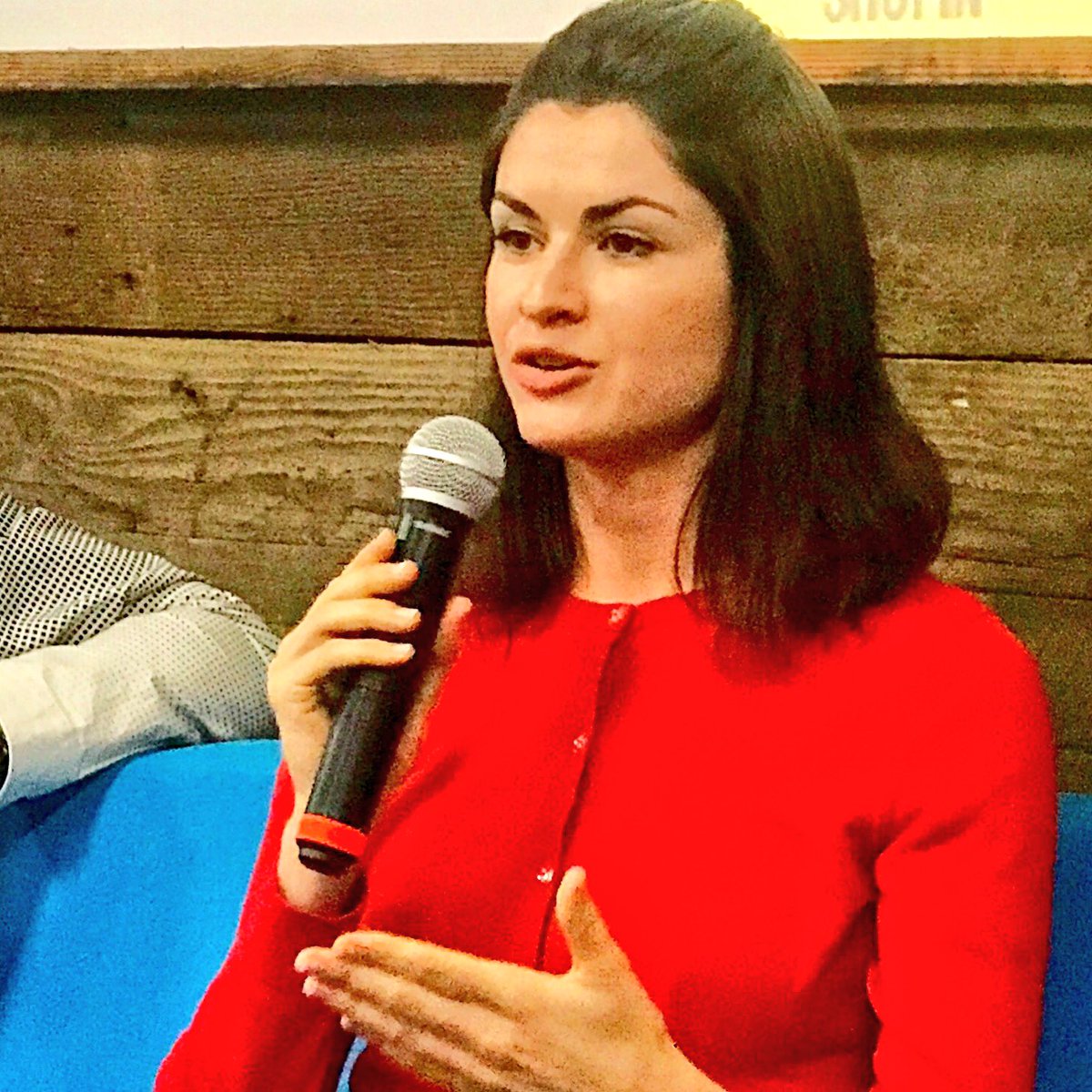 DASH is for payments and it's very fast, faster than credit cards, said Amanda B Johnson, DASH official spokesperson.
It's a dAPI decentralized API that will allow anyone to add code to their site and start accepting DASH. She said that merchants are starting to adopt DASH.
Amanda said you can find a list of merchants accepting DASH payments at https://discoverdash.com, where you can search by location near you, and type of merchant.
A search of LA based DASH merchants revealed four: An online cigarette store, two DASH ATMs at a smoking store and liquor store, and a DASH shirts store, which requires BITCART.io to pay in DASH.
DASH is also useful in markets where cash payments can be difficult, such as cannabis. Amanda described that Alt Thirty Six in Arizona works with marijuana dispenseries to create digital currency payment systems that offer customers 10% discounts if they buy product with DASH rather than cash.
To accept payments in DASH any merchant or person can open up a GoCoin account and create an invoice to accept payments in DASH, said Steve Beauregard of Bloq and formerly at GoCoin.
Steve also advised to keep a log of your cryptocurrency transactions to track gains for accounting purposes, should the IRS crack down on cryptocurrency. He said that you probably don't have to track small purchases under $600 because that's below the radar for the IRS interests, although an official statement has not been made on that yet.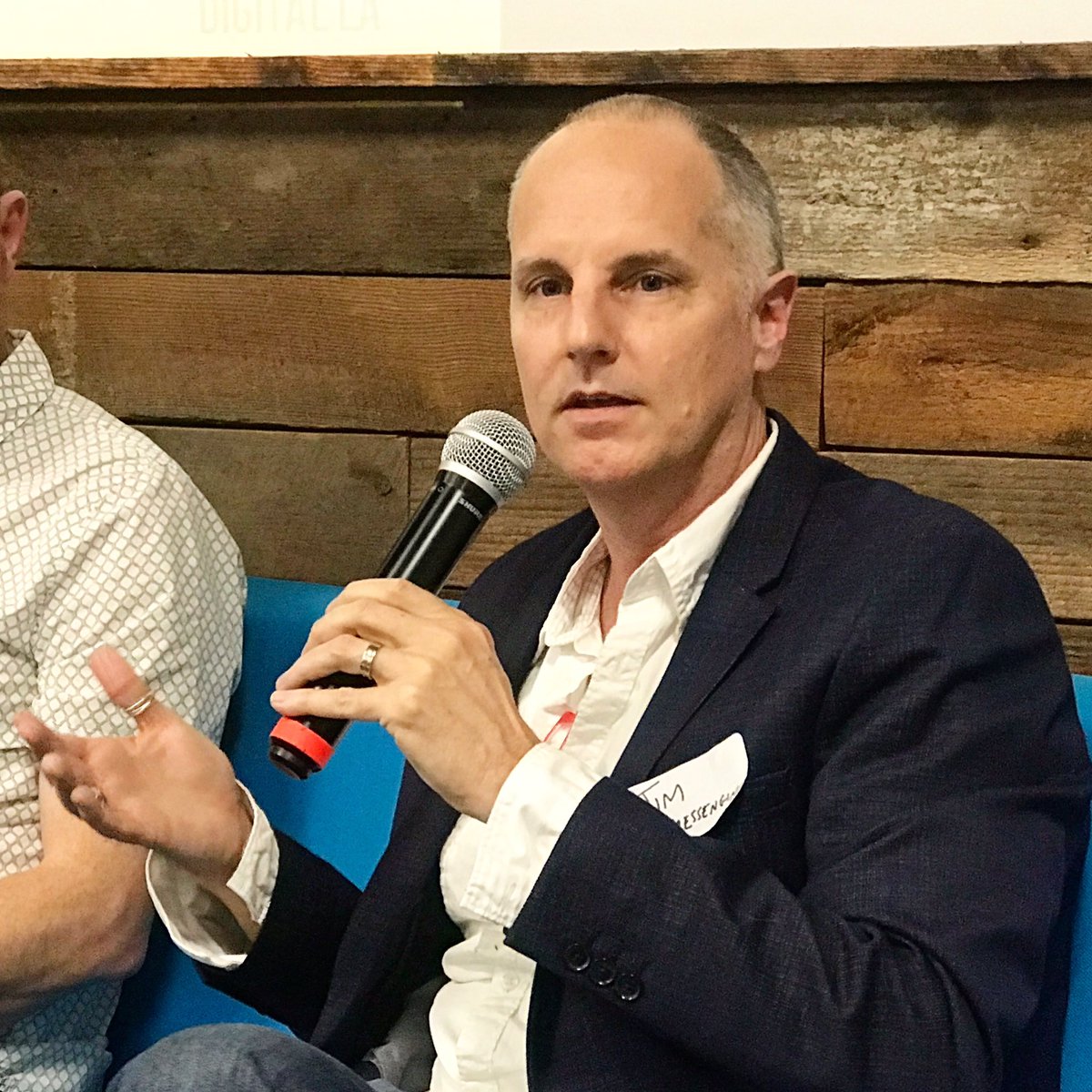 DASH uses masternodes to help verify accuracy of transactions, allowing faster transactions, said Jim Bursch of the Dash Bug Program.
Jim added that DASH transactions are private, unlike most public transactions.
Jim is the director of the Dash Bug Bounty Program, which rewards developers who find Dash bugs with a cash prize.
He is also working on DASH messaging, a market where you can pay more via DASH to message hard-to-contact CEOs, executives, directors, who receive a percent of the transaction for answering messages. As part of the marketing for this new product, he is creating a show "Silicon Beach Hustle" which is casting actors to play the roles of a CEO, CTO, and CMO of a messaging startup, who are looking for funding and creating a startup in Silicon Beach.
Ripple
Ripple is primarily good for banks.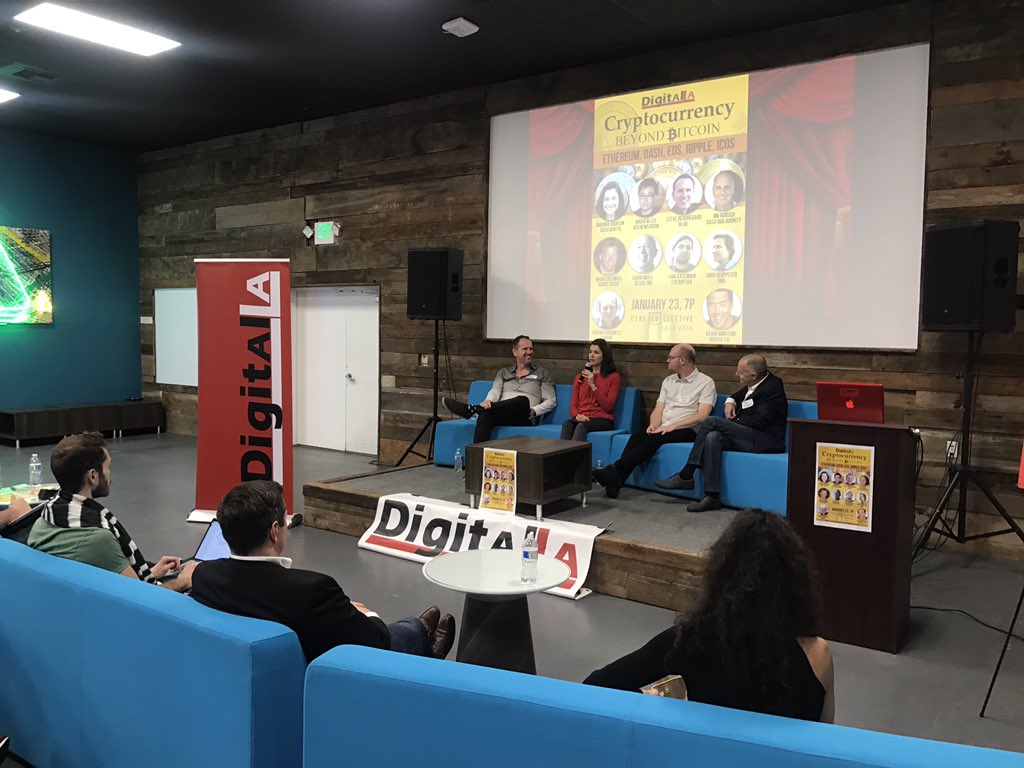 NEW ICOS
Cory Klippenstein moderated a panel focusing on ICOs. Speakers included Andrew Lee, founder of ICO Newsroom which reviews ICOs, and two founder of companies that are doing new forms of airdrop ICOs.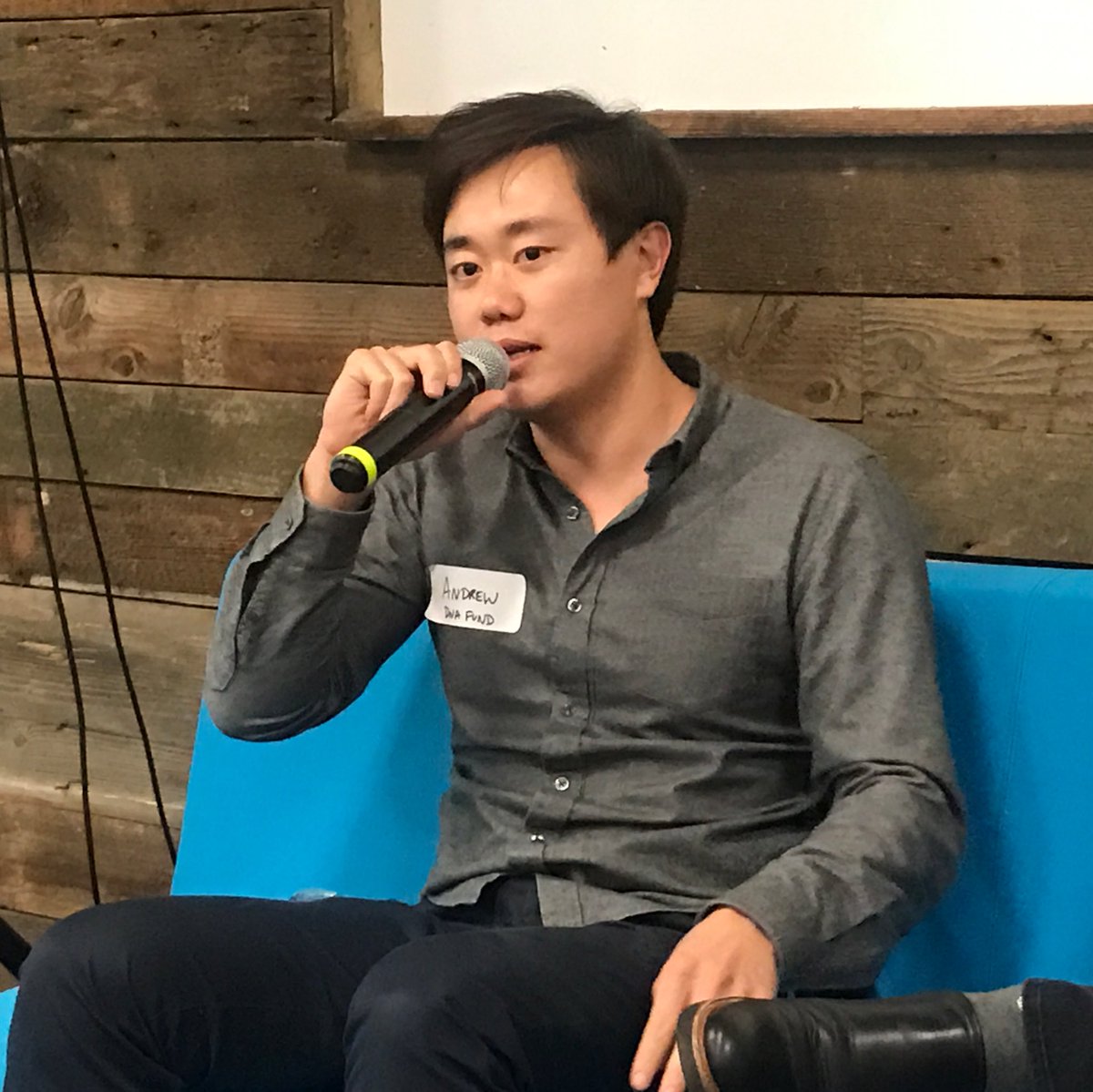 ICO Newsroom
"ICOs should be building off network effect – collect money from value add investors who know what you're building and can help you grow," said Andrew Lew, founder of ICO Newsroom.
Block.One
"There are one to three brand new ICOs per day. You have to have something real now," said David Moss of Block.One.
Everipedia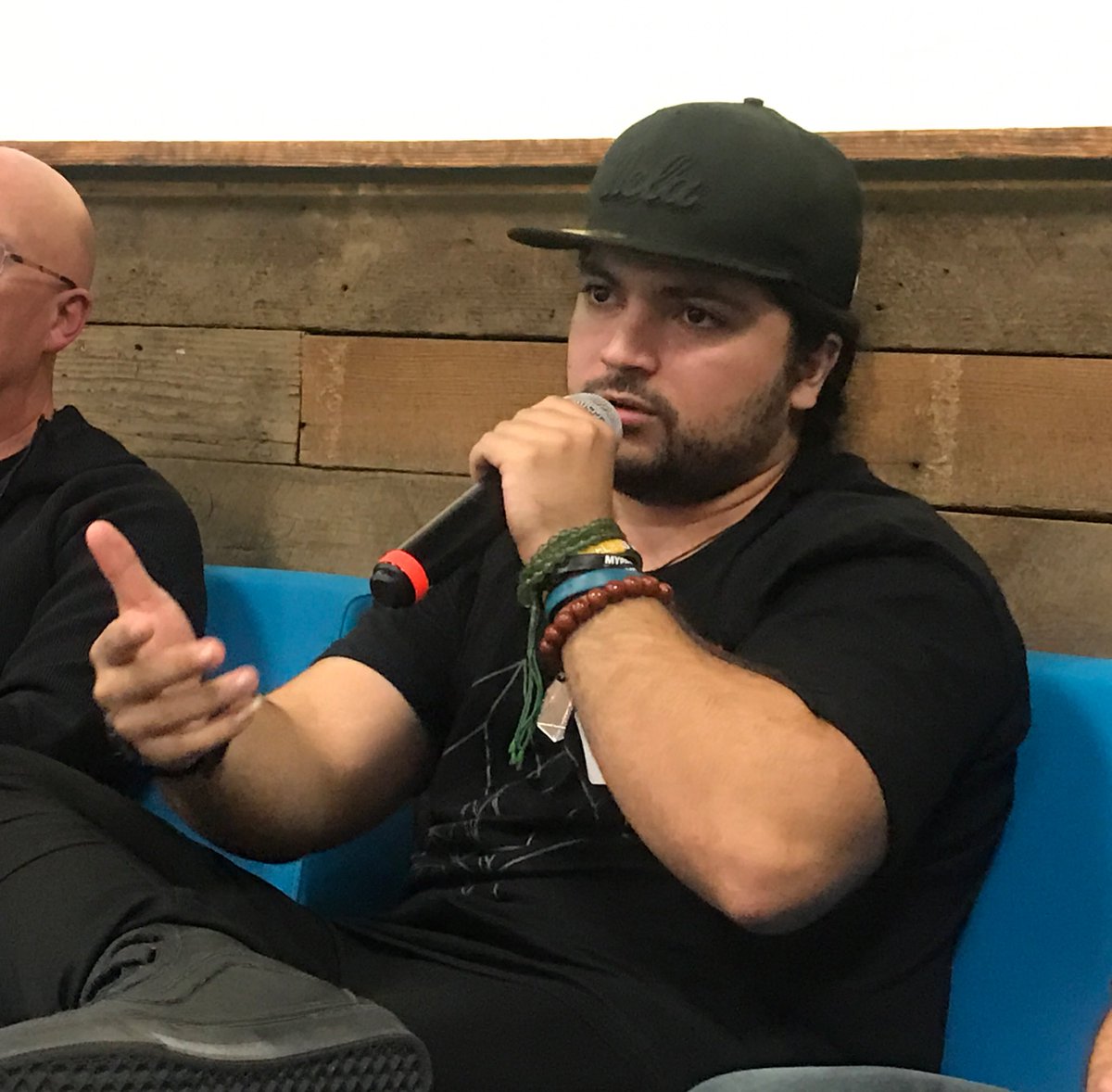 Everipedia is an application on EOS. Two different sets of voting on operating system and applications, said Sam
"Tokens should be distributed to your community who will use it," Sam said. A lot of people are starting to figure things out.
Robot Cache
"Start with a product. Why it needs to be on the blockchain?" said Mark Caldwell of Robot Cache which is going to airdrop.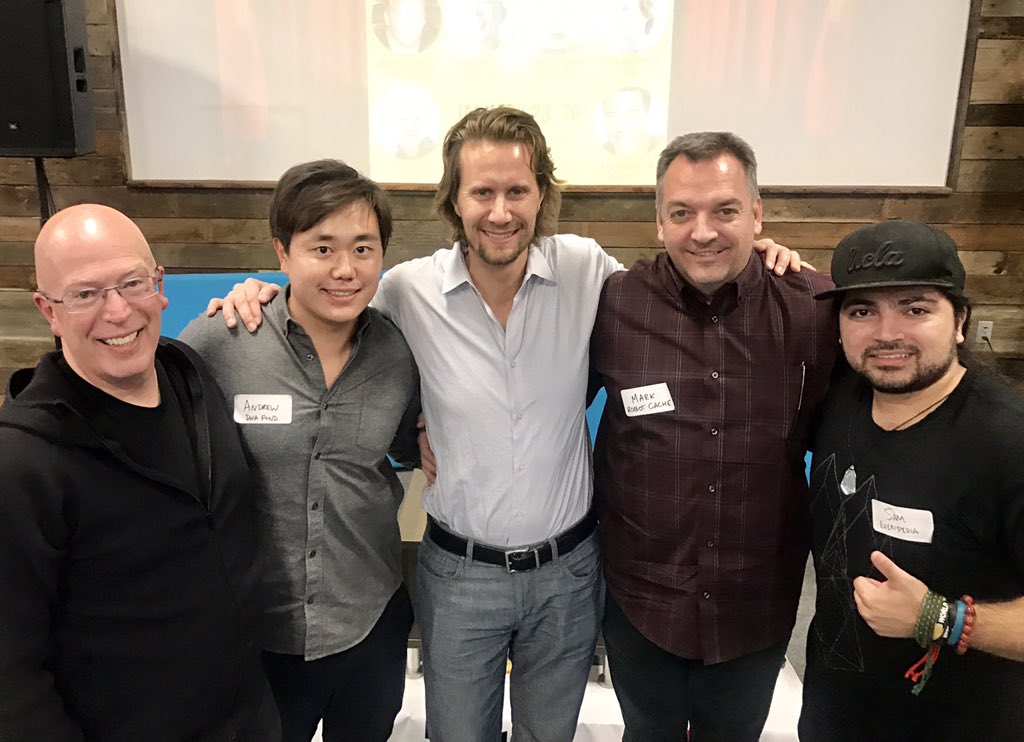 THANKS
Thanks to CTRL Collective for hosting our event! If you're looking for coworking or private office space, email doug@ctrlcollective.com
Thanks to our speakers:
– Amanda B. Johnson, DASH digital currency, Spokesperson.Amanda has conducted cryptocurrency
research and provided commentary on the space since 2014. Her work has appeared in leading
industry publications including Bitcoin.com, Bitcoin Magazine and Finance Magnates. Additionally, Amanda developed the first YouTube series to receive funding from a DAO (Decentralized Autonomous Organization) and is often referred to as the world's first freelancer to be paid via blockchain. She was also recently named as one of the "Top 10 Females in Crypto" by Core Magazine. Through her educational and easy-to-understand explanations, Amanda aims to makes cryptocurrency and blockchain less intimidating to wider audiences. @amandab_johnson
– Steve Beauregard, Bloq, Partner and Chief Revenue Officer. Steve is responsible for communicating the company's vision and transforming that vision into a long-term strategy for pioneering new blockchain markets and opportunities for enterprises and new economy token ecosystems. He is also founder of GoCoin, the high transaction volume blockchain payments platform. @bloqinc @gobloqsteve
– David Moss, Block.One, Senior Vice President, Tech Operations. David manages worldwide teams responsible for the EOS.IO blockchain operating system. His teams develop, document, test, build, release and maintain EOS.IO code and infrastructure. His first major release was the EOS.IO Dawn 2.0 Testnet on December 4, 2017. David also runs EOS Developer and Block Producer relations.
– Jeremy Harkness, Shopin, Blockchain Technology Officer.Shopin is a blockchain company built by the same team that built Priceline, where the shopper is the owner of their data, while creating a more sustainable retailer ecosystem. Shopin works in tandem with retailers to ensure that the shopper is the owner of their purchase data. Shopin is the winner of CoinAgenda Global 2017, voted by a panel of investors as the best ICO and startup from over 40 competitors. @shopinapp
– Jim Bursch, Dash Bug Bounty Program, Director. Jim Bursch manages the Dash Bug Bounty Program for the cryptocurrency Dash Digital Cash. He is also the creator/founder of Dash Messaging with digital cash. For over ten years as a PHP/MySQL developer, Jim has been building a unique messaging platform that attaches money to messages. In 2013, he adopted Bitcoin as a payment system for the platform, and in 2017, he replaced Bitcoin with the cryptocurrency Dash Digital Cash. In August of 2017, Jim launched the Dash Bug Bounty Program, which pays hackers to test Dash code for vulnerabilities that might threaten users. In addition to his activities with Dash and Dash Messaging, he is producing a documentary film project called Silicon Beach Hustle: The social engineering of a startup. Jim can be reached via Dash Messaging at d-msg.com/jimbursch.
– Moderator: Kevin Winston, Digital LA, Founder. Kevin organized Digital LA's first Bitcoin panel with Brock Pierce, Micahel Terpin, Steve Beauregard and other speakers way back in 2014, when Bitcoin was $300.
– Andrew Lee, ICO Newsroom, Founder. ICONewsroom.com is the leading source of information about ICOs, based in SF. Advisor at Brock Pierce's Blockchain/Crypto advisory firm DNA.
– Mark Caldwell, CTO at Robot Cache. Robot Cache will initially be a reg-c by the SEC as a security, and when it launches will convert to a utility. Formerly the VP of Engineering for Playdom and Disney (DIMG), Mark has previously been the CEO and co-founder of several gaming companies and won a BAFTA and Strategy Game of the Year for Rise And Fall: Civilizations At War. Mark has over 160 game credits including Might and Magic and Heroes of Might and Magic. @RobotCache
– Cory Klippsten, Partner at Distributed Network Advisors, (Moderator)
– Sam Kazemian, Everipedia, Co-Founder. The online wiki is pursuing an airdrop ICO. @everipedia