ANAHEIM – Digital and tech innovation represented at the biennial D23 Expo fan convention celebrating all things Disney, Marvel and Star Wars at the Anaheim Convention Center. Thousands of fans attended to get previews of upcoming films, TV, shows, games, toys, merchandise and more.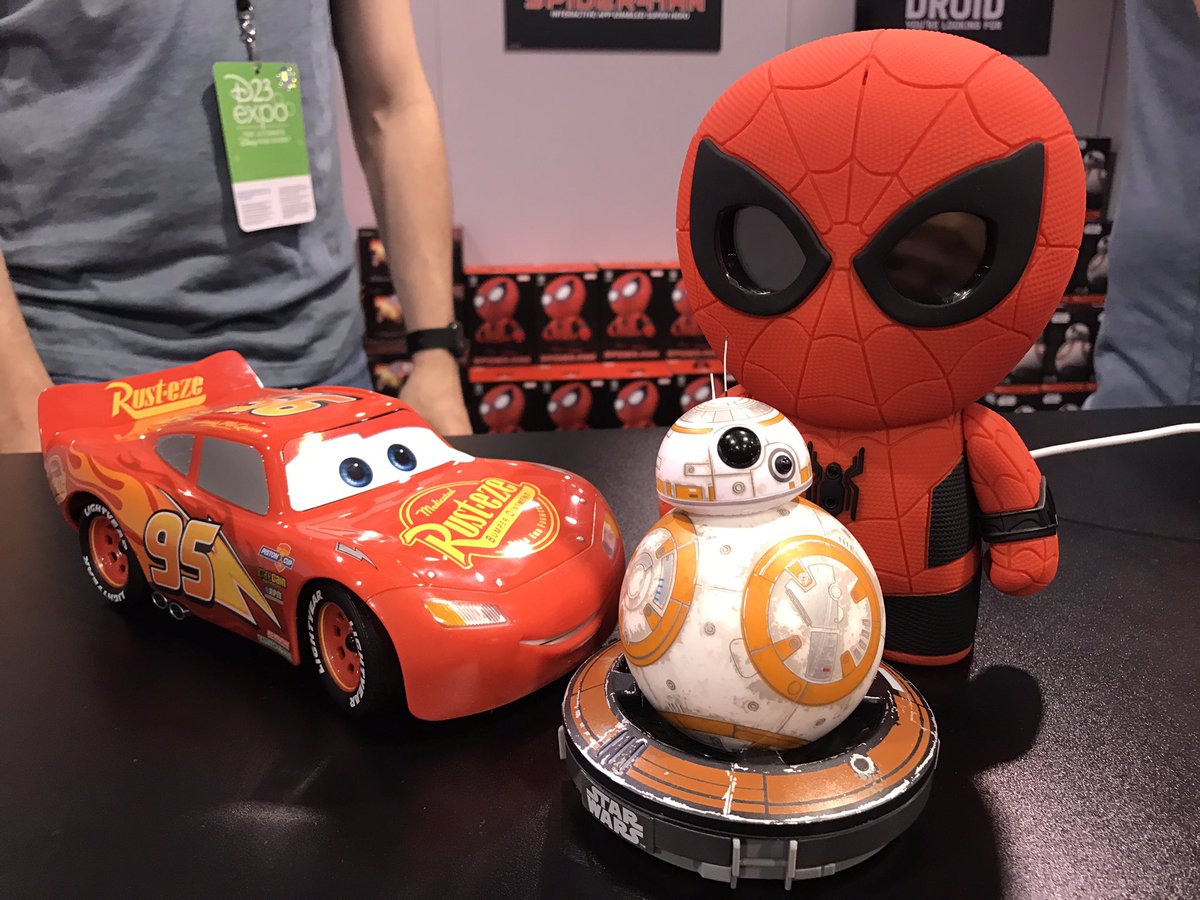 Digital tech toys and games represented at the show, from Sphero app-controlled toys for BB-8, Lightning and Spider-Man to games and VR.
Sphero
Disney Accelerator alum Sphero represented on the show floor with a booth featuring its three Disney branded app-controlled toys: Star Wars BB-8, Lightning McQueen to tie into Cars 3, and talking AI Spider-Man.
The booth also featured a 10-foot tall replica of its new Spider-Man AI chatbot toy.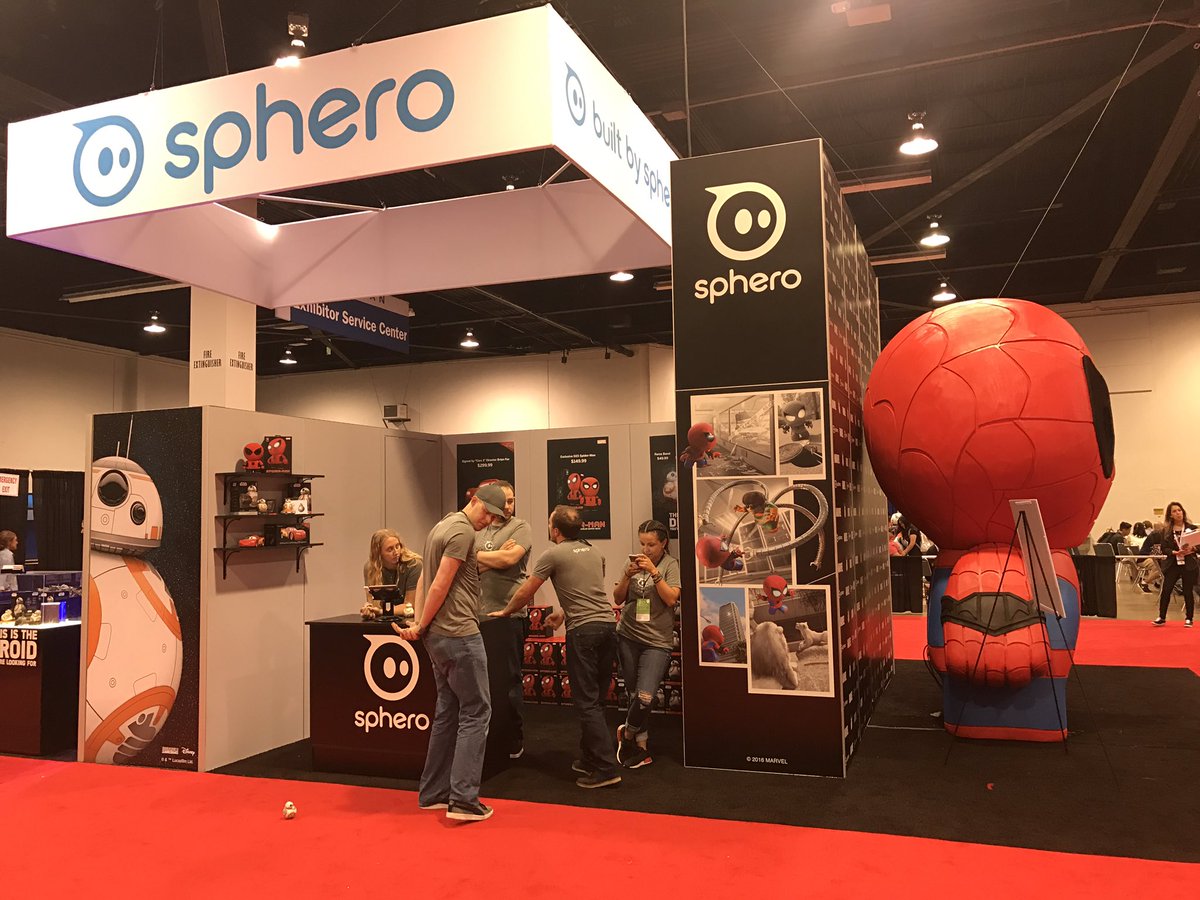 Hundreds of attendees took photos with the Sphero Spidey statue, complete with a Peter Parker like voice who greeted guests and encouraged them to post their photos with #SpideyLive for a chance to win a Spider-Man Sphero. Our founder Kevin Winston posed with the Giant Sphero Spidey.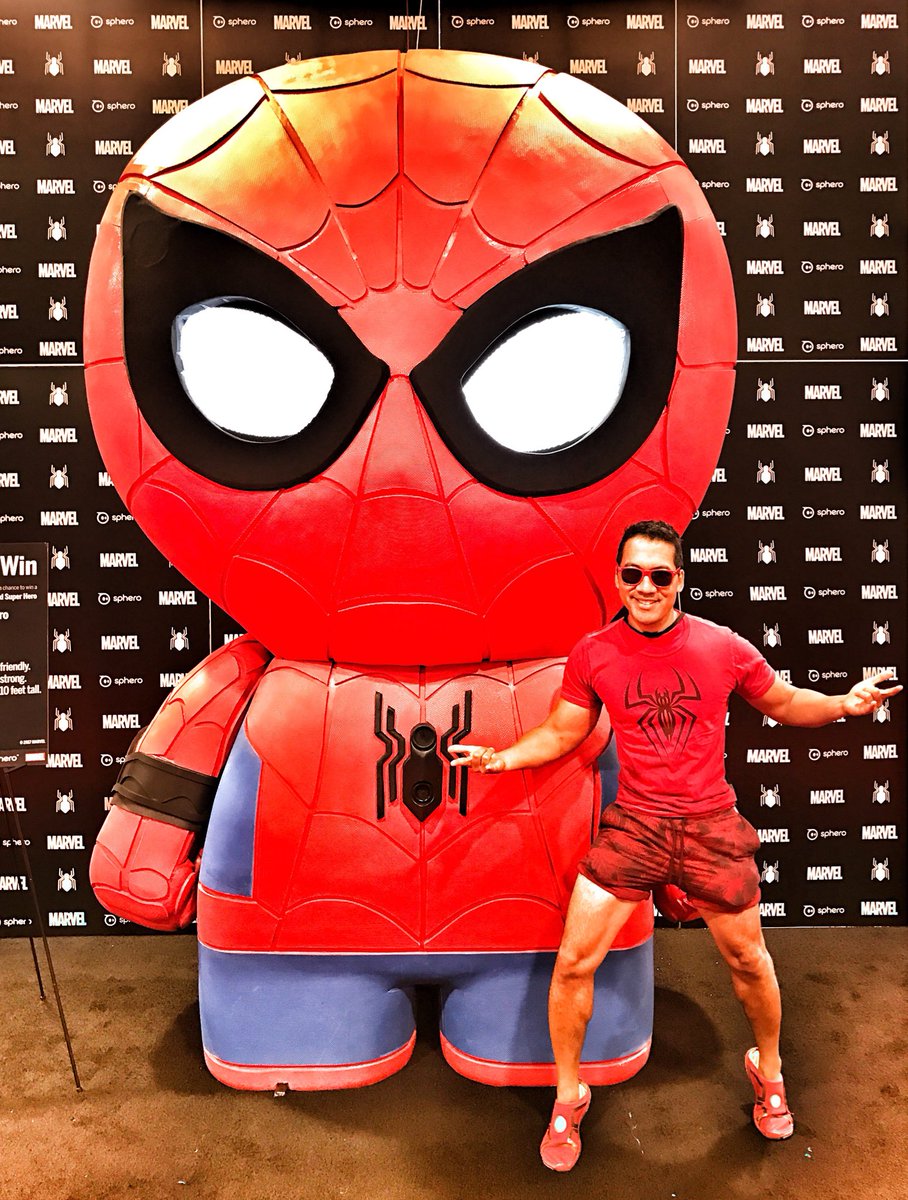 Sphero, the gyroscopic remote-controlled ball company launched with its sold-our success Star Wars BB-8 app-controlled toy.
Watch the Sphero Spider-Man trailer.

VR
Marvel Powers United VR
In this VR game announced at D23 Expo, you can play as three Marvel characters announced so far. As Rocket, you can shoot plasma cannons and fly. As Hulk: smash, jump and thunder-clap your enemies. As Captain Marvel, you can fly and shoot her photon energy blasts. The trailer for the game looks like a lot of fun, as you blast bad guys. It's one of the first Marvel VR experiences where you have the powers of the characters. Lockjaw the teleporting dog from The Inhumans makes an appearance. Available on Oculus Rift. Made by Oculus with Sanzaru Games. See the site http://powersunitedvr.com
Watch the trailer, featuring two girls and a guy who Apple Watch-text each other it's time to log on and play simultaneously, indicating good multiplayer social VR.

The Lion King 360
The Lion King 360 VR had a booth on the show floor, with some masks from the long-running The Lion King musical. The popular musical debuted on Broadway and now travels the world. Fans could put on VR goggles to instantly teleport themselves on stage at a production of the Lion King. It's amazing to see Julie Taymor's puppet creations dancing around you in the opening Circle of Life song, including jumping gazelles, lumbering elephants, birds, and more. In the passive 360 video, you watch for 3-4 minutes as you teleport to different areas on stage: by Rafiki, the top of Pride Rock, etc. The VR experience was created by Disney Accelerator alum Littlstar, which specializes in VR at events. The VR experience is available on YouTube if you have a cardboard VR viewer. Selected press attendees received a pair of Lion King branded VR goggles in their swag bag. The goal is not to duplicate the musical-going experience, as it's just one song from the musical, but rather to give audiences a taste of what the show is like to encourage people to attend.

Spider-Drone
You can fly the official Spider-Drone based on the Spidey's drone in Spider-Man: Homecoming. Marvel consumer products worked with Skyrocket toys to create the consumer-friendly drones.
The basic Spider-Drone that flies around lists for $89 at Wal-Mart. The Streaming Video Spider-Drone sells for $150 at Toys R. Us.
The Spider-Drone is part of the Sky Viper line, made by Skyrocket Toys, based in LA. Skyrocket makes video and racing drones, stunt drones, and small nano drones.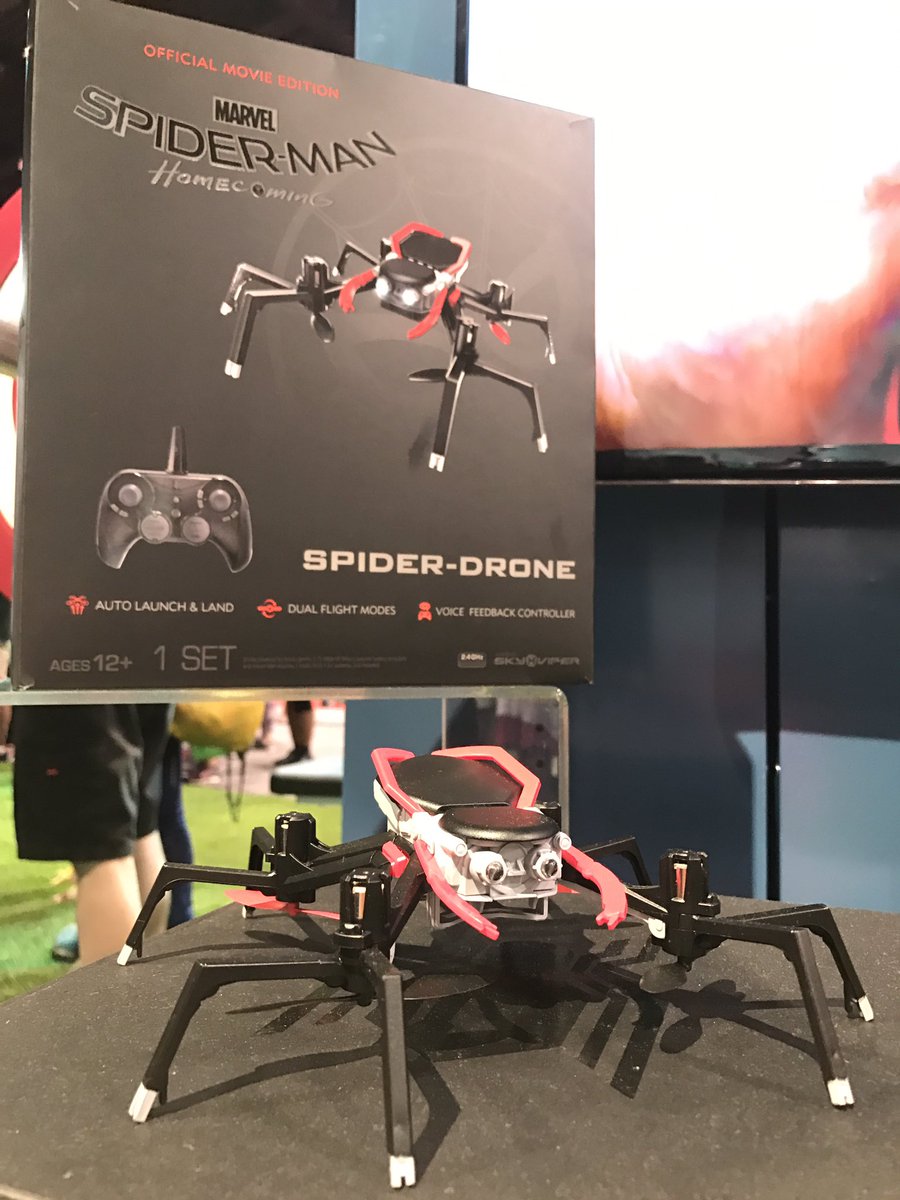 Ozobot
Ozobot demoed their programmable Marvel hero-themed robots at its booth on the D23 Expo show floor. You can program the Ozobot robots to perform different actions corresponding to different colors of lines you draw on paper. Ozobot robots are themed to Spider-Man, Captain America, Iron Man, and other heroes. Ozobot has increased its marketing, with a booth a D23 Expo, VidCon, and CES so far this year.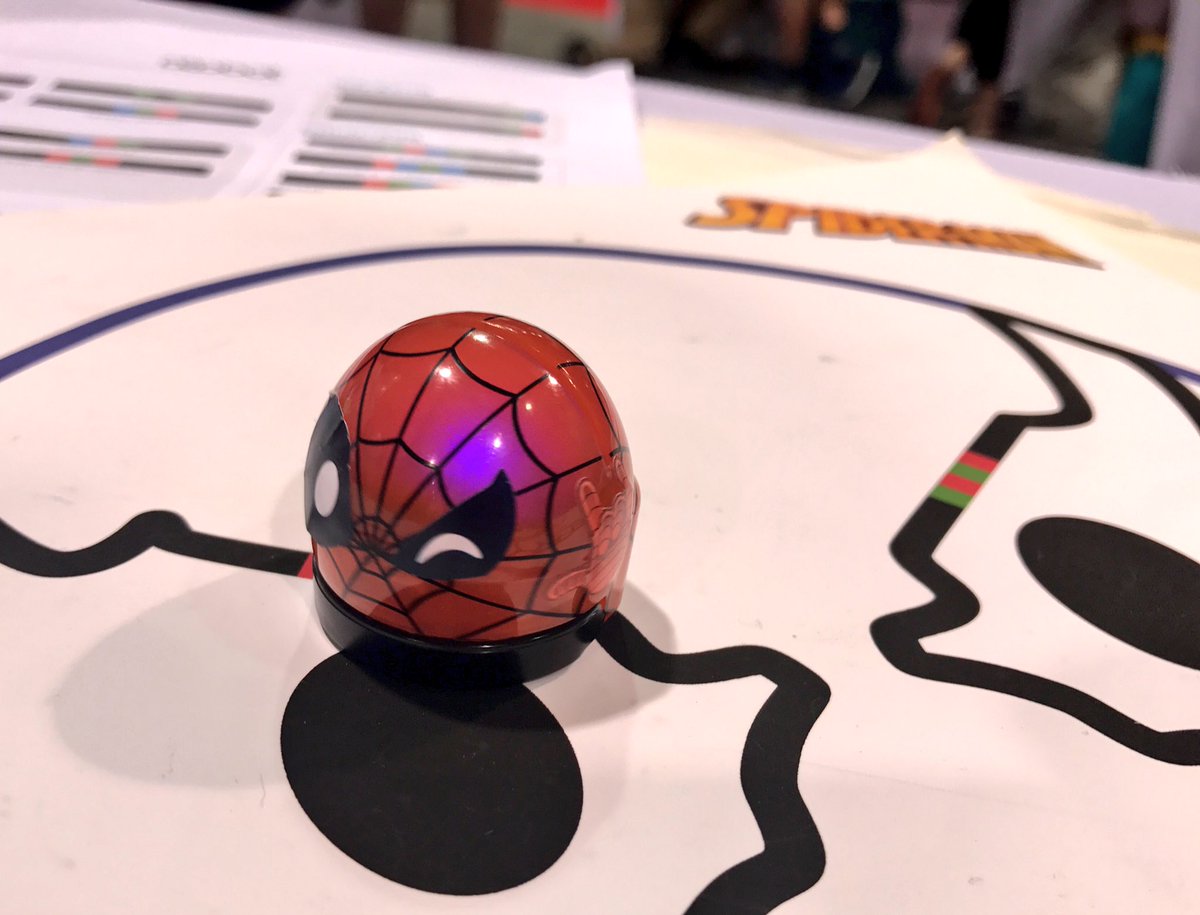 Marvel: Future Fight
Attendees could play the Marvel: Future Fight dungeon-scroller type game that was released in 2015.