Drive-In theaters, popup attractions and car hop restaurant service have popped up all around LA in summer 2020.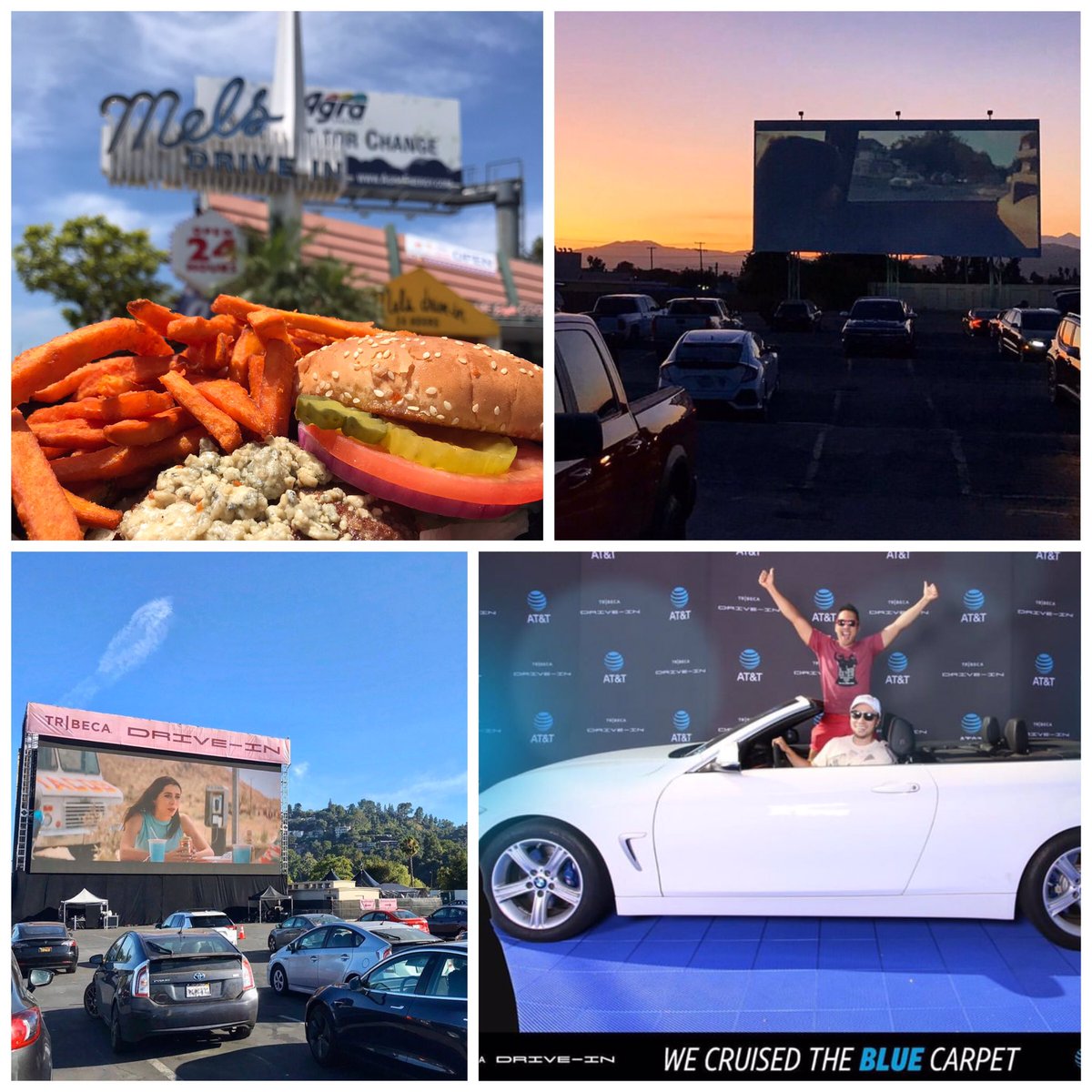 Yes drive-ins, popular in LA in the 1950s with the burgeoning car culture, are back in in the Pandemic of 2020. Drive-in car events provide good social distancing in our covid-cancelled summer.
Here's our guide to LA area drive-in theaters, popups, and restaurants.
DRIVE-IN THEATRES
Pasadena Rose Bowl
The Rose Bowl has put a pop-up screen in the parking lot, and been hosting limited engagement releases with partners.
20th Century Fox partnered with the Rose Bowl to screen the New Mutants film Aug 27 – Sep 13. Price is $35 flat rate per car. Get tickets.
The Tribeca Film Festival hosted a July summer series of family films including Palm Springs. See our article.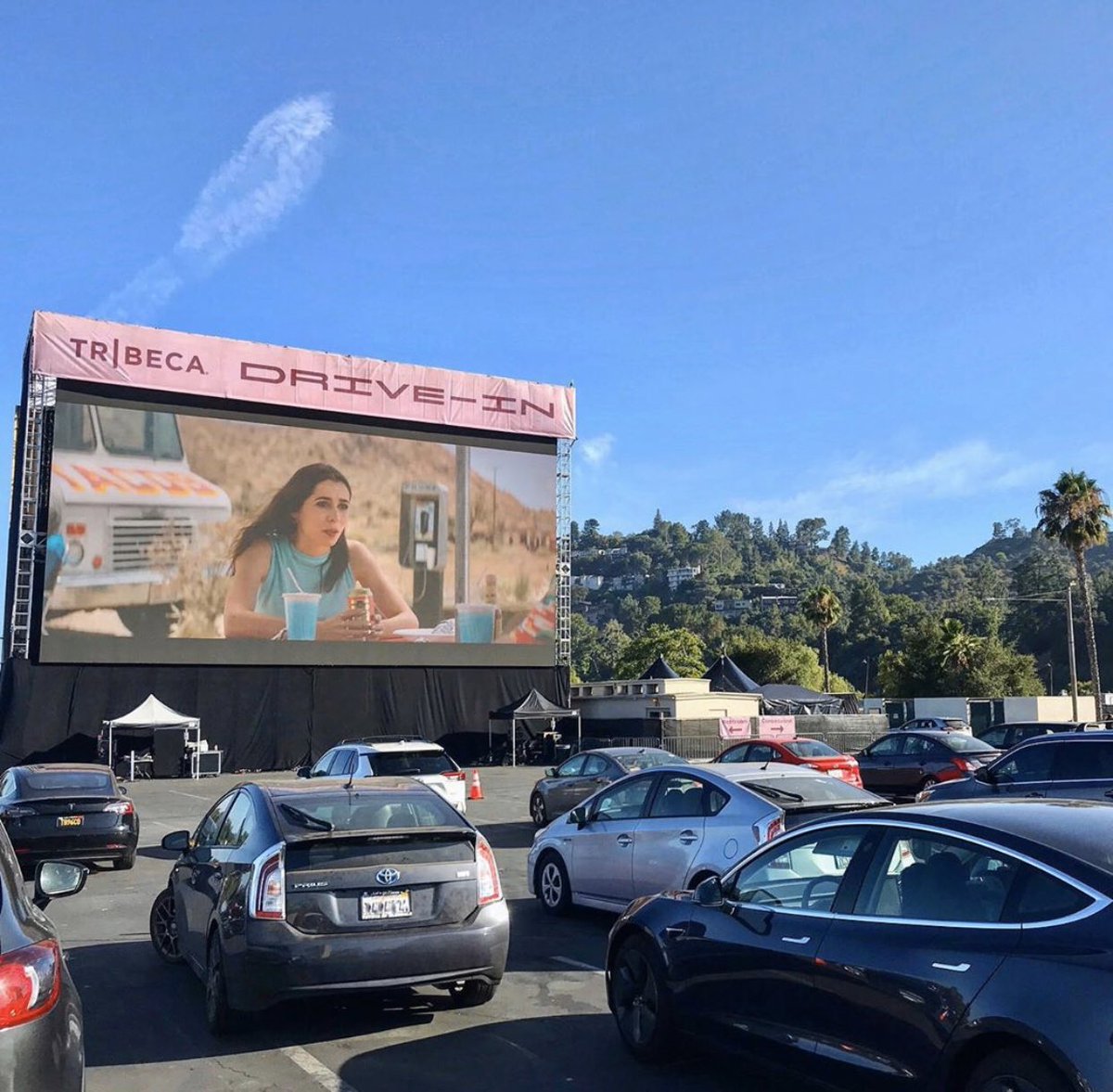 Mission Tiki Drive-In Theatre (Montclair)
The long-running Mission Tiki Drive-in theatre has four screens in a huge parking lot. You pay $10 to get into one of the four parking lots. Each screen shows a double feature each night. You can stay for both films. You can't switch screens. For audio, you tune your radio to the station for the movie you've paid for. For concessions: visit the concessions stand in the middle of the four lots.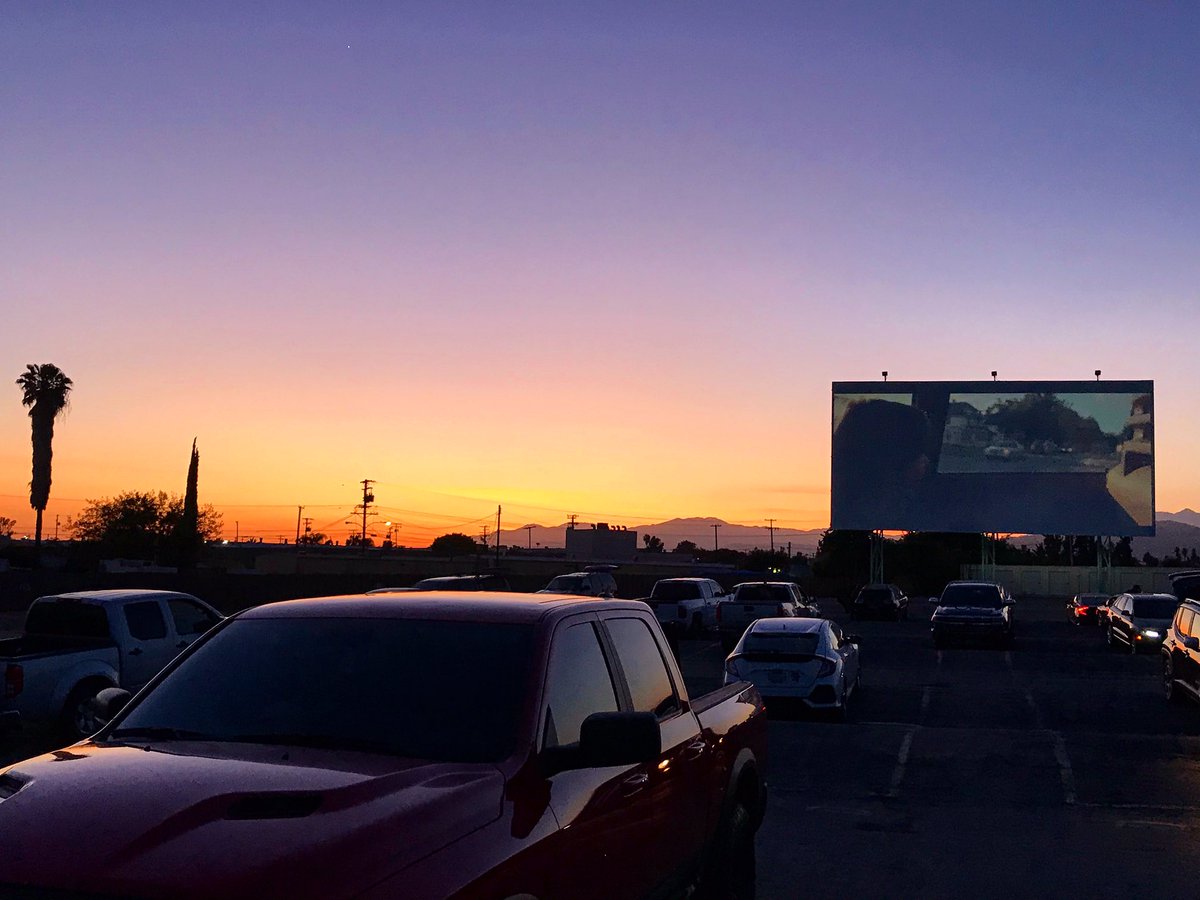 Food: Includes, burgers, fries, popcorn, and pizza, as well as Mexican food including dinner plates AND CHURROS. Prices are very reasonable compared to a regular movie theatre. The concessions building has markings for social distancing, requires a mask, and signs say no more than 10 people inside.
Releases: include films that were out in March when quarantine was announced, like Knives Out, Sonic, and Bloodshot. Newer films include Trolls: World Tour, and the Amazon Studios' film The Vast of Night.
Fun: Mission Tiki hosted an event for the premiere of the Amazon Studios film 'The Vast of Night.' It's a alien thriller set in the 1950s, so a drive-in theatre is perfect for the launch and screening of the film. Who knows: could more movie studios do premieres of their films here?
Tip: Most movies start at 8p. Arrive at least 30-60 min early on the weekend to get thru the line, get a good parking spot at your screen, get your concessions.
Photo Opp. Sunset photo right past the 8p movie begins.
Trivia: Mission Tiki had announced last fall that they were going to close at the end of 2019 due to development. But then in November, the theater announced that the developer wasn't going to start until late 2020, so the theatre would remain open through the summer of 2020. Now that the pandemic has increased attendance, and delayed real estate development overall, the drive-in could continue a bit longer.
Get movie times at Mission Tiki's web site. You can buy tickets at the ticket gate.
Other drive-thru theaters include the Roadium in Torrance, the Paramount, and more. There have also been pop-ups at the American at Brand roof, Ventura Movies/Concerts in Your Car, and more.
POPUP ATTRACTIONS
These pop-up attractions are limited time only, and typically require car drive-in.
Stranger Things Drive-Into Experience
Stranger Things Drive-Into Experience is an hour drive-into at a secret location in downtown LA. You will drive your car into the experience to see various sets and scenes from the world of Stranger Things. It's the first such car-immersive popup in the LA area.
The experience costs $59 per car for two people. It starts October 2020 for an unspecified length of time.
Stranger Things has been known for its cutting edge popups at Santa Monica Pier and the old Tower Records building on Sunset.
Details and tickets https://strangerthingsdriveinto.com
RESTAURANTS
Mel's Drive-In (Sunset Strip)
Mel's Drive In on Sunset is open up for carhop service in its parking lot. Try the special $9.99 car hop combo for a Mel Burger (tomato, lettuce, onions, pickles), fries and soft drink. You can upgrade to sweet potato fries for $2, or a float for more.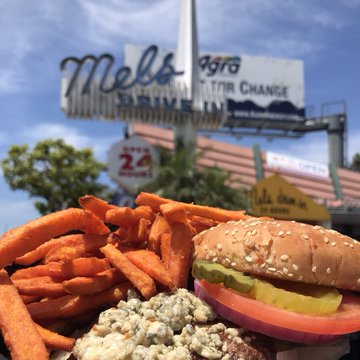 You can park in the parking lot, and a waiter will come out to take your order, and return later with your food and a tray that attaches to your car window.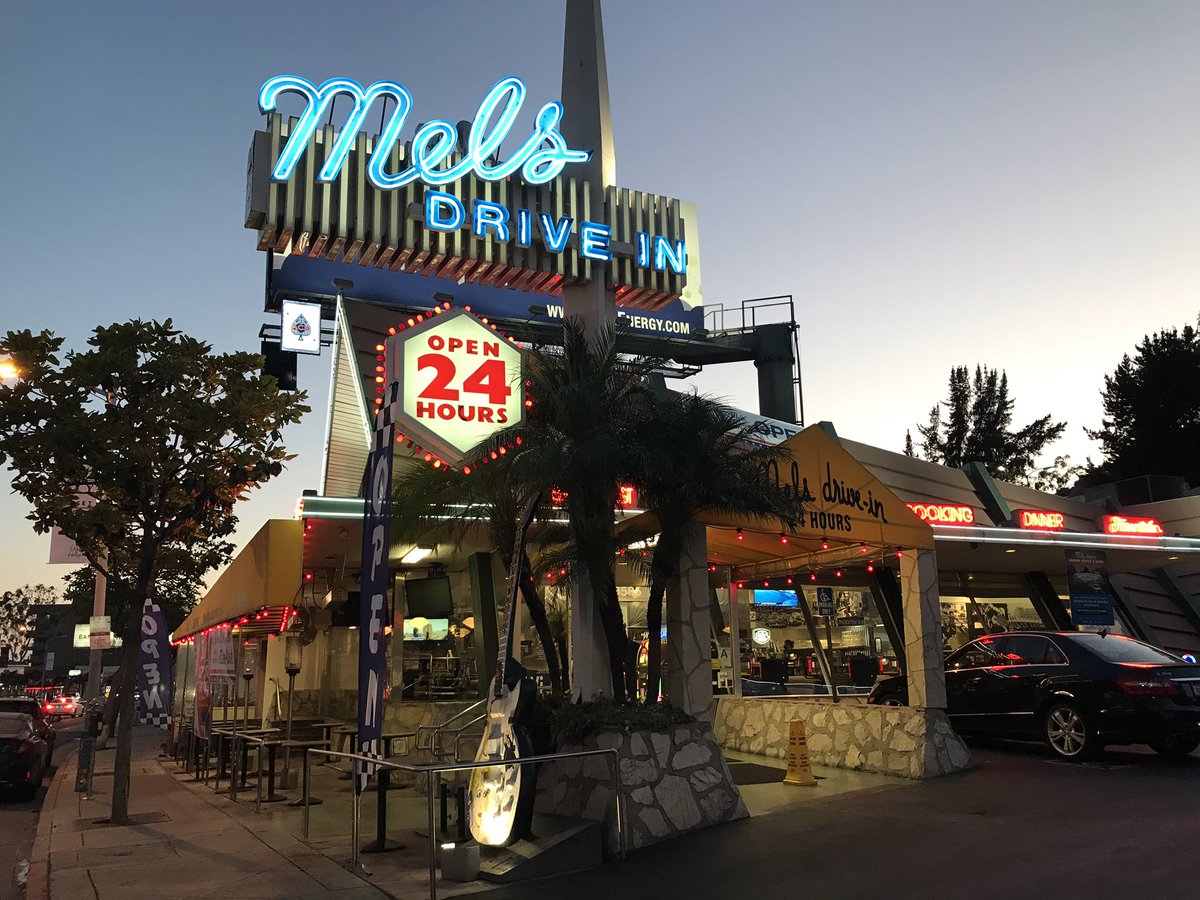 Car hop service available Mon-Fri 9 am – 9 pm, and Fri, Sat, Sun 8a – 10p.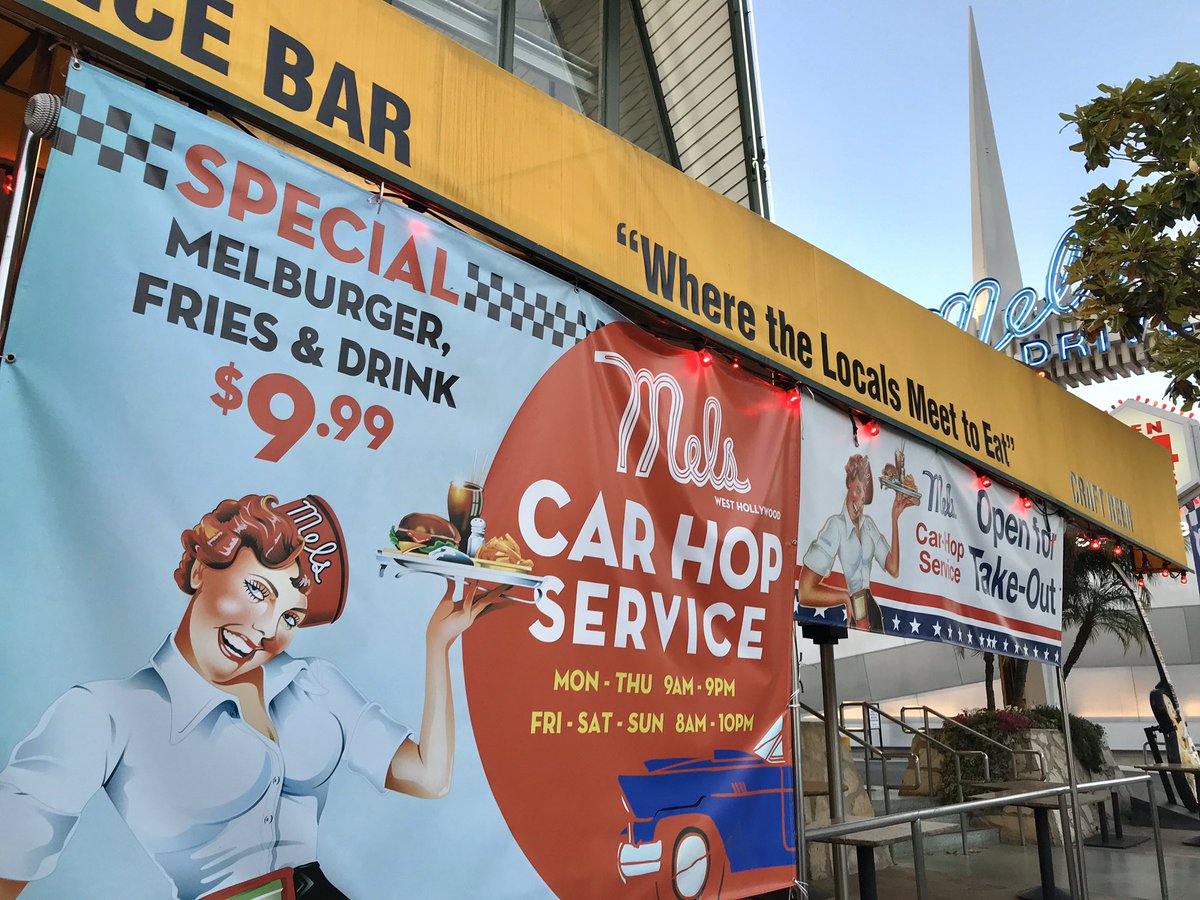 There's even a mini jukebox radio outside playing tunes to help set the mood.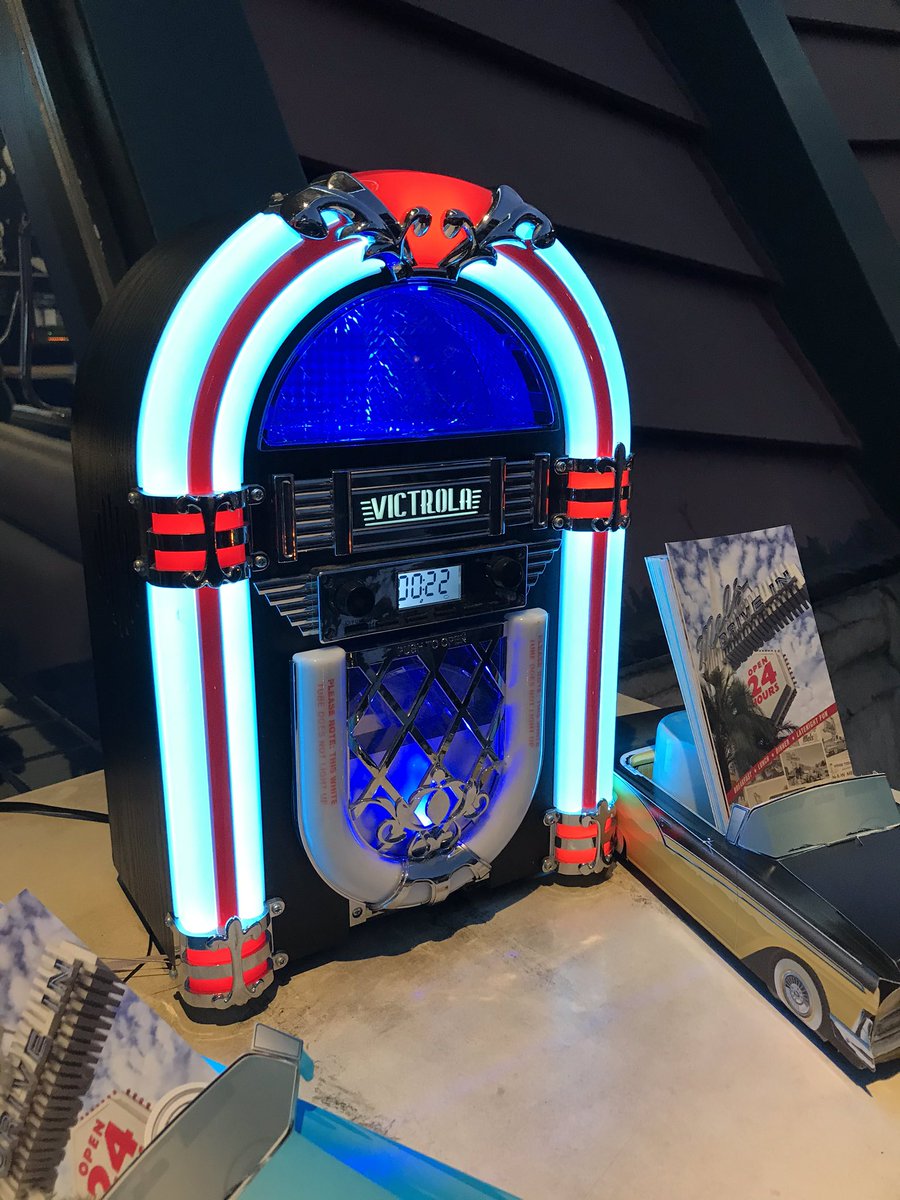 Bob's Big Boy Restaurant (Burbank)
Bob's is probably the only restaurant in LA that offers four types of distance dining service. Bob's is very distance friendly – even the Bob statue in front is wearing a mask!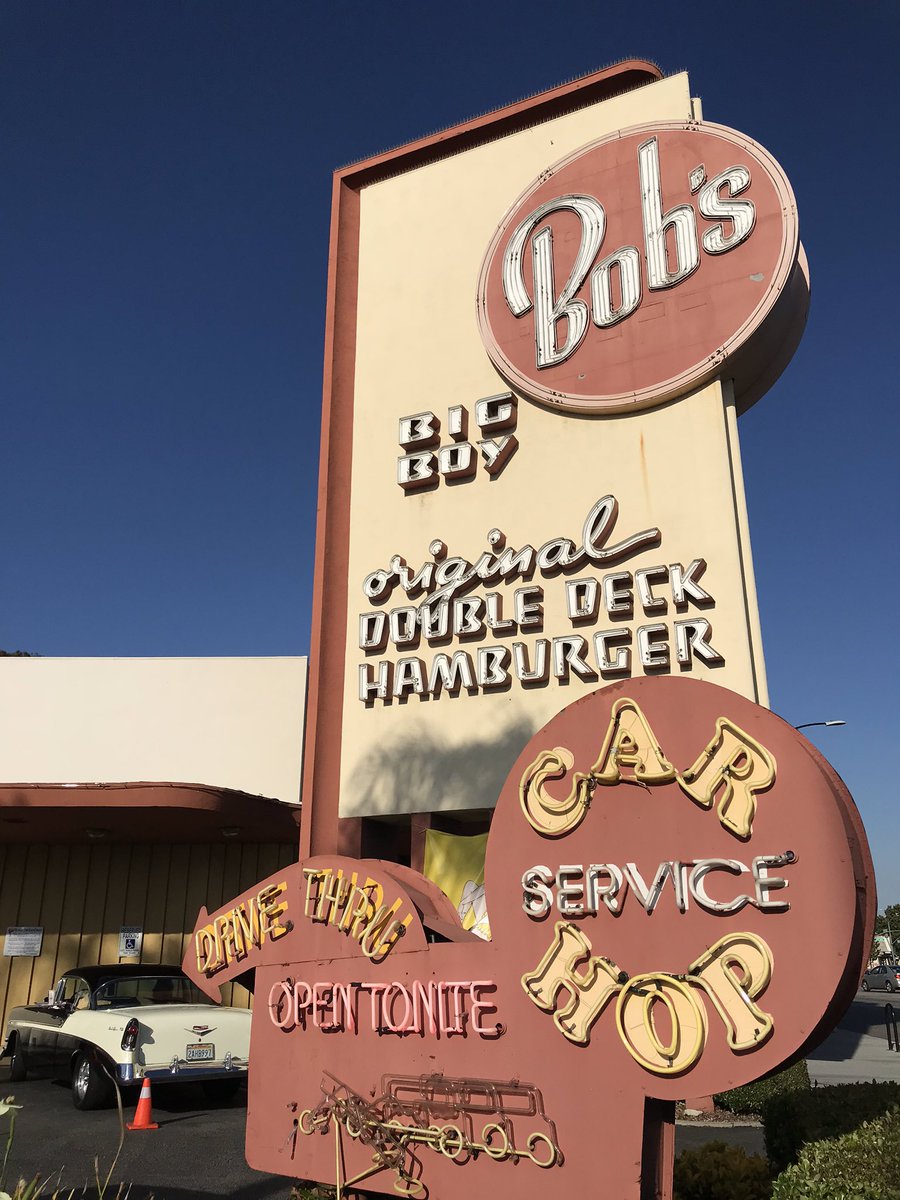 Car Hop. Bob's Big Boy is bringing back its car hop service every day 9 am – 9pm. You can drive up in its parking lot, and a car-host will direct you where to park. Then a server wearing a mask brings a disposable menu to your car, to take your order. You should be wearing a mask too. The carhop waiter (runner) returns with your food on a tray that attaches to your rolled-down window for you to eat your food. You don't have to get out of your car.
Drive-Thru. The drive-thru is open, so you can order at the window, get your food, and speed away.
Pick-up (order in advance and pick-up) and Take-Out (order in person there and go) are also available.
There is no inside dining at this time.
Food: Bob's serves the 1950s classics  burgers, fries, soda, root beer floats.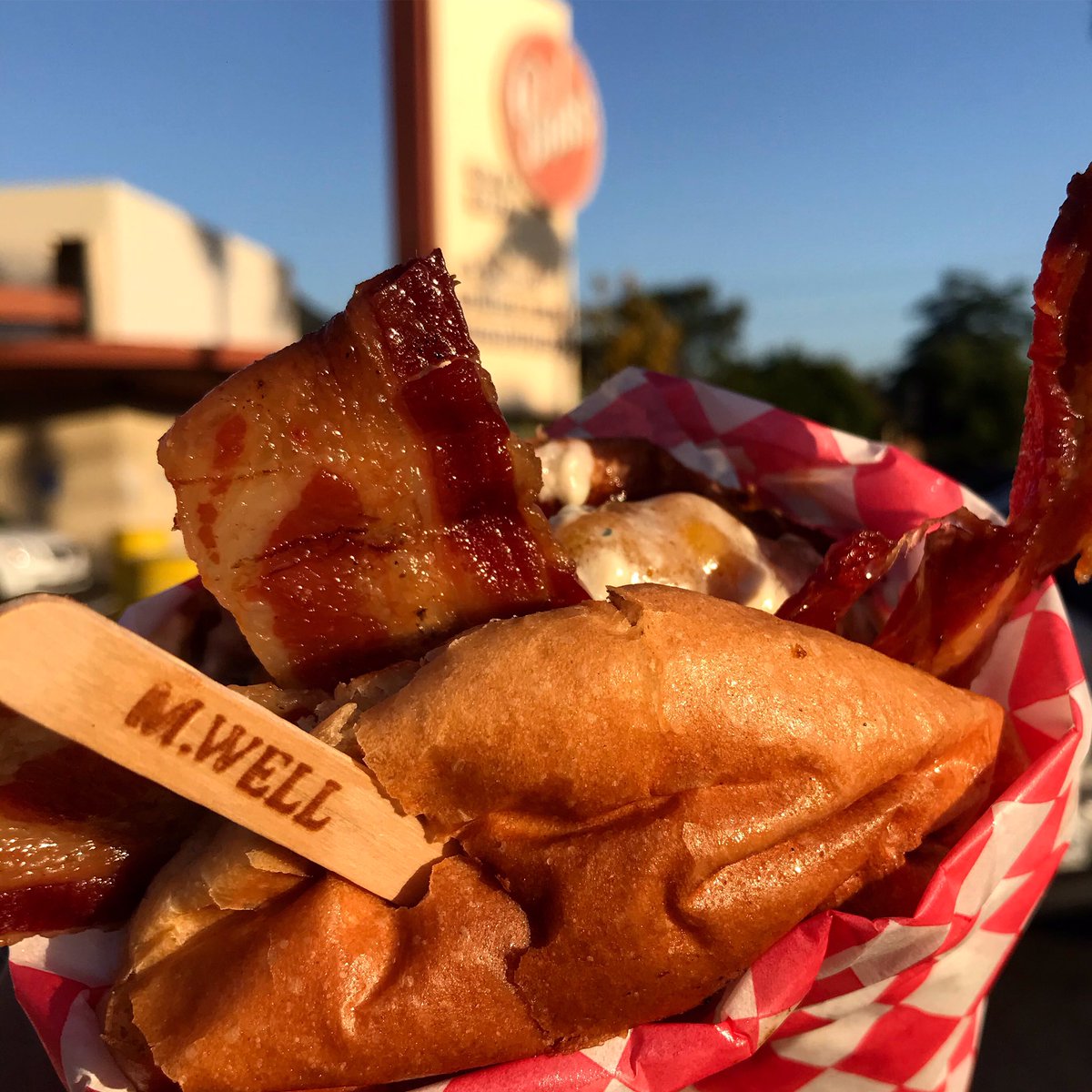 It also serves beef dip, chicken and waffles, and other diner food. It's still LA, so the menu also includes salads, quesadillas, breakfast burritos served all day. For dessert: try the famous strawberry pie or seven-layer chocolate cake.
Photo Opps: The car hop sign, palm trees, classic cars, food on food treys, selfie with Bob Big Boy statue with mask.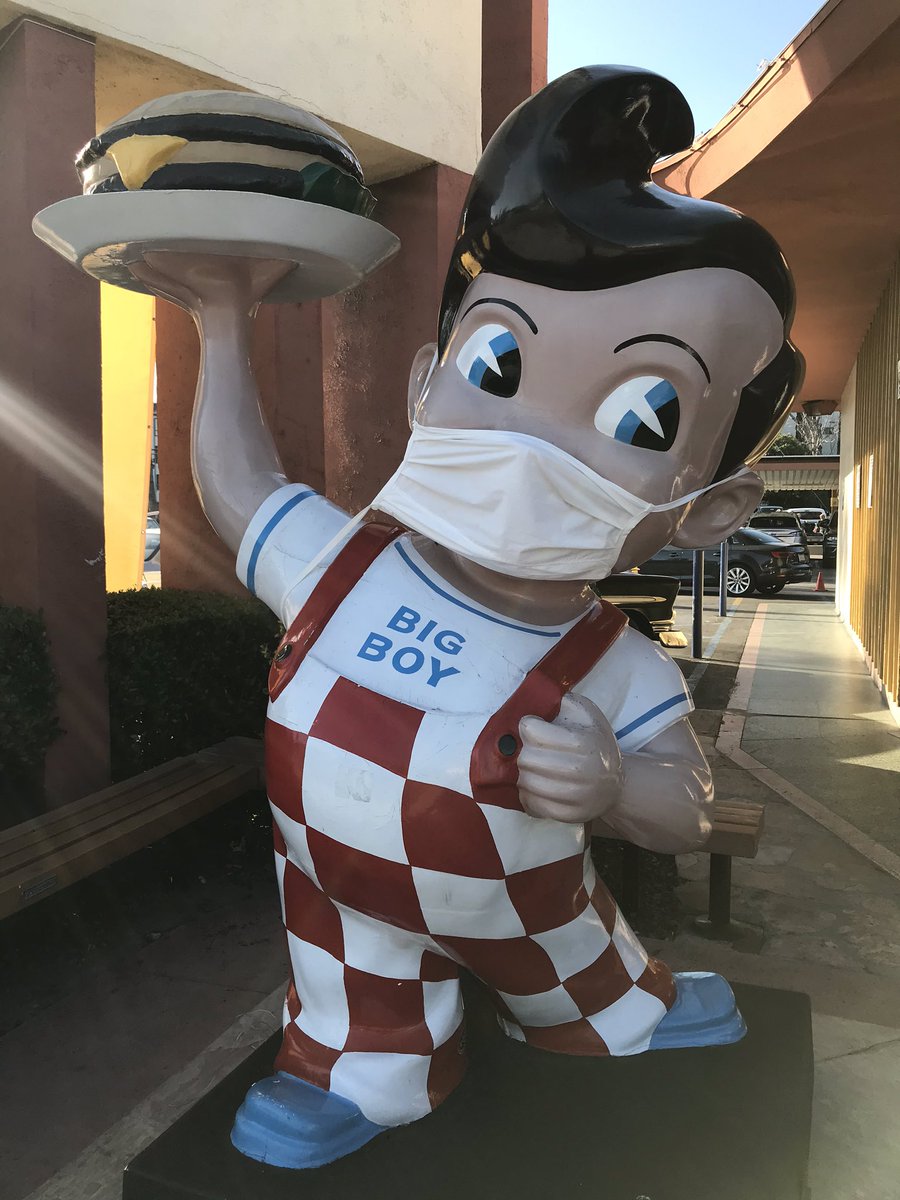 Fun Fact: Friday Nights brings back Car Show night, where car collectors bring their Mustangs, Cadillacs, and other retro cars to show off at the Bob's parking lot and the adjacent parking lot.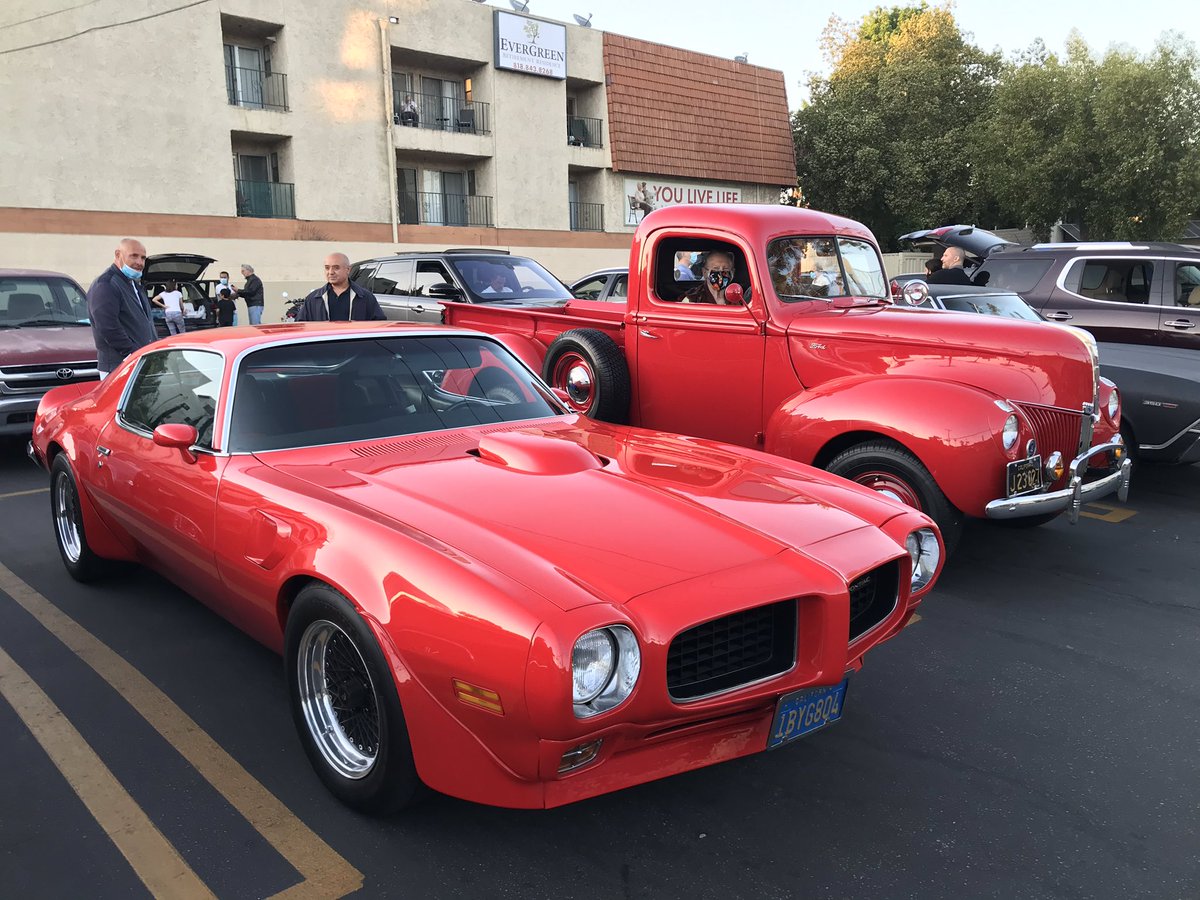 Wear your masks as you're walking around checking cars, and remain physically distant! Note: If you go on Friday night, there may be a 20-30 min wait to get a car hop parking spot, cuz Friday night's are packed in pandemic!