LOS ANGELES – You can now battle Stormtroopers, shoot mercenaries, and soar over Paris all in VR at the new IMAX VR theater that recently opened across the street from the Grove in Los Angeles.
IMAX VR is the first venue based VR in Los Angeles, where anybody (over 13) can go buy a ticket to try a VR experience, similar to a regular theater. Chose from Star Wars: Trials of Tatooine, John Wick 2, boxing, or more.
Ticket prices are $7-10 for a 10-15 minute movie. The sampler lets you choose from a dozen different VR experiences and is $25 for 30 minutes.
The VR is not shown on IMAX screens. Rather IMAX VR refers to this being an IMAX-owned VR theater.
Go online in advance to register and buy a ticket beforehand. The registration process and ticket selection website is a bit clunky, so if you are frustrated, you can just show up to register and buy ticket but you may have to wait 15 min to an hour. VR showtimes are available every 15-20 minutes.
Our Digital LA influencer crew tried out several of the VR experiences. Lightsaber not included  – our founder Kevin Winston brought his own.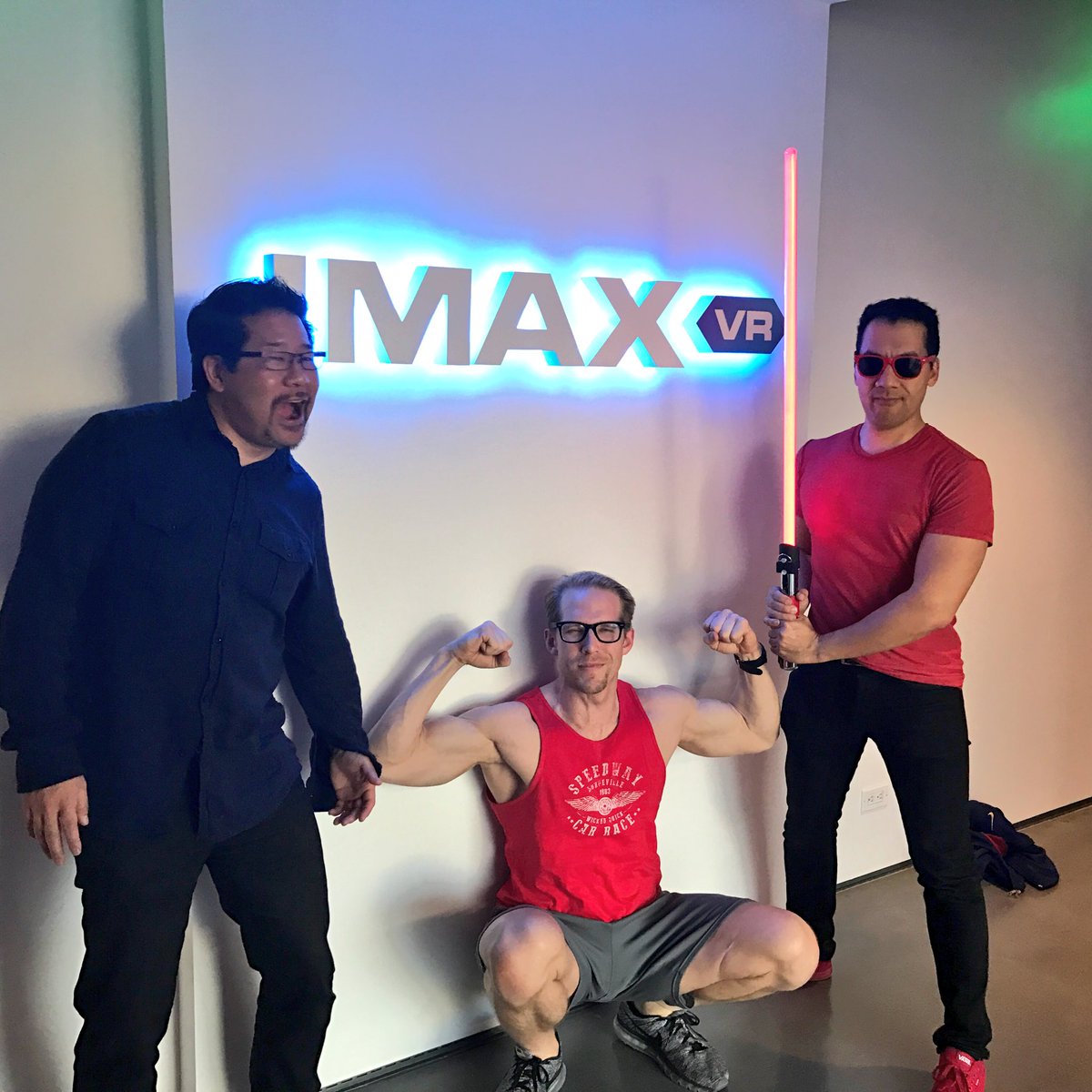 Our founder Kevin Winston gives a quick two minute tour of IMAX VR, from the ticket counter, merchandise waiting area, to the 15 or so VR pods in the back.
Checking our the new #IMAXVR pic.twitter.com/qkRtkHoZbJ

— Digital LA (@DigitalLA) March 3, 2017
Star Wars: Trials of Tatooine
Content is King: This official Star Wars VR experience is enough to get many Star Wars fans to try their first VR. In the experience, you start off on Tatooine, when Han Solo flies in the Millennium Falcon to drop off R2-D2 and a lightsaber for you. Then, Stormtroopers start to attack, and you must protect R2. You use the HTC Vive controllers to wield your lightsaber, to block and deflect the Stormtrooper blasts back at them.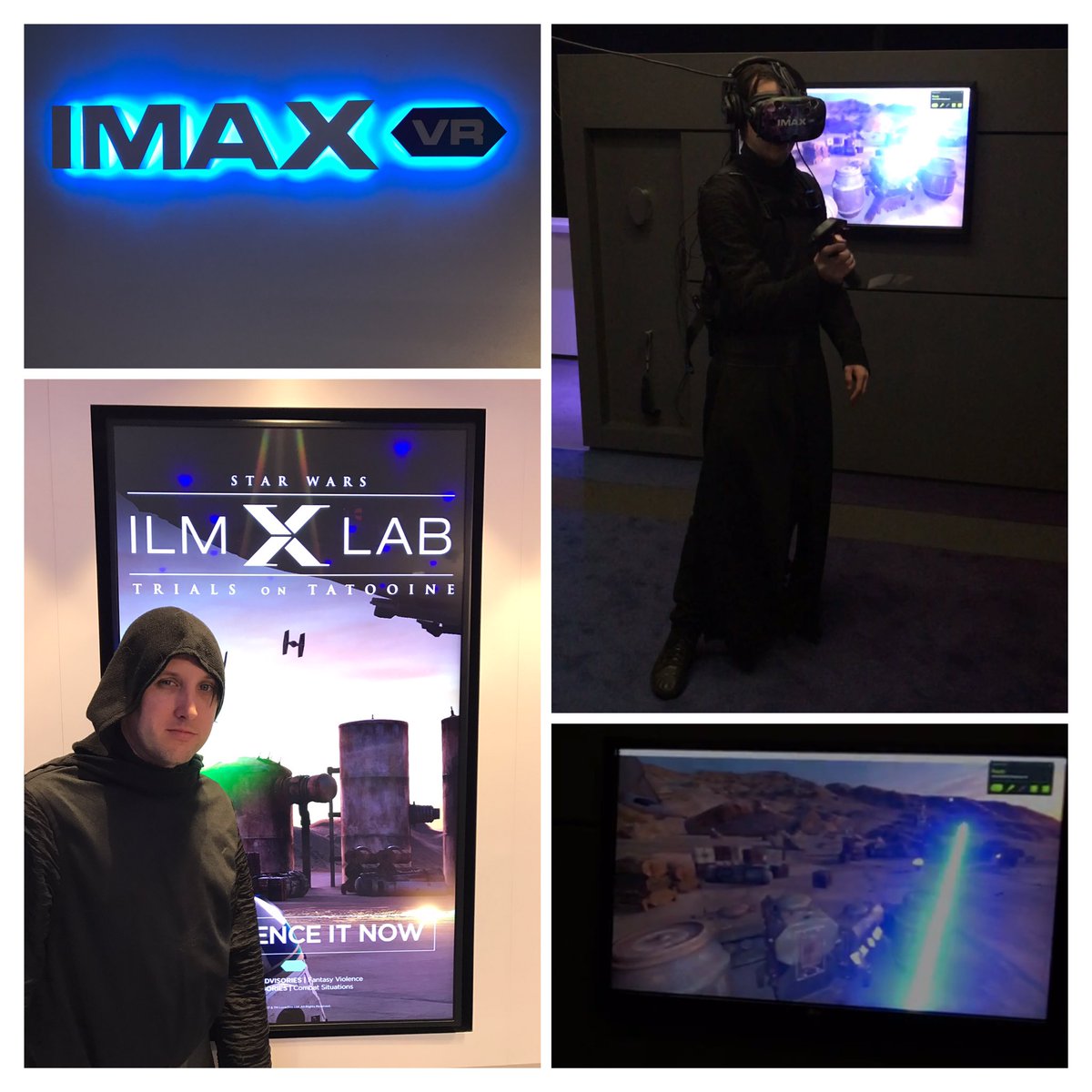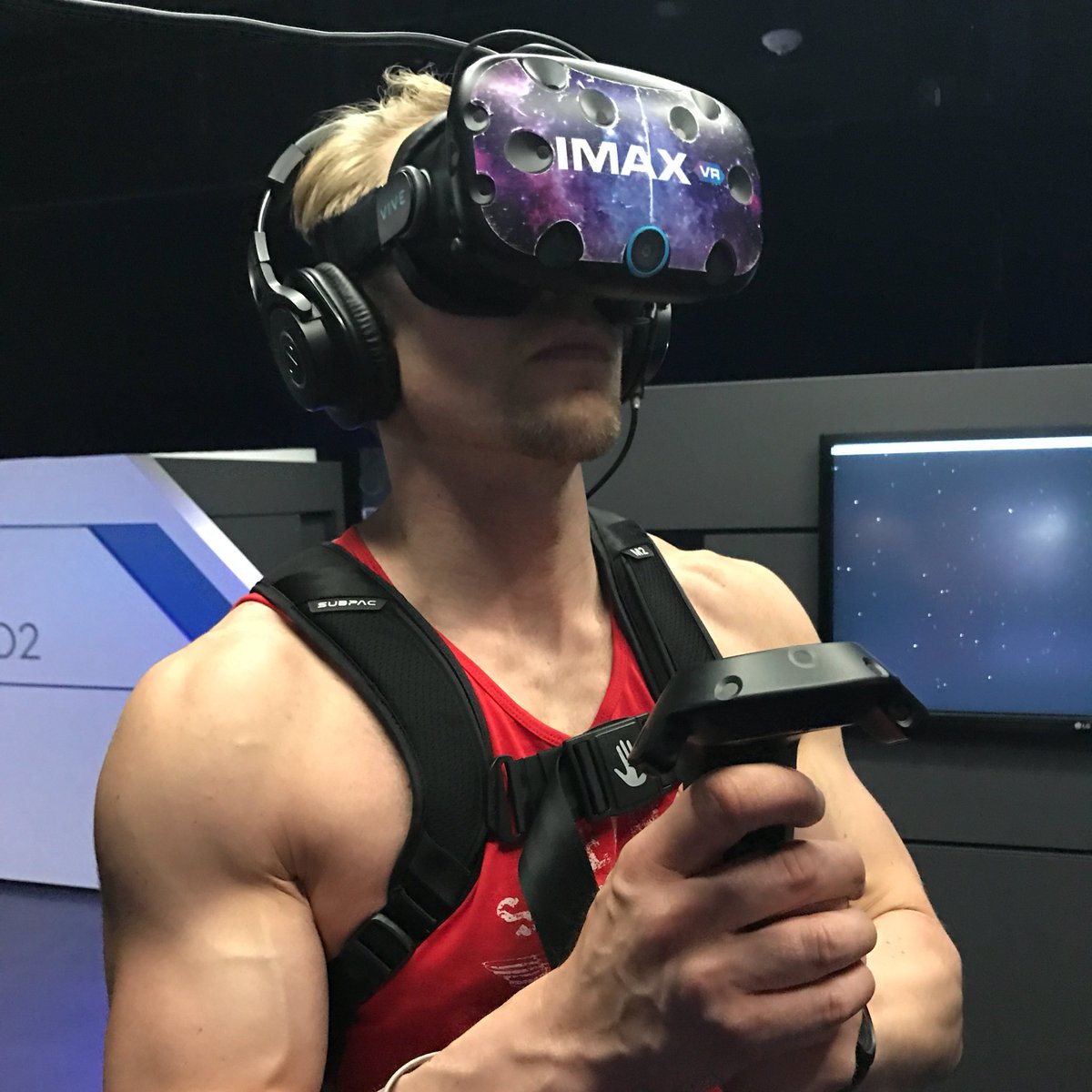 The whole experience is about 7-10 minutes. It's fun to be in the Star Wars universe with this official title, tho you may wish you could actually fight a Stormtrooper up close.
"It was incredible," said Jason Charchan, a personal trainer who spoke at our Fitness Goes Social panel. "I felt like I was in a battle with a real lightsaber!"
Steve dressed up as Kylo Ren to complete his mission.
"The Trials of Tatooine is a must for any diehard Star Wars fan," Steven Sievers of Bionic Buzz said.
Eagle Flight
You're an eagle soaring over Paris, Notre Dame and the river Thames in Ubisoft's Eagle Flight. In this multiplayer game, you and your friends can play in teams of two or three players versus another team in a capture the flag style game. Teams fly around a virtual Paris to capture rabbits, and drop them off at certain locations. Whichever team gets the most points wins. Use your sonic shriek to shoot other players, or your shields to protect yourself from being shot or rammed by the opposing team.
Eagle Flight won the Technical Achievement Award at the DICE Awards in Vegas a few weeks ago. This was the first year the Immersive Reality / VR was added as a category to the annual awards show established by the Academy of Interactive Arts and Sciences.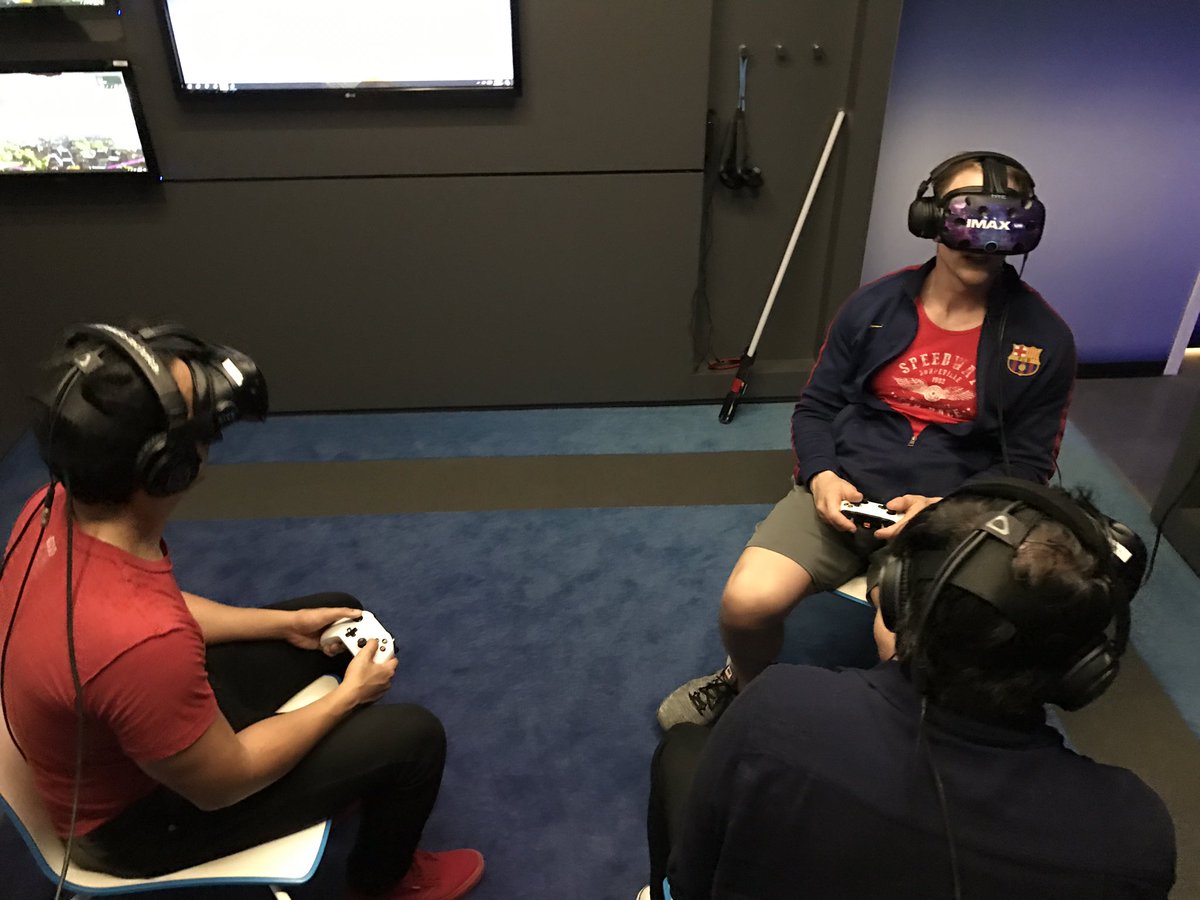 Our Digital LA team of Kevin, Jason and Greg spent the first game just getting used to the flying controls, and using the sonic shriek and shields. With speedy flying, the other team won. We looked to "good game" congratulate our opponents in real life, to reveal they were some teenage kids. Of course.
"Eagle Flight was a really great game and one of the better VR experiences I have tried," said Gregg Katano of Unofficial Cardboard, which makes custom branded cardboard VR viewers.  "The controls were intuitive and super responsive. It allowed a non-gamer like myself to get quickly acclimated, enjoying the scenery of the beautiful 360° Parisian world, and my out-of-body-experience as a freestyling eagle with my eagle buddies. And as a bonus, it was completely nausea-free!"
John Wick 2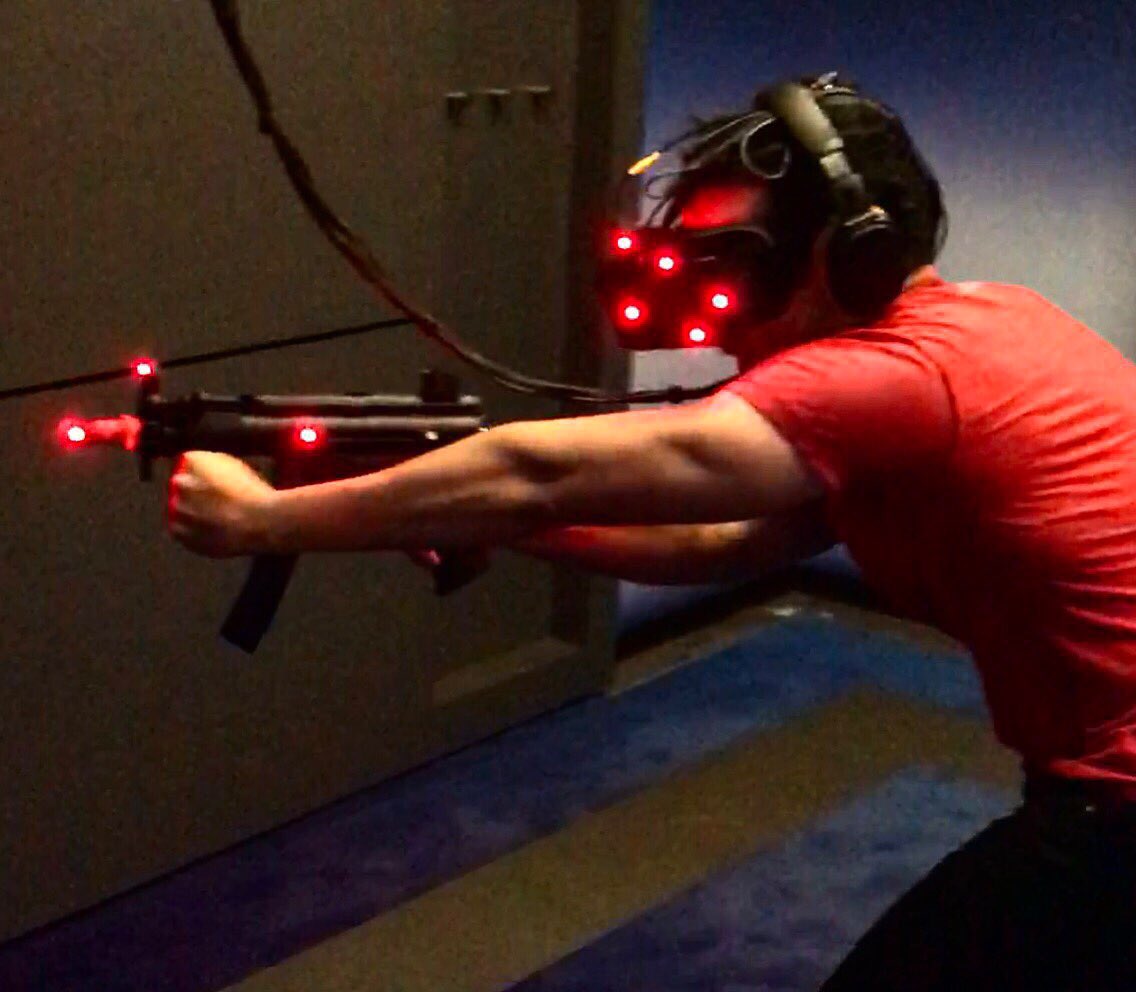 Based on the movie which recently released, John Wick 2 puts you in the world of the film. You are John Wick, atop a building in the city, shooting mercenaries who are shooting at your from buildings.
John Wick uses Star VR goggles. There is no border frame when you look through the goggles, and you're spinning around shooting bad guys on all sides, so it can be a little disorienting.
"I never get dizzy in VR, but this one made me a little disoriented," said Digital LA founder Kevin Winston. "I tried looking over the edge of a building to see bad guys climbing up, and almost felt I was going to fall off!"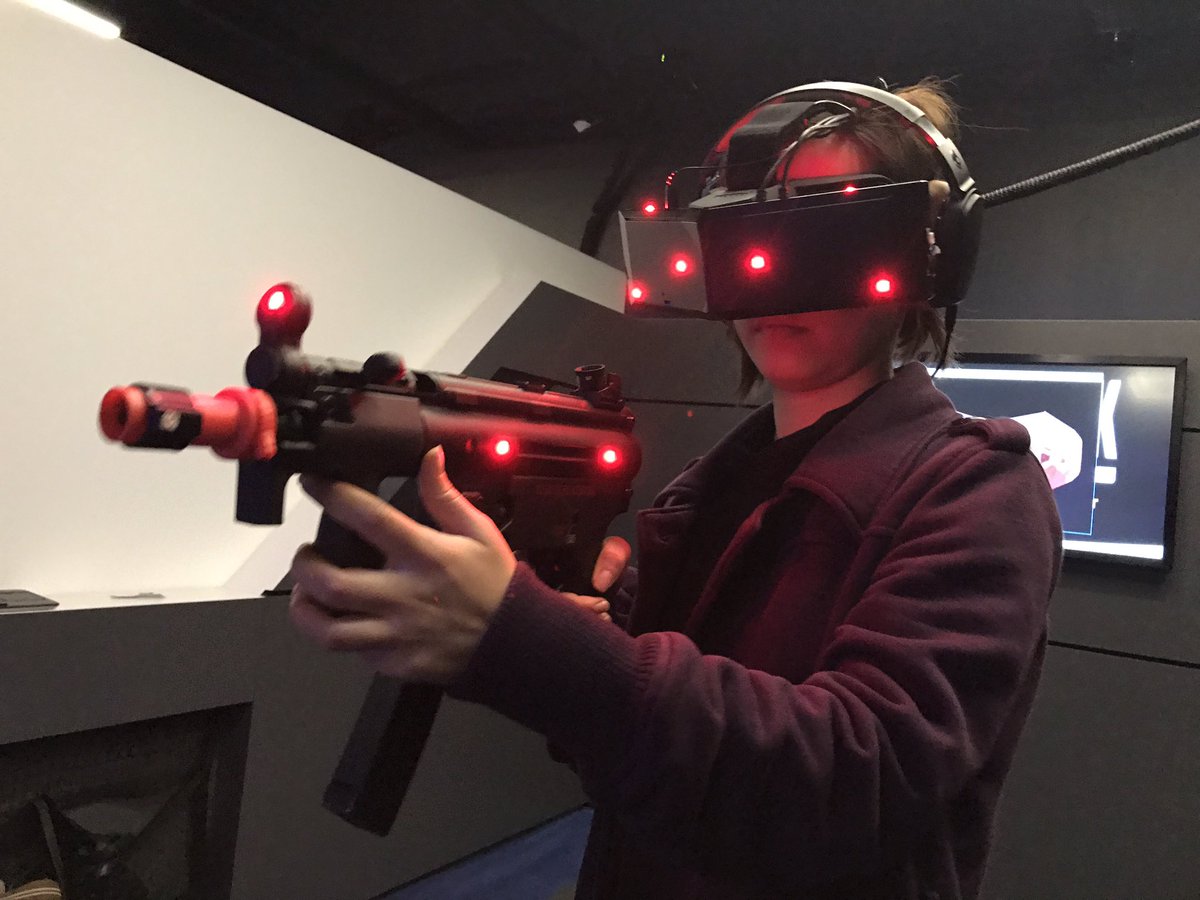 Location-based VR like IMAX VR is the first example of a consumer based pay-to-play VR in Los Angeles.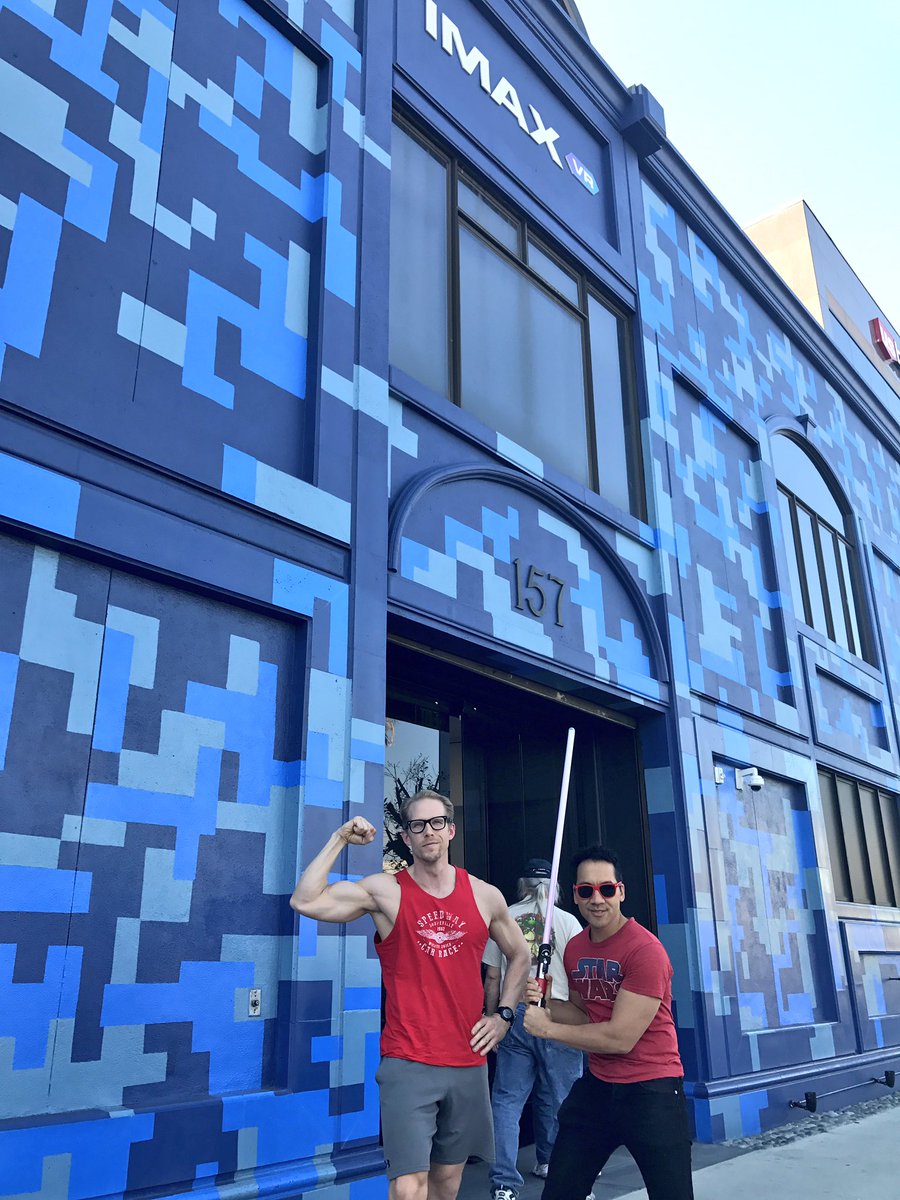 Other venue based VR in the US includes the VOID's Ghostbusters Dimension VR at Madame Tussauds Times Square in New York.
In the midwest, VR Junkies is also a chain of VR arcades.
Steven Spielberg announced that he is working on a VR arcade in LA.
Starbreeze has announced they are working on a VR arcade in LA several months ago, but no details have been released.
Internationally, China has hundreds of location based VR kiosks and arcades at malls, theaters, and other venues.
Try it! Follow @IMAX_VR #IMAXVR