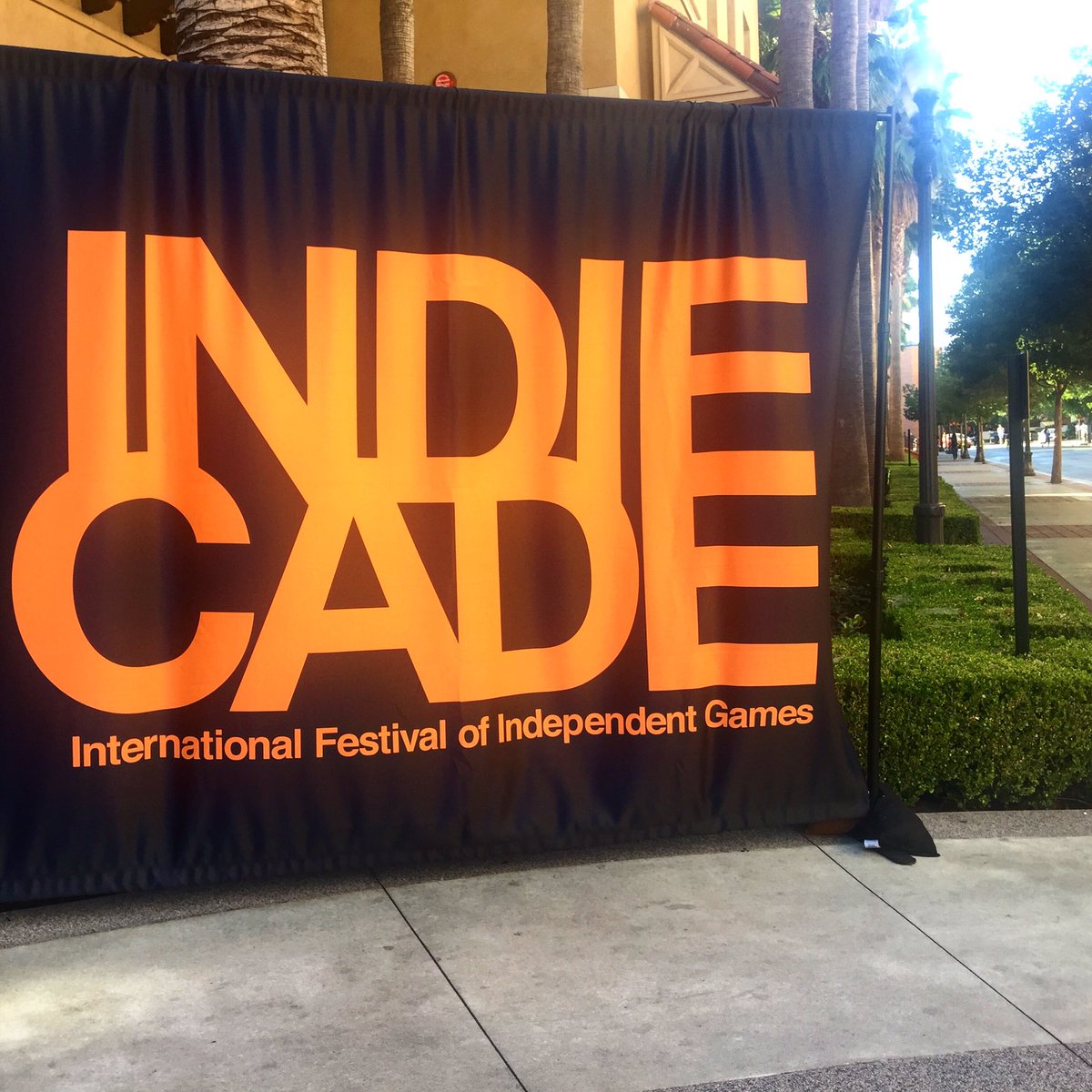 DOWNTOWN LA – IndieCade featured panels, keynotes, awards and lots of game play demos to celebrate independent games at its ninth LA conference, held at USC.
The IndieCade Festival features top independent games, and was held at the School of Cinematic Arts at USC in downtown Los Angeles, moved from its downtown Culver City location.
"The IndieCade Festival is a celebration of the innovation and creativity that distinguishes the world of indie gaming," said IndieCade CEO Stephanie Barish. "Independent developers are essential for the progress and advances of the larger game industry and we're proud to provide a home that celebrates and honors their talent, dedication and important works."
Highlights included panels, keynotes, and demos, with a theme of making a difference, inclusion and diversity.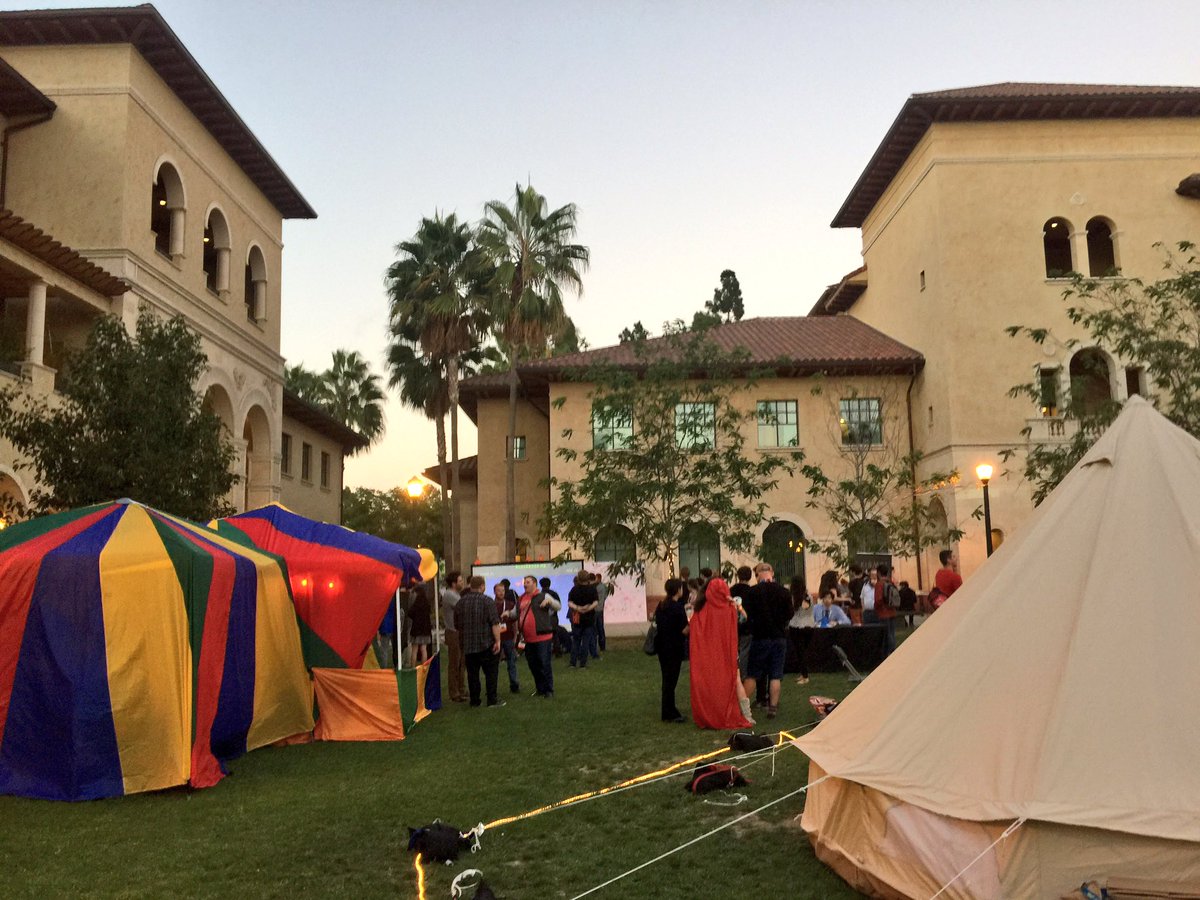 VR Best Practices panel featured advice including
– Just do it. Now is the time to get into VR or AR. You can start today and be an expert by next year
– Who will make the social mobile VR game so u can play with friends on your phone with cardboard? The Pokemon Go for VR?
– Most of your interaction should take place at an arm length from the viewer
– Motion: Decide what motion you will have in your experience: none, slow gliding, or teleport. What works for your game?
– For every "rule" in VR, you can break it  for what fits your story. Also, the rules are changing as storytellers, filmmakers, gamers, and more figure out what works, and what people are getting used to.
Women in eSports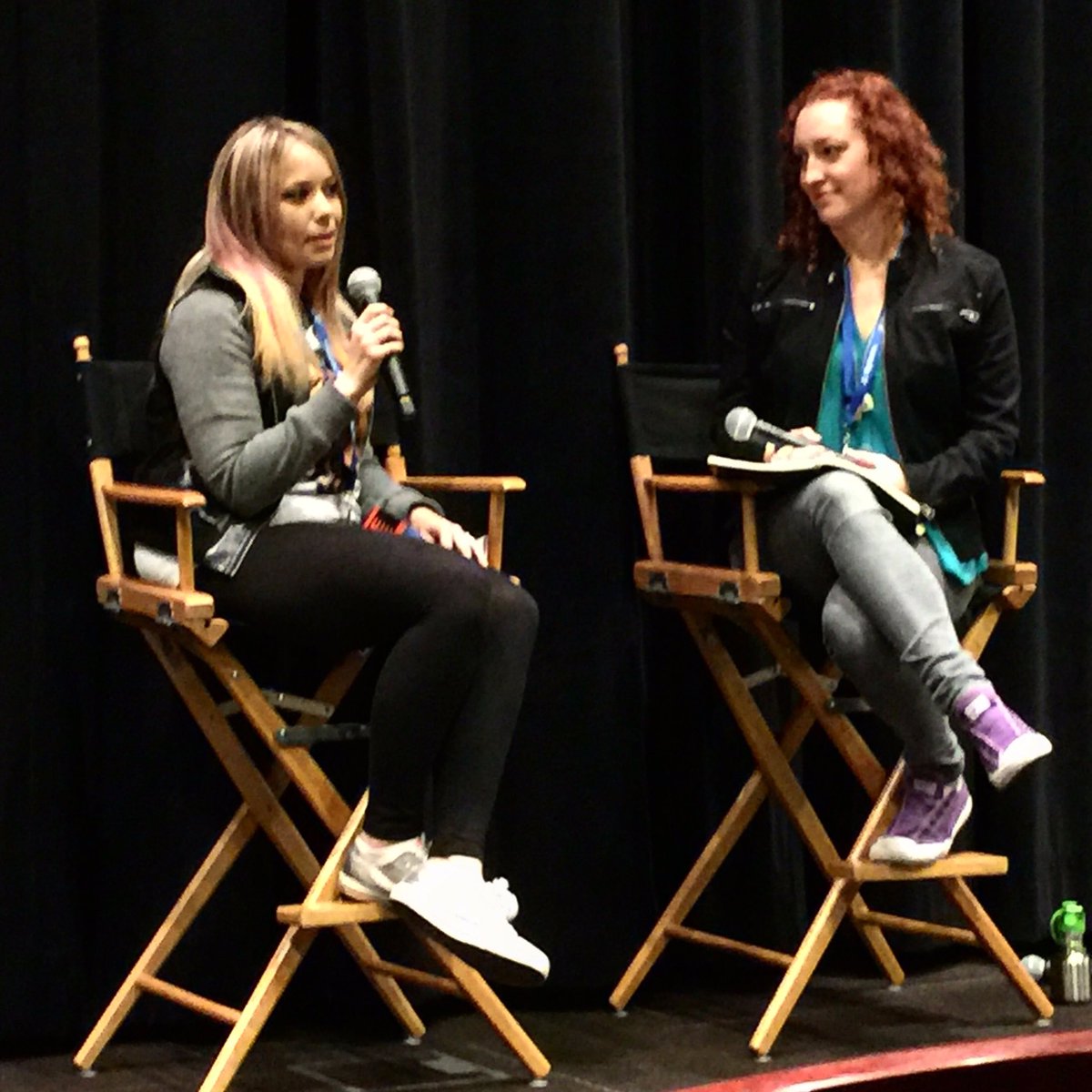 Professional gamer Emmalee Garrido discussed her background and ideas on increasing women in eSports. She said that she first got into playing Counterstrike when she was a teen, when her brother left the computer open, and she started to play.
Emmalee became attracted to the team-based play, and and thrill of victory when friends congratulate her on a good win. She has played Counterstrike for 10 years and started her team Selfless of female players two years ago, saying they are like my family. She works by day as a nurse, and then comes home and practices several hours every night with her teammates.
To combat harassment and being called names just because they are female players, Emmalee and her team have learned just to ignore it, defend each other, and focus on playing, getting better, and winning championships. She described one story where at a tournament, she saw a guy who had called her names online, and challenged him to play a game. She beat him, and now, "He doesn't bother me any more" she said.
Since there is less sponsorship money for women, she often has to pay for her team's trips to international game competitions out of her own pocket.  She said that to increase women in eSports, it would be nice if there were corporate sponsors who stepped up to support female teams, because the market will grow. She said it also would be nice for top ranked pro male players to publicly support them. She announced that a documentary telling her amazing story will be released in the spring.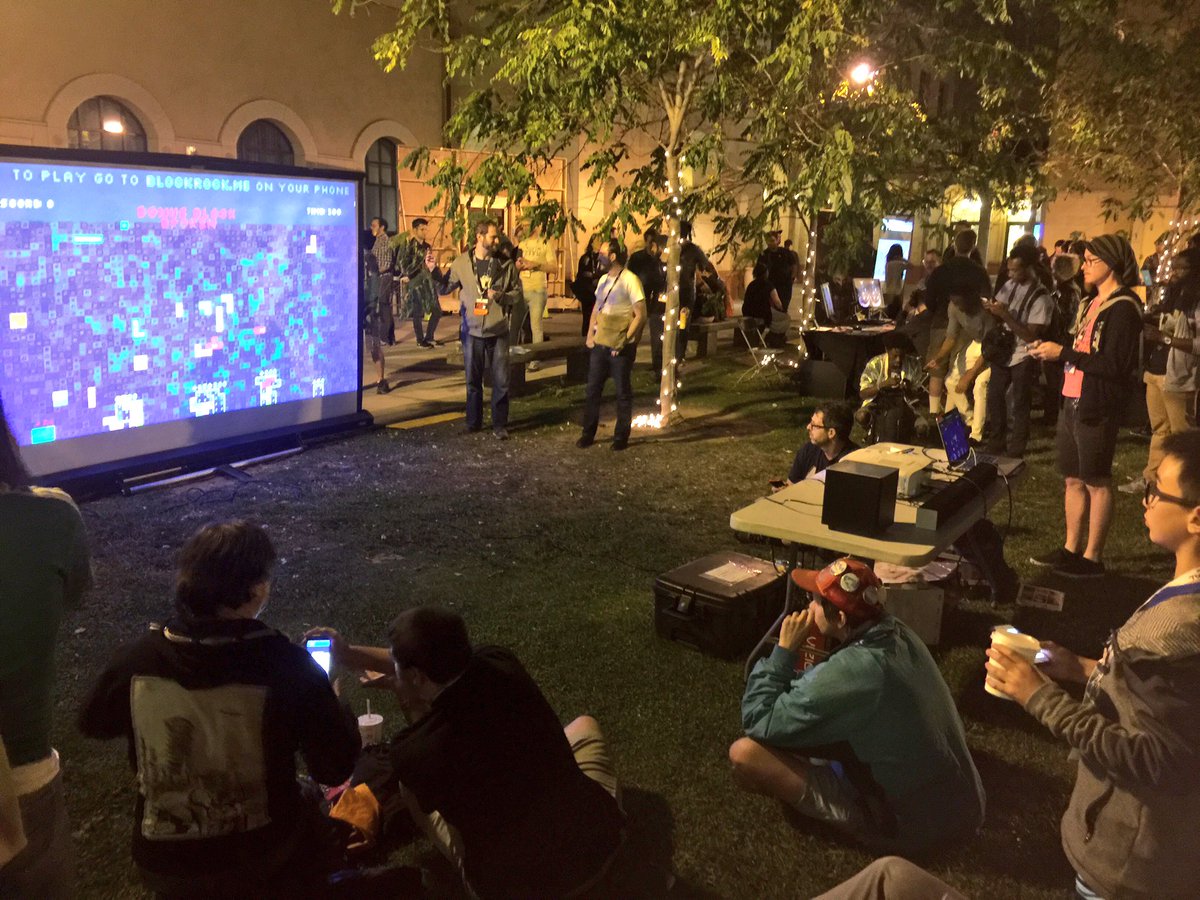 Night Games featured games on the lawn, included Block Party, where up to 18 players can use their cell phone to play a group Tetris game on a big screen.
Writing for Games panel.  Write everyday: your blog post, articles, short stories, scripts, games, so you have something to show when you are applying for a games job, said writer Kaitlin Tremblay. She also said that writing alone is not enough: You must network and games conference, meetups and events so the right people can see your work.
IndieCade Awards
The IndieCade Awards recognized excellence in independent games in several categories on Sunday night at the Norris Theater on the campus of the University of Southern California.
Winners in each category included:
Trailblazer Award: Rand Miller
Rand Miller co-founded Cyan with brother Robyn about 30 years ago with the release of The Manhole – an award-winning world for kids. Since then he's managed to create everything from small mobile apps to massively multiplayer online games, including the bestsellers Myst and Riven. His passion is discovery, and when he's not exploring the real world with his wife he concocts ideas of strange places that can only be explored virtually. His latest project Obduction was released this year to wonderful reviews.
Game Changer Award: Toni Rocca
An honorary prize given to a working game creator who is emerging in their career, setting an example of true independence while helping change the discussion around games and play. This year's recipient is Toni Rocca. Toni is the President and founder of GaymerX and a principal at Midboss.
The Grand Jury Award: 1979 Revolution: Black Friday. Developer – INK Stories
1979 Revolution: Black Friday is a choice driven, narrative adventure game that brings players into the brooding world of a nation on the verge of collapse. This game is based on real stories, real events, and real people.
The Visual Design Award: Infinite-O, Developer – Corazon del Sol
Infinite-O is a video game that will be on display as part of the exhibition, Let Power Take A Female Form. The video game is a conceptual portrait on the life & influence of three generations of women artists, Eugenia Butler, Eugenia P. Butler, Corazon Del Sol. The central character is a pair of three legs that navigates a series of planetary vignettes, with theme elements that oscillate between absurd dreaminess and narrative vehicles that explore the archetypes of woman-hood.
The Audio Design Award: Soundstage. Developer – Logan Olson
SoundStage is a VR music creation and performance sandbox built especially for room-scale, motion-tracked virtual reality. Whether you are a musician or just want to bang on virtual drums, SoundStage has the tools to express yourself.
The Game Design Award: Hamlet–Mobile. Developer – Capital W
Hamlet-Mobile is an immersive experience that explores grief through an interactive adaptation of Hamlet staged in a cargo van. Hamlet-Mobile is comprised of eight short segments inspired by Shakespeare's play, each performed for audiences of 1 to 2 people.
The Story/World Design Award: Diaries of a Spaceport Janitor. Developer – Sundae Month
Diaries of a Spaceport Janitor is an anti-adventure game about cleaning up trash at a vibrant alien bazaar. Every night, return to your small apartment (located above a very strange smut shop), collect your meager earnings, and write in your diary. Every morning, wake up and do it again. Live a life of tedium and monotony- on the very threshold of adventure.
The Technology Award: Threadsteading. Developer – Disney Research Pittsburgh
Threadsteading is a two-player, territorial control strategy game played on a Singer CE-200 Sewing Machine with embroidery attachment and a custom-mounted controller. Players act as competing commanders of a team of royal scouts tasked with exploring a hex-gridded domain of varying terrain difficulty. Players must scheme and strategize to find the best path to take over the terrain to maximize the territory they each control.
The Impact Award: Replica. Developer – Somi (Individual)
Replica is an interactive novel game played through a cellphone and social media. You are given a cellphone of an unknown owner. You must look for evidence of terrorism by hacking into the cellphone owner's account, under governmental coercion, then inspecting the cellphone usage history and social media activity records. The insane experience of peeping into someone's private life through a cellphone will transform you into the state's greatest patriot.
The Interaction Award: The Order of the Oven Mitt. Developer – Inquisiment
The Order of the Oven Mitt is a tabletop, completely edible game for all ages that will get you laughing and strategizing while you satisfy your sweet tooth. You and another Initiate Knight move about the game board in a chess-knight style movements. Land on a Sacred Square to eat it according to the Sacred Ritual. Stop the other Knight from getting your favorite Sacred Square, or compromise and share together.
The Jury Choice Award: Hyper Light Drifter. Developer – Heart Machine
Echoes of a dark and violent past resonate throughout a savage land, steeped in treasure and blood. Hyper Light Drifter is an action adventure RPG in the vein of the best 16­bit classics, with modernized mechanics and designs on a much grander scale.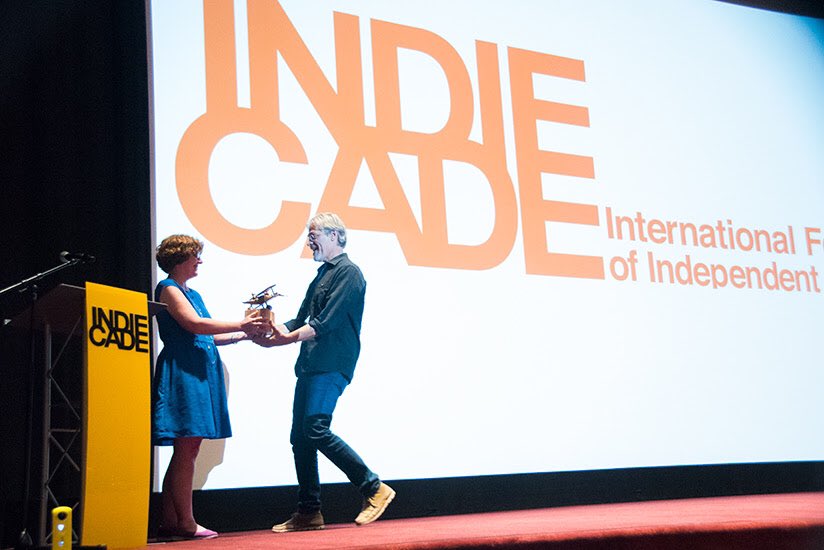 CHOICE AWARDS
Additionally, IndieCade bestows three "Choice Awards" which are voted on by the attending media, developers and festival attendees. Winners in these categories include:
The Audience Choice Award: Bad News. Developer – Expressive Intelligence Studio
Bad News is an installation-based game that combines procedural generation, deep simulation and live performance. Set in the summer of 1979, gameplay takes place in a procedurally generated American small town with over a century of simulated history.
The Developer Choice Award: We Are Chicago. Developer – Culture Shock Games
We Are Chicago is a first person narrative-driven adventure game that strives to portray the harsh realities of growing up on the south side of Chicago.
The Media Choice Award: You Must Be 18 or Older to Enter. Developer – Seemingly Pointless
You Must be 18 or Older to Enter recreates the feeling of being a prepubescent kid looking at porn for the first time. Through interactive fiction elements combined with ASCII styled art, 'You Must be 18 or Older to Enter' blurs several genres together to create an anxious but compelling experience.
Additional details on the award winning games and festival nominees can be found online on the IndieCade website at
http://www.indiecade.com/2016/FestivalAwards
ABOUT INDIECADE
Applauded as the "Sundance of the videogame industry," IndieCade supports independent game development globally through a series of international events highlighting the rich, diverse, artistic and culturally significant contributions of indie game developers. IndieCade's programs are designed to bring visibility to and facilitate the production of new works within the emerging independent game community. Annual events include IndieCade East, IndieCade Europe, IndieCade's Showcase @ E3, and IndieCade Festival, the largest gathering of independent game creators in the nation. For more information, visit indiecade.com.