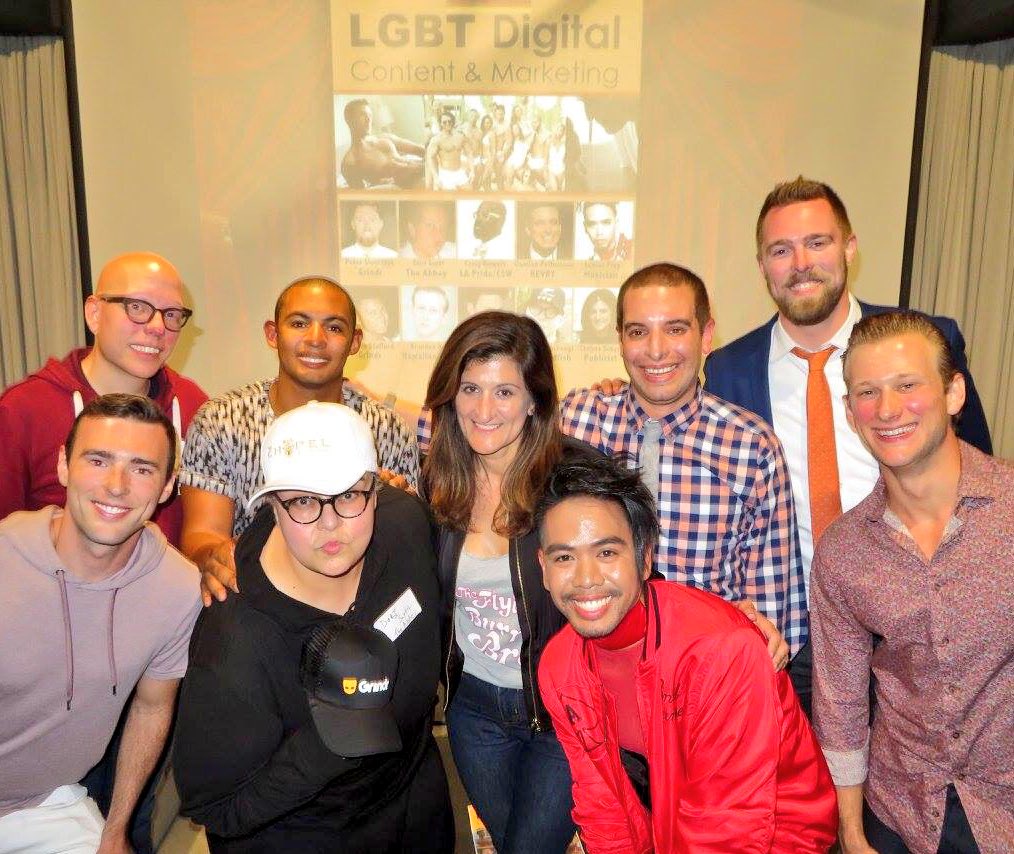 WEST HOLLYWOOD – Passionate creators are increasingly making digital content to express themselves with voices not traditionally seen in media, and sharing with engaged fans and communities, said speakers at our Digital LA – LGBTQ Content and Marketing panel at the new Grindr HQ in West Hollywood.
This panel is our annual LGBT digital panel celebrating leaders on the week of LA Pride, the annual festival in West Hollywood.
The panel was held at Grindr's new headquarters in the Pacific Design Center in West Hollywood. The dating app Grindr recently received $96M investment, and moved from Hollywood to its new offices last summer.
Speakers shared how they create content to express their unique voices, and share with their online fans and communities.
Grindr launches INTO lifestyle digital magazine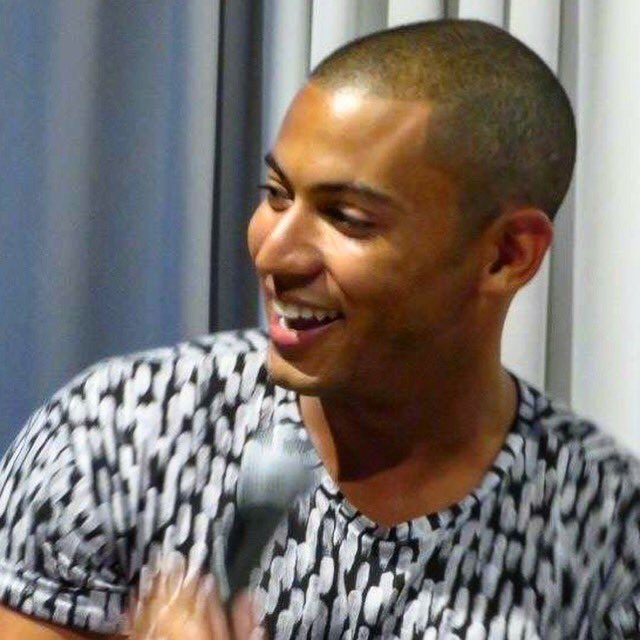 Grindr Editor-In-Chief Zach Stafford described Grindr's first foray into creating gay content with its new INTO digital lifestyle magazine.
The online magazine focuses on news and features ranging from LGBT social issues to health and fitness tips.
Zach said that INTO will feature diverse LGBTQ stories and people. He brings his experience from working at Guardian and Out.
Grindr uses a variety of digital marketing channels including paid as well as social, including Facebook and other social media, said Grindr VP of Marketing Peter Sloterdyk.
The Abbey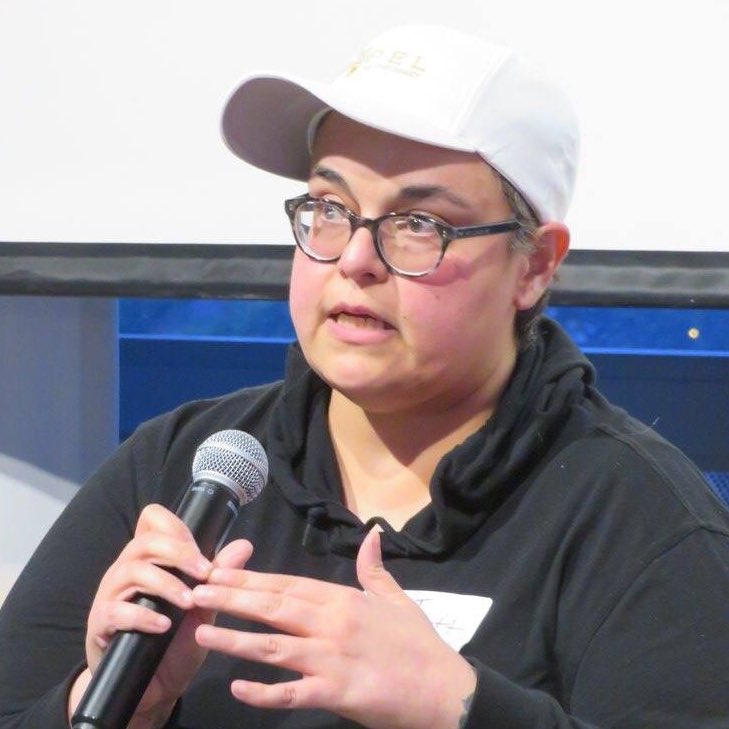 The Abbey uses social media to promote events from its weekly DJs to its Pulse fundraiser, said Dori Scott, who has been the Grindr Digital Marketing manager for the past decade.
She said she has been increasing using Facebook live and other live tools to show what's happening at the Abbey right now, with high engagement.
The Abbey social media also promotes the new reality TV show "What Happens at the Abbey" which airs on Sundays on the E! network.
The Abbey's @TheAbbeyWeHo Twitter promoted tune-in to the show premiere, and has done live tweeting during the show, and with the cast for its premiere.
LA Pride: Diverse Audiences
Craig Bowers of Christopher Street West, the organizers of LA Pride, described how its marketing strategy adapts to shifting demographics of LA Pride attendees and the march on Sunday. The Pride Parade on Sunday will be replaced with the Resist March, a return to the event's roots as a protest and march in the 1970s. The Resist March begins at Hollywood & Highland on Sunday June 11 and will work its way through the city, ending at West Hollywood Park where participants can continue celebrating at the LA Pride Festival.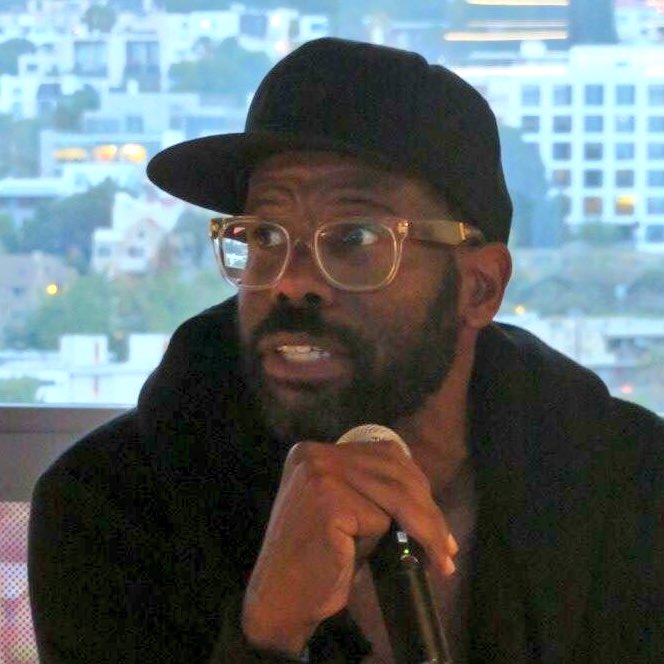 Craig said that shifting demographics affect choice of performers and use of social media. He said that only 8% of the LA Pride Festival attendees are from West Hollywood, so more diverse performers have been added. For example, there is a Latino stage with mostly latino artists.
Marketing and promotional videos videos like "Own Your Own Pride" featuring LGBTQ people of diverse ethnicities, ages etc.
Also, this year, the Pride Festival concert stages will be livestreamed via the Revry app, said Damian Pelliccione, CEO of Revry.
The LA Pride Festival is June 10-11 at West Hollywood park, featuring headliners Brandy and Chromeo and dozens more. Tickets available at http://lapride.org
LA Pride Festival is part of an expanded LA Pride Week with events June 5-11 including at Universal Studios (June 9), Dodgers Stadium (June 9) and a Women's Party (June 6).
Revry "Netflix for LGBT Content"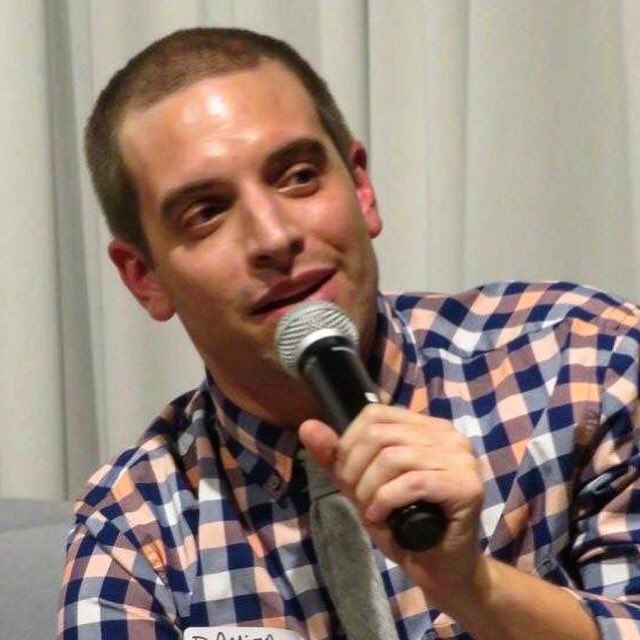 Damian and his co-founders created Revry last year, when they realized that there was no digital platform to view LGBTQ content. He says Revry is the Netflix for LGBTQ content. He worked with cofounders to find LGBTQ content creators, and worked with developers to build a digital subscription based platform to view the content.
The philosophy is to discover interesting LGBTQ stories, so content is not categorized by gay, lesbian, queer, Damian said.
Damian also recently founded the Out Web Fest digital content festival, which recognized LGBTQ content creators Tyler Oakley, Gigi Gorgeous, Ari, and dozens more with screenings and awards in LA held at YouTube Space LA in May.
The awards itself resulted in social media engagement when several of the winners tweeted their wins to supportive fans. Watch the Out Web Fest recap reel. 
Speakers Julius Frey and Branden Roth both won awards at Out Web Fest.
Julius Frey: Love is Love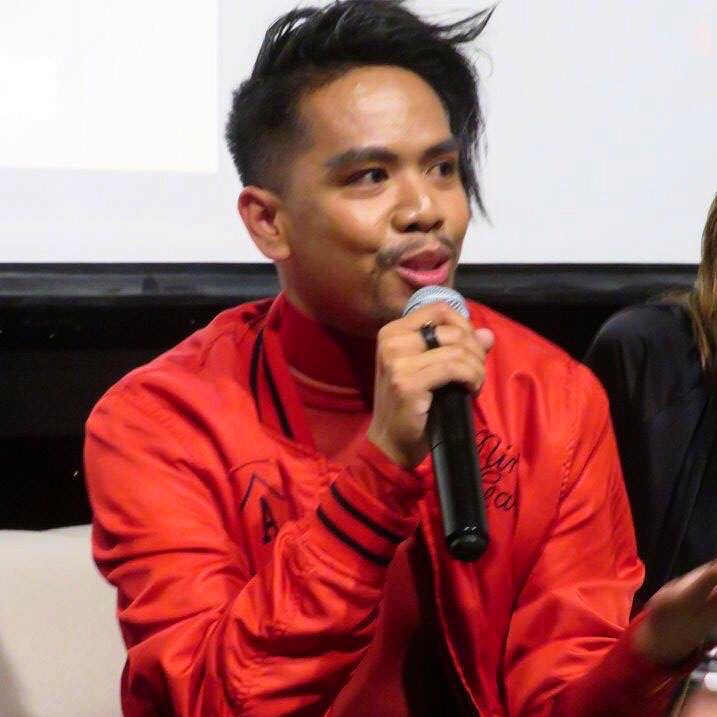 Julius Frey won the Out Web Fest music award for his music video "Love is Love" which celebrates diverse LGBTQ couples and love.
"I am a queer artist of color," he said, saying that he created his music video to express universal concepts of love.
He wanted to bring people of different backgrounds together, not divide them, as often seems to be done in media and news.
Julius understands marketing as well. He advises the LA Times on LGBTQ issues, and speaks at conferences
He is also an adjunct professor at USC teaching marketing.
Branden Roth: Hawaiian Snap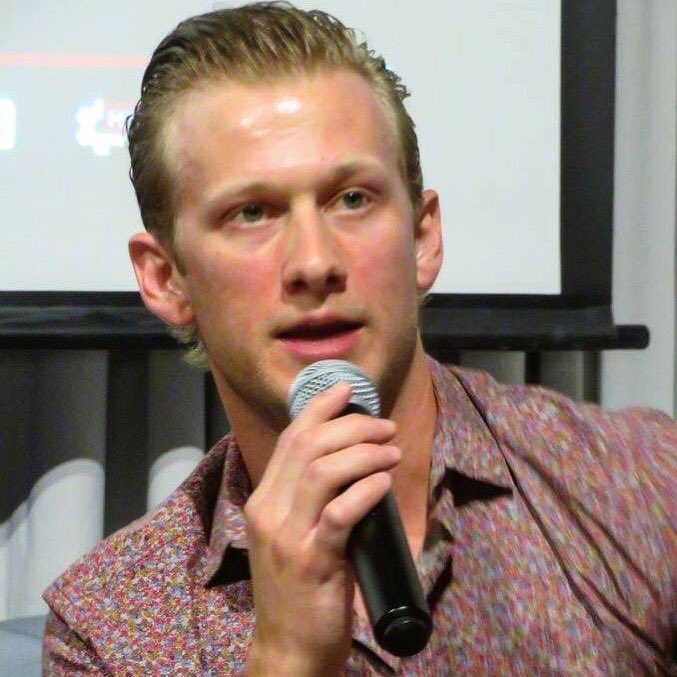 Branden Roth won the Out Web Fest award for his "Hawaiian Snap" short film created via Snapchat. Branden is an actor who was tired of auditioning for roles on film and TV that were stereotypically gay characters, or straight "can you act more straight" characters.
So he decided to create his own content where characters are gay, but it's not the main focus of the story.
"I wanted to create content where the characters just happen to be gay," Branden said.
He was taking a trip to Hawaii, and decided to use Snapchat to tell a fictional horror story. It's a novel use of Snapchat, typically used for humor or light hearted content. Snapchat is useful to tell horror because there is an intimacy in the main character talking to his phone, in a Blair Witch vibe. The Snapchat film is an 11-minute film where the main character happens to be gay, but that's not the main plot point.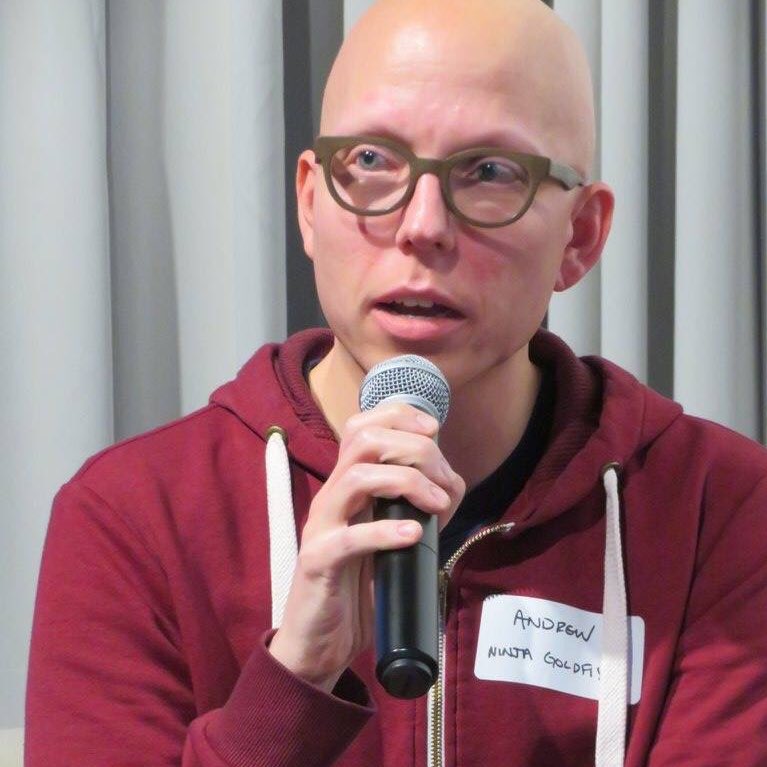 WeHo Life: Edu-tainment 
Filmmaker Andrew Putschoegl creates short films for WeHo Life that focus on health and sex education with humor, so people actually watch.
For example a recent video shows how you should't brush your teeth before oral sex, because that can increase risk of oral transmission of disease.
Andrew works with YouTuber influencers with audiences like Eric Angelo, who in turn help promote the educational videos via social media.
Andrew also creates his own digital content, short films, and music videos.
Eric Angelo: YouTuber with Branded Entertaiment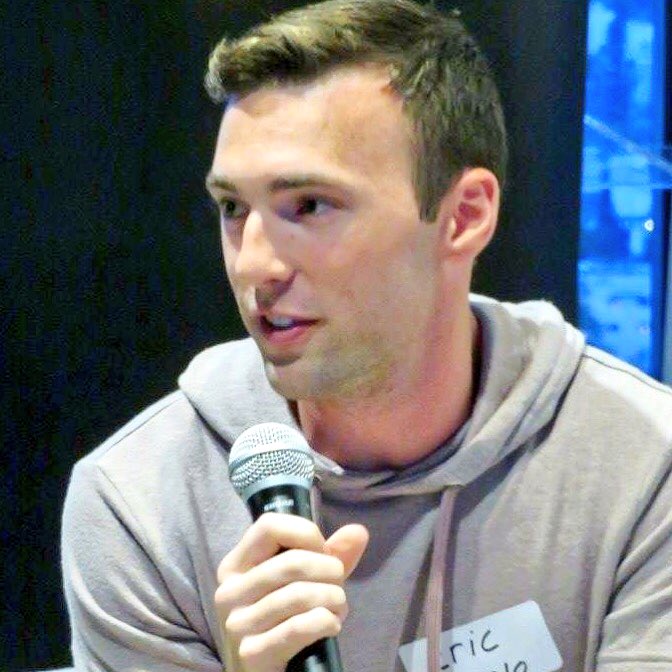 YouTuber Eric Angelo creates humorous gay lifestyle videos on his YouTube channel, and promotes via his social media.
Eric has also worked on several brand deals, like his "Avoiding a Bottom Disaster" video for Pure fiber supplements.
The video has more than 1.4M views on YouTube, and 4M views across all platforms.
Eric uses his Instagram and Twitter to reach and engage fans.
He said he is able to balance his personal brand with his military work as well.
PR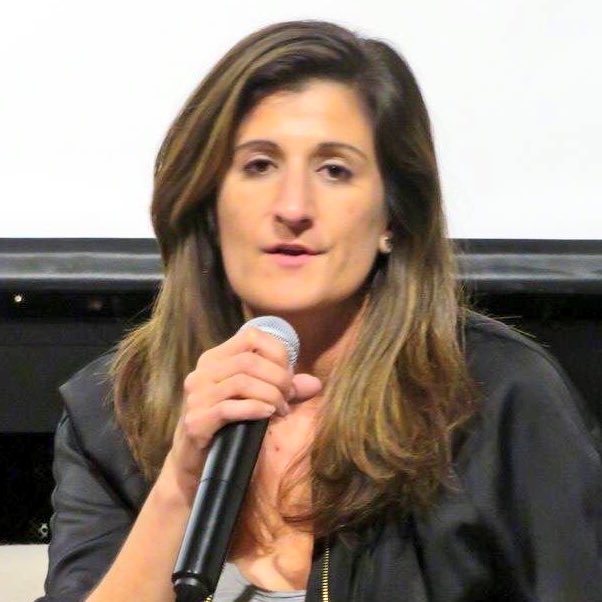 After content creators create and use paid and social media marketing to promote their content, they also should use PR to increase reach, said publicist Christa Scherck.
"Do your research," Christa said, advising people to follow journalists' work to know what stories they like to cover, and develop relationships to pitching a story doesn't seem like a pitch.
After the panel, speakers and attendees walked a block from the Pacific Design Center to the Abbey for post-panel drinks and networking.
We posted photos from the panel and a few from the Abbey at http://tinyurl.com/lgbtqcontent
Thanks to Grindr for hosting our event and providing food, and to our awesome speakers! Follow them on social!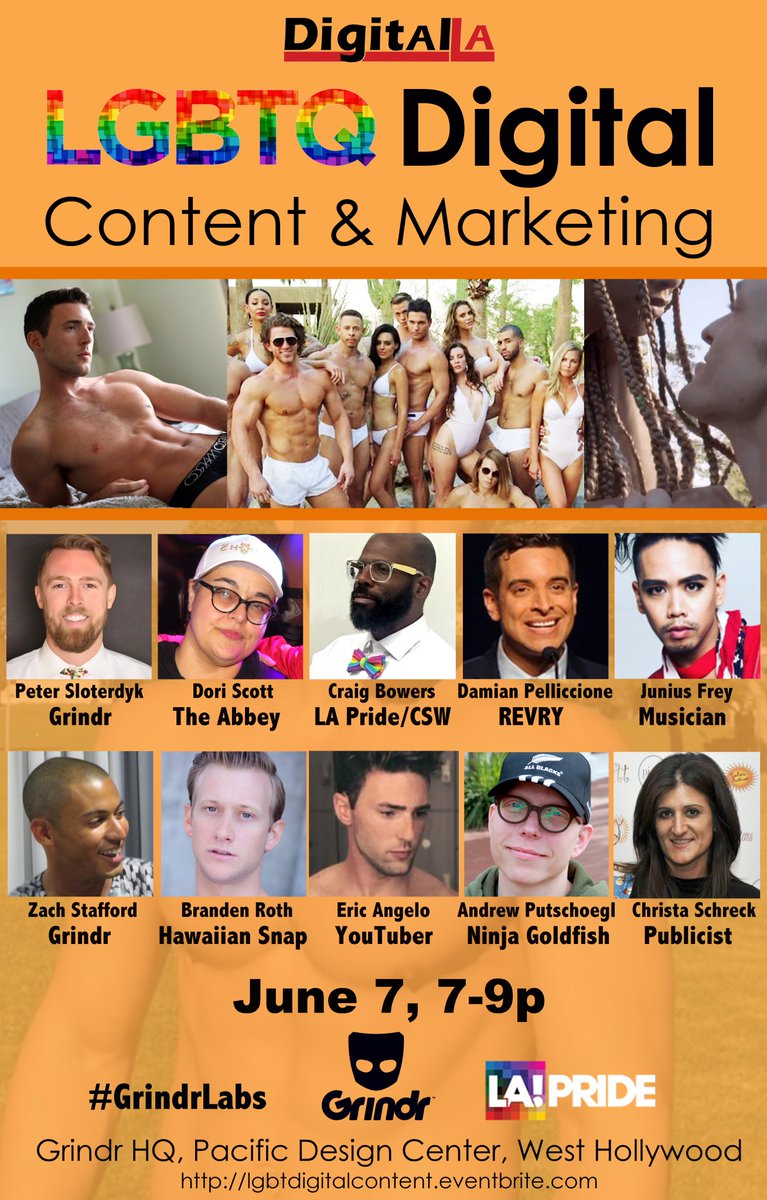 THANKS SPEAKERS
– Peter Sloterdyk, Grindr, VP of Marketing. Peter leads a fully integrated functional and creative team responsible for user acquisition, digital and traditional marketing, brand health management, social media, CRM, analytics, and content production. Upon joining Grindr in 2016, he lead the development and deployment of digital publication Into in the interest of serving Grindr's audience relevant and timely content. Prior to joining Grindr, Peter was served as the Head of Entertainment for Meredith Xcelerated Marketing in Los Angeles and New York, and spent several years leading Social and Digital Media for clients like NBCUniversal, AMC Networks, Warner Brothers, Sony Pictures Entertainment, MillerCoors, Whirlpool, and Kohl's. @Grindr
– Zach Stafford, Grindr, Editor-in-Chief. Zach just joined Grindr at Editor-In-Chief, heading up Grindr's Into online magazine content. @ZachStafford
– Dori Scott, The Abbey, Digital Marketing. Dori oversees all digital marketing and social media marketing for World Famous Gay Bar The Abbey Food & Bar, a cornerstone of West Hollywood lifestyle. She manages digital marketing for Abbey events from DJ nights to coordinating with the new TV show. @TheAbbeyWeHo @DoriChronicles
– Craig Bowers, Christopher Street West / LA Pride, Board of Directors. Craig manages social media for LA Pride, the largest Pride celebration on the West Coast. He also runs social media and co-founded LYST and SVELTE networking events which used social media to grow a large follower bsae in a short time.
– Damian Pelliccione, Revry, Co-Founder; Out Web Fest founder. Revry is the world's first-to-market LGBTQ content streaming app for the new Apple TV and Chromecast! The app is also on Roku, IOS and Android. The app is live and has over 100 hours of Queerated content. Damian is also head of Boys in Tech, and New Media Vault. Revry will be livestreaming LA Pride stages via its app. Damian also recently hosted Out Web Fest, the second annual festival featuring digital content creators. @revrytv
– Andrew Putschoegl, Ninja Goldfish, Director / Producer. Andrew directs and produces films, short films, and digital content. Some of his current work includes creating content for the WehoLife website – a collaboration between the City of West Hollywood and the L.A. LGBT Center. Content is primarily focused around men's sexual health, though delivered in a way that aims to entertain as well as enlighten. @ninjagoldfish
– Branden Roth, filmmaker. His experimental film 'Hawaiian Snap' won the Docs & Experimental category award at Out Web Fest. The short film made was entirely via Snapchat. @brandenleeroth
– Junius Frey, Singer / Songwriter. Optimistic and uplifting musician who's song 'Love is Love' and accompanying music video won the Music category at Out Web Fest. Watch  https://www.youtube.com/watch?v=T3ax8oLokXI. @juniusforever
– Eric Angelo, "Army Hunk" YouTube content creator. @MrEricAngelo. Watch his channel https://www.youtube.com/user/EricAngeloOnline
– Christa Schreck, Publicist in tech and entertainment. Her recent LGBT and other projects have included Fitness client Seth Browning (Celebrity personal trainer), Queerty, The Fight. She is currently heading up the media campaign for The F Word Series, an Official Selection at both the San Francisco International LGBT Film Festival, Frameline41, and the 2017 LA Film Festival. @christaschreck