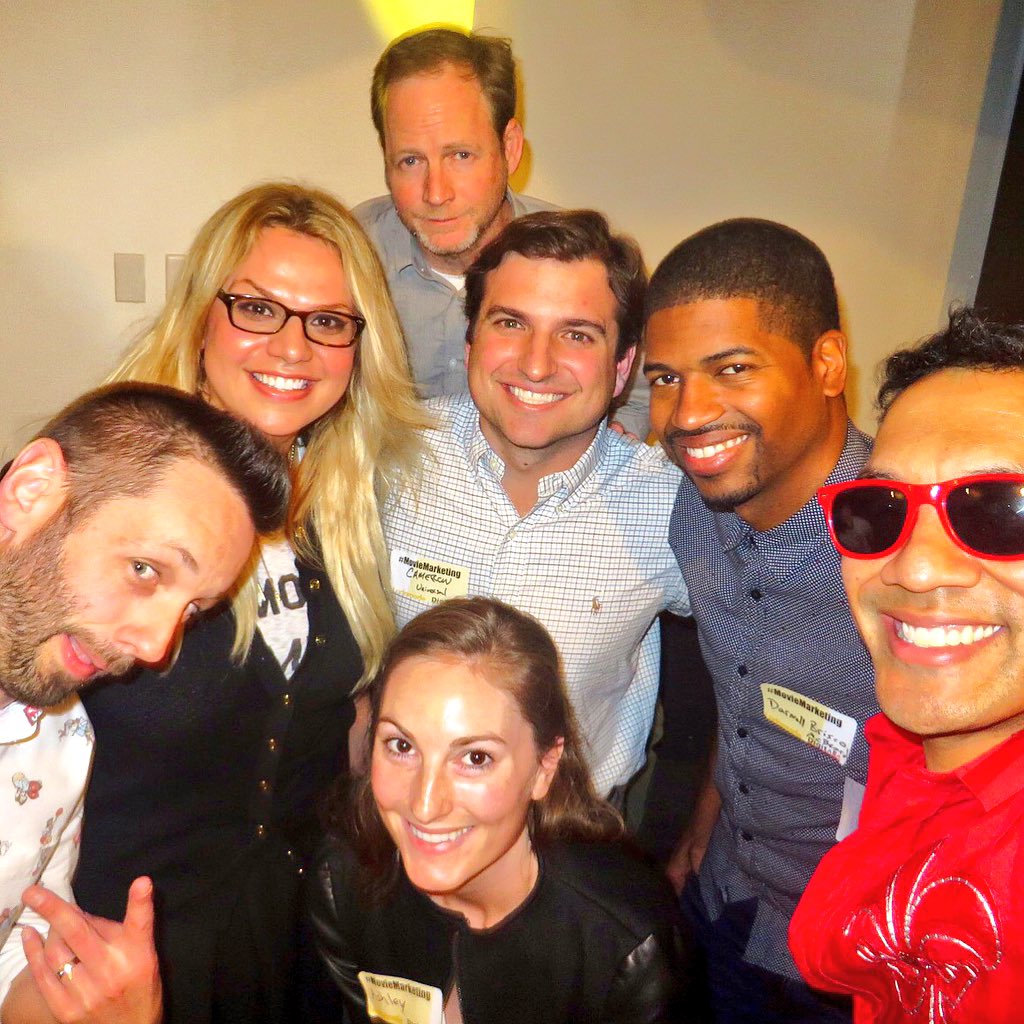 CULVER CITY – Movie marketing adds VR, holograms and other cutting-edge technologies, in addition to social media, influencer marketing and web sites, said speakers from Universal Studios, Fox, Ludomade, and others at our Digital LA – Movie Marketing panel at Ludomade creative agency in Culver City.
Movie studios and agencies are always looking for the next new big idea, or "hook" to help market films to movie-going audiences.
Several studios are turning to new technologies and partnering with new startups to engage core and mainstream fans, and get buzz via social media and the press.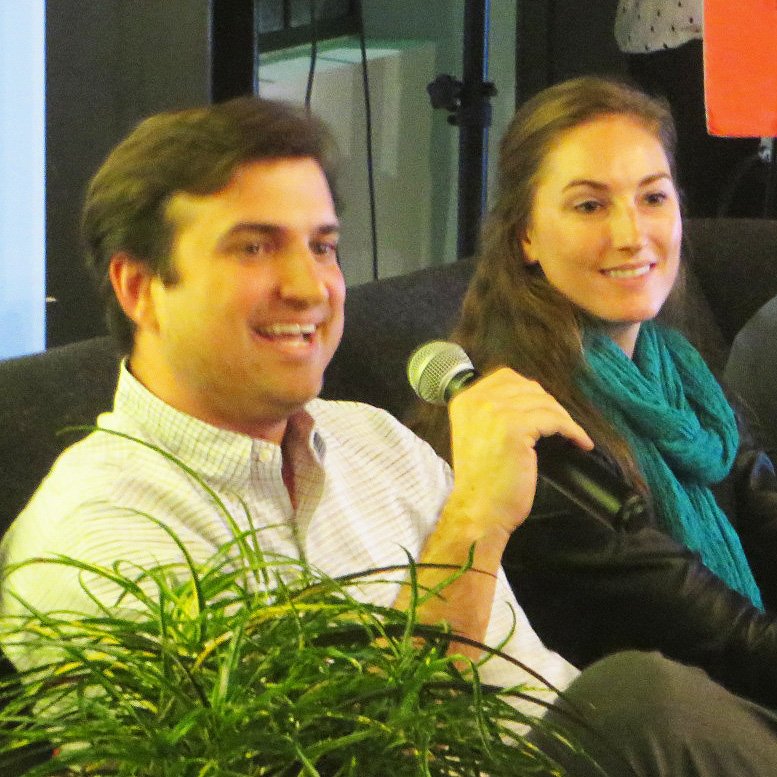 Virtual reality is an increasing area of interest, said Cameron Curtis, Universal Pictures, Director of Marketing. Universal Pictures worked with Felix & Paul Studios VR company to create a Jurassic World VR experience that puts the viewer in the park and forests. Put on your Samsung Gear VR goggles, and you can pet an apatosaurus or watch a pterodactyl fly by. Fans could demo the dinosaur Gear VR experience at select Best Buy locations around the film's release.
Several movies have demoed VR experiences at San Diego Comic-Con to reach its 130,000 attendees. Fox demoed a Cerebro VR experience to promote X-Men: Days of Future Past. Lionsgate demoed its Warcraft movie VR experience via Google Cardboard.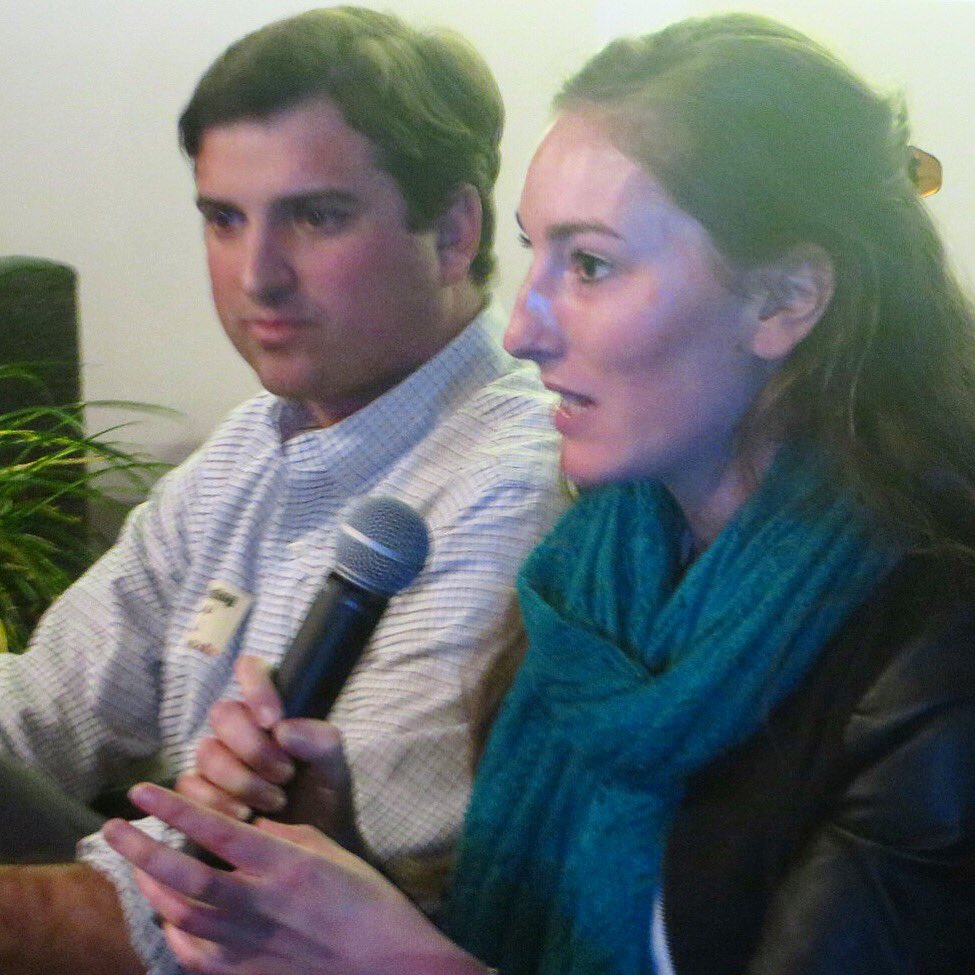 Holograms are another area of interest. For its Jems and the Holograms movie, Universal Pictures experiential marketing worked with LA hologram startup Vntana to create an interactive hologram kiosk at VidCon, the huge digital creator fan convention in Anaheim. Fans could rock out, dressing up in physical props, grabbing a feather boas and guitar to record a short hologram video, spin the movie logo, and then post their hologram video on social media. "It was a perfect fit for Jem and the Holograms," said Ashley Crowder, Vntana CEO and co-founder, who added that she is working with studios on more interactive hologram experiences.
Social Media and Influencers. Watching a trailer is still a key goal for movie marketing, but in addition to new technologies, studios and agencies are also using creative social media campaigns and partnering with influencers. It's important to do research to match the social media platform or influencer to the movie audience demographic. For example, a teen girl targeted movie would use Snapchat and Instagram, or partner with teen beauty influencers.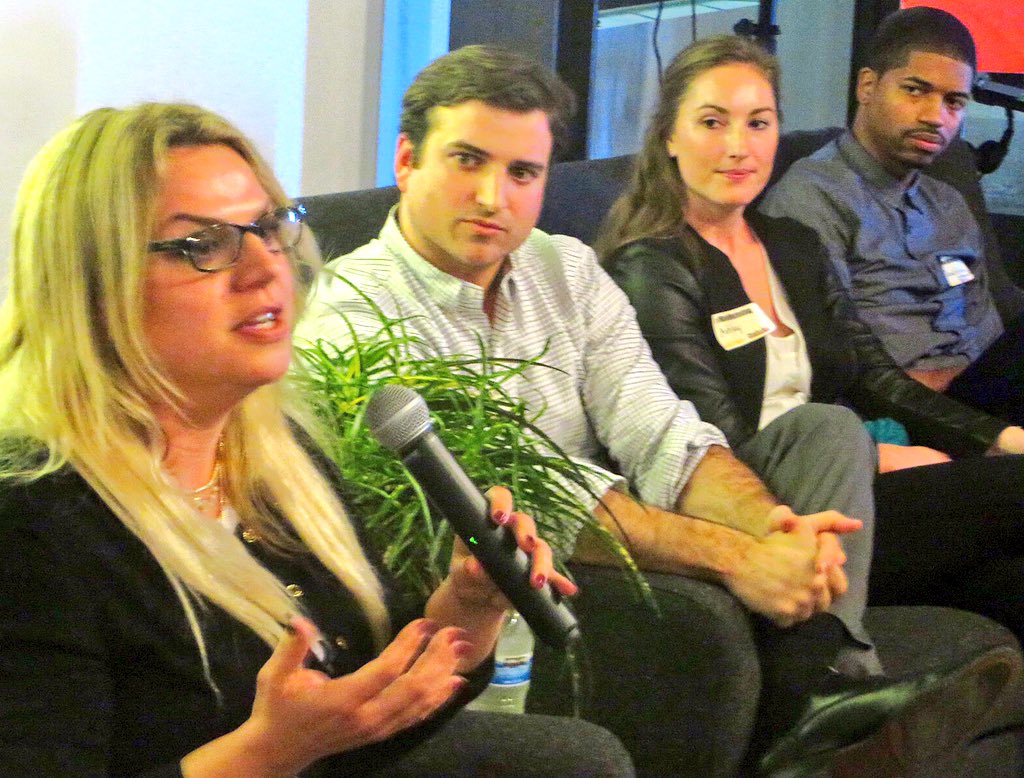 "Scroll Stopping" Social Media. Your social media campaign should have a "scroll-stopping" image or video that's interesting enough that people will stop scrolling, read it, and share it, said Kathryn Schotthoefer, Senior Vice President of Social Media at M&C Saatchi / Heavenspot.
Social media is important to get "butts in seats", because studies show that fans that share movie-related social media are six times more likely to buy a movie ticket, said Darnell Brisco, Senior Director of Accounts at McBeard social media agency.
Content marketing, where you give fans content they can customize, like change their profile pic, is increasingly important. Your fans will help promote your movie, if you make it fun and easy.  Key tips for Content Marketing: Relates to the theme of the movie or marketing campaign, easy to customize (a few clicks), easy to share (include social media/ texting buttons and links).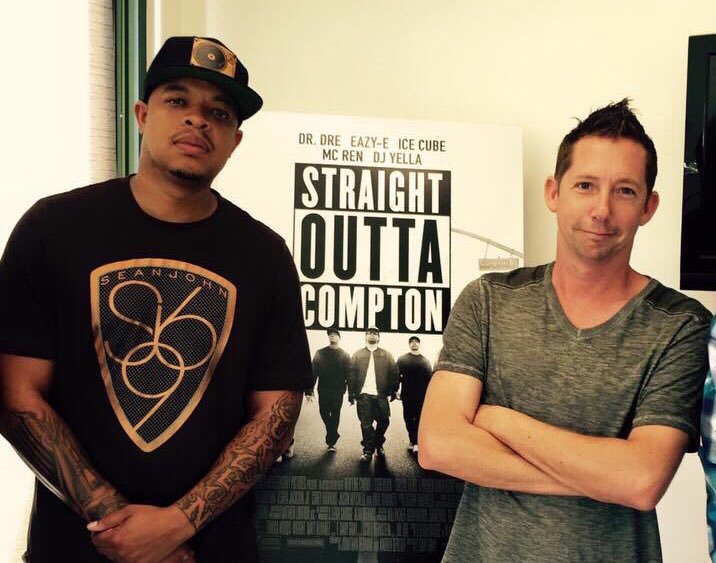 The Straight Outta Compton custom profile campaign is a shining example. Universal Pictures worked with SharkReach influencer network on the "Straight Outta Somewhere" campaign. Fans could change their profile pic with by typing in a location and clicking a button, which became very viral around the films release. SharkReach reached out to hip-hop, rap, and other music influencers to get them to change their profile pics, invite them to screenings, and talk about the movie. SharkReach is the first influencer-owned network, which gives influencers shares in the company, so they are invested in promoting a project. SharkReach recently became publicly traded via the ticker $SHRK.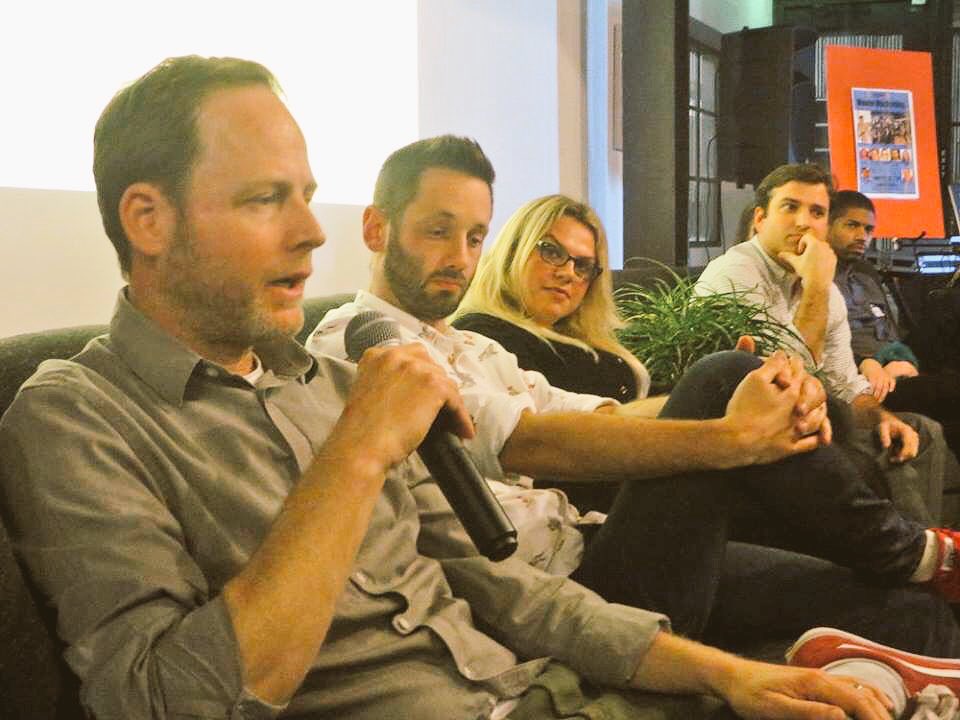 The Peanutize app is another custom profile example. Fox worked with Ludomade agency to create the Peanutize yourself app, which lets you create a Peanuts-style picture of themselves. Pick your hair style, shirt, pants, shoes style and color, with accessories.
The average time spent using the Peanutize app was 30 minutes, said Jeff Kelly of 20th Century Fox. That's more time than visiting a site or watching a trailer.
Kelly also added it's important to find the key idea for a film marketing campaign.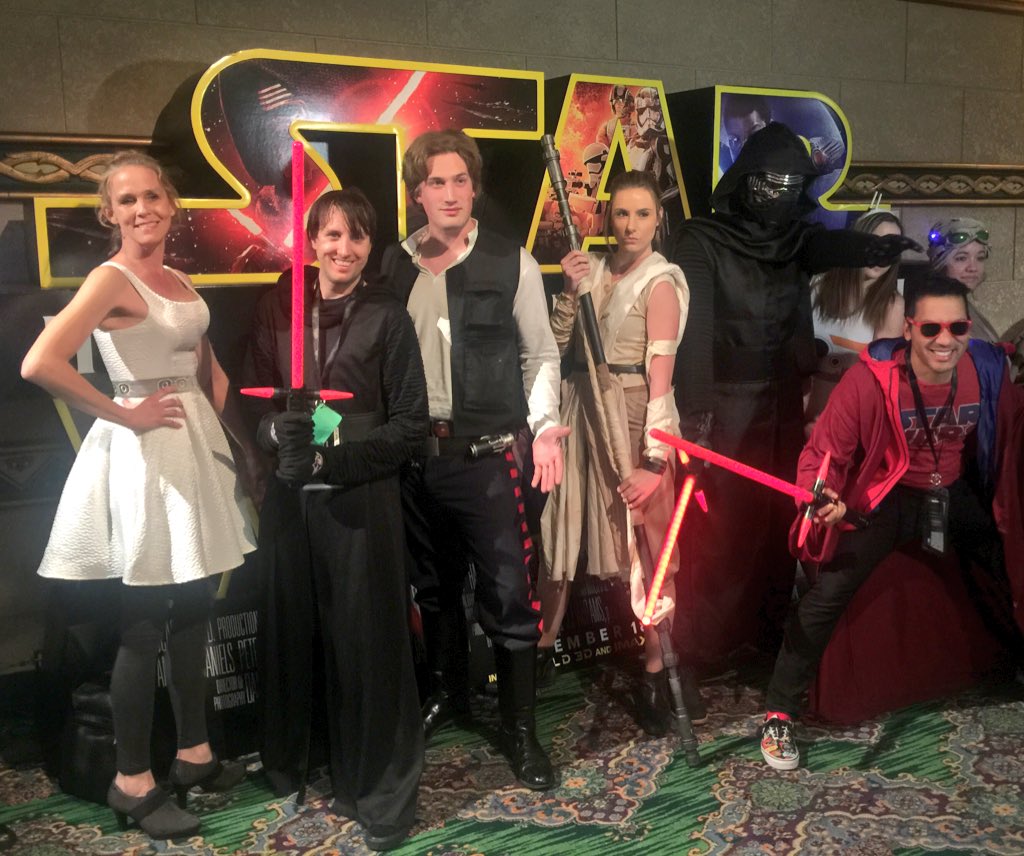 Standees are Photobooths. Another example of custom content marketing is creating movie standees that act as photobooths at movie theatres.  Movie-goers take pics with large movie standees, and share on social media. These new movie standees can have the film title and release date and sometimes the hashtag. Example: Fans took pics with the Star Wars logo standee (photo right) at the Disney El Capitan Star Wars movie marathon.
What about a Web site? With all these new technologies, influencers, social media, and content marketing, what is the role of the movie web site?  While there is a sentiment that "web sites are dead," several panelists said that when there's a movie based on well-known IP with super fans, you can definitely create an in depth in-world site for them to explore. Just make sure that you work with super fans get all the details right, or your fans will sniff it out and complain.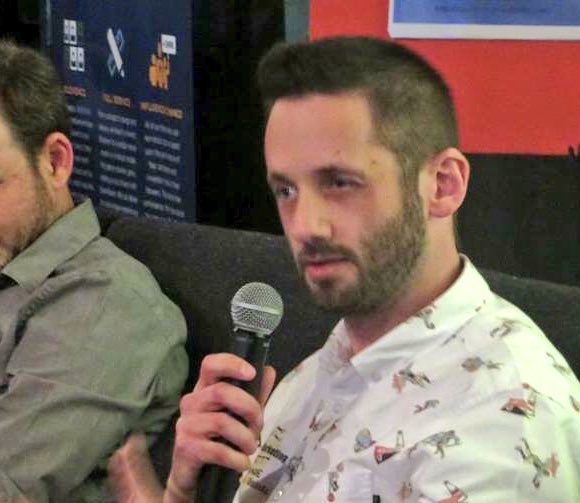 Brett Bimson of Ludomade previously worked on the Star Wars prequels games and sites, and made sure Star Wars universe details were there for super fans.
"Fans know the details of their favorite films and marketers need to know them, too," said Kathryn Schotthoefer, SVP of Social Media at M&C Saatchi / Heavenspot. She added: "I was chewed out by a fan at my first Comic-Con because I couldn't recognize Elvish while working a Lord of the Rings promotion…but I never made that mistake again."
Thanks to our speakers for great candid conversation!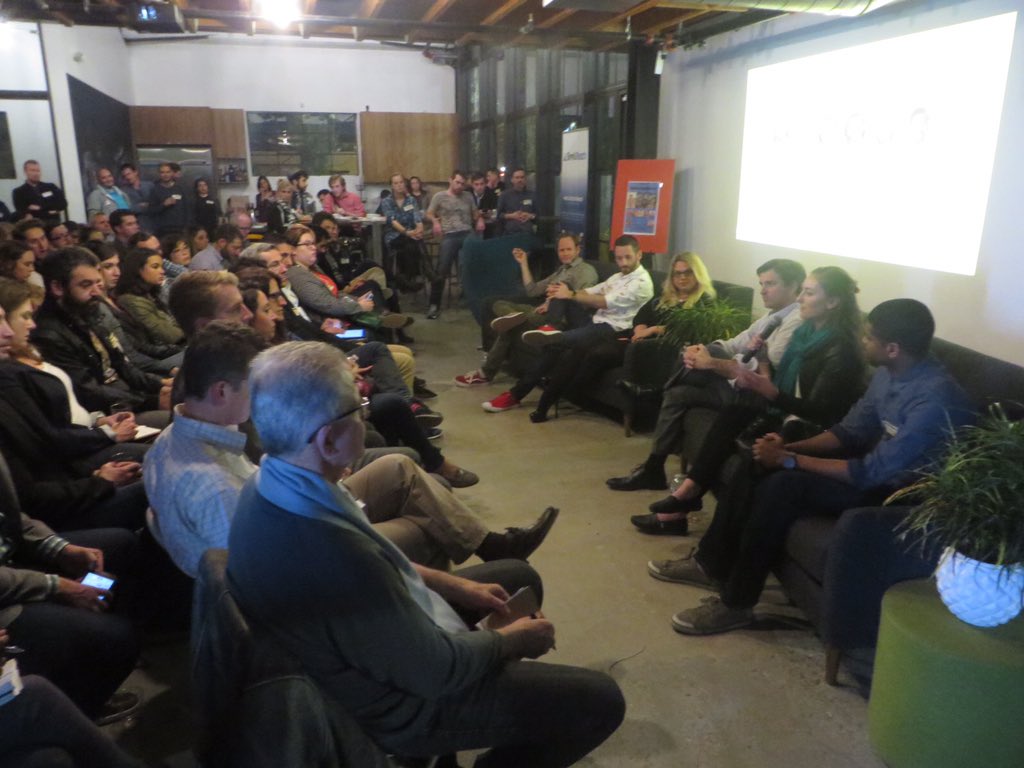 Thanks to Ludomade for hosting with food, valet, and a great venue at their new Culver City office. Ludomade is a digital agency dedicated to building a more playful world. Ludomade specializes in strategically led campaigns that include games, web and product design, experiential and social. Ludomade has created effective and award-winning work for some of the world's biggest entertainment brands, including Disney, Sony, Fox, Dreamworks, Universal, Lionsgate and Nickelodeon. @ludomade.
Thanks also to SharkReach influencer network $SHRK.
Thanks to our audience for great tweet-notes!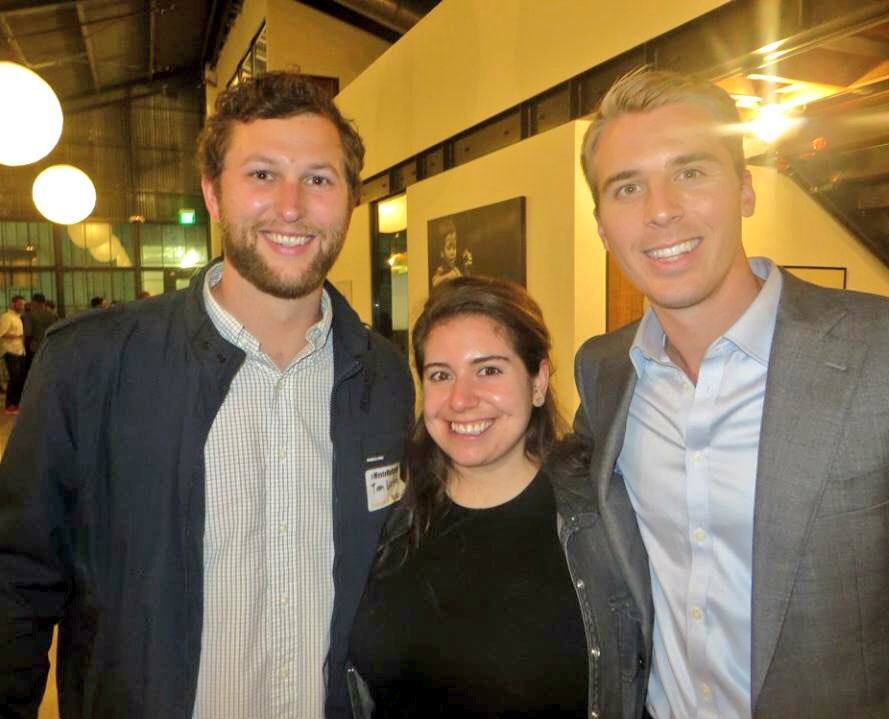 RT @PatrickMJulian Invaluable info at every turn tonight at
#moviemarketing
panel via @DigitalLA took 5 pgs of notes @BUmediaventures
RT @PatrickMJulian 5. Search for one memorable idea to break through when creating a campaign & make sure your content marketing is customizable. @jeetojeff
RT @PatrickMJulian 3. Getting the details right is crucial for a campaign. Remember that you have to EARN a fan. Is the effort a "scroll stopper"? @katschott
RT @OldeBuddyOldPal "The digital marketing team of today is the marketing team of tomorrow." – @cscurtis
#hearhear
#MovieMarketing
@DigitalLA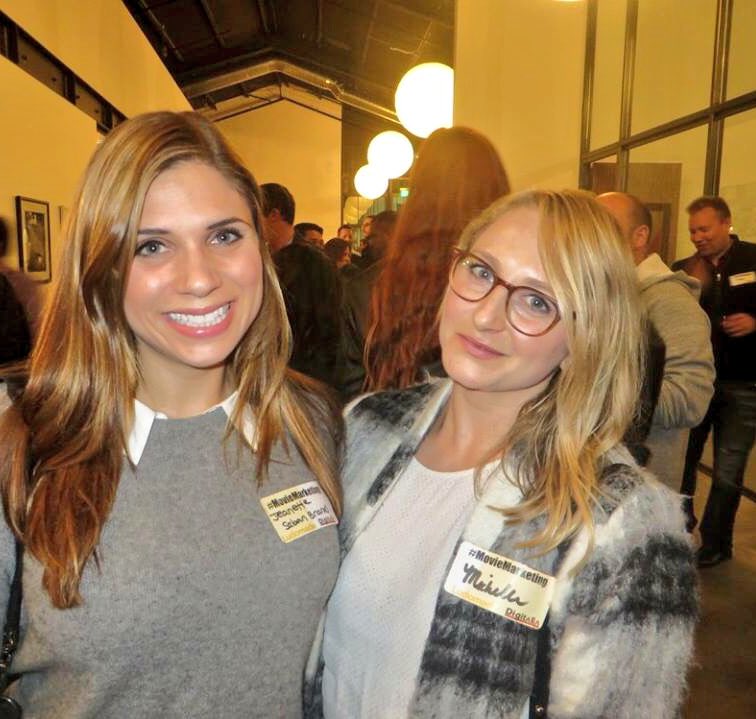 RT @BRIITTSAYS It's all about creating [and finding] that
#scrollstopper
@DigitalLA @katschott
#moviemarketing
#dlafilmtv
RT @ohyesmaradid Alright I'm obsessed. Help me. Hollagrams are a actual thing.
#moviemarketing
@acrowder33 @DigitalLA
RT @prosocialmedia1 @cscurtis For
#JurassicWorld
recruited dinosaur expert fans to write science content for website and social.
#MovieMarketing
@DigitalLA
RT @TheDishmaster Thank you to @DigitalLA for the great event at @Ludomade. Very informative Digital Marketing panel.
RT @jlevine @DigitalLA Great event last night. Thanks for that. @ludomade
#MovieMarketing