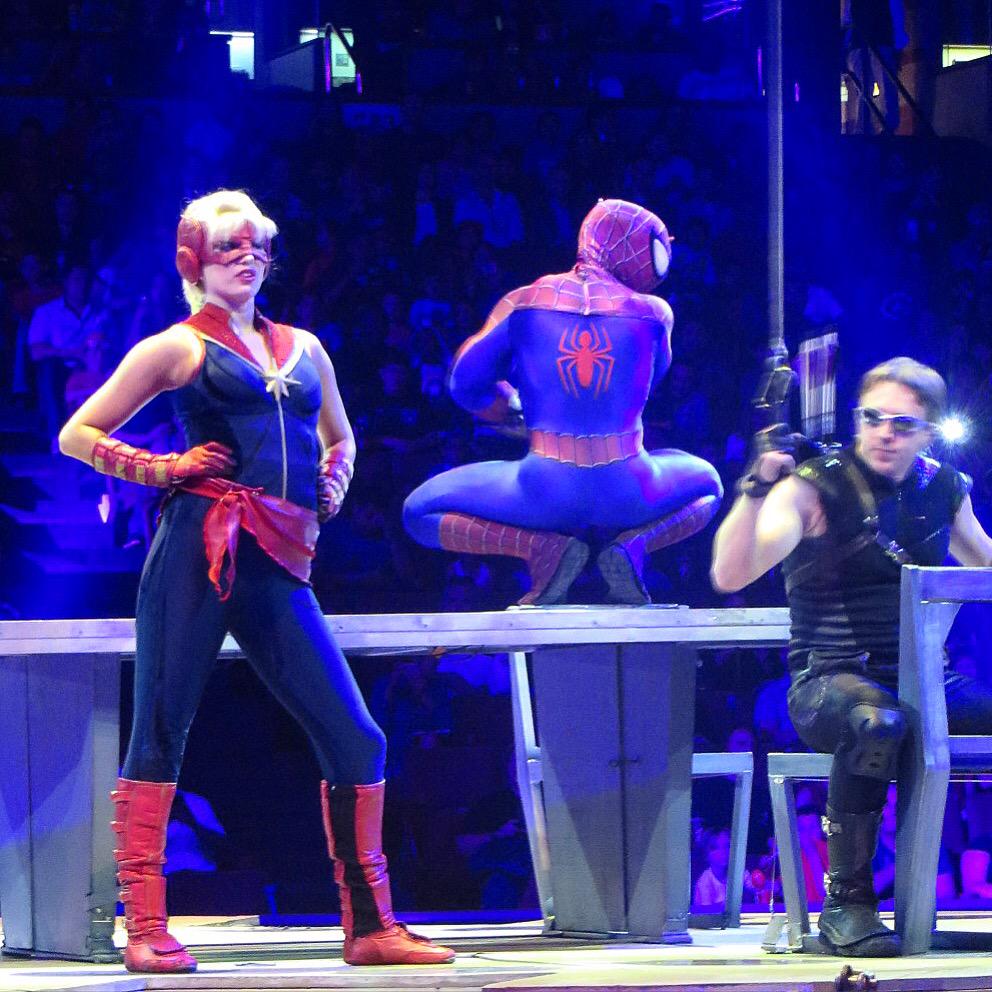 ANAHEIM – More than 25 Marvel heroes and villains battle at the Marvel Universe Live stunt show, with pyrotechnics, projections, motorcycle wheelies and lots of Iron Man repulsor ray blasts. The show plays this weekend only at the Honda Center in Anaheim.
The Story: Thor uses his hammer to smash the cosmic cube into three parts, so no one person will ever possess its full power.  But when villains acquire the pieces of the cube, the Avengers, X-Men and Spider-Man must team up to stop them.
Here's our count of characters featured:
– Avengers: Cap, Iron Man, Thor, Hulk, Black Widow, Hawkeye, Captain Marvel, Falcon, and SHIELD agents Nick Fury, Maria Hill
– Spider-Man and Black Cat
– X-Men: Wolvie, Storm, Cyclops
– Villains: Loki, Red Skull, Green Goblin, Madame Hydra, Lizard, Doc Ock, Rhino, Electro, as well as AIM soldiers, Hydra soldiers, and Extremis.
It's nice to see Captain Marvel flying in action with the Avengers, without having to wait until the movie releases in 2018.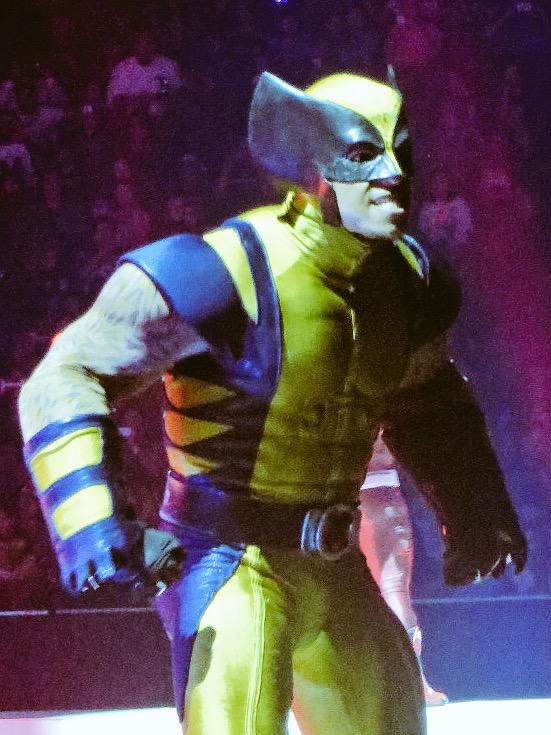 The characters have personalties and costumes based on their comic book personas, not the movies.  Wolverine wears his yellow costume, and is much more gruff and short-tempered like Wolverine in the comics, rather than Hugh Jackman's portrayal in the X-Men and Wolverine films.

The cast includes stunt actors, dancers, and gymnasts, each appropriate for the character. Spider-Man descends from the ceiling on a webbing and does several flips.  Black Widow takes on legions of Hydra with her quick martial arts stunt skills.
With so much action going on in many of the fight scenes, with dozens of characters fighting on a theater-in-the-round sage, sometimes you don't know where to look. The production uses spotlights, and characters talking to help direct attention. Virtual reality content creators could use similar tools to help direct viewers' visual attention in VR worlds when something critical to the story line is happening.
Marvel Universe Live is a touring show. For the complete schedule of upcoming show dates, visit http://marvelontour.com