Meow Wolf's new Omega Mart immersive experience has arrived at the new Area15 venue in Las Vegas. It's much more than a store. And it's a lot of fun.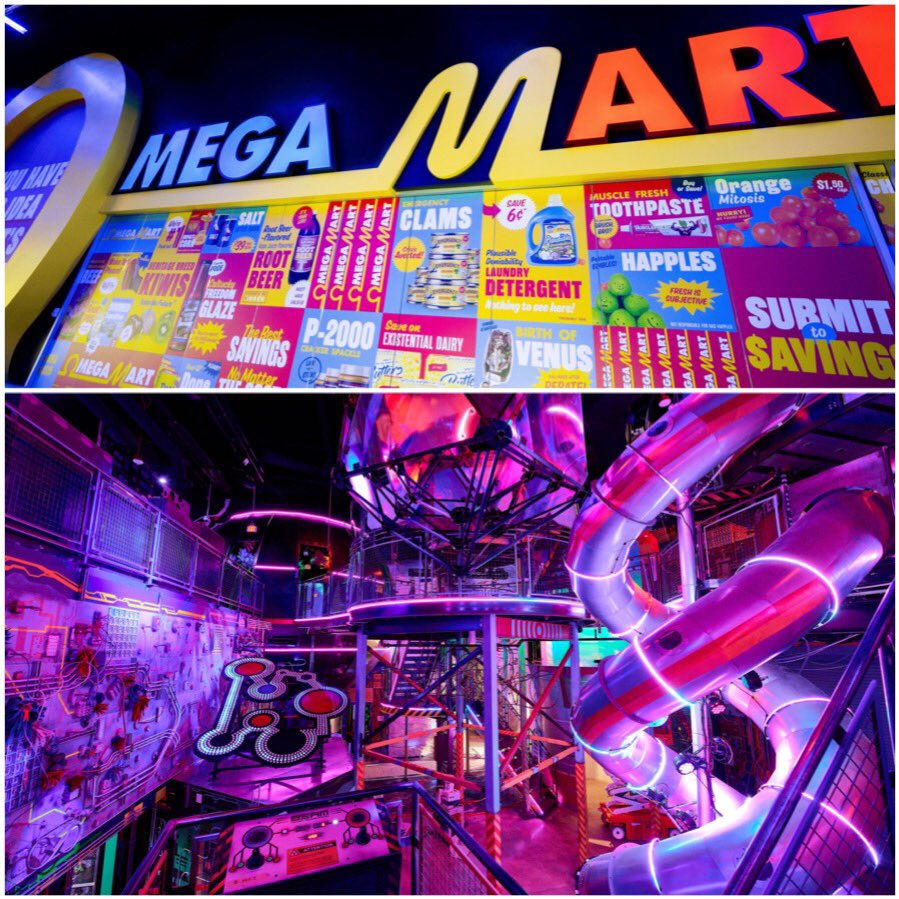 The Omega Mart immersive experience combines elements of escape rooms, Instagram museums, role playing, and science-art installations, over a multi-level 52,000 space in a two-hour plus experiences that's A+.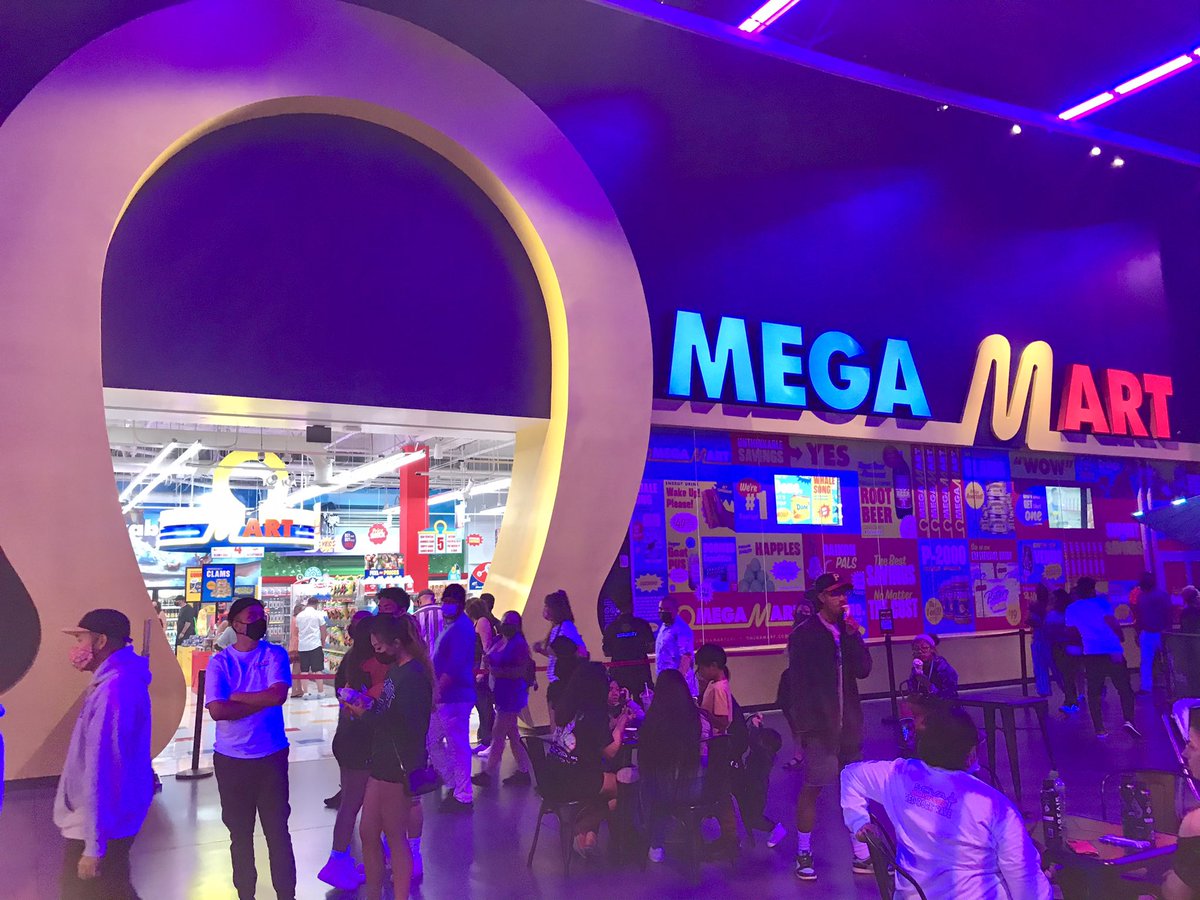 In the immersive experience, you're a Omega Mart supermarket employee, who discovers that Walter Dram, CEO of parent company Dramcorp, is missing. His daughter Cecilia is acting suspicious in company conference call videos, while doing LED talks about leadership pathways to Ascension. You must complete three escape room style tasks in three levels to find out what's going on. And choices you make result in different outcomes in the game. We could describe more, but don't want to give away too much of the story!
Along the way, you walk through several completely immersive environments and gorgeous set pieces, including the Omega Mart supermarket, the Factory sci-fi neon catwalks, stairways, and slides, and rocky caverns, stone huts and glowing rivers. There's a hallway of infinity rooms, interactive lasers, strobe room, and more. There are dozens of amazing photo opps, just like an Instagram museum.
Overall, it's a ton of fun, which you can do in 2-3 hours. Don't rush through it – take time to enjoy the backstory, supplemental content and the amazing art and set pieces.
Meow Wolf created its first immersive art + escape room experience in Santa Fe, New Mexico, which you may have heard some of your friends rave about.
WALKTHROUGH
Omega Mart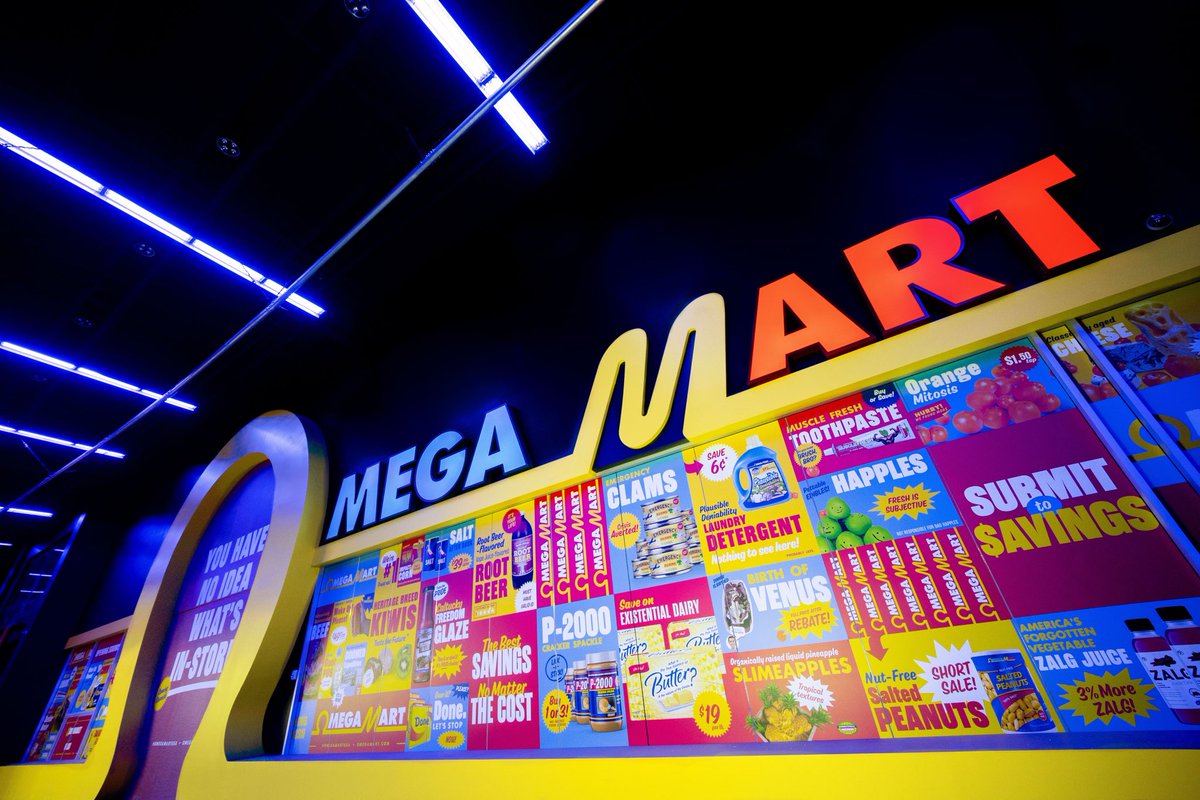 In Omega Mart, you start of as a new employee at Omega Mart supermarket. The supermarket itself is totally immersive: you can pick up and even buy cereal, and Omega Mart logo mugs, T-shirts, soda and more at the checkout registers.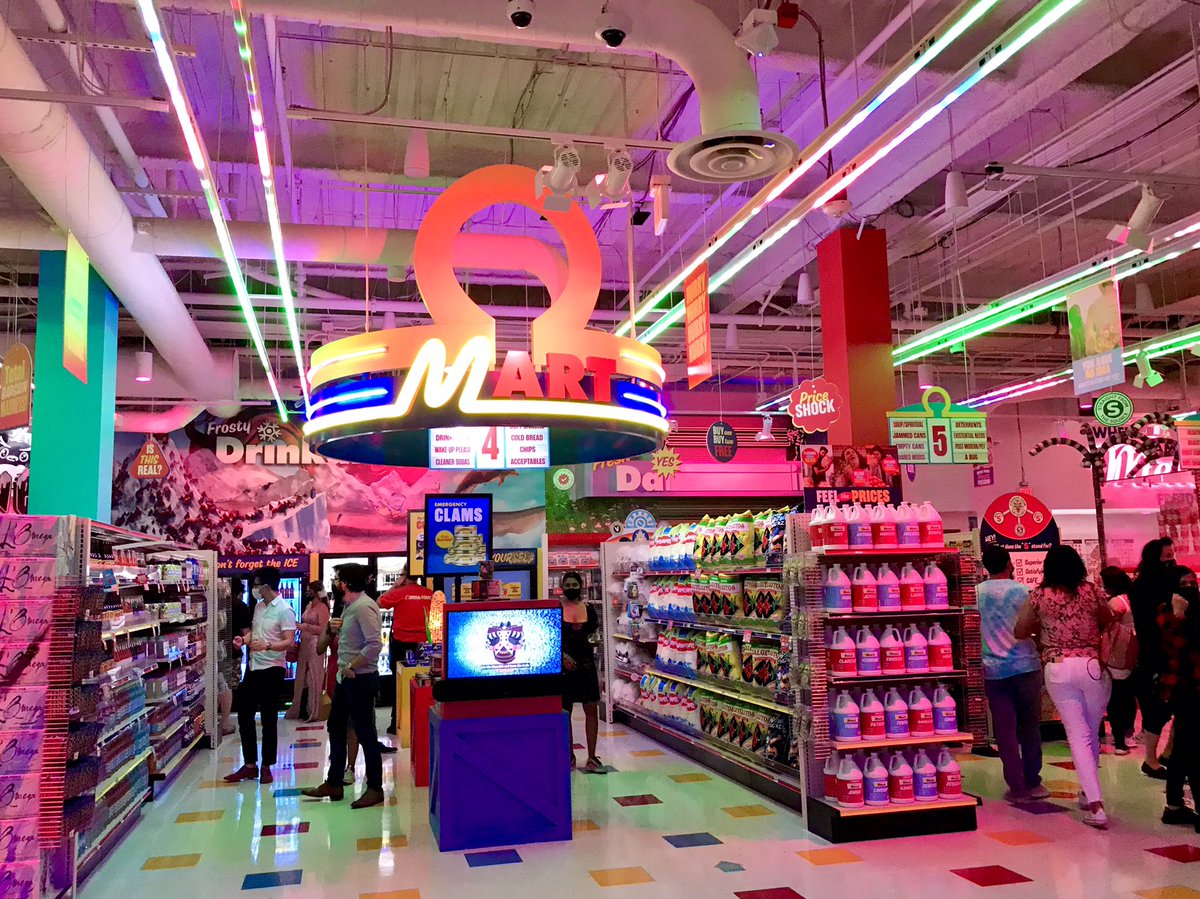 Explore aisles of cereal, house cleaning products, even toothpaste with 60g of protein. There's even a produce, garden, and meat department. The faux products were designed and commissioned by local artists.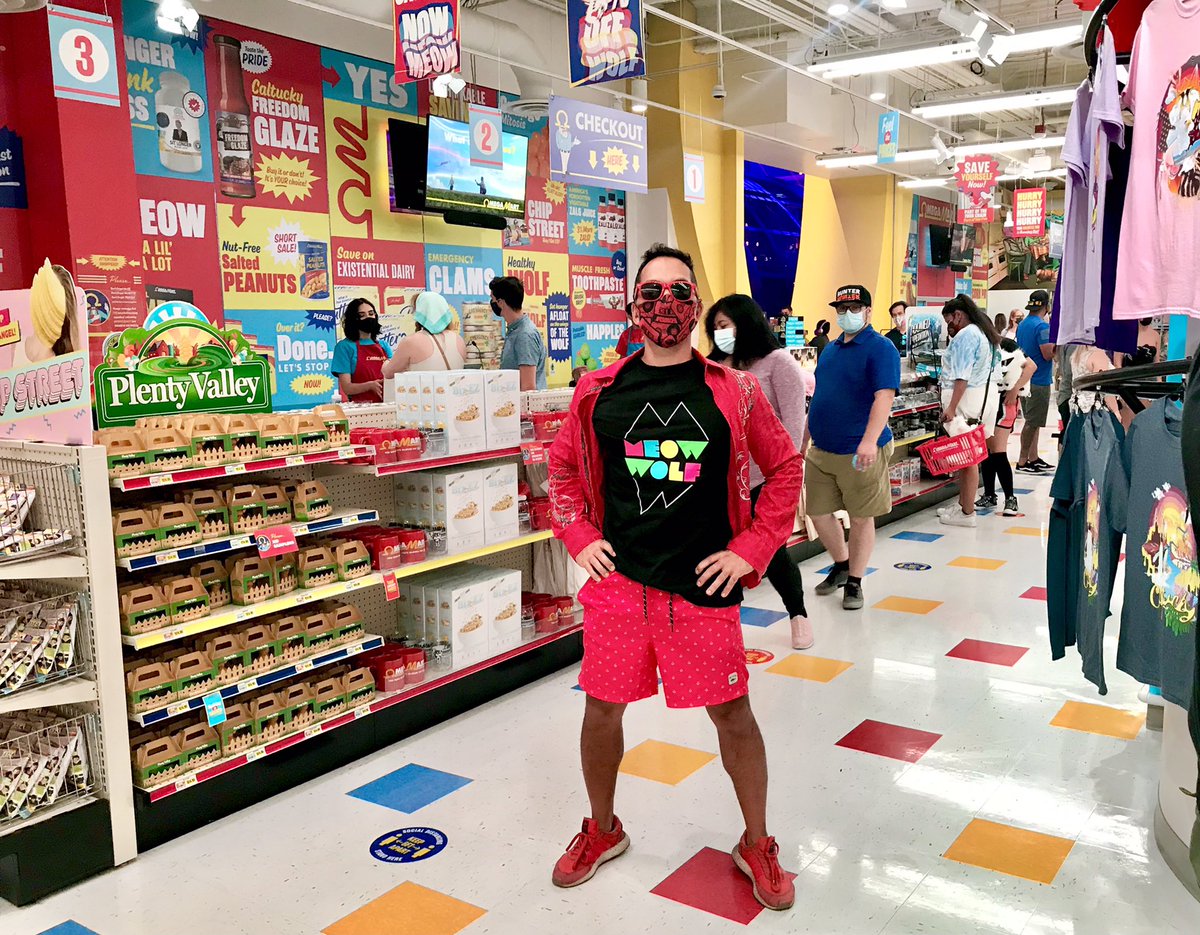 When you show your tickets to scan in, an Omega Mart employee gives you your Omega Mart employee ID card. You can "boop" scan it at several kiosk screens in the supermarket to get video instructions on what you're supposed to do.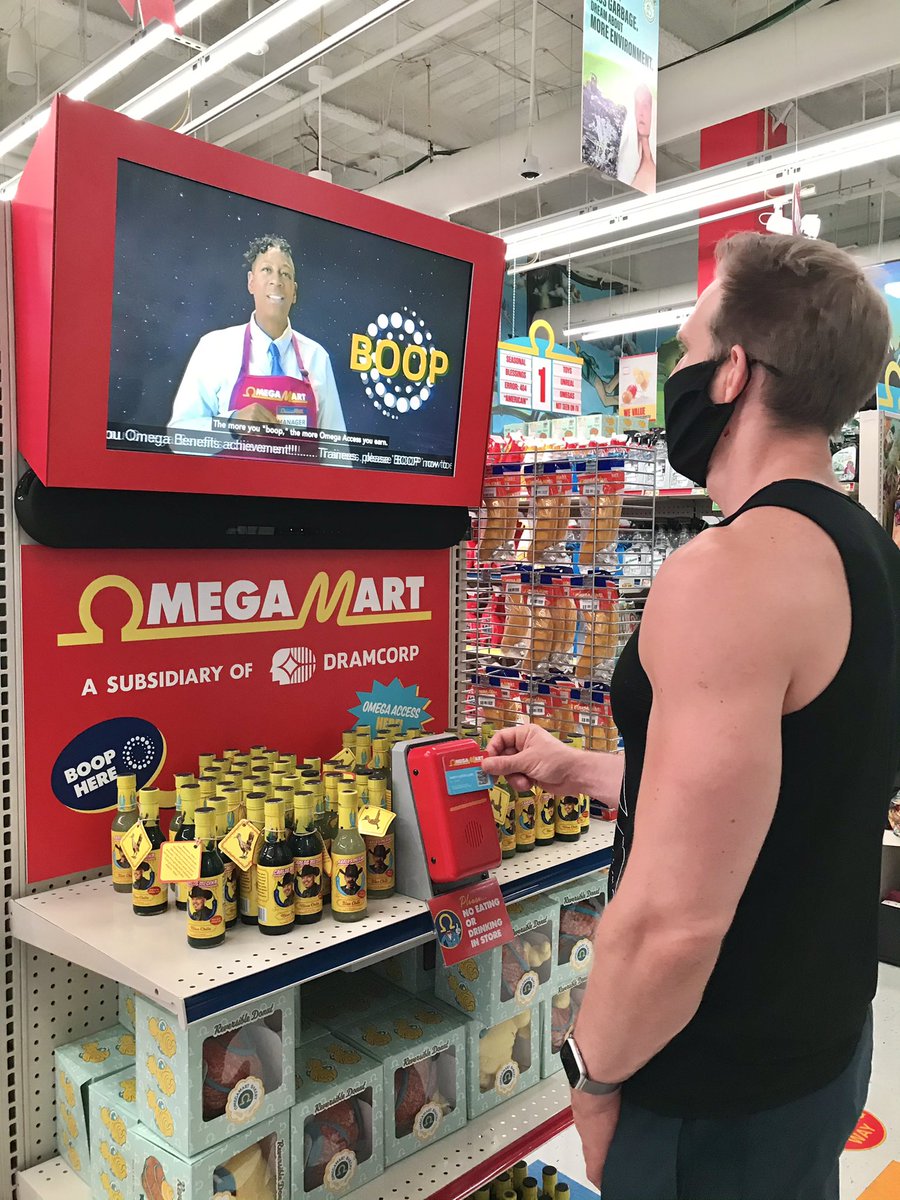 As you complete the three tasks, and you will discover secret passages from the Omega Mart supermarket to the mysterious Factory.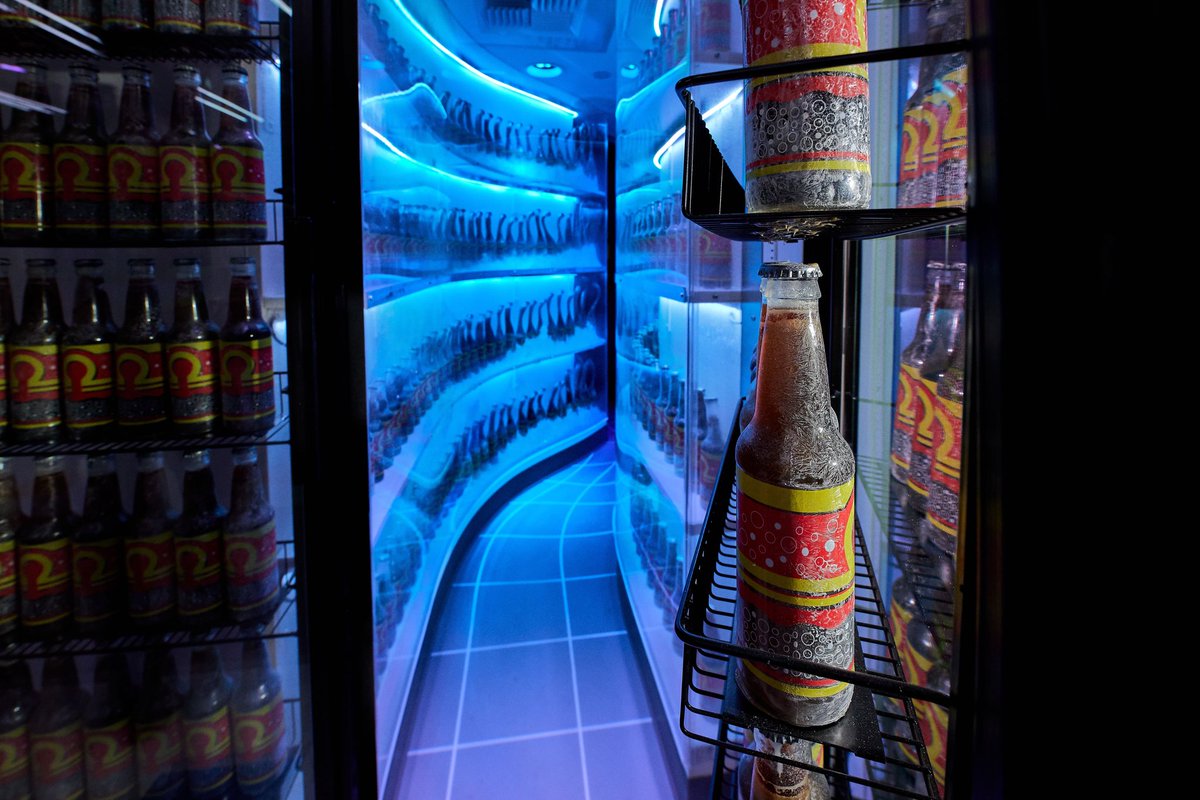 Factory
The Factory consists of neon catwalks and stairs, glowing computer screens, all right from a sci-fi movie. It feels like you're walking around a space ship.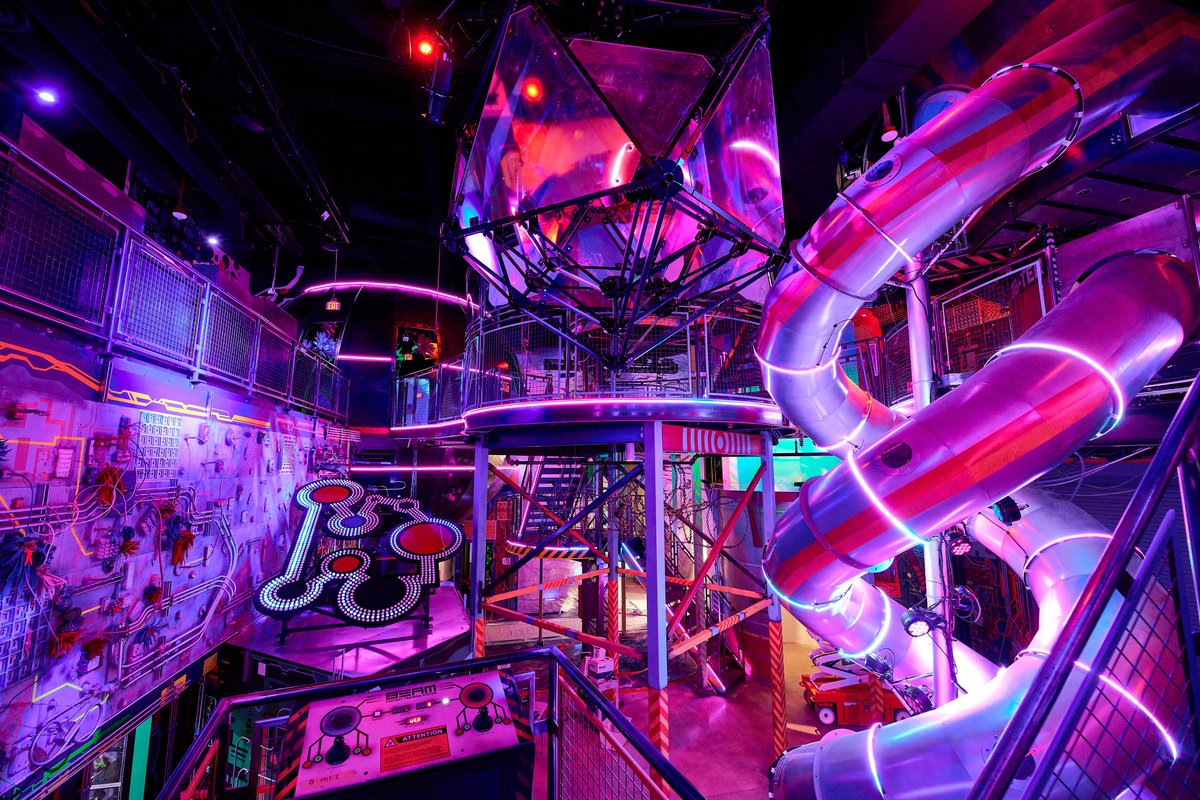 You eventually find Dramcorp offices, where you can sit down at the computer screens of characters from the story. Watch videos and emails to try to find out what happened to Dramcorp's CEO Walter, and what his daughter Cecilia is up to.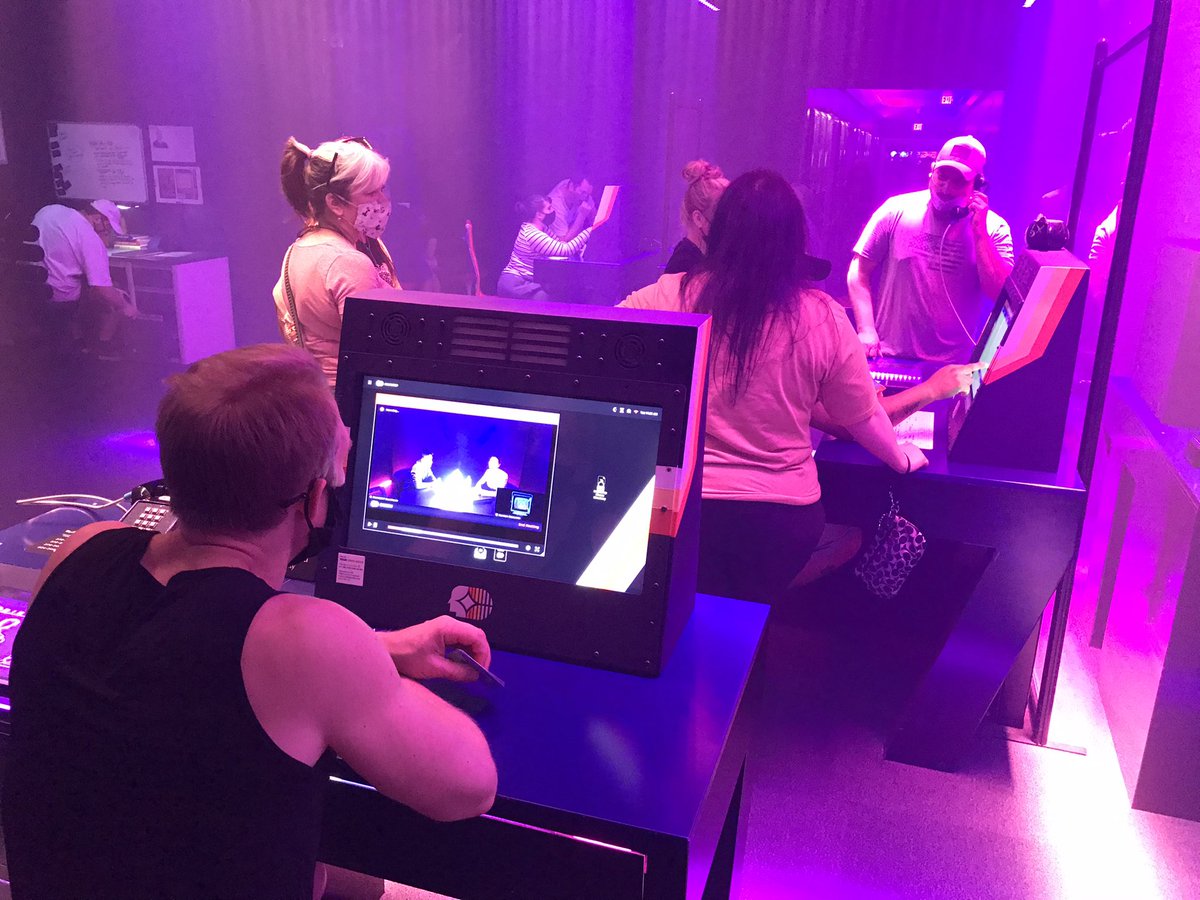 The subsequent missions will take you exploring through the rest of the expansive 52,000 sq ft space.
You can walk up stairs, in elevators, duck into tunnels, crawl through spaces, climb up ropes, and slide down slides. Complete the three tasks in the Factory to enter the third level, with rock caverns and otherworldly sets.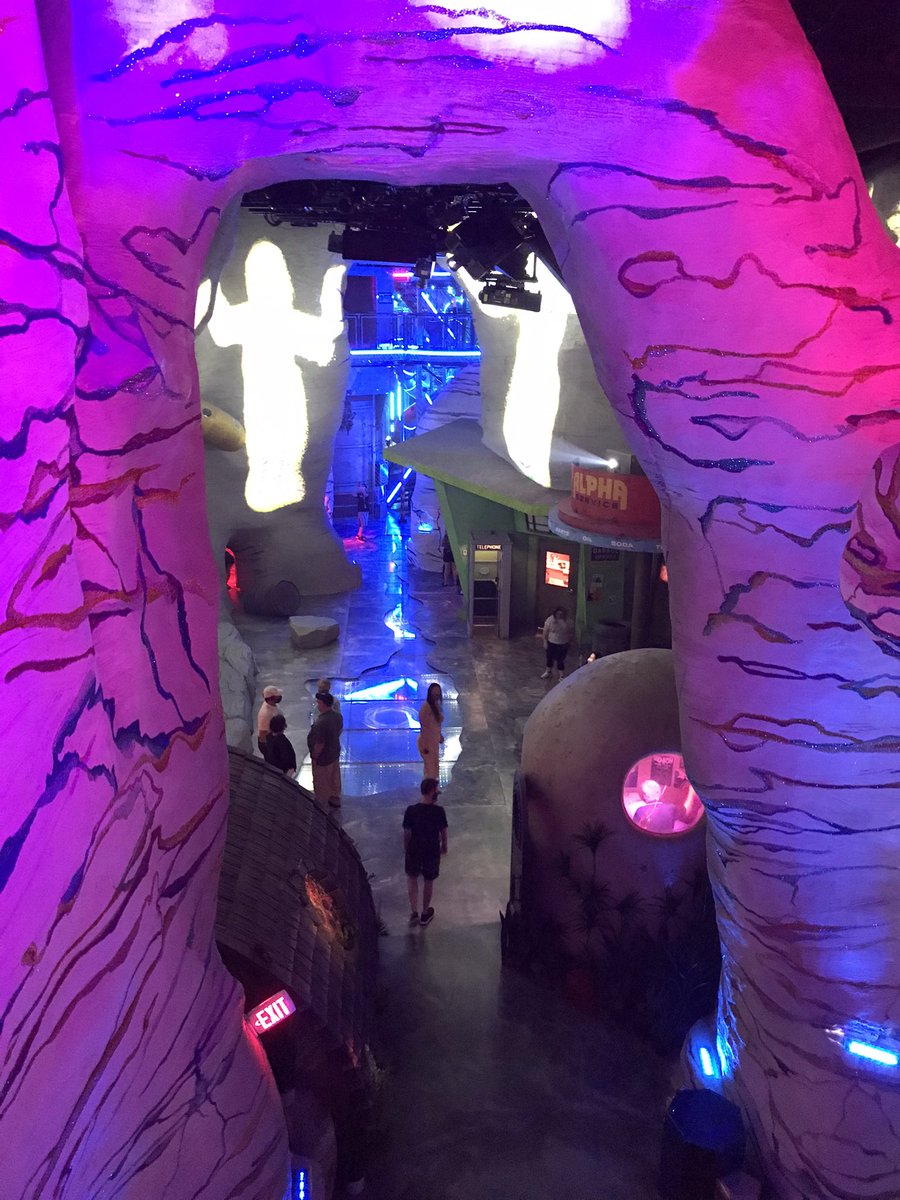 If you have accessibility issues, you can do the experiences on the first floor at a discounted price.
If you get stuck trying to solve clues (as we did several times), you can always ask the role-playing staff for clues. The Omega Mart employees in their vests, or Factory employees in their lab coats will happily answer questions and clues – just be sure to ask them in world role-playing character and be friendly.
And if you don't feel like doing the clues and playing the game, you can just explore the amazing sets.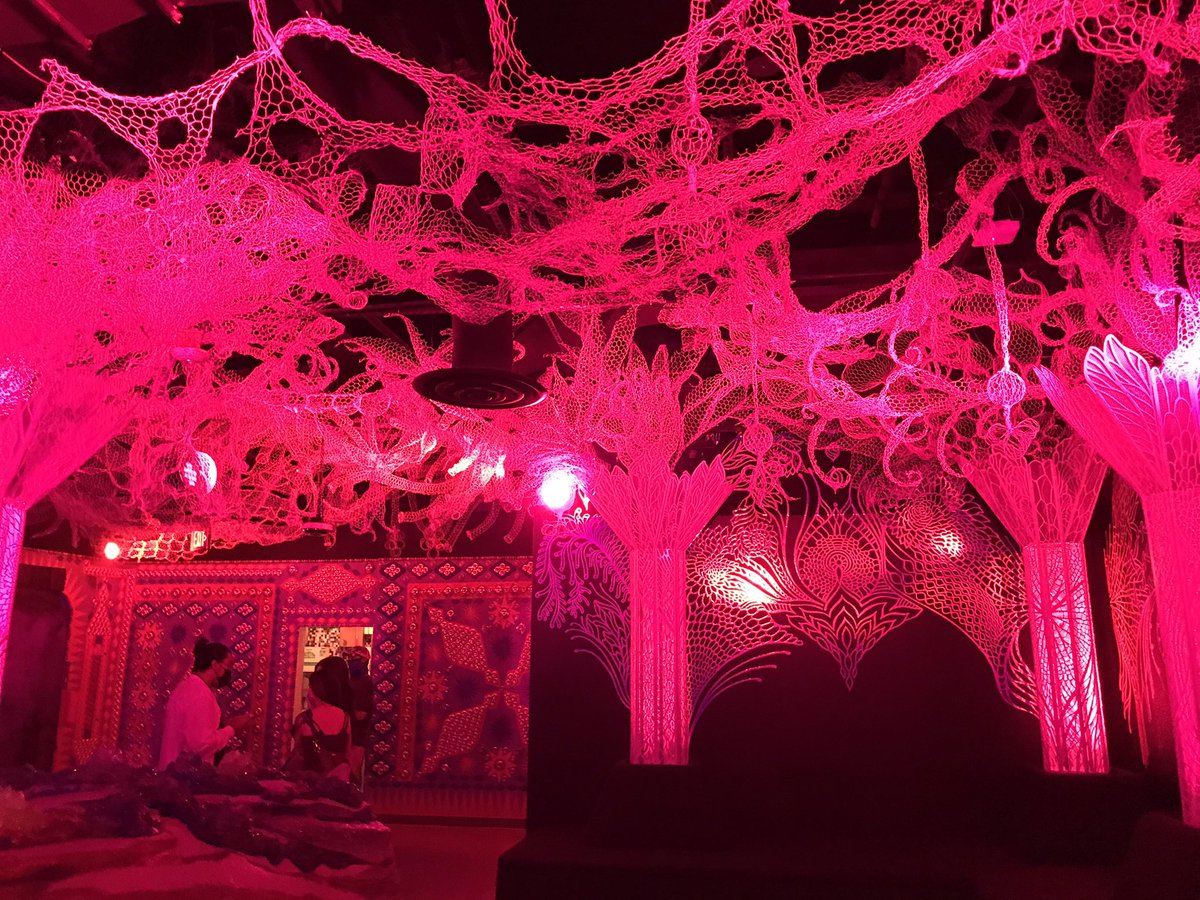 We left out a lot of details about the experience and the story so you can discover them for yourselves! Enjoy!
Meow Wolf's Omega Mart is a must if you like immersive experiences, role playing, and Instagram Museums. With tickets $35-45, it's well worth the two hours. Details and tickets at Meow Wolf site.
Masks were required at Meow Wolf's Omega Mart and gift shop at the time of review. Masks were not required in Area15.
Meow Wolf's Las Vegas location is its second location, which opened in Feb 2021. The first Meow Wolf opened in Santa Fe in 2016. Its third location is scheduled to open in Denver in late 2021. Each location has different unique themes, stories, and sets.
Area15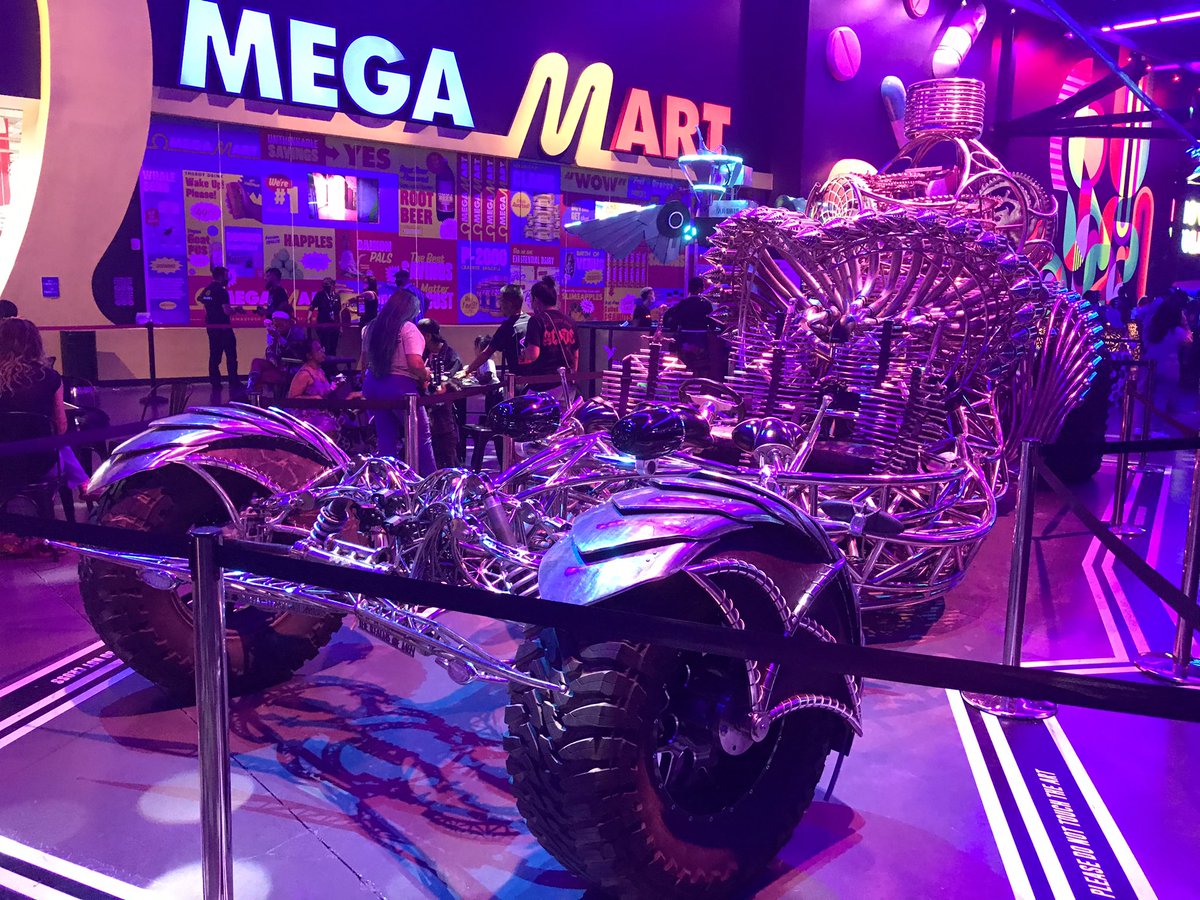 Area15 is a new scifi style entertainment complex about a mile behind the Fashion Show mall in Las Vegas. It houses more than two dozen fun attractions, including Meow Wolf's Omega Mart, VR, virtual golf, axe throwing, zip-lining, video arcade, bar, restaurants, ice cream shop, candy store, and more. Wink World is a glow-in-the-dark neon museum. Museum Fiasco is a huge infinity room space. The outdoor backyard event space Lot A will host DJs scheduled in the coming weeks, including Paul Oakenfeld. Check the schedule at the Area15 site.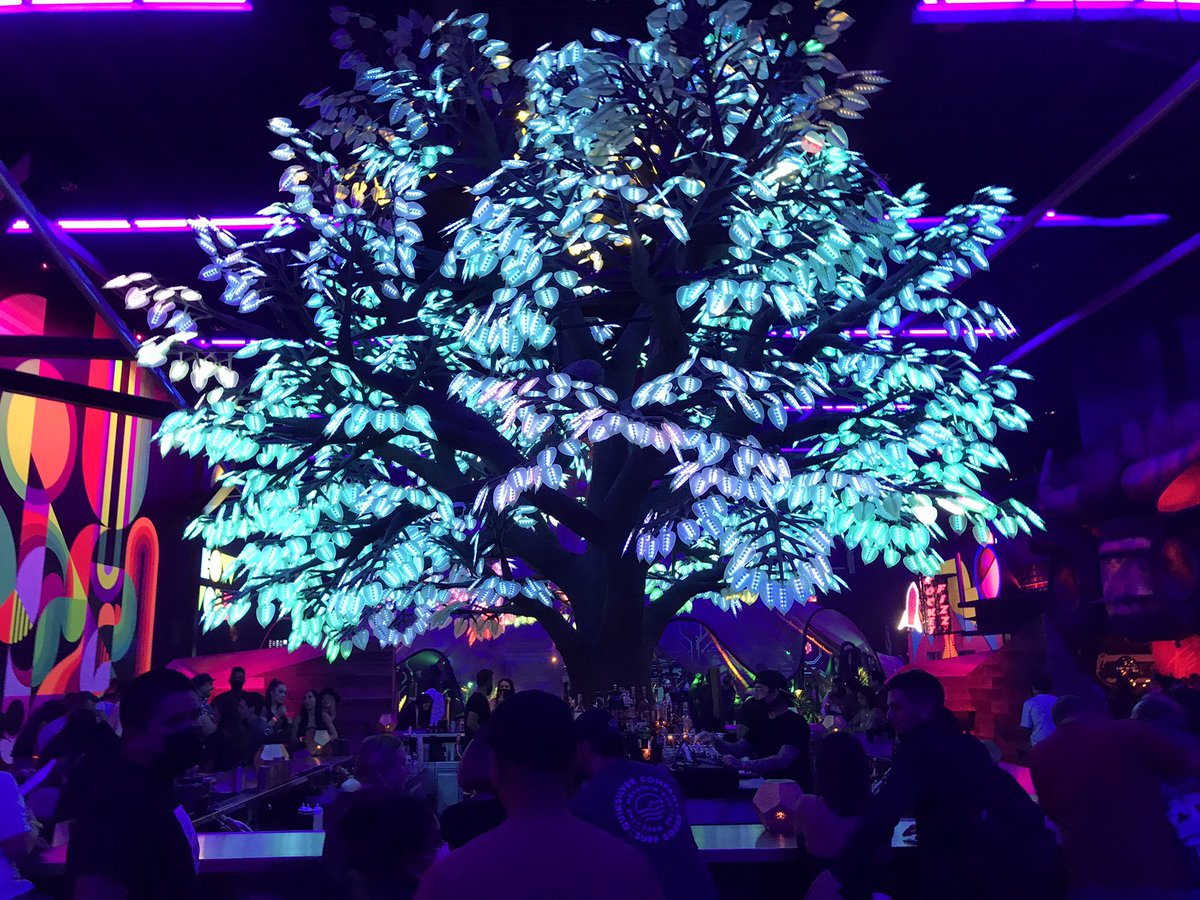 Area15 decor is like scifi plus Burning Man in a box. A huge skull with dozens of projections greets you at the front door. A silver art car, LED tree bar and volcano bamboo lounge are in the center plaza.
The front yard entryway has several fun art installation sculptures.
Every night, has a rave vibe. People can come in LED glowing clothing and costumes to walk around, as the music gets more EDM rave vibe. You can also buy some at stores on site.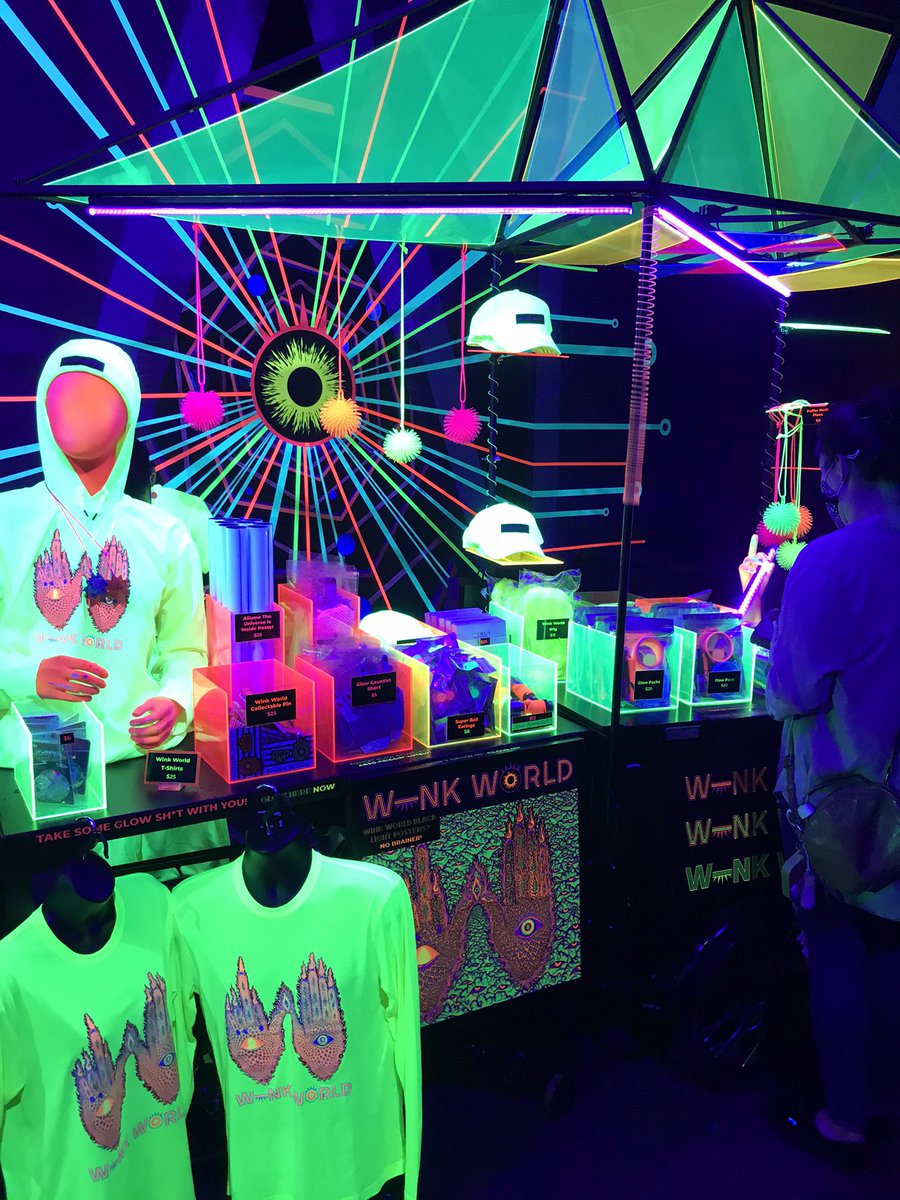 Area15 is hosting a special Neon Dream Memorial Day Weekend party this Saturday May 29 with roaming performers, DJs, added food, and more. Tickets are $35, including admission to Wink World, Fiasco Museum, and Brainstorm which usually require additional ticket purchase. Get tickets. 
Area15 requires a separate free admission ticket, and is open every day. Details on the Area15 site.
Area15 is a spoof of Area 51 and the 15 freeway, which runs right near it.
Photos courtesy Meow Wolf and Digital LA