The Santa Barbara International Film Festival adapts to pandemic this year with two free nightly drive-in screens by the beach, and virtual panels featuring several Oscar-nominated filmmakers.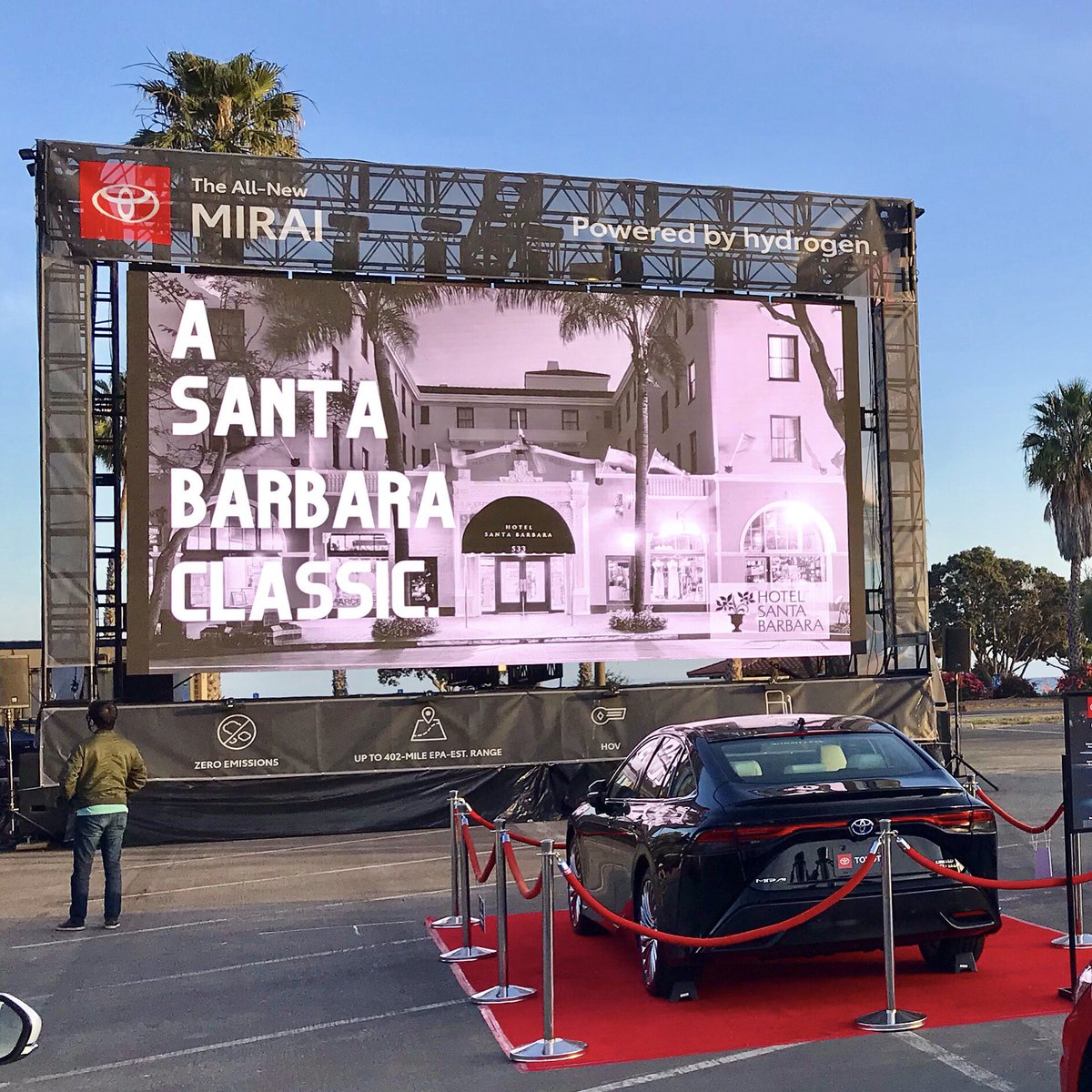 DRIVE-IN THEATRES
This year adds two pop-up drive-in screens at the Santa Barbara Community College parking lots, located across the street from Leadbetter Beach.
The drive-in screens, with gorgeous views of palm trees and the beach, add a very Santa Barbara flavor to the festival, usually held in theaters around State Street. The screens are hi-defintion, NOT projection, and the film images are easily visible by day or night.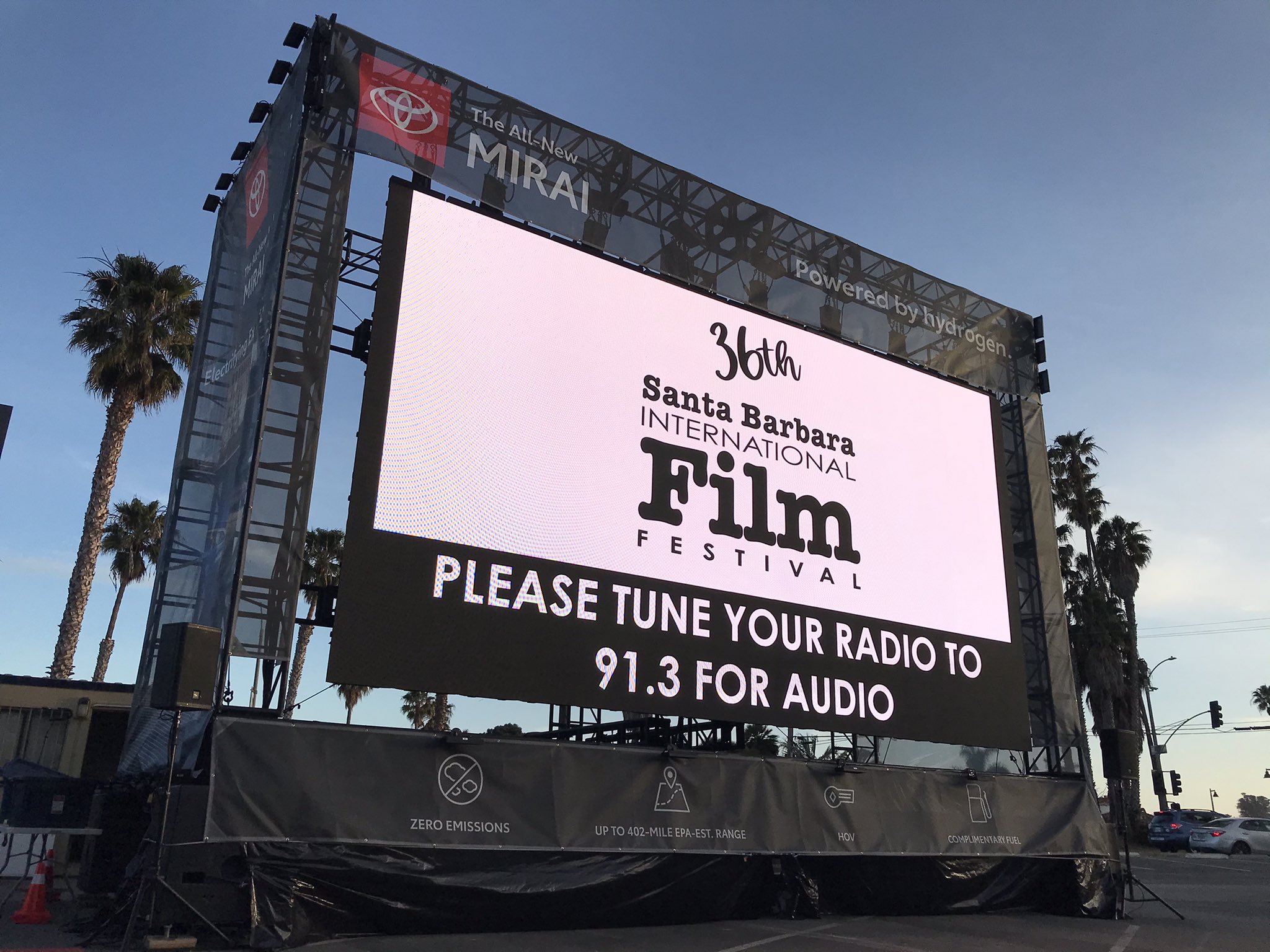 Attendees are encouraged to remain in their cars, and wear masks if they need to go to the porta-potties. At some of the screenings, the filmmakers and cast met near the front of the screens in mask before the show for unofficial networking.
Attendees can register for free tickets for the screenings, from 8:30a-8p at sbiff.org.
Attendees can also get a gift bag of free popcorn, M&Ms and hand sanitizer compliments of Toyota Mirai when the fill out an online registration form.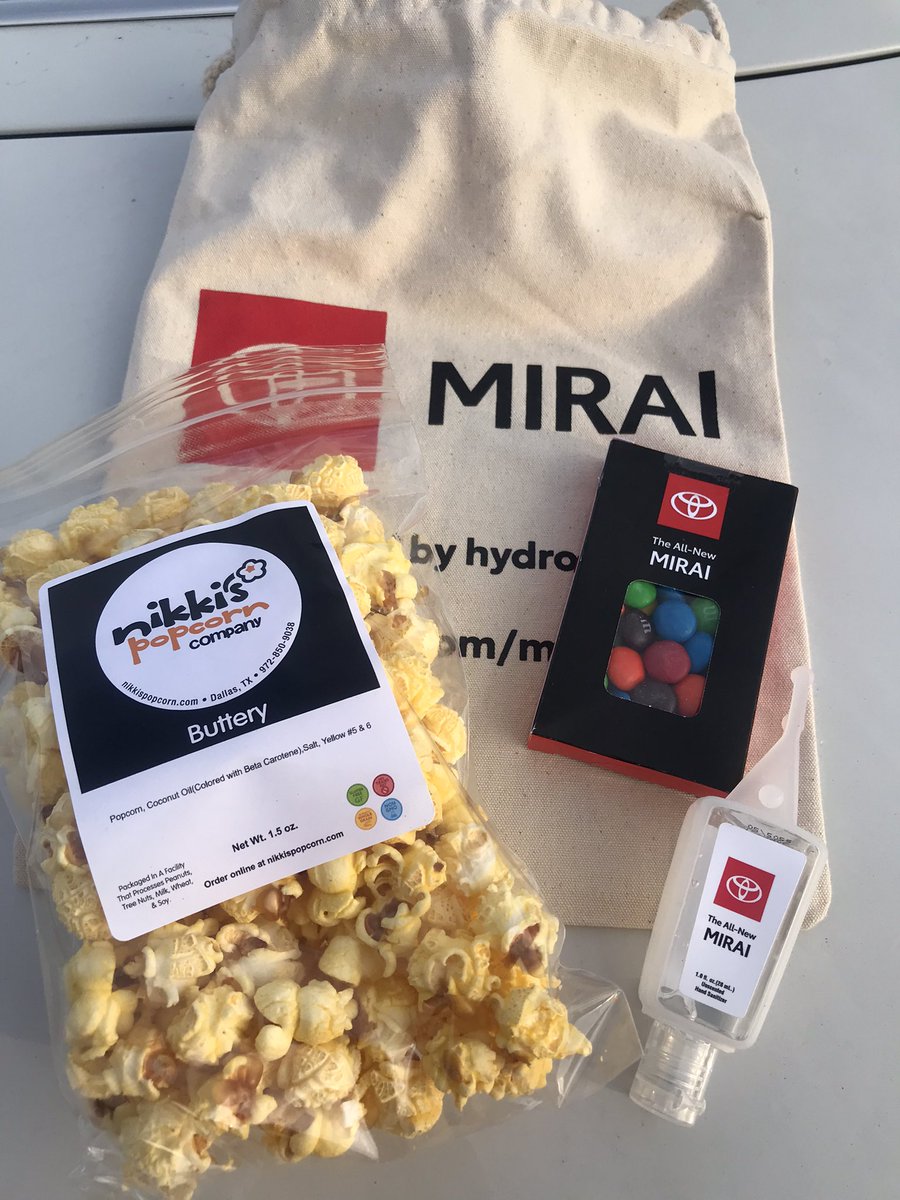 Hopefully these beach screens will pop-up again in future SBIFF tests.
PANELS: Writers, Directors, Talent, and more
SBIFF is known for attracting top Hollywood talent, and this virtual year continues that tradition with dozens of Oscar nominees and A list actors appearing on virtual panels.
WRITERS PANEL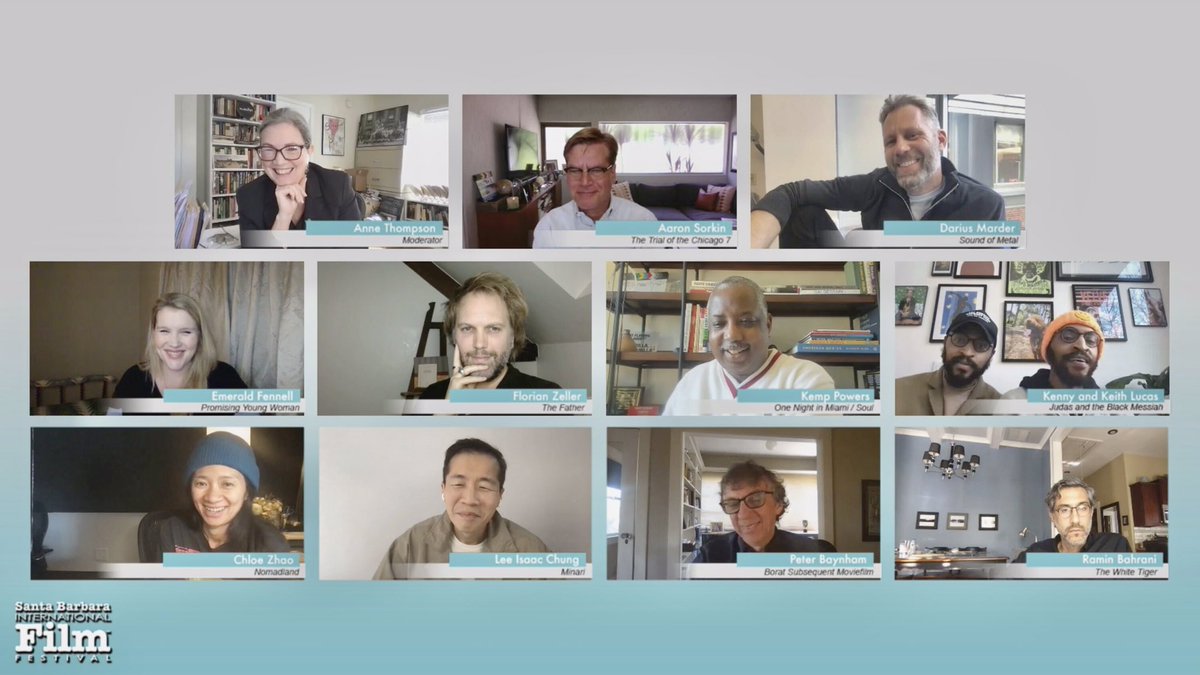 The Writers Panel featured all 10 Oscar-nominated writers dicussing their craft in a virtual panel moderated by Anne Thompson. Panelists included:
Aaron Sorkin (The Trial of the Chicago 7)
Darius Marder (Sound of Metal)
Emerald Fennell (Promising Young Woman)
Florian Zeller (The Father)
Kemp Powers (Soul)
Kenny and Keith Lucas (Judas and the Black Messiah)
Lee Isaac Chung (Minari)
Peter Baynham (Borat Subsequent Moviefilm)
Ramin Bahrani (The White Tiger)
BILL MURRAY receives MASTER AWARD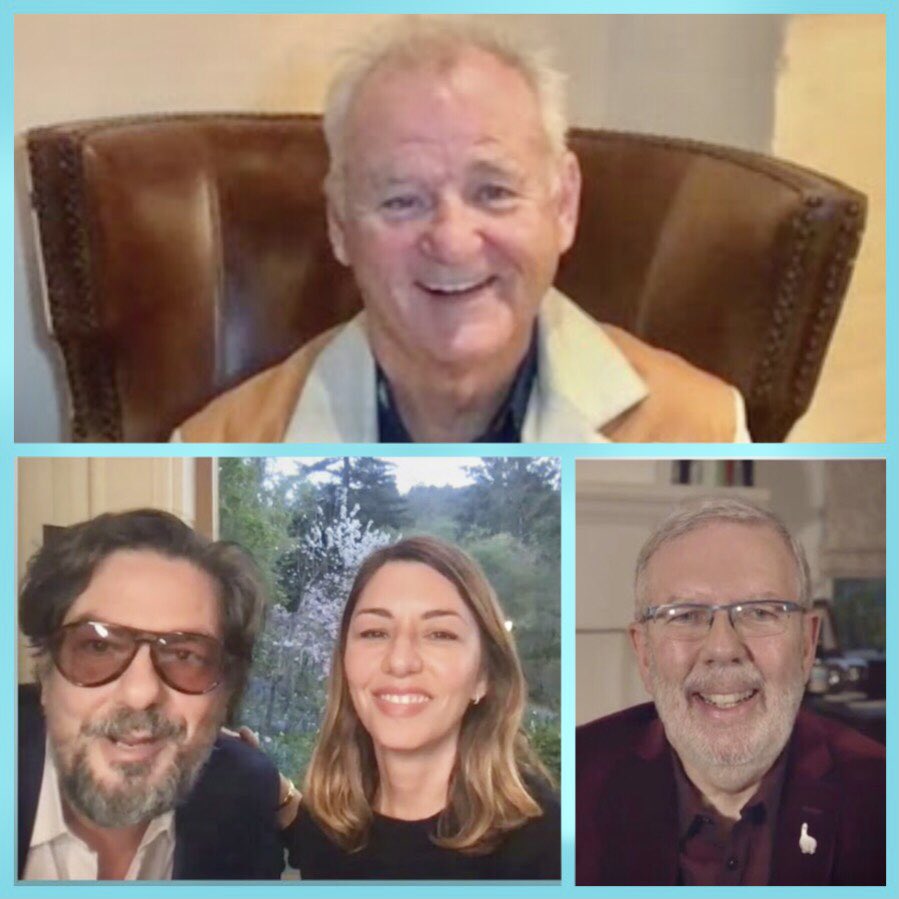 Bill Murray received the prestigious Maltin Modern Master Award, presented by Sofia and Roman Coppola. Murray was recognized for his long-standing contributions to the film industry, most recently in the role of Felix Keane in Coppola's On the Rocks opposite Rashida Jones and Marlon Wayans, for which he received Golden Globe and Critic's Choice nominations.
Murray virtually sat down with Leonard Maltin, who returned for his 31st year to moderate the evening for an insightful conversation and look back at his career. Highlights included:
On who he enjoyed watching when he was younger: "To me it was more interesting was the people that I really didn't quite understand when I was younger that later I got to really like. The person that jumps into my mind is Jack Benny who I thought was a little bit dry for a 10 or 12 year old, but later when I watched him I saw that he was daft. His timing was so precise, his face was such a beautiful photograph that I would turn on the TV and record him just to go back and watch him. I didn't really care for John Wayne much when I was a kid. I thought he was kind of stiff but later I got to like him and watched him more. I thought he had extraordinary self control; he didn't push it, he let the story come to him. Cary Grant is another one where people thought 'well he's just a really good looking guy,' but I can watch, like most of the world, North by Northwest at any hour of the day. If it's on the TV, I can't not watch it. Part of it is Hitchcock, but Cary Grant is just stunning in that role and he does so many things. He is funny, he's romantic, he's heavy, he's frightened. It's a really nice performance and he did it all the time. Unfortunately, he had this beautiful body and handsome face and people didn't take it seriously."

On transitioning from improv comedy to film: "The most difficult thing is that when you tell a joke or say something funny and no one laughs for nine months, you forget and you have this incomplete feeling in your gut that something's wrong. And when you go to the movie and you realize that I said something funny a long time ago and no one laughed. And then when you see it with an audience you think 'oh thank God that's over, what a relief that was.'"

On filming Ghostbusters: "A script is two-dimensions, a script can be as good as can be, but when you enter the physical world and you have to stand, move, walk and talk, something arise that's unexpected and unaccounted for and that's where you make your bones; it's what happens there. A movie that is sort of lifeless is one where sometimes the script is all you get and the actors don't take into it all that's happening in the moment of the real shooting…the more alive the scene becomes and the more alive the film becomes. That movie had great cinematography. Of course, László Kovács…you know a lot of special effects movies look pretty weak nowadays but that movie [Ghostbusters] still has a real look to it. It is pretty legit, it was ahead of its time, we had great special effects people. They were really good and László was really good. The four of us, Ernie Hudson, Danny and Harold, we knew we were gonna sink or swim together so we were always looking out for each other. We were constantly making sure that everybody was pumping and all getting it. As far as improvising goes, Harold was the mind of theGhostbusters, Danny was the heart of the Ghostbusters, Ernie was the soul of the Ghostbusters and I was the mouth of the Ghostbusters."