Writers and producers who've written on Disney, Marvel, Star Wars, D.C. Transformers, My Little Pony, and more top franchise properties discussed how to create diverse leading women characters at the official San Diego Comic-Con panel "Diversity in Writing: Women Writers and Producers Take Charge in TV, Animation, Comics, Games and Online" on Saturday July 20 at the San Diego Convention Center.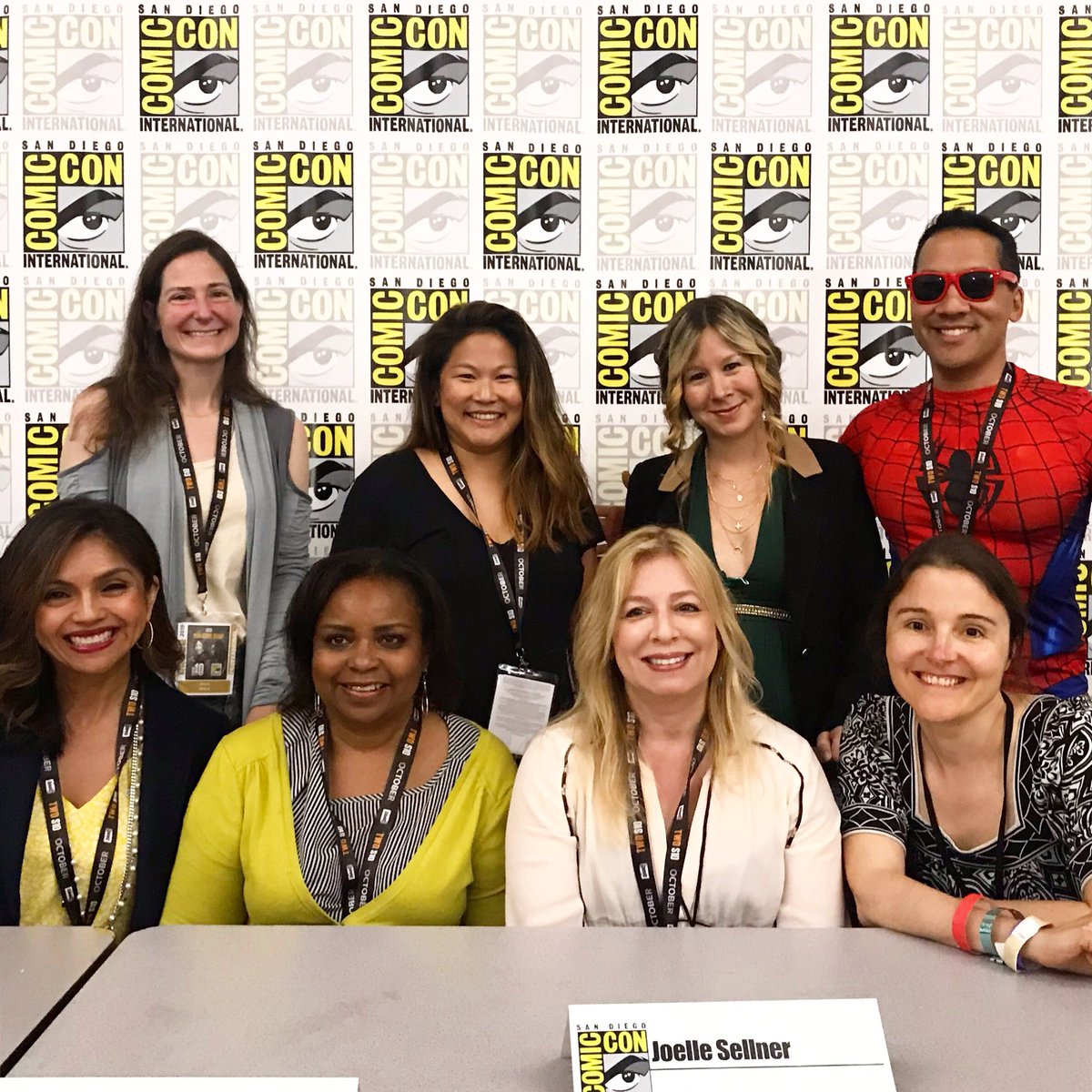 HIGHLIGHTS
1. Strong Women can also be Authentic, Relatable, Imperfect
Strong Women characters are important, but sometimes they become so flawless, that they aren't relatable. Male writers can sometimes write tough badass women without any weaknesses at all, that becomes a stereotype.
It's important for women leads to "be authentic," said Nicole Dubuc, writer on Star Wars: Forces of Destiny, Transformers, and My Little Pony. She is also the executive producer on the just-announced animated The Rocketeer on Disney Jr, which stars a young girl who inherits the rocket-pack and becomes a flying superhero.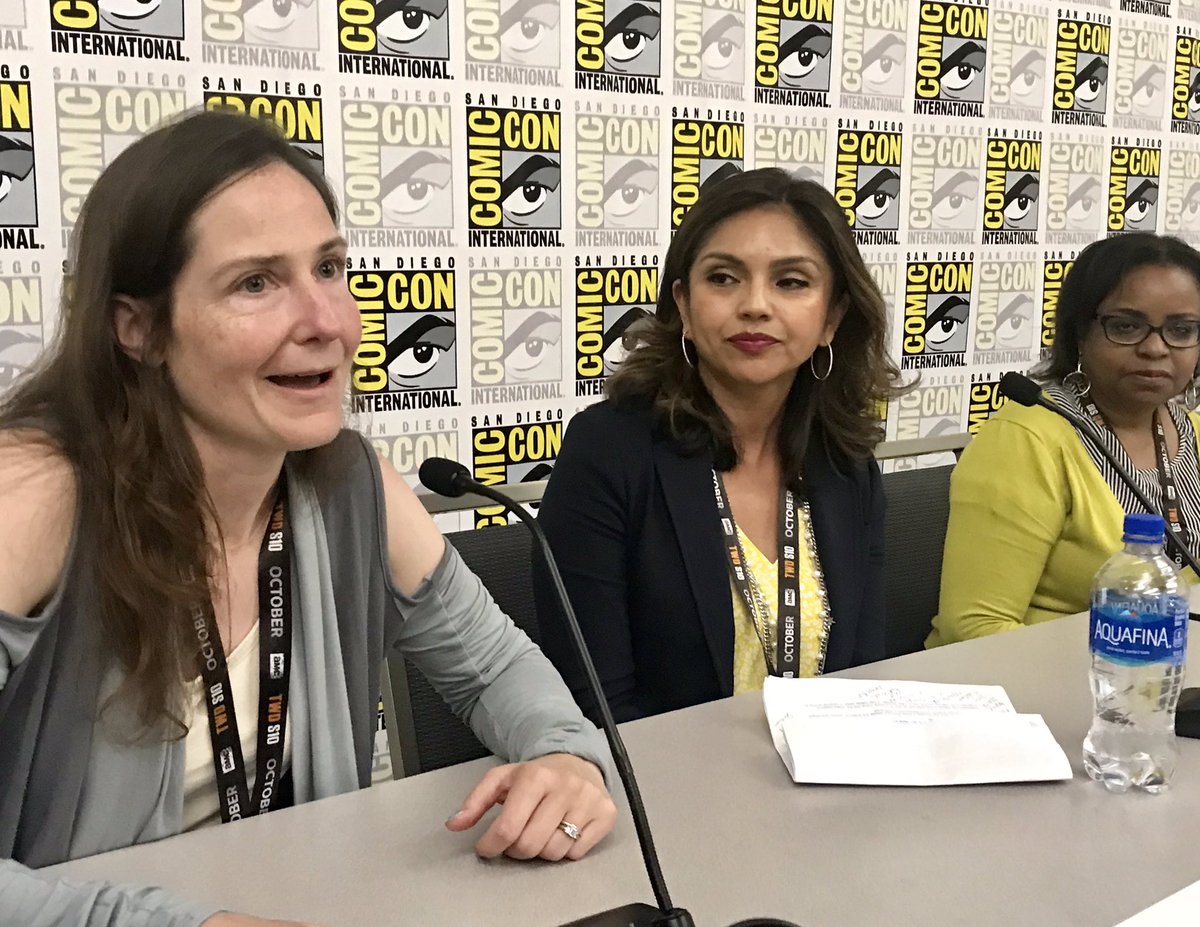 "It's ok to let your female characters be imperfect," said Keto Shimizu, writer and executive producer of D.C. Legends of Tomorrow. She said that tough men hero leads are shown to have flaws and so should women.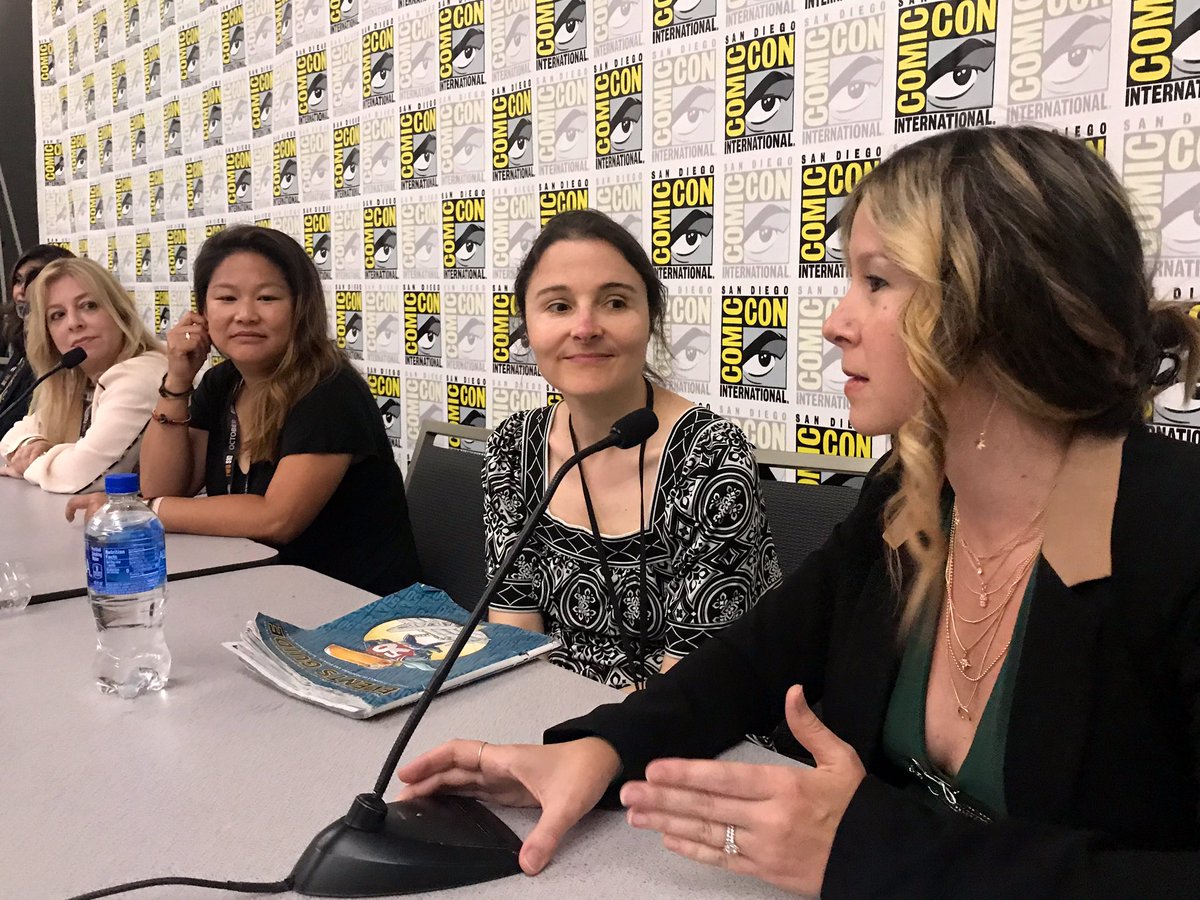 As a junior writer in the writer's room, you must support the showrunner and the senior writers' stories. But you're also there to bring your ideas and perspectives too, speakers said. Several panelists said that after being in the writers room a few months to get the vibe of the show, they started to introduce more women and diverse characters, which were well received.
Joelle Sellner, writer on DC Superhero Girls and Lion Forge comics, described that she was writing on an international series in which the women characters were always being saved by the men. She started to write in storylines where the women were holding their own, which were approved and made.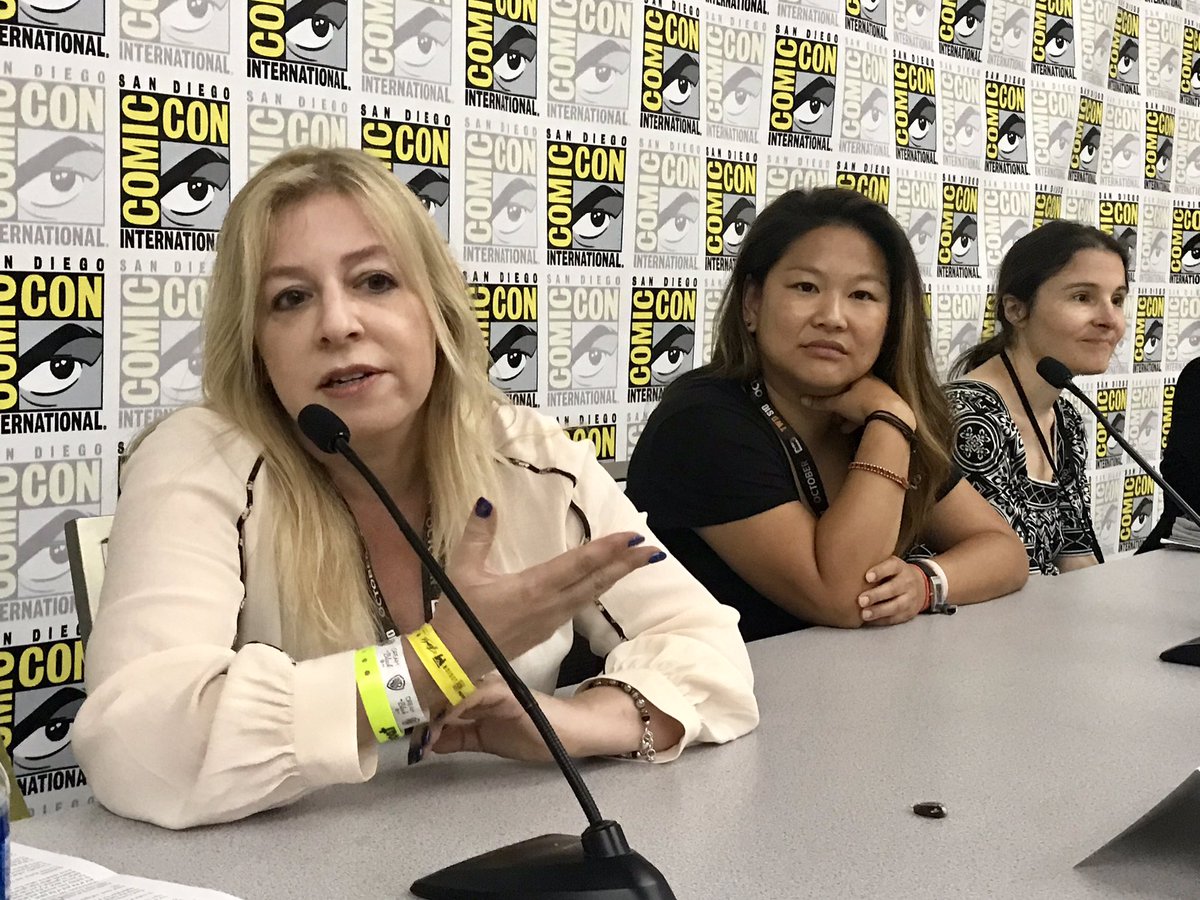 2. Recent Successful Diverse Films Help, but There's More Work to be Done.
Panelists said the success of Black Panther, Crazy Rich Asians, Spider-Man: Into the SpiderVerse and other films have definitely changed things in the industry. There are more shows being greenlit starring diverse casts, with diverse leads, not just in supporting "best friend" or "villain" roles. Some writers rooms are not just receptive to diverse and female characters, but are actively seeking to write and cast them.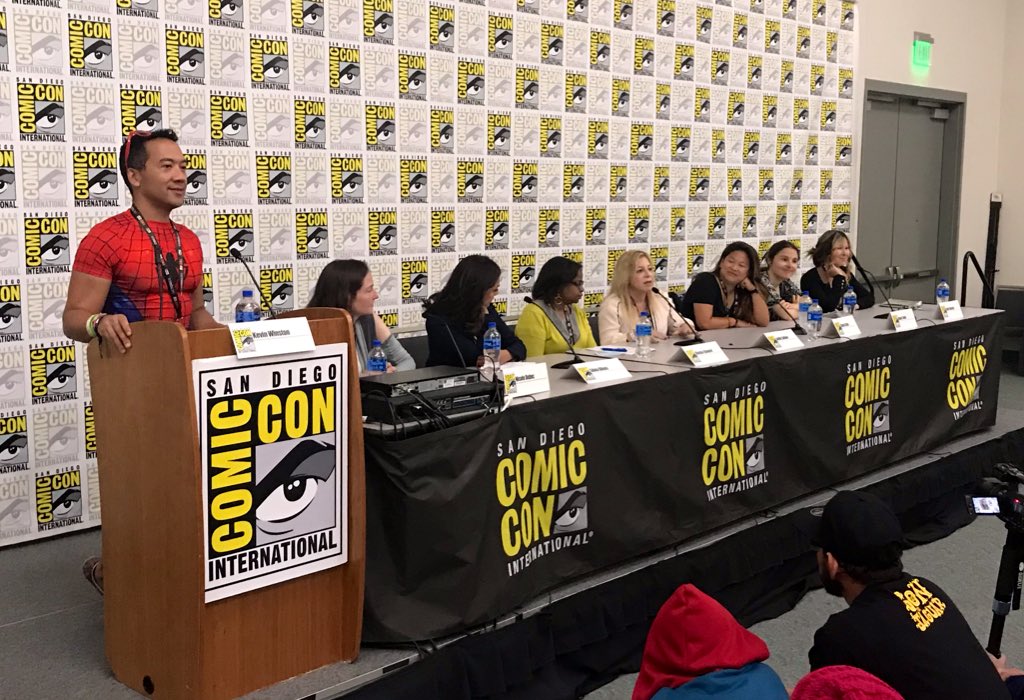 However, it still can be a struggle to suggest diverse or female characters in writers rooms and boardrooms of traditional or long-running shows, said Keto. There is still much work that needs to be done. After BP and CRA, we're not done; the real work is just beginning.
3. Advice for Writers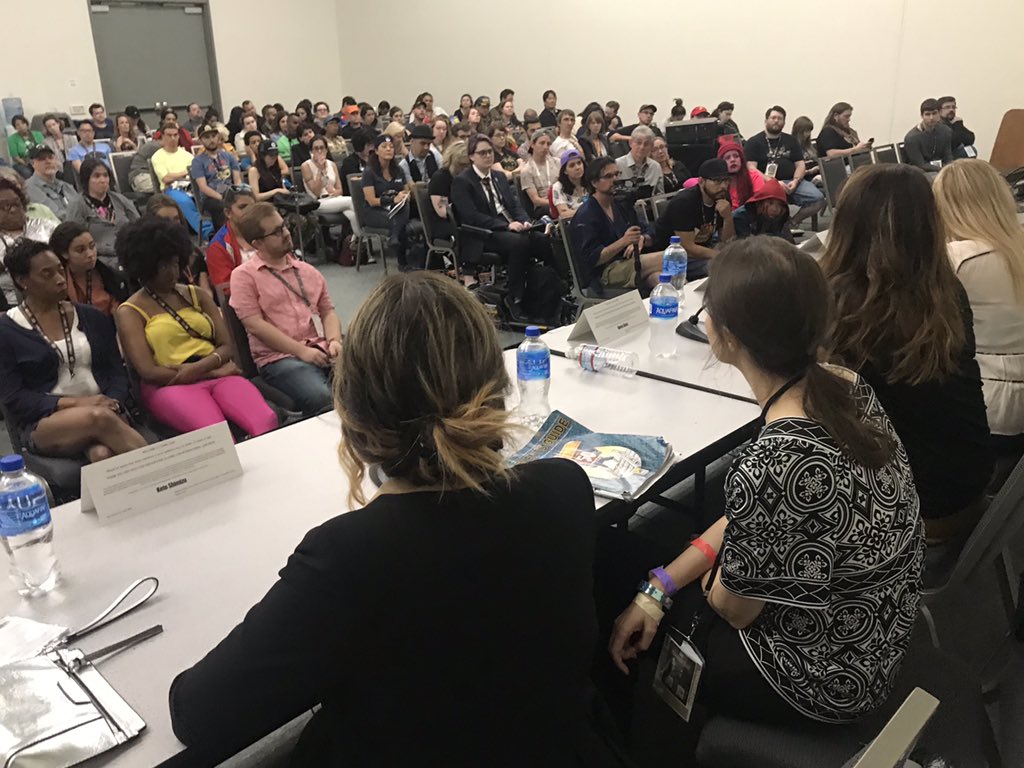 When an attendee asked panelists for writing advice, the speakers suggested to write, write, write. Write every day, get feedback. Develop your unique voice so you're known for something. It's a job, so set aside some time every day to write, and show your work when it's the best you can make it. Writers can eventually be producers and executive producers and show runners to call the shots, but in animation, they all write.
4. Make the Most of Diversity Writers programs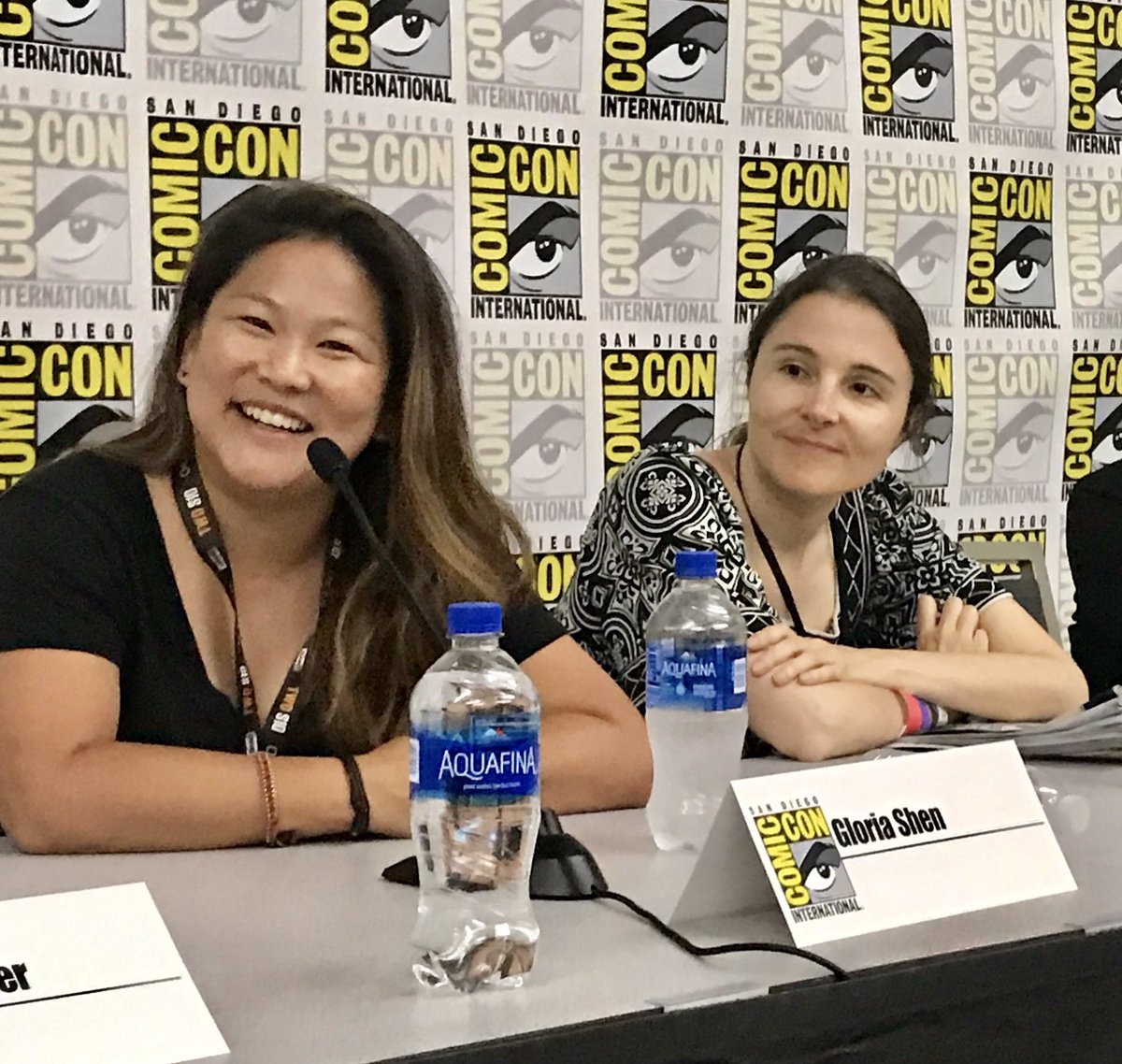 The major TV networks ABC, CBS, etc. have Diversity Writers programs, so apply, because they are looking for talent. When you're in the program make connections and meet people, because once you're finished, it's harder.
Gloria Shen joked that after she finished her ABC Diversity program, she was expecting work on a big show like Modern Family to materialize for her. She ended up getting staffed on the animated series Amphibia, which stars a Thai-American girl. The show recently released, and has received rave reviews. Gloria has spoken at industry panels about writing on the show, making more of an impact that if she were one of several dozen writers on Modern Family or another big established show.
5. Writing for Games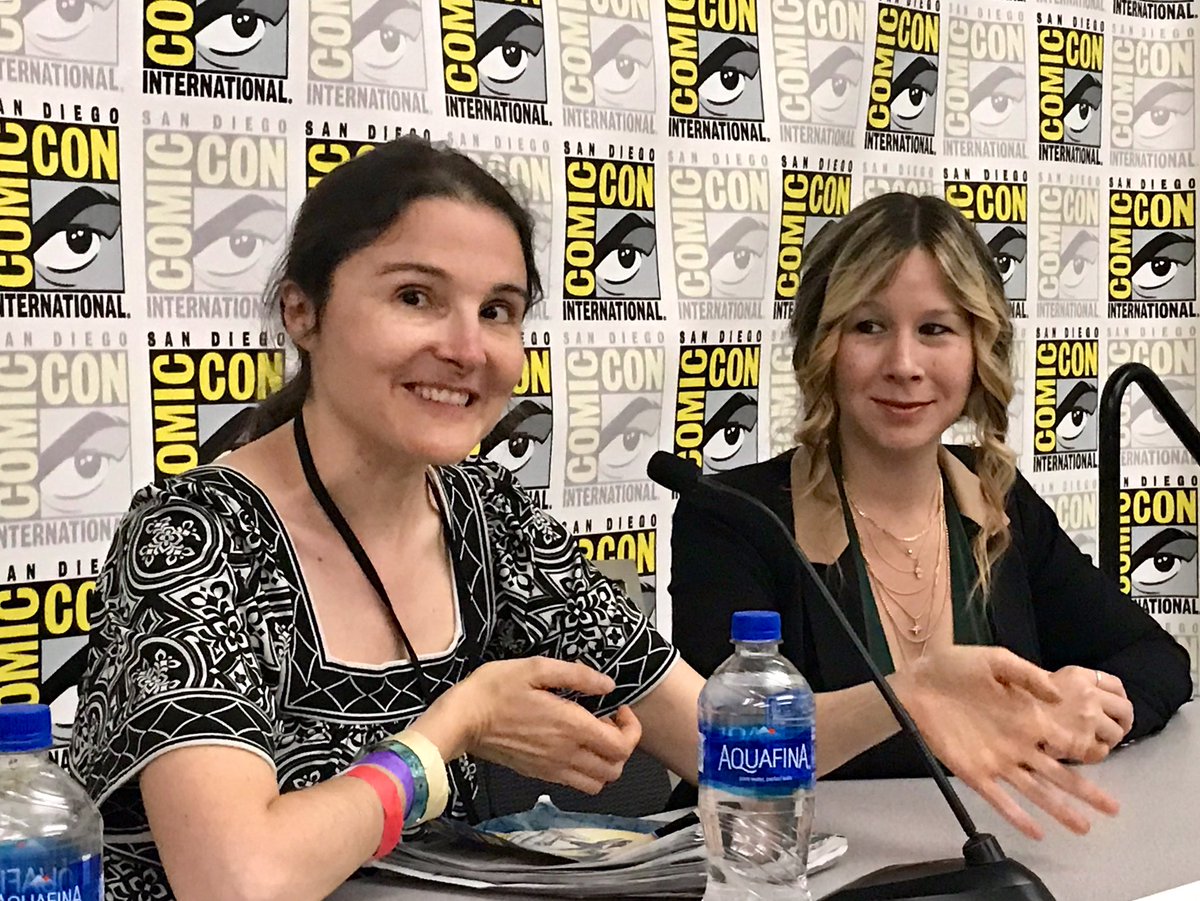 Anne Toole wrote a female lead for Sony Interactive's Horizon Zero Dawn game, which received a WGA Games Writing Award. In the action role-playing game, you play as Aloy, a huntress in a world overrun by machines, who sets out to uncover her past. Anne said that it was important for her to write stories and subplots where Aloy has more agency – making more decisions and calling the shots, rather than events happening to her, and responding to them.
She also said that more women are playing role playing games, and have told her they appreciated her writing a female lead character.
Anne has also written on Assassins Creed: Origins DLC – Curse of the Pharaohs.
6. Diverse Casting: The Little Mermaid
An attendee asked the panel what they thought of The Little Mermaid casting an African American lead. Denise Downer said that in the case of the Little Mermaid, mermaids are fictional characters, and the ethnicity is not central to the character or the story.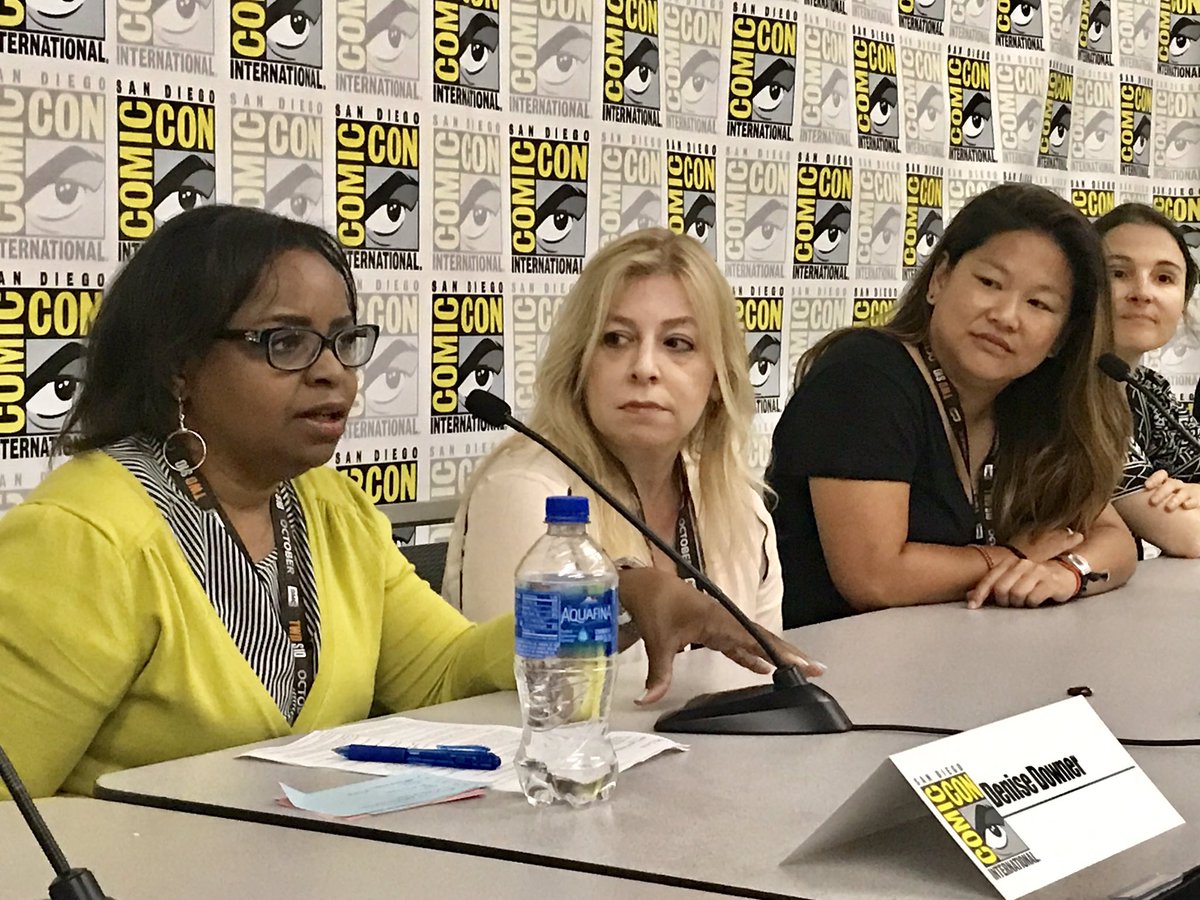 To reach today's diverse underrepresented audiences, why not cast diverse if the ethnicity is not central to the story? Mulan, on the other hand, is about a girl growing up in China, so the character and actress should be Chinese.
7. Mom Writers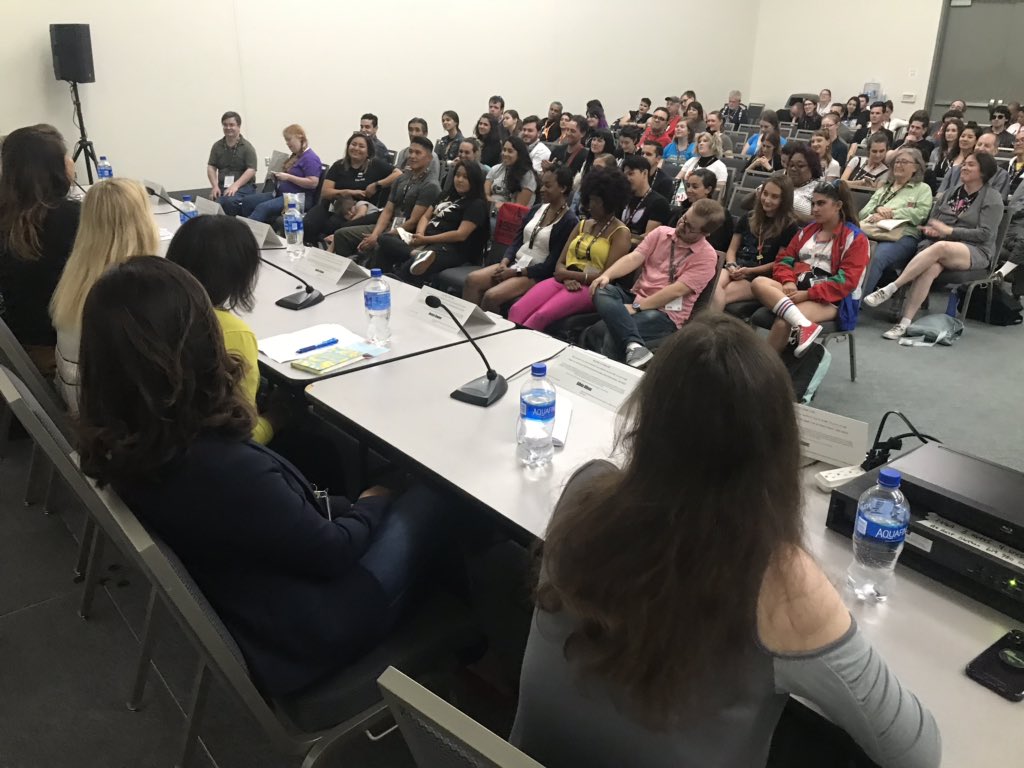 In the Q&A, a mom with a child asked if she could still become a writer. Two of the panelists who are mothers emphatically said that yes, being a mom has helped them become better writers by being able to tell more stories, as well as develop mom time management skills that extend to the writers room.
Silvia Olivas, executive producer of the popular Elena of Avalor animated series, said that after she got married, and  had her son, she returned to work with a new last name, and the feeling that she had to start over. So she joined a diversity writers program, where former colleagues recognized her. She pitched herself as having the same writing skills they knew her for, but more life experience to draw from as a mother. She was eventually hired on to major shows, and Elena of Avalor.
Keto Shimizu agreed. She added that since she is executive producer of DC Legends of Tomorrow, she sets the end of the work day for her writers room so she can go home and tuck her son in at 6pm. "And we still get everything done," she said.
Thanks speakers for your informative and inspiring comments, several of which got rounds of applause from our audience.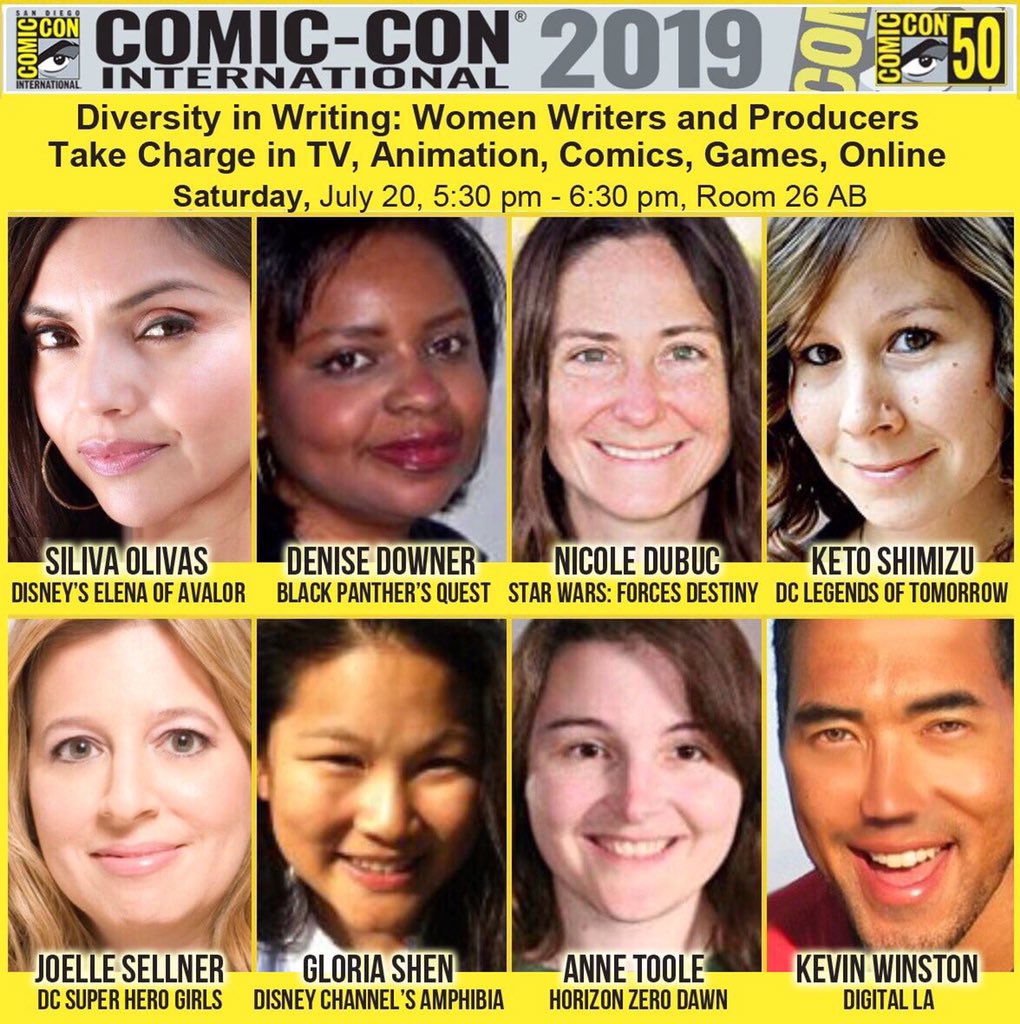 The panel was organized and moderated by Kevin Winston, Digital LA founder and CEO.