PLAYA VISTA – Tell a story, engage fans, collaborate and get brand deals, said expert top Snapchatters at our Digital LA – Snapchat panel at CTRL Collective in Playa Vista.
This event was the first panel in LA to feature Snapchat content creators sharing tips on how to use Snapchat to engage fans and work with brands. During the panel, panelists and audience coined the word "SnapStars" to refer to top Snapchat influencers with strong followings. Panelists shared their tips:
6 Snapchat Secrets
1. Tell your story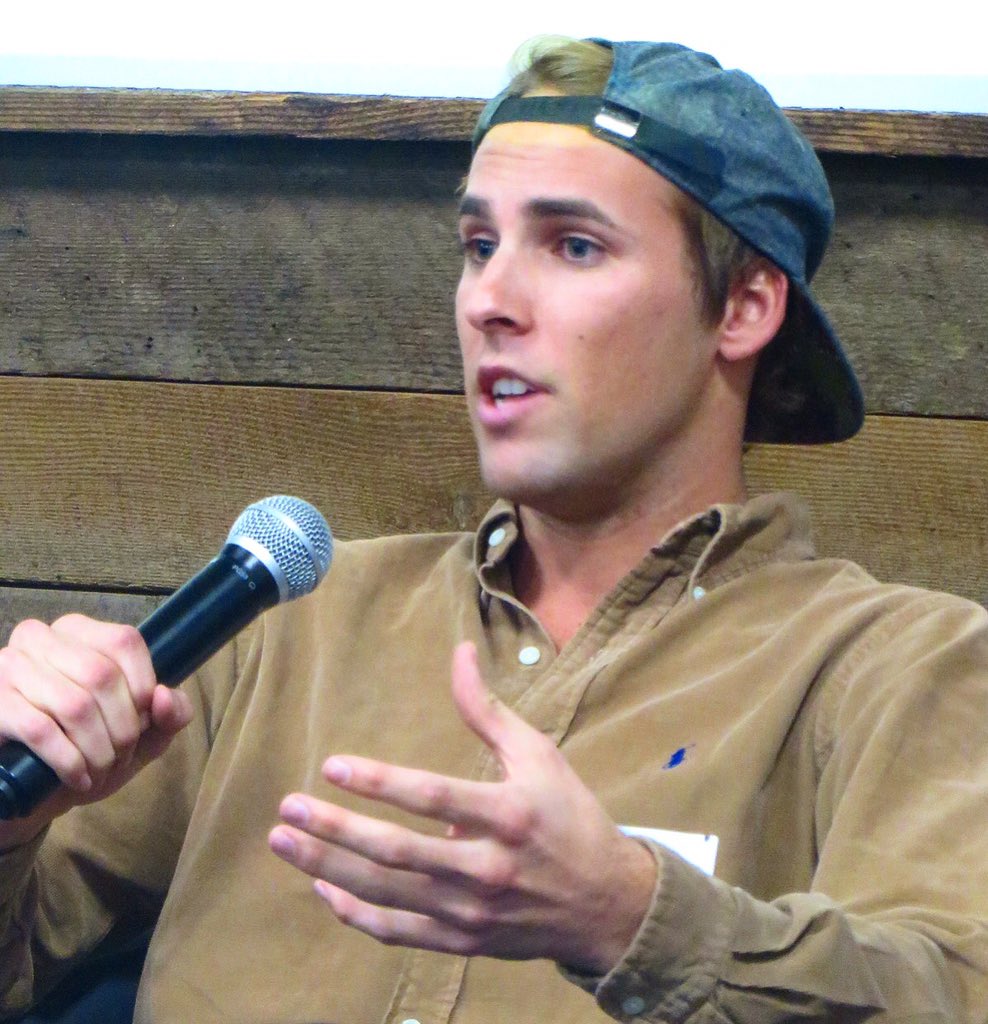 Snapchat uniquely lets you tell a story as a combination of both photos, and multiple short 10-second video clips, all taken in the past 24 hours. Most snap stories should be from 90 seconds to 2-3 minutes, said the panelists. Speakers preferred Snapchat because it lets them tell their stories in more time than Vine's 6 seconds or Instagram's 15 seconds.
"Your story should have a beginning, middle, and end," Tristan said. He and other panelists recommended that the first 10-15 seconds beginning of your snap story should set up what the story will be about, with your objective, or mission. In the middle: accomplish your mission. For the end, wrap it up with a summary, and try for an interesting visual punch or surprise, so people will learn to watch your snaps til the end.
2. Your Content: Daily Life or a Series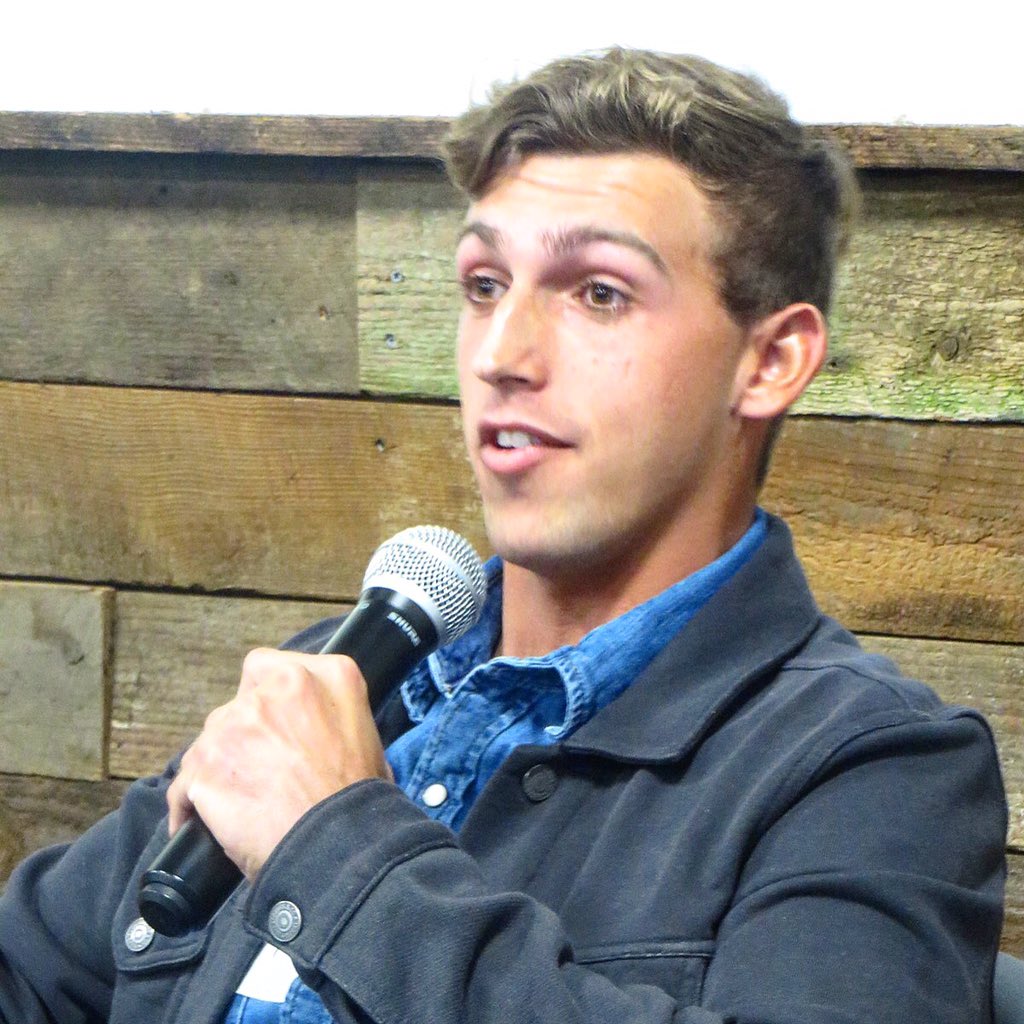 Your snap stories can be a regular series, or your daily life, or a combination of both.
Surfer Danny Berk started using Snapchat to show his life as a surfer in San Diego. He can't easily use his phone to Snapchat while surfing, so he snaps stories to show his daily life, asking other beach goers their fave pickup lines, etc.
Tristan Tales got some early press in Huffington Post for his College Gym Safari Tour series, where he visited college gyms and commented (in mock Crocodile Dundee accent and safari hat) on the behavior and noises of frat guys working out. Tristan continues to do prank and man-on-the-street snap stories.
It's a different way of thinking to think of your daily life as a story, but even "going to the store" or "attending a birthday party" or "running errands" can be constructed as a Snapchat story. Snapchat fans love to follow the unedited, authentic daily life of Snapchatters, with high open rates for snap stories.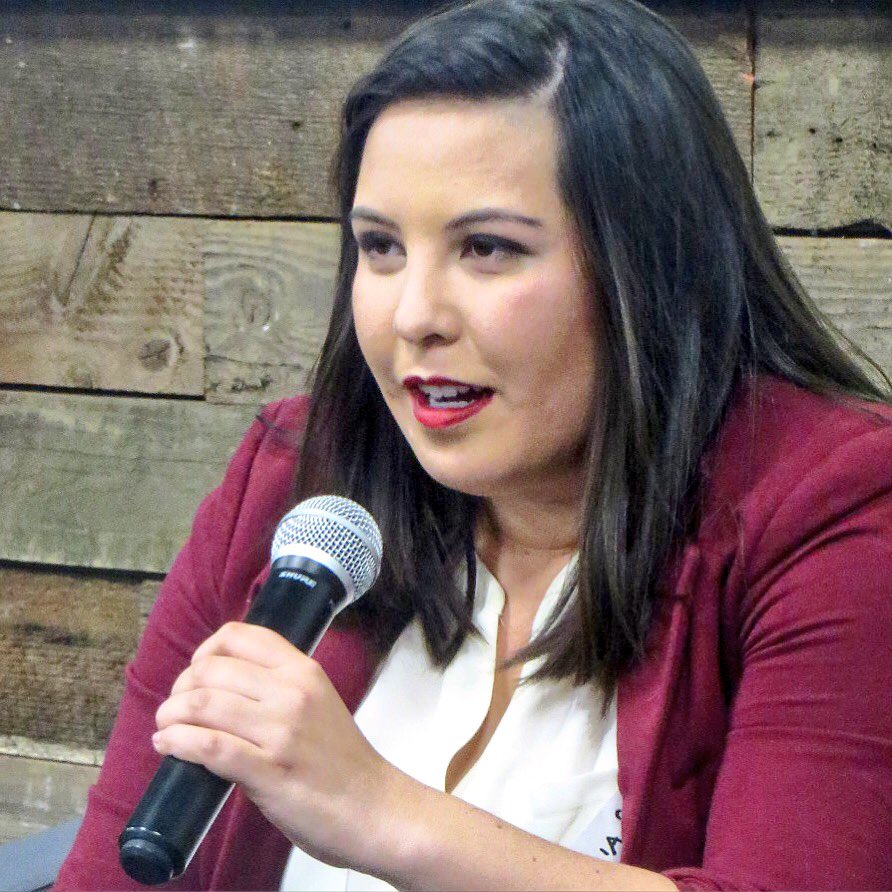 SalliaSnap started drawing illustrations on her snaps, and gained many followers who love her creative drawings. When she discovered that her young girl fans needed female tech role models, she started to create a science and tech educational series of snaps, which she releases every week. She said just like TV shows release regularly, it's important for creators who decide to do a weekly show to stick to a regular schedule so fans know when to look for a video, and build your audience.
3. Engage with Fans. Ask fans questions, and have them respond with screenshots. Tristan has used this to create "Choose Your Own Adventure" style snap stories, with fans directing what he does.
4. Collaborate. Do collaborations with other Snapchatters to build your audiences.
5. Get Brand Deals. All of the panelists are getting more and more brand deal offers, as advertisers are eager to reach young audiences on Snapchat.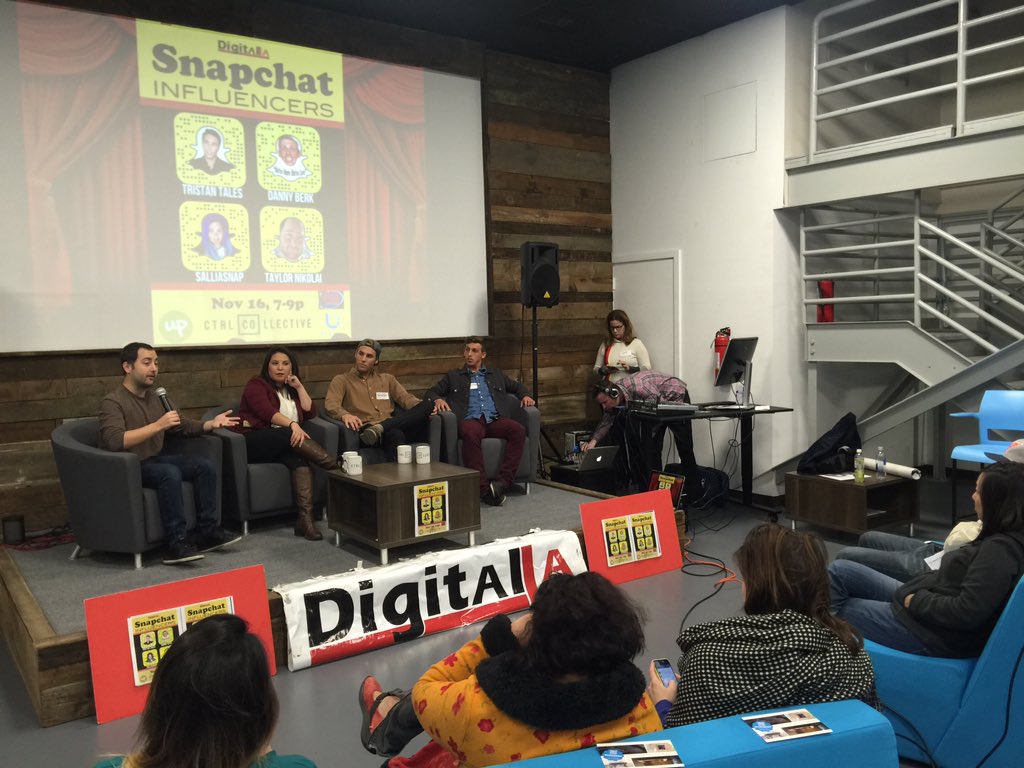 Salliasnap worked with Disney on a campaign for the Good Dinosaur film. She was invited to the Pixar campus, and took snap photos, adding dinosaur overlay illustrations. Danny Berk was invited to takeover the World Surf League's Snapchat account, and also worked with Cinnabon to create snaps celebrating its 30th anniversary. Tristan Tales worked with Fox to create snaps for its Scream Queens TV show.
While advertisers and brands are increasingly starting to do Snapchat campaigns to reach young audiences, the average 30-50 something marketing manager or agency doesn't quite understand how to use Snapchat, nor its reach and impact, which can be frustrating, said Taylor Nikolai, who has turned down brand deals that are too low and don't value his reach.
To find top Snapchatters, advertisers and agencies can work with the Amplify, the Audience and Narativ which all represent Snapchatters.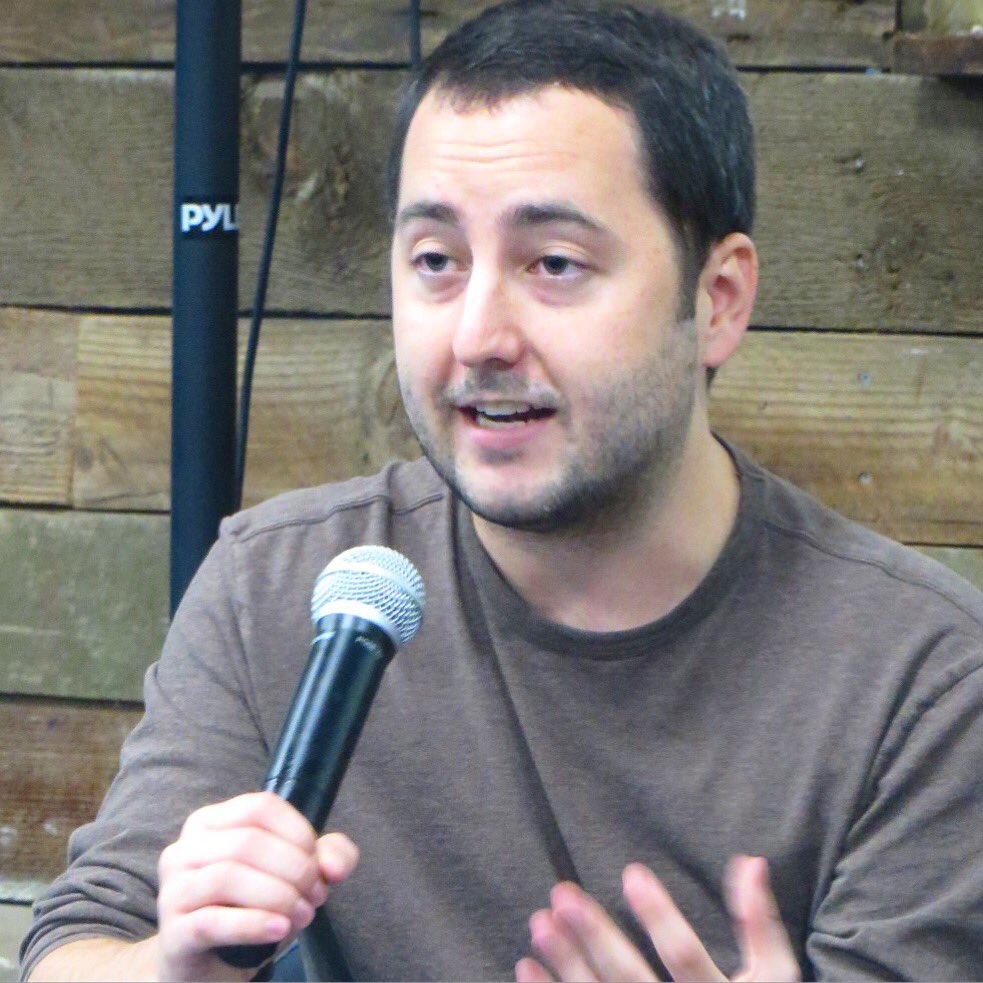 6. Stats. Snapchat doesn't give a lot of performance stats. You can measure view count, follow thru (how much of your video people watch),and screenshots. Snapchat follower count is visible only to the owner of Snapchat account. So if a brand wants to know your follower count, send them a screenshot of your follower count.
Thanks to CTRL Collective for hosting our event. Thanks to Tech Cat for the radio podcast, available soon. Thanks to Urban Plates for providing yummy pasta salad, beet salad, and cookies.
Thanks to our speakers!
– TristanTales makes interactive & viral Snapchat Stories with family-friendly channel stories including scripted sketches, partially-animated adventures, short films and man-on-the-street interactions with strangers. He has collaborated with multiple brands, most recently taking over the Snapchat account for FOX's new hit show, Scream Queens. His stories include "College Gym Safari Tour" snapping bros working out at the gym. TristanTales
– Danny Berk is a Semi-Professional Surfer and Snapchat entertainer. His Snap Stories follow his naturally energetic lifestyle. He has been featured in Business Insider as one of the Top 13 Snapchat Stars to follow, and featured on Talkin Snap with Mark Kaye! He took over the Worldsurfleague Snapchat account at the U.S Open of Surfing in Hungtington Beach, and the Hurley Pro and Cinnabon's Snapchat account for its 30th Anniversary. DannyBerk
– Salliasnap is a Snapchat artist and influencer who uses playful illustrations and animations to reinterpret her day-to-day life. She has been featured as a "Snapchatter to follow" by Business Insider, College Humor, International Business Times, Tech Insider, and WiredUK. She uses her engineering education each week for Snap Science, where she demonstrates experiments while keeping her eyebrows intact. Sallia has created snaps for brands such as Disney, DreamWorks, UNICEF, Contra Coffee, and has most recently taken over the Disney Studios Snapchat account.
– Taylor Nikolai. An early adopter to social media, Taylor Nikolai is now one of the largest independent social media publishers in the world, with millions of engaged followers across a variety of niche-industry topics. With millions following him on Twitter, Vine, YouTube, and Snapchat, he's now shifting his focus into being one of the largest Snapchat Influencers. His Snapchat accounts have been featued in WIRED, Business Insider and other publications. Taylor.Nikolai