You can play darts, eat Ronto wraps, shoot blasters, and wield a lightsaber in the Star Wars: Tales from Galaxy's Edge VR game, which released on Meta (aka Oculus) Quest 2 on November 19, 2020. ILMxLab created the graphics.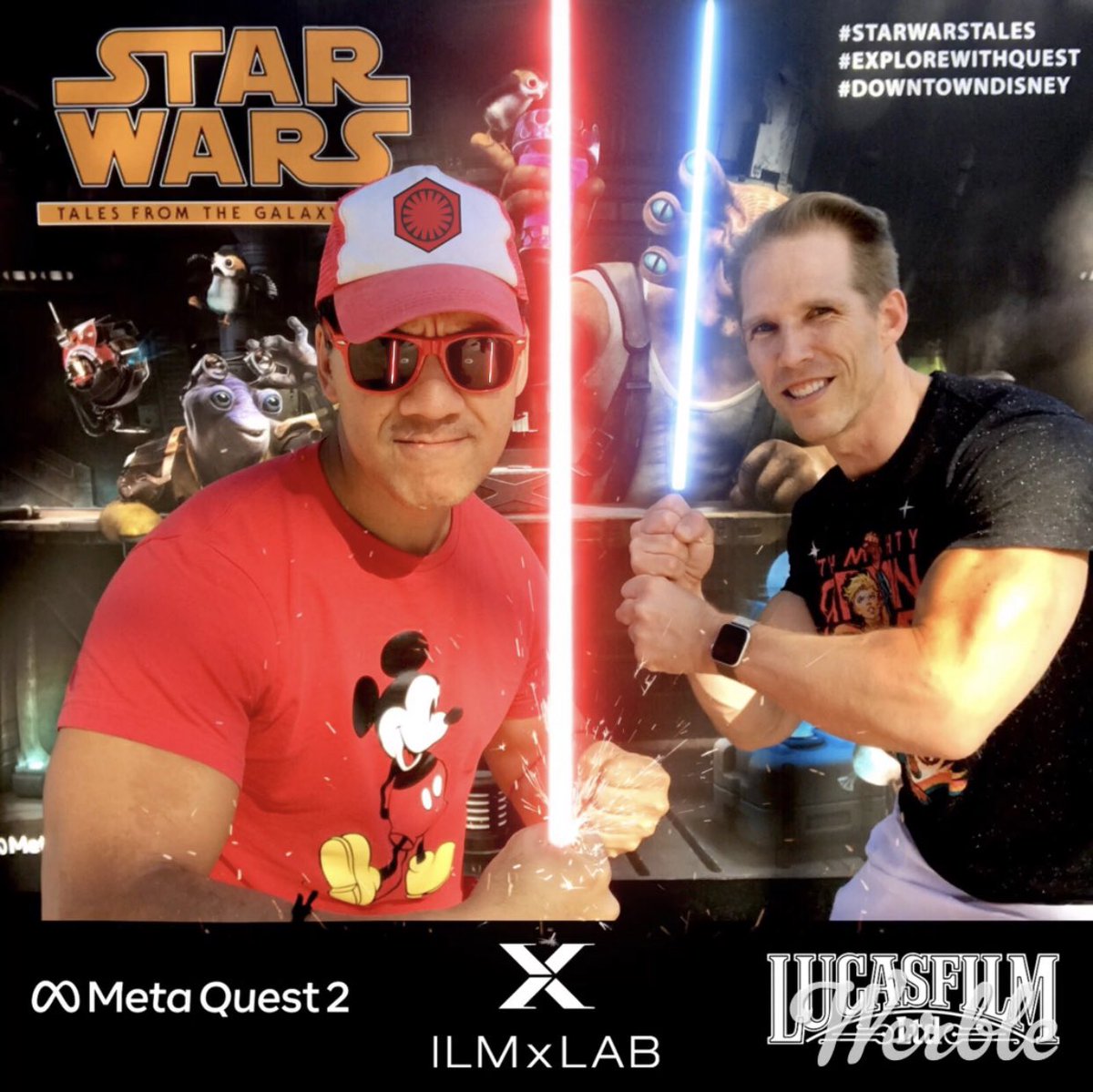 You can also do a free VR game demo at the former ESPN Zone at Downtown Disney thru January. After an 8-min demo, you can get a free $25 gift card for future game purchase, and we go some swag: game poster, and Quest thermos.
Both the demo and the full game are meh, just OK. In the demo, you play the opening part of the game, where you explore a smaller cantina in Black Spires Outpost, on Batuu. No it's not the tough-to-get-into Oga's Cantina at Disneyland, so you can't even get into that in VR.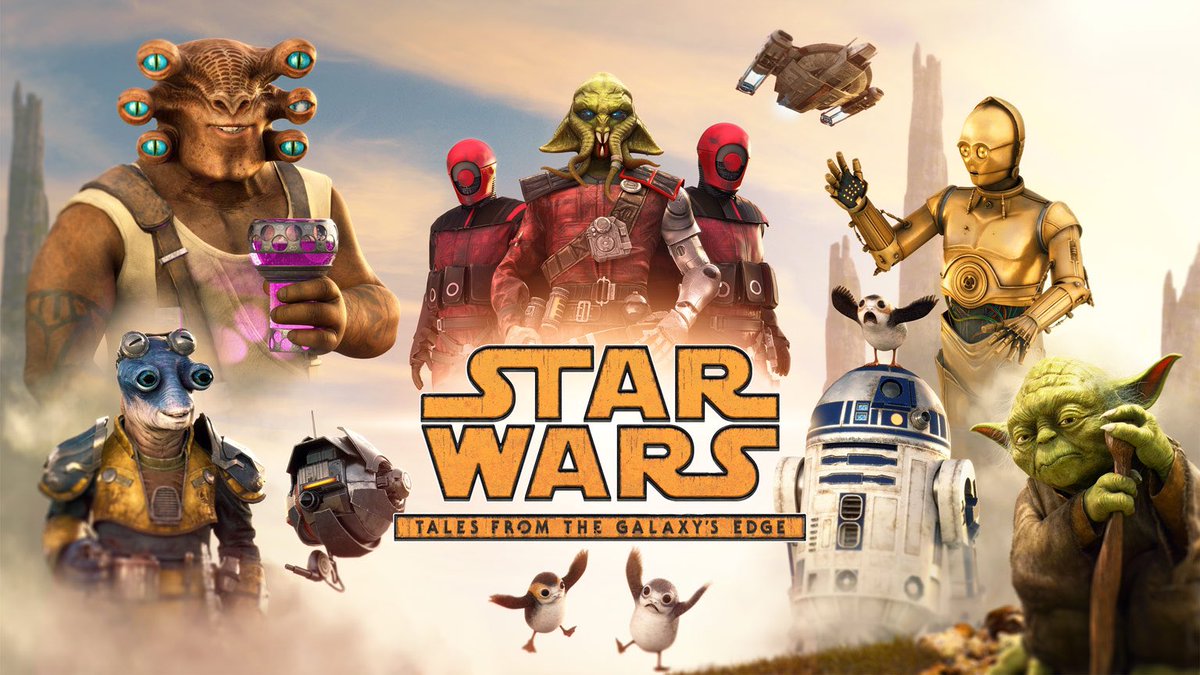 In full game play, you get blasters, and run around Black Spires Outpost back neighborhoods (never actually entering places you can go to in Batuu at Disneyland, no Falcon, no Docking Bay 7, no Rise of the Resistance). You eventually can get a lightsaber and meet some recognizable characters (SPOILERS – see below).
The most fun of Star Wars first-person games are lightsabers, blasting and space travel. So for this game to feature mostly blasters like every other shooter, in an adjacent part off Black Spires Outpost, that itself is adjacent to the main Star Wars Universe, just seems pretty removed. If Lucasfilm ILMxLAB can't create the VR world most players want, who can??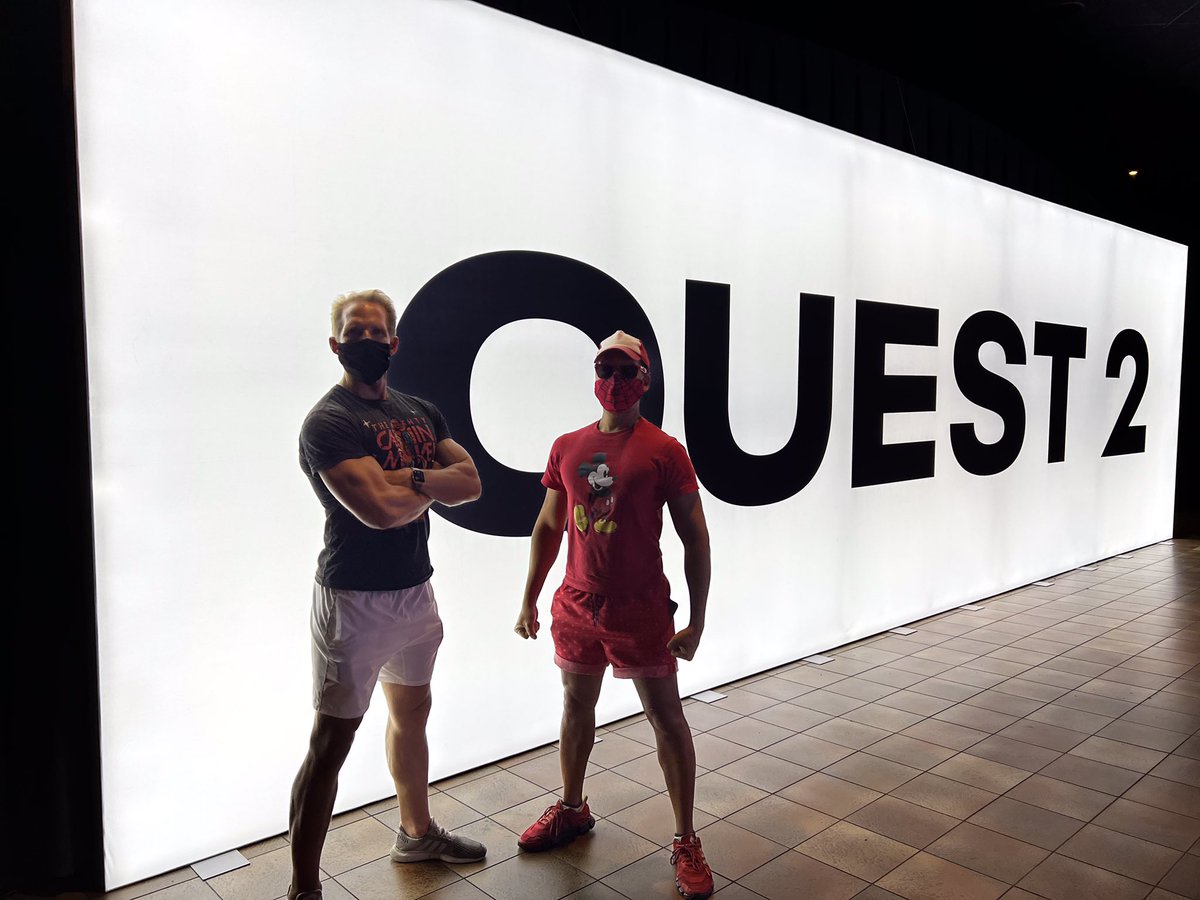 The free VR demo is unique for several reasons:
First, it's the first Star Wars VR game set in Disneyland's Galaxy Edge aka Batuu. Setting stories in this world helps expand storytelling in Batuu, giving fans more of a connection Batuu. When we played, I immediately recognized Ronto wraps in the cantina, and as it's my fave Disney food, went around eating all the VR Ronto Wraps I could find (grab, and munching sound), which of course made me want to go into the park to eat Ronto wraps in real life, and talk about them here now.
Second, it has the Meta Quest 2 branding, instead of Oculus. Facebook bought the OC-based Oculus VR a few years ago but kept the name, as large corporations do for the first few years. But inevitably, the corporate name takes over. Since Facebook just changed its corporate name to Meta, it's now Meta Quest.
Third, it's the only VR available at Downtown Disney, as the VOID Downtown Disney location sadly closed during Covid in spring 2020. We attended its grand opening in 2018. In fact, the pandemic forced VOID to close all of its locations in high-rent malls and shopping districts, including its three SoCal locations in Downtown Disney Anaheim, Third Street Promenade in Santa Monica, and Glendale Galleria. And the VOID sold its business to Hyper Reality Partners which appears to get some of the ex-VOID employees back together to relaunch in a new form, potentially in Las Vegas.
Game Demo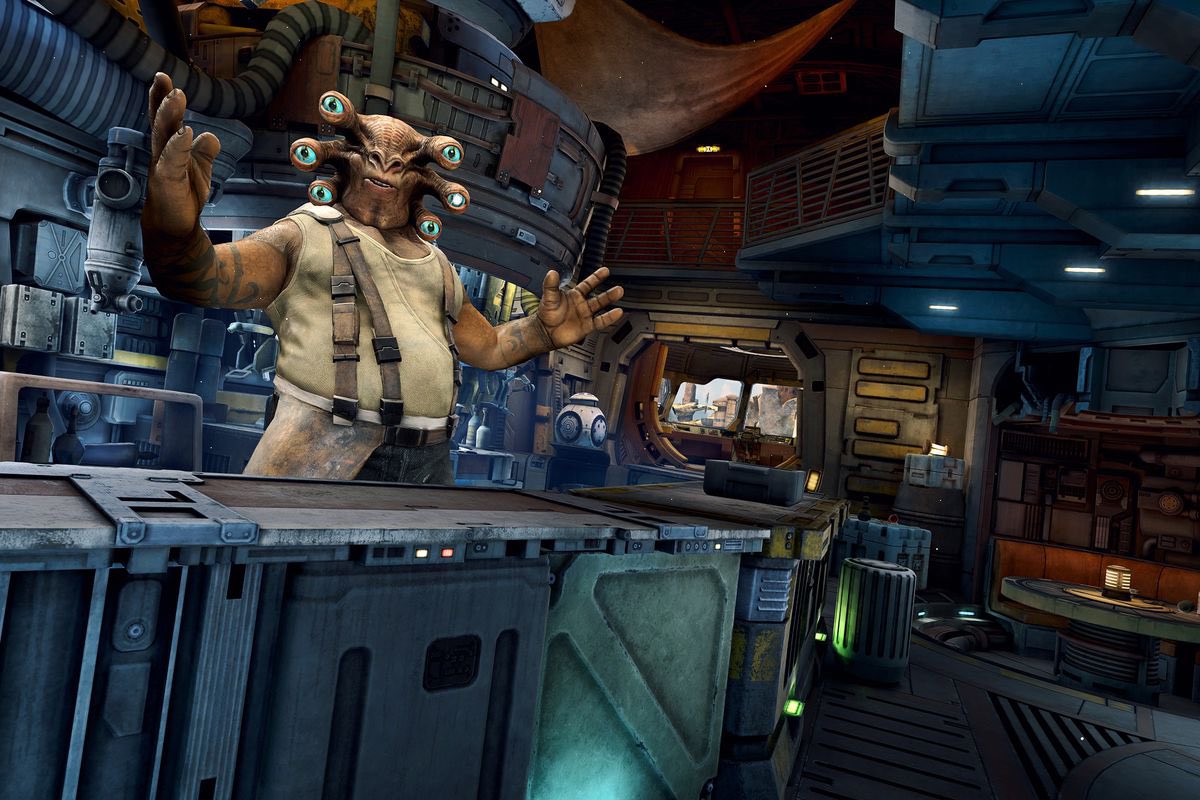 The demo is just ok. You start off in a Black Spires Outpost smaller cantina (NOT Oga's cantina), and can talk to the bartender Seezelslak (featured in the poster).
In the cantina, you can drink liquids, eat Ronto wraps, play a drum set  Max Reebo would love, and play rocket darts. You can also look out the window to see Black Spires Outpost (just like it looks at Disneyland).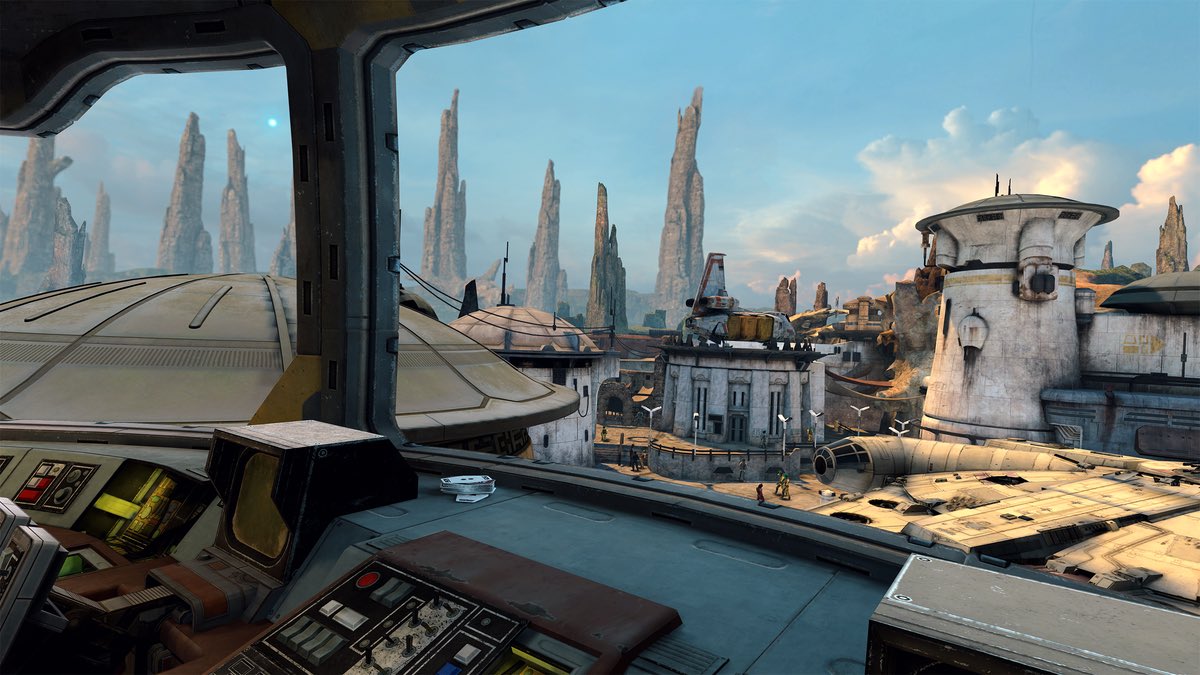 Eventually, a little blue guy and his droid appear. You can follow him outside, where you can find a blaster and shoot Guavian Death Gang members running around the back alleys of the Spire.
As far as demos go, just shooting your blaster in a adjacent neighborhood of Black Spires Outpost, which is itself adjacent to Star Wars itself, isn't the best Star Wars experience. It'd be a much cooler demo to just jump to the lightsaber part of the game to feel the emotional adrenaline rush that makes you thing: "I gotta buy this game now!"
Note to VR demos: with limited time, and people with experience in VR: put your players in a more exciting part of the game, not the slow intro. Both my friend and I are meh were more excited about the game before playing it, and 'meh' after.
The Rest of the Game: SPOILERS!
In the rest of the game, you run around with blasters and shoot more bad guys, and eventually some boss characters. Unfortunately, it feels like any other first person shooter game – at least the bad guys should be Stormtroopers or droids, but they're not.
Much later, Seezelstak tells a story of the old days, sending you on a flashback where you finally get a lightsaber to go on a mission.
Also later in the game, you eventually get to meet C3-PO and Yoda for too short a time.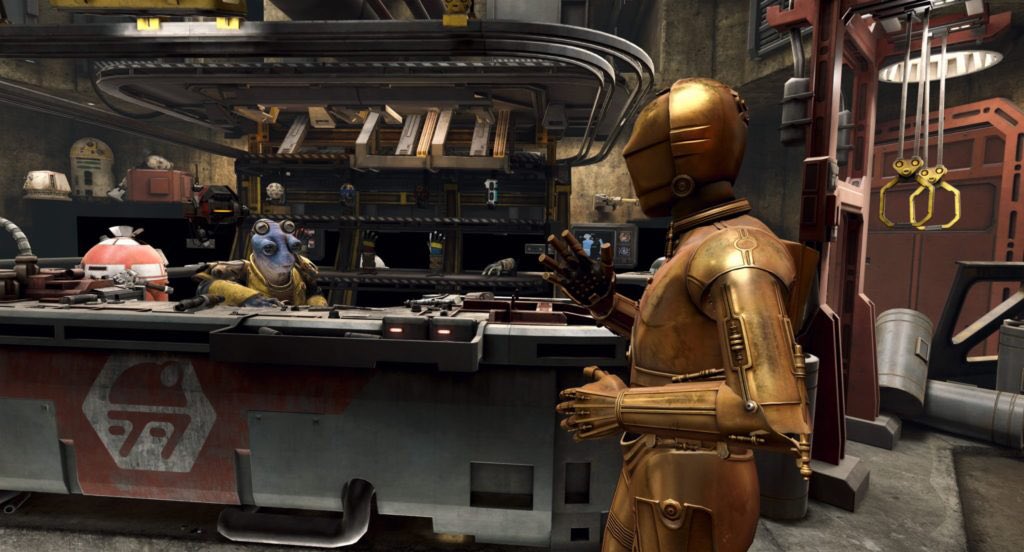 Other reviews online also give the game a meh rating. It's OK, but could be so much more Star Wars.
After the Demo, we got swag including a $25 gift card for future game purchase, poster, and Quest thermos.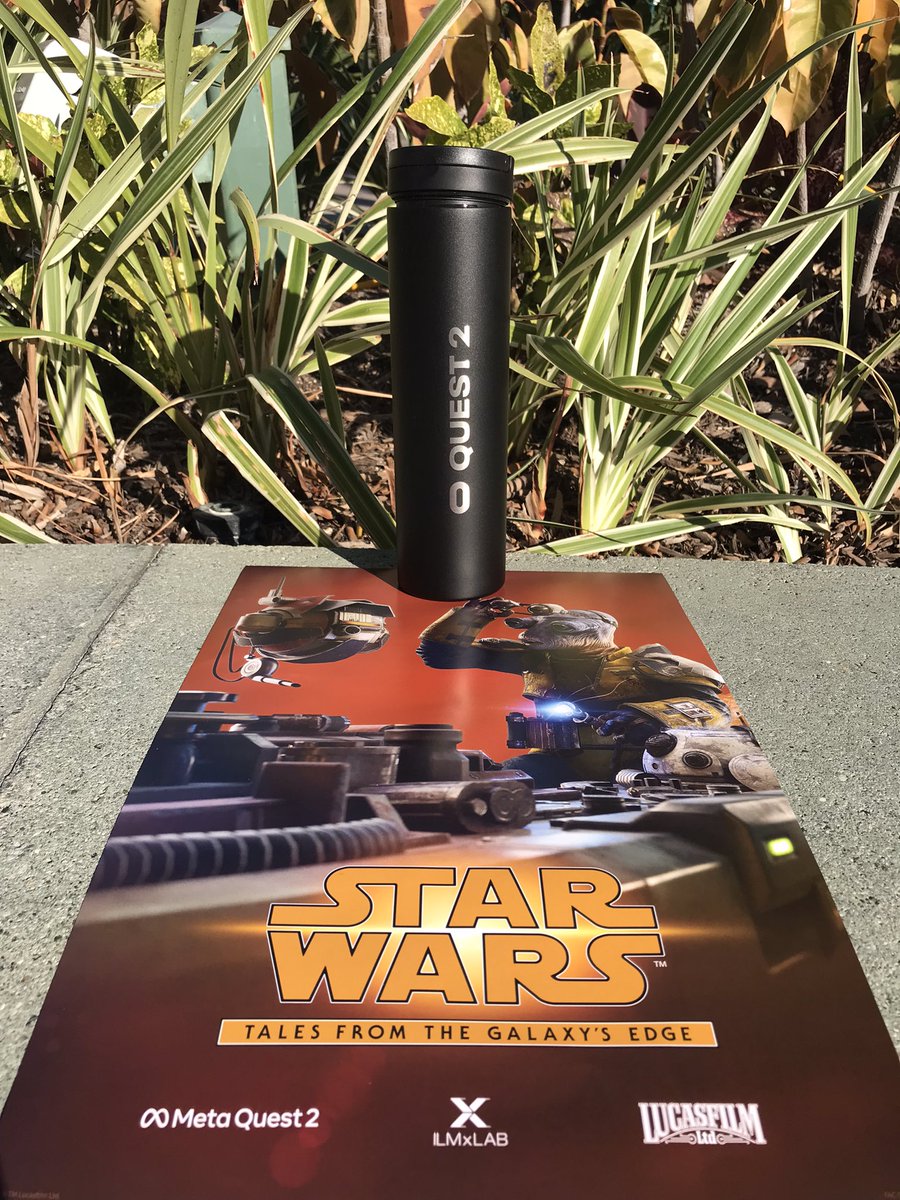 The free demo is available with at-venue reservations thru January 2021 to build game awareness to Downtown Disney shoppers, who can see the nearby signs pointing to the former ESPN Zone building where the demos are.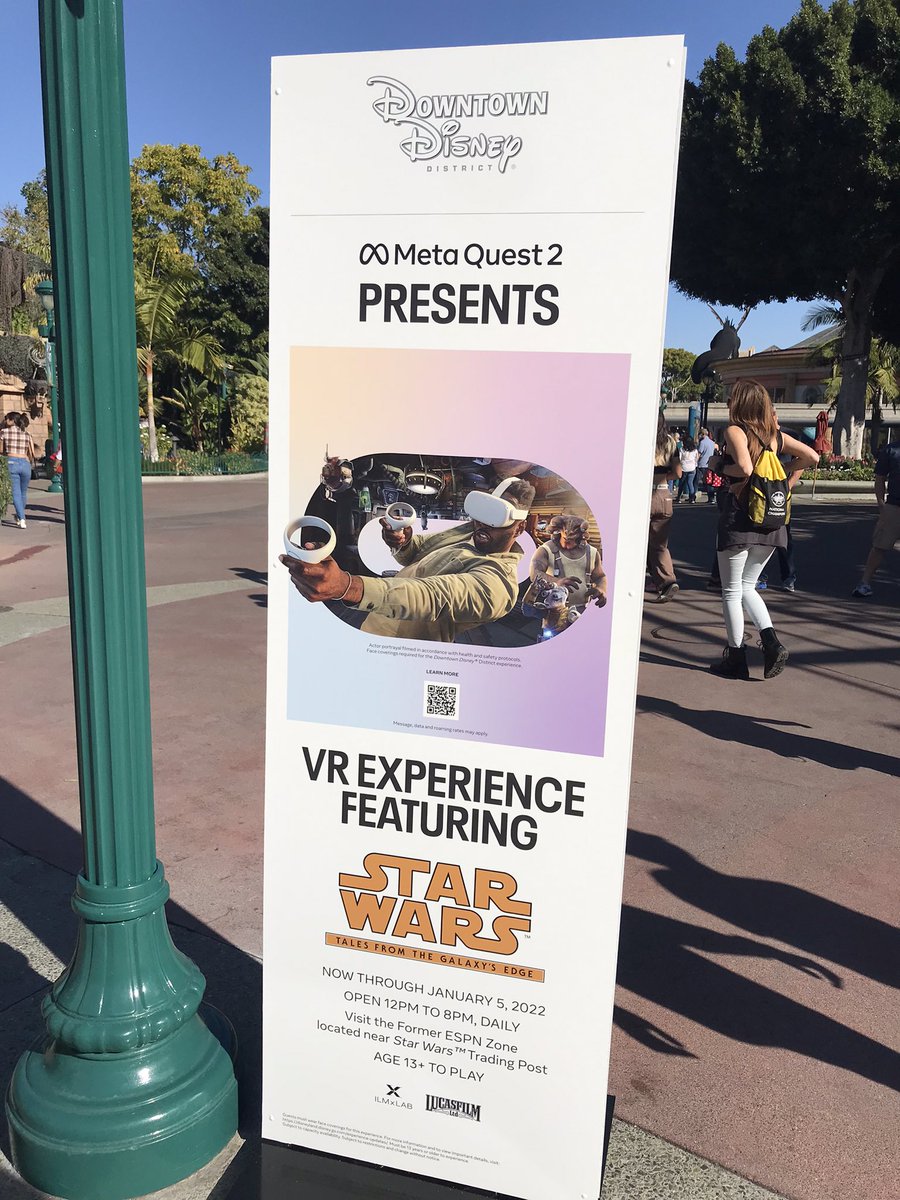 There is also a nearby photo booth area, where you can take a photo with the game backdrop (at the top of this page). Lightsaber effects added separately via the Werble app – Force FX pack graphics.
Star Wars: Tales from Galaxy's Edge is available Nov 20 on Meta Quest.