LOS ANGELES – Successful subscription box services go beyond selling boxes, to creating community, said CEO founders and executives from Loot Crate, FabFitFun and more at our Digital LA – Building Successful Subscription Services panel held at CTRL Collective Playa Vista.

6 Success Factors for Subscription Services
1. Build Community
Speakers unanimously said that building community is key to a successful box services. You must go beyond putting products in the box to create and engage community. Panelists' companies do that in different ways.
Loot Crate started being very active on social media to create a community. Loot Crate replied to its first subscribers on Twitter thanking them for tweeting. Since then, Loot Crate has engaged fans on Facebook, Instgram, and Twitter to engage with fans.
FabFitFun beauty box engages its community via social media and its message forums, where fans will often answer questions for each other.
SnackNation, which delivers monthly health snacks to businesses, engages its community of HR managers with forums about creating happier employees.
Watch Gang, a subscription watch service, creates community via trading. Subscribers can trade watches via its online forums.
2. Content Marketing
Creating content that fans share, or fan-generated content helps. Loot Crate has produced short films related to fan passions. FabFitFun creates beauty and style guides. SnackNation creates article and guides about creating healthy work environments for HR managers.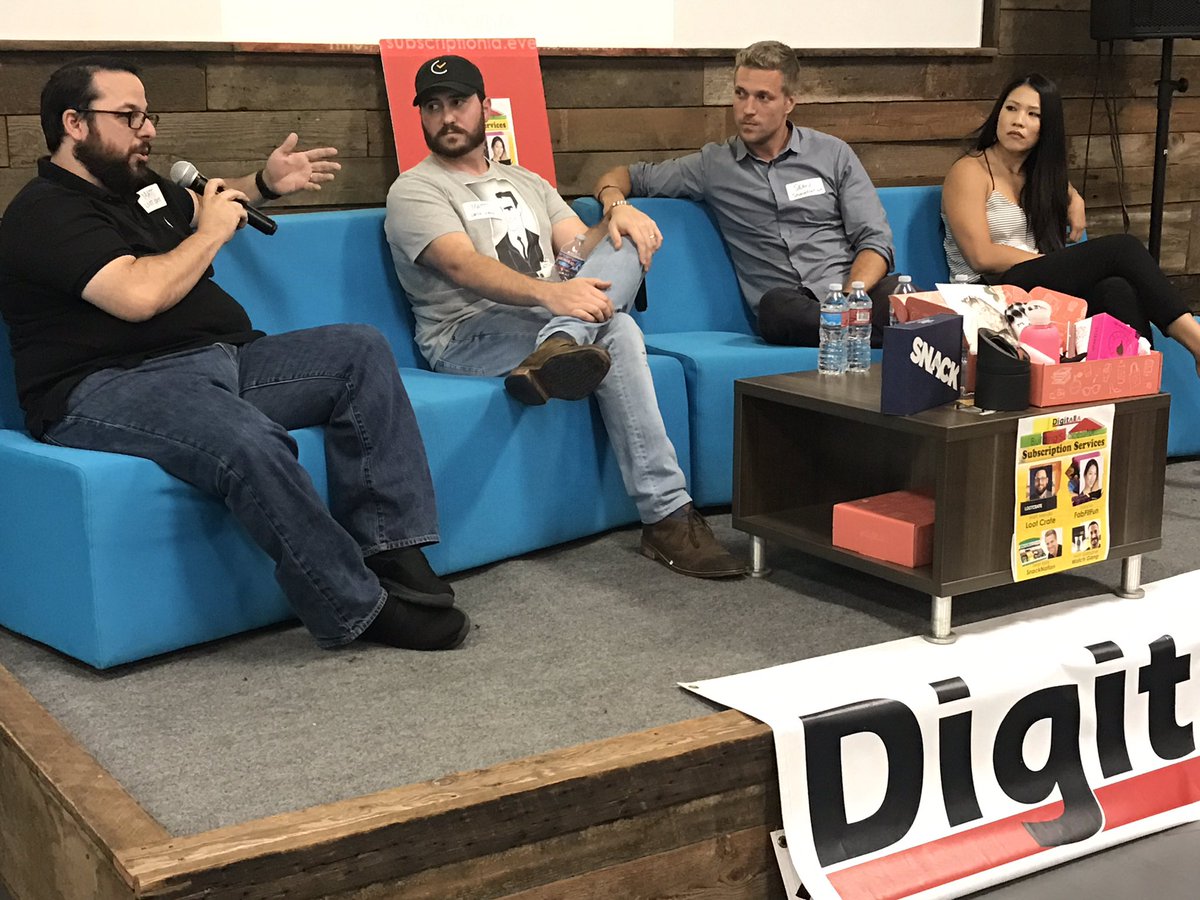 3. Branded Boxes
Unike a cardboard brown Amazon box, which is purely functional and not part of the experience, subscription box companies understand that your box is part of your brand and experience.
Color: Loot Crate boxes are black, adding to mystery of what's inside. Also, marketers typically use black to market to guys (Coke Zero, Axe shaving products); Loot Crate's early customers skewed male gamers. FabFitFun beauty boxes for women skew bright colors like pink and fuschia. Pretty boxes are more likely to be posted on social.
Social Media Reminders: When Loot Crate started, its early boxes reminded people to share photos and videos of the boxes on social media. Some boxes include social media handles for Instagram and Twitter to remind fans to post.
Beyond The Box. Loot Crate has designed some specialty boxes, where the box is part of the experience. Loot Crate worked with Hasbro to create a Transformers Loot Crate box, with Transformers loot inside, and the box could be transformed via Optimus-Origami into Optimus Prime. FabFitFun worked with an Augmented Reality company to create AR hot spots on its boxes. Fans could download the app and view these hotspots to see AR images and video describing the products, so they didn't have to go to a web site to look it up – it's on the box.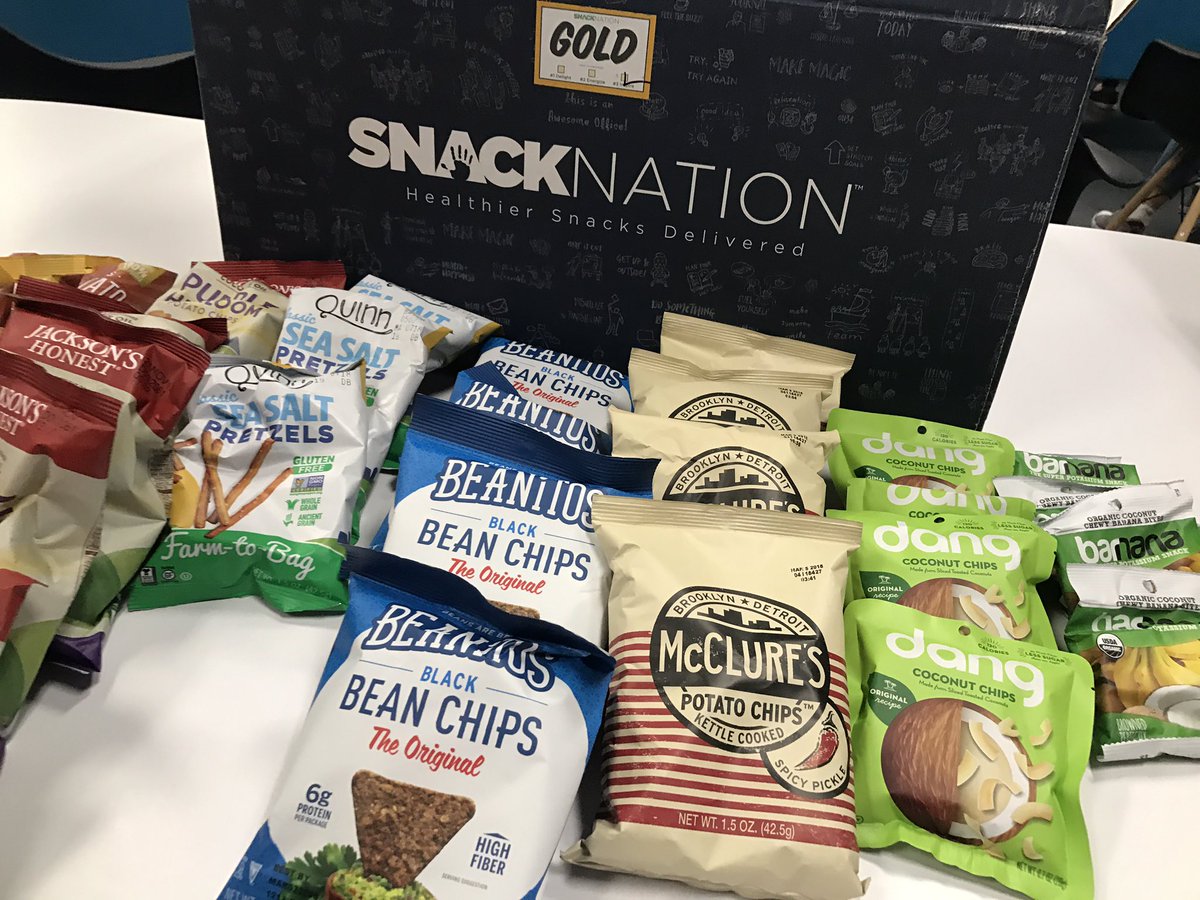 4. Unboxing
Content Marketing and Branded Boxes combine with unboxing videos. These are videos fans make of themselves opening boxes. Unboxing videos have become "a thing" on YouTube, Instagram and social media, with fans eager to see what's in the box, and the opener's reaction to contents. Some customers have even built a following for their unboxing videos.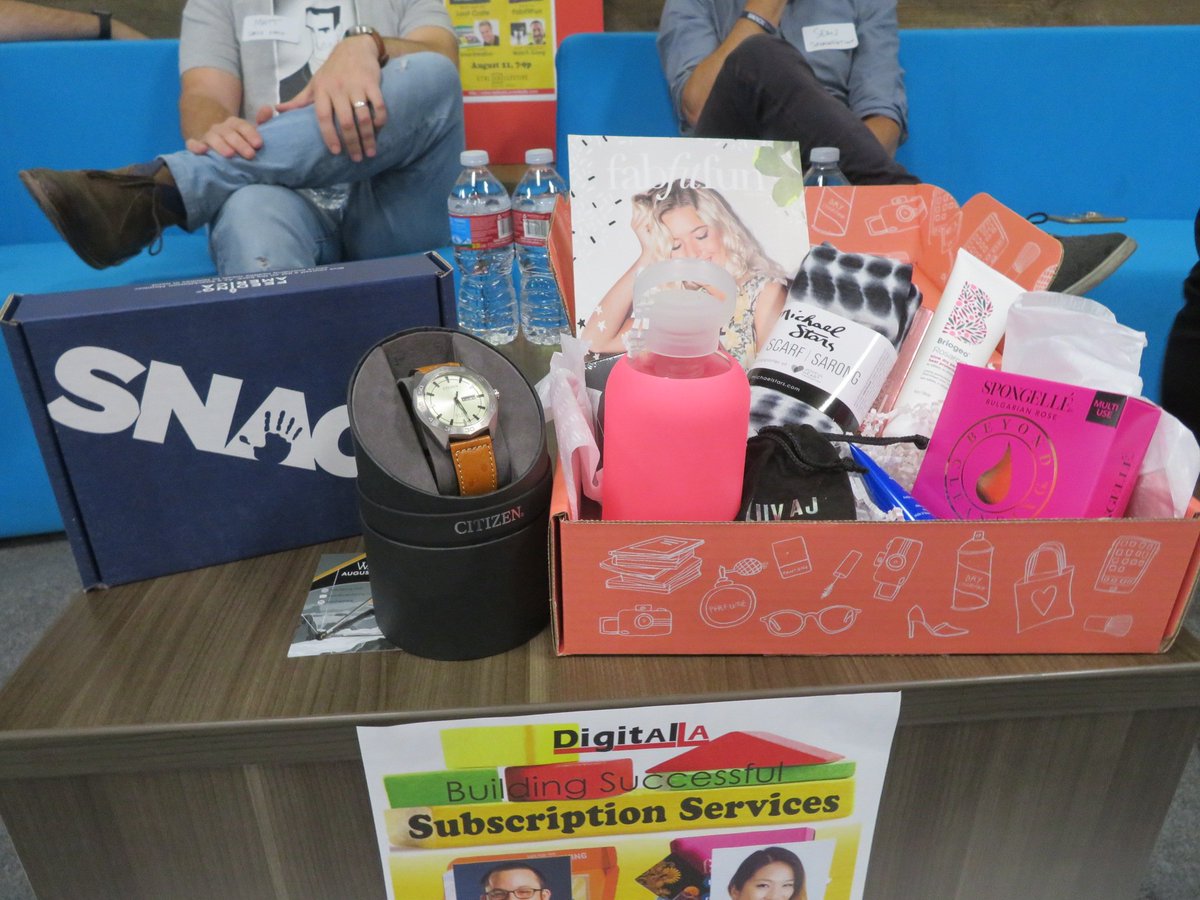 5. Box Content Algorithms: What People Want 
Successful box companies use an array of tools to determine what goes into each box. When the box companies on the panel first started, contents were determined by the founders, their friend – tastemakers, and what products they were able to scramble to get to put in the box. Years later, the companies use a combination of tools to figure out what goes in each box.
Loot Crate uses staff tastemakers, social media listening, data scientists, historical data, projected data, upcoming movie and game release schedules, and surveys of its focus group panel of 8000 super fans to find out what to put in upcoming boxes, said Matt Arevalo, Loot Crate co-founder.
FabFitFun use tastemakers, past data analytics, future projections, and trends watching to determine what goes in each box. For example, when coloring was popular, FabFitFun included a crayons in the box, and encouraged fans to color their box and post pictures.
6. Influencers
Loot Crate partnered with game and pop culture influencers early on, giving them boxes, which they posted about on social media. FabFitFun also works with influencers, or just gives boxes to influencers and celebs, who naturally post photos of the box.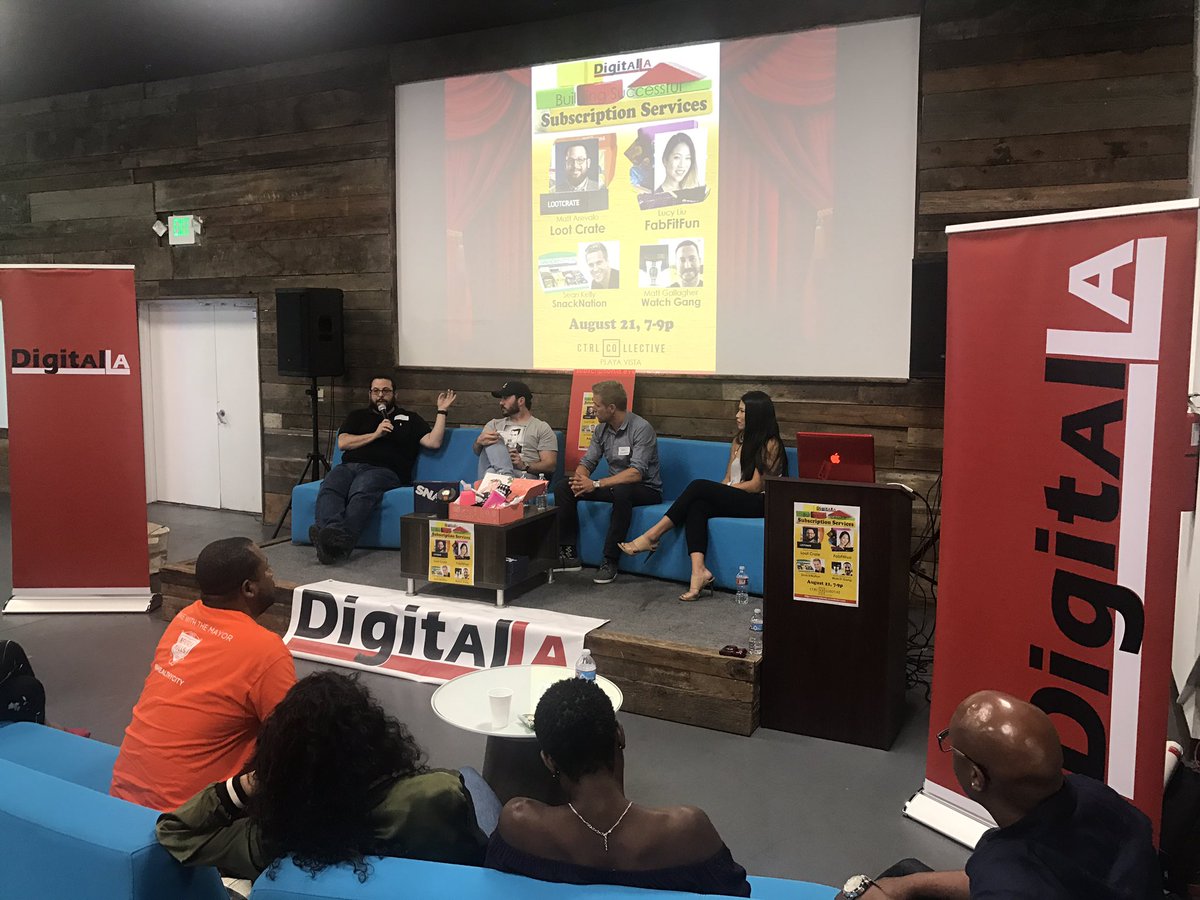 Company Profiles
Loot Crate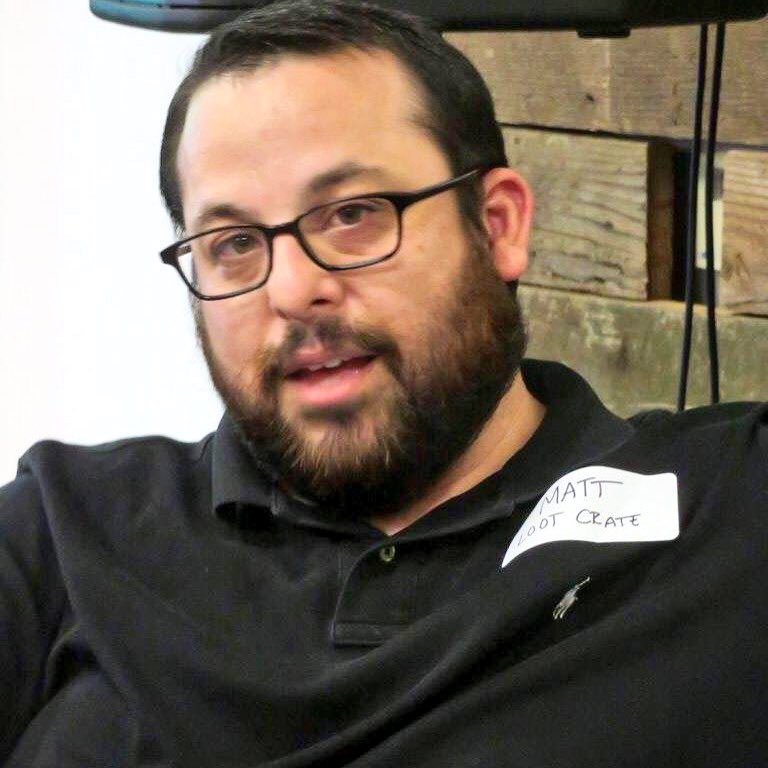 Loot Crate CEO Chris Davis and Chief Experience Officer Matt Arevalo founded Loot Crate as an idea at a LA Startup Weekend hackathon style event. After San Diego Comic-Con, where fans stand in line for hours to get free swag, just put it in a box and send to fans monthly. Loot Crate partnered with game and comic influencers to help promote it, and new customers grew rapidly.
Over the past five years, Loot Crate has grown to be the premiere fan commerce subscription service, with 250 employees at its downtown office, and more than 600,000 subscribers worldwide. Fans pay a monthly fee for a box of fan swag 'loot' from games and comics to anime, pets, sports, and more. Loot Crate has won dozens of awards. In 2016, Loot Crate ranked Inc's #1 Fastest-Growing Private Company in America, Deloitte #1 fastest growing tech company in North America, and LA Fastest Growing Private Company. LA Mayor Eric Garcetti did a press junket on new job creation in LA at Loot Crate's HQ last year.
Price: $15-50 per month for standard, pet, anime, clothing crates. Also, single-order specialty boxes available for Stranger Things, etc. for $50+
Loot Crate regularly appears at pop culture conventions. At San Diego Comic-Con this year, Loot Crate expanded its presence, moving its booth from the back of the hall with the other game booths, to the center of the show floor, not too far from the Marvel and DC booths. Loot Crate also has had booths at Stan Lee's LA Comic Con, VidCon, PAX West, and other game and pop culture conventions.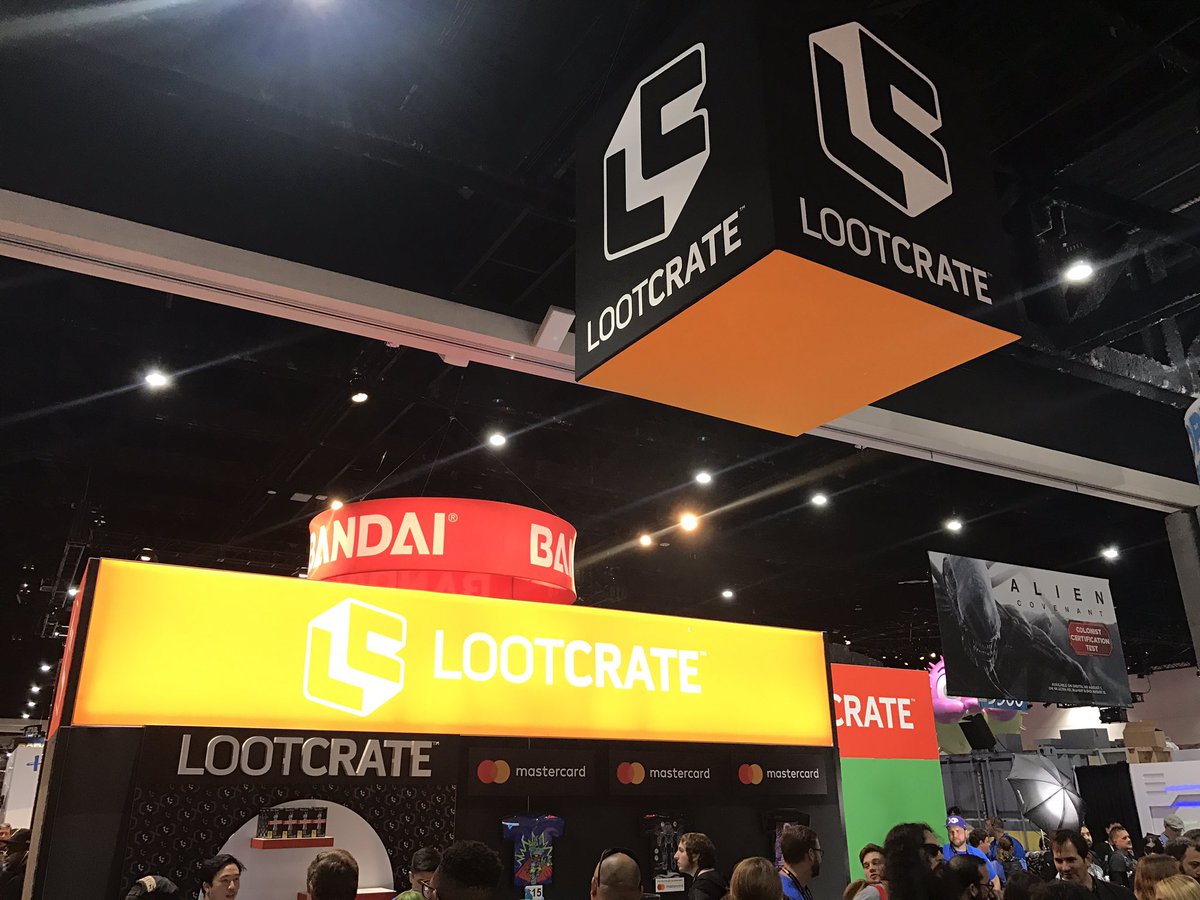 FabFitFun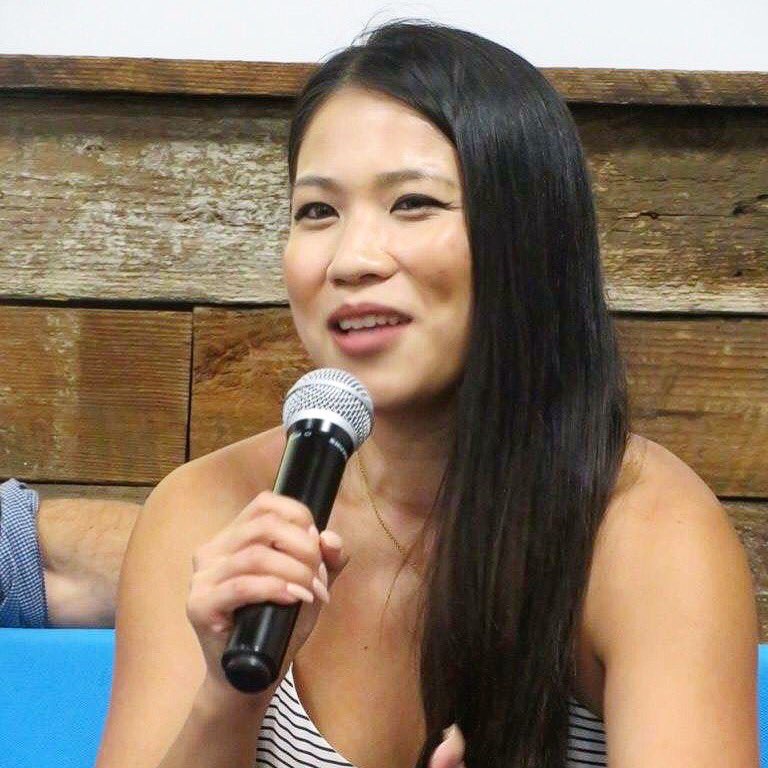 FabFitFun started as an online beauty fashion content brand, and then transitioned into boxes. FabFitFun works with beauty, style, fashion and other influencers, who post photos and videos with boxes, usually just cuz they like it.
Price: $49 for 4 boxes a year of products up to $200 in value, includes shipping.
The FabFitFun team arrived in full force to support Lucy!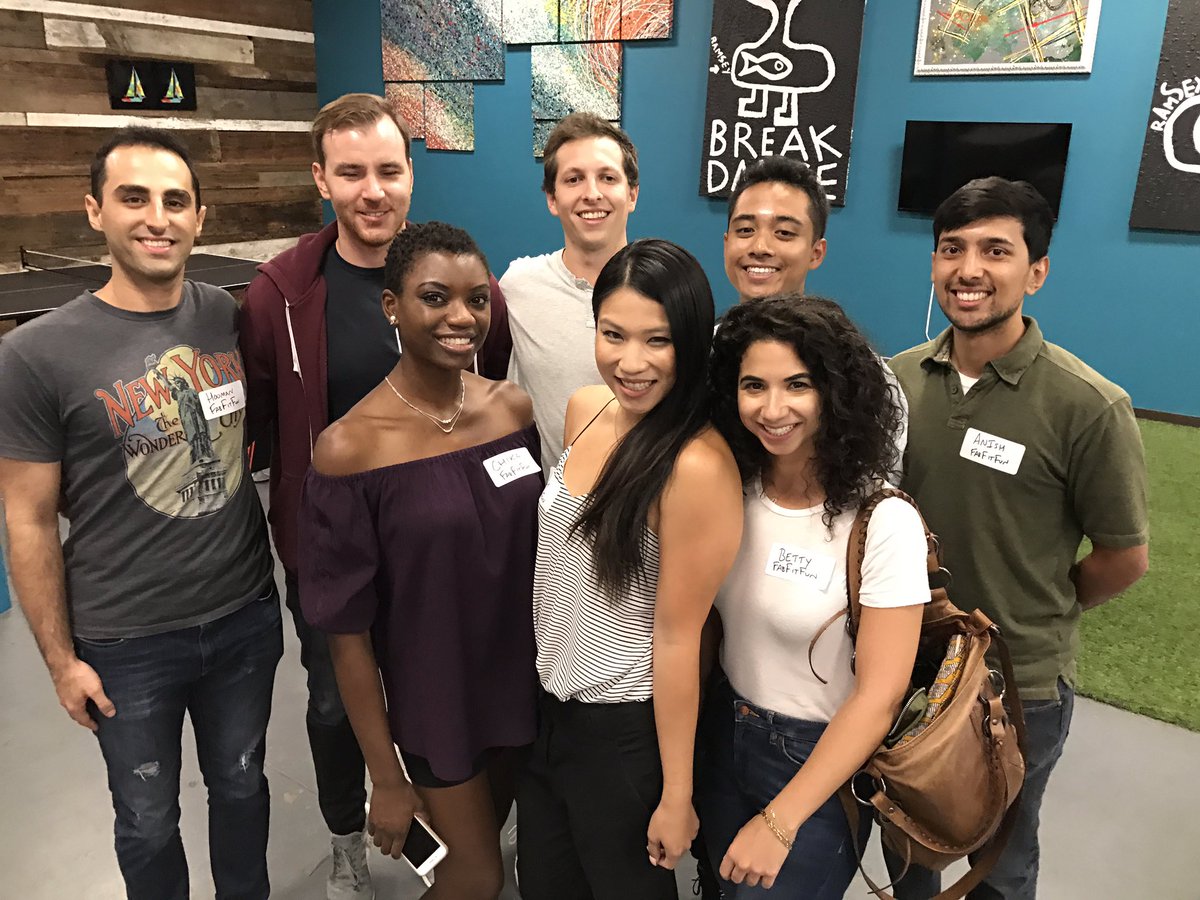 SnackNation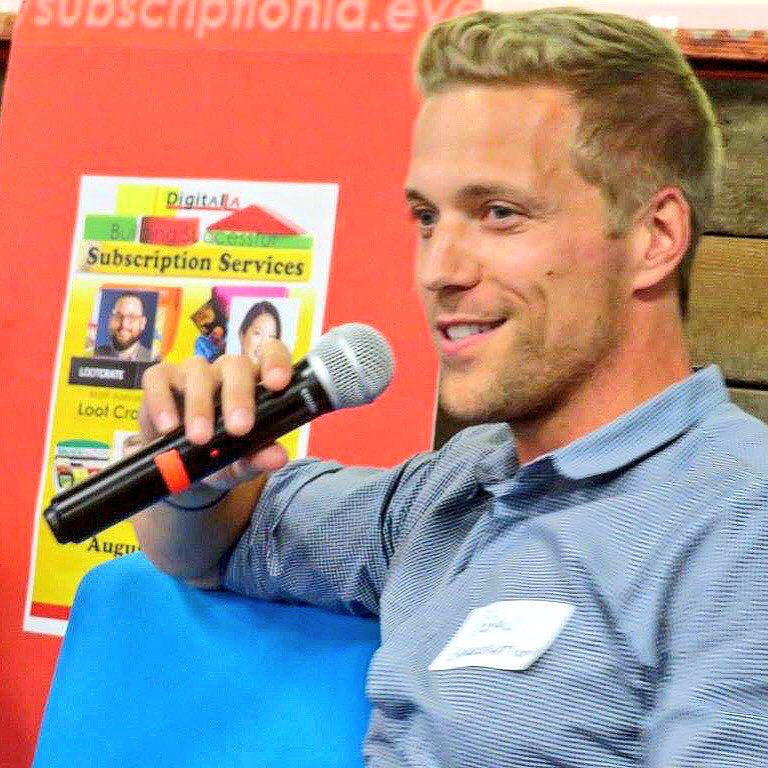 Sean Kelly started SnackNation to deliver new healthy snacks to small businesses and homes. Snack Wizards get hundreds of requests from new healthy food snack companies to be included in the box, and taste and sample each one to determine which to include in the boxes. Snacks include bars, chips, granola and nuts, jerky, and custom snacks. The team has grown to 200 employees in its Culver City offices and warehouse.
As a B2B company, SnackNation approaches HR managers and food services at small and large companies. The pitch: when companies provide healthy snacks for free of their employees, it increases their health, happiness, and reduces time of employees leaving work for a snack break.
Price: $249 for a monthly box of 150 individually wrapped snack foods. Includes display case and shipping.
SnackNation goes beyond shipping boxes to create a community with its HR managers. It routinely posts articles and guides to creating healthy happy workplaces.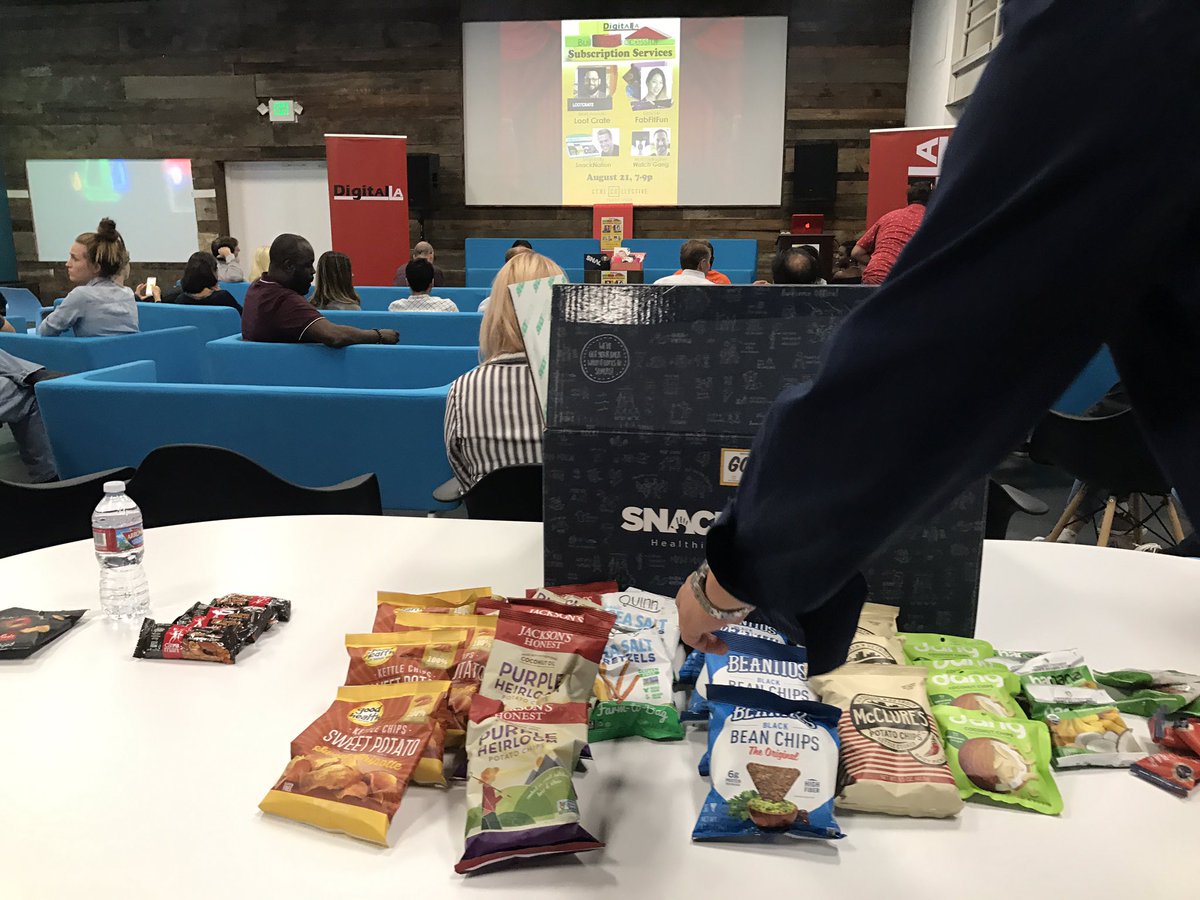 Watch Gang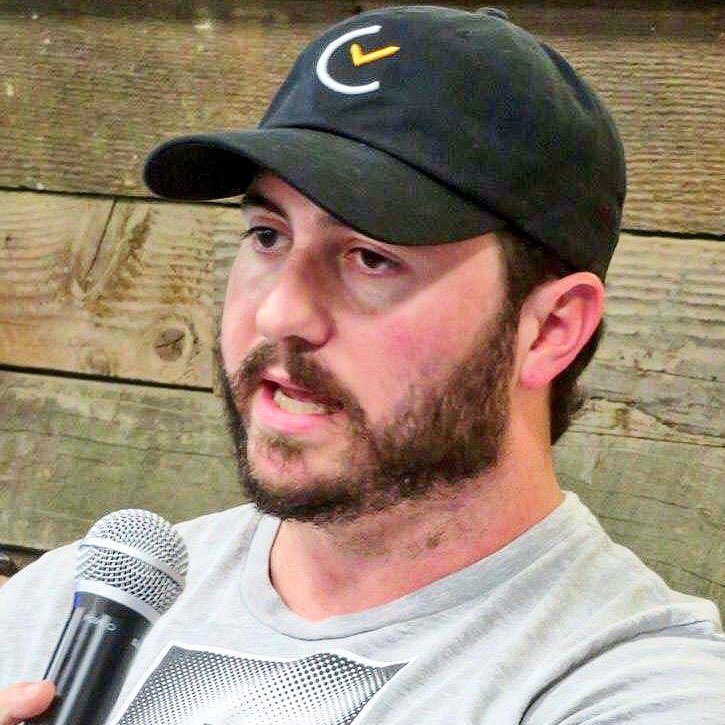 When Matt Gallagher's dad passed away he gave him his watch the most valuable asset he had. Matt decided to create Watch Gang to deliver that magic feeling to men every month. He works with watch manufactures to obtain watches, and then includes in the monthly subscription. When customers sign up, they pick what types of watch they like: band (metal, leather, rubber), style (minimalist, sport), and size, and then receive watches in that style every month. If they don't like it, they can trade in Watch Gang's forums, or sell on eBay.
Price plans: Original $25/month, Black $91/month, Platinum $275/month
Thanks to our speakers!
– Matt Arevalo, Loot Crate, Co-Founder, Chief Experience Officer. Founded at an LA Startup Weekend event, Loot Crate is now the premiere fan commerce subscription service with hundreds of thousands of subscribers worldwide. Fans pay up to $20 per month for a box of fan swag 'loot' from games and comics to anime, pets, sports, and more. As an entrepreneur, Arevalo focuses on blending digital and social strategy with technology and entertainment to create, grow, engage, and build communities, including Loot Crate Studios and community strategy. Loot Crate has won dozens of awards. In 2016, it ranked Inc's #1 Fastest-Growing Private Company in America, Deloitte #1 fastest growing tech company in North America, and LA Fastest Growing Private Company. @mattarevalo @lootcrate
– Lucy Liu, FabFitFun, Director of Product. FabFitFun members receive a glam gift box stuffed with over $200+ in full-size beauty, fashion, fitness, tech, and home essentials. The fast-growing subscription service reaches hundreds of thousands of women in the US and Canada, and the editorial content, videos, and social posts entertain millions of women around the world each month. @fabfitfun
– Sean Kelly, SnackNation, Founder. SnackNation delivers healthy snacks from innovative food companies to employers so their employees can have healthy snack options while at work. Employers sign up to order a monthly box including a rotating selection of bars, chips, jerky, granola, trail mix, dried fruit and more, customized for office snacking preference. Each box contains 150 single-serve snacks, starting at $249 per month. @snacknation
– Matt Gallagher, Watch Gang, CEO. WatchGang delivers mystery timepieces to over 15,000 subscribers once a month. With membership levels starting at $25, WatchGang allows casual enthusiasts and committed devotees to own new watches at a value that exceeds their monthly cost. WatchGang generates over #1 million dollars in monthly revenue with 13 full time hires in its Studio City headquarters. @theWatchGang
Thanks speakers for bringing boxes to share with attendees. Lucy gave away three FabFitFun boxes. Matt gave out several Watch Gang watches. Sean brought sample individual SnackNation snack boxes, and a big monthly box. Matt promised that all attendees would get a Loot Crate box.