By now, you've attended or seen friends post screenshots of Virtual Happy Hours. They're the new way to connect  via a tic-tac-toe style Brady Bunch grid during these quarantine times.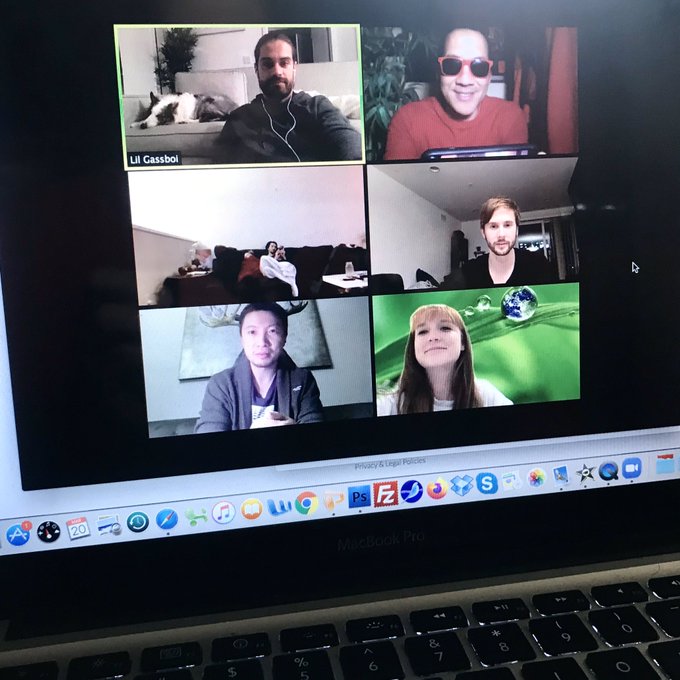 During the first week or so of quarantine, realizing bars and restaurants were shut down, people started using the work meeting tool Zoom for happy hour socializing. You can host for a few close friends 3-6 people, or larger groups 10-20, or even 30-50, tho that may be too big for everyone to feel they are engaged.
If you're thinking of hosting your own Zoom, here are some tips for a successful virtual happy hour.
1.  Use Zoom. While there are multiple group live chat platforms, Zoom has become the most popular because people are using it for work. Plus, a basic account is free for up to 100 participants. Free accounts have a 40 minute limit but your first 3 can run over. Go to zoom.us to create an account, Schedule new meeting, and send out the link via text, email, social media, etc.
2. Have a facilitator (like you) welcome each new person by name as you wait for people to come on for the first 5 min.
3. Intros. Once it seems enough people are on, ask everyone to intro themselves saying their name, where they're from and something personal, like their highlight of the day. Quick intros ensure people feel part of the convo.
4. Start chit chat about something to get people talking. Zooms have been primarily used for work meetings so it takes some work to set up a casual vibe. And that's what the drinks are fo. Come up with a few conversational topics to fill in if there are awkward pauses. Some people might want to talk about dealing with CV. Some might not. You could talk about fave movies on Disney+/Netflix, living with family members or solo, relationships, exercising, etc.
5. Do something fun and interactive like ask someone to sing a song, show dance moves, play an instrument, play a game, or dress up in a theme or costume. 
6. Toast: It's a happy hour so ask people to get a drink, show it on screen, and do a virtual toast. Everyone's at home so ok! Don't have to worry about drinking and driving!
7. Play music. Most bars have music playing, and your Happy Hour can too! The organizer can pick the music, or ask an attendee to play something.
8. Use Virtual backgrounds.  Show people how to change their virtual backgrounds by selecting one of the three Zoom backgrounds (Golden Gate Bridge, Leaf, Space). They can also upload their own. You can ask everyone to upload a travel photo, a goofy photo, etc. to have a common theme. 
9. Give Cam/Lighting Tips. Help people with their Cam Setup. If you notice a participant has bad lighting or camera placement, let them know! Give a gentle tip on a suggestion to improve their lighting. If people look better on cam, they are more likely to participate and come back.

10. Take a Group Photo. Just like you would take photos at a bar IRL, you can take a Zoom screenshot. Let people know in advance you'll be taking a photo, because some people will be too shy and duck out. Then let everyone who remains know you'll be taking a screenshot with a 3 2 1 countdown, so they can smile for the photo.  If you're going to post your photo on social, ask participants of their permission. 
11. Do a Theme. As virtual happy hours become more common, you may want to add some fun with a theme. Theme ideas: Casual, dressy, pajamas, pirate, superhero shirt, baseball cap, or any other themes.
12. Wrap it Up. If you have the free account, your Zoom will be over at 40 minutes. The first thee times you go over, Zoom will let you run over. Otherwise, it will ask you to pay. If your limit is 40 minutes, start to wrap it up at five minutes before. Thank everyone for joining, and end the call. If you don't have  40 minute limit, you can keep going. Most Zooms naturally end about 1 hour – 1 hour 15 min. But if you're hanging out with good friends with a good vibe, you may go longer.
Note: Don't Get Zoombombed! If your Zoom meeting link goes public or gets circulated widely, some mean hackers can join, and really mess up your meeting in three ways: 1) Share their screen, often showing naughty videos. 2) Voice – they can say mean or vulgar things loudly. 3) Chat: type rude or vulgar messages in the chat. Zoom has settings to disable attendees from using these features, which you can do in advance or during the meeting. But you have to act fast! You can also password protect you Zoom meeting to avoid getting Zoombombed.