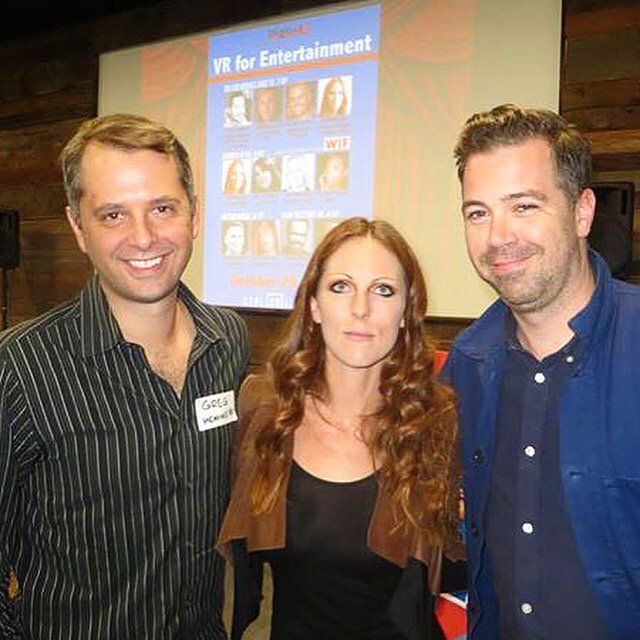 PLAYA VISTA – Plan, prep, and promote, said VR experts at our VR for Movies, TV, Music and more summit at CTRL Collective in Playa Vista. VR experts who've worked on VR for Terminator Genisys, bands, and the Emmy-winning Sleepy Hollow VR experience shared their insights on doing VR for Entertainment on our four back-to-back panels.
12 Tips on VR for Entertainment
GETTING STARTED
1. Stop Just Talking about VR, and Start Creating. VR has been the hot topic at every conference this year, from Sundance to E3 to SXSW. But it's time to stop talking and theorizing about it, and start making content, said speakers at our first How to Start VR panel. If you're a filmmaker, writer, director, VFXers, marketing exec, etc, you should just start working on a VR project with your friends. "Just get started," said Jeff Nicholas of Vehicle VR.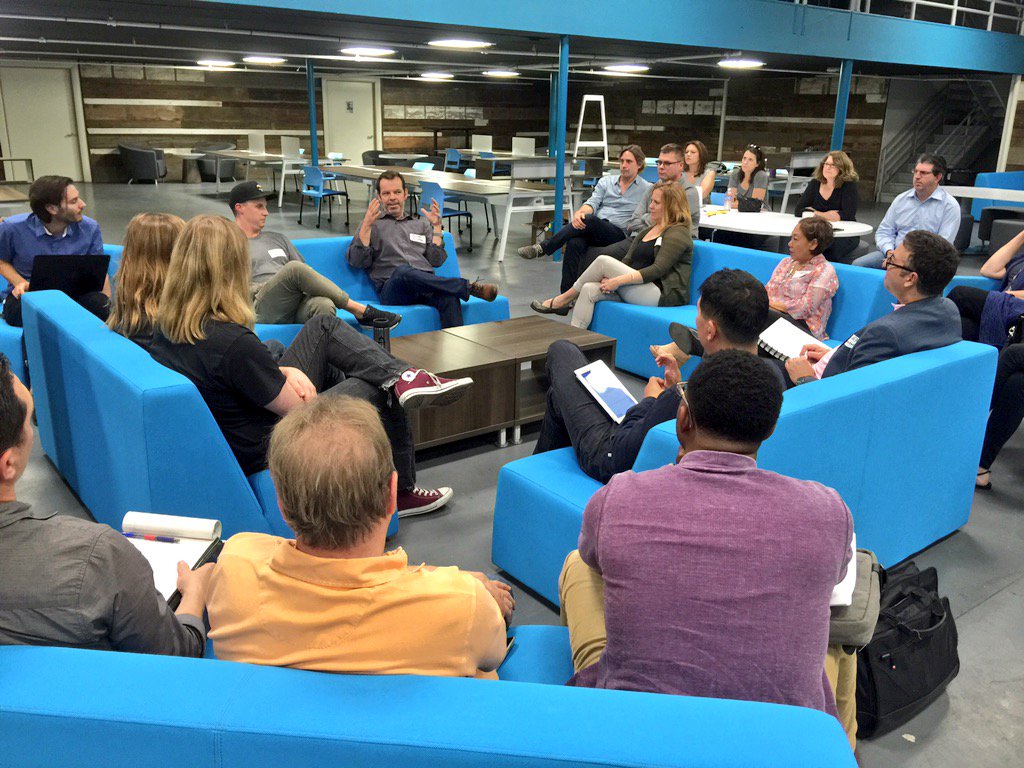 2. Your Concept Should be Uniquely Fit For VR. Don't start a VR project just because it's hot or clients want it. Make sure your VR idea fits your story and brand. Your VR concept should fully use VR: it should be immersive, and make the user feel something, emote or connect differently from a flat-screen experience. Your VR can be a short a-ha wow piece, but you'll engage users longer and keep them coming back if you tell a story. If you can do it in flat-screen, make it a movie. When he wanted to create the unique adrenaline rush of driving a Tesla racing the Back to the Future DeLorean, Jeffrey Travis of Positron created a VR immersive experience that puts you in the driver's seat, capturing the thrill in a way a flat-screen or 3D movie can't. Watch Tesla vs DeLorean video.
3. Go Make It. Get VR equipment or go make it. For starters, quick concepting, or your first personal use VR project, get a Ricoh Theta consumer VR camera for <$300. It lets you create a simple VR experience and practice. To create professional VR experiences with larger budgets, buy a 360 Heros VR camera rig and 16 GoPro or other cameras for about $5K. Or hire one of the VR production companies in LA which has the equipment. After you've filmed your VR, use VR editing software to edit and stitch all the camera views together. Edit your VR with Autopano Kolor or Video Stitch software, like Photoshop is for photos or Final Cut Pro is for video.
WOMEN IN VR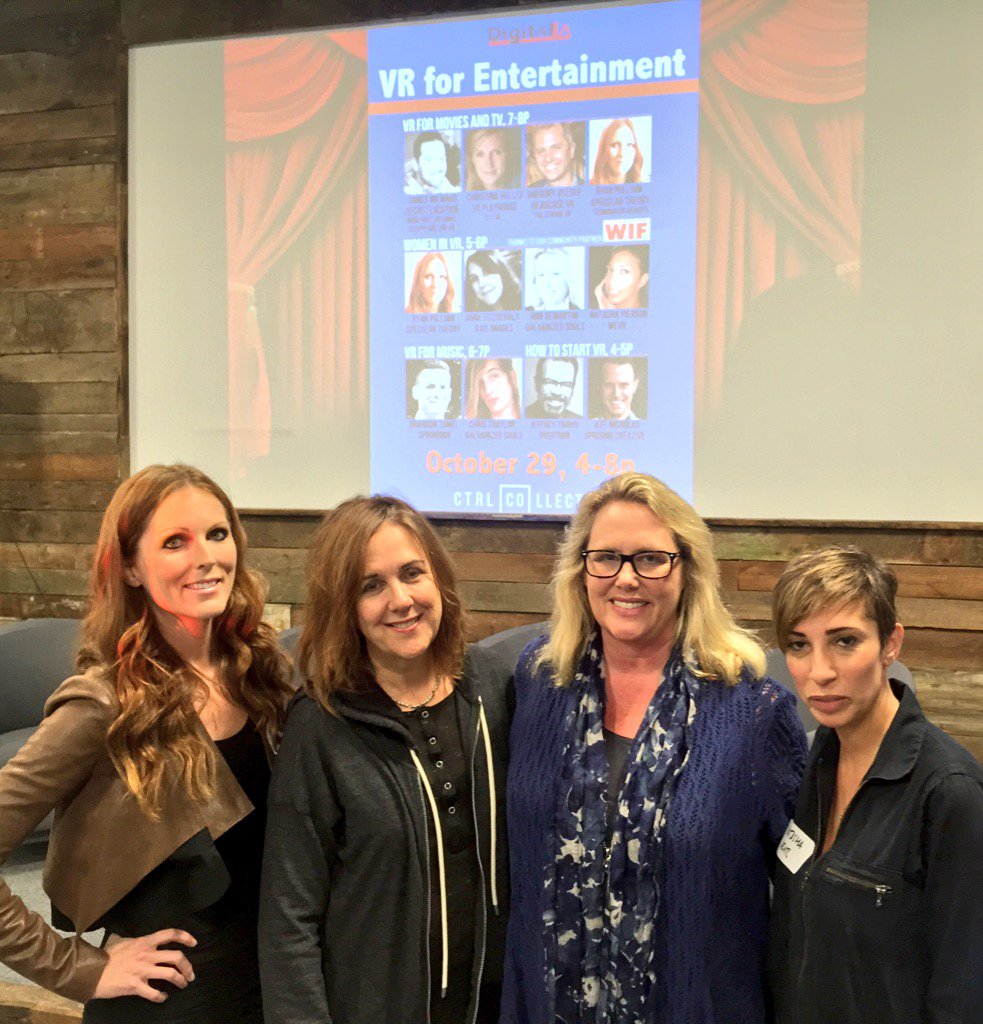 Our second panel on Women in VR featured advice from leading tech women producers, marketers and creators, on what to do next.
4. "Prep, prep, prep, prep, prep," said Natasha Pierce, producer at WEVR, the VR company which did the acclaimed underwater VR experience theBlu. Do everything you can to prep your shoot. In VR, you usually can't have cords or add spotlights because the user will see it; plan for natural lighting that would be in the scene. VR files take up a lot more memory than regular video because instead of 1 video camera, you have x8 or x16 cameras on a mount. Some VR software lets you do real time playback and dailies, which directors and actors like.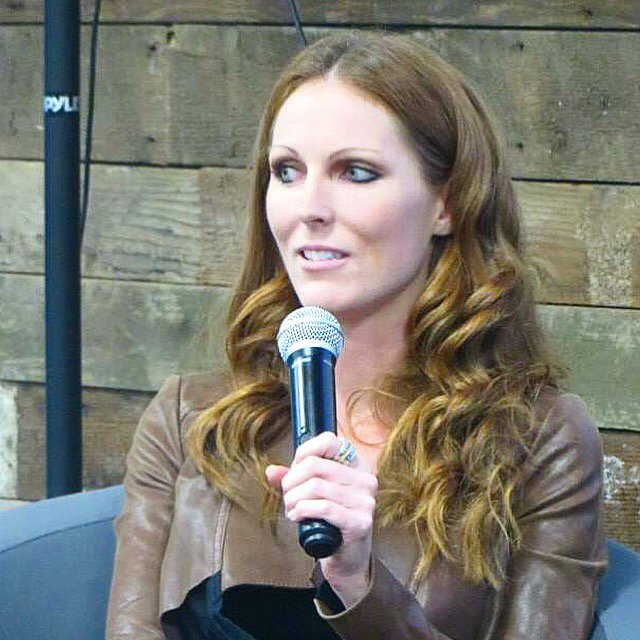 5. Communicate with filmmakers, VFX tech talent, and your client. VR uniquely requires film directors to shoot, and VFXers tech talent to edit. Your VR producer must ensure open communication to ensure your VR production runs smoothly. Set expectations: VR takes longer to move files, stitch, and edit than regular film. Film and TV makers used to short turnaround times in less than a week or two, must understand a VR project can take 6-8 weeks.
"Communication is important," said Ryan Pulliam of Specular Theory, which created the Terminator Genisys: YouTube experience. It starred YouTube stars Lily Singh iisuperwomanii and Toby Tobuscus Turner in the Terminator world. Watch the YouTube video on the making of the Terminator Genisys.
6. Create good content, said Janie Fitzgerald, who's been doing VR for 20 years and just produced the Viewmaster VR experience. VR revenue, mass market, adoption and distribution is coming, so focus on creating good VR content now.
7. Promote and brand your VR, said Ann DeMartini who does marketing for Galvanized Souls. The band created a branded Google cardboard with the band logo on it, which it sells for $10-$20 at concerts like a T-shirt or other merchandise.
VR for MUSIC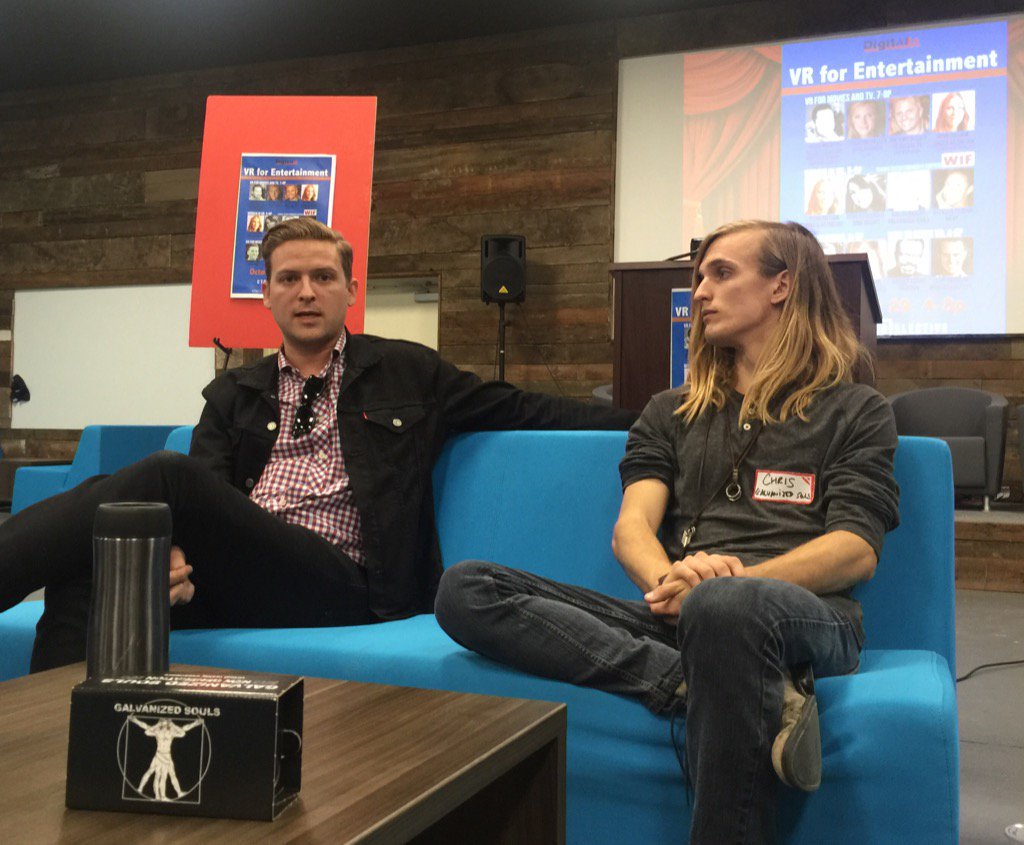 Music is perfect for VR, said Chris Traylor of the band Galvanized Souls, which worked with Brandon Zamel of Springbok VR on its music video VR experience.
8. Engage fans. VR lets bands connect with audiences. Bands have always excelled at using tech to connect with fans; 6 of the Top 10 Most Followed on Twitter are artists. VR lets bands continue to connect to fans. "We're always trying to connect with fans in new ways, and VR seemed perfect," said Chris Traylor, lead guitarist for the Galvanized Souls band. The band's music video puts you in four different locations with band members, including the final scene: on stage with the band and screaming fans.
VR for MOVIES and TV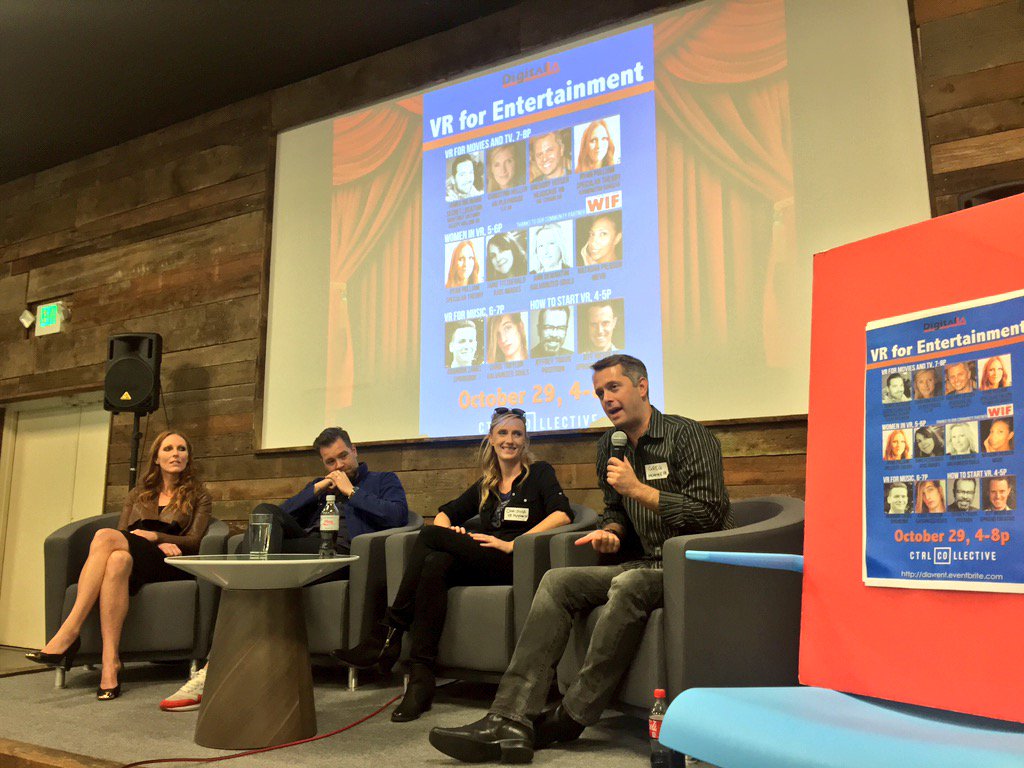 9. Get a Champion at the Studio. Whether you're pitching a VR idea for a studio, or the studio is hiring your VR production company, your studio champion who gets VR can help support your project. Secret Location worked with a champion at Fox to create the Sleepy Hollow VR experience, which was the first VR related project to win an Emmy for Interactive this past year.
10. Work with VR Friendly Talent. Work with directors, actors and editors are excited about VR, which can add energy and skill to your VR production. Actors with both film and theatrical experience do well in VR. Their film experience helps them act with presence, and realistically (avoids over-acting common in plays so people in the back row can see). Their theatrical experience helps them act "in the round" where viewers are everywhere (avoids acting just to the camera which film actors are trained to do).
11. First Person VR with Goal / Objective Helps Storytelling. "We believe that VR is best in First Person, since that's how you connect emotionally." said Gregory Veeser of Headcase VR, which did the award-winning The Strain VR experience. Greg said VR from the point of view of a character in the VR world, that other characters look at in the eye, and acknowledge is more engaging. VR needs to move past "fly on the wall" observing or "floating thru environment" to tell stories and connect with audiences via interactive VR.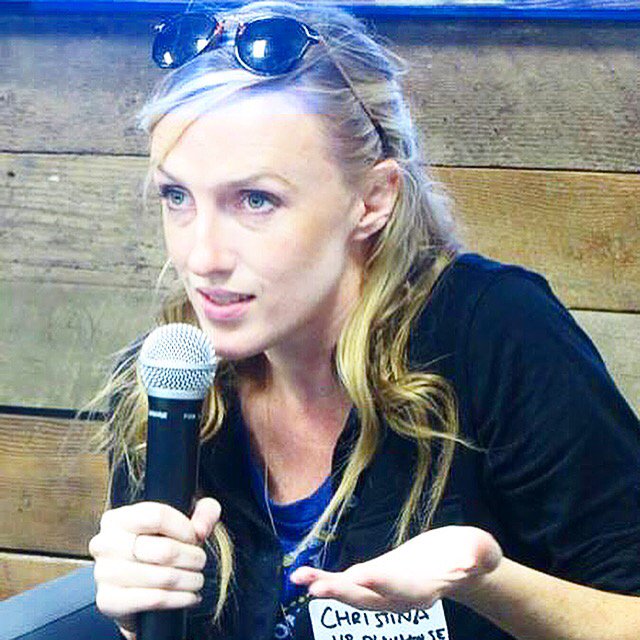 12. Promote VR. We're at the very early stages of VR, and a lot of filmmakers, directors, actors, writers haven't even tried VR. But once they put on VR goggles for 5 minutes they "get it", and want to try creating VR projects. This adds creative talent and big Hollywood names to the VR community. Promote VR by speaking at events, and conferences, do demos, even bring your VR goggles to a coffee shop to let people try it. "Sometimes I'm at a coffee shop for a business meeting showing a client our VR with the goggles, and suddenly there's a line of people around us who want to try it," said a speaker.
Thanks to CTRL Collective for hosting our event! Thanks to our community partners: Women in Film and the TV Academy Interactive Peer Group.
Thanks to / follow our speakers!
– James Milward, Secret Location, Founder / Executive Producer. Secret Location just won the first Emmy for Virtual Reality, for Best Digital Program: Fiction for its Sleepy Hollow Experience, working with 20th Century Fox. @secretlocation
– Christina Heller, VR Playhouse, CEO, Founder. TLC VR experience. @VRplayhouse
– Greg Veeser, Headcase VR, Partner, Co-Founder. Producer on the Strain VR
– Jeffrey Travis, Positron, Founder. Created Tesla VR experience. @gopositron
– Jeff Nicholas, Uprising Creative, Co-Founder and President. The Uprising Creative, VEHICLEvr. @jeff_uprising @Vehicle
– Ryan Pulliam, Specular Theory, Co-Founder. Terminator Genisys: The YouTube Chronicles 360 experience, @speculartheory @DigitalMediaPR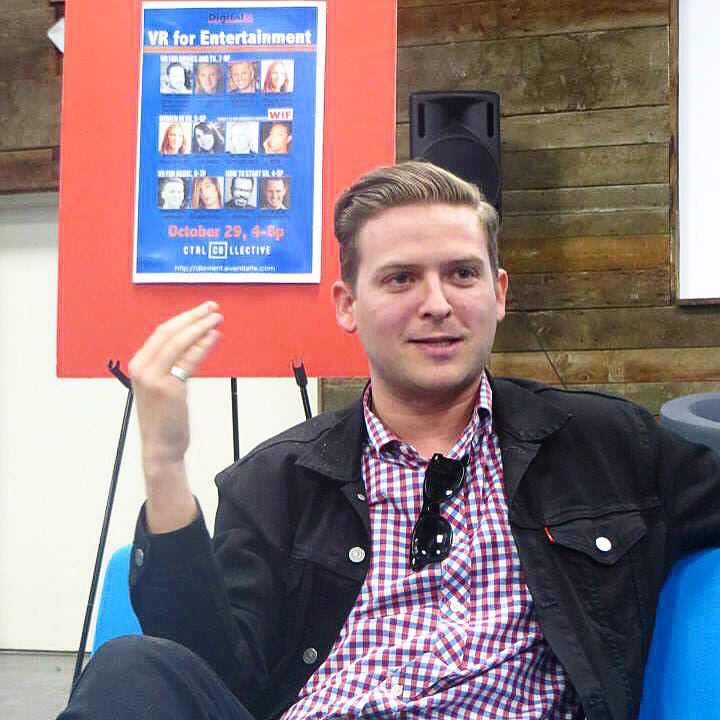 – Brandon Zamel, Springbok Entertainment, CEO, Founder. @springbokVR
– Chris Traylor, Galvanized Souls band, lead singer, guitarist. @GalvanizedSouls @traylorchris
– Natasha Pierson, WEVR, Producer. @onwevr
– Ann DeMartini, Galvanized Souls, Business Manager. @galvanizedsouls
– Janie Fitzgerald, Axis Images, Founder/Executive Producer. Did Mattel VR View-Master experience. @janiefitzgerald