DOWNTOWN LA –  Active VR, where you walk or move around and interact with a VR world, made its big debut at the VRLA Winter Expo at the Convention Center in downtown LA.
Hundreds of VR studios, VFX studios, filmmakers and more attended the Expo, organized by the VR Los Angeles group.
Several LA-based VR studios which have been in stealth moved the past year or two, took center stage on the expo floor, with demos for active VR. Attendees waited in lines for more than an hour to try the 5 minute demos.
VR where you just sit there passivley looking around at a beautiful world is suddenly so retro.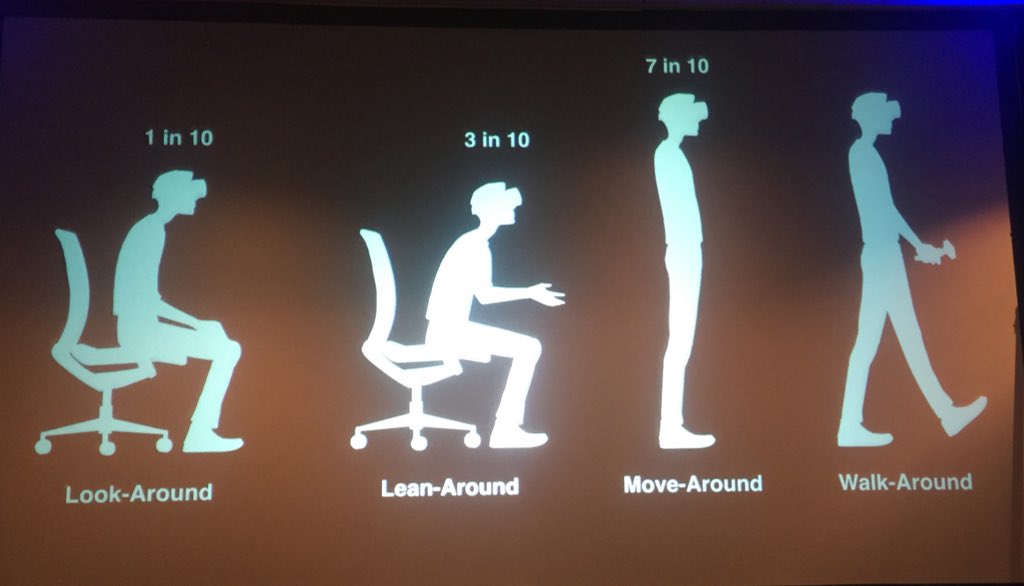 The Evolution of VR from look-around to walk-around was illustrated via a slide at the opening keynote. VR experiences used to be just look-around, where you just look around a stationary world. Then advancements led to lean around and move around, where you actually can move around the virtual world. With active VR, you walk around and can interact with the environment, using VR goggles usually some sort of controller device, and typically surround camera setup to track your movements.
EXPO FLOOR VR DEMOS
Starbreeze Walking Dead VR experience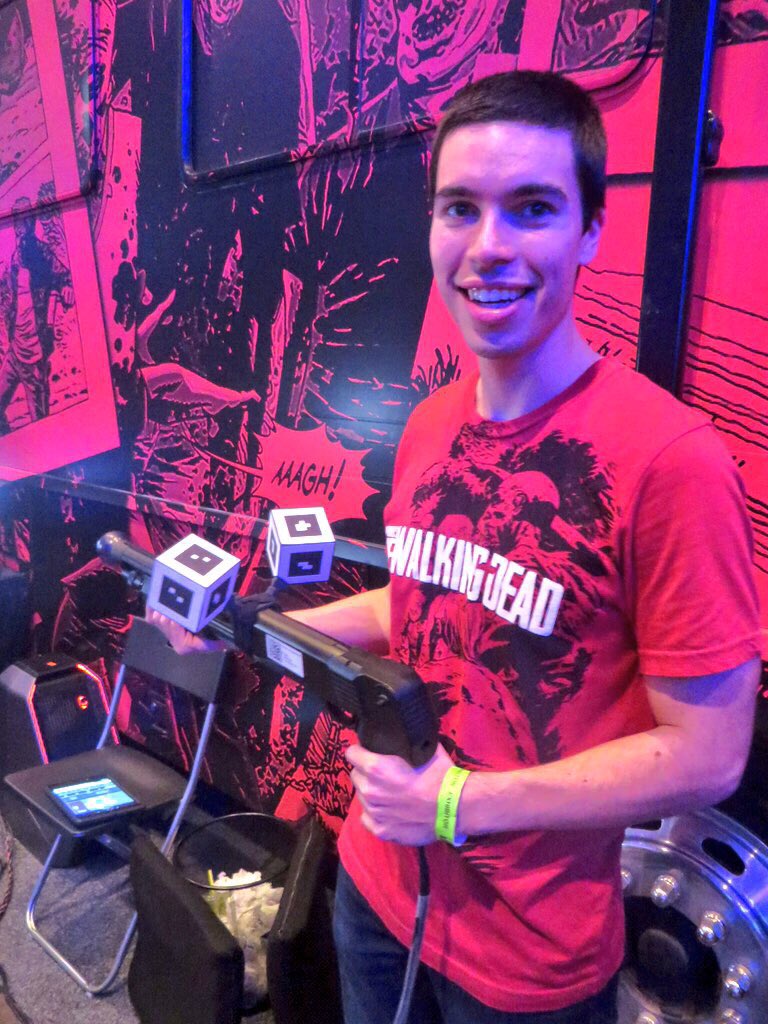 You blast zombies with a shotgun in this VR experience based on the Walking Dead comic book. You sit in a wheelchair in real life, and put on VR goggles to see that you are also in a wheelchair in the game. You start like most VRs, looking around your environment stationary. But then, one of the characters in the game starts to wheel you down the hallway to escape zombies trying to get in the building. When zombies finally start to attack, one of the characters in the game gives you a gun, just as in real life, someone puts a shot gun controller in your hand so you can shoot the zombies. When you wave your gun around in real life, you can see the VR digital version move around in the game. When you shoot zombies, they get injured in the body, head or leg. It's a revelation when you realize you can fully interact with this VR world, much like a video game.
It's definitely something you must experience to try active VR. And Stabreeze is making it easier to do just that. At VRLA, Seabreeze announced it will be opening up a VR arcade, the Starcade, so consumes can try it. See VenureBeat article.
Survios Raw Data game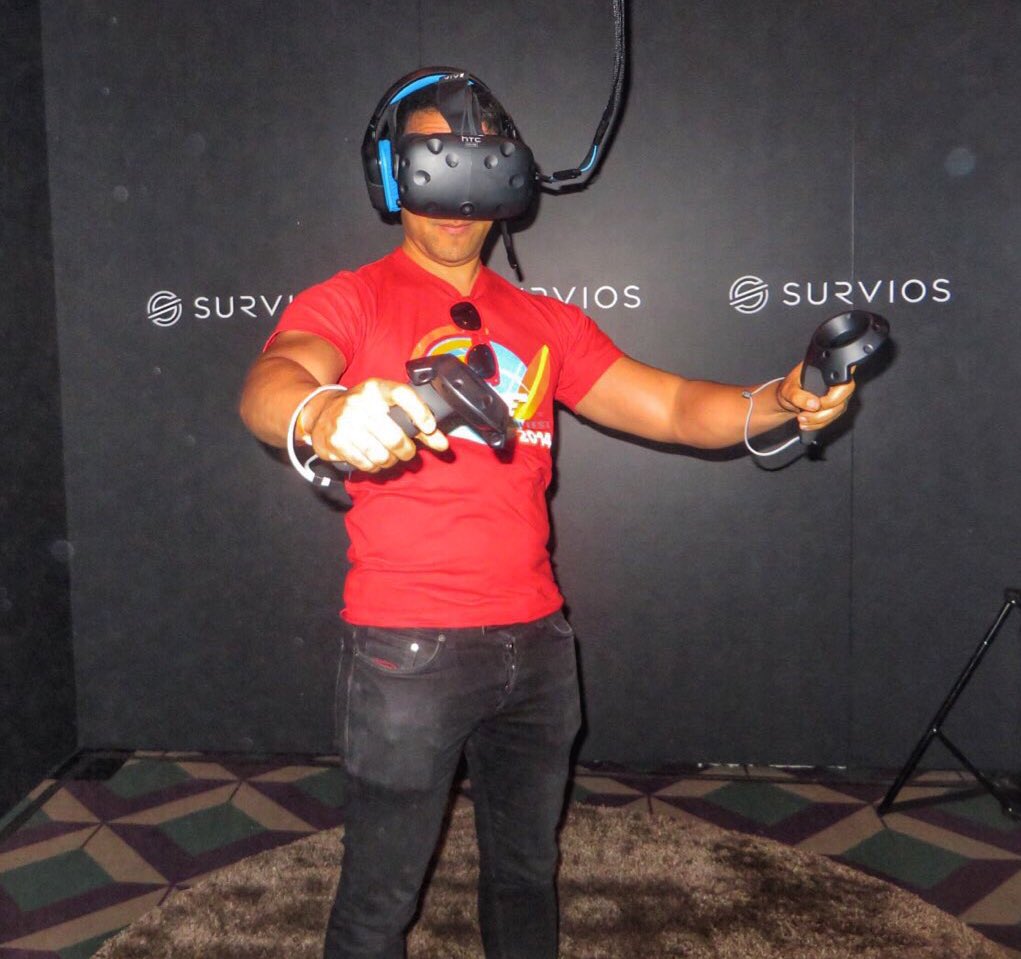 In the Survios Raw Data game, you must blast psycho robots and drones that are coming after you. The cutting edge feature of this VR experience is that you interact with the environment, aka blast robots, with six different weapons. You activate each weapon via by different hand positioning and using controllers to grab your weapon, or turn on your katana. Use six weapons: pistol, shot gun, katana, bow, greanade or even punch, to fight off the robots and advance levels. After playing this demo for five minutes with adrenaline pumping, there is definitely a back-to-real-world let down when the "game over" sign flashes, and the goggles are taken off.
Paranormal Activity VR Game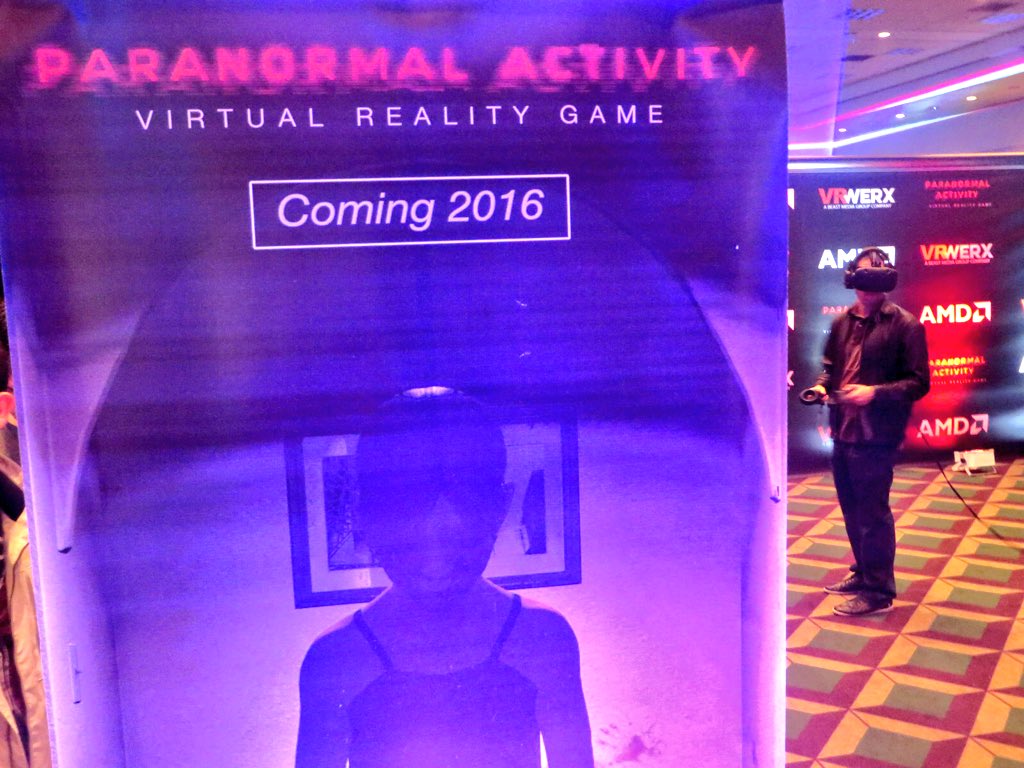 If Paranormal Activity the movie freaked you out, just wait til Paranormal Activity the game. In this VR experience, you stand in a motion capture area with VR goggles and controllers. VR by VRwerx with AMD.
Other demos from our friends who've spoken at our previous VRLA events include:
– ElemeTerra: Terraform a magical world, adding trees and forests, and creatures start to appear. And you can fly.
– VRIDEO demoed their VR content library, including the Lion King musical VR experience which puts you on stage during a performance of the opening Circle of Life number, with elephants and impalas dancing around you.
– Springbok VR demoed its Galvanized Souls music video, and a new white rhino and health VR experience. Brandon Zammel and the Galvanized Souls band spoke at our VR for music panel.
– White Elk Studio: Eclipse VR experience
PANELS and KEYNOTES
The panels and keynotes featured experts in VR discussing various issues, and emphasized that VR is as impactful an advancement as movies, Internet, and cell phones.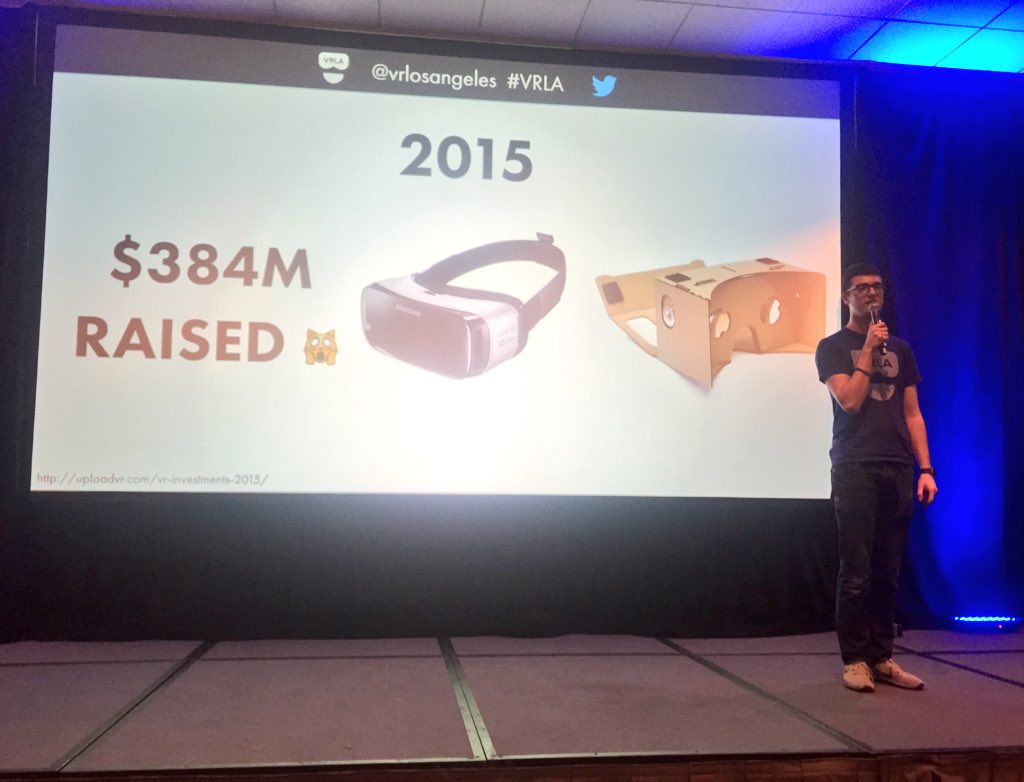 "We are extremely fortunate to be at the birth of a new medium together here," said Cosmo, VRLA co-founder, who started the VRLA group because there wasn't a VR focused group in LA. VRLA organizes the VRLA Expos.
With Internet and phones, "we already live in magical times," said Jonnie Ross, co-founder of VRLA. "And things just got 20 more magical" with VR. Jonnie added that VR is being used today to help you explore new worlds, overcome phobias, train physicians, treat lazy eye, and help the physically challenged.
In VR, everyone will be able to be a superhero, said Amir Rubin, co-founder of Sixense, quoting Spider-Man producer Avi Arad, who's a cofounder of Sixense.
AMD announced gaze-activated content: VR content that plays when you stop to look at it, appearing to be interactive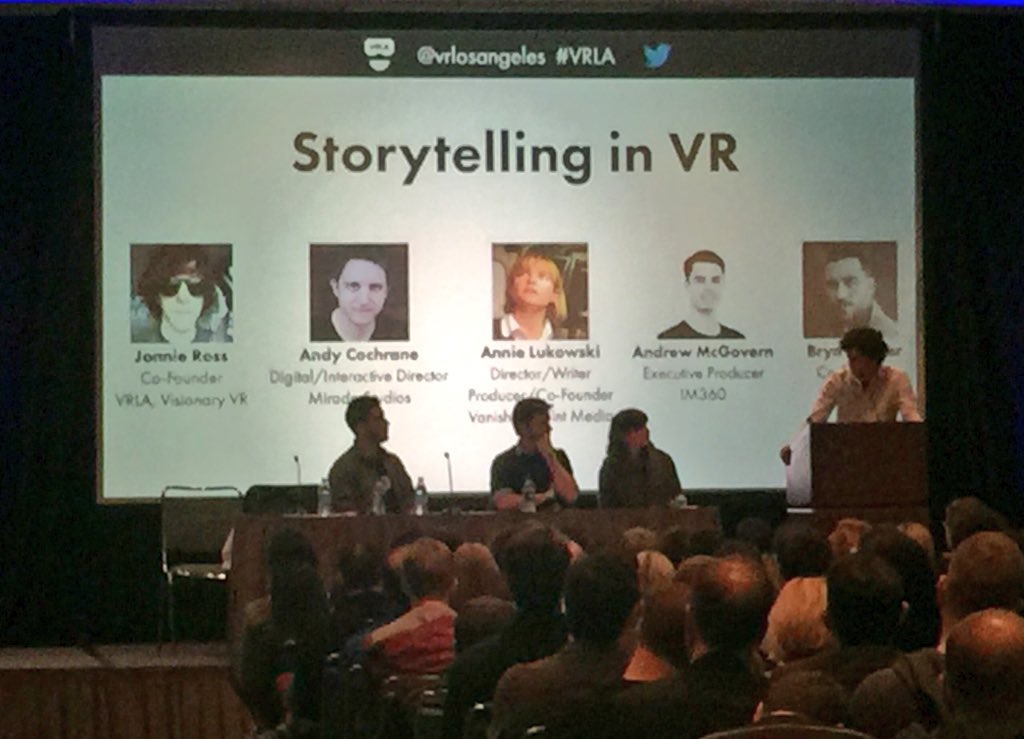 At the Storytelling for VR panel, panelists emphasized that you should use the unique features of VR to tell a VR story. Action, sci-fi, and horror are good for VR. But VR should not be just about shooting games with guns or horror, warned one speaker.  VR can also be used to emote, connect, and inspire social good and charitable giving. IniImmersive journalism, where you send a journalist to an area like Syrian refugee camps, or impoverished third world villages with a VR camera crew to talk to locals to see what their life is like. Experiencing these real worlds in VR connects you to these worlds more empathetically than a documentary film.
At the VC investments panel, speakers said that a few forward-thinking VCs are investing in VR. When pitching VR to a VC, it helps to make sure they have actually done a recent VR experience, to make the lightbulb flash on, and the wallet open up.