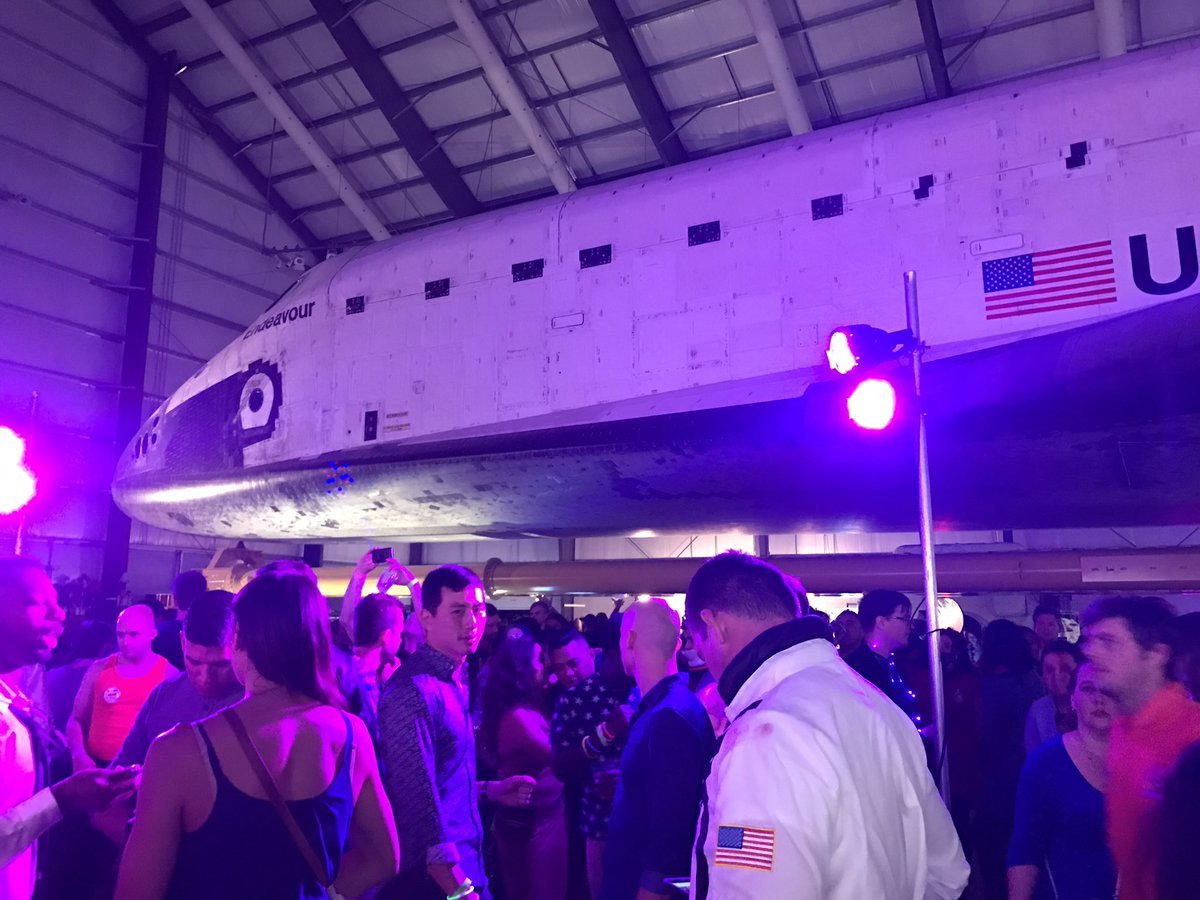 DOWNTOWN LA – Astronauts, Space X and NASA engineers, and sci-fi fans, DJs, jedi, and Enterprise crew celebrate space exploration under the space shuttle Endeavor at the annual Yuris Night LA at California Science Center in Downtown LA.
Yuri's Night is a worldwide celebration of Yuri Gagarin, the first person to enter space.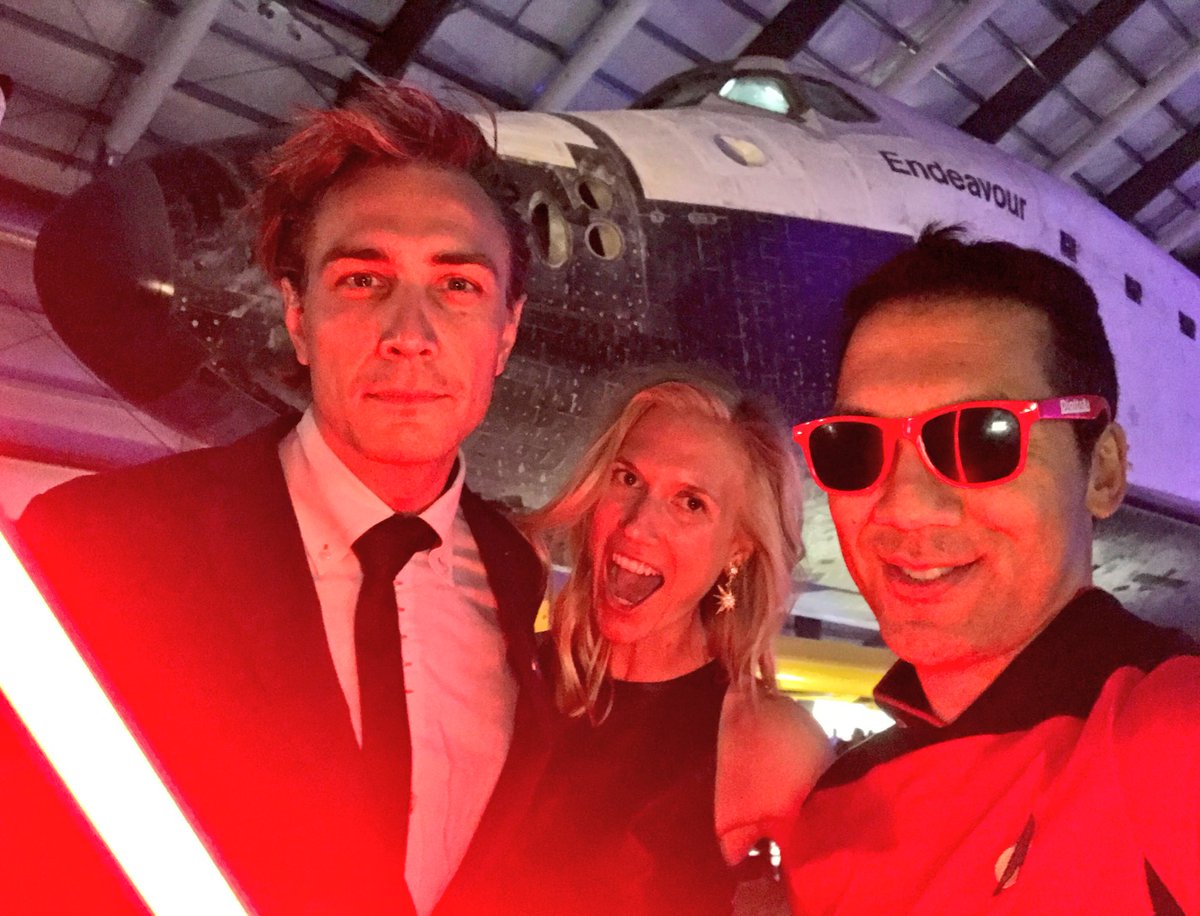 Gray Bright MC'd the evening. Gray has previously hosted our Silicon Beach Fest – Startup Showcases. He is host of the Tomorrow Show, a talk show format which celebrate scientists and tech startup founders, much like Jimmy Kimmel celebrates Hollywood celebrities.
"Yuri's Night is a celebration. A celebration of not only Yuri Gagarin, but of adventure, space and humanity itself," MC Gray Bright said. "I'm so thankful to be at the event, the fact I get to emcee the night as well is incredible. It's amazing to stand on that stage, looking at the Space Shuttle Endeavour, introducing Astronauts and space industry leaders."
"There's also the added benefit that I get to tell my favorite aerodynamics jokes that I've written and have the audience understand them – only Yuri's Night and NASA rocket launches have I been able to use these jokes haha!!" he added
Several speakers including astronauts and space tourists spoke, followed by DJ and dance party under the shuttle.
Speakers included:
– Apollo 9 Astronaut Rusty Schweickart. Rusty Schweickart flew on Apollo 9 in 1969 and performed an EVA in low earth orbit to test the lunar portable life support backpack while crewmates James McDivitt and David Scott waited inside the capsule.
– Peter Diamandis, X Prize, Founder. Peter is founder of X Prize, International Space University, SEDS (Students for the Exploration and Development of Space), Space Generation, Space Adventures, Planetary Resources, Singularity University, Human Longevity Inc, Abundance 360 and Zero Gravity Corp.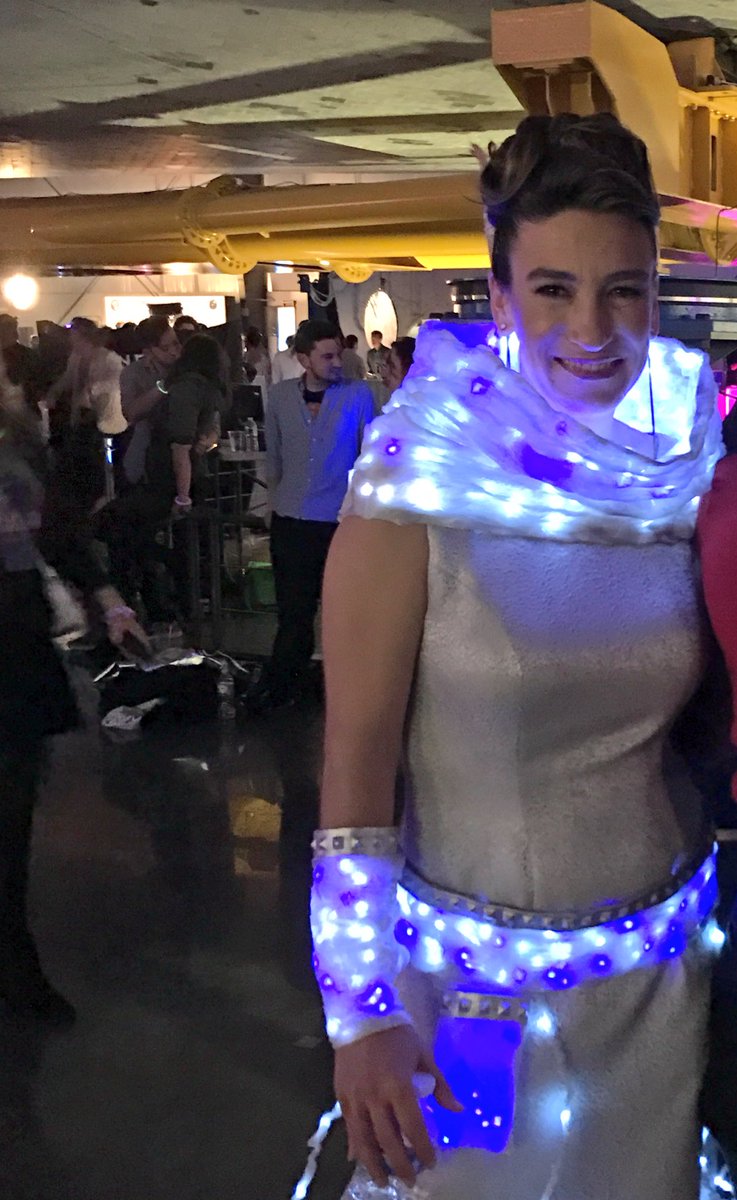 – Loretta Hidalgo Whitesides, co-founder of Yuri's Night, (photo right)
– Walter Koenig, played Chekov in the original Star Trek classic. Koenig still delights fans with roles in Renegades & Star Trek: Captain Pike.
– Chase Masterson played Leeta on Deep Space Nine. She is also the creator of Pop Culture Hero Coalition a non-profit that uses pop culture story telling to end bullying.
– Robert Picardo played the holographic doctor on Voyager. He charms and delights with his monthly "Planetary Post" Videos for the Planetary Society! Tim Russ shared the screen with Robert on that show, and also is an avid amateur astronomer.
– Anousheh Ansari, Private Space Explorer. Born in Iran, Anousheh immigrated to the United States as a teenager, became as electrical engineer and then the CEO of TTI. After selling TTI, the Ansari Family put up the money to enable the $10M X Prize to be fully funded and then won by Burt Rutan's SpaceShipOne in 2004.
After the speakers presented, attendees, many in cosplay, danced with DJ under the shuttle until midnight.
R2-D2 was spotted as well.