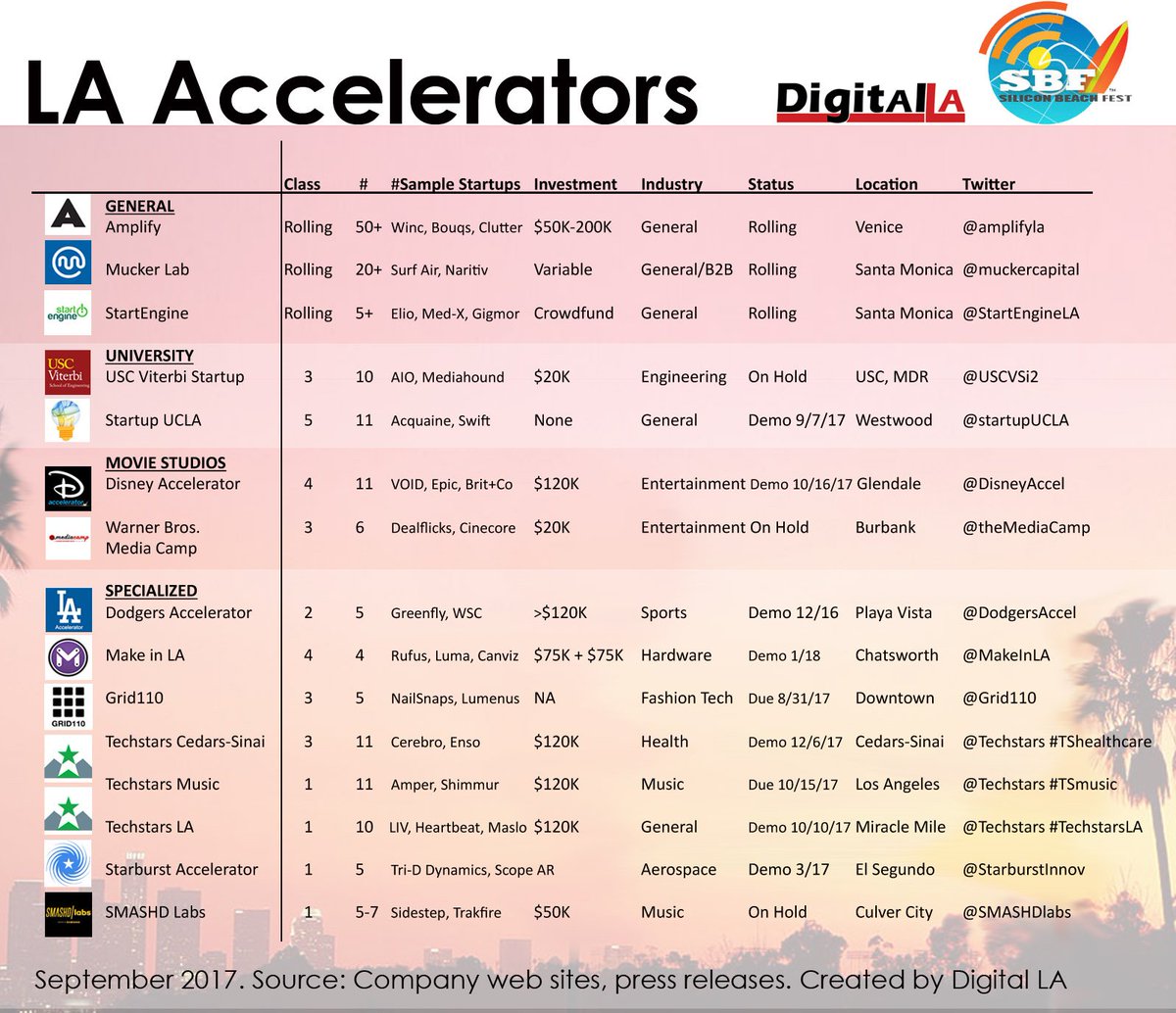 LA has more than a dozen major accelerators that have helped attract investment dollars and startups into Silicon Beach since about 2012. Accelerator typically invest $10K to $120K in a class of 4-11 startup for 3-4 month program. In exchange for a percent of the company, startups typically get a physical place to work and meet investors at the accelerator offices, access to accelerator mentors and networking events, and a demo day to pitch to investors.
History of LA Accelerators
First Wave (2012) of accelerators, including Amplify, Launchapd, MuckerLab and StartEngine launched, jumpstarting Silicon Beach investment activity. This explosion added 40 startups to the region in 2012, and created media buzz around "Silicon Beach"
Second Wave: Universities and Hollywood (2013-2014). Universities including USC Viterbi Startup Garage and Startup UCLA, and movie studios Warner Bros Media Camp and Disney Accelerator powered by TechStars began accelerator programs in 2013-2014. The new wave reflects the huge growth in Silicon Beach over the past four years, expanding beyond the west side to downtown and Playa Vista, and specializing in industries: Dodgers (sports), Grid 110 (fashion), Make in LA (hardware).
Third Wave: Specialized (2015-2017 present). Not wanting to be left out, other LA organizations like Dodgers and Cedars-Sinai have partnered with Techstars and other venture arms to create accelerators that specialize in certain areas including health, music, hardware, fashion, and aerospace. Techstars launched Techstars LA in addition to Health and Music, totaling three accelerators in the LA area, the biggest commitment from any one accelerator group.
MAJOR ACCELERATORS
– Amplify: One of the first startups with colorful offices in Windward Circle, Venice. Approximately 40+ startups with $50K-$200K investment, rolling applications. Startups include Winc, The Bouqs, Iconiery, and more. (Venice). Snap Inc recently acquired some of Amplify / NextSpace office space.
– MuckerLab: MuckerLab focuses on general tech with B2B. MuckerLab was ranked #2 accelerator in the nation in a recent TechCruch recent report.  https://angel.co/mucker-lab-2015/apply
– StartEngine: StartEngine launched in 2012 focusing on games and general startup investments, co-founded by Howard Marks co-founder of Activison. It has since moved to Santa Monica and switched to a model of crowdfunding its startups, after the Regulation A ruling that opened investment to individuals. Portfolio companies include Elio car and more. Why: when anyone with as little as $200 can invest in a car, that helps fundraise, market, and provide proof of concept to big investors
– LaunchPad housed a few classes of startups in Santa Monica. Standouts included Tradesy and ChowNow, which are both doing extremely well. LaunchPad shut down in 2014.
UNIVERSITIES
– USC Viterbi Startup Garage is open to USC alumni, staff, faculty, students. Up to $20K/team, 4% equity, 10 startups, 6 month program. USC Viterbi alums include AIO Robotics, which won Silicon Beach Fest – Startup Showcase in 2014, and NV Drones which won our Drone Startup Showcase. (USC downtown and Marina Del Rey). Appears to be restructured.
– Startup UCLA – Summer program with approximately 10 startups, open to UCLA students and alumni. No investment. Demo Day at the end of the summer.
ENTERTAINMENT
– Disney Accelerator entertainment startups focus on e-commerce, robotics, AR/VR, analytics and more. Investment is up to $120K per startup, 10 startups, 3 months. Startups have included: Decisive (adtech Saas), Emotiv (telekinesis), Hyper (identify influential customers), Imperson (talk to fictional film/TV stars), Littlestar (VR), Makie Lab (3D printed toys), Open Bionics (3D printed hands), Prizma (web site video), Pundit (AMAs on Twitter), Statmuse (talk to sports stats).
– Warner Bros' Media Camp accelerator is on hold. It graduated two classes of 6-8 entertainment startups. Demo Days were held on the Warner Bros studio lot, at the theatre near the New York Street.
SPECIALIZED

– Dodgers Accelerator started with sports-related startups (not necessarily baseball). $20K investment, 10 startups, 4 months program. Startups in its first class included Appetize, Doorstat, FieldLevel, FocusMotion, Kinduct, LeagueApps, ProDay, SidePrize, Swish Analytics, Yenzo pitched at an epic Demo Day at Dodgers Stadium. (Playa Vista).
– Grid 110 launched downtown focusing on fashion tech startups. Yes, Only in LA is an accelerator named after a freeway! After two classes of Fashion Tech startups, Grid 110 has switched to general startups for its next program.
– Make In LA hardware accelerator launched to focus on hardware and manufacturing startups with proof of concept / beta version out. It is based in Chatsworth, which has less expensive office space for manufacturing and production.
– Techstars Cedars-Sinai Health Accelerator. Techstars and Cedar-Sinai teamed up for its first accelerator in LA, focusing on healthcare from data analytics and AI to AR. Startups get access to Cedars-Sinai staff and mentors. Its startups typically announce business deals and partnerships with Cedars-Sinai departments at its demo days. Startups are housed in a building across the street from Cedars-Sinai. Headed by Techstars Matt Kozlov and Cedars-Sinai Omkar.
– Techstars Music focuses on music startups, including music discovery, AI, sound and audio and more. Its first demo day at the El Rey theater featured 11 music startups. Headed by Bob "Moz."
– Techstars LA. With the success of its Health and Music accelerators (and first two years of Disney Accelerator), Techstars LA launched a general program in 2017 with 11 startups including Heartbeat, LIV and more. Headed by Megan Barbor.
– Starburst Accelerator. The Paris-founded Starburst Accelerator, which has helped accleraate dozens of aerospace startups worldwide, opened up its LA office in El Segundo. It hosted a demo day with several aerospace startups in 2016.
– SMASHD Labs, founded by Troy Carter, focuses on music and entertainment startups. Its first class included Enrou, Trakfire, and more. Second class has not been announced. Program may be on hold. Its web site links to an abandoned WordPress placeholder.