The much-anticipated Alamo Drafthouse (finally!) opens in downtown LA this weekend with 12 dine-in screens, bar, gift shop, video store, and arcade.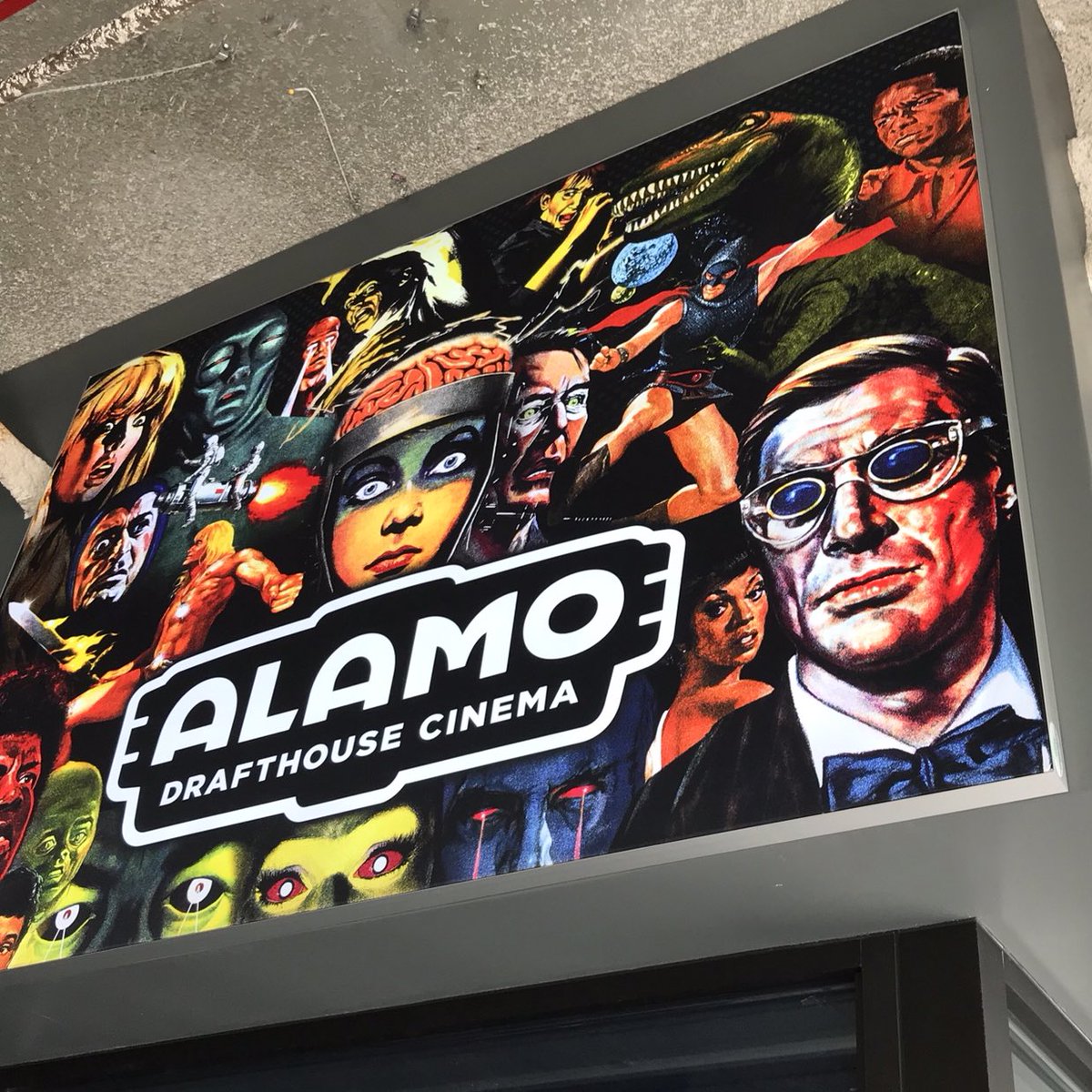 Most Angelenos' first encounter with Alamo Drafthouse theaters is when they visit Austin for SXSW, where it has several locations. Starting this weekend, you can just go downtown.
The quirky theater chain hopes to differentiate itself from other theaters in LA with its dine-in service, down-to-earth vibe, bar, gift shop, and community events, from karaoke to board game nights.
"We got into it because we love movies," said Alamo Drafthouse founder Tim League, who started it 22 years ago. He and his wife and friends built the first theater themselves. He said the goal is to be the best damn theater and share "movies we love with as many people as possible."
All the seats at Alamo Drafthouse are dine-in service, and recline with individual tables. Place your order with the attendants before the show, or post your menu request during. The menu includes Austin favorites with LA flavor: popcorn, truffle popcorn, chips and queso, tex mex burritos, vegan buffalo cauliflower, roasted vegetable quinoa salad, and shakes, with or without alcohol. Alamo specializes in "ninja service" where waiters strive to be as quiet as possible serving food, to avoid distracting guests watching movies.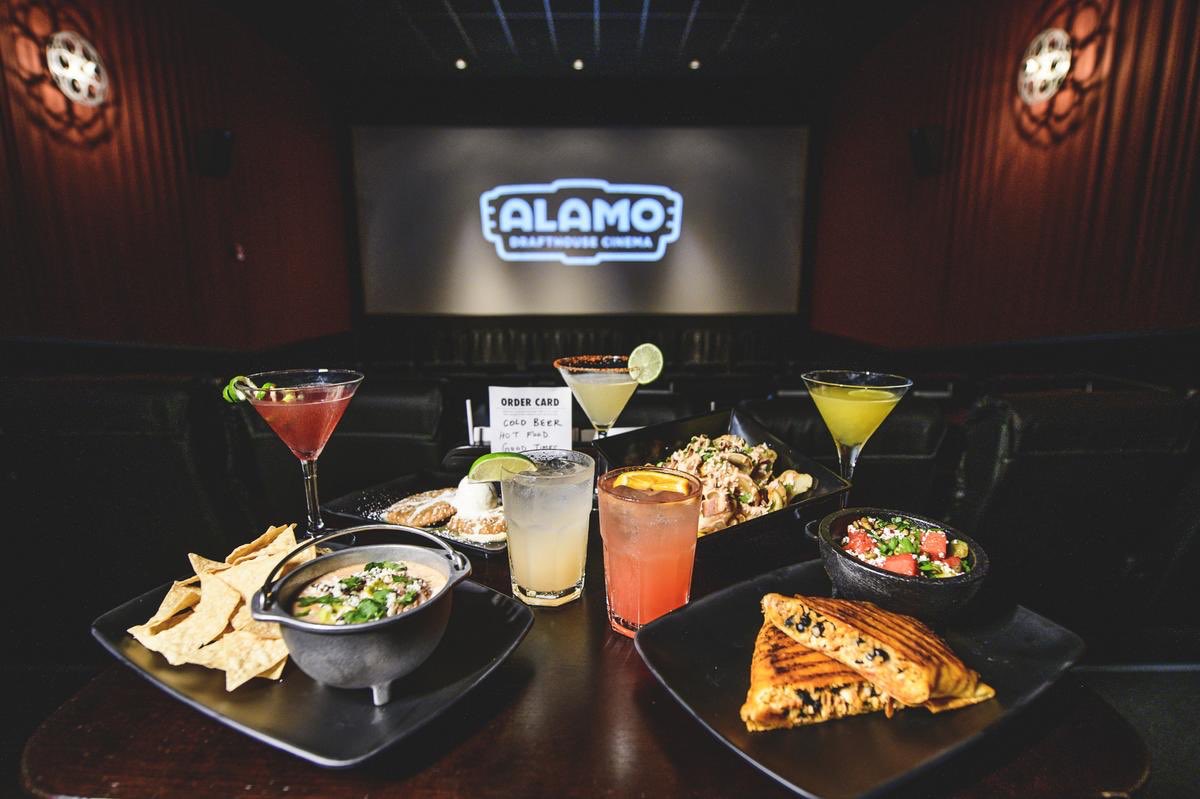 Alamo Drafthouse has 12 screens with digital laser Barco, 37-63 seats each, for a total 570 seats. #8 also has 35mm. The theaters are also equipped to simulcast livestream w other screens in the downtown location or with Alamo's 20 other locations nationwide including Austin, Dallas, Denver, Houston, New York City, Orlando, Phoenix, and San Francisco.
Matinees are $15, and weekend movies are $17 – $18, which is a typical range for LA dine-in movie seats. During opening weekend, some movies are lower priced as the staff ramps up, indicated by "Staff Training Days"
Drafthouse will offer specialty programming nights throughout the month: Terror Tuesday (horror films), Weird Wednesday, Kids Camp (first screening of day), Fist City (action), AniMazing (anime), Movie parties and cereal parties.
The theaters are also available for private rental for film festivals, screenings, etc.
Alamo Drafthouse also has a Victory loyalty program, and app to let you reserve seats with your phone. It plans to launch a monthly Season Pass subscription service to see a movie a day (like AMC A-list).
Why downtown? Founder Tim said downtown LA is a vibrant growing community that doesn't have a high-end, dine-in theater yet. Plus, it's difficult and expensive to build out theaters in Hollywood to the Westside, which already have upscale / dine-in options.
Alamo Drafthouse is known for quirkiness, yet strict rules. The biggest one: No phone texting or talking or looking at your screen in the theater. There's a service announcement that runs before the movies saying that if you do bring out your phone, you will be asked to leave, without a refund. Crossing fingers that Alamo can enforce this rule for LA peeps, who are not known for being apart from their phone for long.
The Alamo entrance is located on the upper level of the Bloc LA (Macy's). When you enter, you'll see the movie ticket counter, and escalator to movie theater upstairs on the left. On the right, Alamo Drafthouse has partnered with Video Vortex to run the bar, gift shop, video store, board games, and arcade, all with a retro 80s theme, to help differentiate the chain.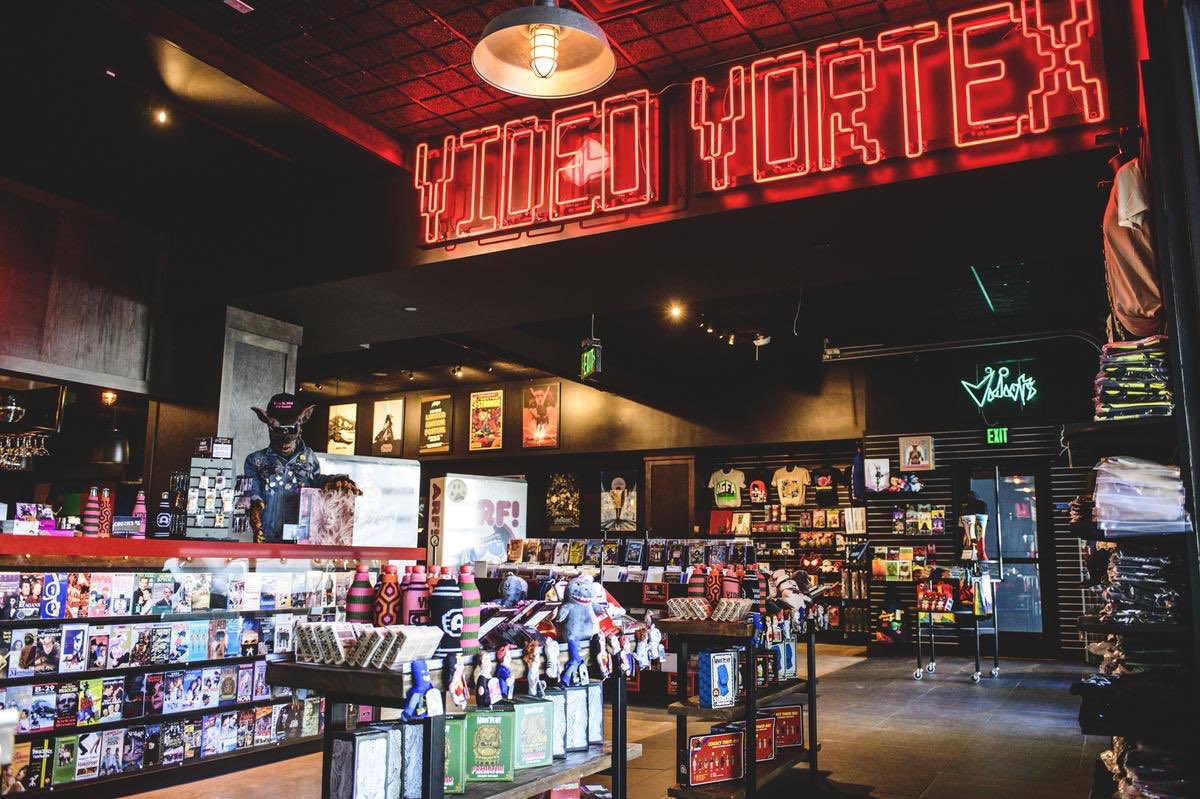 Open the bar menu, a plastic VHS case, to chose from more than 48 beers, and specialty cocktails. The Rewind retro drinks include Manhattan, Cosmopolitan Singapore Sling. The Fast Forward modern drinks include Ghostbusters, Bridesmaids, LA Confidential. Special movie-themed drinks will be available to tie into veracious movies.
The bar area has tables where it intends to host game play, karaoke, events.
The gift shop sells Alamo Drafthouse T-shirts, socks, board games, and Deadpool plush.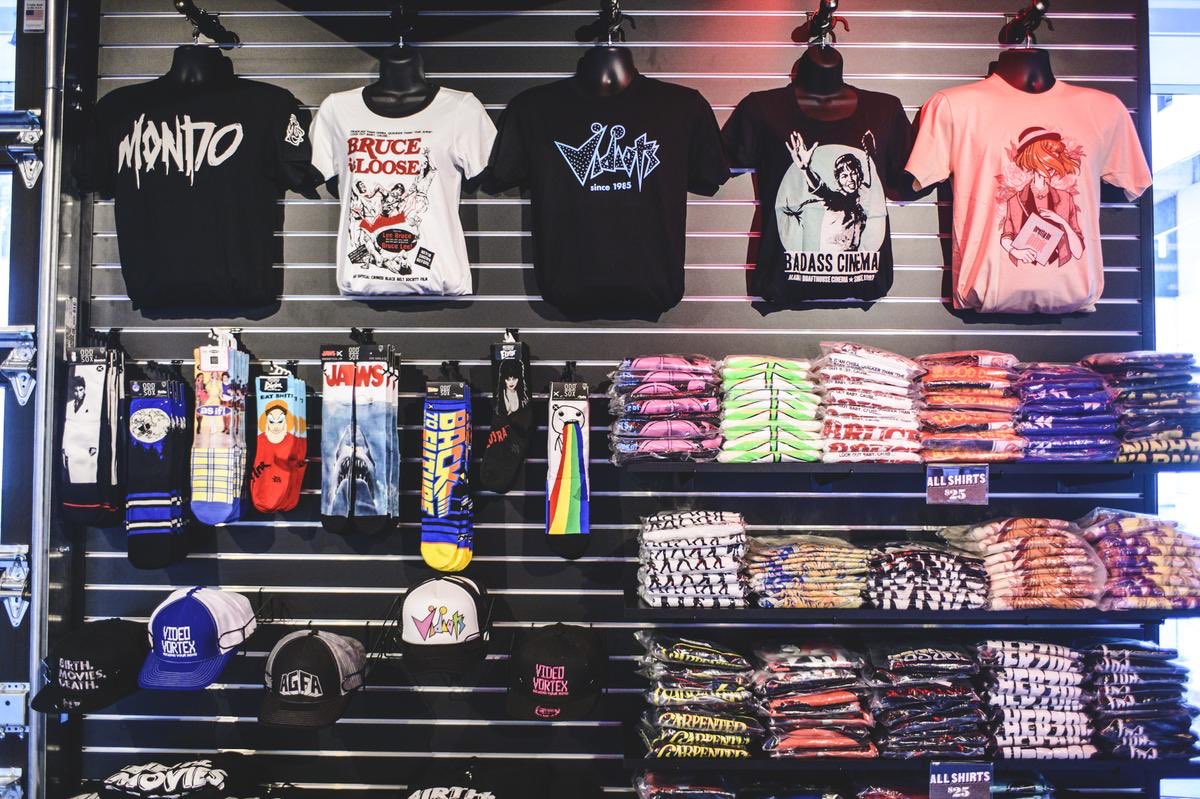 The video store features 40-50,000 movies. Anyone can rent up to 2 DVD or BluRays for free. Specialities: Music Video. It's the first new video store in LA since 2003.
Follow @DrafthouseLA on Twitter