Ambulance movie may remind you of Speed: a chase around the streets of Los Angeles in a vehicle that doesn't stop.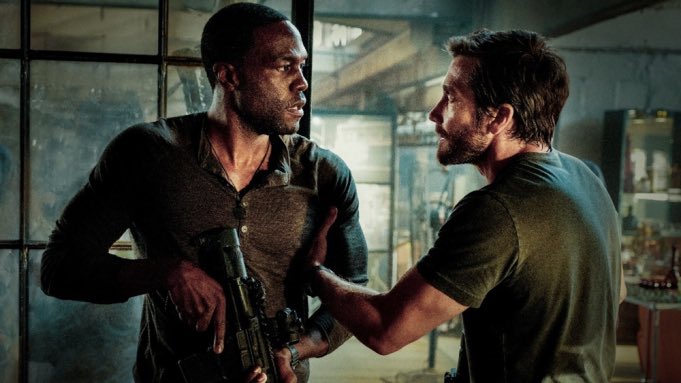 And because it's by director Michael Bay, the accompanying lens flares, sunsets, and dizzying swooping camera angles don't stop either.
It's a high-energy throwback to the 1990s guns and chase action films like Speed and Die Hard, that they just don't make any more. Michael Bay doesn't care, and he unabashedly uses all his tools to make a film that feels like it is from 20-30 years ago. If you like those movies, you'll love this Ambulance.
The film also feels like Transformers, but without giant transforming robots, it seems like it should have come out before Bay got the budget for the first Transformers movie.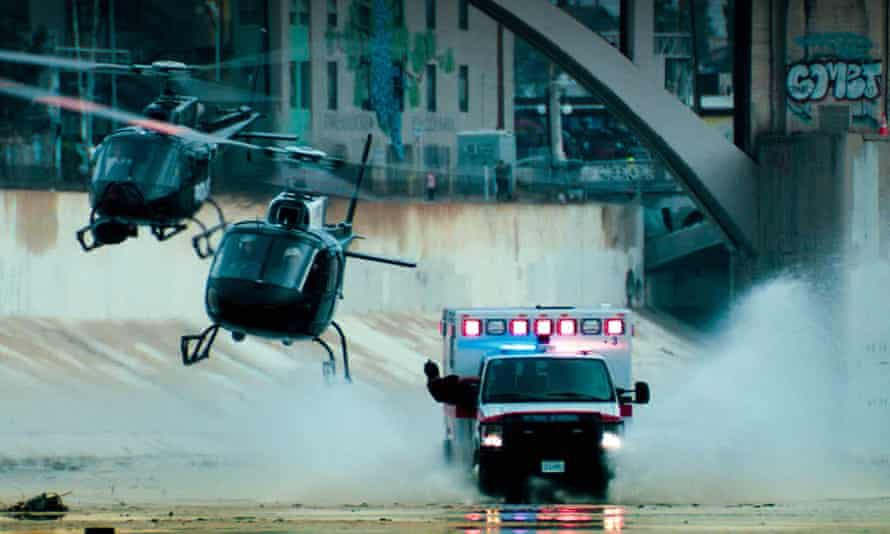 In Ambulance, two brothers played by Jake Gyllenhaal and Yahya Abdul-Mateen II rob a bank in downtown LA. In a clumsy effort to flee the scene, they shoot a cop, and hijack an ambulance with a tough EMT played by Eiza Gonzalez to keep him alive. They spend most of the movie racing around downtown Los Angeles, evading police.
The actors do an admirable job with the material they're given. Jake Gyllenhaal plays a good con-man ringleader who organizes the bank heist and cobbles his crew together. He persuades his reluctant brother played by Yahya to join him, which he does because he needs the money for his daughter's operation which veteran services won't cover.
Eiza Gonzales's EMT is a hostage in her own ambulance, but she is hardly a stereotypical damsel in distress. She tries several times to escape, and is part of what counts for the emotional heart of the show in a Michael Bay movie.
Just like in Speed, Jake Gyllenhaal's character splutters 'Don't stop' to keep the ambulance and tension on high for the day-long chase scene, but without any real reason, except the chase
Michael Bay's fingerprints are all over this bank heist, with his trademark sunsets, lens flares, explosions, and extreme close-ups.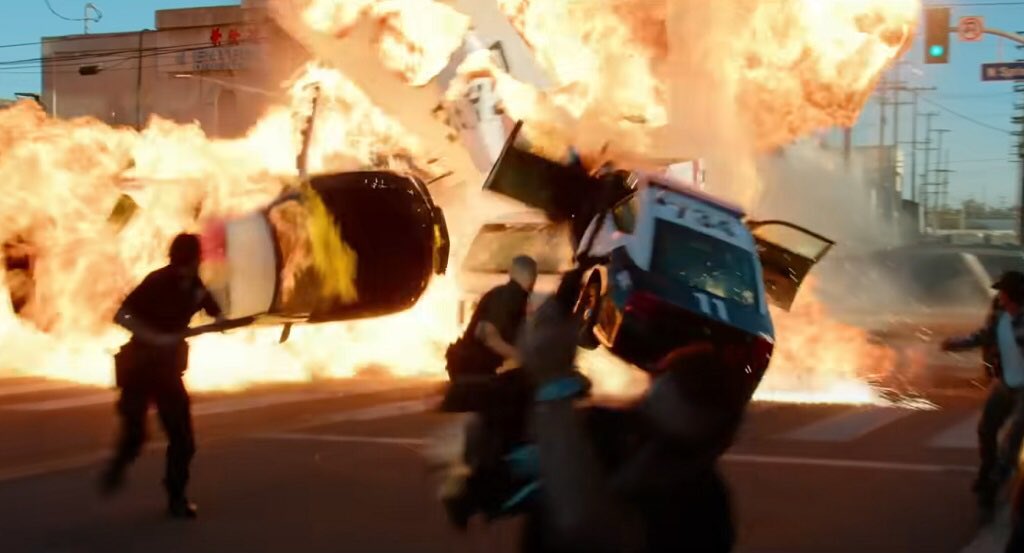 His multiple frequent spinning cameras around people arguing, and swooping camera angles sometimes make the film feel like a dizzying motion simulator ride – in not a good way.
Michael Bay films are also known for their stereotypical portrays of people of color. In Ambulance, downtown LA street gangs who live in warehouse and customize cars with paint jobs to weapons.
The box office audience will determine if today's superhero-loving audiences will see this retro action film, or if it's time to call an ambulance to save it.