Machine Gun Kelly, Muse, Jimmy Eat World, Dashboard Confessional and more bands played on two stages right on the beach at the second annual Audacy Beach Festival on December 3-4 in Fort Lauderdale.

Photo: Getty Images
Additional bands included Phoenix, YUNGBLUD, Andrew McMahon in the Wilderness, GAYLE, The Maine, The Struts, BoyWithUke, Waterparks, Mayday Parade, Sueco, half•alive, Story of the Year, Beach Weather, Wheatus, Talk, and Giovannie & The Hired Guns.
"After a successful first year, we were thrilled to gather with our fans for another fun-filled weekend on the sand with some of the biggest acts in alternative," said Michael Martin, Senior Vice President of Programming and Music Initiatives, Audacy.
The event, in partnership with the American Foundation for Suicide Prevention (AFSP), supported I'm Listening, Audacy's commitment to more mental health conversations, reminding us all, Talk Saves Lives.
Audacy previously hosted its We Can Survive concert on October 22, 2022 at the Hollywood Bowl with lineup including Alanis Morrisette, Halsey, Weezer, OneRepublic, Garbage and Tate McRae. This concert also supported its I'm Listening mental health initiative and Audacy Serves Pillars of impact: the environment, mental health, veterans and service members, children's health, civic education, and diversity, equity and inclusion.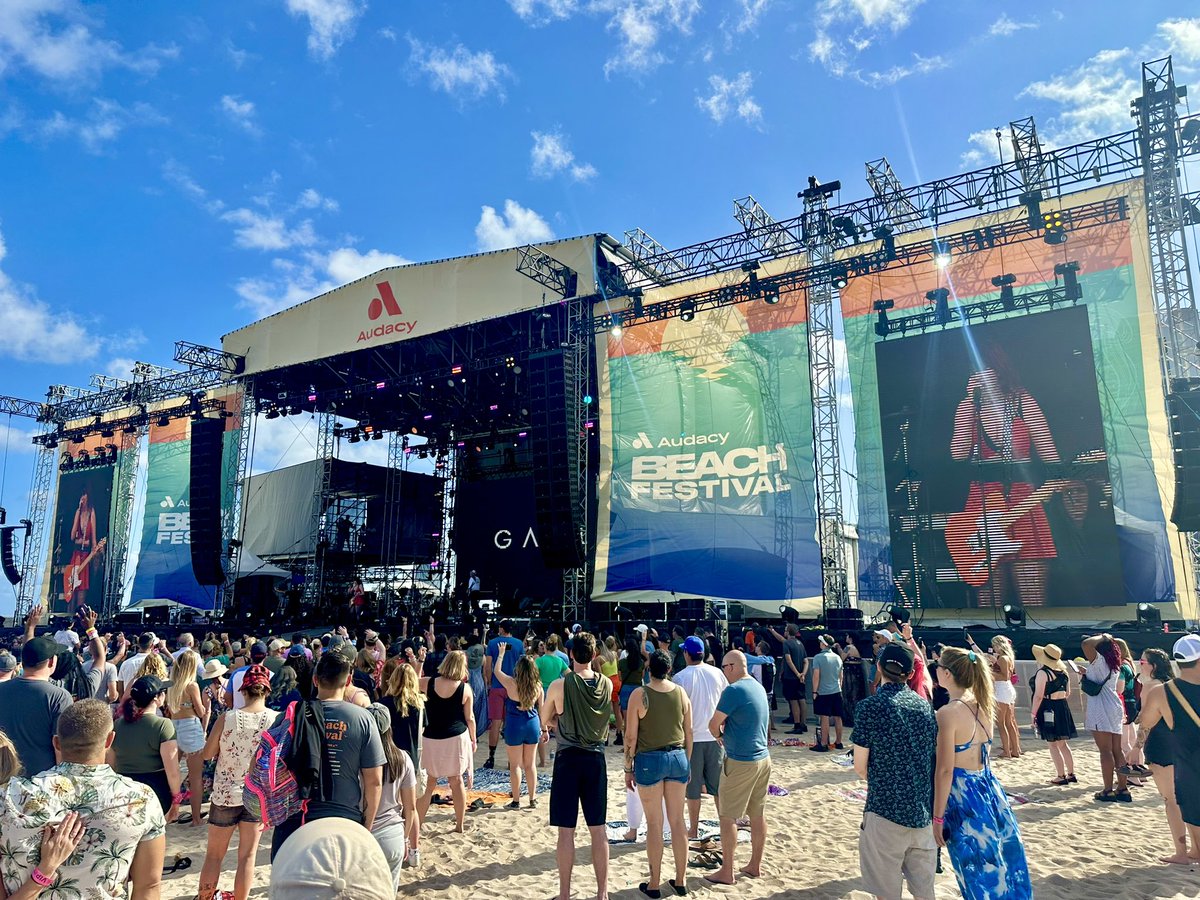 Day 1: Saturday
Jack White had fans roaring to his current rock hits as well as anthems from his White Stripes days, including "Seven Nation Army."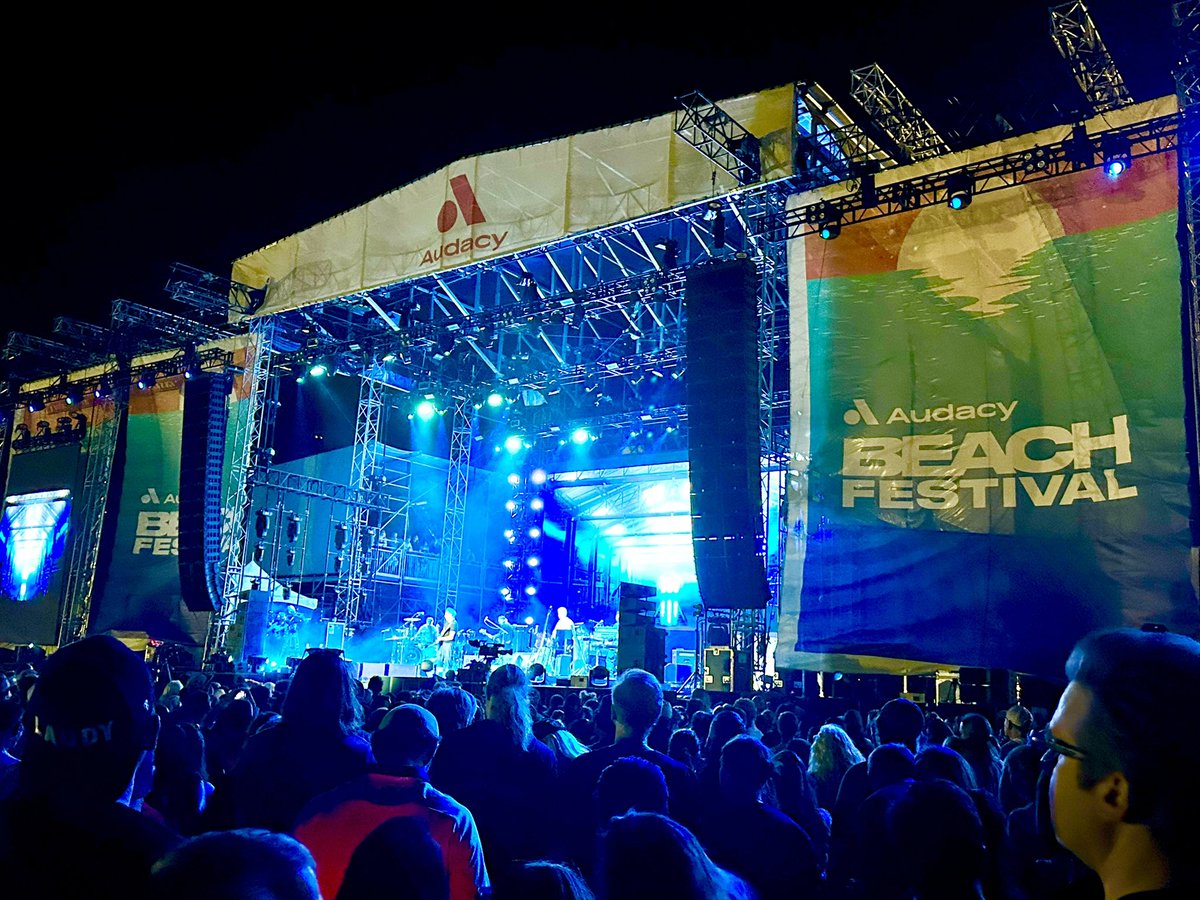 Muse brought Saturday to a close with powerful performances of fan-favorites "Supermassive Black Hole," "Uprising," "Starlight" and more.
Earlier in the day, the Maine and Talk engaged fans through his Tik Tok-favorite hit "Run Away to Mars."
Making his return to Audacy Beach Festival, YUNGBLUD flew around the main stage, even jumping in the crowd to sing and dance with attendees.
Beach Weather rocked the crowd to their top hit "Sex, Drugs, etc."
Jimmy Eat World, BoyWithUke, Phoenix and The Struts carried the event through the evening portion, paving the way for a fantastic finish to Day 1.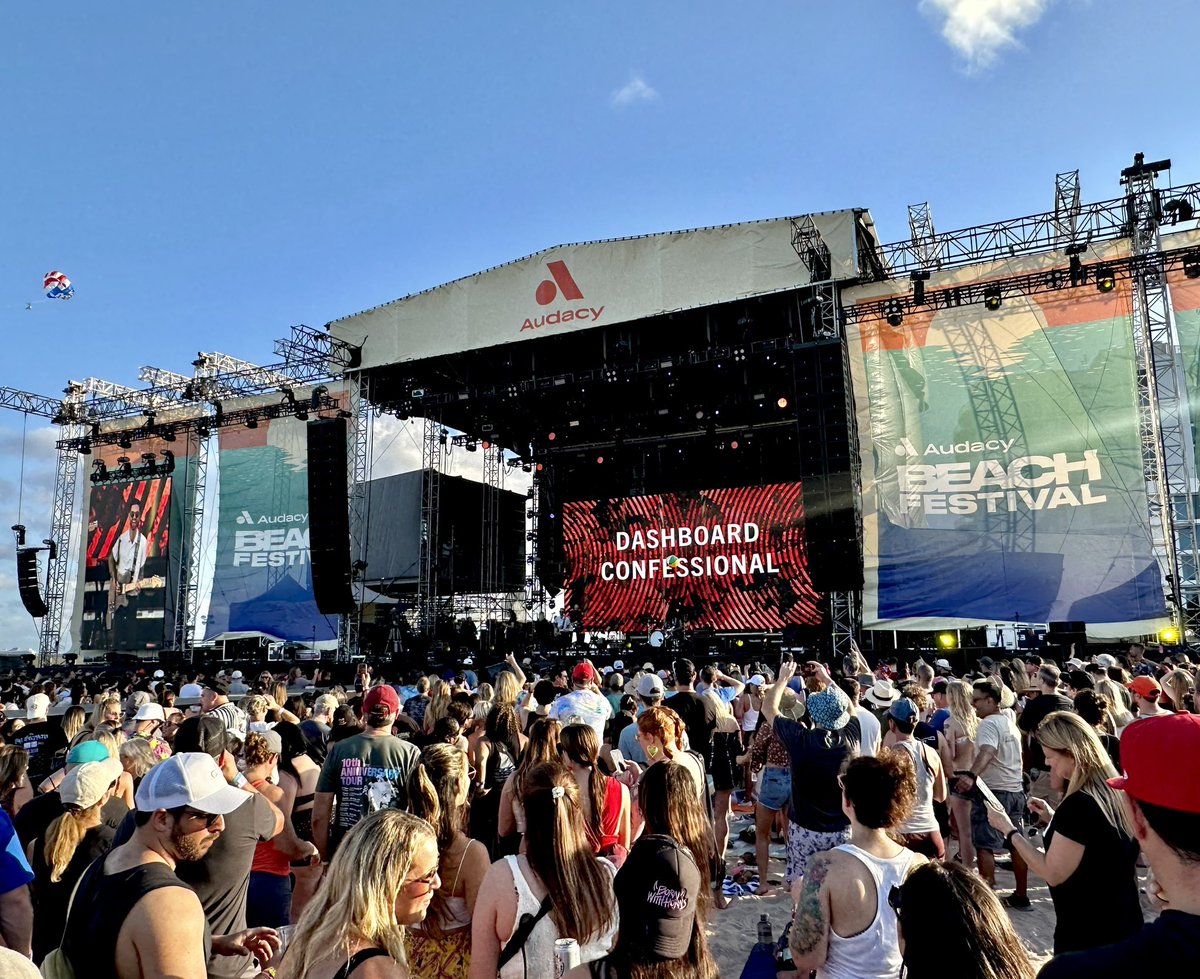 Day 2: Sunday
Machine Gun Kelly closed out the two-day festival with an epic performance powered by jams like "my ex's best friend," "I Think I'm OKAY," and "forget me too."
Photo: Getty Images
GAYLE got the crowd going with some songs she wrote during the pandemic, including her ultra-popular "abcdefu" – the 'angrier' version no less. In front of lead singer Dan Marsala's mom, who was in the crowd.
Story of the Year performed new song "Real Life."
Sueco crowdsurfed, standing on a board with the beach behind him – only at Audacy Beach Festival!

Photo: Getty Images
Waterparks, Sueco, Dashboard Confessional and Mayday Parade each had special sets for festival attendees during the afternoon. Dashboard Confessional played Vindicated from the Spider-Man 2 sound track, and then welcomed The 1975's Matt Healy onstage to help perform the band's "Hands Down."

Photo: Getty Images
Andrew McMahon crowd surfed in a giant inflatable llama during his set, before turning the event over to The 1975. The 1975 serenaded the crowd to some of their best tracks, including "The Sound," "I'm In Love With You" and "It's Not Living (If It's Not With You").
Earlier in the day, Giovannie & The Hired Guns, who got the crowd ready for the day ahead with their top hit "Ramon Ayala" and even a surprise cover of Foster The People's "Pumped Up Kicks."Wheatus welcomed the entire crowd to sing along to their fan-favorite and recent TikTok trending hit "Teenage Dirtbag."

Photo: Digital LA
Activations and Sponsors
Fans enjoyed several beach activations, lounges, several offering freebies:
– Celsius offered free flavored energy waters at its beach lounge.
– Jack Daniels offered free haircuts by The Spot local barbershop chain.
"I'm Listening" is the flagship program within Audacy Serves, the Company's social impact platform that raises awareness of social issues and brings communities together for good. Audacy unites with its listeners and brands to support sound communities through Audacy Serves Pillars of impact: the environment, mental health, veterans and service members, children's health, civic education, and diversity, equity and inclusion.