Avengers Campus opened on June 4 with a new Spider-Man ride with gesture tech, mobile food ordering from three dining options, and lots of Avengers characters for selfies and social media sharing.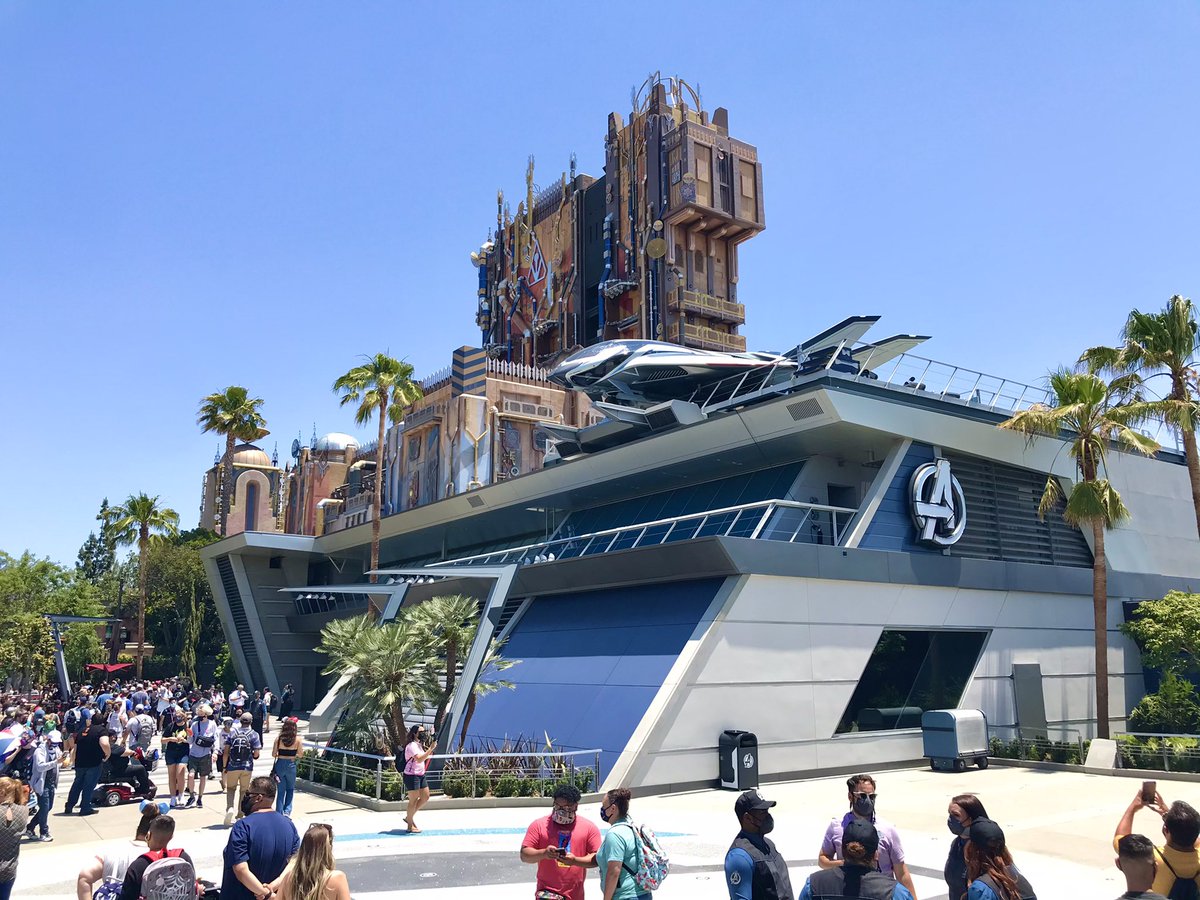 Digital is fully integrated into the new land at Disney California Adventure, so remember to bring your battery pack with you.
We attended June 4 opening day, experiencing the energy and excitement as Marvel fans entered the campus. It's truly magical to see characters you've grown up with since childhood, or on the big screen for the past decade in real life.
Here's our review with tips on how to navigate the park. Note that tips and times are based on what we observed on June 4 Opening Day.
Avengers Campus: Overview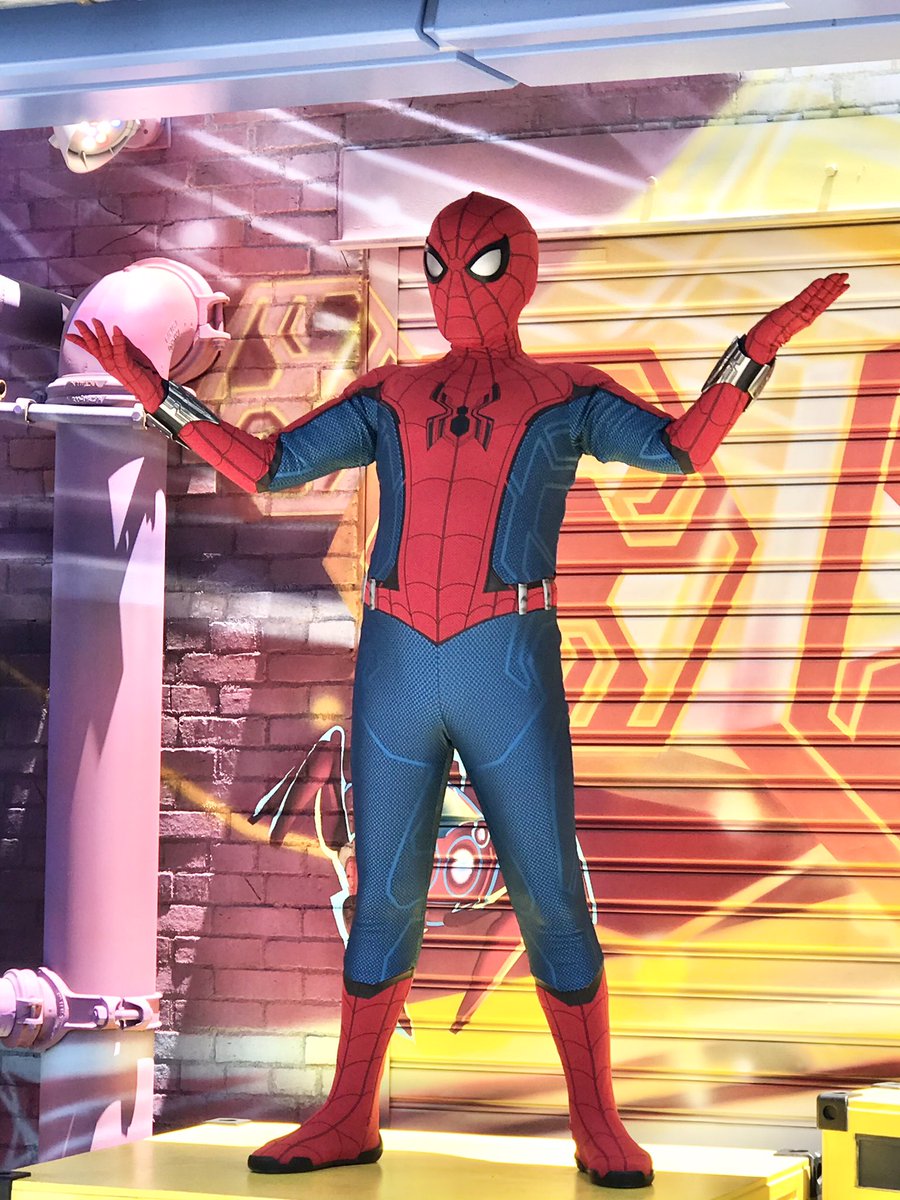 Avengers Campus is at Disney California Adventure, on the four acres where the Bug's Life land used to be. The entire area is completely different, with a new center plaza with Avengers HQ with a quintet parked on the roof, Spider-Man WEB ride, Doctor Strange Sancotrum, Pym Test Kitchen and other food options, stores and kiosks.
Storytelling: the Avengers have opened up the Avengers Campus at Disney California Adventure to recruit new Avengers, and meet and greet citizens. Avengers Campus doesn't try to recreate any scene from any MCU movie, show or comic. It is a welcome facility at Disney California Adventure theme park. In his stunt show, Spider-Man even acknowledges he's at a theme park saying he can see a roller coaster from the roof – cool! He also reminds guests to hashtag their photos and videos of him with #AmazingSpiderMan. It's a genius way for all the characters to be there, in character, talking to guests.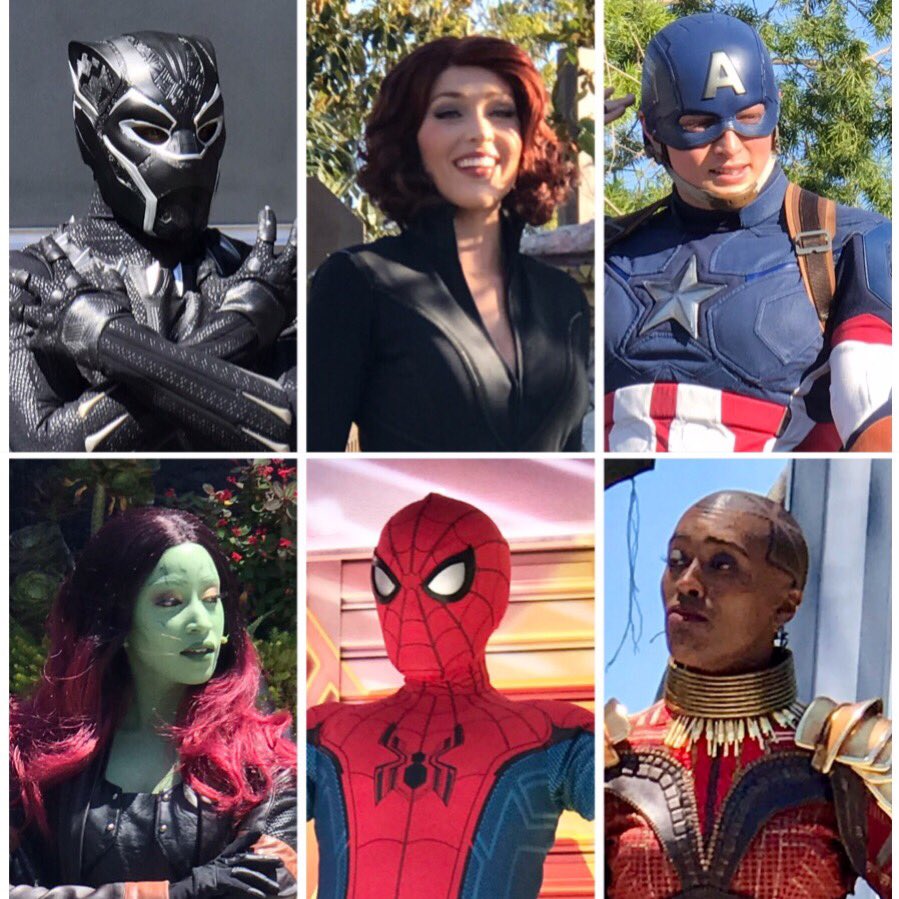 Location. Avengers Campus is behind Carthay Circle, between the Guardians Breakout ride and Cars Land (where Bugs land used to be). There are three entrances (like with Bugs Land):
– Main Entrances: Just beyond Carthay Circle, on the way to Cars Land/Paradise Pier, across from the Grizzly waterfall.
– Hollywood Land/ Guardians entrance by the Guardians Breakout ride
– Small entrance behind Doctor Strange Sanctorum
On opening day, the Main Entrance behind Carthay Circle was the only way to get into the park. There was a manned barrier at the Hyperion so you couldn't get in nor ride the Guardians ride unless you went in thru the Avengers Campus Main Entrance. You could exit from the Guardians and Sanctorum exits.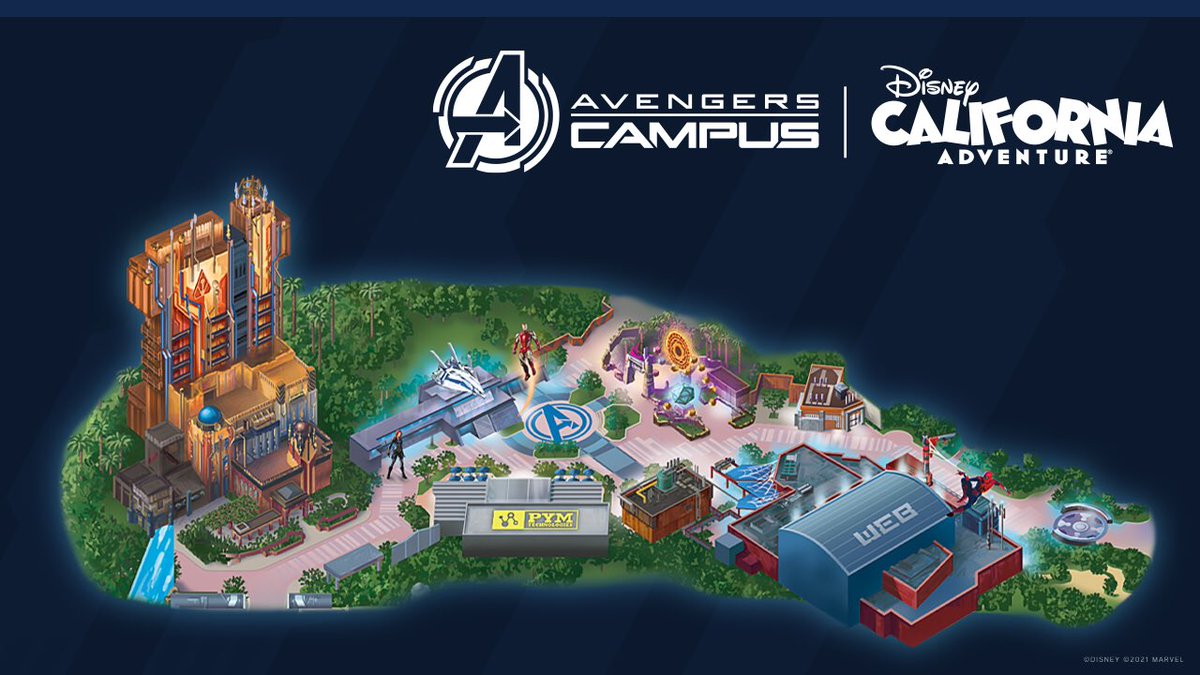 Health and Safety: Masks are required to enter Disneyland Resort, and must be kept on except when seated and eating. No walking and eating/drinking is allowed. The Web Slingers queue has social distance markers every 6-10′ and allows only one party per car, whether that's 1 person or 4 people.
Attractions / Rides
Web Slingers: A Spider-Man Adventure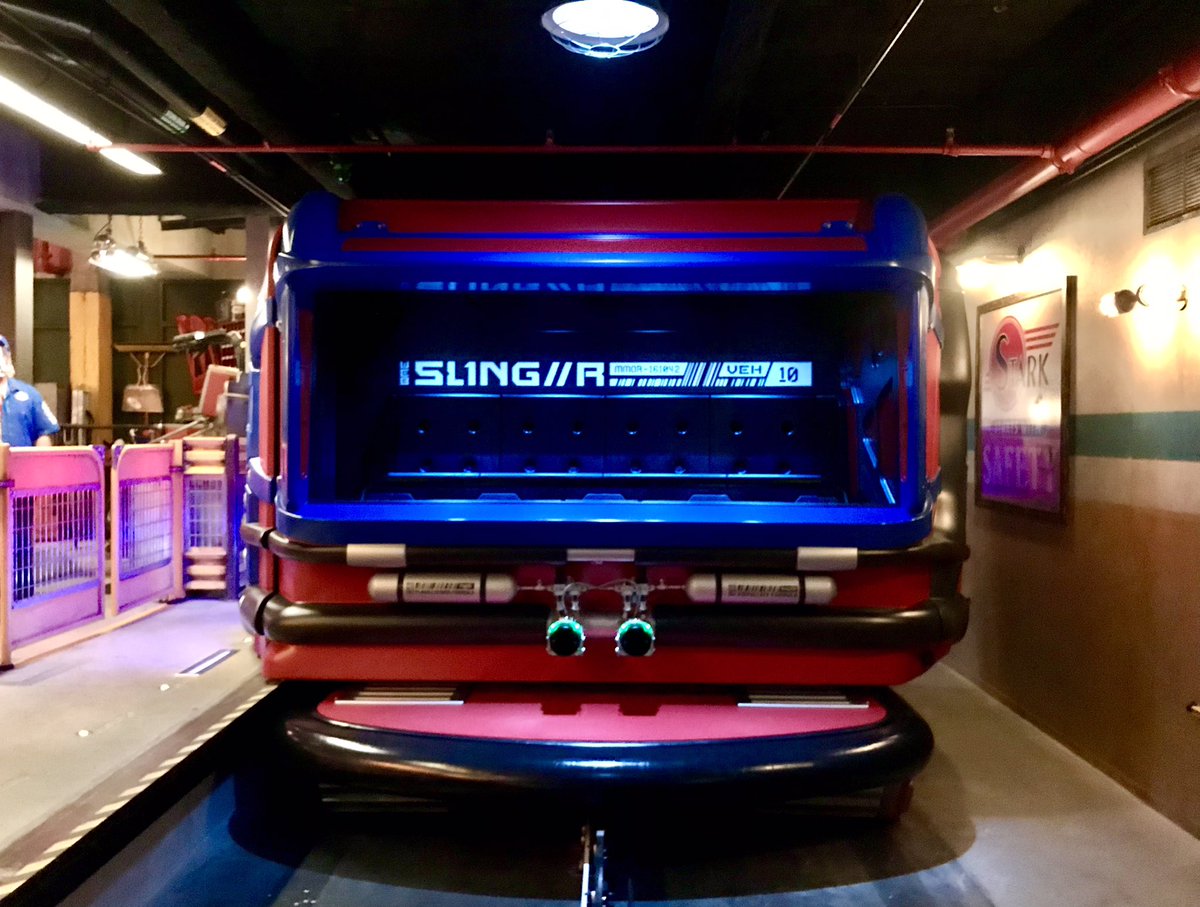 In Web Slingers, you use just your arms and hands (no controller or gun) to shoot digital webs at Spider-bots that are growing out of control. You can also use your webs to yank crates and other objects around, smashing them into other Spider-Bots, which is very satisfying. You eventually must web shoot like crazy to blast the big boss Spider-Bot
Storytelling: You're visiting the WEB lab center to learn about how science can create innovative new tech advancements. In the queue, Peter Parker (Tom Holland) appears on video screens to greet you, and explain WEB, and how tech is being used to create Spider-Bots that can actually replicate. Of course, they start to replicate out of control and take over the lab. So you must jump into one of the car vehicles and use your web shooters (just your hands) to blast them and stop them.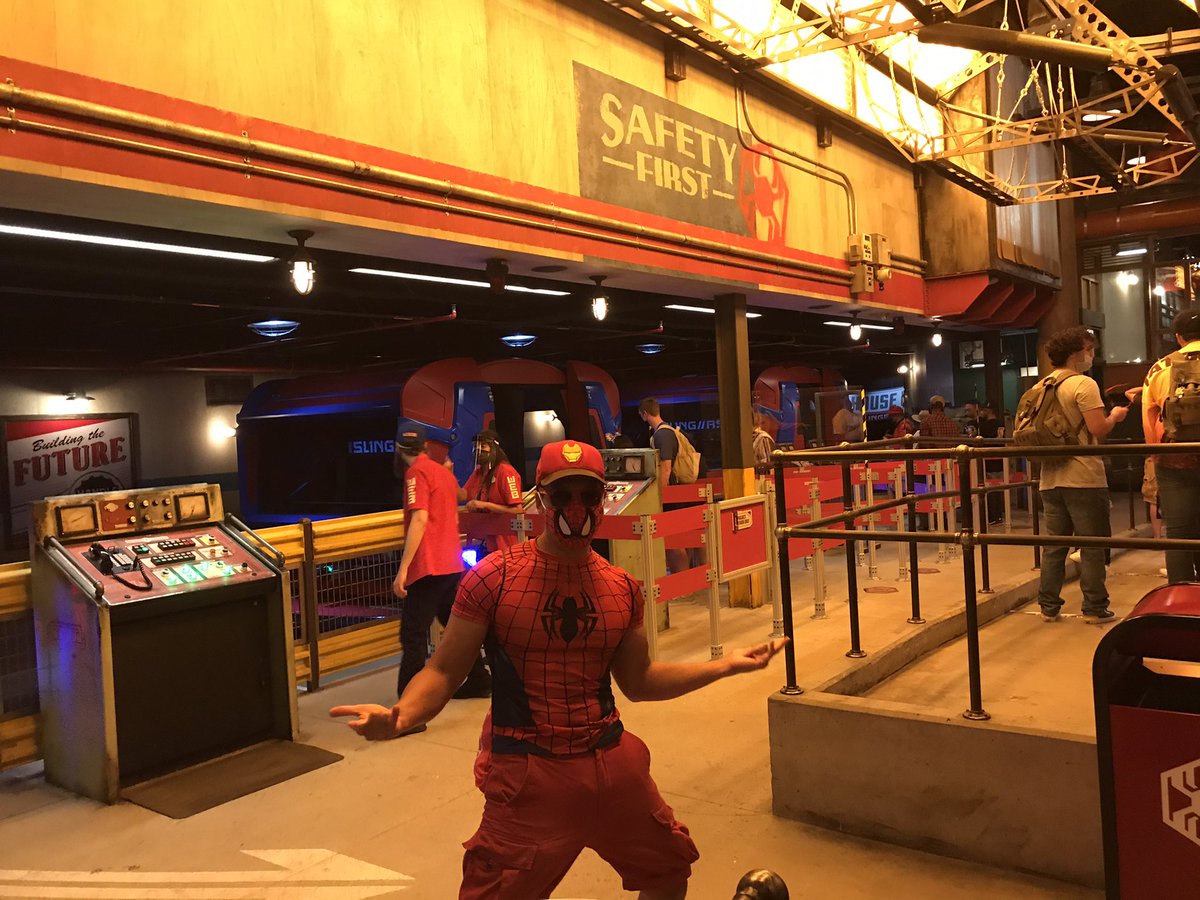 The ride is most like Toy Story Mania, where your car spins around to several scenes where you can shoot things. the main difference is there is no controller, just move your hands like your shooting webs like Spidey. Note: you don't have to do it palm up, with two middle fingers touching your palm like Spidey. You can also just waive your hands like you're throwing a baseball. But it's must more fun to do it like Spidey. Its a great workout! The only gear you need is 3D glasses.
And like Toy Story Mania, you rack up a score with your total displayed in your car at the end of the ride. The recent and day high scores are posted at the ride exit, and the gift shop across the street. Scores make the ride instantly repeatable.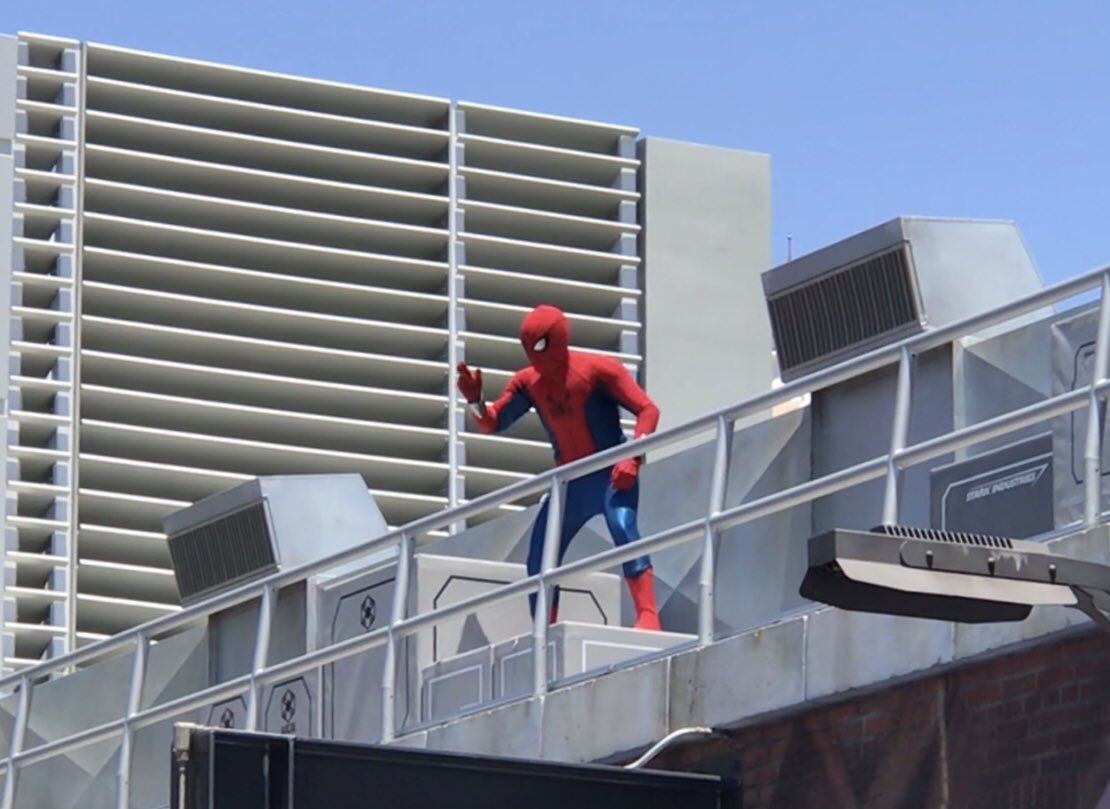 Like Toy Story Mania, there will surely be tricks and tips to get increase your score or unlock certain things, which will be discovered as more people do the ride.
Sadly, there's no photo opp that we saw during the ride. So you can take pics within your car. Or better yet, friends can take pics of you from the opposite car, like in Toy Story Mania.
At opening, due to covid safety, only one party of up to 3 or 4 people is allowed in each car. If you're going solo, you get a car to yourself. The hands-free no controller format also happens to be very covid friendly – less to touch.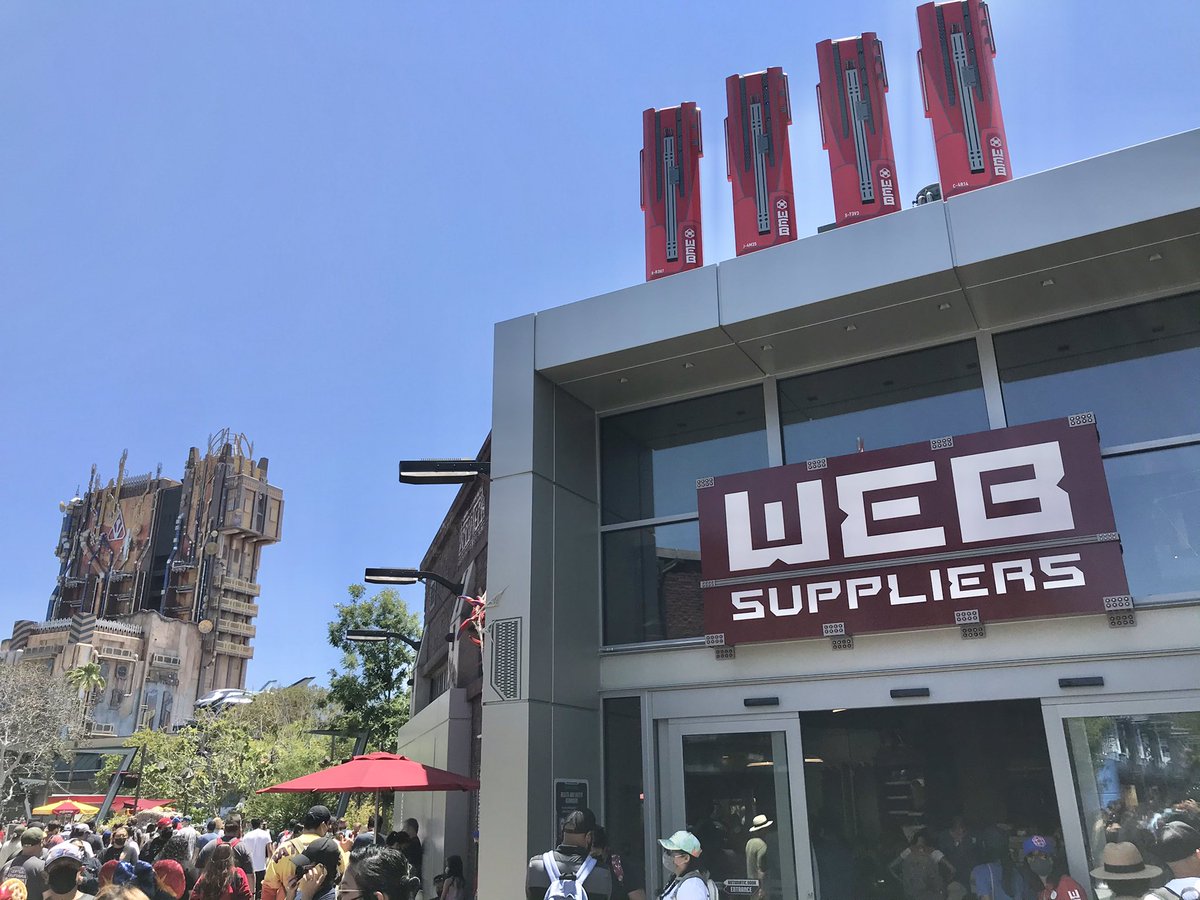 Web Slingers currently requires a virtual queue reservation; there is no standby line and no single rider line currently. You can try to get a reservation via the Disneyland app at 7am and 12pm, using the same techniques as Rise of the Resistance. Reservations are gone in a few seconds, so be sure to be somewhere with good cell service speed, refresh frequently, and hit the button exactly at 7a or 12pm. You can't have two virtual queue reservations at this time, so you will have to choose Web Slingers or Rise.
The Web Slingers gift shop WEB Suppliers sells clothing, Spider-Bots, gloves to tailor your web shooting to Iron Man repulser blatssa, and Funko Pops: Spider-Man and Iron Man.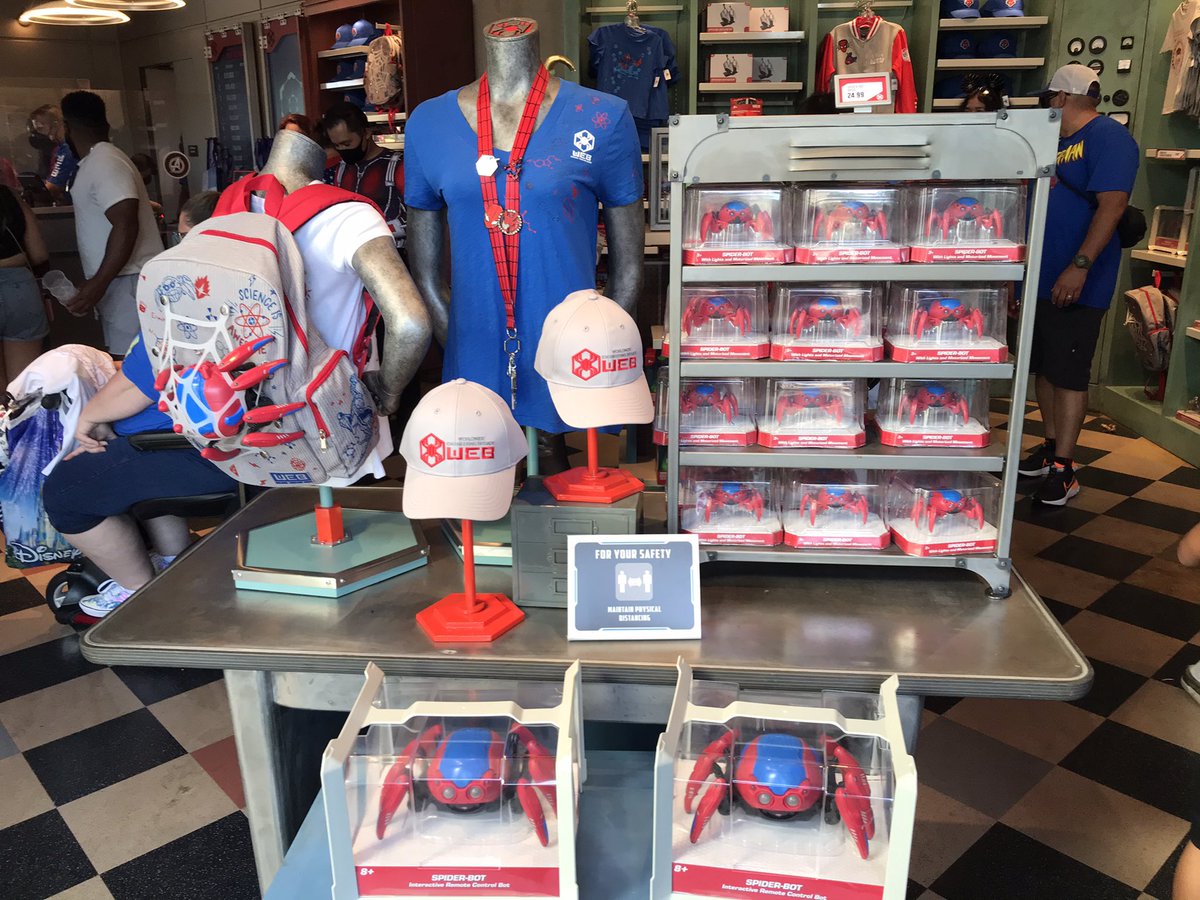 Guardians of the Galaxy: Mission Breakout
Guardians Breakout is the second ride in Avengers Campus. Rocket guides you on a breakout from the Collectors tower, in a multi-drop elevator that used be the Tower of Tower. It opened a few years ago, so so you can read reviews elsewhere.
On opening week, Guardians is only accessible via Avengers Campus, which has reduced the wait times. On opening day, our standby wait time for Guardians was only 20 minutes, when usually it's over an hour.
Doctor Strange Sanctorum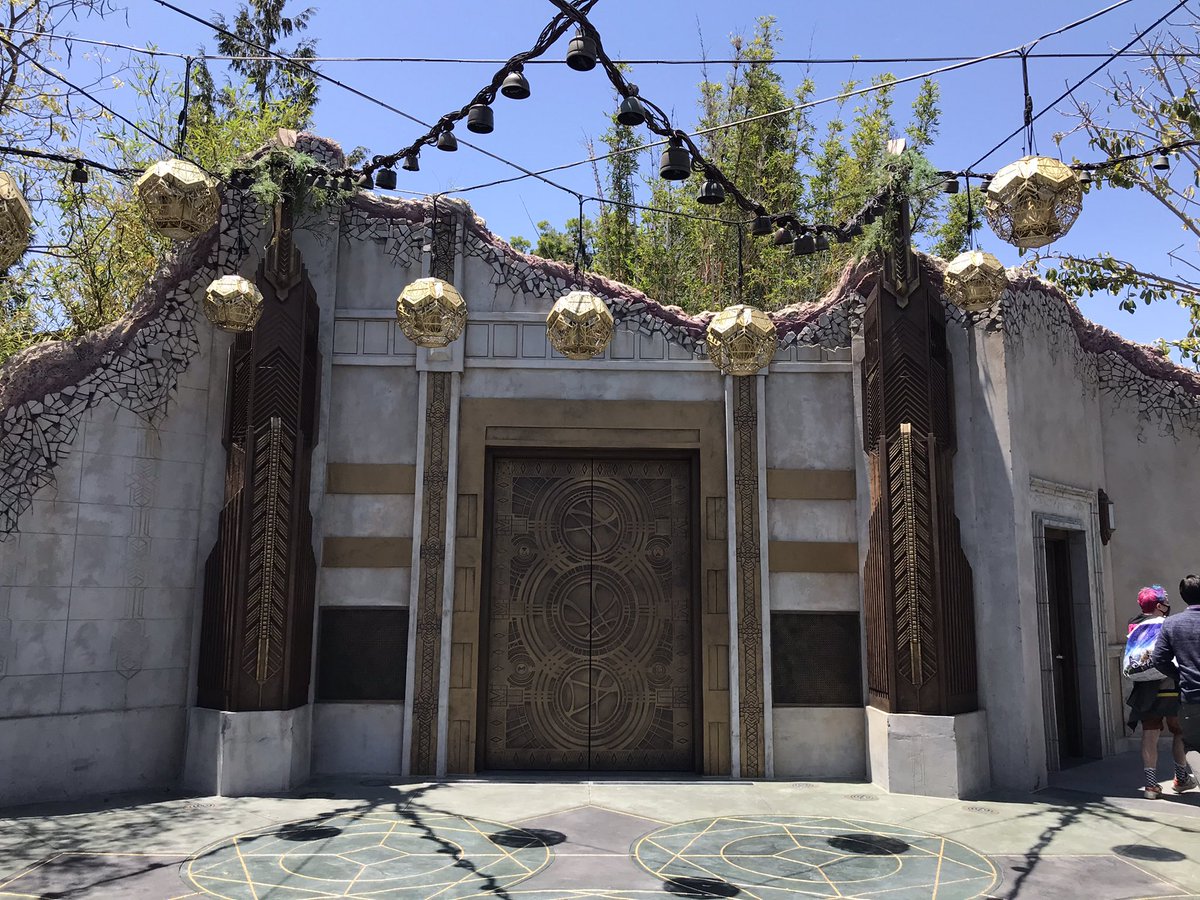 The Sanctorum isn't a ride; it's a mystic temple in the woods themed area with the following attractions:
Stage: Doctor Strange performs a 20 minute magic show, that will remind you of a close-up magic room at the Magic Castle. He makes a mask appear to float from a sheet, and pulls a large staff out of a small pot. He asks for the audience assistance to recall an Avenger (Thor who makes an appearance), and help defeat Dormammu. The shows started around sunset on opening day, perhaps because there are lantern lighting effects and a digital dimensional door that look cooler at night.
Illusion Floor: At this illusion floor, you can take a photo opp where it looks like the floor is warping beneath you into a dimension-warping drain.
Mystic Crystal: This huge Dungeons and Dragons die made of semi-mirrored surfaces lights up at night, so you can take photos and in the mirrored surfaces and make it look like you're Doctor Strange doing music.
Restaurants and Food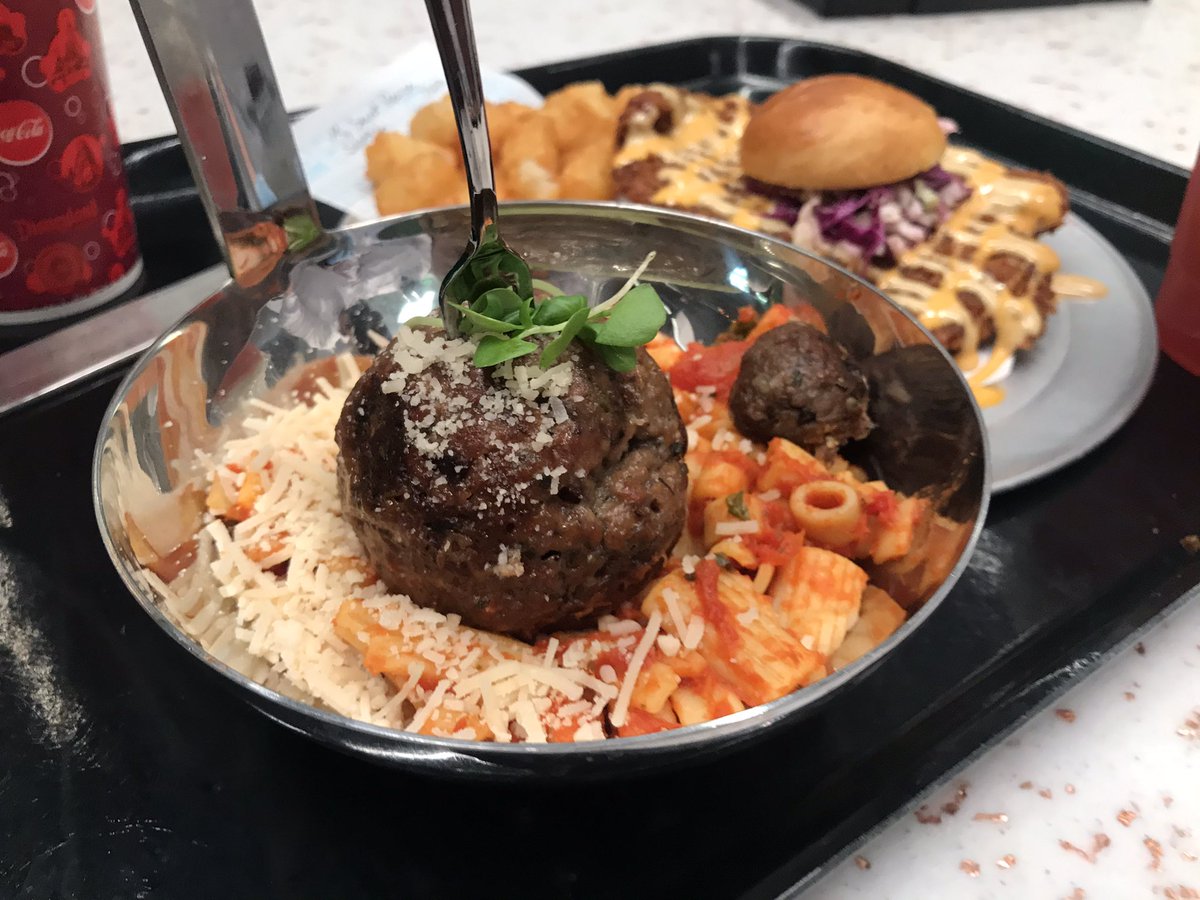 There are three main food options: Pym Test Kitchen, two ShaWarma carts, and Terran Treats, plus some popcorn and soda carts.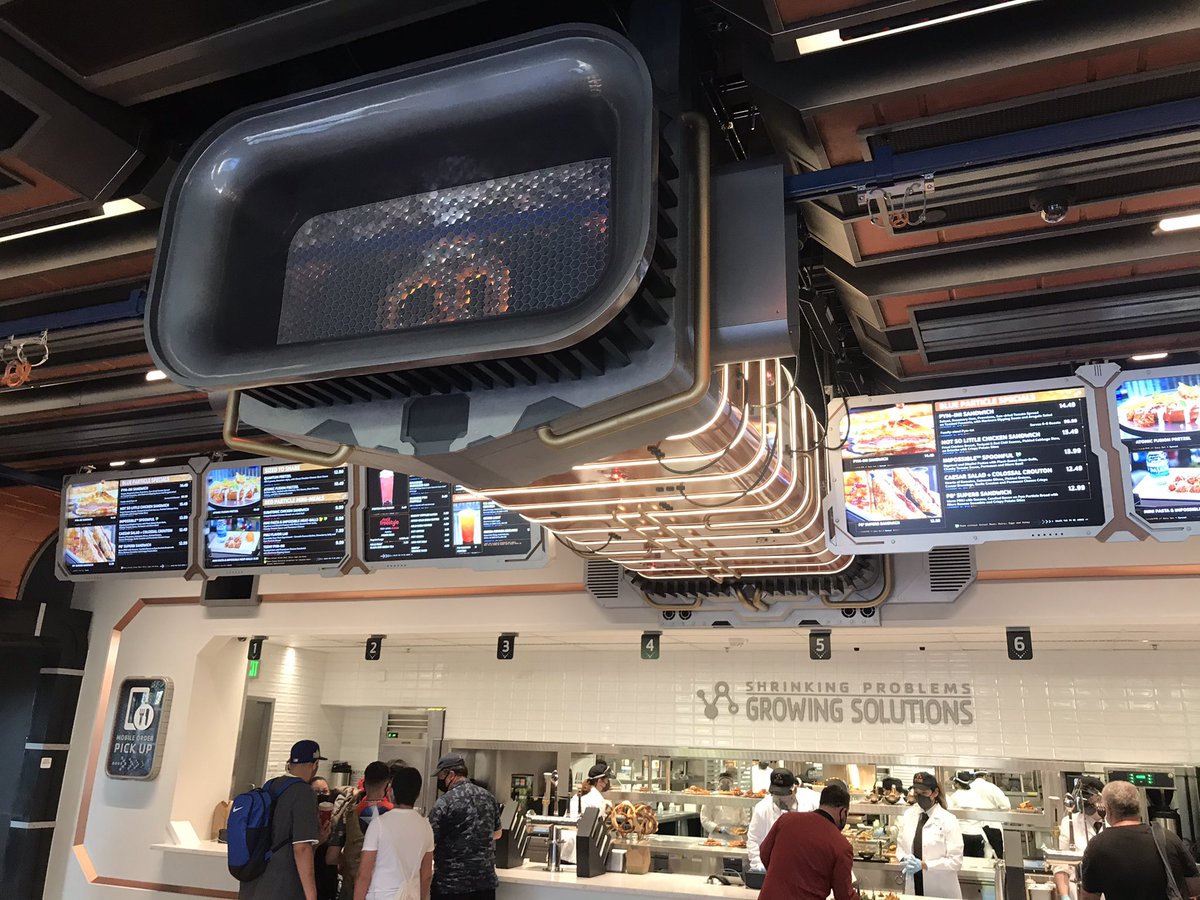 Pym Test Kitchen plays with food sizes, as you'd expect from the Ant-Man movies. It also has a lab theme, with the microverse transporter from Luis van at the pickup counter. We tried the:
Not So Little Chicken Sandwich is a double-sized fried chicken patty on a slider bun with teriyaki sauce and cole slaw. It's yummy and a good photo opps. It comes with tater tots, but you can try to sub a small salad if you ask nicely.
Impossible Meatball is one huge vegan meatball with pasta in a big twisted spoon. Tasty and also visually appealing.
Choco-Bar is a HUGE chocolate bar including chocolate, caramel, and nougat. It tastes somewhat like a cross between a Milky Way with caramel, or a 1000 Bar without crispy/nuts. It's so big, it can be cut to serve 3-4 people.
PB&J Punch is a pink strawberry punch with whipped cream, sprinkled with a few crunch peanut butter balls on top. It looks fun to photograph or Instagram, but is SUPER SWEET. I had to pour half of the punch in the trash, and dilute it with a small cup of water. Think of it as concentrate: buy one and split it with 3-4 friends, pouring some into their cups of water to dilute it.
Bar/ Alcoholic Drinks: You can also order several alcoholic drinks and a flight board, you get to keep the cups and bored!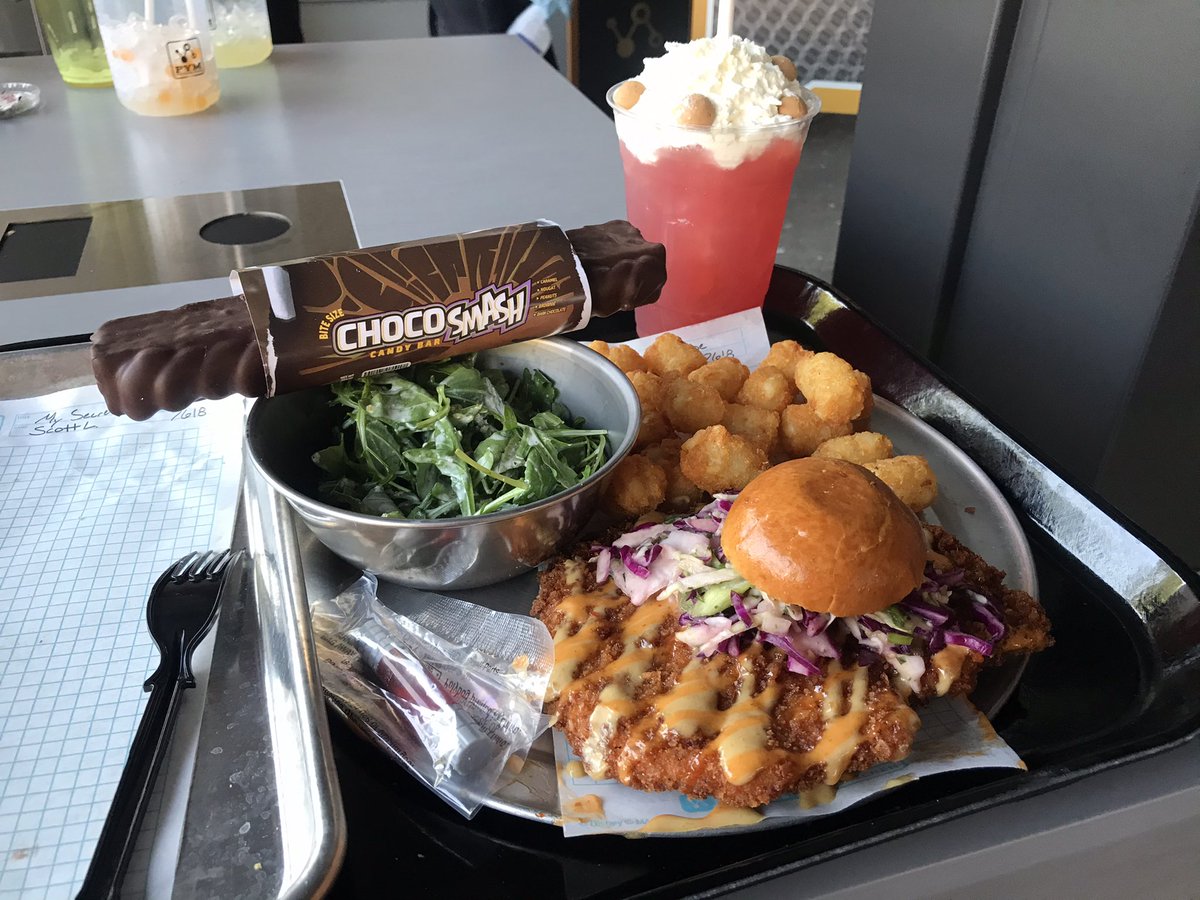 ShAwarma cart. There are two shawarma carts, a nice ode to the first Avengers movie where the exhausted team eats shawarma recovering from the Battle of New York. The two carts are in the HQ plaza area, and another one by the Hyperion theater.
Chicken Shwarman was tasty, with a tangy tzaziki sauce with tomatoes and dill
Impossible Shawarma for vegans
Iron Man Infinity Glove beverage holder also sold here. It holds your beverage AND the infinity stones light up at night!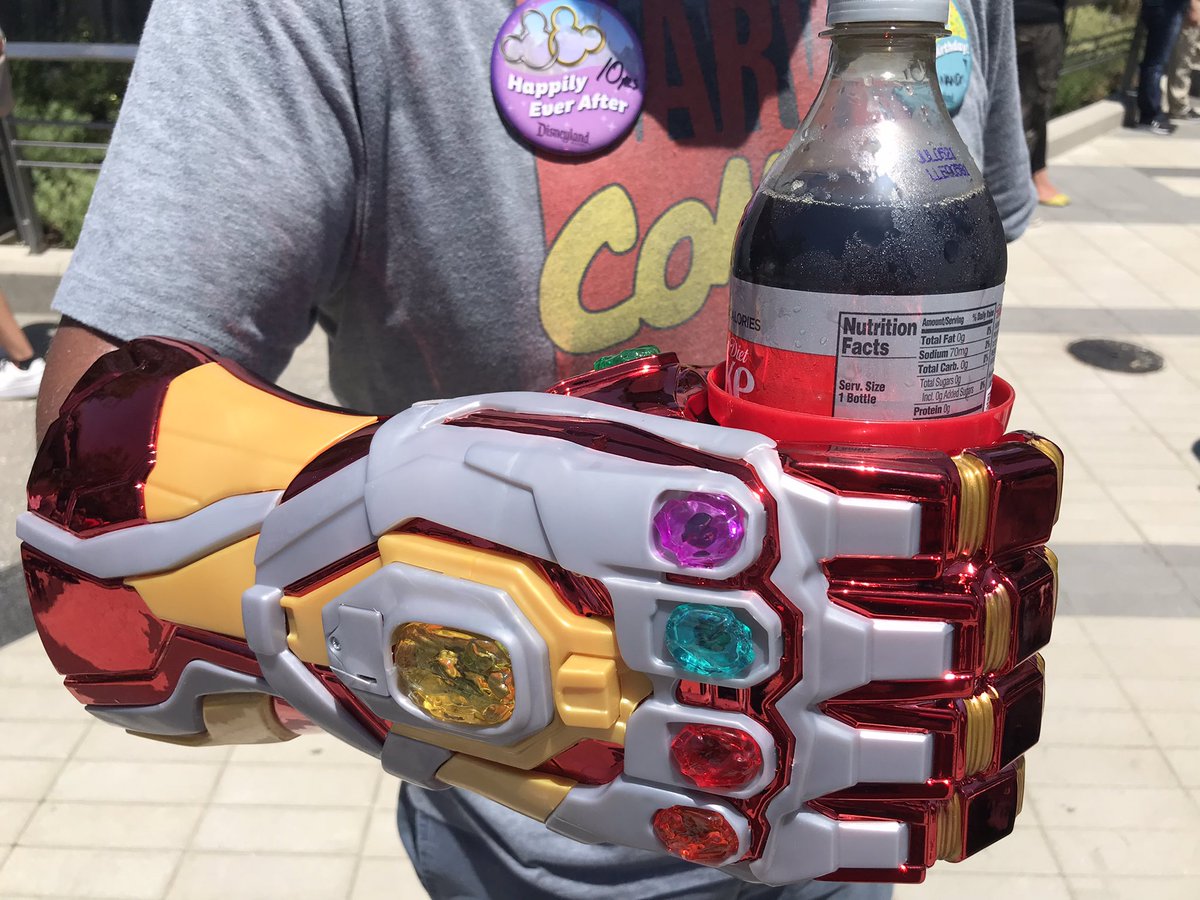 Terran Treats by the Guardians Breakout ride sells a green pineapple bun, and a purple raspberry cream filled bun. Think of it as a cosmic donut cart.
Characters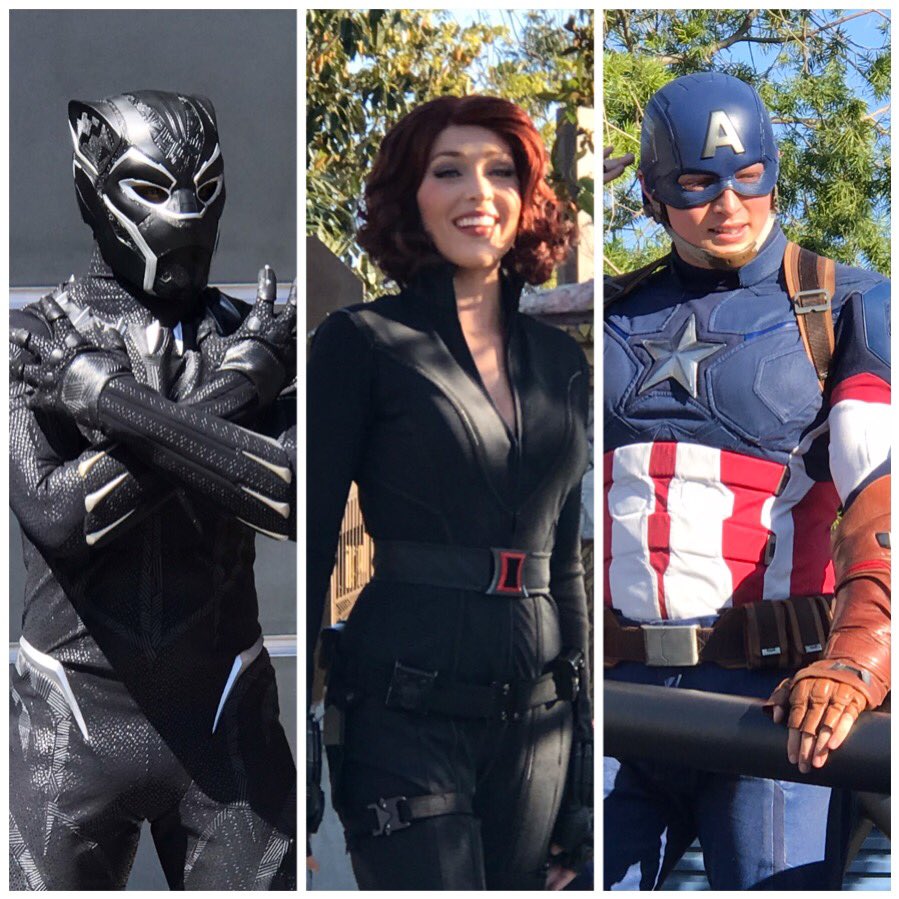 Avengers characters strolling around are one of the highlights of Avengers Campus. They are in character, and talk to to guests and visitors, completely in character. They make the place feel alive and vibrant.
The characters perform in stunt shows, and appear on raised platforms for 20 minutes randomly around the park: on the seating benches, the Avengers jeep, by the A under the Quintet. Photos are all currently distance photos and selfies, with the character posing on the raised stage or jeep, with the guest more than six feet away below. Sometimes there are lines, like for Spider-Man after his stunt show. And sometimes, there aren't, like when characters randomly appear for 20 minutes.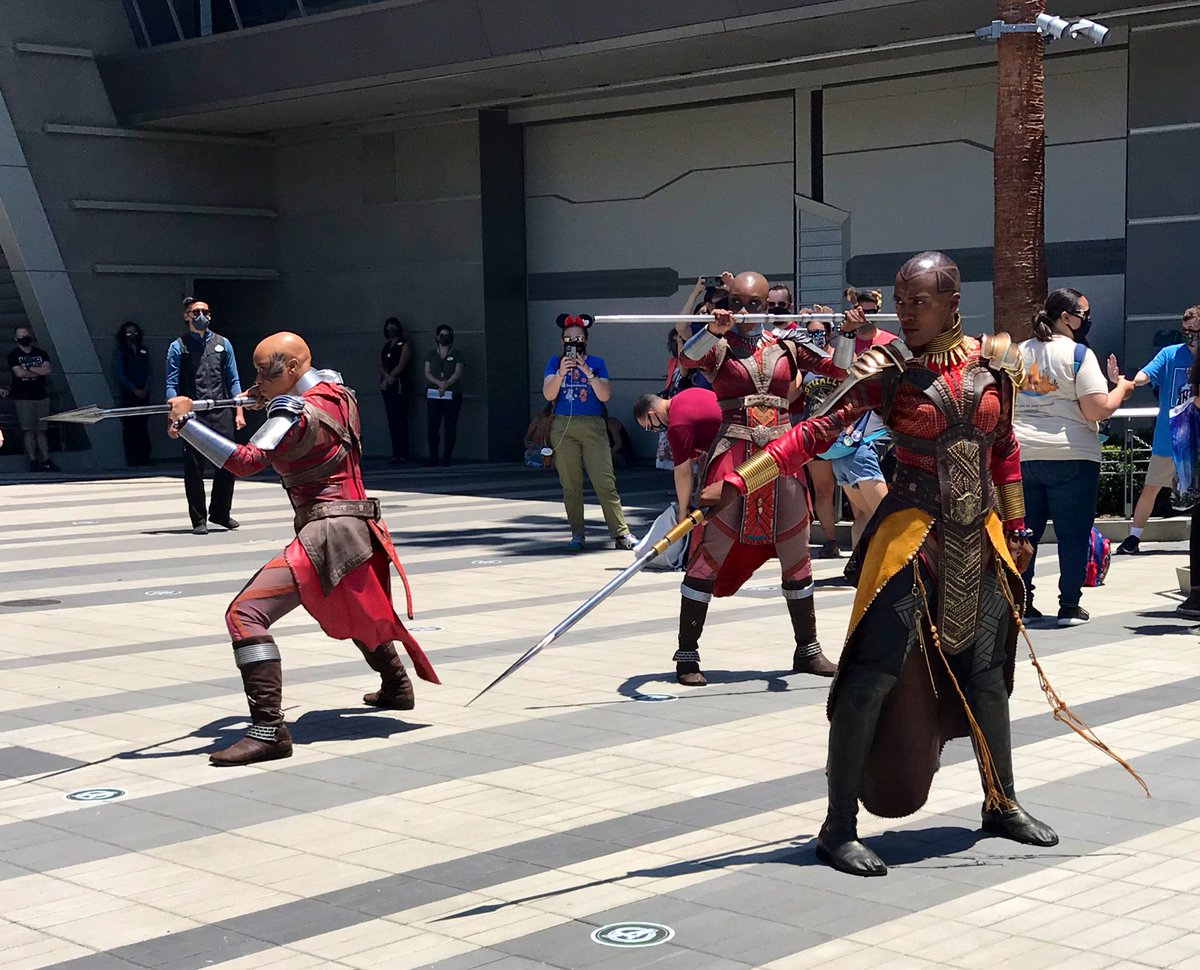 Character Experiences and Stunt Shows: 
Spider-Man performs a short stunt show every 30 min on top of the WEB building. The highlight is his animatronic stunt double that swing high in the air with many oohs and aaahss. You can take a distance pic with Spidey after the show.
Black Widow and Black Panther battle Task Master on the second floor of the Avengers HQ building. There is some cool action, but it's difficult to see what's going on with the ledge and railing in the way. Perhaps this show was initially supposed to be on the ground or somewhere else easier to view, but covid moved it to the balcony?
Okoye's Wakanda Warrior Training: The Okoye actress is excellent, and leads a group in warrior training with the help of two dora milage. She teaches some spear fighting moves, a dance, and some Wakanda words. (Guests don't get spears!)
StarLord and Gamora Dance Off. Not a stunt show, StarLord and Gamora lead an audience dance off. This is the same experience that has been at Guardians Breakout for years.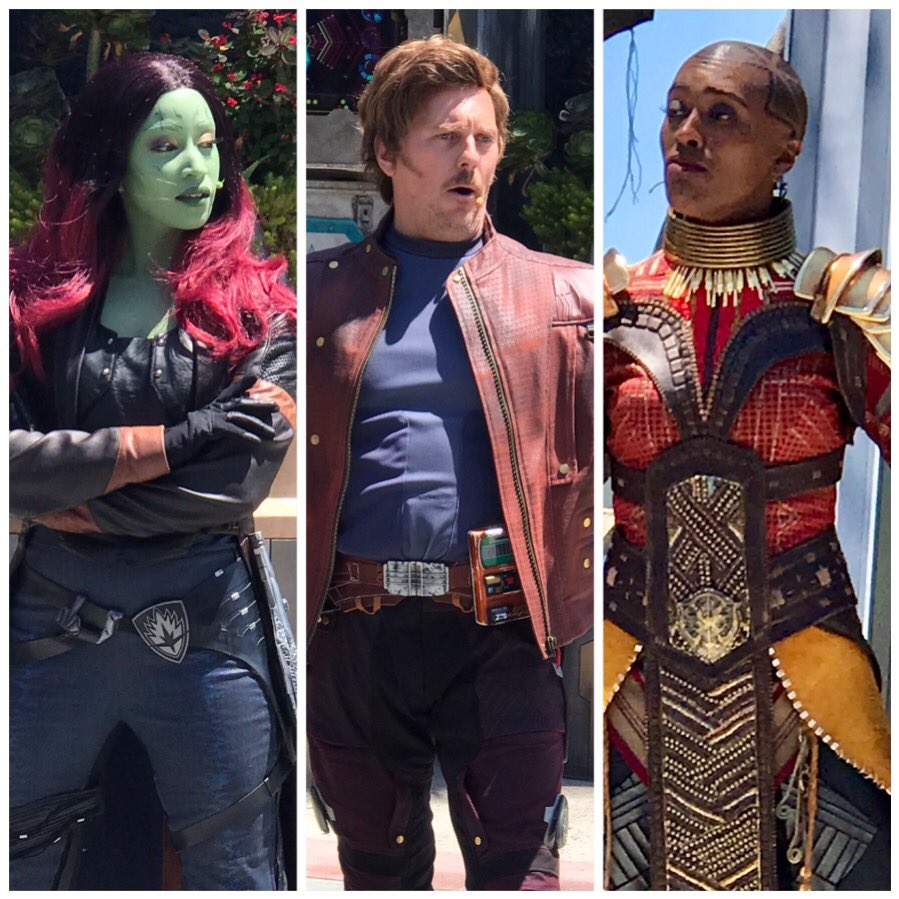 List of Characters
On opening day, we spotted 15 characters in Avengers Campus! This could change in the future.
Steve Captain America, Sam Captain America, Black Widow, Black Panther, Okoye and two dora milage, Thor and Loki, Antman and Wasp, Captain Marvel, Iron Man appear on and around the Avengers HQ building and main plaza:
Spider-Man appears atop and by the WEB Slingers building at the main entrance.
Doctor Strange appears in his magic show at the Sanctorum, typically at night. Doesn't really seem to pose for pics.
StarLord and Gamora do their dance-off by Mission Breakout. Also don't really pose for pics.
Star Wars Galaxy's Edge should take some notes and add more characters. Batuu has Rey, Chewie, Vi, Kylo, and Stormtroopers about five. Avengers Campus had a dozen on opening day.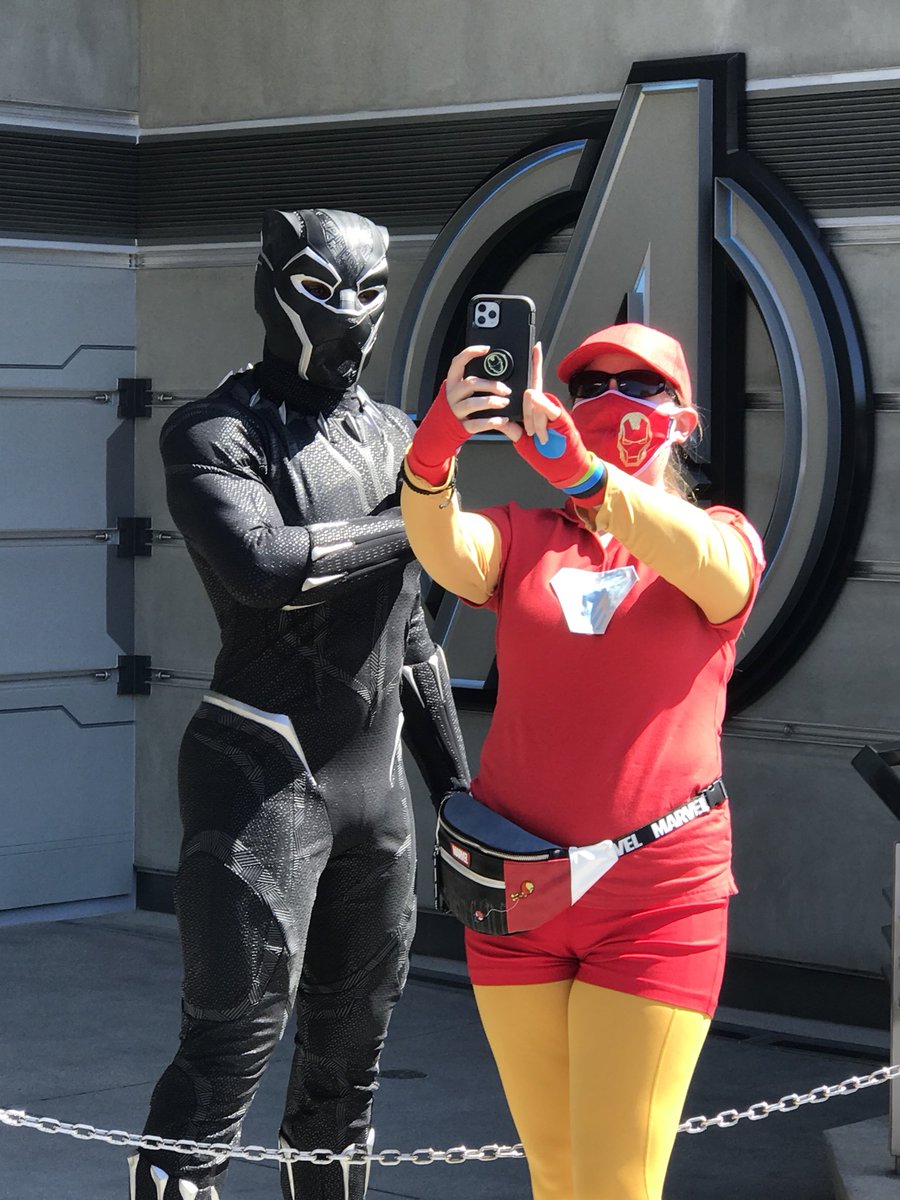 Tips to Get Into Avengers Campus 
During opening, there are two ways to get in.
Web Slingers Boarding pass is like the VIP ticket to get in. If you have a Disney California Adventure park ticket AND a reservation, you can log on via the Disneyland app to try to score a boarding pass at 7am and 12p every day. You can try to get the 7a boarding pass from anywhere: at the park, Downtown Disney, your home, the airport before your flight to SoCal, etc. Pick a place with good cell reception, as you're competing with thousands of other people. The passes are gone in a few seconds. Good luck! If you're lucky / skilled enough to get a Boarding Pass, you can skip the line to get into Avengers Campus by just showing your Web Slingers Boarding Pass when your boarding group is called.
Long Line. If you don't get a boarding pass, you'll have to wait in the line for Avengers Campus. On opening weekend, the social distance line was three to five hours long. It snaked from Avengers Campus main entrance around Hollywood land, and then all around Paradise Pier.
Early Line up Before Park Opens. Some people arrive early like 5-6a to wait in the line outside of the park to be the first ones in DCA and Avengers Campus. But you're still waiting in line a few hours, just in the early am when it's dark and cold and nothing's open. Up to you whether you want to wait 2-3 hours before open or inside the park.
Food Mobile Order: Placing a mobile food order from Pym Test Kitchen or the ShAwarma seemed to suffice to let some people into Avegners Campus  on opening day, but it's not clear if this still works. Try booking a mobile order as soon as you enter DCA to see.
Improvement Ideas
Overall, Avengers Campus is a blast for Marvel fans, and casual fans. However, some people have said there could be improvements.
More Wow Factor. Disneyland is known for its magic WOW factor. These can be amazing sets, rides, character and cast member interactions, and random spontaneous surprises. In Cars Land, it's walking down main street seeing the cliffs, and riding Radiator Springs. In Batuu, it's seeing and riding the Falcon, meeting Rey or Kylo, making a lightsaber, and the entire Rise of the Resistance Ride. In Avengers Campus, it's seeing the Avengers HQ with Quintet framed by Guardians tower, Web Slingers ride, seeing Spider-Man animatronic flip, and meeting characters. However, some have said that with more than 23 Marvel movies over a decade, to draw from including superhero battles, time-traveling, dimension-hopping, and more, that there should be more Marvel action, spectacle, and VFX than seeing an animatronic Spidey flip. They feel the current Avengers Campus is Avengers Lite. Hopefully the announced but not yet open Quinjet ride will help.
More Food Options. Pym Test Kitchen is amazing and fun, but was completely booked up on opening weekend. Only other options are the ShAwarma carts, Terran Treats cartt, or popcorn or ice cream carts. Could definitely use an additional food option or cart.
Reservations to Enter. When Star Wars Galaxy's Edge opened, there was a reservation system, avoiding long lies to get in. Guests made timed reservations for three different entrances, and picked one of three 4-hour time slots with colored wristbands to be in Battu: 8a-12p, 12-4p and 4-8p. If you stayed in Batuu past your 4 hour window, you couldn't enter rides or shops cuz you had the wrong color wristband. Avengers Campus could've done some sort of rez system to get in.
Characters: WHERE IS WANDA!!!??? With WandaVision's success, Wanda and Vision are extremely popular now. But Wanda and Vision have no presence in the park – no characters, and couldn't even find a T-shirt. It would be relatively easy to hire a Wanda character to appear on the park, and maybe even do some sort of Wanda magic demonstration with projection screen and lighting effects.
Merchandise. While there's lots of WEB Slinger and Avengers merch, there's surprisingly few costume themed T-shirts or accessories. Would be great to buy Wanda's headband, Avengers themed face masks, Cap's shield here.