Awards Season is back, and once again, we highlight digital nominees and winners at Hollywood Awards, especially focusing on digital animation, VFX, sound, and more.
If you'd like to us to cover your awards show, email info@digitalla.net.
Golden Globes
@GoldenGlobes #GoldenGlobes
January 9 @ Beverly Hilton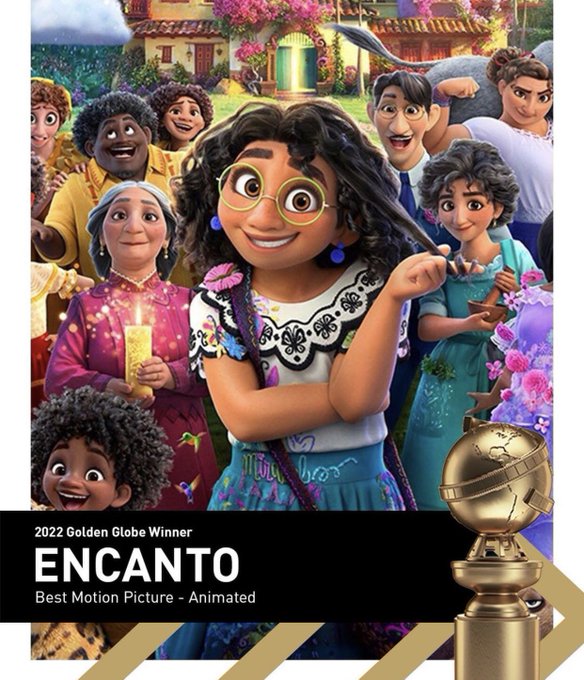 The Globes was  a private HPFA and friends only event, without livestream, celebs, nor outside press due to Covid restrictions and controversy over HPFA's lack of diversity and questionable travel expenses and gifts received.
Animated Film: Encanto
Disney's Encanto won best Animated Film. The colorful film about a magical multigenerational family with superpowers in Colombia features amazing animation dance choreography, memorable songs, and beautiful sets.
Other nominees were: Raya and the Last Dragon (Disney), Luca (Pixar), Flee (Neon), and My Sunny Maad (Totem Films).
---
Art Directors Guild Awards
@ADG800 #ADGawards

---
ACE Eddies Awards
@ACEFilmEditors #ACEeddies

---
Producers Guild Awards
@ProducersGuild #PGAwards

---
Writers Guild Awards
@WGAwest #WGAawards
---
Motion Picture Sound Editors Awards
@MPSEorg #MPSEawards

---
Makeup and Hair Stylists Awards
@local_706 #MUAHSawards

---
GRAMMYs
@RecordingAcad #GRAMMYs

---
SciTech Awards
@TheAcademy #SciTechawards

---
ASC Cinematographers Awards
@AmericanCine #ASCawards

---
Annie Awards
@AnnieAwards #AnnieAwards

---
DGA Awards
@DirectorsGuild #DGAawards
---
Peoples Choice Awards
@PeoplesChoice #PCAs

---
Tech Emmys
@theEmmys #TechEmmys