Artist Em Rossi, who started on the Smule music app, headlined our third virtual Digital LA Stay-at-Home Band Jam with Planet LA Records among 10 indie bands on April 11.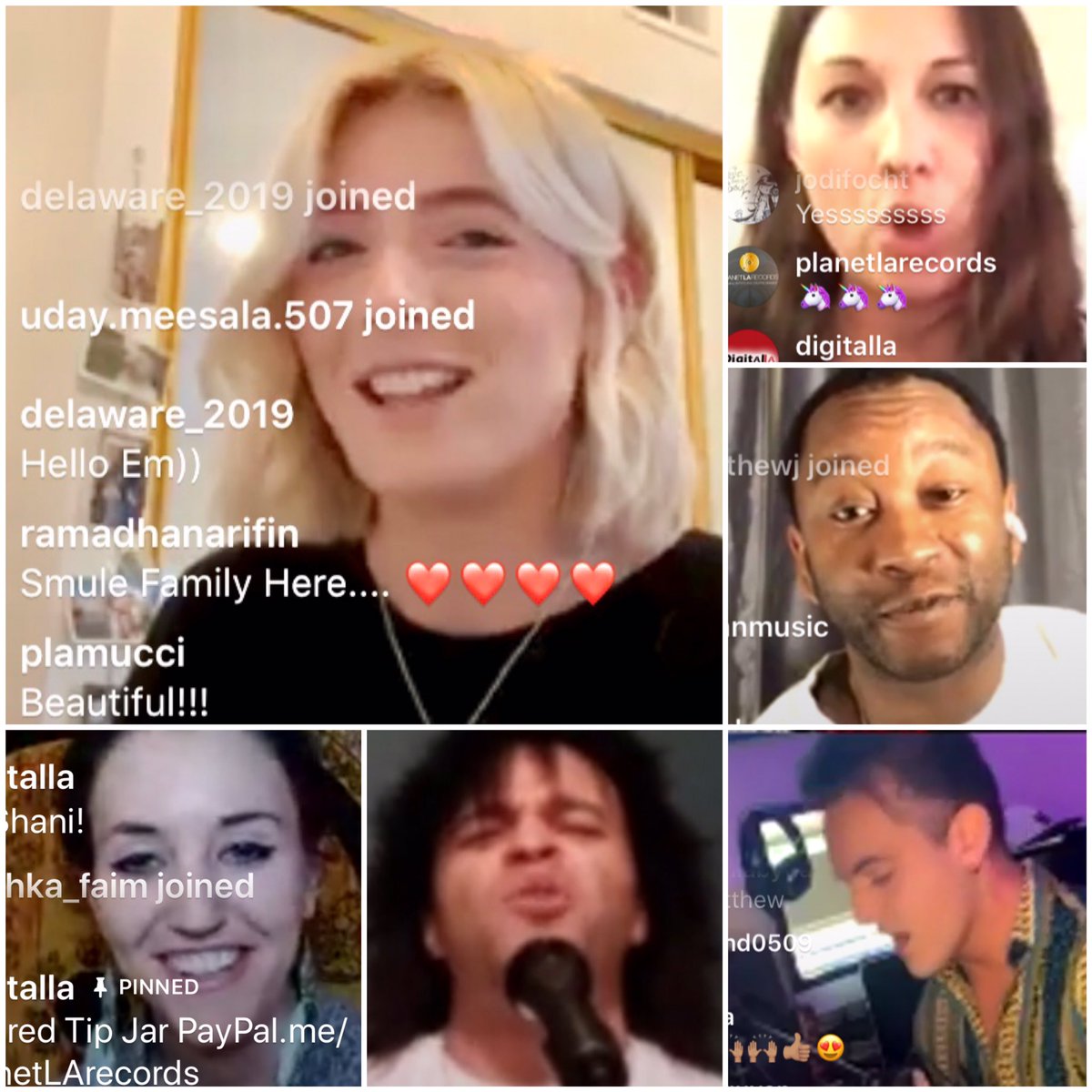 The virtual event encourages artists and viewers to stay at home during quarantine to play and watch the three-hour show via Instagram live @DigitalLA and @PlanetLArecords.
Em Rossi started the show. Her career is a perfect digital music success story. She started her career performing on the Smule music app. In addition to performing her music, she also connected and chatted with her fans, and grew her fanbase. She recently signed with Sony Music out of Germany.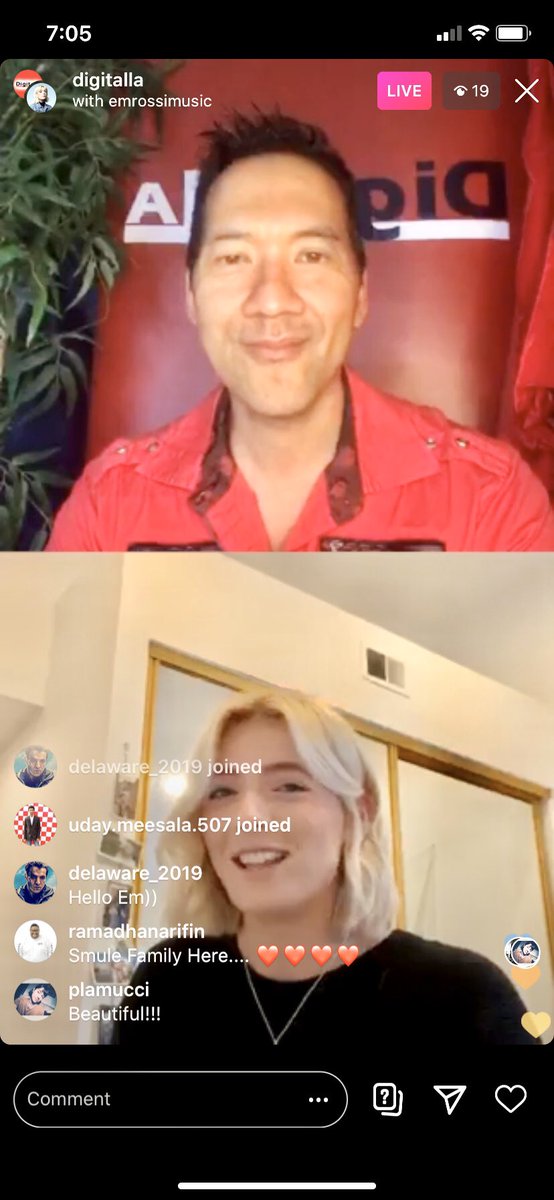 Other artists with digital beginnings include Justin Bieber (YouTube) and Lil Nas X (TikTok).
On the livestream, Em described how she started, engages with fans, and wrote songs about her parents meetings. She performed "In the Middle" and other fan favorites.
Her fans cheered her on in the Instagram Live chat, from LA to NY and Indonesia.
Other bands performing included:
Jane and The Jungle: Jane's passion and energy came through on the livesteam, with lots of emoji applause and rock-out emojis.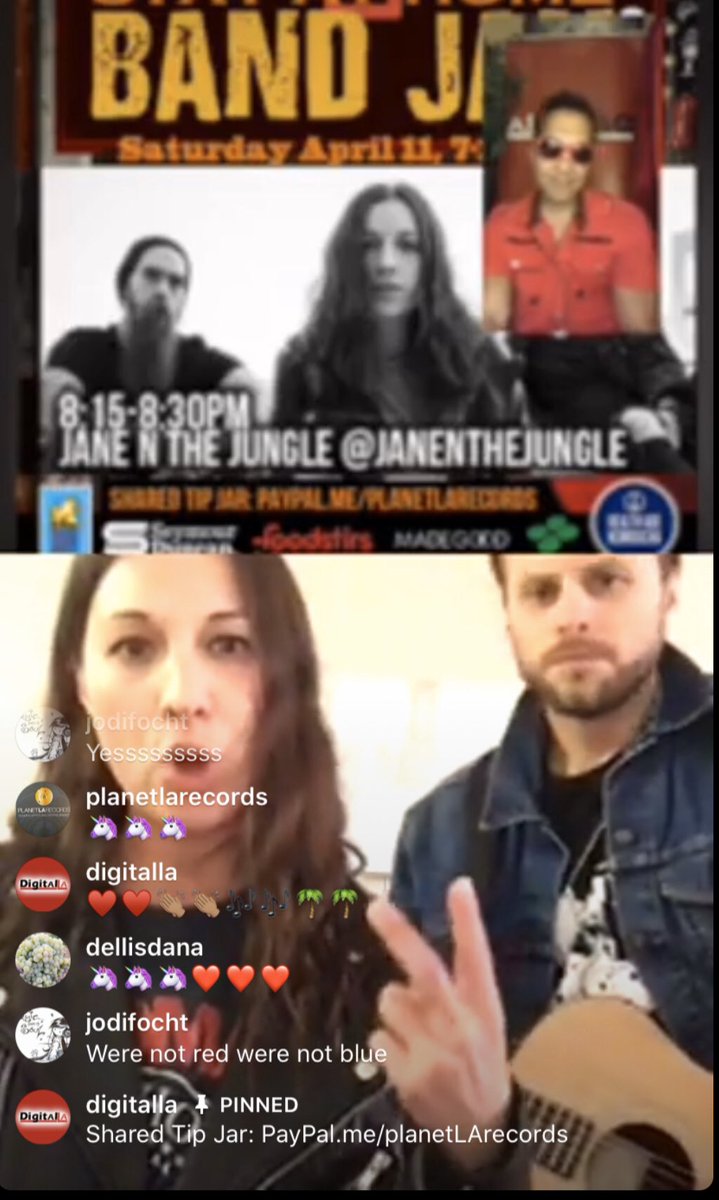 Artists Sami Freeman described how she is adapting to performing in the pandemic.
"Performances these days are strange for artists," Sami said. "Our audience only exists virtually. On each end of the phone, we strive to feel something bigger, something a little more human. Thank you for showing up and giving us a chance to try."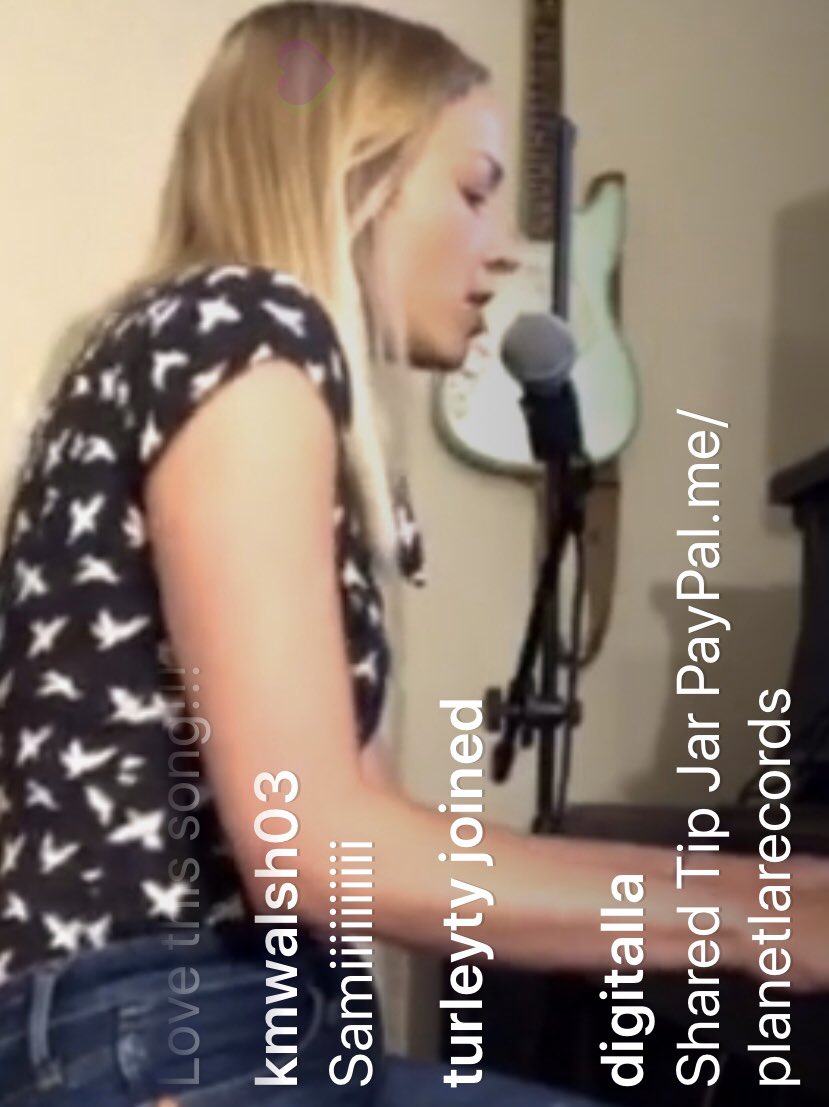 Matthew James played keyboard and sang for his set.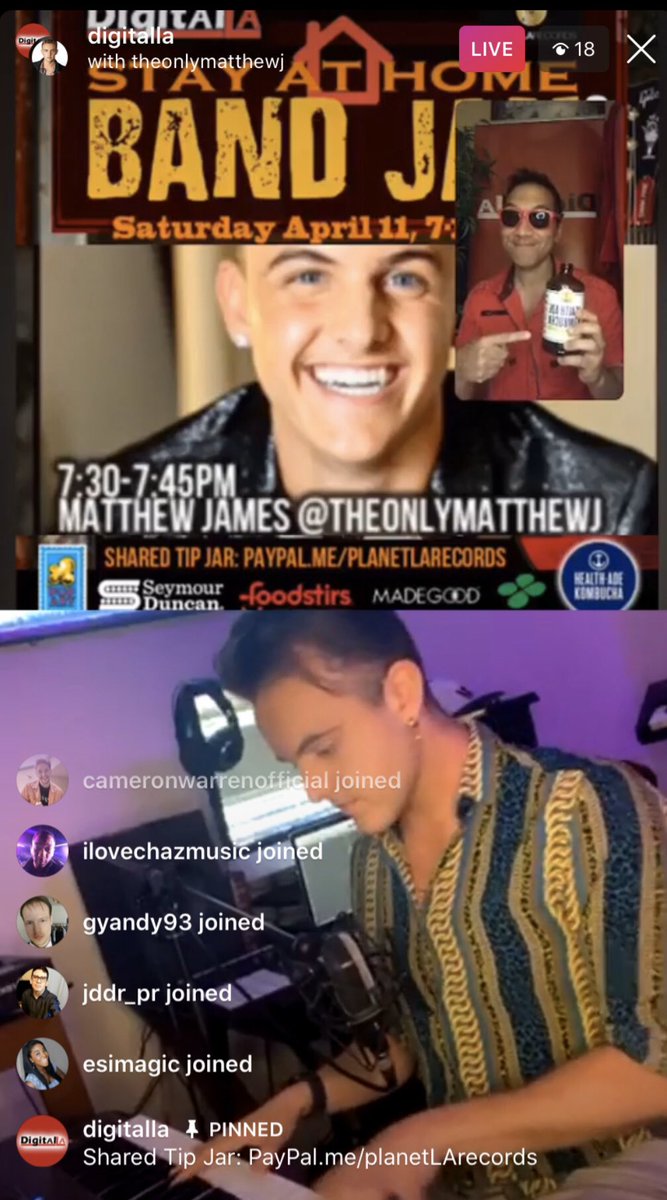 The online event was held on the fourth weekend of the Los Angeles quarantine lockdown.
The artists performed 3-4 songs each in their 15 minute sets with hosts Kevin Winston of Digital LA and Mark Nguyen of Planet LA Records. Hosts used Instagram Live split screen to  host and switch to other artists.
A pinned Shared Tip Jar asked viewers to tip the artists at PayPal.me/PlanetLArecords.
Artists appreciated the chance to perform live with other artists.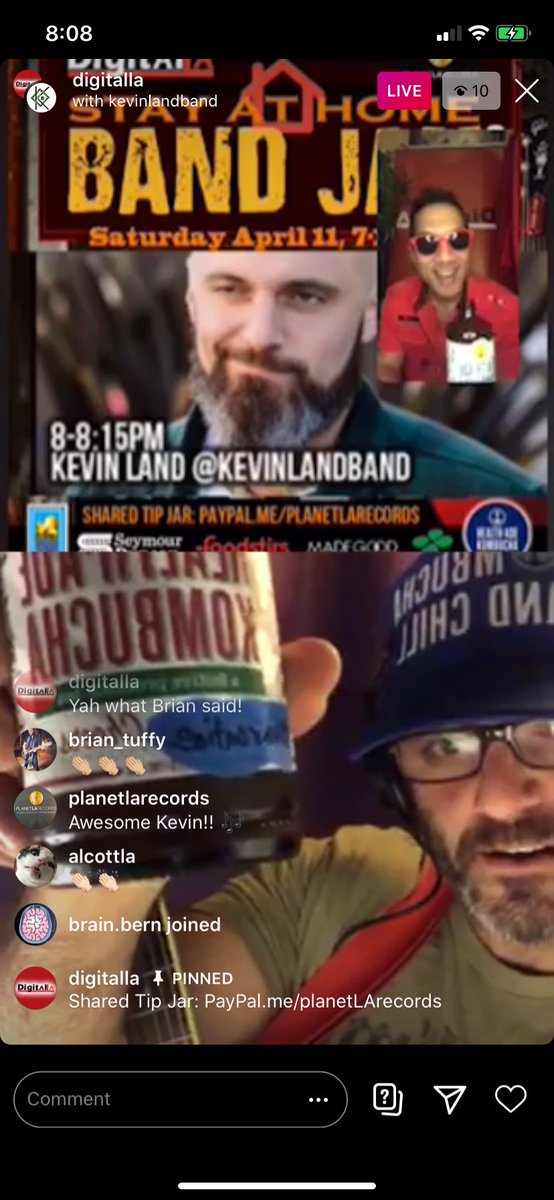 Sponsors Support
Several sponsors supported the event. Seymour Duncan which creates musical instrument products sponsored. Food sponsors supported the event by providing snacks to the artists, including Health-Ade kombucha, Foodstirs (brownie bites), Teas Tea (flavored bottle tea), and Made Good (granola mini bites).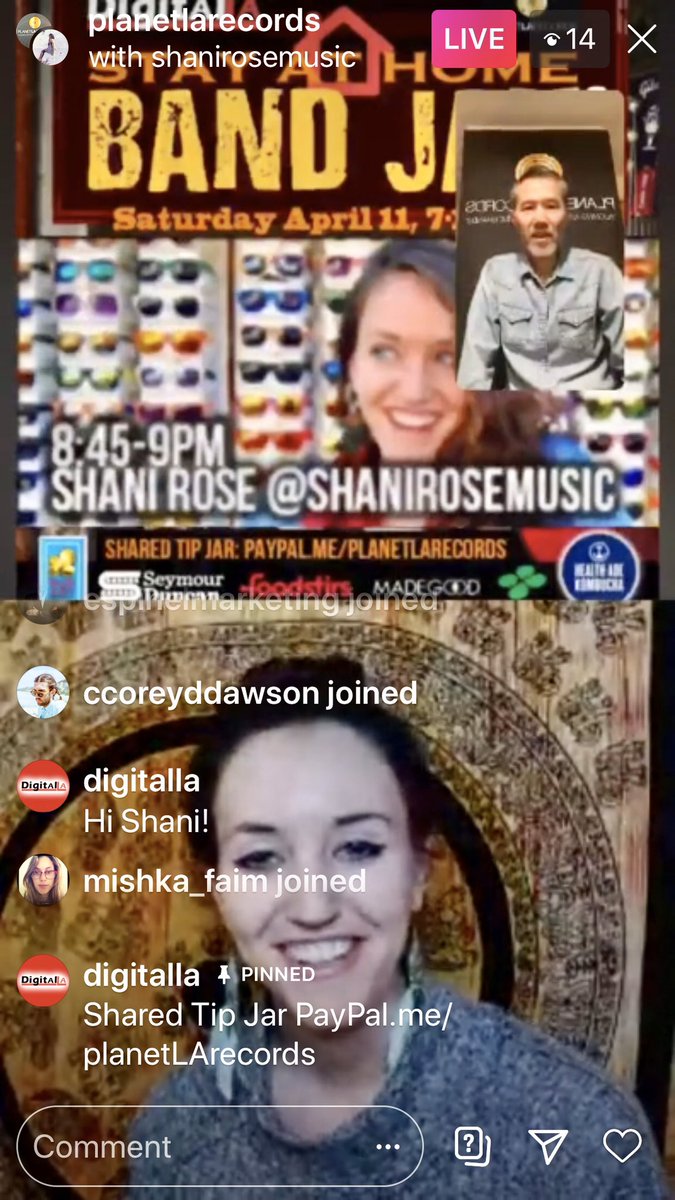 With offline events and activations canceled, brands who want to reach consumers are moving online, in more creative ways than just increased banner and Facebook ads to stand out.
Supporting online music lifestreams reaching their target demos is a natural fit with several touchpoints.
During the livestream, each artist had a title graphic including an area for sponsors logos, persistent on screen during the show and in screenshots. This persistent branding is better than an offline stage show, where if the logo isn't on the stage banners, it doesn't show up in any photos.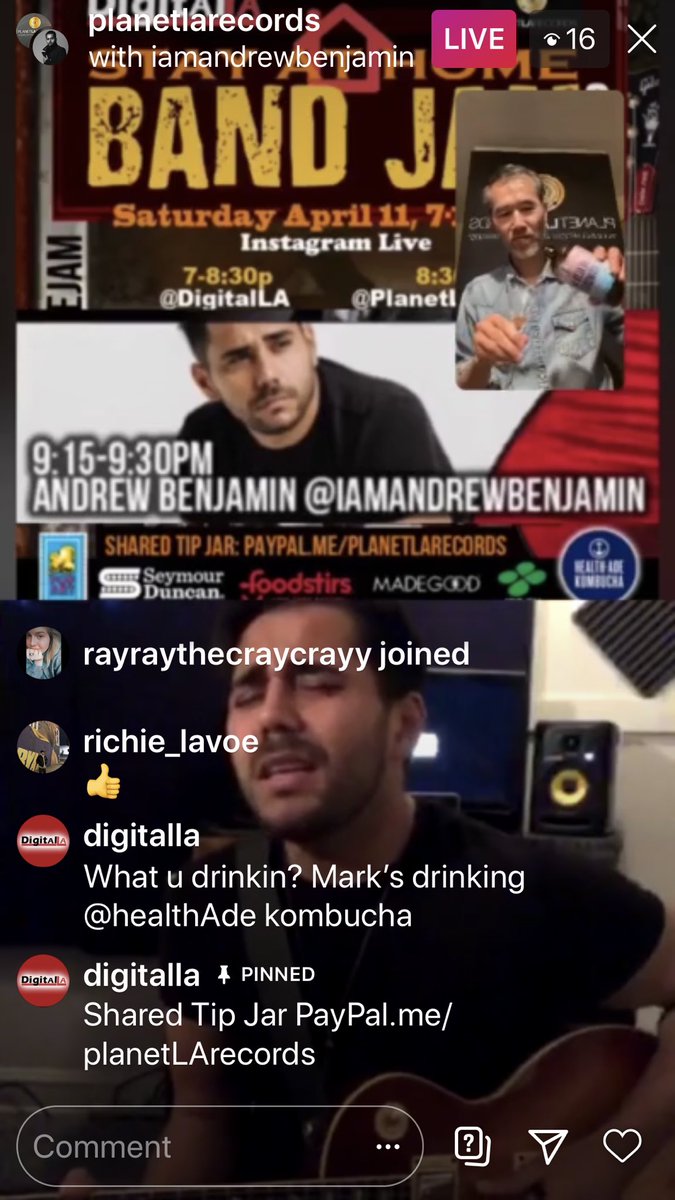 The artists, Digital LA, and Planet LA records promoted the event and thanked the sponsors both before and after the event on their Instagram Live, Instagram stories, and Instagram posts, as well as their Twitter, Facebook, and other social media.
If you're interested in providing food product for artists or sponsorship of an upcoming Band Jam, email info@digitalla.net with BAND as subject.
Series: This third Band Jam kicks off a Saturday night series through April. Our next Stay-At-Home Band Jam will be April 18.
Thanks to the artists and Planet LA. Follow them on Instagram
7-8:30pm @DigitalLA Instagram
7-7:30pm:  Em Rossi @emrossimusic
7:30-7:45pm:  Matthew James @theonlymatthewj
7:45-8pm:  Chaz Mason @ilovechazmusic
8-8:15pm:  Kevin Land @kevinlandband
8:15-8:30pm:  Jane N The Jungle @janenthejungle
8:30-10pm @PlanetLA Records Instagram
8:30-8:45pm:  Sami Freeman @samifreemanmusic
8:45-9pm:  Shani Rose @shanirosemusic
9-9:15pm:  Cory Cooper @corycoopermusic
9:15-9:30pm: Andrew Benjamin @iamandrewbenjamin
9:30-10pm:  Brothers Landau @brotherslandau