The industry's first panel featured black speakers from DreamWorks, Hulu, and more, discussed their career paths, black representation, tech tools, and adapting to pandemic at our inspiring Digital LA –  Black VFX / Animators panel via Zoom. Watch the video.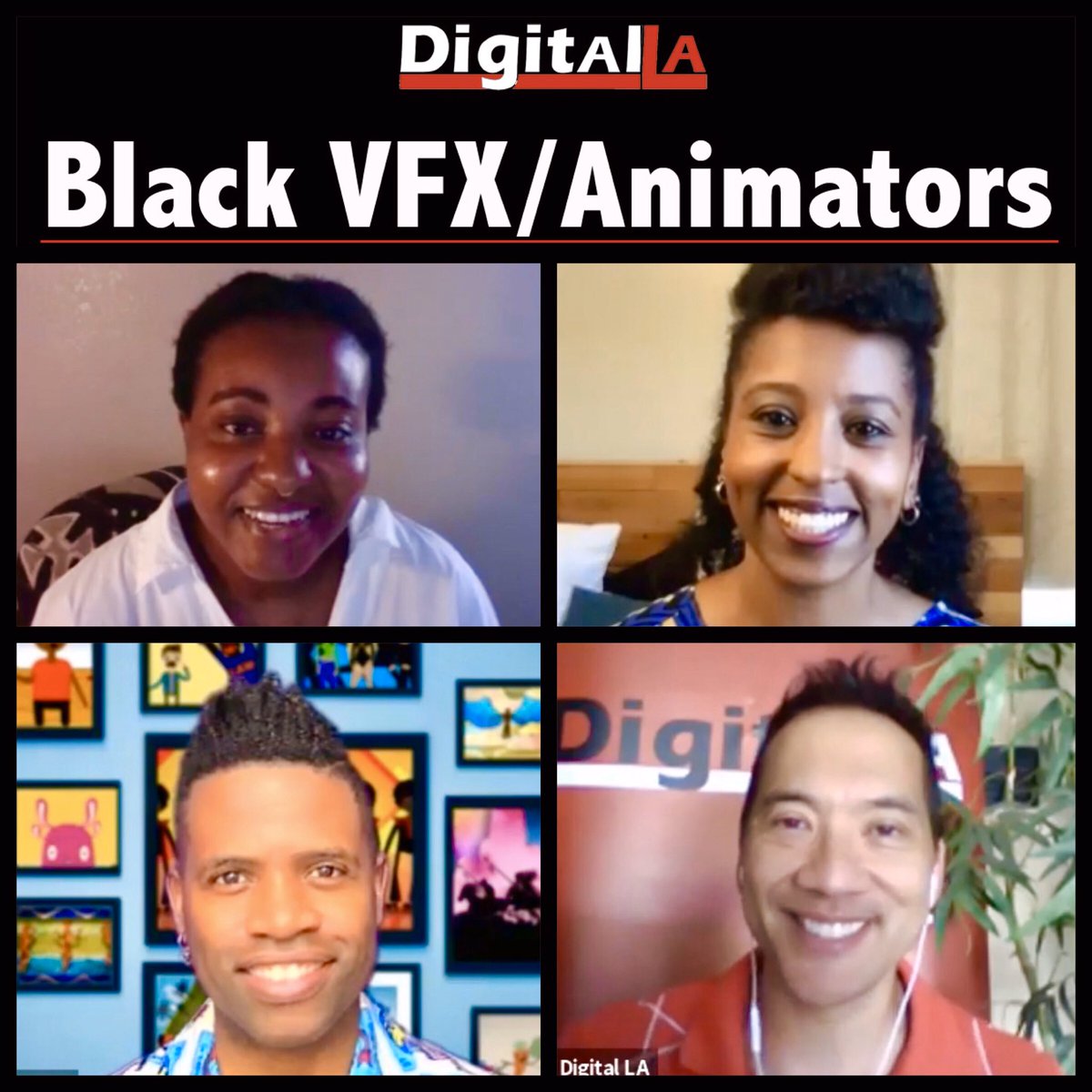 Speakers said that they have frequently been the only black person or person of color on a project or team.
To change that, speakers discussed some ways to increase black representation in VFX and animation  (Note: Speakers' views are expressly their views and do not necessarily represent the views of their companies).
5 Ways to Increase Black Representation in VFX / Animation 
1. Recruit and Hire from black colleges or art schools. Like many industries, HR recruiting and staff at VFX companies tend to be white, and hire from their circle of friends and schools, which tend to also skew white. Instead, reach out to recruit at and hire from Black-majority art schools and HBCU (historically black colleges and universities). For example, speaker Rose Ibiama, DreamWorks Animation, Character Effects Artist. graduated Savannah College of Art and Design in Savannah, Georgia, which has many black graduates. But LA based companies rarely recruit there.
2. Support Black colleagues. Allies and black animators can help by supporting black colleagues. Recommend black coworkers for projects. Make introductions at conferences, events, or online and virtually. Mieka Tyan Lewis, who is a motion graphics animator at Hulu, said that she has always received a lot of support from her colleagues who've supported her on projects.
3. Encourage, Not Discourage. Animator David Dodds said that when he decided to be an animator, people in the industry told him that wasn't a good idea because they didn't know any black animators. He ignored their advice and persisted to get in the industry, where he has become an author and keynote speaker. So rather than discourage black animators, encourage them.
4. Create More Black Characters, especially Leads. Black representation is important on screen in animation. There are often few black characters in animated films, and when they exist, they are usually helpful friends, or comedic sidekicks, rather than leads. Most studios only have one recent or upcoming major animated or VFX driven film starring a black lead: Disney Animation (Princess and the Frog), Marvel (Black Panther), Pixar (upcoming Soul), Warner Bros. Animation (Space Jam), Sony Animation (Spider-Man: Into the SpiderVerse), and DreamWorks (Home). Studios, streaming services and production companies can greenlight more animated films starring black characters, and written by black writers.
5. Create and Invest in Black Creators. Black-run production companies, studios or investors could form to create more Black animated films and shows. While there are some Black-focused agencies and initiatives in Hollywood, are there any Black-focused animation initiatives or Black-run animation studios or companies?
Speakers also described their career paths, tech tools, imposter syndrome, black women in animation, adapting to pandemic, and more.
Career Paths: All of the speakers loved animation, sci-fi and pop culture and from a young age, learned to draw, and wanted to get into animation. They all received formal training at art and design schools to learn animation, color theory, design, programming, and more. In addition, they said they self-taught certain programs by watching YouTube videos, and learning new programs and software on weekend.
Rose started at DreamWorks, first at an internship that turned into working on Madagascar. She went on to work on films at various studios and VFX companies, including DreamWorks Animation, Digital Domain, Method Studios, Luma Pictures, Big Sky and more. She has done animation on Disney Frozen, Big Hero Six, and many other films. Mieka started working at CNN as a graphic artist, got a Masters in 3D animation, and eventually moved to Hulu, and has continued since. After graduating Otis College of Design, David worked at an independent contractor on projects at Hulu, Disney, and more.
Tech Tools: Houdini, Maya, Illustrator, Photoshop, Character Animator, and proprietary software are all used. Speakers said it's most important to learn how to animate, and then figure out the tool that's best for the job. Often, multiple software can be used for the same result, depending on what a company or team uses. So learn the basics of animation, and then be flexible learning new tools.
Black Women are even fewer in animation, which skews male. Speakers said perseverance, speaking up for yourself, and support of allies and friends at work is very helpful.
Adapting to Pandemic. Most speakers said they have shifted to work from home, but their daily workflow is basically the same. Some do miss the collaboration in the office, and bouncing ideas off a colleague a cubicle or office away. David Dodds said that he has been busier during pandemic, including more jobs, and speaking engagements like leading virtual animation workshops, or his recent keynote speaking.
Imposter Syndrome. Sometimes there is a feeling of "me really", 'can I do this?" – especially when you're the only or one of the few Black people on a project, some speakers said. When Rose got the interview and acceptance offer from her first industry job at DreamWorks, she said she kept wondering: "You want to hire me? Are you sure?" She said yes, which started her career in VFX and animation, modeling hair and cloth.
Upcoming Projects: David Dodds announced a new project.
Thanks to our speakers for an amazing and inspiring discussion! Watch the video.
SPEAKERS
– Rose Ibiama, DreamWorks Animation, Character Effects Artist. Rose is a Houdini and Maya artist who specialties in fur, cloth, hair. She previously has done VFX at Disney Animation, DreamWorks Animation, Method Studios, and Luma Pictures.
– Mieka Tyan Lewis, Hulu, Motion Graphics Animator. Mieka creates syle frames, designs, visual effects and animations for Hulu campaigns, 3D signage concepts, promos, digital banners, social media and installations. She has created full graphics packages for Hulu originals such as: The Mindy Project and The Handmaid's Tale Golden Globes. She executed innovative graphics for Hulu's TCA presentations, CES as well as multiple internal graphics packages.
– David Dodds, Animator. From professional motion graphics to character animation, David Dodds has worked with brands such as Disney, NFL, Netflix, Hulu, Marvel, and more. In addition, David Dodds is a published author of the book, Hands-On Motion Graphics with Adobe After Effects CC.
See our other panels featuring all-Black industry speakers: Black VR Creators, Black Esports, Black Tech Leaders.