Black tech leaders who've been leaders in their communities for more than a decade each shared their advice for action and community resources at our Black Tech Leaders: Action and Community webinar on June 4 via Zoom.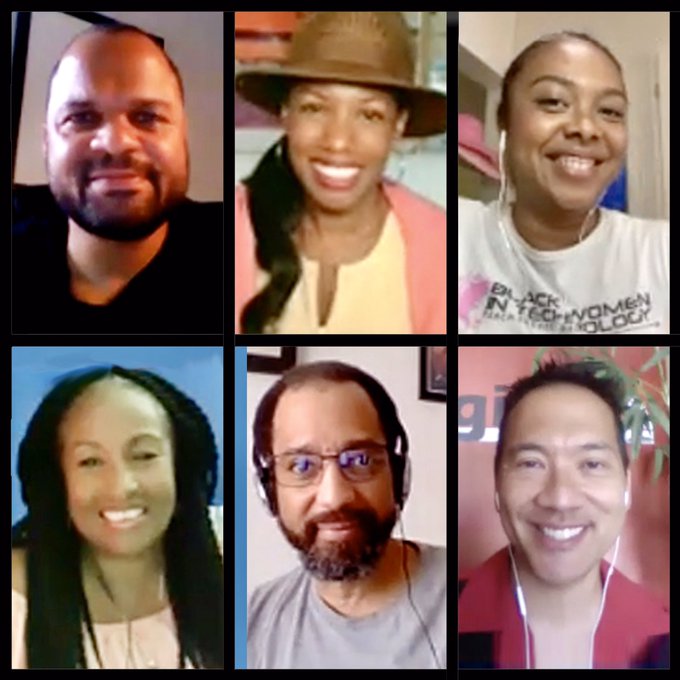 Experts shared tech resources for black startups, entrepreneurs, and small business owners, developers, and students. You can watch the entire panel and Q&A on our Digital LA FB page.
Derek Smith founder of Plug in South LA, described the Urban Tech Connect conference, which has brought black Google developers and startup founders from the west side to speak at conferences with more than 600 high school students in urban neighborhoods.
Derek also suggested that if people really want to help, they can come to South Central and meet people, and see the community to see how they can best help and be an "agent of change."
"You really have to take ownership of the issue. We all have to be active to really solve this larger problem," he said.
Cassie Betts described her work founding the Vermont Slauson Economic Development Corporation, which helps entrepreneurs, and creates workshops and programs. You can sign up to volunteer to be a mentor here.
Crystal Mitchell, Co-Director of RBD Communications dba Recycling Black Dollars, described how RBD encourages and supports African American businesses in becoming successful with their business, both startup and ongoing sustained success.
Jay Tucker of UCLA MEMES organizes events for UCLA Anderson School of Business and the UCLA community. He ensures diverse panels. In Jan, the featured speaker was entrepreneur Ice Cube.
Digital LA founder Kevin Winston said he organized this event just two days before on Black Tuesday. He said after changing his profile photo to a black square, he wanted to do an action step in the best way he knew how: By featuring black tech leaders who've been doing work in the space for decades to share their insights, experience, and advice.
Speakers also shared what you can do on your personal social media, and company and organization social media.
Don't just post a black square, said Sheila Marmon, founder of Mirror Digital, a multicultural platform that helps studios and agencies reach multicultural communities via marketing campaigns. Like with other campaigns, she advised first, step back and determine what is your overall strategy for supporting black communities as an organization, and then see what that means for action, and then using digital marketing and social media.
ACTION STEPS
Specific action steps you can take online to support the black community, the fight against racial injustice are listed below. In addition, as LA is a center for entertainment, advertising, digital content, and influencers, consider black representation in everything you do.
In general, before you start some 'new' program or action, see what's been done by black leaders in the community and see how you can support it. No need to reinvent the wheel or save the day, when you can offer your support, help, time, dollars to existing causes.
EDUCATION
Educate yourself on the issues by visiting the Black Lives Matter site, and following @BlkLivesMatter on Twitter or Instagram, and @BLMLA for the LA chapter.
Read dozens of online articles and blog post from black, white, and other authors on the importance of these issues, speaking out, etc.
Follow more black leaders on Twitter, Instagram, Facebook, etc. in whatever industry you're in, and your passions (entertainment, sports, etc.) to add more black voices to your feed you see every day.
ACTION
Post a black square with #BlackoutTuesday as the hashtag (NOT #BLM or BlackLivesMatter as those are being used for action.), and follow up with…
Post your personal or organizational commitment to solidarity with the black community and fighting racial inequality, followed up with
Post action steps you're taking: donating to causes, making organizational changes, etc.
Look at your Instagram (personal, company, organization) and see when was the last time there is a photo of a black person. Ask why this is the case. If it's because there have been no black people in news articles, promoted to higher levels, starring in movies or TV shows, or speaking on panels, or with you at events for selfies, ask why not, and what can you do to change that.
ONLINE COMMUNITIES
If you run Facebook groups, Twitch, Discord, Slack, message boards or other online groups, consider: Ensure your group guidelines include language that racial, homophobic, sexist comments and behavior will not be tolerated, and offenders will be removed and blocked from the group immediately.
Consider starting a Facebook, Instagram, or other discussion about these issues to be a proactive rather than passive supporter.
Look at the Admins and Moderators for your Facebook group, Twitch, Discord, Slack, etc. How many black people are there? If none, how can you ensure black voices and perspectives are heard? Consider adding black Admins and Moderators to your team. Same for your organization or company.
ONLINE CONTENT
Do your movies, TV shows and digital series feature black characters? How many are leads vs. supporting roles?
Casting. When casting, are you ensuring you are actively seeing people have all types for the role. If your casting agency isn't sending you diverse actors, ask them to or fire them and look for a new one.
Writing. How many black writers are in your writers room or team? What roles do they have? Consider hiring more through a studio diversity program or other outreach.
Directors and Producers: How many black directors and producers have you had? Consider outreach to find more.
Cinematographers and Below on the Line representation is also important, as they too can make decisions that impact representation
Look at how many black executives are on your team that greenlights content or determines 'if there is an audience for that' or 'if that's an interesting story to tell.' If none or few, ask why not and consider hiring or hiring a consultant.
ADVERTISING and MARKETING
Do you have a black VP executive on your senior adverting or marketing team? If not, and you are asking a more junior team member for their advice on reaching out to the black community, understand that they can give you their personal advice, but can not represent the entire black community. Pay them for their additional multicultural insights, consult a multicultural agency or platform like Sheila Marmon's Mirror Digital, or hire / promote a black senior VP.
If your advertising agency is sending you images and campaigns without black representation or themes, ask them why, or fire them. If there is no one black on your ad agencies creative team or VP level, ask them why, or fire them, and go to another.
INFLUENCERS
Are the influencers for your campaign diverse, or mostly white? Reach out to black and other diverse influencers.
At the end of the panel, Winston asked attendees what they would do as action steps as a result of attending the panel. Several volunteered to come on camera to share what they would do. Action steps attendees said they'd do include: Mentor to black entrepreneurs or students, donate, discuss black issues at their workplaces.
THANK YOU SPEAKERS for sharing your insights during this very difficult week.
– Derek Smith is founder of Urban Tech Connect, an annual conference where hundreds of urban students get inspired by speakers in the LA tech community. OrganizePlug In South L.A. to bridge the technology gap between entrepreneurs in the inner city and the growing opportunities that exist in technology.
– Cassie Betts, Vermont Slauson Economic Development Corporation (VSEDC). Manager of Technology & Innovation. Cassie is the catalyst and visionary behind the 10,000 sq foot South LA Tech Center and the Best Buy Teen Tech Center opening Summer 2020 at VSEDC's Western location in partnership with Annenberg Tech, and PledgeLA. She is also founder of District2.co, an online platform in the collaborative shared economy space for small & mid sized apparel brands.
– Sheila Marmon, Mirror Digital, CEO/Founder. Mirror Digital is an award-winning media and advertising company connecting leading brands to the growing U.S. multicultural market.
– Crystal Mitchell, Co-Director of RBD Communications dba Recycling Black Dollars, which encourages and supports African American businesses in becoming successful and sustaining success with their business
– Jay Tucker, UCLA MEMES. At UCLA's Center for Management of Enterprise in Media, Entertainment and Sports (MEMES), Jay is responsible for the Center's vision, thought leadership, educational offerings and major events – including the annual PULSE conference.
– Moderator: Kevin Winston, Digital LA