Ten healthcare startups addressing patient assessment to post ortho surgery management to inventory management presented at Cedars-Sinai healthcare accelerator's fifth class demo day on September 12 at the Wallis Annenberg Center for Performing Arts in Beverly Hills.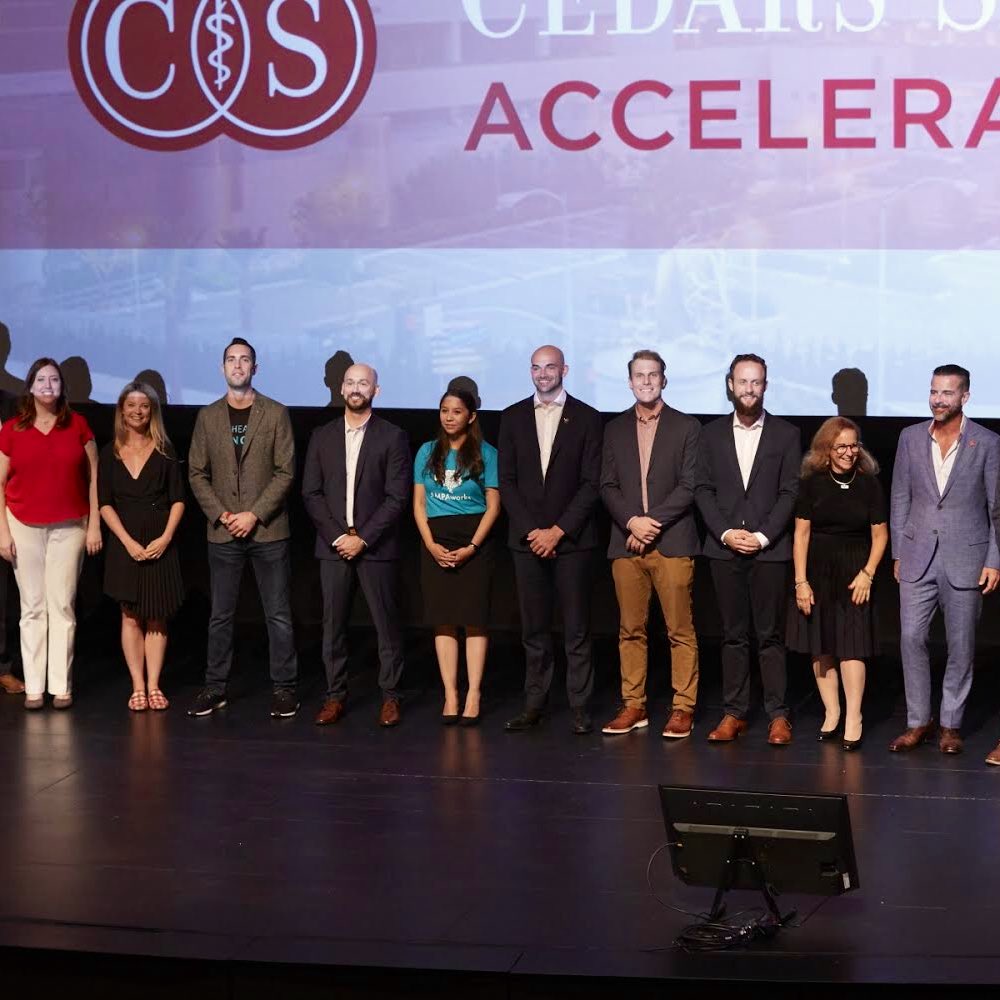 Demo Day marks the culmination of a three-month program run by the Cedars-Sinai Accelerator to help innovative, early-stage health care startups.
More than 300 attended the demo day, including representatives from hospitals, healthcare systems, investment firms and Cedars-Sinai leaders.
"The potential that technology has to affect a lot of patients and to broadly improve care is really exciting," said Anne Wellington, managing director, Cedars-Sinai Accelerator. "Many of the solutions that we work with through the accelerator have the potential to improve care for our patients at Cedars-Sinai, and then throughout the broader healthcare community, both in the U.S. and internationally."
Cedars-Sinai accelerator program started in 2016 in partnership with Techstars. Since then, it's become in-house at Cedars-Sinai. It has now graduated five classes totaling 47 companies which have raised $200M investment.
Accelerator alumni include Digital Medical Tech, which makes a Bluetooth-based system that helps nurses track down medical equipment, and Aiva Health, which sells electronic voice assistant systems that work with speakers such as Amazon Echo to let patients adjust their TV sets or make specific requests to the hospital staff.
Cedars-Sinai accelerator companies get exposure to Cedars-Sinai management and various hospital departments to test ideas, and even implement pilot programs. Many of its startups announce partnerships with Cedars-Sinai or other healthcare systems at Demo Day.
"We try to get them as many opinions as possible so that they understand the complexities of working in a hospital environment, where everything has lots of people involved in it," Wellington said.
Feedtrail, which sells software for surveying patient satisfaction, already has 43 US healthcare systems as clients. Still, "One thing we had not had a ton of experience with prior to this was implementing our platform across large health systems. With size comes complexity," said Paul Jaglowski, Feedtrail's chief executive and co-founder. So, he said, "it's meant a lot" to have "the opportunity to really pick the leadership team's brains here at Cedars-Sinai."
Meet the fifth class of startups:
AMPAworks is a team of nurses, doctors, pharmacists and engineers helping solve the problem of inefficient inventory-management in healthcare. The AMPAworks team has created a device and integrated software capable of counting inventory in real time. The system also keeps track of provider and patient inventory-utilization in order to save time and costs.
ClinicianNexus lets health systems to assess and share their capacity to teach, specifying their needs for various interns and residents. The information then can be shared with medical schools so students can apply for openings as efficiently as possible.
Feedtrail sends survey questions to patients' smartphones or tablets with the aim of getting immediate replies that health care providers can act on swiftly, already is being tested in Cedars-Sinai's emergency department, imaging operations and the Inpatient Specialty Program.
FocusMotion Health assesses and monitors orthopaedic patients before and after surgery. The company created a smart knee brace as well as a mobile application and dashboard platform that captures how much a patient walks and exercises and then sends the data to the medical provider. The company's first product, the TKR Recovery System, is aimed at patients undergoing total knee replacement. The system connects physicians and therapists to the patient, enabling daily guidance and almost real-time intervention.
Hawthorne Effect—Studies show that 89% of clinical trials are missing data and half of participating patients drop out before their study is completed. Hawthorne Effect has developed a virtual platform to track each patient's data. The company also trains investigators to visit patients in their homes to certify data and keep patients engaged. The result is lower patient withdrawals, more complete data collection and improved patient experience.
Health Note developed a simple-to-use platform that patients sign in to before a physician appointment. The platform asks all the questions a physician would normally ask at the start of a visit. The information is formatted into a physician's note and sent to the medical record system.
Lantum, with 65 employees in London, was drawn to the accelerator program as way to draw on Cedars-Sinai expertise while entering the U.S. market. At Demo Day, the founder explained how Lantum's software can save hospitals money by making it faster and easier for doctors, nurses or other personnel to swap shifts or for mangers to adjust schedules when a staffer calls in sick.
Notisphere digital platform lets suppliers announce recalls and also enables real-time communications between product suppliers and healthcare providers. Healthcare providers can get bogged down with product recalls and efforts to prevent patients from being harmed by a recalled item. To communicate recalls, the healthcare industry currently uses a mostly paper-based, slow and cumbersome process.
Virti employs virtual and augmented reality coupled with artificial intelligence to transport physicians and students into difficult clinical environments so they can train for emergency response. For example, Virti can virtually place physicians in stressful environments, such as an emergency department dealing with a traumatic event. Following the experience, Virti then assesses participants' actions to help improve their performance. It also helps reduce patient anxiety by creating virtual hospital experiences for patients, taking them on the journey from the parking garage to the operating room.