Five health startups in VR, AR, and more won $20,000 each in seed grants at Children's Hospital Digital Health Lab Demo Day on Oct 14 at Children's Hospital in LA.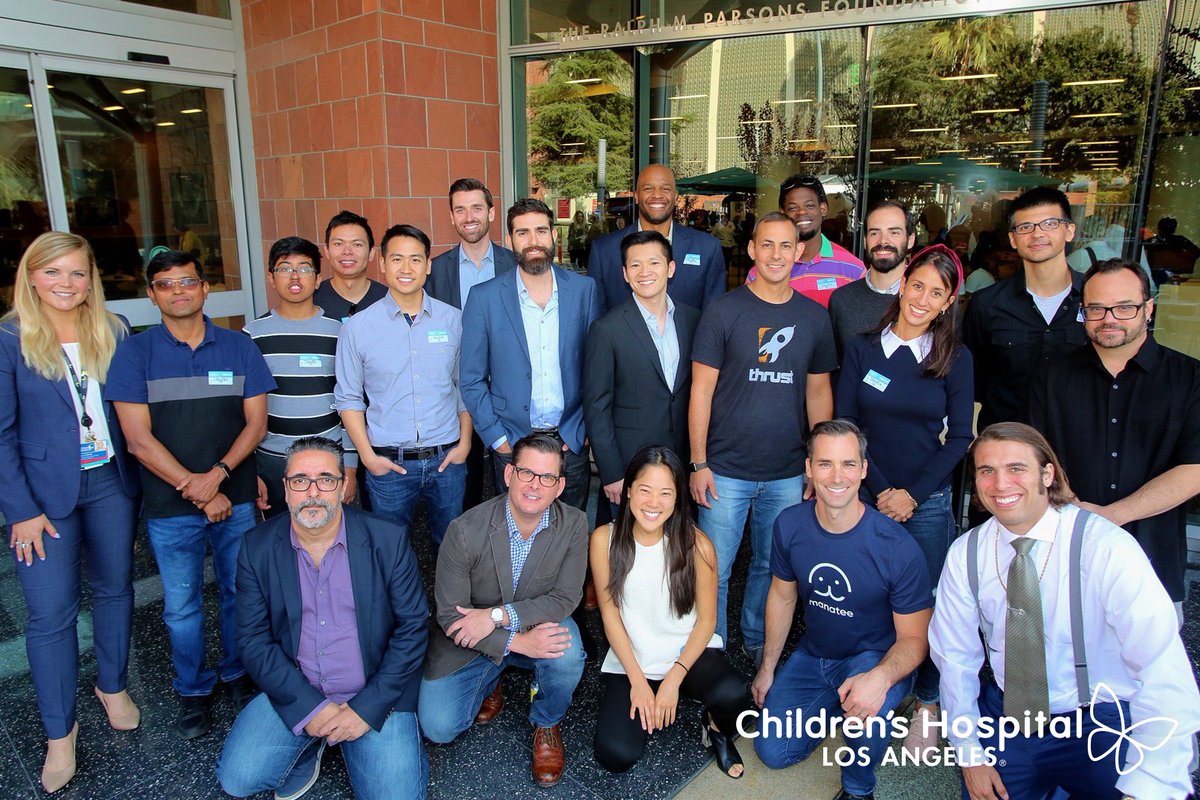 The Innovation Studio at Children's Hospital Los Angeles (CHLA) announced the winners of its first ever Digital Health Lab Demo Day, the culmination of a six-month venture to develop, incubate and implement virtual reality (VR), augmented reality (AR) and mobile gaming solutions to improve care for pediatric patients and providers in the pediatric healthcare space. The five winners will receive $20,000 each in seed grants and the opportunity to pilot their innovations at CHLA.
The Digital Health Lab is the CHLA Innovation Studio's accelerator program, which focuses on transforming pediatric health care through mobile games, VR, AR and immersive digital experiences. The Digital Health Lab portfolio currently includes 16 teams, all of which share the common goal of enhancing digital therapeutics, improving clinical education and reimagining the patient and provider experience.
"It's been a thrilling six months mentoring the teams and witnessing their unbridled enthusiasm as they worked to enhance the lives of pediatric patients, who remain an underserved population within the health-tech innovation space," said Omkar Kulkarni, MPH, Chief Innovation Officer at Children's Hospital Los Angeles. "We are eager to embark on the implementation phase, where we will pilot these innovations at CHLA and measure the real-world impact on our patients and their families."
The five winning teams are:
Manatee: Manatee is developing a voice-enabled and artificial intelligence powered therapy robot that aims to provide cost-effective care at home for children who suffer from illnesses such as autism. This robot is being developed with the clinical expertise of several CHLA physicians. Manatee is also developing a therapy management platform to engage children, parents and providers in behavioral health care.
Playing Forward: The Playing Forward team is developing an immersive VR game-based entertainment intervention to improve motor skills in children. The game will feature characters that Playing Forward has developed, as well as popular characters licensed from well-known entertainment companies.
Pulse XR: Pulse XR is a VR application that uses MRI data to create a virtual view of a patient's heart. It would provide a tool for cardiac surgeons to use for surgery preparation and to educate other providers of the anatomy.
Mila: Mila is a music-based game for kids that combines neurologic music therapy techniques and cognitive gaming science to develop a game that can remotely identify and train cognitive skills. The game would use computer vision and audio feedback for activities like singing and dancing.
CHLA Companion: CHLA Companion is an augmented reality and chat-bot enabled mobile application that will improve the patient and parent/caregiver experience before, during and after surgical procedures. It would provide a character companion to help children and caregivers better prepare for surgeries and potentially improve outcomes after surgeries. CHLA Companion is being developed with support from CHLA physicians, nurses and clinical experts.
This announcement comes six months after CHLA hosted its first ever Gamifying Pediatrics Hackathon, when physicians, nurses, engineers, developers, game designers, and AR/VR experts came together for one weekend to develop new digital tools that will help improve pediatric medicine. Over the course of 48 hours, Hackathon participants pitched 47 ideas and formed 22 teams, presenting rough prototypes to a judging panel of CHLA experts on the final day. Ten teams were selected as semi-finalists and advanced to the Incubator phase, where they joined CHLA's Digital Health Lab for free mentorship as they continued to build and refine their prototypes.
To learn more about the CHLA Innovation Studio and the Digital Health Lab, visit their website at https://chlainnovationstudio.com
Ten more startups pitched in qualifying rounds on October 7 at Google Venice.
CODE:BLUE: CODE:BLUE is a virtual reality simulation tool, designed in partnership with emergency department providers, to enhance communication skills for multi-disciplinary clinical teams in urgent and stressful situations. The tool will enable varying degrees of stress and stimulation to improve provider training and communication. CODE:BLUE is being developed by local college students with support from CHLA physicians and nurses and external technology experts.
– Founder: Ben Hagerty
Cardiac Intensivists: In collaboration with Children's National and SimX, this project is developing 25 virtual reality training simulation scenarios for pediatric cardiac critical care and cardiology providers. The scenarios are being developed by physicians from Children's National and Children's Hospital Los Angeles to improve training in these high intensitysituations. This project is currently grant funded.
Dia Health: Dia Health is building a virtual triage platform to help parents understand what is "normal" for their child and what to do when they have health concerns. Dia will provide a parenting tool that can support a new parent with newborn-specific diagnostic questions, such as analyzing newborn poop with object recognition technology to determine whether or not a newborn's poop is healthy. Dia Health is being developed with a number of CHLA physicians and clinical experts.
– Founder: Jane Rho
Gamifying Food Diaries: The food diary project will gamify the food logging experience for children to create an engaging experience that makes it fun for children to complete food logs so that they can more accurately track the foods they eat and share this data with their care providers.
-Creators: Brandon Sammons, Matthew Manos
Home Mechanical Ventilation Emergency Training: CHLA's pediatric pulmonology experts have created a center of excellence for treating children on home mechanical ventilation (HMV) and are working closely with external developers to create an immersive digital reality training curriculum for caregivers and home health nurses focused on emergency response training for children on home mechanical ventilation to prevent avoidable and premature deaths. Through improving education and training, caregivers will be better prepared to handle emergencies for this complex pediatric patient population.
– Creators: Ted Biggs and Brianna Lowe (Shaftesbury)
Money Moe: Miney Moe has built an engaging game designed for pain management andcommunication during procedures that automatically adjusts cognitive load for optimal effect. It is an augmented reality based game that can be projected onto a Mira headset to allow for face mask induction and surgical procedures without sedation. The Miney Moeteam will be working closely with CHLA's Pain Management Clinic to study the effectivenessof the game.
– Founder: Elliot Myhre
PD Buddies: PD Buddies gamifies diabetes education through a virtual reality educationsession for kids with diabetes to better understand so their condition and to teach them healthy eating habits that will improve their diabetes management. The PD Buddies tree house experience allows children to learn about their condition through playing games. The team will be working closely with CHLA diabetes care team experts to refine their prototype.
– Founder: Anthony Gonzales
Positive Place: Positive Place creates a magical virtual garden experience for patients to explore with personalized flowers and notes written by friends and family. Using a virtual reality headset, patients explore virtual gardens, watching flowers bloom with messages of love and support from family and friends. Positive Place will provide a relaxing and immersive virtual reality experience for patients spending extended time in the hospital.
– Founder: Paul Wehner
Ranger Loo!: Ranger Loo!, formerly known as Poo-Pee Interactive is in-home biofeedback game that educates and helps children learn how to control their pelvic floor and bladder to develop healthy behaviors when learning to go to the bathroom. The Ranger Loo! team is working closely with CHLA providers in Gastroenterology and Urology to develop their augmented reality game and sensor-enabled prototype.
– Founders: Vivek Khurana, Fabian Bock, Elias Campbell, JC Zhang
Speak-iT: Speak-iT is a voice-activated speech therapy game that aims to improve the effectiveness of speech therapy by improving patient engagement and making speech therapy fun. It was designed with CHLA speech therapists and built by a 14 year old during the hackathon! The game will be developed closely with speech therapy experts at CHLA.
– Creator: Jude Alexis
Virtual Real Heart: Virtual Real Heart is a virtual reality application that uses MRI data to create a virtual view of a patient's heart that surgeons can use to better explore theirpatient's heart to more deeply understand and visualize their condition, teach otherproviders, and plan for surgeries. The application is being developed with experts fromCHLA's Heart Institute.
– Founders: Steven Tu, Chaise Allegra