While the quarantine has closed comedy clubs, comedians are creating corona content online, and helping support each other, said speakers at our Digital LA – Comedy during Corona panel.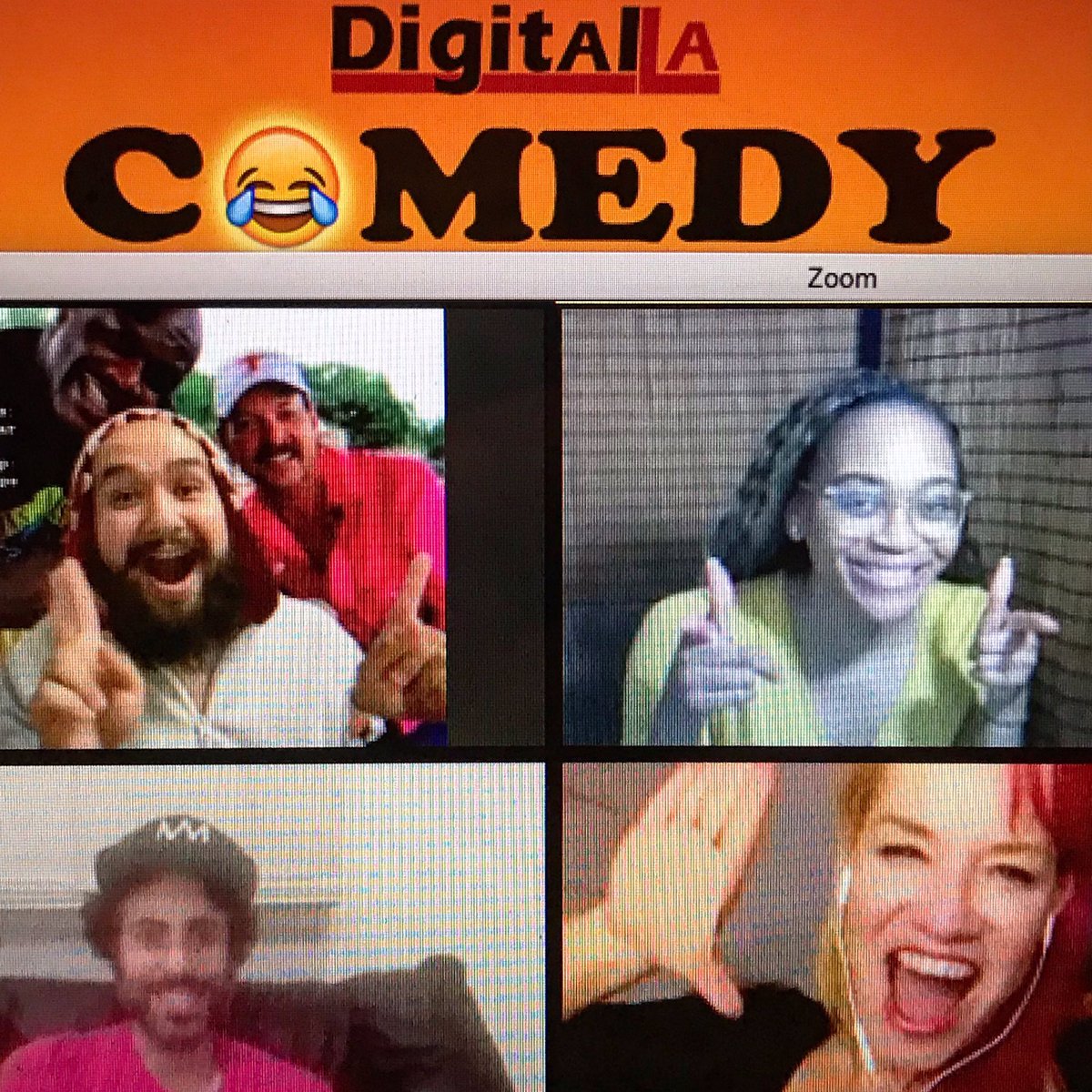 The annual panel was held on April Fools, April 1, 2020, to focus on how the coronavirus has impacted comedians, and how they are adapting to continue to help people heal through laughter.
The panel was conducted entirely via Zoom, with each speaker Zooming in from home, for proper social distancing and stay-at-home behavior.
HiGHLIGHTS
Corona Content
Comedians are creating coronavirus related content to help relieve stress of this sudden universal behavioral shifts in how we live, work, play and socialize. It's a unprecedented shared experience, so people can relate to the humor, and smile during the day.
Sketch comedy acts Ngozi Kim said that several meetings and projects with studios she had been working on were put on hold as studios switched to focus on coronavirus strategy. With extra time, she decided to create corona related content on her YouTube channel GoziTV with 65,000 subscribers. Her recent videos are all Corona COVID-19 themed. Corona free C0OCHIE, is a comedy about a family where the daughter does what she has to do to help the family.  In DORA THE NIGERIAN EXPLORER vs COVID 19, Ngozi, who is of Nigerian decent, reimagines herself as the adventurous Dora battling the evil COVID-19.
Comedian Erik Escobar has incorporate some corona content into his livestreams, but also focuses on general content, because he feels so many comedians are doing corona content. So he jokes about a variety of topics.
Switch to Online Platforms 
With online tools, any comedian can do comedy online via Facebook live, Instagram live, YouTube videos or live, or other platforms. Since all venues, stages, and physicals events are shut down, the playing field is somewhat leveled. Comedy clubs, big name comedians, and you with your laptop and phone all have access to the same tools to reach audiences: Facebook, Instagram, etc.
Comedian Erik Escobar has been doing virtual shows almost every night the past few weeks via Instagram Live. He said he fills in the off days with virtual mics.
Speakers said that Discord is also a popular platform. What originally started as a platform for gamers to talk while playing games, has expanded to reach more audiences (although still somewhat young male focused).
In addition to using online platforms to perform for audiences online, comedians are also using online tools to write and work on their craft.
Comedian Gregg Martin said he sets up time to virtually work with his friends at a set time per day, to help keep stick to a schedule while at home. He calls a friend via FaceTime, says hi, and just sets the phone up on livestream while he and his friend work individually, occasionally chatting like you would at a cowork space or office. It helps focus instead of get up to check the refrigerator, do laundry etc. He also recommended another site focusmate.com that lets you virtually cowork livestream with a stranger.
Help Each Other
Comedians who've lost gigs are also helping each other via referring resources for performers.
Amber J. Lawson, CEO of Comedy Gives Back, is producing a show this Saturday April 4, 4p when Laugh Aid livesteams. Marc Maron, Amanda Seales, Ray Romano, Bill Burr and many more comedians are "bringing the LOLs to raise money" for the #ComedyGivesBack COVID-19 Emergency Relief Fund for artists. Details comedygivesback.com
Q&A.
In the Zoom Q&A, an attendee who just graduated college asked if this is a good time to try to be a comedian, considering venues are closed. Speakers said, it's still a good time to focus on your writing, collaborate with others, use social media tools to test jokes and build your audience, and brand. Plus, it's a good time to reach out to decision makers, because everyone is home instead of running around meetings, events, and sets.
Thanks to our amazing speakers!
SPEAKERS
Collin Williams, Comedian. Collin has been a standup comedian for 13 yrs, and improvisational comic for 15 years with a ~15K subscriber gaming series (https://www.youtube.com/collin3000) spinning up a new full-scale comedy news series (www.facebook.com/comiccollin/) with 2 episodes (https://bit.ly/3aznTYn and https://bit.ly/3410CMl) filmed in completely quarantine with only a 2 person staff. Other credits include TED.com talkabout using humor for coping through dark times, lead live broadcaster for Niantic (Pokemon Go company), and nationally touring dark humor show (http://www.suicidenote.me)
Amber J. Lawson, Comedy Gives Back, CEO. Amber J. Lawson is an American producer, entrepreneur, and online content and development executive. She is best known as the founder and CEO of Comedy Gives Back, a global multi-platform live streamed stand up comedy event and benefit. Tune in Sat April 4, 4p when Laugh Aid livesteams. Marc Maron, Amanda Seales, Ray Romano, Bill Burr and many more comedians are bringing the LOLs to raise money for the #ComedyGivesBack COVID-19 Emergency Relief Fund. comedygivesback.com
Ngozi Kim, Sketch Comedy Writer, Actress. Ngozi has over 65,000 subscribers on YouTube, has been featured in Voyage Magazine, & TruTV's Laff Tracks. Her YouTube channel, GoziTV consists of originals sketches, parodies, & other funny things. Her recent videos are all Corona COVID-19 themed below, including Corona free C0OCHIE https://youtu.be/nu70Ea50Ckw, and DORA THE NIGERIAN EXPLORER vs COVID 19 https://youtu.be/S9OtoyMaLcU
Gregg Martin, Actor Comedian. Gregg has acted in Agents of Shield, Heartbeat, and YouTuber influencer videos. He has been helping the influencer app Firework with its strategy. @GreggMartin
Erik Escobar, Comedian, has been doing virtual shows almost every night the past few weeks, and filling in the off days with virtual mics. Erik has performed all over the United States at clubs, colleges, and theatres independently, with the Almost Asian Comedy Tour, and opening for acts such as Rex Navarrete and Jerry Seinfeld. You can catch him on NBC's Last Comic Standing, Buzzfeed, VH1, the upcoming feature film VHYes alongside Tim Robbins and Thomas Lennon, and his own TEDTalk out of Carroll College in 2020. He holds a Masters in Fine Arts in Comedy Theory and Studies from Goddard College and resides in Los Angeles, CA with his shih tzu, Rancor
Moderator: Kevin Winston, Digital LA, CEO and Founder