We've been doing our events at large LA coworking spaces since they first started popping up in 2012. Here's our guide of major coworking spaces that are good places to work, meet other startups, offer free amenities (coffee to beer), and host events to create community.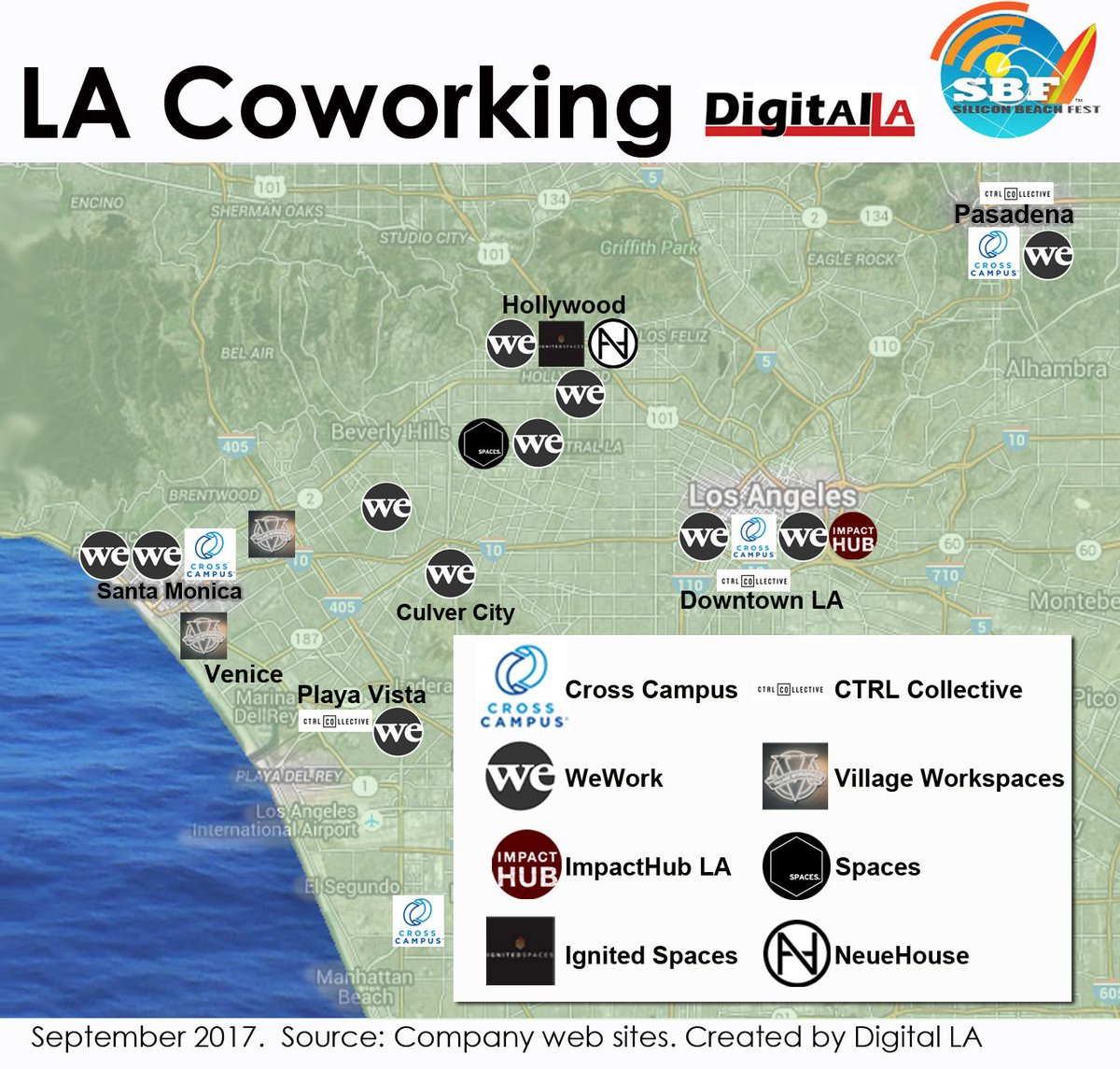 Coworking spaces typically offer open desk work space where you can bring your laptop to work at long tables with other members, for $300-500 a month. Private office space for 1-10 people is more.
CTRL Collective. The original Playa Vista location features a large collaborative space with stage, several collaborative areas and private offices. The ivy covered entrance and grand hallway with columns is impressive. We host our many events on the main stage, with free parking after 6p. CTRL Collective Downtown has an upscale industrial feel in a renovated fashion building downtown. Its third location is in Pasadena. We hosted our Silicon Beach Fest closing party at CTRL in 2015 which helped expose CTRL to the community. @CTRLcollective
Cross Campus has three locations in Santa Monica, Downtown, and Pasadena, with a fourth on the way in South Bay. Cross Campus Santa Monica hosts many tech events on its main stage or smaller events in its conference room. Silicon Beach Fest helped open Cross Campus in 2012, and hosted the fest in 2012-2014. @CrossCampus @CrossCampusLA
WeWork has expanded from its original Hollywood location which hosted our Silicon Beach Fest – Hollywood in 2012 and 2013, to more than a dozen locations throughout the city. WeWork locations offer collaborative workspace and private offices. @WeWork @WeWorkLA
IgnitedSpaces has 11th floor office space and open space with panoramic views of the Hollywood sign, downtown, and the rest of the city. IgnitedSpace is expanding, taking over the first floor with video production facilities. IgnitedSpaces has hosted several Digital LA events, and hosted panels for Silicon Beach Fest in 2013. @ignitedspaces
ImpactHub LA offers space for social good startups. ImpactHub hosted our Veterans Go Digital panel in 2014. ImpactHub is the LA location of the international ImpactHub based in London. @impacthubLA
Village Workspaces has two locations in West LA, and the original in Venice near Main St.
NeueHouse is like "SoHo House + coworking" with upscale clients at its Hollywood location. It's the LA outpost of its New York HQ. @neuehouse
Spaces is a spinoff of Regus focusing on open coworking space. The first Fairfax location is across the street from the Grove. @spacesworks
Other coworking spaces which are smaller, and don't host as many events, include Opodz in Little Tokyo Downtown, and Industrious in Downtown LA.
CLOSED
ROC Office Centers closed its Santa Monica location in summer 2017
NextSpace closed its Culver City location, and its Venice location, which was taken over by Snap Inc offices.