Disney's D23 Expo returned with thousands of fans flocking to see panels with the latest Disney, Marvel, Star Wars, Pixar and other news, all direct from Disney executives and talent, Sep 9-11 at Anaheim LA Convention Center.
Photos: Disney
With tagline "The Ultimate Disney Fan Event, D23 Expo provides fans with access to Disney films, streaming, television, games, theme parks, and celebrities via three days of packed presentations, pavilions, performances, photo opps, sneak peeks, shopping exclusives, and more.
Talent included: Harrison Ford, Angela Bassett, Amy Poehler, Jake Glleynhaal, Christian Slater, Winston Duke, Tom Hiddleston, Sebastian Stan, Letitia Wright, Tenoch Huerta, Diego Luna, Pablo Pascal, Katie Sackhoff, Lily Singh, and producers Kevin Feige, Kathleen Kennedy, Jon Favreau, Dave Filoni, Jennifer Lee, Pete Docter and dozens more.
Panel highlights this year included the Disney Studios, Marvel Studios and Lucasfilms, Disney Parks and Experiences, Tron 40th Anniversary panel, Spider-Man 60th Anniversary panel, Simpsons cast, Disney Legends, and more.
There's so much news, we've highlighted the 5 biggest digital related announcements below.
Top 5 Digital Announcements at D23 Expo
1. Disney+ Celebrates Third Year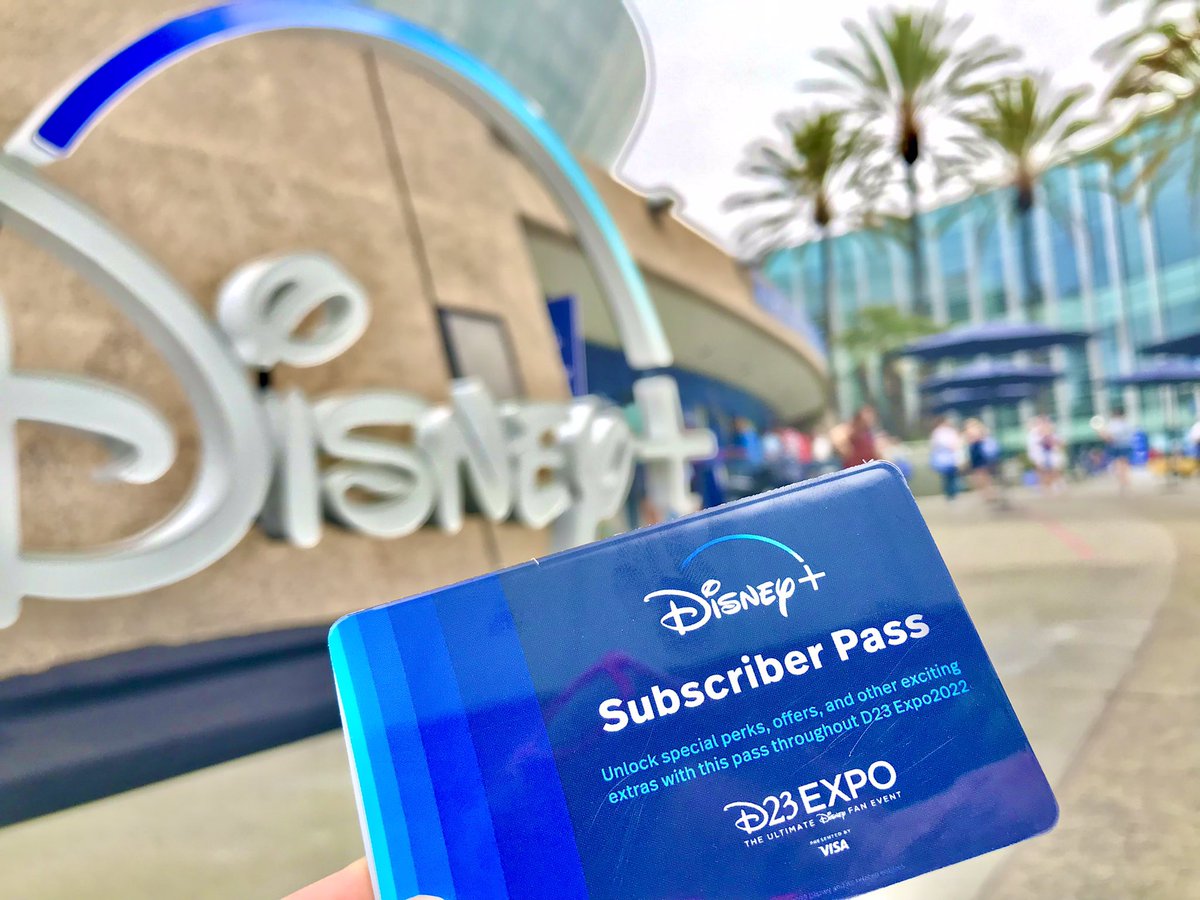 Disney+ celebrated its third year with Disney+ day on September 8, on the eve of D23 Expo. Disney+ celebrated online releasing dozens of new shows, including Thor: Love and Thunder, She-Hulk episode 4, and more. Disney+ also celebrated with perks for Disney+ members with its other properties. Disney+ subscribers got special offers at Disneyland and Disney World on Sept 8, including 30 min early admission to the theme parks, free Mickey ears and pins, a Disney+ character cavalcade, and special characters and photo opps in each park.
The celebrations continued with Disney+ subscriber offers at D23 Expo all weekend. Disney+ subscribers were able to show proof of subscription to get a special subscriber discount card to get discounts of 5-10 percent off at several vendor booths. Subscribers could also get a pack of special Disney+ collectors card at the Innovations booth.
At the last D23 Expo in August 2019, Disney+ was just announced, with a special rate to sign up for the service when it launched in November 2019. It launched just in time too, just four months before the pandemic which shut down Disney theme parks, theaters and much movie and film production. Disney+ was the main way to get Disney content, starting with the Mandalorian for Star Wars, and WandaVision for Marvel content.
Now three years later, Disney+ has become a cornerstone for Disney content. It's been the only place for Star Wars series, with Mandalorian's two season, Book of Boba Fett, Obi-Wan Kenobi, and Lego Star Wars. Marvel Studios series have told stories for existing characters in WandaVision, Loki, Falcon and the Winter Soldier, Hawkeye and What If; and introduced new characters like Moon Knight, Ms. Marvel and She-Hulk. And Disney+ has led to new content like Making of or Behind the Scenes for its film and other Disney+ content.
Since launch in 2019, Disney+ has leveraged Disney's deep library and created new content to attract  more than 150,000 subscribers. It has surpassed Netflix subscribers in just three years. Netflix has recently reported a decreased in subscribers.
2. Disney Games Showcase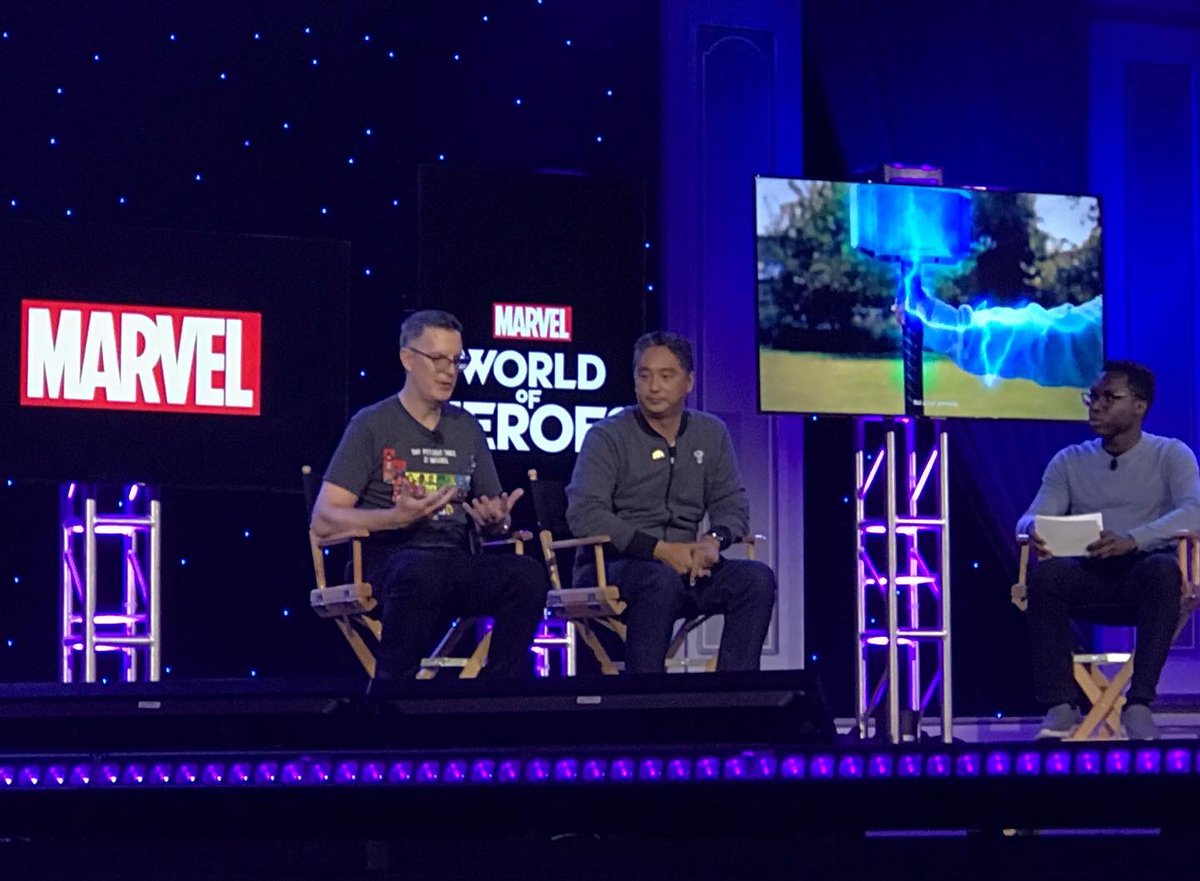 Disney and Marvel Games teamed up to reveal new games and trailers for more than a dozen upcoming titles including Disney Illusion Island, TRON: Identity, Gargoyles Remastered and MARVEL World of Heroes.
Marvel World of Heroes: Marvel Entertainment and Niantic, makers of Pokemon Go, etc, are teaming up for an AR mobile game where you can get powers and fight alongside Marvel heroes in a real world / AR blend. Game play details were not revealed. In what will invariably be referred to "Pokemon Go with Marvel characters", perhaps you will try to capture bad guys or renegade robots?  Pre-register at marvelworldofheroes.com.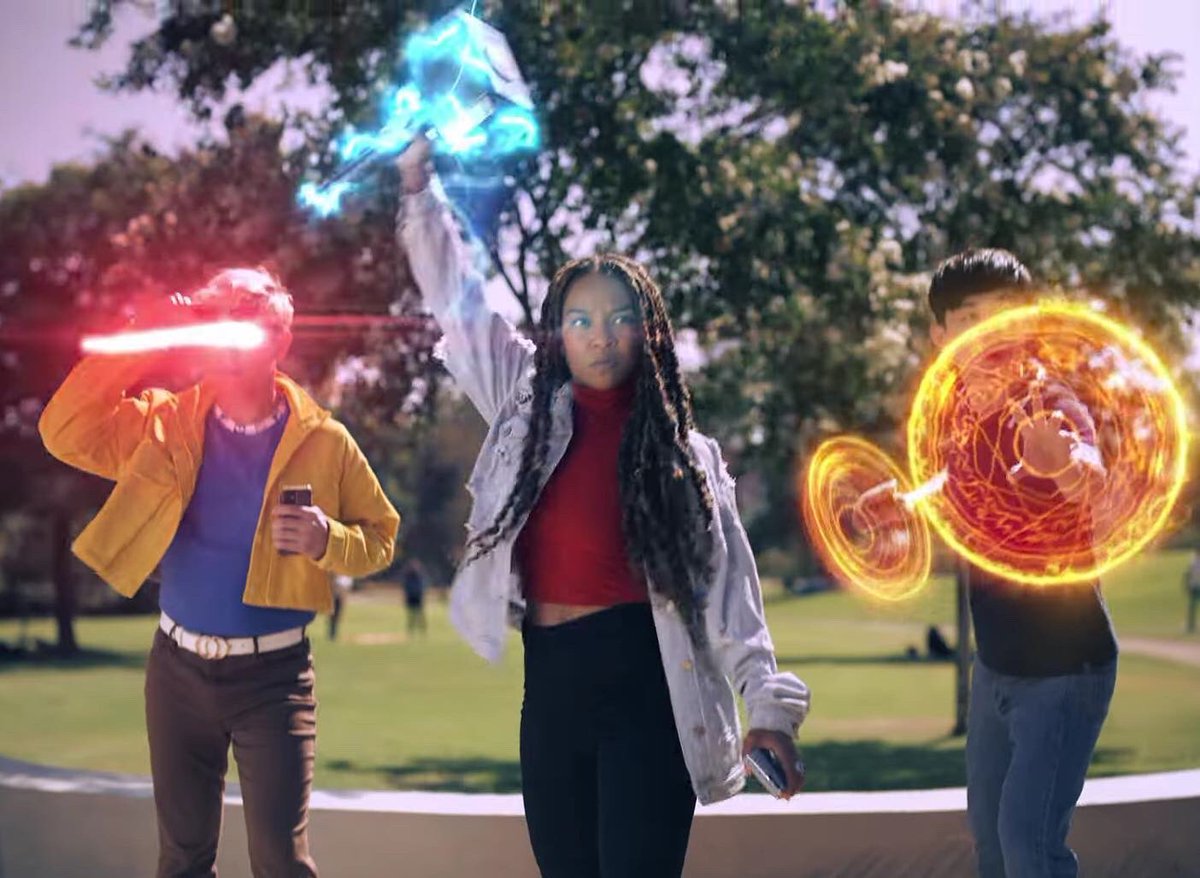 TRON: Identity game was announced at the Disney Games panel. This visual novel mystery game follows Query, a detective program tasked with solving the mystery of an unprecedented crime. Made by Bithell

Games, it

 releases on PC and console in 2023.
Disney Illusion Island: Join Mickey, Minnie, Donald, and Goofyon a brand-new quest to explore the mysterious islands of Monoth and recover three mystical books to save the world from disaster. From Disney and Dlala Studios, it releases exclusively on the Nintendo Switch in 2023.
Untitled Marvel – Skydance New Media Game. In this WWII game, you can play as young Steve Rogers as Captain America, Black Panther's grandfather, and other characters in an original story. This is Skydance New Media's first AAA title. Skydance is helmed by award-wining writer and director Amy Hennig (Uncharted).
Game announcements and updates also made for: TRON: Identity, Gargoyles Remastered, Return to Monkey Island, Marvel SNAP, Marvel's Midnight Suns, Disney Dreamlight Valley, Disney Mirrorverse, Disney Speedstorm, Marvel Strike Force, LEGO Star Wars: The Skywalker Saga, Avatar Reckoning, and Aliens: Dark Descent.
See showcase trailer reel.
3. TRON: 40th Anniversary (the OG Metaverse!)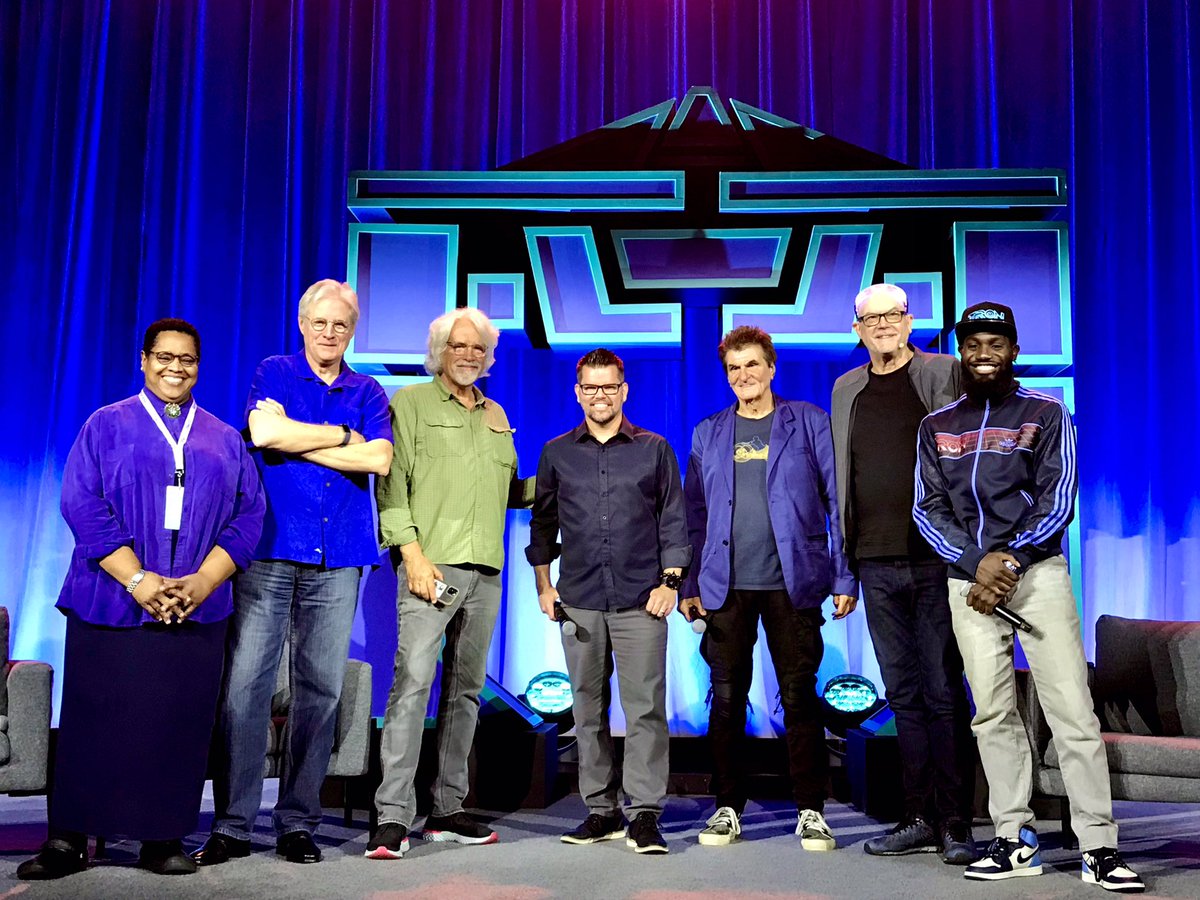 When characters in Flynn's arcade fell into the TRON video game 40 years ago to become digital avatars with cool light suits, discs and lightcycles, TRON was the original metaverse. TRON is the forefather of an entire genre of into-the-game films including Matrix, Jumaiji, Wreck-It Ralph 2: Ralph Breaks the Internet, and Free Guy.
D23 Expo had several Tron events and announcements:
TRON 40th Anniversary panel featured filmmakers and cast of the original TRON film describing making the groundbreaking film. Actor Bruce Boxleitner, who played Tron, said he read the script while on horse shooting a Western. He said he tried out for and didn't get Luke Skywalker, so said Yes to Tron. He said pro frisbee player trained him to throw discs. And he said that Jeff Bridges still calls him by his nickname "Transfer" and he calls Jeff "Flynnster." Attendees got a special edition D23 Tron comic book.
Tron ride. At the Disney Parks panel, it was announced that the Tron Lightcycle Power Run ride at Magic Kingdom in Walt Disney World, which has been under delayed construction, would open early 2023. The original Tron ride opened at Shanghai Disneyland in 2016, and is very popular.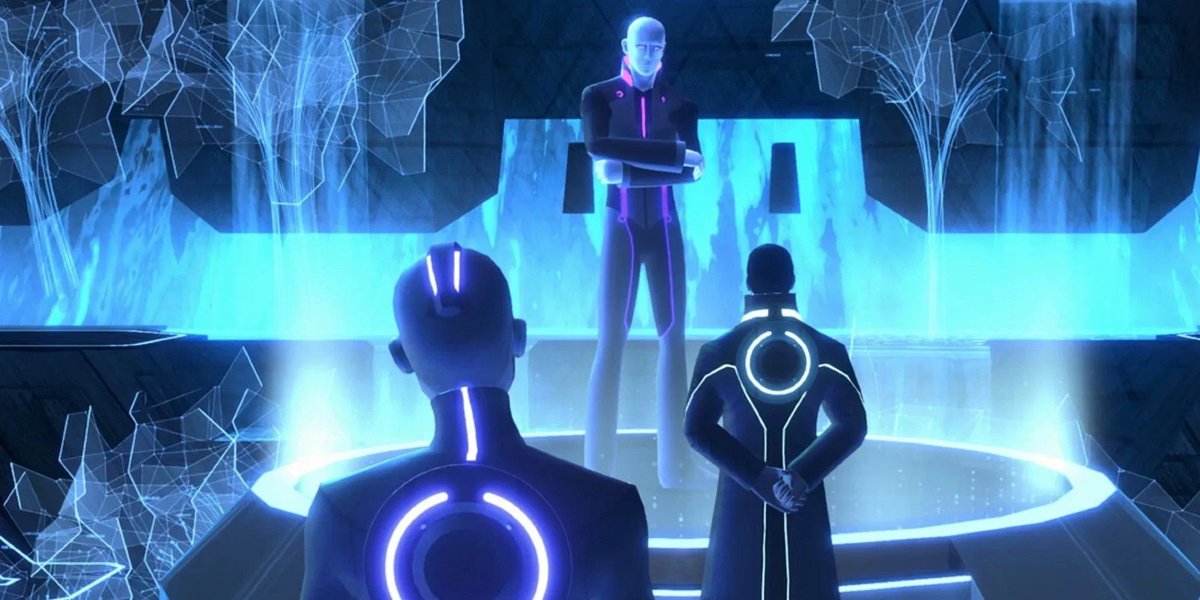 TRON: Identity game was announced at the Disney Games panel. This visual novel mystery game follows Query, a detective program tasked with solving the mystery of an unprecedented crime. Made by Bithell Games, it releases on PC and console in 2023.
4. New Avengers Campus ride: Defeat King Thanos
Avengers fans were beaming when a new unnamed Avengers Campus ride was announced at the Disney Parks and Experiences panel on Sunday. Josh D'Amaro announced that this new ride would let you team up with a multiverse of its Marvel characters to defeat a new character created just for the ride: King Thanos, in a universe where Thanos won.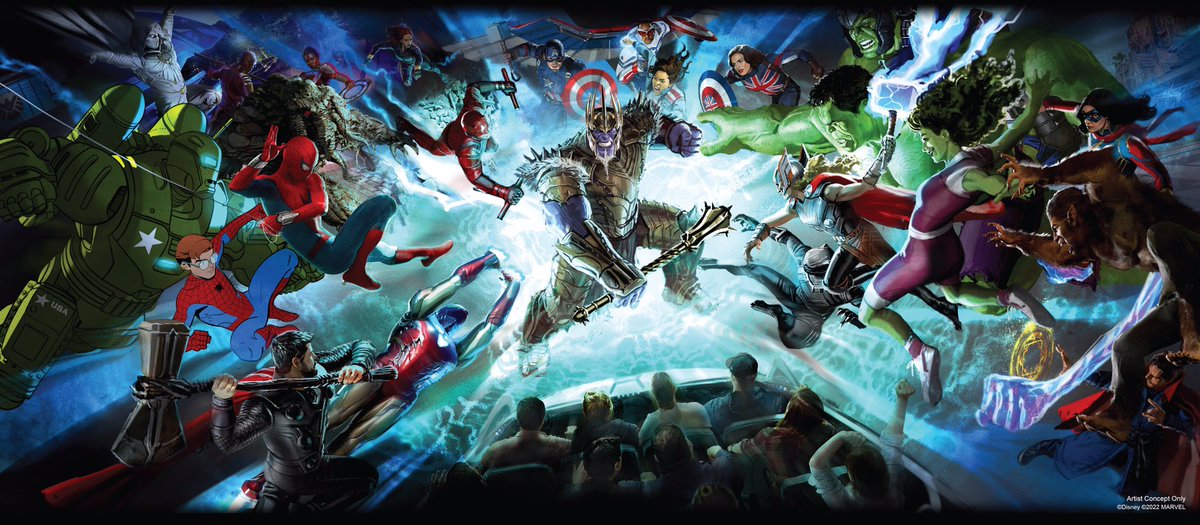 He showed an image of guests in a vehicle that fist about a dozen people, teaming up with two dozen MCU characters. In the image, you can see spot Spider-Man, animated Spider-Man from the Freshman Year upcoming series, She-Hulk, Hulk, Space Hulk, Steve Rogers Captain America, Sam Captain America, America Chavez, and Captain Britain, the Werewolf from the new Werewolf series just announced, and more. Attendees later got a special D23 poster of this image.
This creative multiverse approach will let any of Marvel Studios' existing or future characters easily be added to the ride in updates, so it's not limited to a specific time or place like Galaxy's Edge. Disney Imagineers are surely working digital wizardry into the ride to make this possible.
It appears the ride will be in the large building with the Quinjet on top of it, currently used for some stunt shows. At the last D23 Expo in 2019 when Avengers Campus was announced, this building was going to be used for a Quinjet ride that flew you to Wakanda or something. It appears that plan has been quietly shelved and replaced with this Multiverse vs. King Thanos ride.
5. Activations
Dozens of activations, and photo/video opps ensured fans took a lot of photos and videos to share on their social media, to help amplify the news, shows, and events. Hulu had a huge booth with more than a dozen photo/video opps for its shows. Most of the Hulu video opps included attendees in videos with show themed green screens and backgrounds, to be truly unique. The Kardashians activations inserts you walking into short video walking alongside the Kardashians with a show airdate callout. The American Horror Story puts vampire AR filters on you to give you arching eyebrows and fangs. The Grey's Anatomy activations takes a photo of you to make a hospital ID card.
6. Influencers
Since the last D23 Expo in 2019, social media influencers on Instagram, and especially TikTok have dramatically  increased in number and followers. Hundreds of influencers attended D23 Expo, including Disney, Star Wars, Marvel, and other fandoms. Several companies hosted influencer and press events.
Loungefly invited fashion and entertainment influencers to its VIP After-Party, with DJ, dessert bar, and red carpet arriivals, with attendees who understood the assignment wearing Loungefly bagpacks. Attendees included Seth Green and Disney Legend Bob Gurr, who designed nearly all of the original Disneyland theme park rides.
Hulu hosted an influencer event to promote its shows.
7. Expo Floor 
The Expo floor featured a museum of memorabilia, such as these Moon Knight costumes at the Marvel booth.