With Valentine's Day this weekend, how do you celebrate in pandemic? This will be the first Valentine's Day of pandemic in the U.S, with many couples celebrating virtually, said dating coach and author Julie Spira at our annual Digital LA – Dating in Pandemic panel.
No, Dating in Pandemic doe NOT refer to the regular state of dating in Los Angeles 😉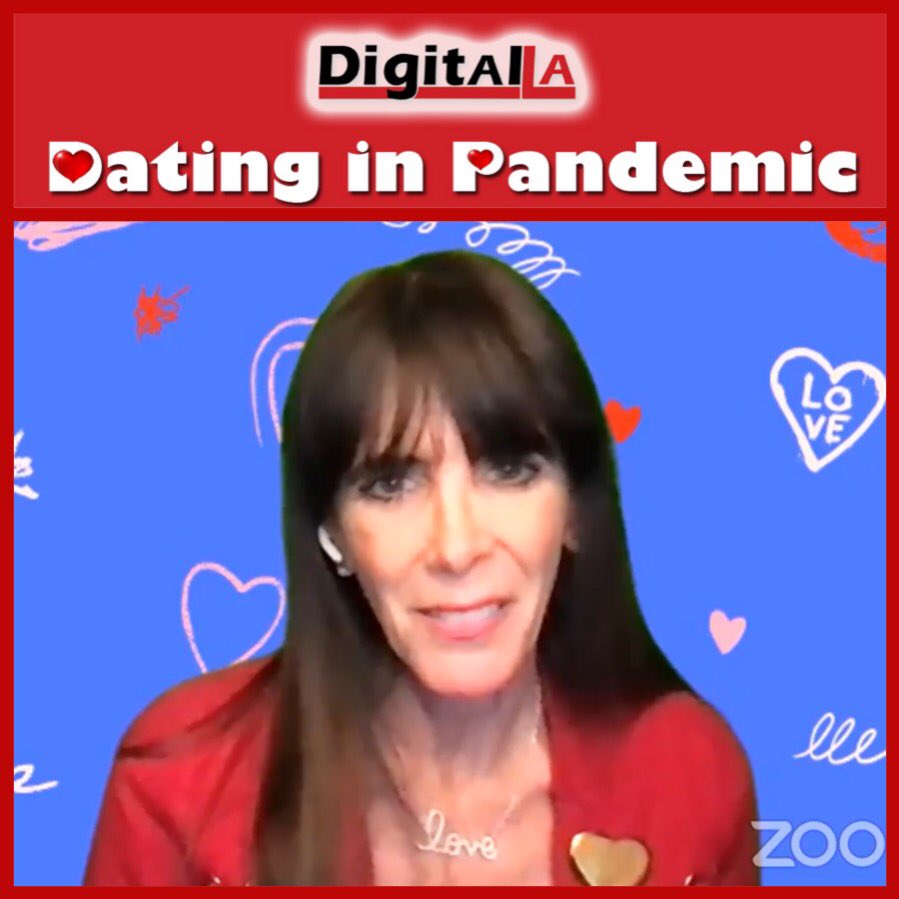 The panel was our first tri-cast panel, conducted on Zoom with export to out Digital LA Facebook page, and simultaneous Clubhouse room. Watch FB page video.
Julie said that many couples are celebrating virtually to be COVID safe, or because they've met online are are geographically distant.
Most popular VIRTUAL date activities include:
31% Online game
29% Virtual drinks or dinner
25: Chatting
15% Watching Movie, TV show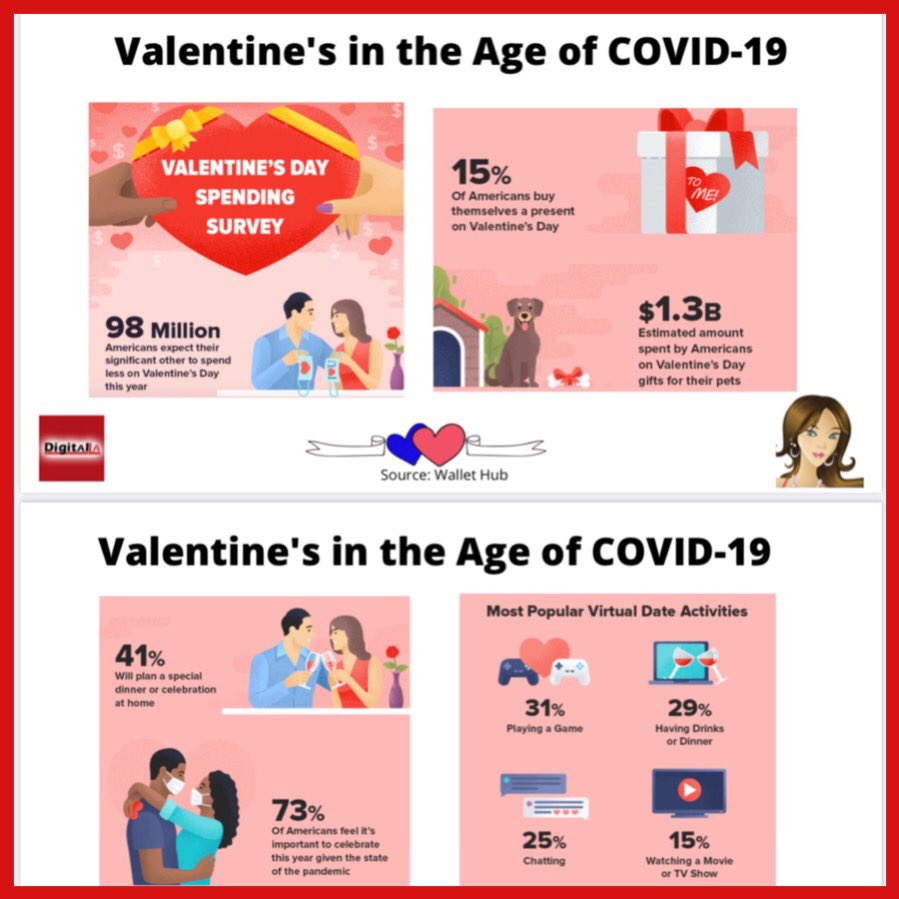 If you're interested in more dating statistics and the full presentation deck, email info@cyberdatingexpert.com.
Julie discussed these ideas, and added local LA ideas.
VALENTINES IDEAS
VIRTUAL IDEAS
Cooking Together: Buy the same ingredients and virtually cook together via FaceTime, Zoom, etc.
Spend time together on FaceTime, Zoom, et.
IN-PERSON 
If it's totally OK with both people, some in-person ideas, with masks and social distancing and other safety measures, can include:
Outdoor Restaurants: Try booking an outdoor restaurant with patio or sidewalk seating. Ensure it adheres to to distance guidelines. However, with limited seating capacity, many restaurants are likely already reserved this weekend.
Nature: Beach, hike, walk, picnic – with masks and social distancing.
Drive-In Movie: Several drive-in movie theaters allow retro-drive-in theatre dating. The new WE Drive-Ins theatre in Santa Monica founded by a Digital LA member offers promo

 code Partner-DLA1220 for the Feb 11-25, 7p screenings for premium popcorn bags for every patron inside your vehicle! Get tickets

http://

wedriveins.com. Only if both people are comfortable with this, or your household only.
Day Trip: Day trip to Joshua Tree National Park, San Diego, Santa Barbara. Can drive in separate cars and meet there.
FRIENDSHIP
If you don't have a Valentine this year, Julie recommends you should still do something to connect with friends or family. Ideas:
Galentine's Day: Popularized in the Parks and Rec TV show, Galentine's Day is when gal-friends get together to do something on Valentine's Day to celebrate their friendship. You can celebrate virtually or safely with some of the above outdoor ideas, or also spa and salon day, etc.,  safely with masks and social distancing.
Guylentine's Day. Men can hang out too, safely with masks and social distancing.
SELF-CARE: SOLO
Spend Valentine's day with yourself as a self-care day. The pandemic has been so stressful, with lots of personal stress and time demands. So set aside a few hours for some self care time. It's also the most COVID safe!
Buy chocolate, your favorite desserts, or meal, order yourself flowers or other things you like to treat yourself.
Watch your favorite shows on a streaming service, either romance or whatever you like!
Wear your bathrobe, slippers, ask Alexa/Google Assistant to play spa / relaxation music
Mediate at home.
Breath deeply.
Remember and savor the good things that have happened to you this week, month, year.
Exercise Outdoors: Hike or beach day to reflect and restore your strength
ABOUT JULIE SPIRA
Julie Spira is America's Top Online Dating Expert, and the founder of Cyber-Dating Expert. She's been coaching singles on finding love online for over 25 years with her signature Irresistible Profiles and Digital Matchmaking services. Julie is a frequent guest in the media, and she's appeared on ABC's Nightline, NBC's Access Live, Good Morning America, Good Day LA, VICE media, and the Today Show. Her online dating advice has been featured in Ask Men, BuzzFeed, Chicago Tribune, LA Times, LA Weekly, USA Today, Washington Post, MTV News, Bumble, eHarmony, OkCupid, Match, and Tinder.
In 2020, Julie created Dating in the Age of COVID-19: How to Find Love in a Pandemic for singles and Love in the Age of COVID-19: How to Keep Love Alive During Quarantine for couples. Her websites for Covid are datingintheageofcovid19.com and loveintheageofcovid19.com
Julie's the bestselling author of "The Perils of Cyber-Dating: Confessions of a Hopeful Romantic Looking for Love Online" and received the "Best Dating Coach of the Year" at the 2017 iDate Awards.
FOLLOW @JulieSpira on Instagram and Twitter. Sign up for Julie's Digital Flirt newsletter at CyberDatingExpert.com/flirt.
SUPPORT LOCAL LA STARTUPS
Several LA startups are offering promotions this weekend which can help you celebrate Valentine's Day.
Drive-In Movie. Watch Minari at the new WE Drive-Ins theatre in Santa Monica with our promo code Partner-DLA1220 for the Feb 11-25, 7p screenings for premium popcorn bags for every patron inside your vehicle! Get tickets http://wedriveins.com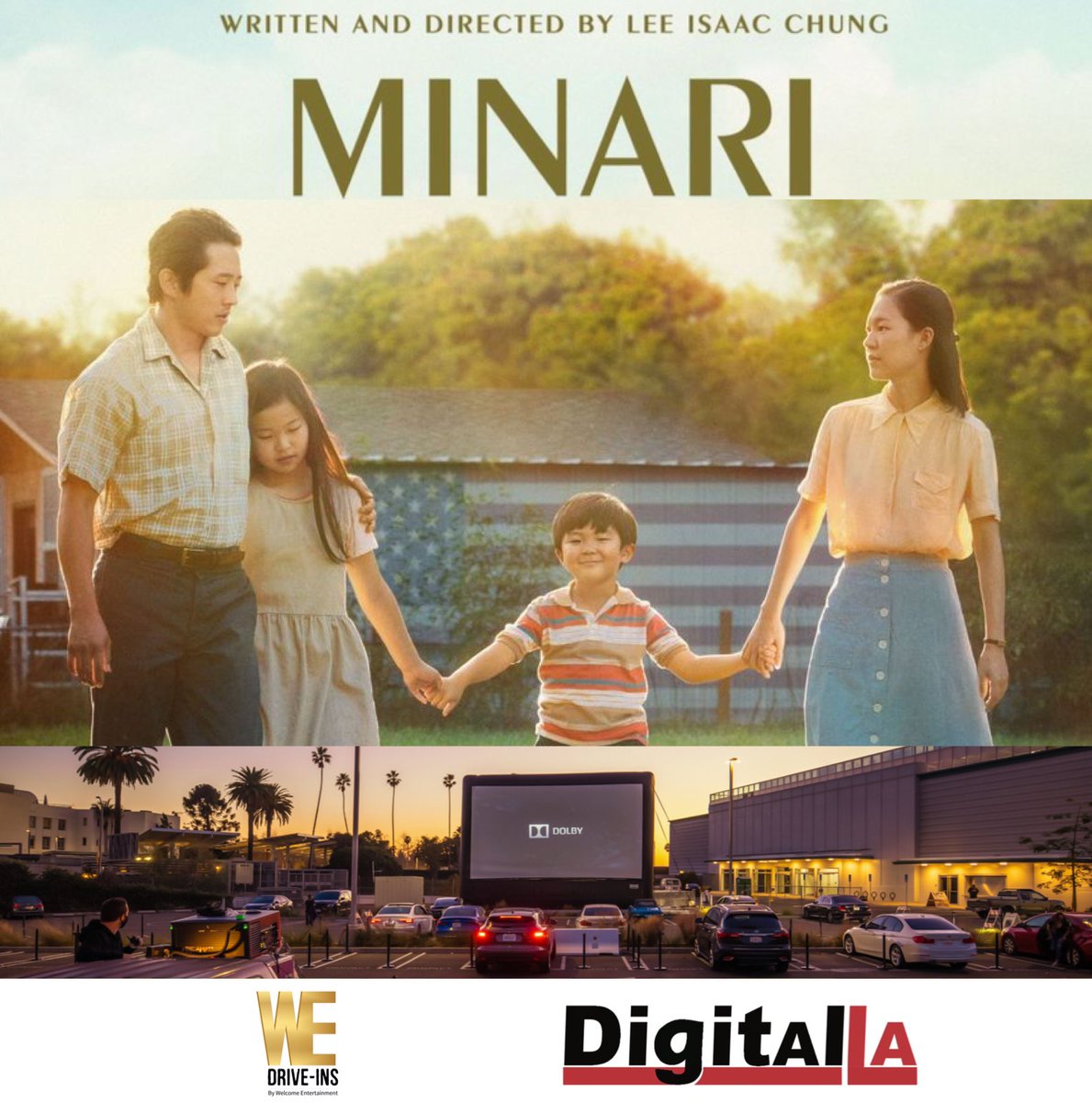 Flower Delivery: LA based flower delivery company The Bouqs is offering a discount: use code BOUQSFAM at http://thebouqs.com for 25% off your order by 2/14. The Bouqs founder John Tabis pitched The Bouqs at Silicon Beach Fest in 2012, and it has grown from an idea to a company with sales nationwide.