Immersive activations with instantly sharable social media opps are Hollywood studios' new marketing superpowers at San Diego Comic-Con.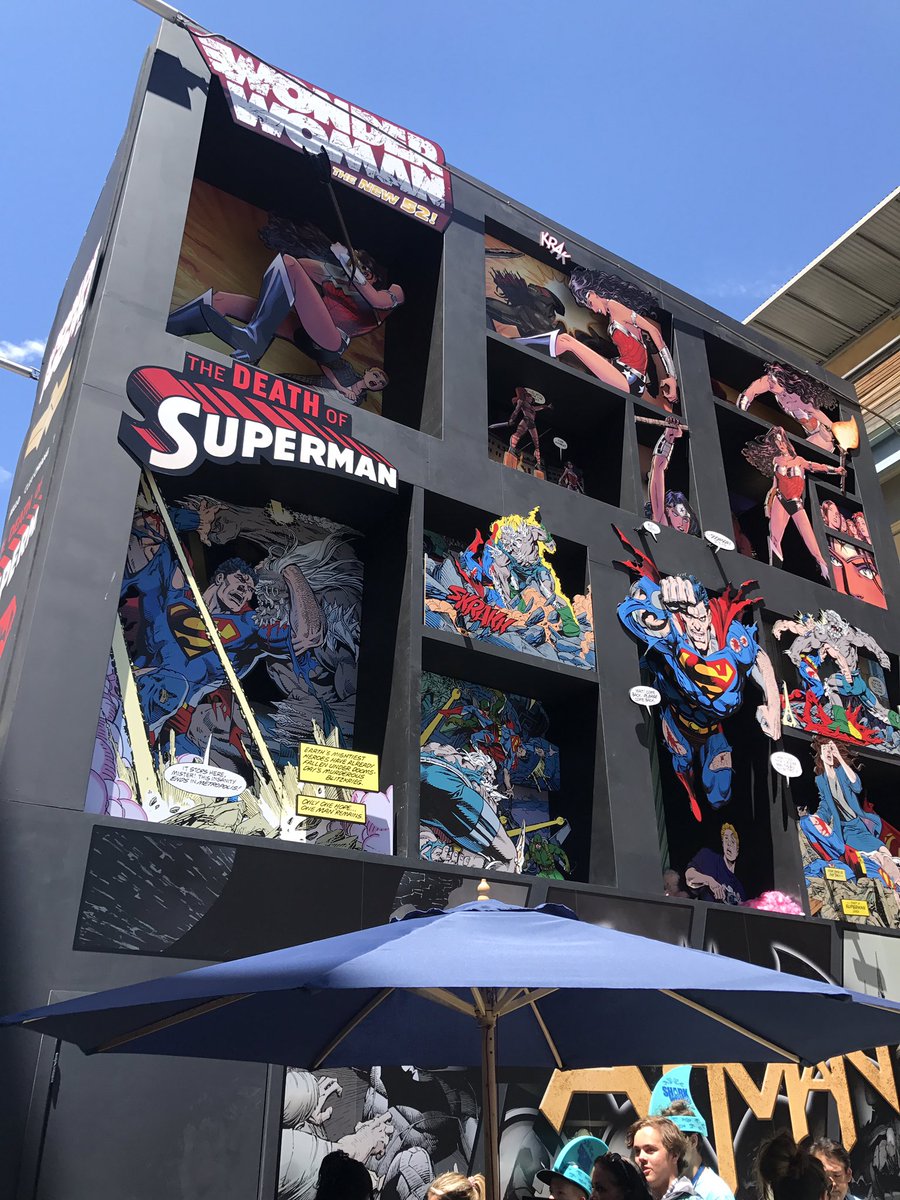 This year's immersive activations including Jack Ryan on Amazon Prime Video, DC Universe, and more took over parking lots and transformed hotel ballrooms to create experiences that transport attendees to another world, and share with friends.
Simple photo booths are out. Immersive activations are in.
Last year saw the start of fully immersive activations at San Diego Comic-Con, including HBO's Westworld experience in a hotel we reviewed, and the Blade Runner 2049 experience that took over a city block.
And after the fully immersive SXSW Westworld experience set a new standard this spring, Comic-Con activations had to get bigger. At SXSW Westworld, shuttle buses picked attendees up at a themed Delios station, gave them black an white hats and dropped them off in a ghost town transformed to Sweetwater with dozens of actors in characters and horses. You can get a drink at the Mariposa saloon, play cards, enjoy music, or talk to the characters to solve mysterious clues. See our SXSWestworld review. Creative agency Giant Spoon, with offices in LA and NY, won a Cannes Lions gold award for creating this landmark experience.
After SXSW Westworld, Hollywood studios, always looking for the next big never-been-done-before, out-of-the-box idea to market a movie and generate viral marketing and PR buzz, went bigger at Comic-Con this year.
DC Universe took over the Hilton Gaslamp courtyard ballrooms to create a mini DC theme park with several experiences to promote upcoming DC Universe shows.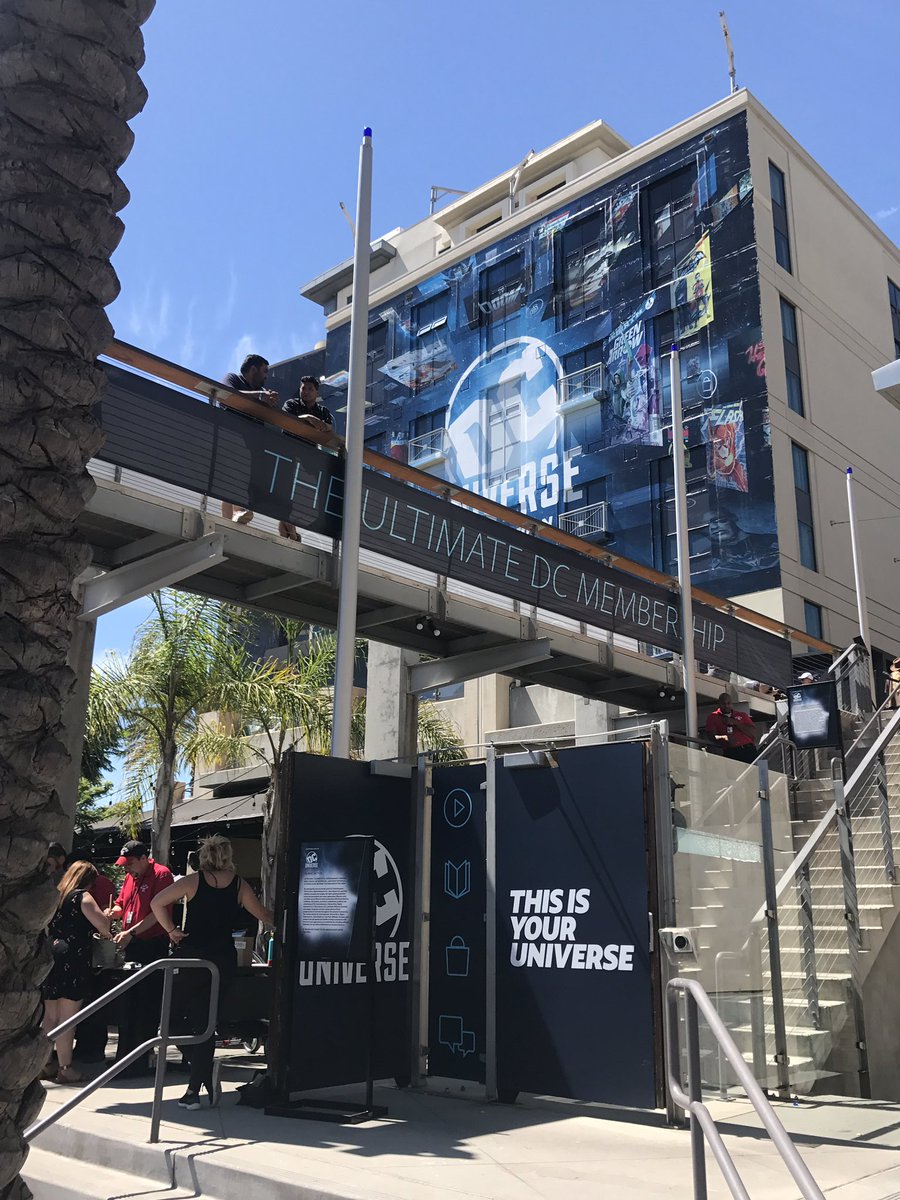 At the Batman themed haunted house maze, you walk through avoiding masked owls. At the Swamp Thing experience, you dodge branches and jump across rocks to try to get a glimpse of the mysterious Swamp thing. At the Dick Greyson escape room, you enter his office and solve clues that unlocks a panel revealing the trailer for the show. You can also try steaming chocolate or caramel nitrous popcorn, which makes a great Instagram.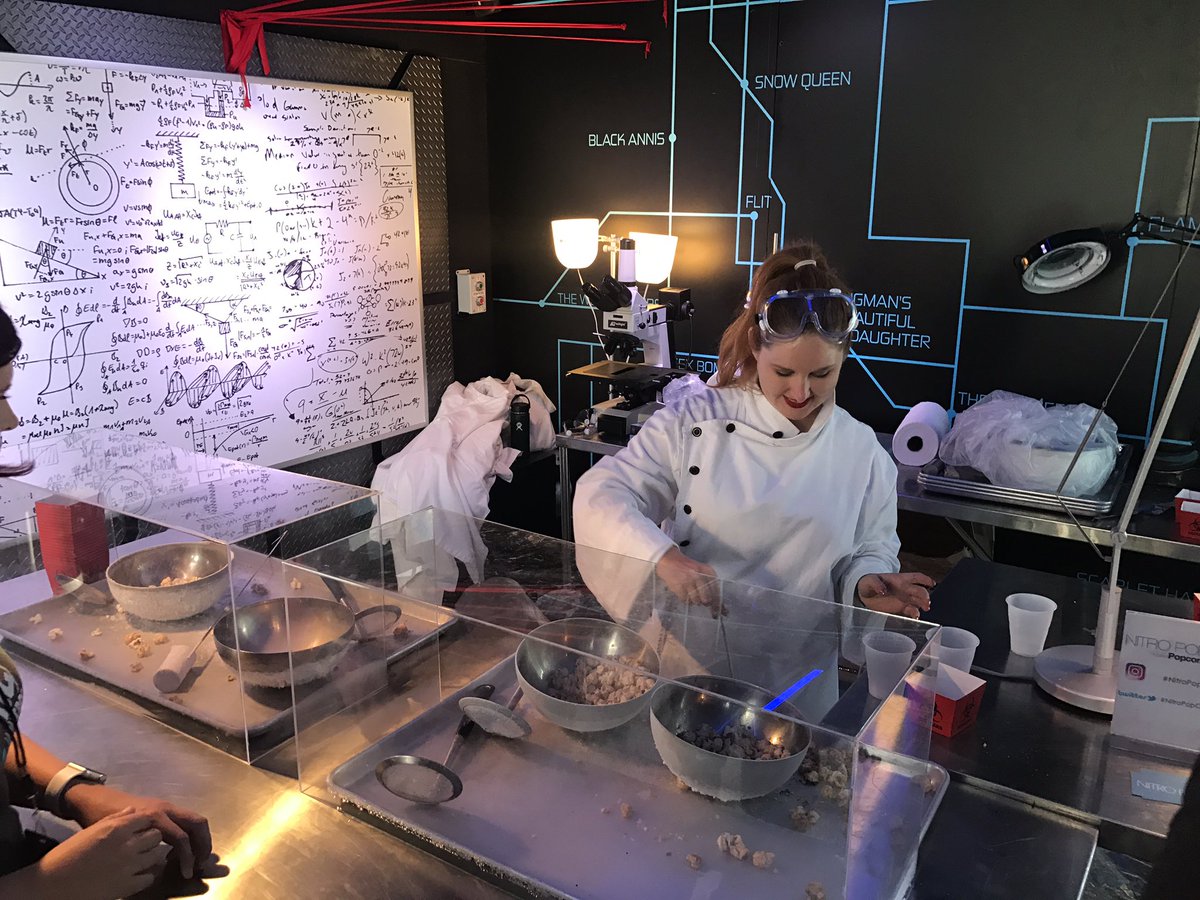 The most fun was the Harley Quinn smash room, where you get a jump suit, helmet, and bat, and get to enter a room with plastic bottles of paint and a punching dummy, and go nuts smashing everything in sight (except the tables) for 30 seconds, with paint flying everywhere. It's definitely amusing and a little shocking seeing the most mild mannered comic fan attendees get suited up and go nuts smashing everything in the room. And it's great cardio!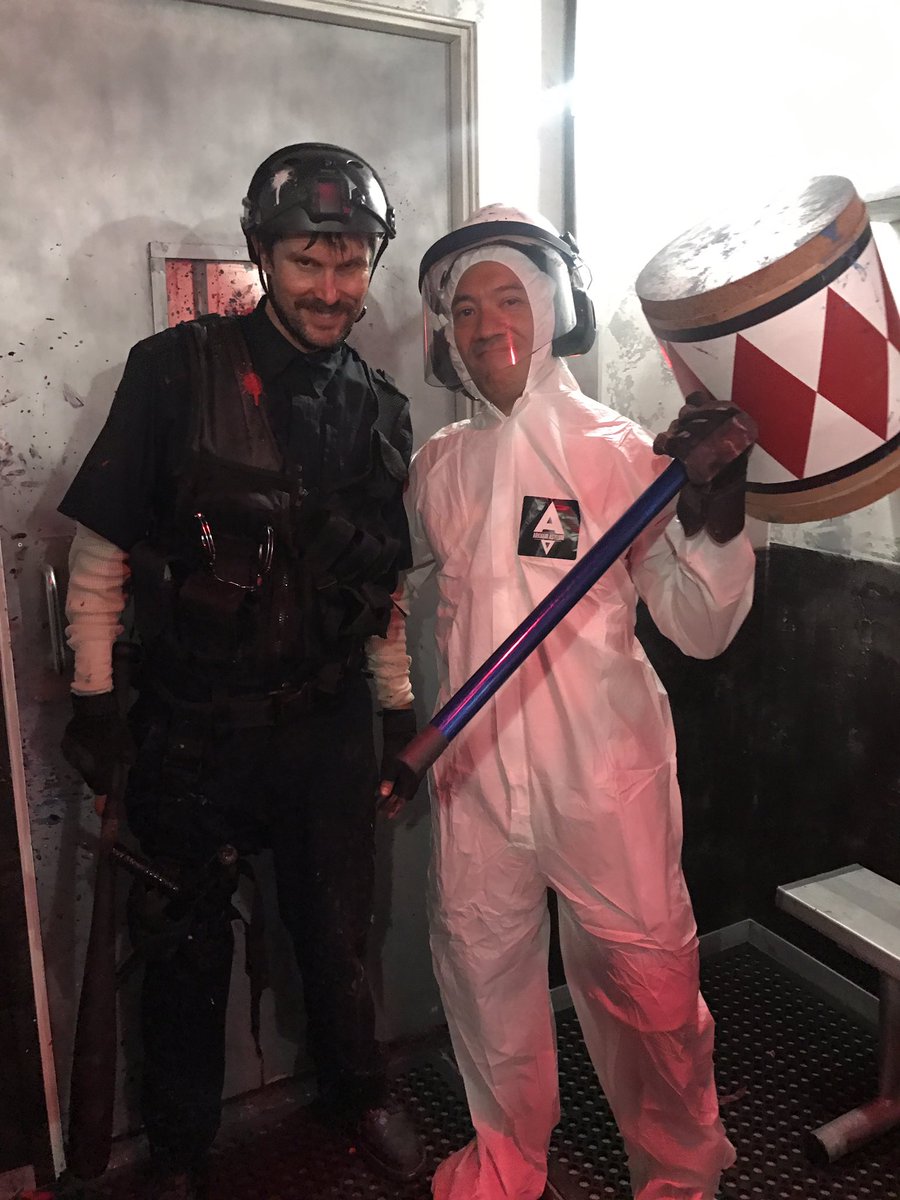 In addition to the several experience, the DC Universe included a comic-panel building front that looks great lit up at night, along with a Batmobile and some costumes and props from the shows. All the better for more photo opps.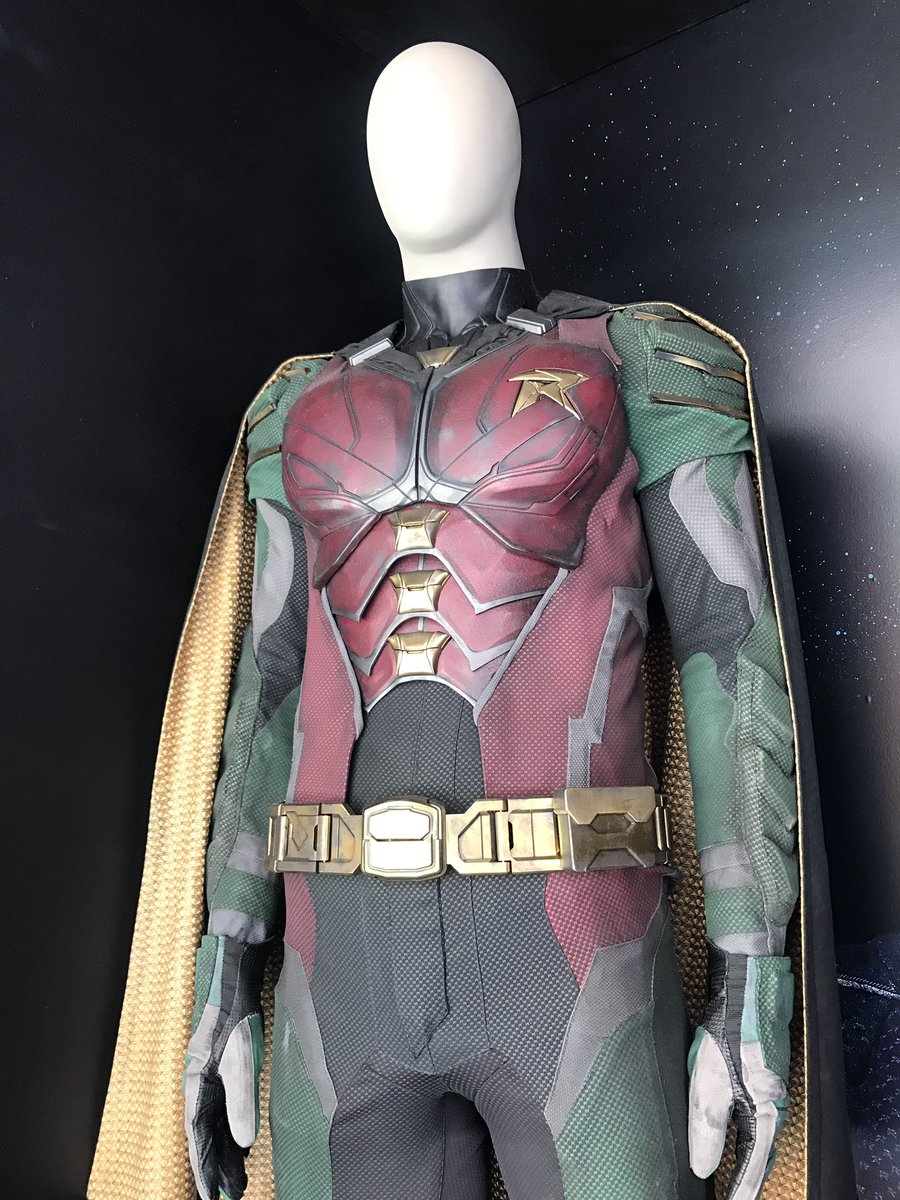 Technology helps encourage social sharing and reduce wait times. The DC Universe experience used RFID code wristbands to help take sharable photos and videos, and help with throughput. When you first enter, you type your name and email into a tablet, that's linked to a RFID wristband put on your wrist. At experiences where photos or videos are taken, just scan your wristband at a sensor, and photos and videos are taken and emailed to you automatically. This avoids the lengthy typing-in email addresses or phone numbers into kiosks which can create long lines at events. Fans receive the RFID-tracked photos or videos via email, and can social share with friends.
Actors in full dress and character helped greet and guide attendees through the experience. Actors help add to the immersive experience, and help move attendees through the experience swiftly.
It's fun to work with studios to create immersive experiences that fit the theme of each show, said Marc Simons, co-founder of Giant Spoon which created the DC Universe experience at Comic-Con, the award-winning SXSW Westworld experience, and the SXSW Ready Player One experience.
Jack Ryan
Other immersive experiences included the Jack Ryan on Amazon Prime Video experience. The experience took over a city block, where fans could zip line, and do an escape room themed to Jack Ryan.