Disney+ Day announced several new series, the release of new shows like Shang-Chi and Jungle Cruise today, and additional promos with Funko, AMC, and Target to celebrate the second anniversary of its launch today November 12.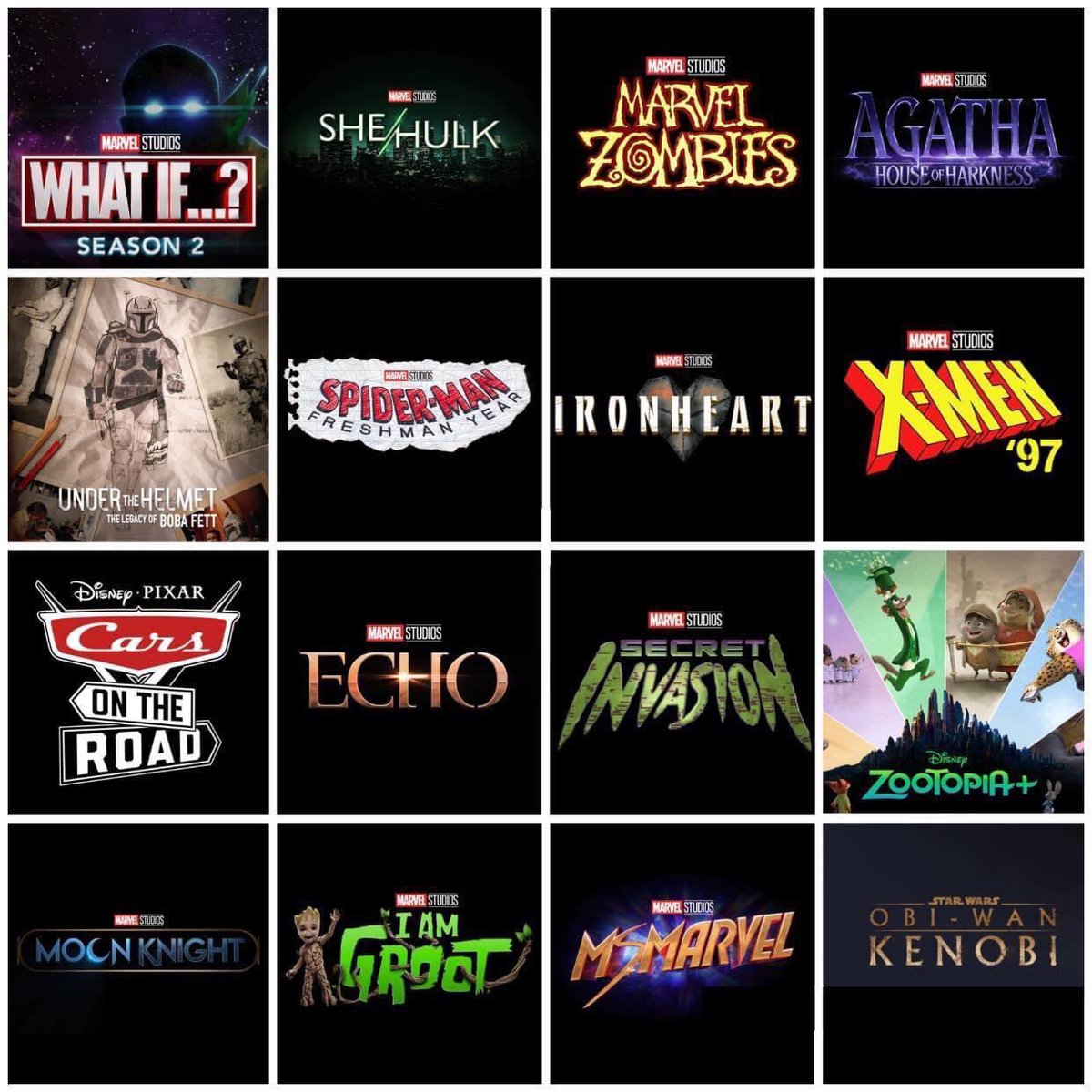 The popular streaming service launched on November 12, 2019, luckily just before the pandemic lockdown, allowing viewers to watch their favorite Disney, Pixar, Marvel, Star Wars – and National Geographic content at home or on their mobile devices.
Marvel Studios
Marvel Studios announced several new live-action and animated series, in addition to previously announced series Moon Knight, Ms. Marvel, and She-Hulk
What If…? Season 2: continuation of the popular animated series. It will likely follow up on the Season 1 finale.
Agatha: House of Harkness. WandaVision spinoff series stars Kathryn Hahn, nominated for an Emmy for her role as nosey neighbor – witch Agatha Harkness. Unclear if it takes place before or after WandaVision.
X-Men '97 continues where the favorite 90s series left off, with several of that series voice cast confirmed. Releasing 2023.
Ironheart. Dominique Williams plays Riri Williams, an MIT genius who builds her own Iron Man inspired suit.
Spider-Man: Freshman Year animated series will follow Peter Parker's adventures in the MCU before he appears as Spider-Man in the films.
Marvel Zombies: animated series likely continues the story of the What If…? zombie episode where Marvel heroes must combat a deadly zombie plague.
Echo: Hawkeye spinoff about Echo, who in the comics is Kingpin's adoptive daughter Maya Lopez.
Secret Invasion: Nick Fury and Talos try to stop the Skrulls invasion
I Am Groot: animated series starring everyone's favorite tree, as Baby Groot, perhaps the most popular Groot.
Video clips were released of these three series, previously announced at Disney D23 Expo in 2019.
She-Hulk: Tatiana Maslany plays Jennifer Walters, who turns into She-Hulk. Also stars Mark Ruffalo (cousin Bruce Banner), Tim Roth (Abomination) and Jameela Jamil (Titania). New logo released today includes a slash design element between She and Hulk, perhaps indicating she can switch between her alter ego and the Hulk? Or hinting at pronouns?
Moon Knight starring Oscar Isaac, with Ethan Hawke. Set photos look amazing.
Ms. Marvel stars Iman Villain as Kamala Khan, a Muslim Pakistani-American girl from New Jersey inspired by Captain Marvel. In this live action, it appears she will not "embiggen" and stretch like in the comics, but instead will have a glowing fist.
Additional Star Wars and Pixar titles include
Obi-Wan Kenobi starring Ewan McGregor
Under the Helmet: The Legacy of Boba Fett, tribute to popular Boba Fett
Zootopia+ follows the adventures of other characters in Zootpia (not Nick and Judy Hopps)
Cars On the Road: Lightning McQueen and Mater take a road trip where they will meet old and new friends
Disney+ Day announced several other shows as well including Simpsons Plusaversary, and more.
IMAX Enhanced: Several existing Marvel Studios movies are now available to watch in IMAX enhanced versions.
Promos
Disney+ Day also announced promotional tie-ins across its online store, theme parks, retail partners, and more.
$1.99/month for New subscribers can sign up for $1.99 for the first month, and $7.99 (regular price) thereafter. Available thru November 14.
TikTok Text-to-Speech Disney character voices available when creating posts on TikTok. Select Rocket Raccoon, Chewbacca, Stormtrooper, Stitch and other voices to read your text caption as your video plays.
Disney NFTs digital artwork featuring favorite Disney characters available limited time
ShopDisney: Disney+ subscribers get free shipping in the US and Europe on purchases made by Nov 14.
Theme Park Early Access: Disney+ subscribers could enter Disneyland and Disney World theme parks 30 minutes before opening to the public on November 12. Disneyland and Disney World will also have blue carpet Disney+ rollouts, and some new characters from Disney+ shows.
Disney Publishing: Get select ebooks based on Disney+ series for .99 cents thru Nov. 17.
Funko: Get 10% off Disney+ products online at Funko's web site with code DISNEYPLUSDAY at checkout, or atits stores in Hollywood or Everett, WA HQ from Nov 12-14.
Target: Sign up for Disney+ at 800 Target stores Nov 12-14 to receive special giveaways.
AMC: Get $5 tickets for surprise screenings of Disney movies at AMC theaters Nov 12-14, including a free poster.