Distance Dating during a pandemic adds new rules – and apps and experts can help find relationships and love, said speakers at our Digital LA – Distance Dating panel held distantly on May 20 via Zoom.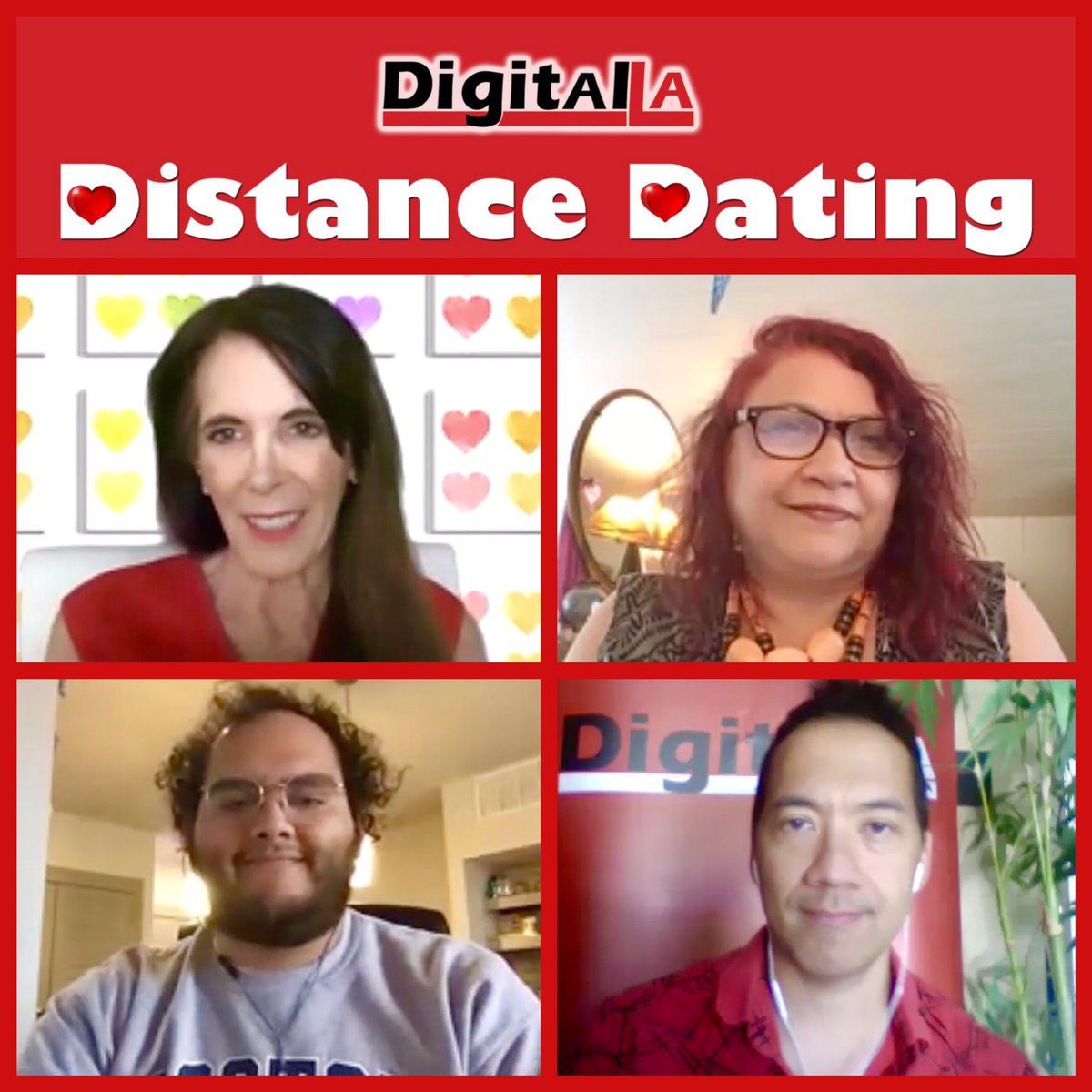 This panel was a follow-up to our Digital LA – Dating Panel held on Valentine's Day Feb 14, where dating coach and expert Julie Spira and a Three Day Rule matchmaker gave dating advice on apps, and more.
The world has changed in the past three months, and so have dating rules, which we are all figuring out in this unprecedented time in history.
But how?
7 Tips for Distance Dating
1. Try Dating Apps and Sites. If you haven't use datings apps before, or have used them and are 'over it,' try them again. Dating sites and apps have reported a huge increase in users and activity during pandemic. It's not just the healthy safer way to meet people, it's the only way, with bars, restaurants, events and festivals still closed in most of the country.
The new dating site users tend to be less interested in casual hookups (because that's not happening so much), and more interested in long term relationships, said Julie Spira, dating coach and expert. Julie's coronavirus dating advice has been featured in Ask Men, Chicago Tribune, Elite Daily, Her, MTV News, Tinder, Yahoo! Lifestyle, and LA Weekly
Kindra Dating site and app, lets creative artsy people connect with personal photos and videos. Popular among the creative and Burning Man crowd in Venice, Kindra used to organize in-person events and parties for members to meet in person. But in pandemic, Kindra has moved its social activities virtually. Now, Kindra organizes daily Zoom discussions, weekly dance parties, and virtual speed dating via its iOS app kindra.life. If people in a Kindra Zoom room want to have a more intimate discussion, they can request to go into a breakout room with fewer people, or 1×1 discussion.
OkZoomer helps find people NOT near you, said Jorge Valdez, CTO and co-founder of the Dallas based startup. Jorge said that the idea started as a Google doc of students at college posting their dating interested and preference, who wanted to date outside of their school. It expanded to more schools, and then the public. Now, people create an account, take a short personality quiz, and then the OkZoomer uses AI to suggest matches. OkZoomer is also starting to organize virtual events for people to meet.
2. Adjust to Accelerated Dating Time. Dating time has accelerated in pandemic. Pre-pandemic, you used to meet someone over the weekend, trade numbers or Instagram, and then follow up a few days later. Then, communicate a few times over the next week, and eventually schedule something the next weekend.
Now, there aren't really any weekend events. And during pandemic, everyone is at home looking for something to do and connecting anyway. So the dating steps are happening faster.
3. Add Virtual Date to the dating steps.
Pre Pandemic: Connect in-app or dating site, where you exchange messages. Then if both parties feel comfortable, exchange numbers to call, and then FaceTime or in-person date.
In Pandemic: Meeting up via Virtual Date via FaceTime or Zoom now happens first, instead of meeting in real life. Or as an added step before meeting in real life, if both people are comfortable with that, said Julie Spira.
4. Less Casual, More Connection.  People are playing dating games less, and revealing themselves faster. Many LA singles, tired of being alone the past few months, are now looking for long-term relationships. Some people are looking for a quarantine partner to live with.
5. Discuss Quarantine and Social Distancing Preferences Early. In quarantine, it's important to share your quarantine and social distancing preferences early on, speakers said.
Some people might be OK going for a social distanced walk at the park, with masks. Some might prefer to keep everything online for the next several months. Are you OK getting into a car for a beach drive with someone? Do you both wear masks if you do? If you stop to get a fish taco, are you OK taking off the masks to eat in the car, or do you get out of the car? There are several logistic questions to address upfront.
Digital LA founder Kevin Winston joked that there should be an existing or new dating app that adds these quarantine preferences as profile pull-down menu selections, so you can filter people who share similar preferences.
6. Pick 3 Dating Sites. Just like people have three social media they frequent regularly, pick three dating sites. If you do more than that, you will likely get dating fatigue: frustrated with the whole process and give up, said Julie Spira. Pick sites that have the kind of people you're interested in, from both a lifestyle and hobbies viewpoint, to level of seriousness and dating commitment.
Make sure your profile is up to date, and tells your unique story. Julie Spira helps consult with people on their dating profiles, Instagram, and more to make sure they're representing themselves in the best light for what their dating objectives are (Details below).
7. Long Term Relationships Are In. In quarantine, more people are looking for serious connection and long term relationship. Some people are looking for the comfort of a quarantine partner. People want, and are getting to long term relationship faster, Spira said.
She quoted results from a poll on her site, asking people: "How has COVID affected your dating life?" A strong majority, around 80 precent said they want long term relationships. About 12 percent said they've put dating on hold. Only 8 percent said they can't wait to get back to hookups. During the webinar, attendees were also polled using a Zoom poll, with remarkably identical results. LTRs are IN!
You can watch the entire panel on our Digital LA – Facebook Page.
Thanks to our SPEAKERS!
Julie Spira is America's Top Online Dating Expert, and the founder of Cyber-Dating Expert. She's been coaching singles on finding love online for over 25 years, and is a virtual dating expert. Julie created Dating in the Age of COVID-19: How to Find Love in a Pandemic https://datingintheageofcovid19.com to help singles through her Dress Rehearsal service, where she goes on a mock date with you. She also created an advice site for couples, "Love in the Age of COVID-19: How to Keep Love Alive During Quarantine" https://loveduringtheageofcovid19.com.
Julie's coronavirus dating advice has been featured in Ask Men, Chicago Tribune, Elite Daily, Her, MTV News, Tinder, Yahoo! Lifestyle, and LA Weekly. FOLLOW @JulieSpira on Instagram and Twitter. Sign up for Julie's Digital Flirt newsletter.
Gina Levy, Kindra Dating, Founder. Kindra empowers its 10,000 members of creative, Burning Man, sex-positive communities to tell their stories using photo/video profile collages. In pandemic, Kindra organizes daily Zoom discussions, weekly dance parties, virtual speed dating, and connections via its iOS app kindra.life
Jorge Valdez, OKZoomer, CTO, co-founder. OKZoomer helps college students find new romantic, platonic and professional connections by using AI to match them based off of a personality quiz. OkZoomer started as a Google Form posted on an Ivy League meme page, and has since evolved to Zoom to encourage building connections from afar virtually. Jorge graduates from SMU in Computer Science. He's currently employed as a full-stack web. zoomer.love