Doctor Strange in the Multiverse of Madness conjured $185M domestic its opening weekend, setting a record for seventh best opening day, after mostly other MCU movies including Spider-Man: No Way Home.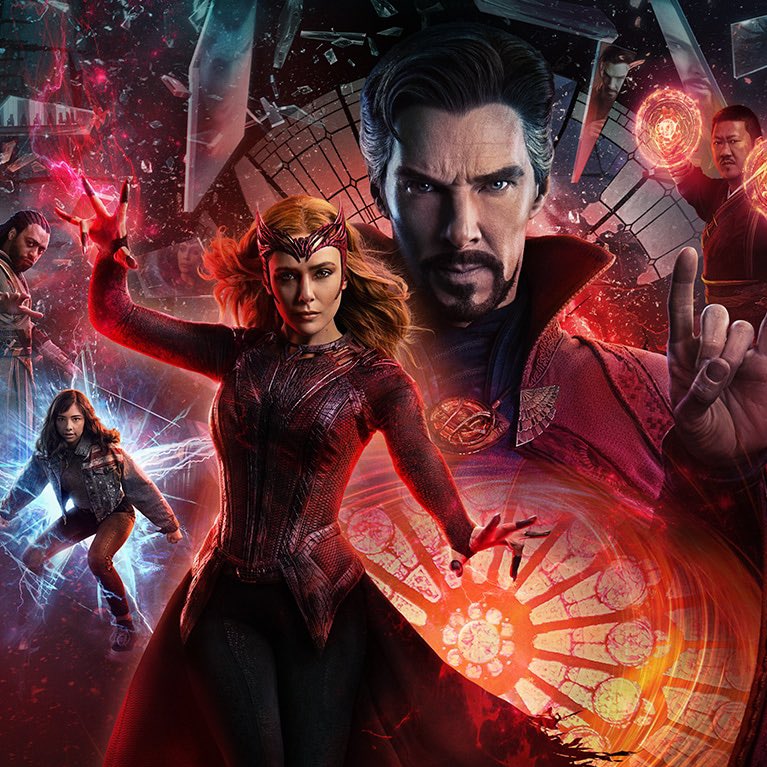 The film scored more than $450M internationally, even without Russia, China, and several countries in the Middle East.
The first Doctor Strange film opened to $87M domestic in 2016. Why the $100M bump?
Much of the success is attributed to the energy and fans of WandaVision, Disney+ first MCU show which created a strong loyal fanbase, excited by Wanda's leveling up to her Scarlet Witch character, and wanting to follow her story. It's a case study of how the MCU can weave together films and its online streaming shows to create synergies with blockbuster box office results.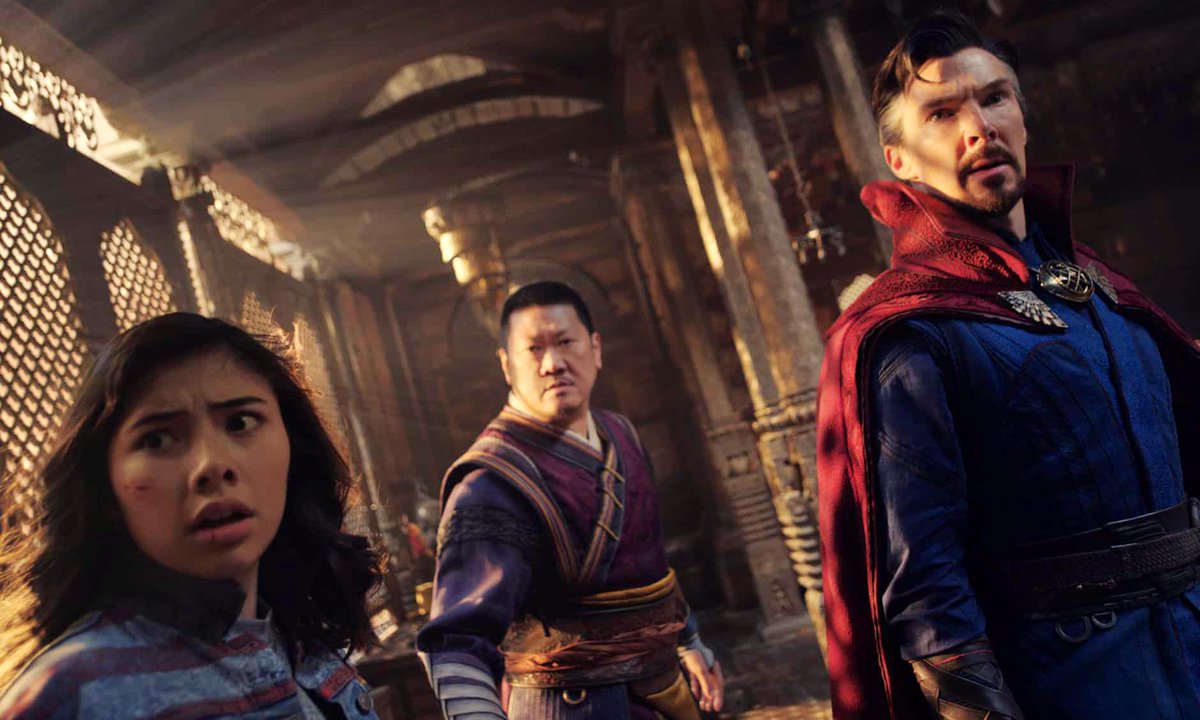 REVIEW
Doctor Strange and the Multiverse of Madness is true to its title, combining multiple universes and versions of characters, introducing new character America Chavez, all with with eye-popping VFX, trademark Raimi-horror, and powerful score by Danny Elfman.
The film nicely continues the stories of both Doctor Strange's miscast spell story after Spider-Man No Way Home, and Wanda's story post WandaVision. Doctor Strange must deal with the repercussions of his multiverse warping under judgment of the Illuminati – yes confirmed! Wanda continues her multidimensional search for her two sons. Her search brings her at odds with Doctor Strange, with massive magic battle results.
Both actors get to flex their acting skills by playing multiple versions of themselves from different timelines.
Strange gets to play at least four versions, from unethical to evil.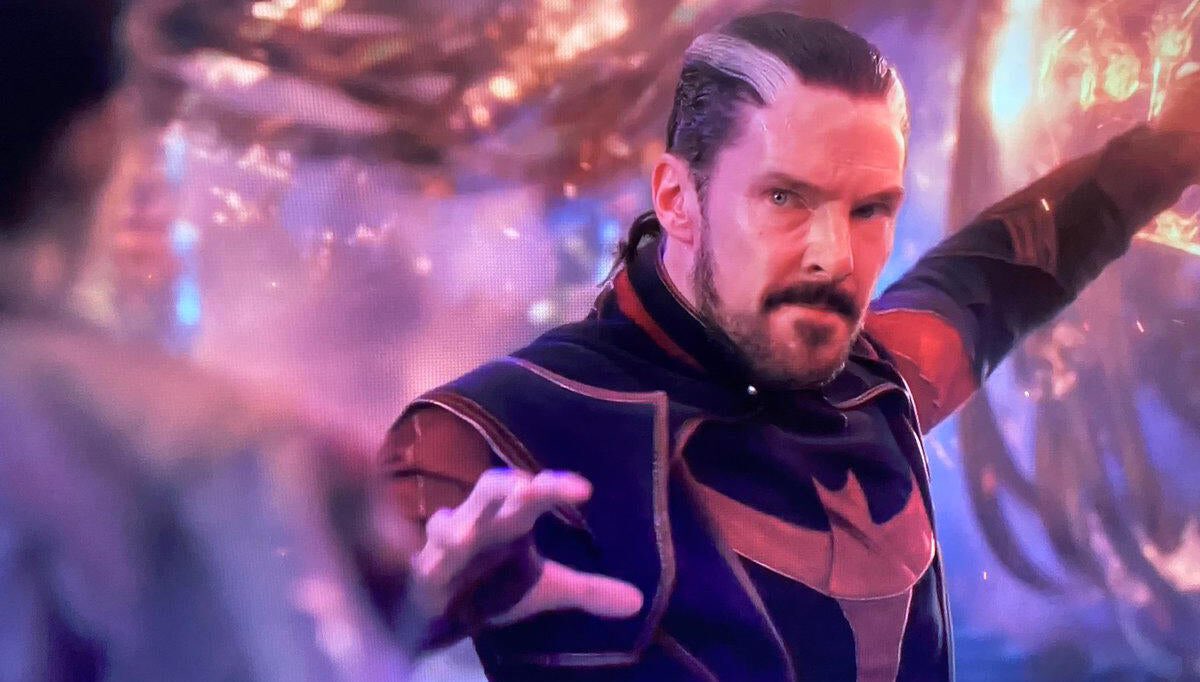 Elizabeth Olsen also gets to play several versions of Wanda, from happy mom to Dark Hold possessed villain.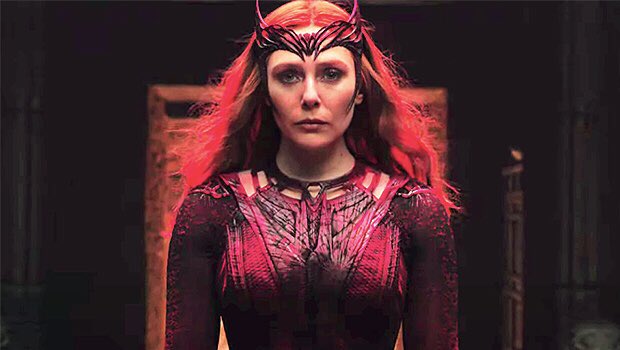 The film also introduces an entirely new character essential to the plot: America Chavez, the tough dimension-traveling Latina from another multiverse, played by newcomer Xochitl Gomez. In a film about multiverses, America's superpower to travel between multiverses by creating blue star-shaped portals comes in handy. Xochitl's energy, exuberance, and 'kid next door' is a breath of relatable fresh among all the wizardry and horror elements of the film. She does seem to spend one too many scenes screaming avoiding people are trying to hunt her down and steal her powers.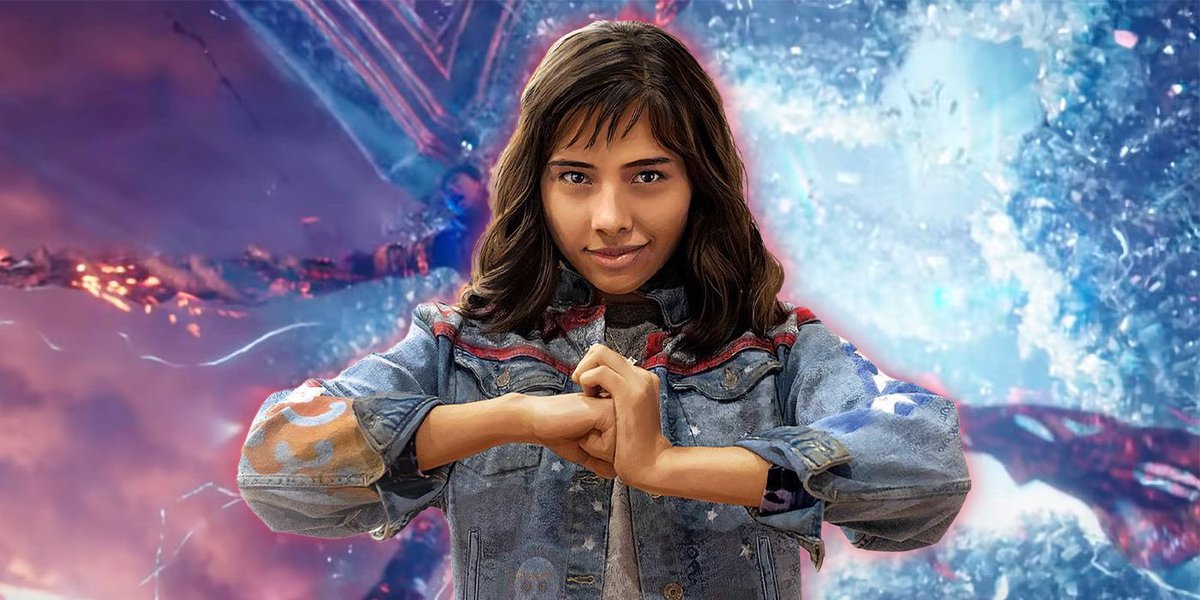 Wong (Benedict Wong) returns as the Sorcerer Supreme. He proves handle with a magic lasso, but other than that, doesn't really get to show any supreme moves. Rachel McAdams returns as Dr. Christine Palmer, and Chiwetel Ejiofor is back as Mordo.
While most of the film is cosmic, colorful and typical Marvel upbeat, there are several sequences where Raimi takes the film into straight horror via cinematography, music, lighting, and graphic images of demons and zombies. The film is true to the dark magic in both the Doctor Strange and Scarlet Witch storylines from the comics source material.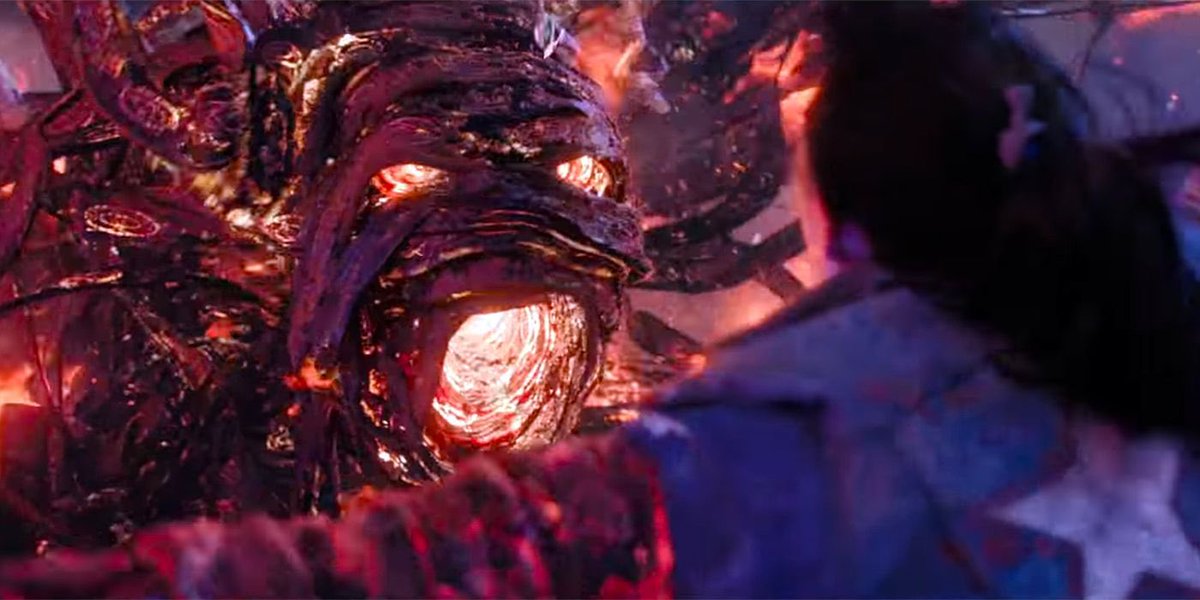 These horror sequences are a welcome fresh look for the Marvel Cinematic Universe to try, and to appeal to horror fans. Other MCU films borrow from different films to keep them fresh: Captain America: Winter Soldier is spy thriller, Guardians of the Galaxy and Ant-Man are comedy; Multiverse of Madness is horror. Note: This film is PG-13; special caution when letting kids under 5 see this depending on what the child is used to / comfortable with seeing. Don't expect your typical kid friendly Marvel movie. Note that the sequences aren't pure horror either; your horror-loving fans will say they're quite tame compared to a pure horror film.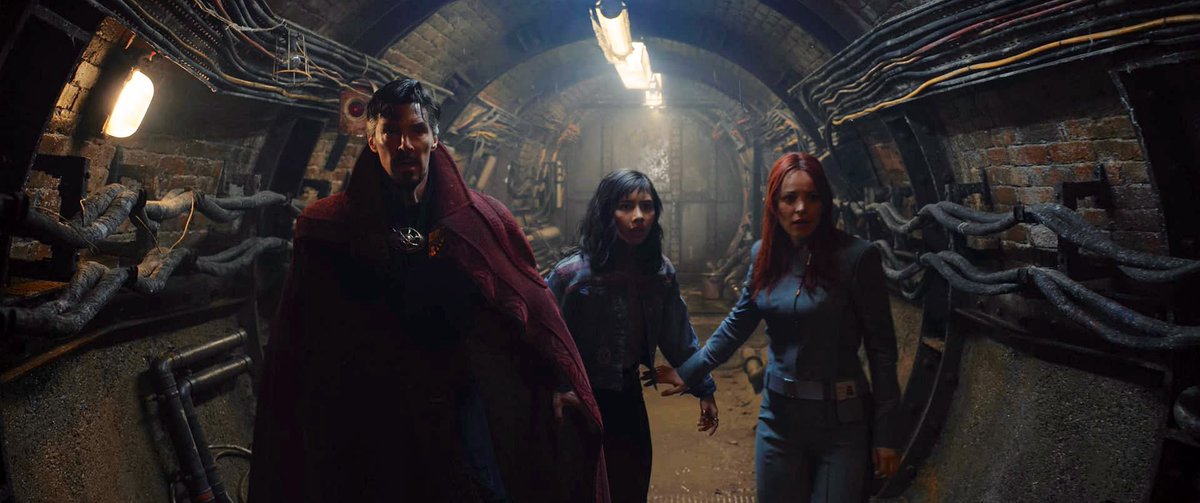 The heart of the movie is: Are you happy in your universe, and what will it take to make you happy? Wanda appears to motivated by her kids to be happy. Doctor Strange is motivated by trying to achieve resolve with Christine (Rachel McAdams) who is marrying someone else in this movie.
It is perhaps not a coincidence that two of the main characters are mom-motivated on a film that came out on Mother's Day weekend, and is nicknamed-abbreviated MOM (Multiverse of Madness). Wanda is mom-motivated to find and protect her kids. America Chavez is motivated by her Moms.
The VFX sequences are mostly excellent. A sequence hurtling through a dozen-universes is particularly fun to watch. However, there are some uneven patches. The octopus-eye monster in the opening New York sequence seems a little cut-and-paste.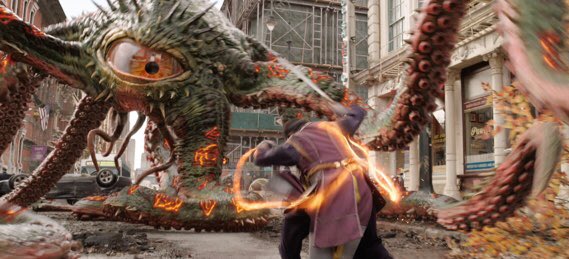 Reviews of the film have been generally favorable for its nonstop action, horror elements, and Illuminati cameos. Not all of the crazy rumored cameos appeared: No Tom Cruise as Superior Iron Man. But several are true: Patrick Steward as Professor X, and Hailey as Captain Carter from What If, which were both confirmed seen in trailers a few days before the films release. There are a few more we won't reveal, but are satisfying. Even tho they don't stick around a long time.
Fans of Wanda from WandaVision are the most conflicted, sad, or upset at the film. After WandaVision, fans have come to love Wanda's journey and Elizabeth Olsen's portrayal of grieving Wanda. The last episode of WandaVision points to her signs of redemption. However, in the first 15 minutes of Madness, she appears to flip directly to evil, seemingly erasing her character development in WandaVision. There aren't many strong powerful female characters at Wanda's level, so to have her suddenly go bad so quickly has made some Wanda-stans upset, cry, or hate the film. Some Wanda fans love it tho, because she finally gets to showcase her strong power in new ways.
For all the pre-film discussion of the film's LGBTQ inclusion, which caused it to be banned in many Middle Eastern countries; there are just two LGBTQ sequences. First, America Chavez character – who is lesbian in the comics – wears a BIPOC pride flag pin on her jean jacket. Second, in a quick 5-second flashback sequence, she sees her two moms hold hands on another planet in another multiverse. That's it. America Chavez herself doesn't do anything or say anything indicating she herself is LGBTQ.
Overall, the movie is fun, a must for MCU fans. Rating: 7 of 10. For casual fans: Seeing WandaVision (especially the last episode 9) is essential to understanding Wanda's growth. But other than that, nothing's particularly essential (except Doctor Strange first movie).
See our coverage of the
premiere
in Hollywood.