DragonCon returned with parade, panels and lots of its trademark parties and cosplay September 1-5 in Downtown Atlanta.

Lauren Ridloff (Eternals), @300DCSpartans, Nimrod by @dangermouse556
Highlights included William Shatner and Ansoun Mount of Star Trek, Encanto voice actors, and many more.
Attendance was estimated at 60,000 attendees, up from last year's 40,000 attendees, capped by covid-capacity restrictions. Attendance was less than the pre-covid 85,000 attendees in 2019, although most attendees this year appreciated the ability to still walk around the hotels and 'hamster trail' bridges connecting the Marriott, Hyatt, and Hilton host hotels.
TALENT
William Shatner (Star Trek's Captain Kirk) described his projects he's working on including: His Trek War book being made into an animated series, working with LA-based Legion M fan-investor company, his music (where he speaks spoken word style over music), two self documentaries, and a watch in collaboration with NASA. At 91, he said he has a lot to do, just must live long enough to do it.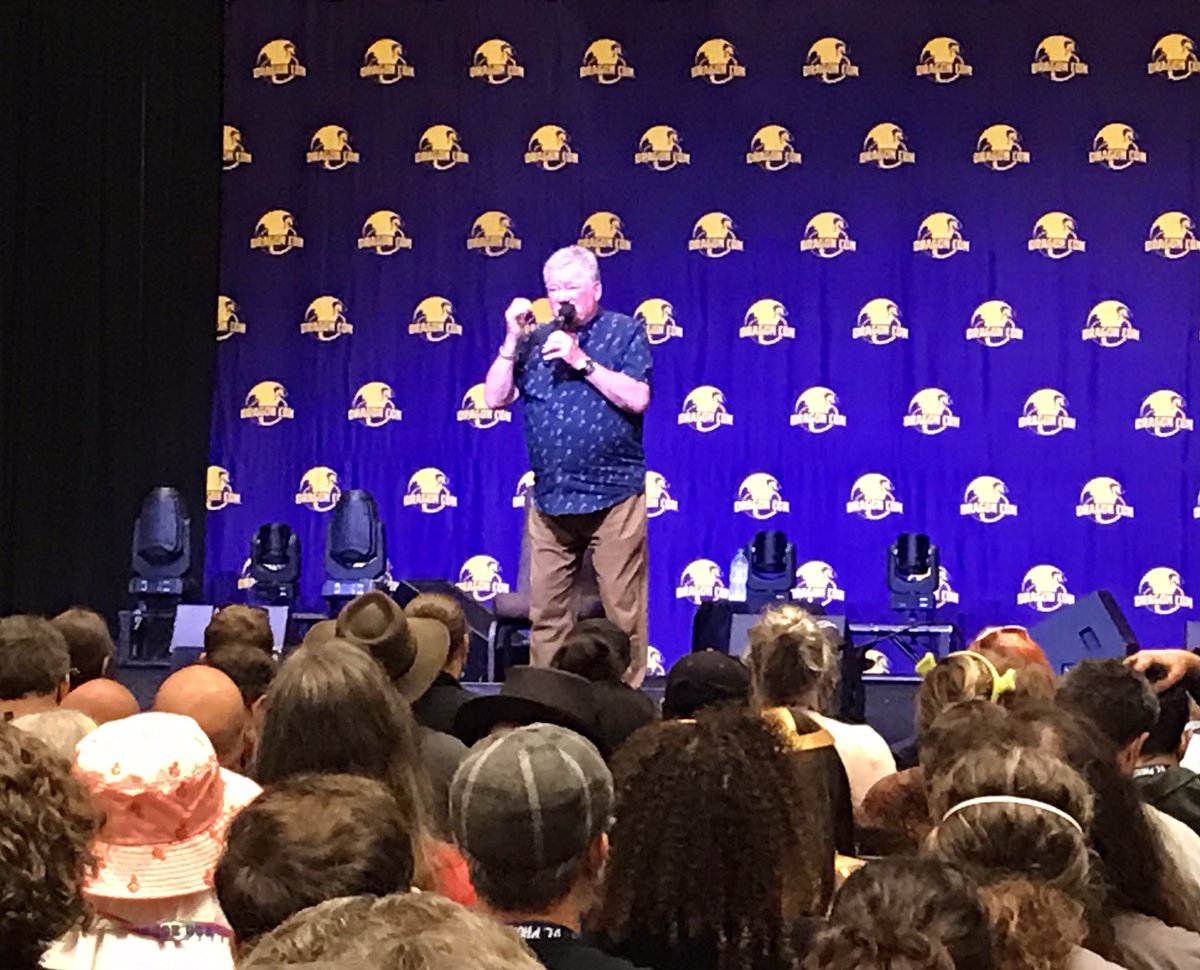 Encanto voice actors Diane Guerrero (Isabella), Adassa (Dolores) and Mauro Castillo (Felix) discussed working on the popular Disney animated film. Diane even dressed like her character Isabella, and led the other actors in a rousing rendition of "We Don't Talk About Bruno," that got the audience signing, cheering, and applauding.
Lauren Ridloff (Eternals' Makkari, Walking Dead) spoke on a panel well-attended by deaf and hard of hearing attendees, who found it inspiring to attend. Lauren shared stories working on Eternals and other projects, and answered attendee questions in the Q&A. She said that directors should ensure deaf / ASL person is on the producing side of films with deaf actors. She said films need more deaf creatives/roles. She also said she herself has started directing upcoming projects – watch for them! She also showed how to to sign Marvel: create M with both hands, and then fan out, representing that Marvel characters are frequently bursting out of the page and screen comic book style. She also answered a fan question that's become much discussed on the Internet: How would her character Makkari (who is deaf) communicate with Daredevil (who is blind). She said Makkari probably would ask Druig to help communicate with Daredevil.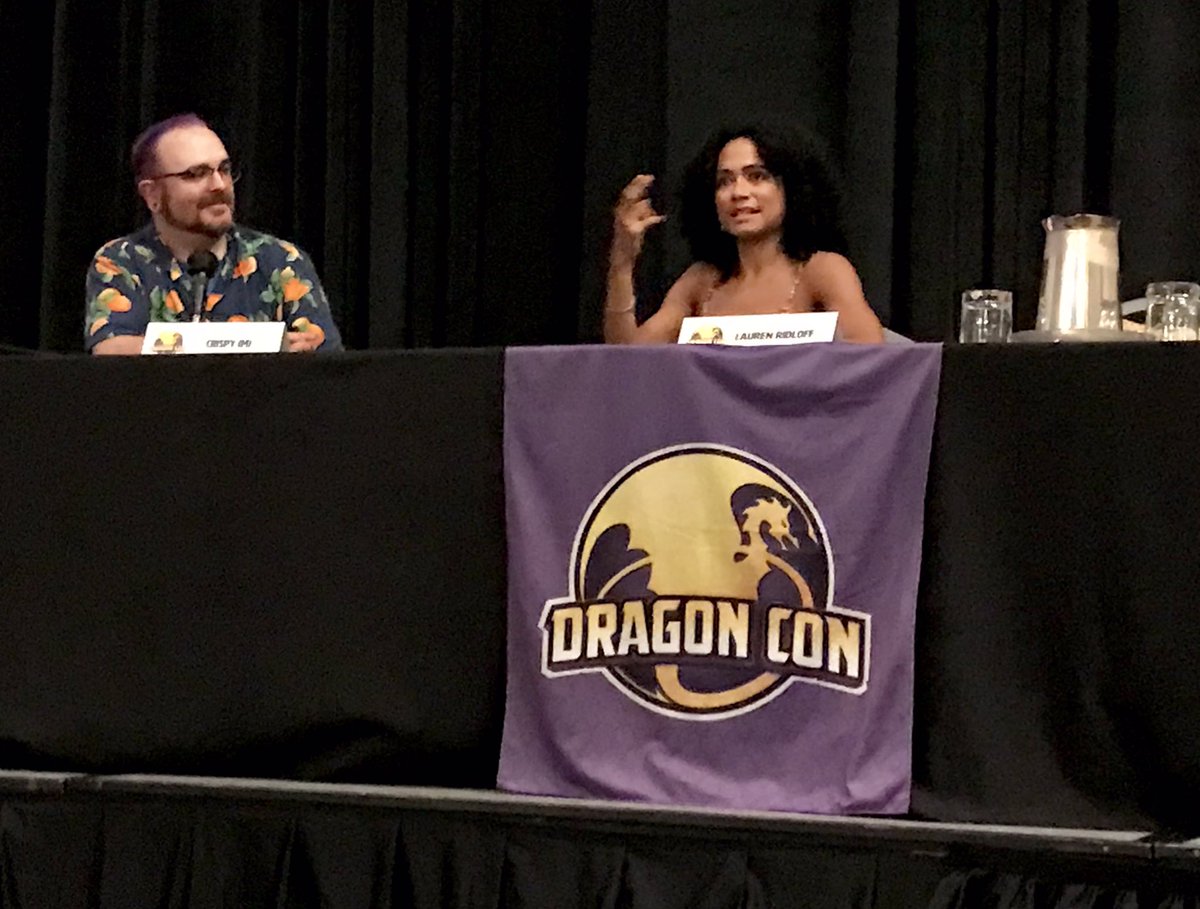 PANELS
DragonCon's hundreds of panels are organized into about 35 tracks, each headed up by its own programming committee that determine panels – and some organize a big theme party. Tracks include what you'd expect at a fan con including Anime, Animation, Comics, Costuming, SciFi Literature, Space, Star Wars, and Trek Track. There are also uniquely DragonCon tracks including: BritTrack (Doctor Who), Puppetry, Young Adult Literature, Kids Track, Filk Music (folk music).Expanded tracks included Digital Media and Diversity.
Digital Media featured 75 panels and events focusing on digital content including podcasting, streaming, and crowdfunding. Panel highlights included Building Online Communities, Kickstarting Your Creative Projects, and Producers Guide to Digital Media, and..
– Awesome Women of Digital Media. Women in Digital Media panel featured experts @CatieOsaurus @ChelseaBytes @QuidRoll @SqueeProjects @tyraanneburton and more who gave an inspirational and frank discussion of women working in online spaces. Their tips: Create safe communities online and enforce them. If people break rules: block them. If you're a women and you're being mansplained: you can correct, ignore, or just block and report  depending on situation. A few of the speakers said that they had imposter syndrome early on in their careers, asking self-doubting questions: Are they qualified, experience enough, etc. And with fewer female role models and leaders in digital, it makes it can often seem lonely forging ahead. But they said it's important  believe in yourself, push forward, and find other women allies – and men, like at this panel!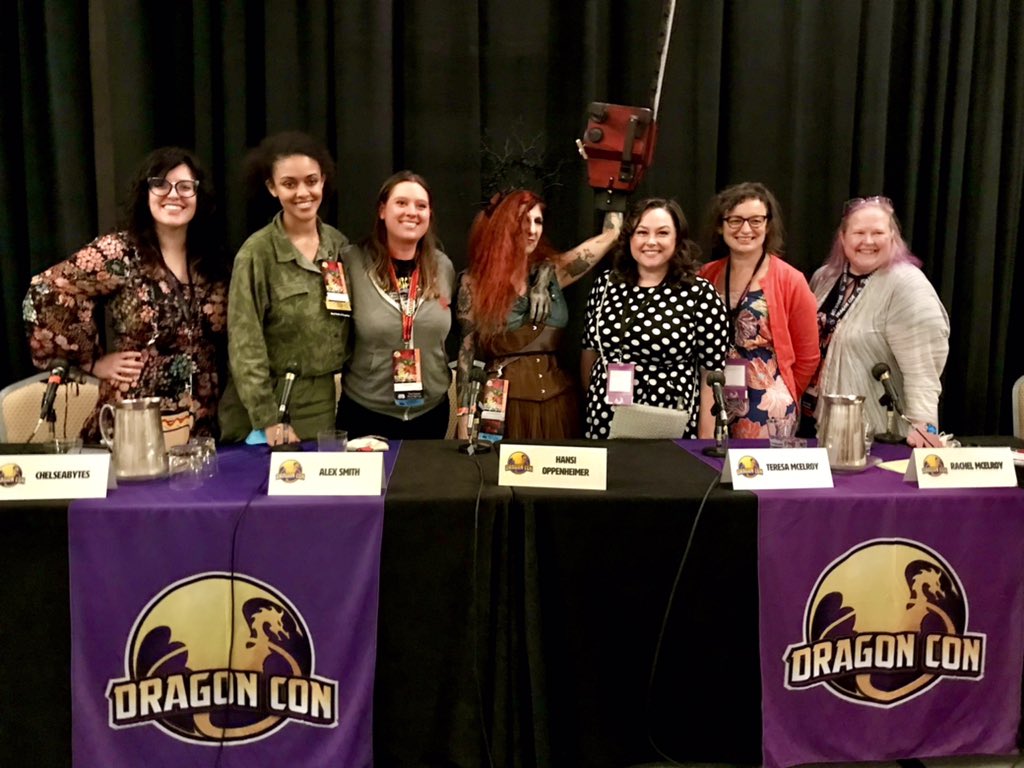 Video Gaming track featured 53 sessions including topics such as, Diversity in Gaming, Accessibility in Gaming, Streaming and Gaming, as well as specific title topics like Kingdom Hearts 20th Anniversary, Red Dead Redemption Voice Actor Q&A, 30 Years of Mortal Kombat, and…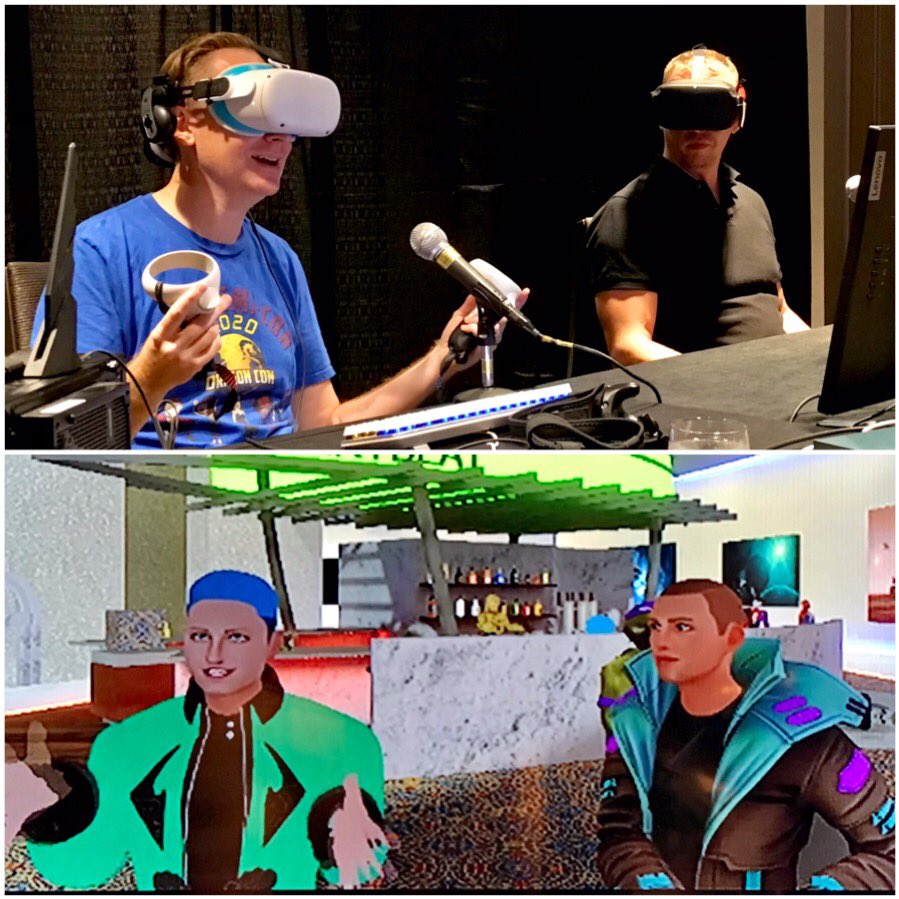 – Metaverse: Exploring VR as a Social Medium. Longtime DragonCon attendees David Benedict and William Bennett gave an overview of VR and the metaverse – both IRL and in VR at the same time. They said there are a few popular VR genres: bar/club, relaxation/ mediation, and games.  Social VR is popular, with three main players: VR Chat (easiest), Facebook Horizon Worlds (corporate), and RecRoom (mostly kids). Then they described how during shutdown when DragonCon was cancelled in 2020, they decided to create their own VR version of DragonCon, complete with simulated Marriott lobby, and dance rooms with virtual DJs. True to DragonCon cosplay spirit, they made sure you could easily change your avatar's costumes in different dance rooms with a click of the button – much easier than changing costumes IRL. They said they tweeted their link to official @DragonCon twitter, which retweeted it, which helped bring more users into the virtual convention.
Electronic Frontiers Forum track featured 35 digital tech topics including social media, copyright, cryptocurrency, and digital privacy. Panels included Privacy in the MCU, Algorithmic Injustices, Hacking 101, and…
– What are Blockchains Anyway speakers discussed: Are smart contracts actually smart or contracts? It depends on bargaining and consideration, and list of terms. How to enforce contract? NFTs must be for original art / authorship that's copyrightable.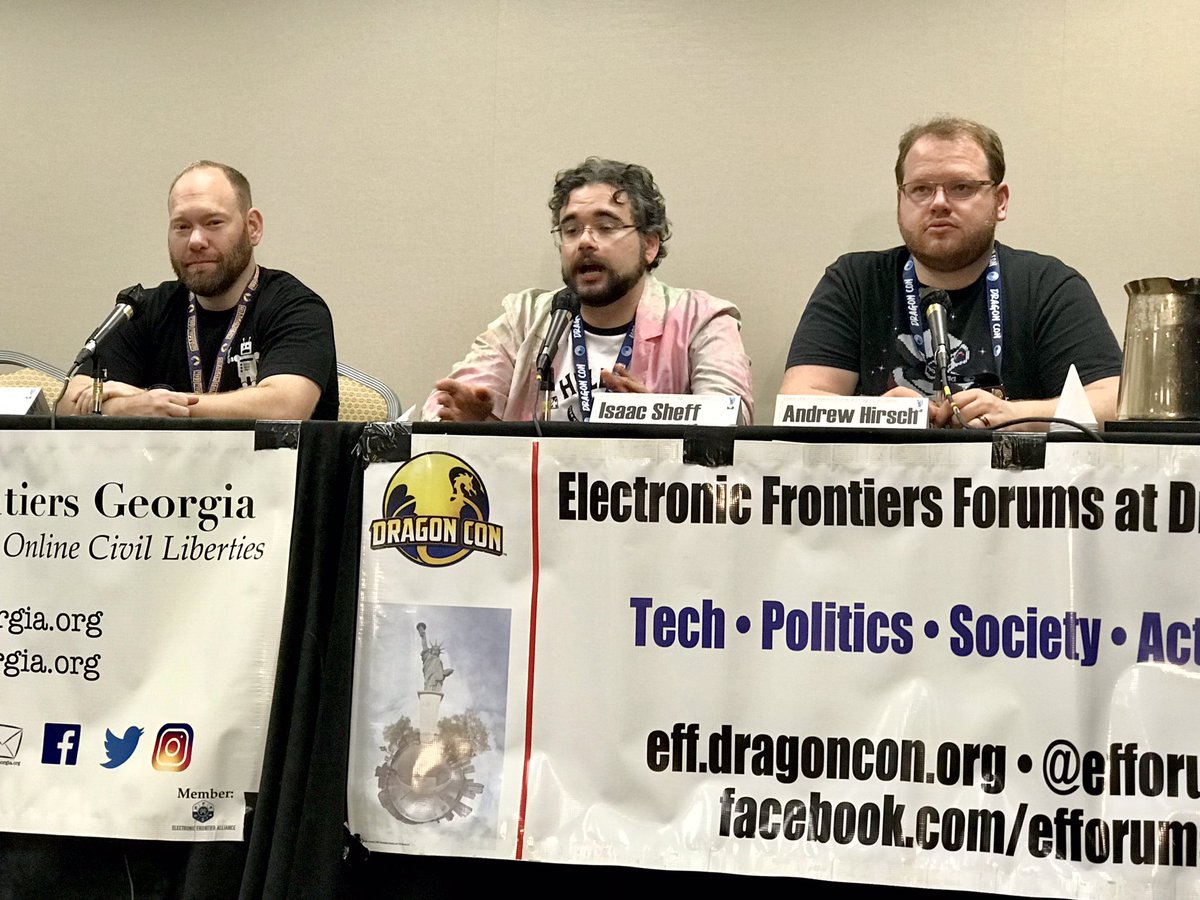 Diversity track featured diverse creators including book, TV and film writers and creators. The track has expanded to 36 panels and sessions this year. Panels included: Neurodiversity and Fandoms, LGBTQ Relationships in Entertainment, Disabled in Fandom, Telling Black Stories in Fantasy Realms, Diversity in Cosplay, and Super Seniors.
"Were here to makes sure everyone has a voice, said Jarvis Schefiled, Director of the Diversity Track. He said diversity included characters and creators who are female, BIPOC, LGBTQ+, people with disability, and more.
PARADE
The parade assembles multiple fan groups to walk down through downtown Atlanta down Peachstreet to the Hyatt. It's free, and a fun way for for locals to get a taste of the cosplay energy for free. Dozens of fandoms march together, from Amazonians and 300 Spartans, Game of Thrones and Lord of the Rings, and Star Trek and Star Wars.
Amazonians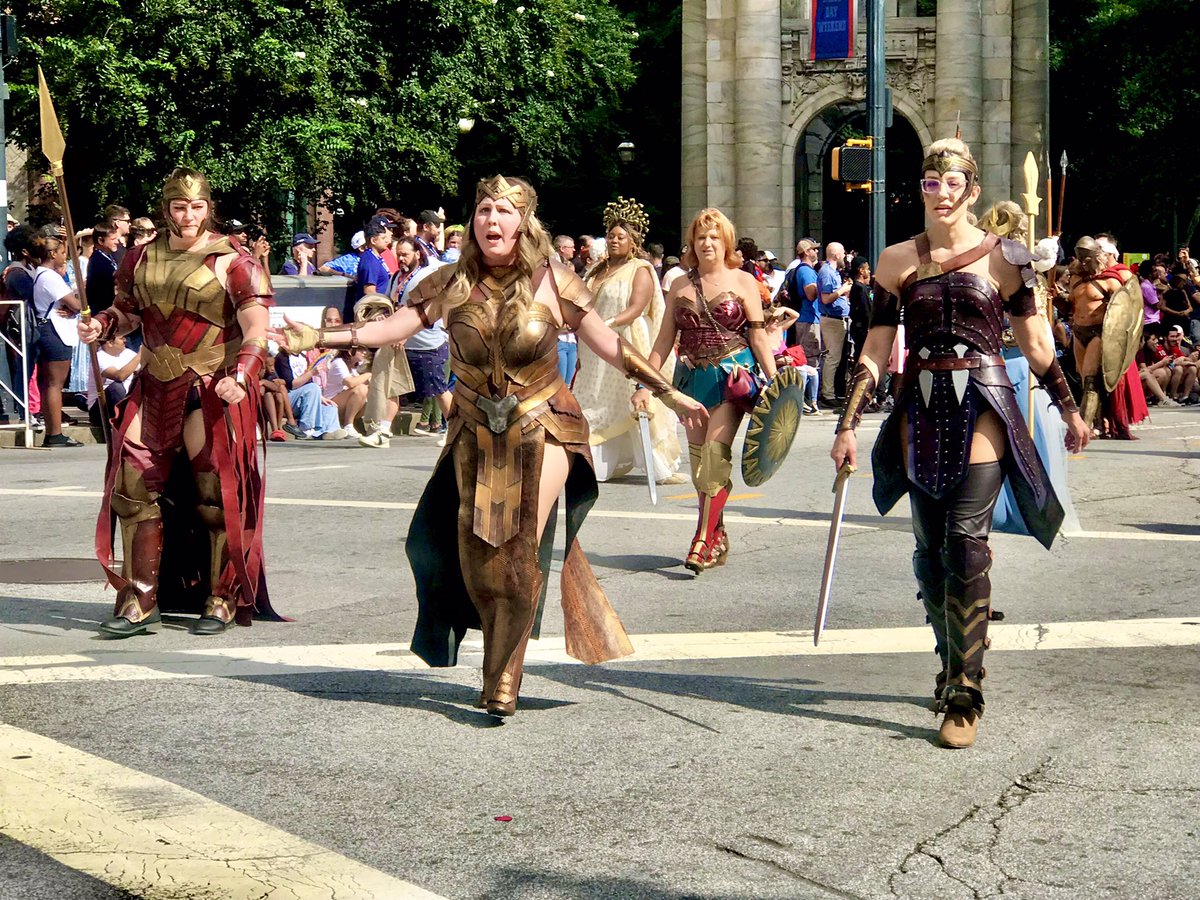 Game of Thrones
Highlights: X-Wing fighter, and Jawas accompanying a huge sandcrawler.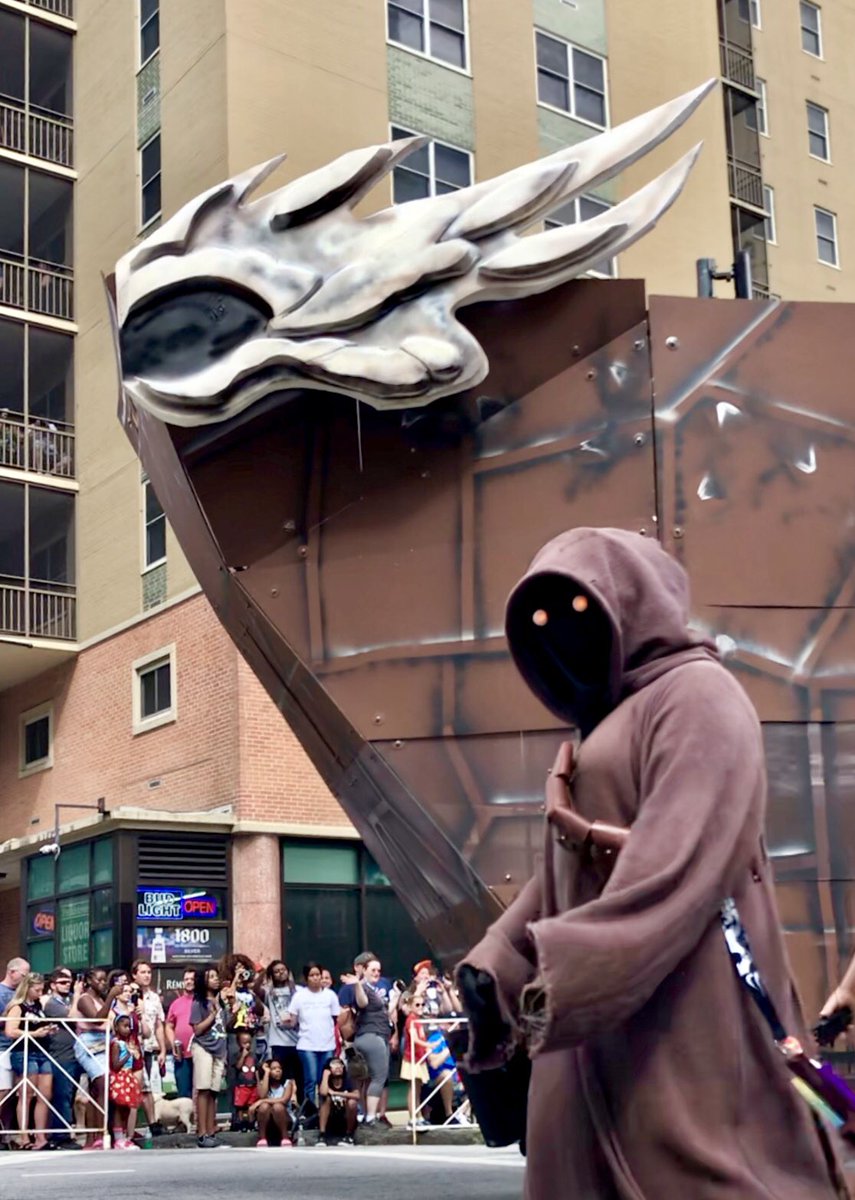 COSPLAY
Muscle Nerdz fitness hosted its cosplay competition on Thursday night. Muscle Nerdz shows that pop culture fans can be fit, to avoid stereotyping nerds as not-fit, or fit people as not-nerds. Judges, including fitness cosplayers and last year's competition winners, selected top three men and women winners based on their costume (look, handicraft, self-made or bought), fitness (definition, poses), and a short in-character pose routine with their own music. Winners:
-Women: @definitely.zella as Kars from Jojo's Bizarre Adventure
-Men: Kyle @megabaldcosplay as Major Armstrong of Full Metal Chemist. His costume included light-up gloves and sparkly-lights prop to simulate Armstrong's powers.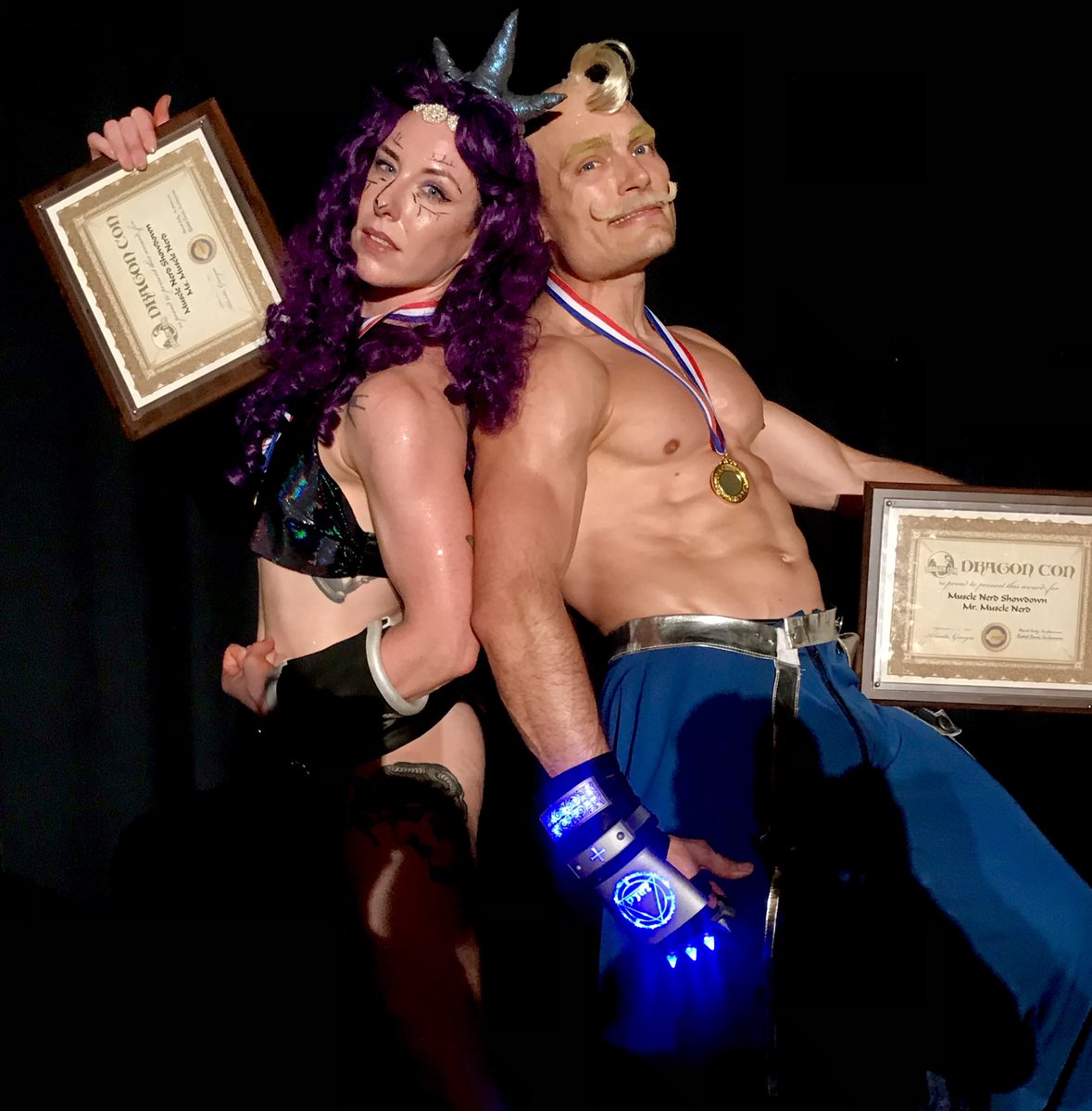 Arcane meetup featured many fans as Jinx, Vi, Jayce, Silco, and other popular characters from the popular series that won an Emmy for Animated program the same weekend. The Arcane animated series on Netflix was created by LA based Riot Games with France-based Fortiche, and is set in the popular League of Legends MMOG universe.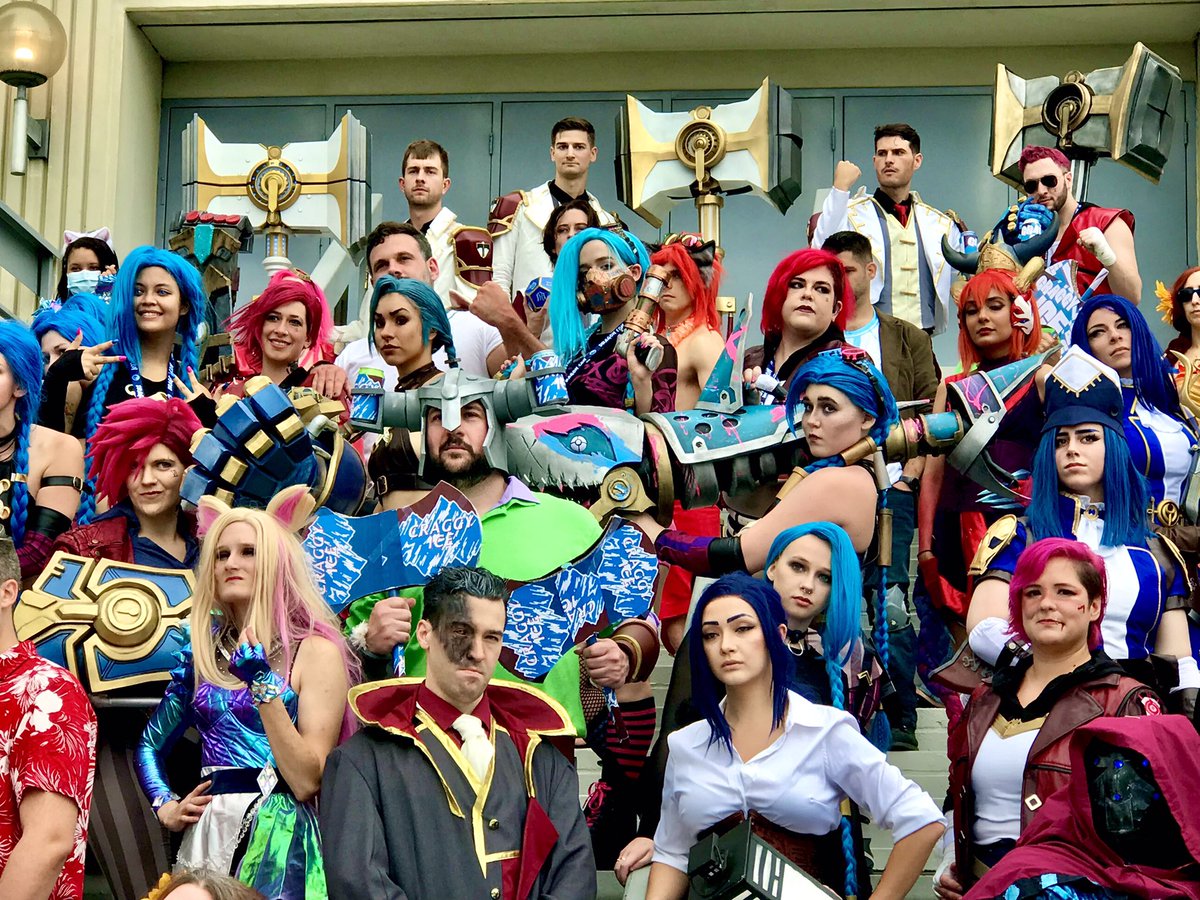 The 300 DC Spartans group celebrated their 15th anniversary of meeting up at DragonCon. They did phalanx and shield formations on Friday night marching thru the three host hotels, and then marched in the parade on Saturday. Follow @300DCspartans on Instagram and Twitter. Can we get a SoCal Chapter going to visit LA Comic Con, San Diego Comic-Con and Long Beach Comic Con??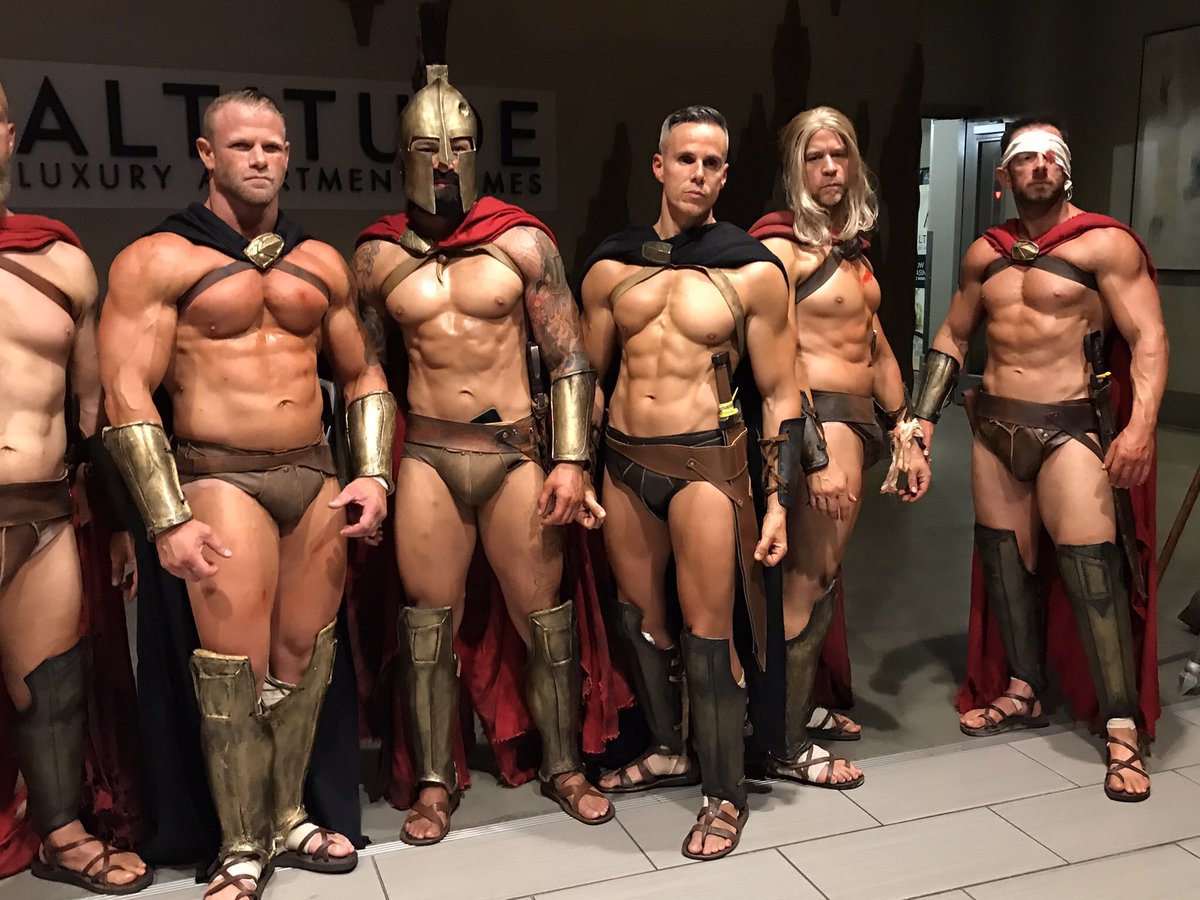 The Mandalorian Mashup photo meet up featured creative costumes, some with 3D printed helmets and accessories.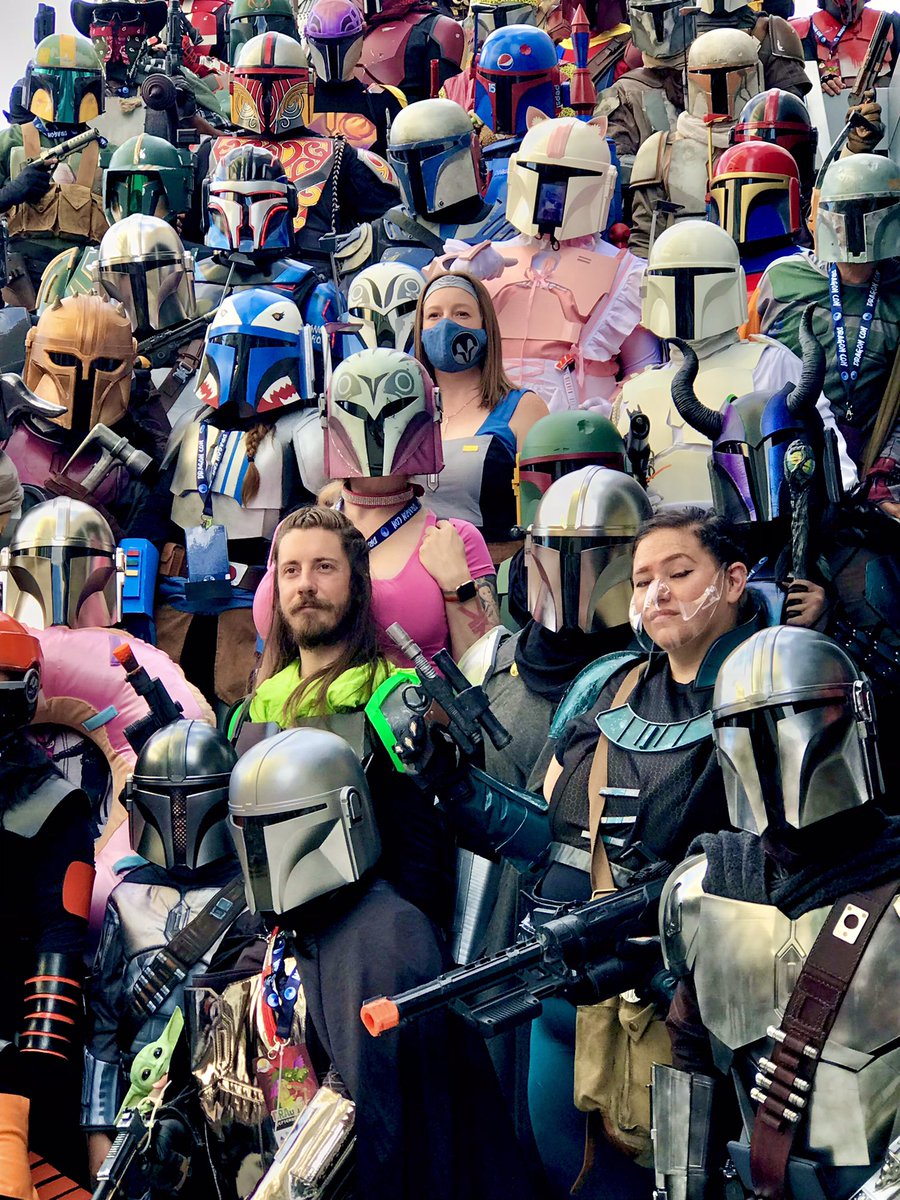 Mando Hello Kitty particularly creative, complete with pink lightsaber!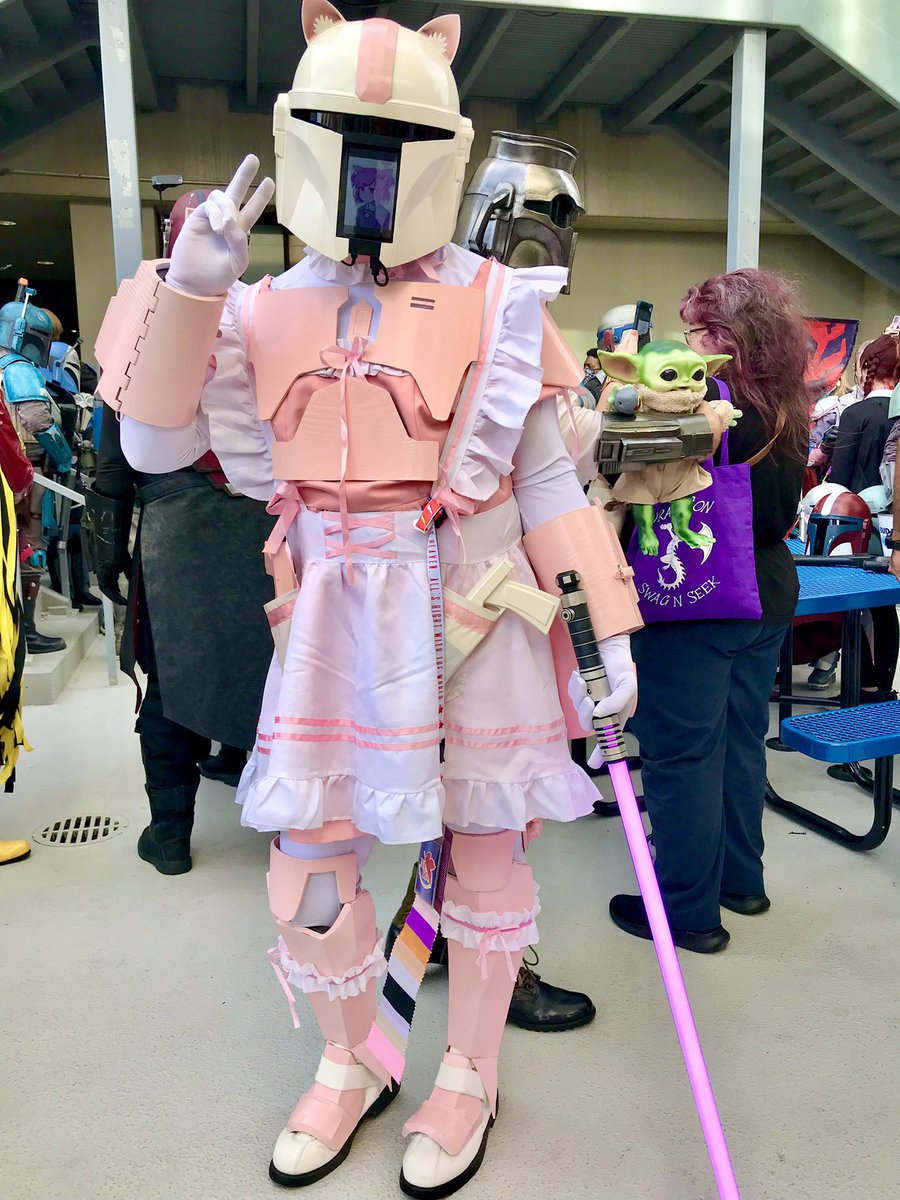 Star Wars: The Dark side was out in Force at the Star Wars photo group.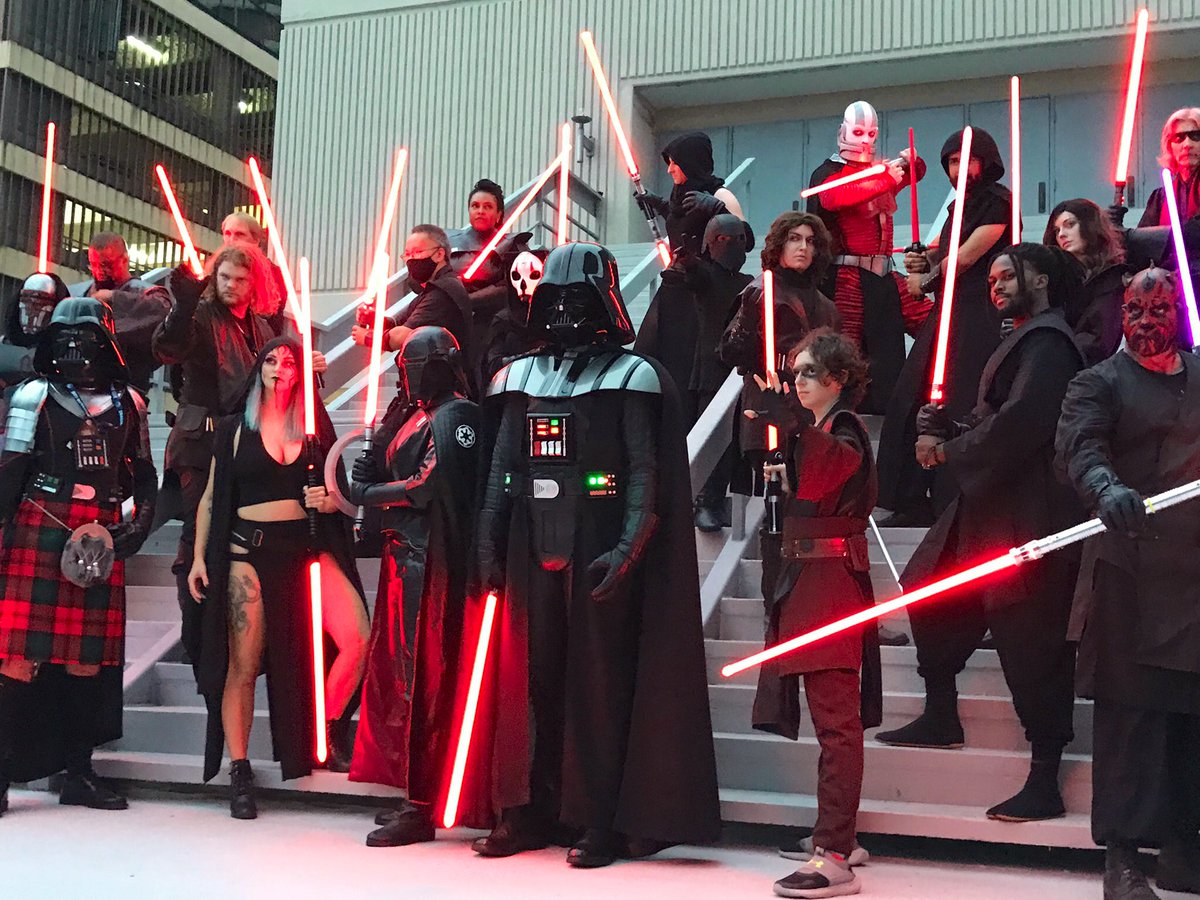 Star Trek photo meetup got creative with a Renaissance-style composition: Starfleet forces face the wrath of Khan!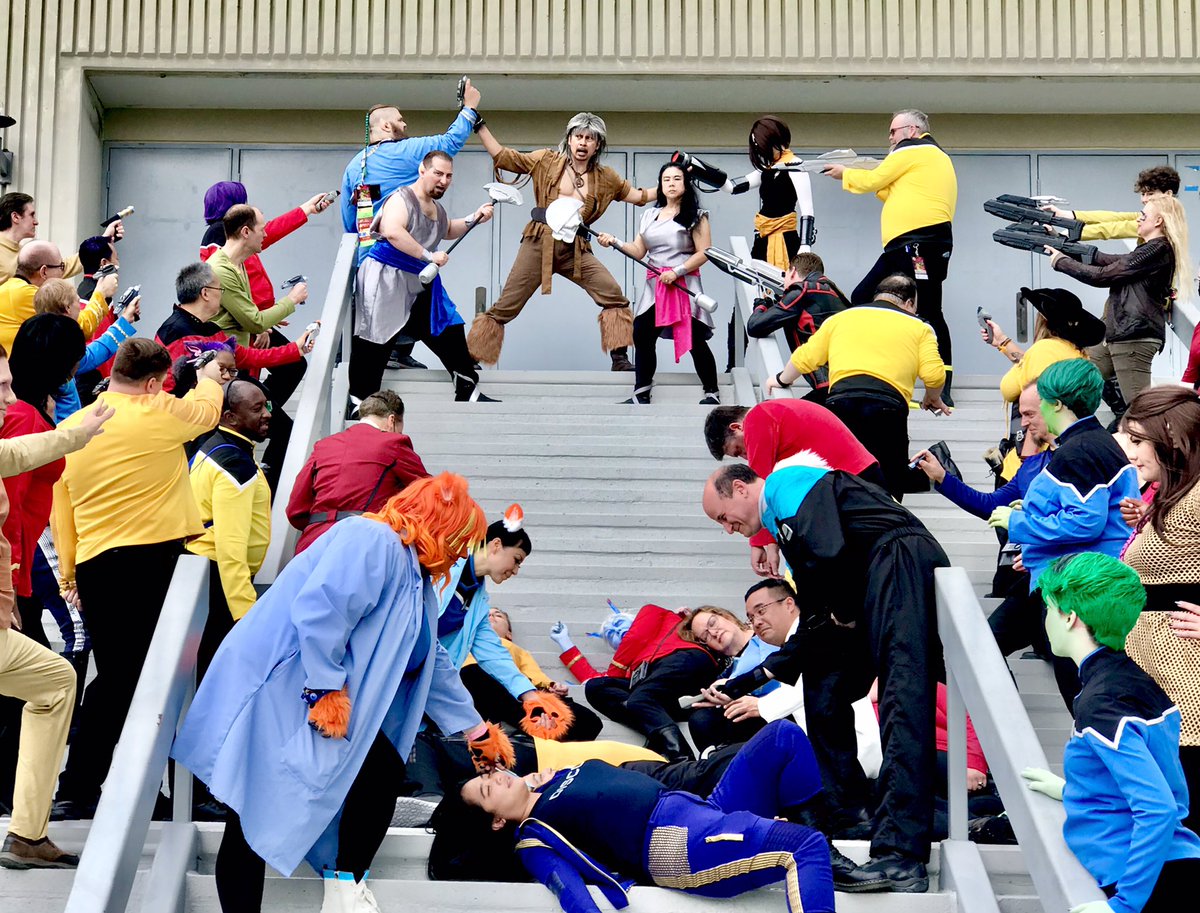 X-Men photo shoot emphasized the Krakoan era, but accepting of all mutant kind! Excalibur writer Tini Howard even jumped into the photo.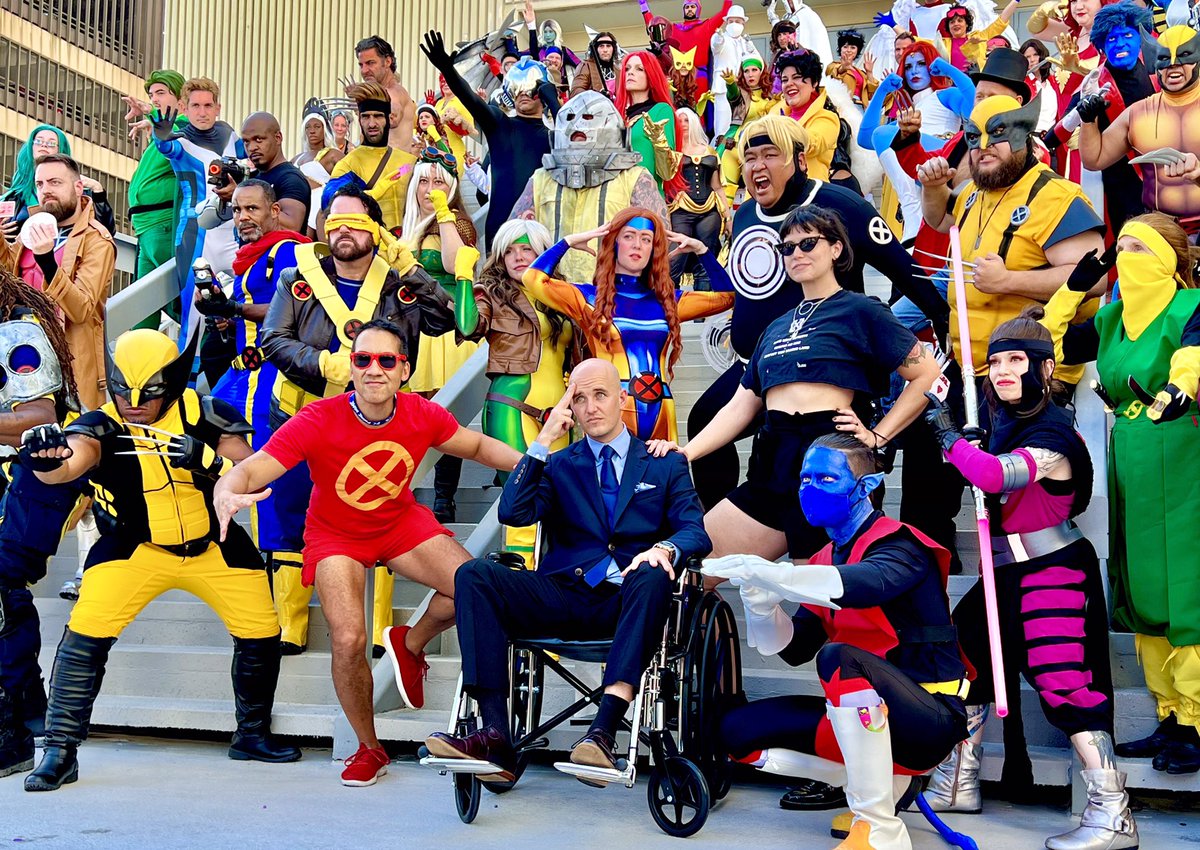 Harry Potter wizards, witches, professors and a few creatures conjured up on the muggle steps of the Hilton.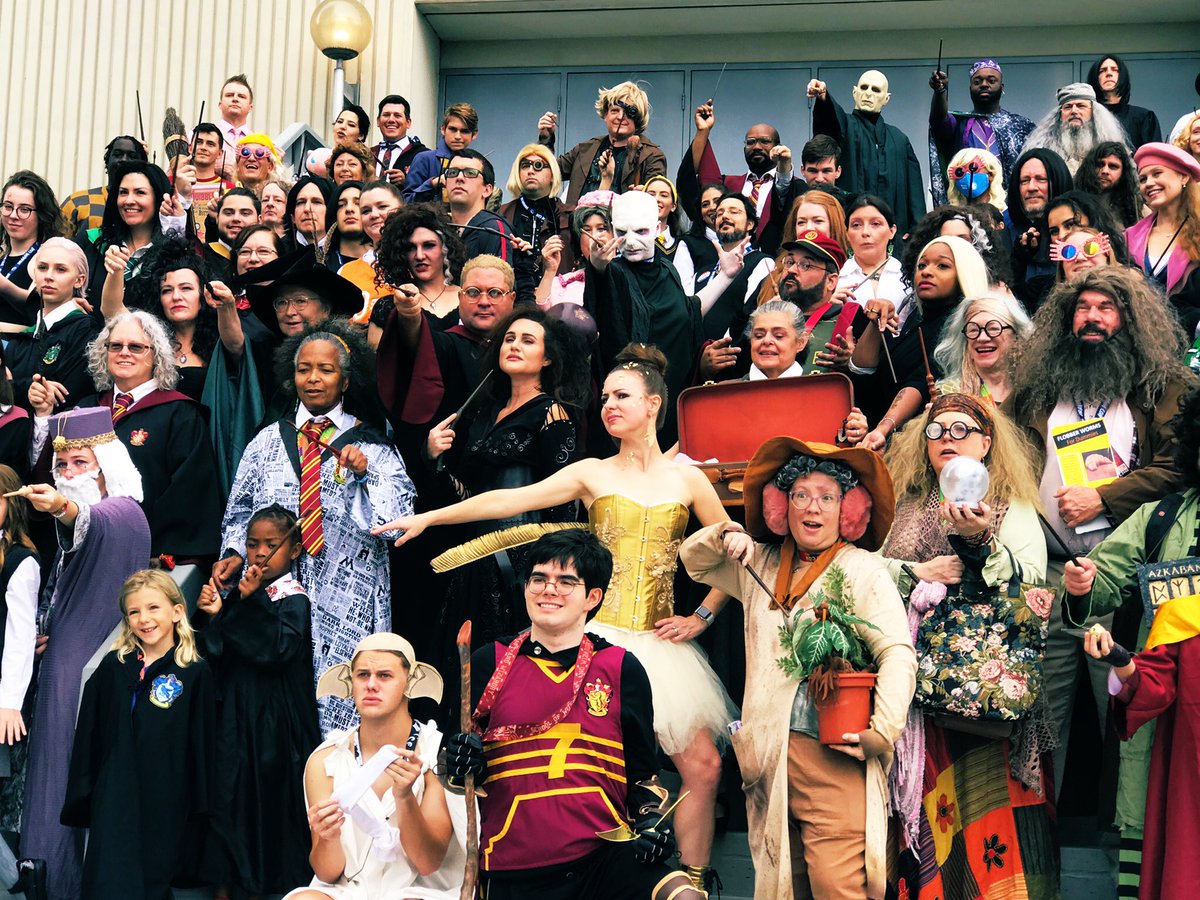 PARTIES
DragonCon is known for its themed parties that start around 8-10p in the hotel ballrooms, and go late til 1-2am. . Various tracks host the theme parties. Then band and DJ parties can go til sunrise
Star Wars: Last Party on Alderaan featured friendly lightsaber duels and dance circles.
Zombie Prom featured a cosplay awards ceremony with dozens of awards for horror / zombie versions of popular characters.
Heroes and Villains assembled superheroes and villains on the dance floor.
Spectrum Candyland party featured candy decor and costumes and incredible DJ music, for mostly LGBTQ+ audience.
Star Trek party beamed in Starfleet and some aliens onto the dance floor. Coulda used a Star Trek theme photoopp or sign or something.
Other parties: Doctor Who, Fantasy, and more.