Speakers including a former Disney Imagineer and a writer shared their stories working on official Star Wars projects at our Digital LA – Droids and Galaxies panel at Scum and Villainy Cantina Hollywood on May 25.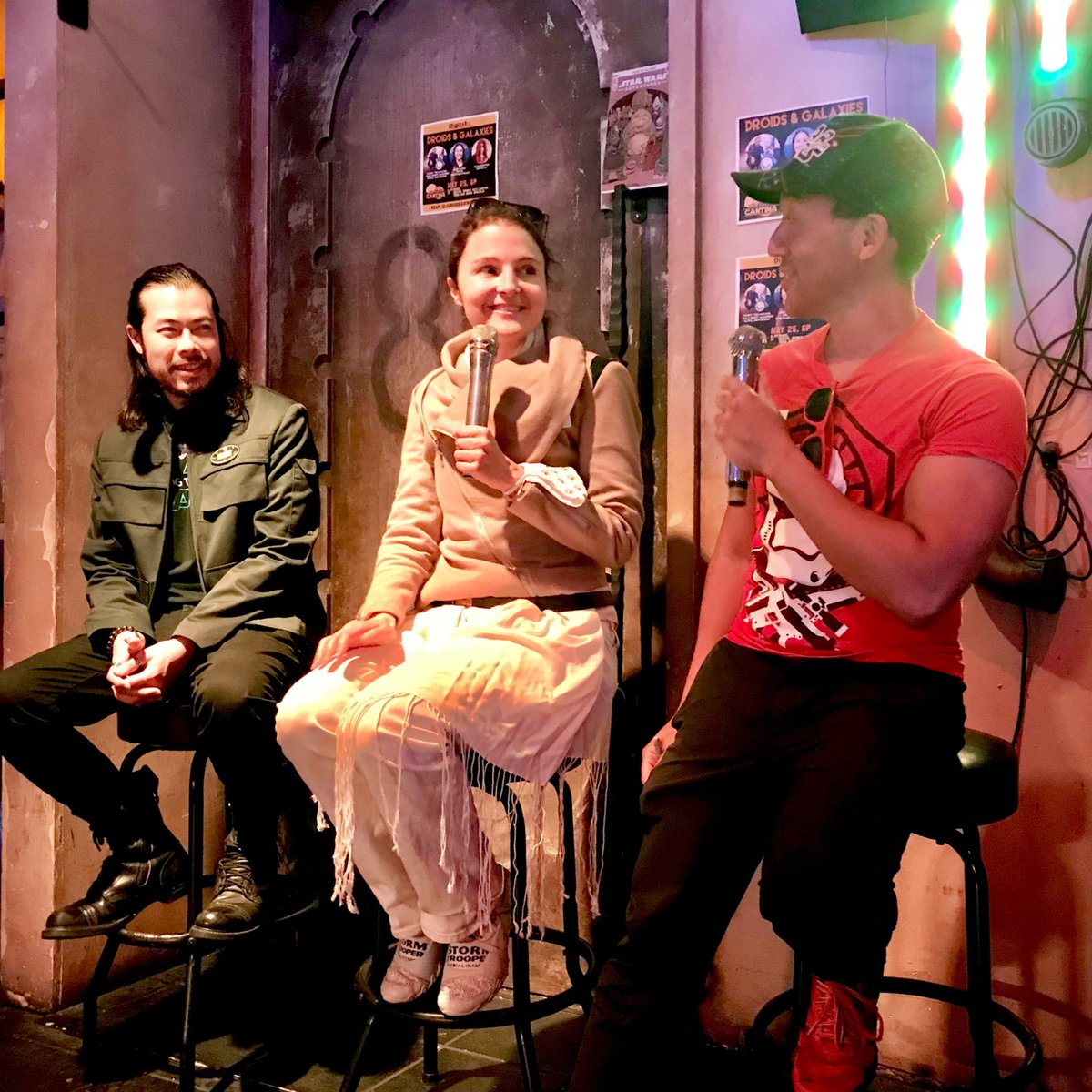 This event was held on the eve before the Star Wars Celebration convention in Anaheim.
Sonny Tien Nguyen, a three-time THEA award winning creative designer and art director, described some of the projects he worked on on Disneyland Star Wars – Galaxy's Edge aka Batuu. He did some of the designs for DJ Rex,  Oga's cantina, droid designs, land ornamentation, graphics like cantina coasters, and ship design including the X-wing and other vehicles. He said ideas for designs can happen in office brainstorm meetings, or while designers are hanging out after work.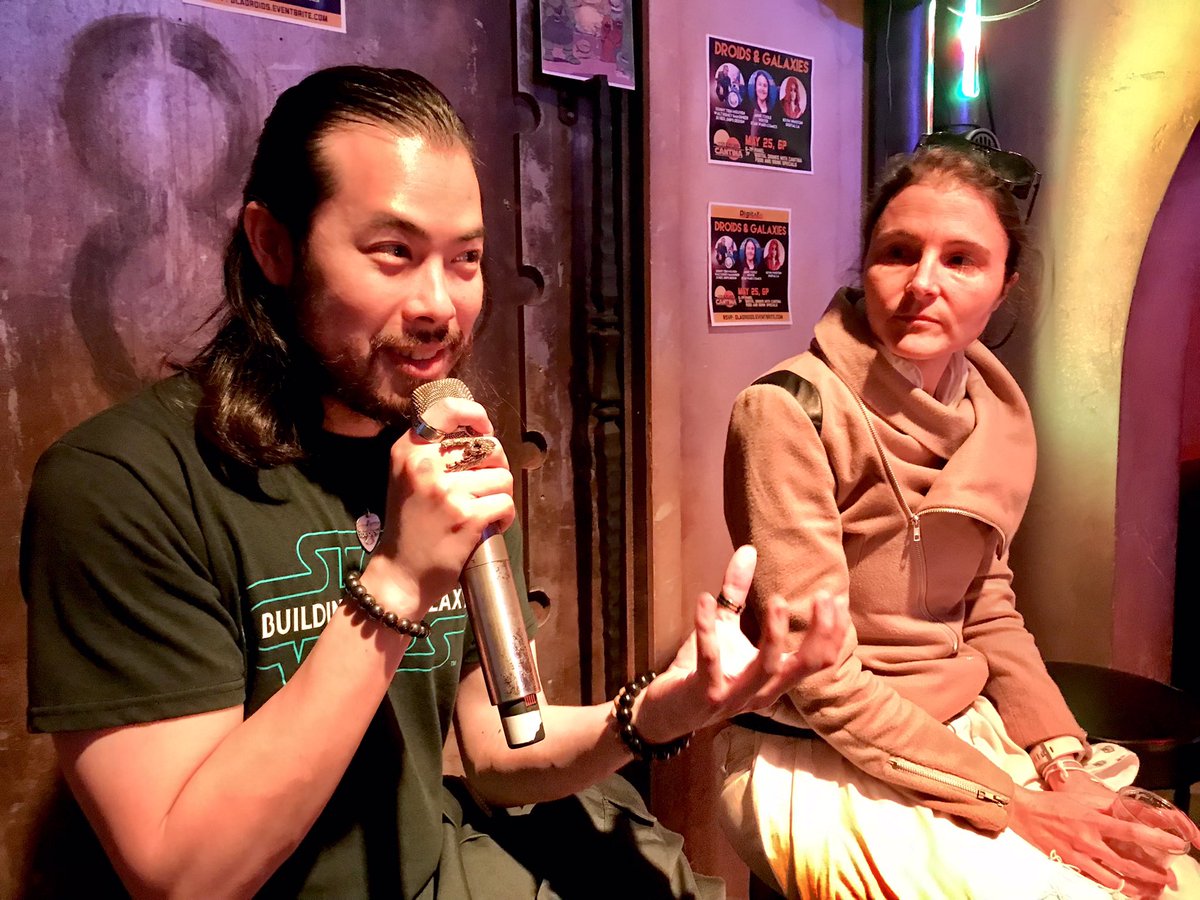 Anne Toole, a WGA-award winning writer for Horizon Zero Dawn game and Marvel comics, described writing on her Star Wars projects. For Star Wars Adventures #11 comic book, she created stories with existing Star Wars characters including Jabba's pug-like pet.
She was able to create some new Cloud City characters in her short story 'The Backup Backup Plan' in 'From A Certain Point of View: The Empire Strikes Back' anthology. She said watching Empire Strikes Back, she was fascinated with the people of Cloud City, and wondered what they did after Lando abruptly left to help Luke and Leia. So she wrote a story about Lando's partners Tal dealing with her world unraveling and things going wrong  – e.g. the Backup Backup plan.
Both Sonny and Anne said that they got their positions by being in the industry for a while, meeting people at industry events like conferences, keeping in touch with them, and being available when the time came.
Attendees from LA to New York mixed and mingled, enjoyed theme drinks with our Digital Drinks special, and watched the panel from the alcove booths.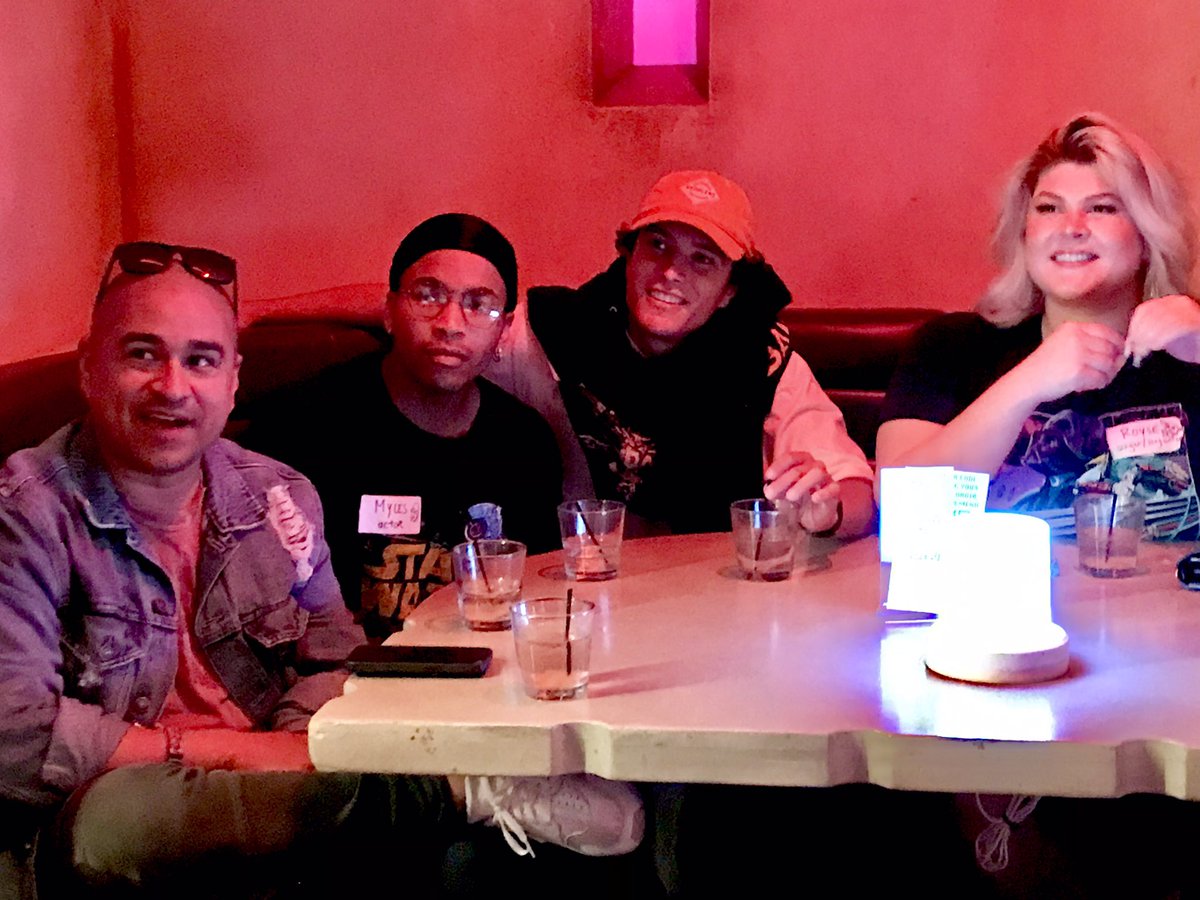 This couple was visiting LA from New Jersey, and wanted to see the Scum and Villainy in Cantina in LA before their trip to Star Wars Celebration for the Memorial Day weekend. They enjoyed the panel to talk Star Wars with other fans and speakers before the convention.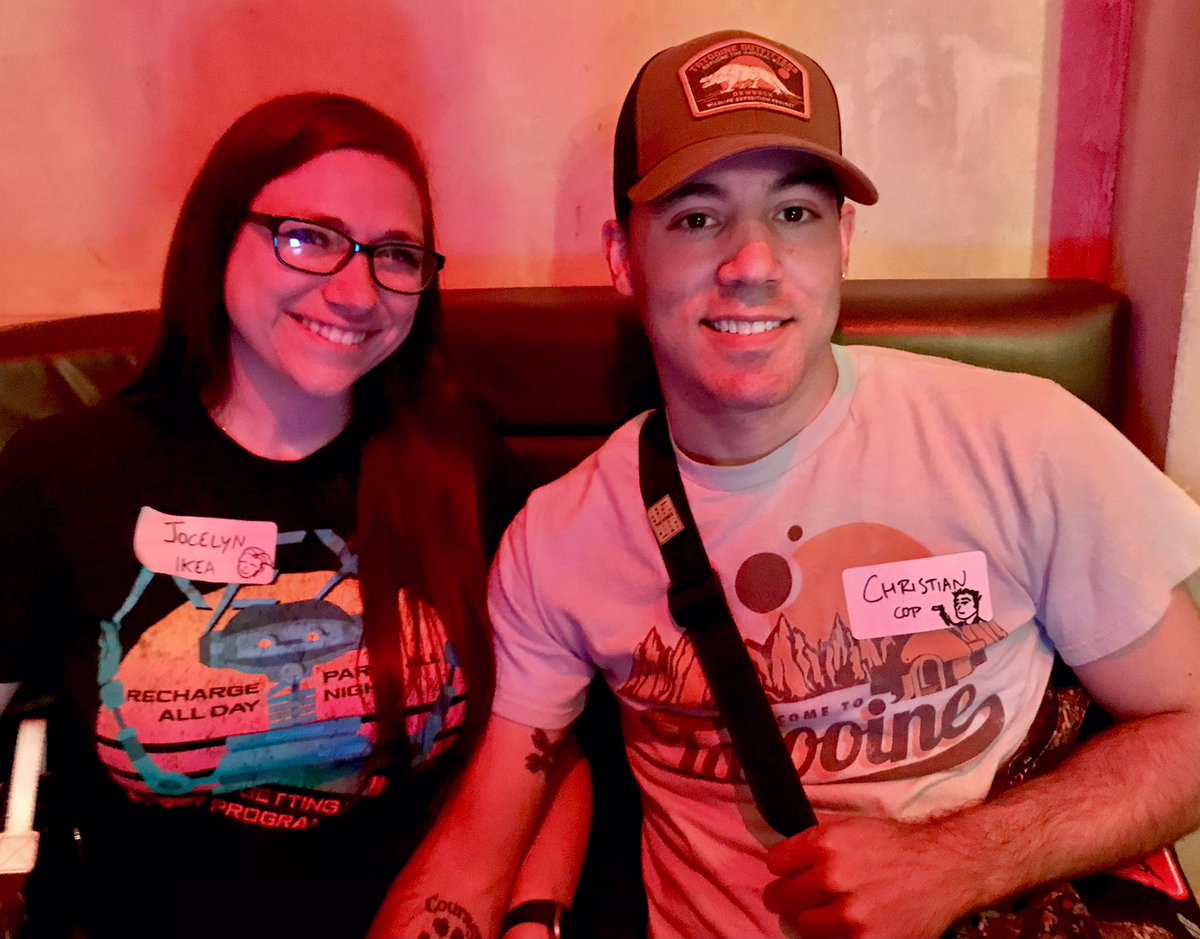 Several attendees took photos in front of the Scum and Villainy Cantina with the distinct logo.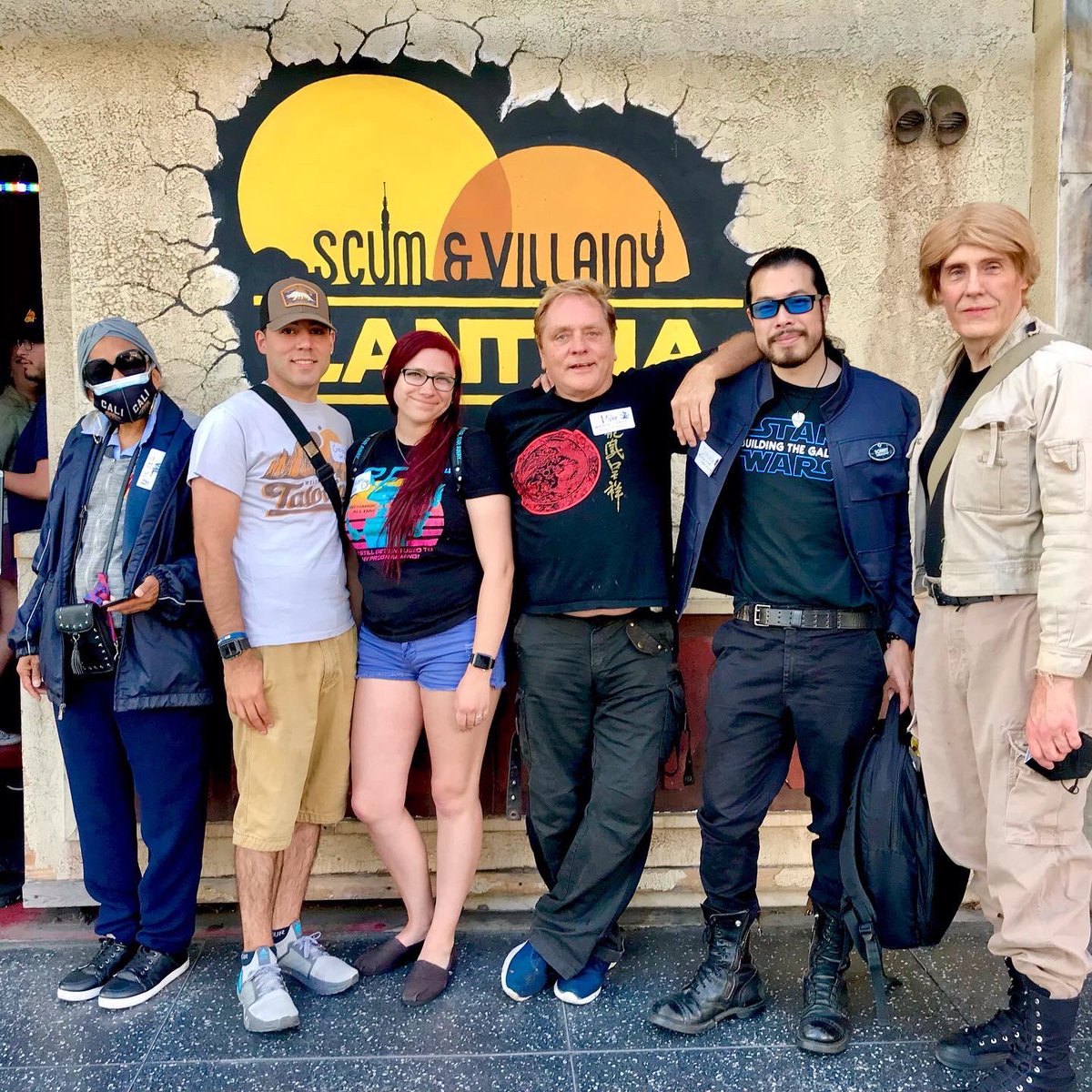 Thank you speakers!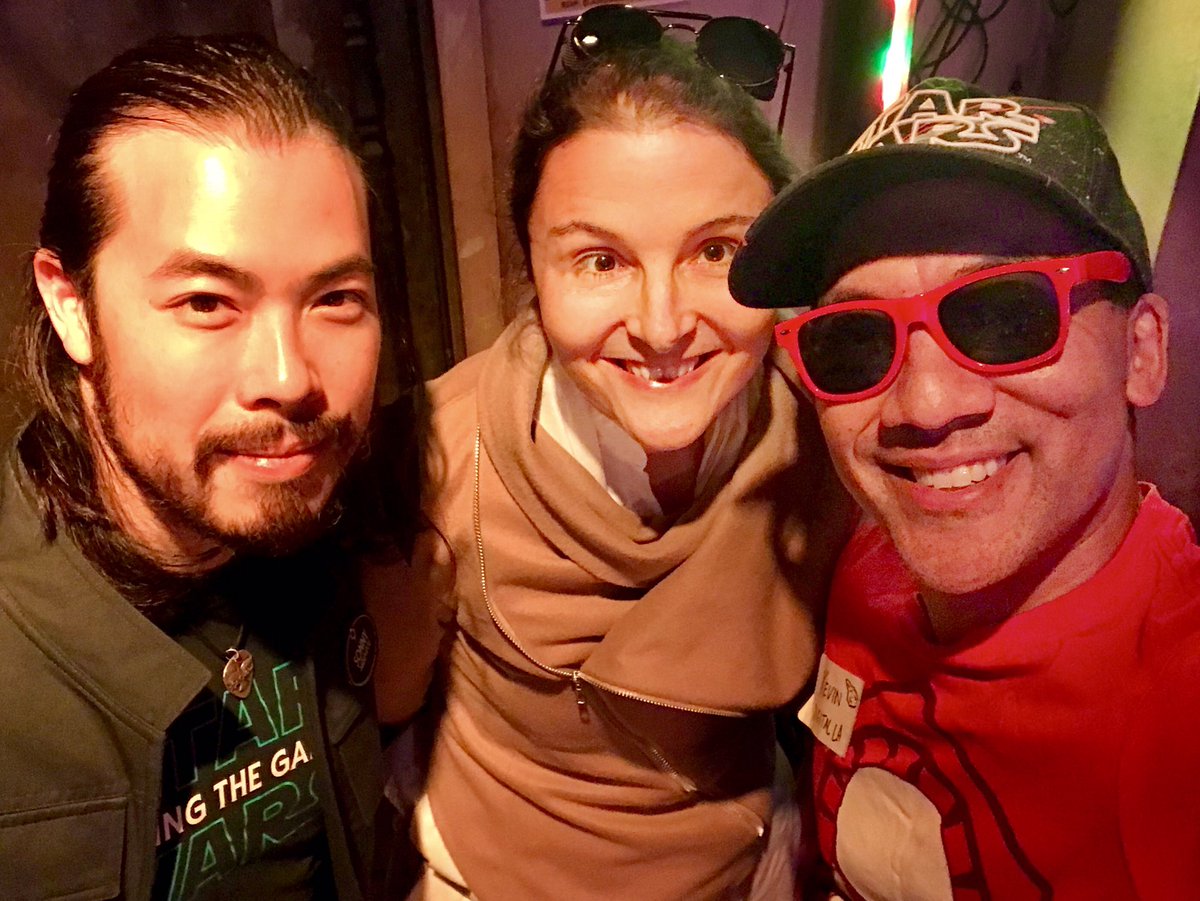 – Sonny Tien Nguyen is a Three-Time THEA Award Winning Walt Disney Imagineer, Creative Designer and Art Director. He worked on several key elements and immersive designs for the Star Wars Galaxy's Edge Themed Land at Disneyland and Disney World. His works include the creation of droid DJ Rex in Oga's Cantina, Droid Designs, Land Ornamentation, Graphics and the X-Wings and other star ships including the ITS Ship and the Millennium Falcon exterior and interior cockpit. He is fluent in reading and writing Aurebesh and has created different languages within the land including Droid Depot's Droidobesh. He also worked on branding and product design including toys, pins, Star Wars Beverages and in-story Coca-Cola bottle drinks. He was integral to the creative core team for Star Wars Galaxy's Edge from a large scale to all the very intricate details of sets and props for the E-ticket attractions such as The Millennium Falcon Smugglers Run and Rise of the Resistance; as well as the actual flying X-Wings with WDI Research and Development.
– Anne Toole, Writer, Star Wars Adventures. Anne is a Writers Guild Award winning writer who has written for games, comics, and other projects. Her Star Wars related credits include writing stories in Star Wars Adventures #11, and a short story in 'From A Certain Point of View: The Empire Strikes Back' anthology. She has written on Horizon Zero Dawn game, for which she won a WGA game writing award, and the Horizon Zero Dawn comic. She has also written stories on Women of Marvel comic anthologies.
– Moderator: Kevin Winston, Digital LA, founder. Kevin celebrated his birthday on the actual day that Batuu opened at Disneyland.
Thank you SCUM and VILLAINY!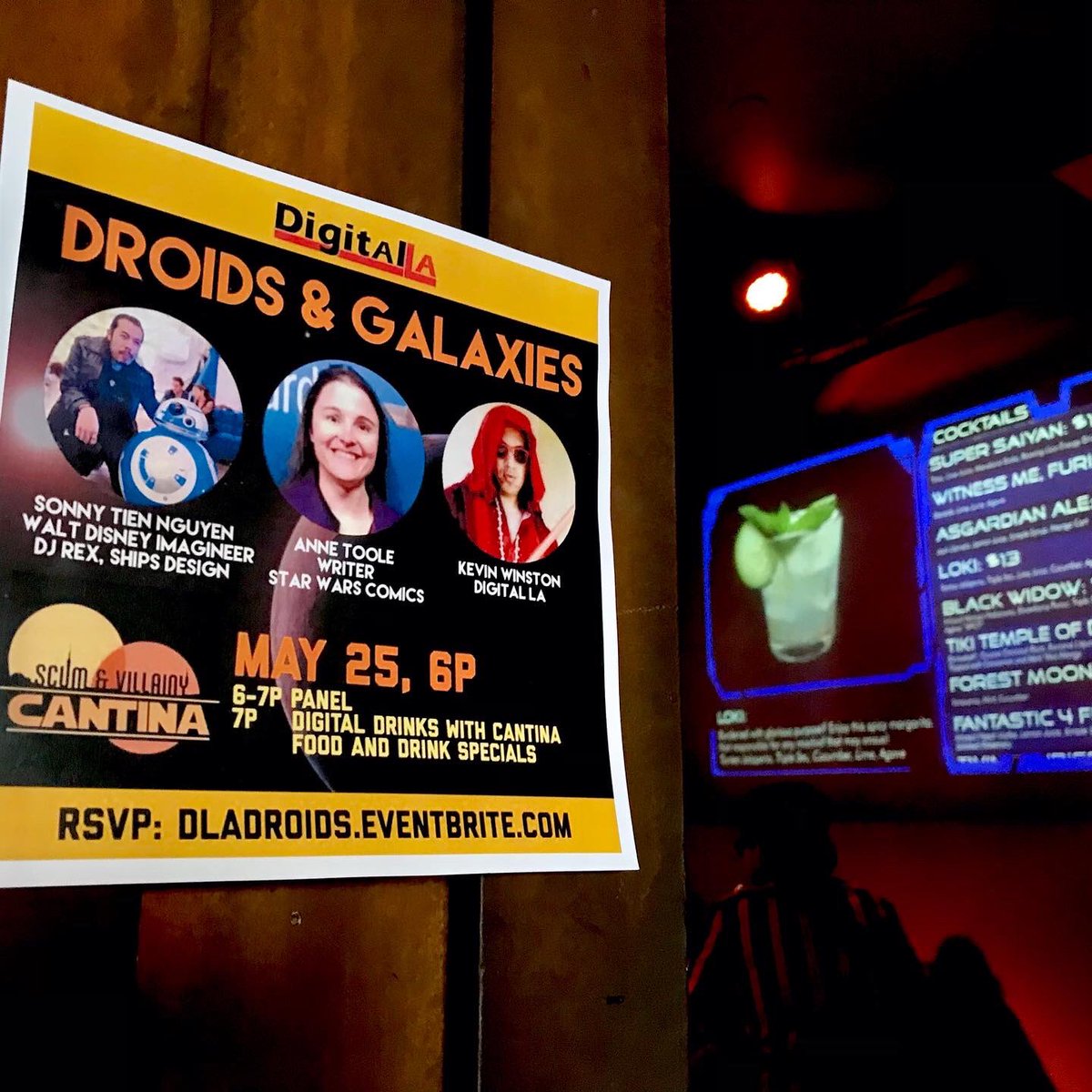 Scum and Villainy Cantina is an intergalactic bar nestled deep within the wretched hive of Hollywood, CA. Inspired by the best drinking establishments from your favorite sci-fi and fantasy movies, Scum and Villainy is the geek bar you've been looking for. Costumed bartenders join in the debate while mixing cocktails from a themed menu. Details on website https://scumandvillainycantina.com. Follow @svcantina on Twitter, @scumandvillainycantina