DUBAI – Hollywood represents in Dubai with themed attractions at two theme parks. It's somewhat surreal to be in the middle of the desert in Dubai, and see familiar Hollywood themed rides that you wish we had in the U.S. IMG Worlds includes Marvel land and Cartoon Network land, and more Marvel themed rides than any other theme park in the world. Motion Gate features four lands themed to DreamWorks, Columbia Pictures, Sony's Smurfs Village, and Lionsgate.
We visited IMG World and Motion Gate in Dubai. Here's our review which will make you want to go immediately!
IMG Worlds 
IMG Worlds is an indoor theme park in Dubai. Indoor to avoid the 80+ degree heat or duststorms.
IMG Worlds includes four themed areas: Marvel, Cartoon Network, Lost World (similar to Jurassic Park), and Haunted Hotel (like a Halloween haunted house where people scare you in a walk-thru maze),
At Marvel land, there are five Marvel character themed rides, making it the highest number of Marvel rides anywhere in the world. Second place is Universal Studios Islands of Adventure in Florida which has four: Hulk, Spider-Man, Storm, and Doctor Doom theme rides. Third place is Hong Kong Disneyland which just opened up a Iron Man themed ride
Marvel land looks like a comic book New York city come to life. You walk down the faux NY streets to explore the rides and restaurants. Most of the rides used advance technology that you don't see in many US theme parks.
– Hulk Epsilon Base 3D: 360 dome motion simulator: You put on 3D goggles and sit in a round dome theatre to see Hulk and Iron Man battle Legion over you. The action is intense and all around you 360 and above you when you look at the top of the dome. Add in the fact the entire seating area is moving and shifting as Iron Man or Hulk catch the spinning platform on screen, and it's a truly top notch experience
– Avengers: Battle of Ultron. Put on your 3D glasses and help the Avengers battle Ultron in this ride. It's similar to the Transformers ride at Universal Studios Hollywood, except it's the Avengers vs. Ultron.
– Spider-Man: Doc Ock's Revenge: Dark roller coaster ride where each Spidey car rotates. Similar to the Turtle Crush ride at Disneyland Paris, plus 3D animated videos like in the Transformers ride at Universal Studios.
– Avengers Flight of the Quinjets: Ride in a quintet in this Dumbo-like spinner ride.
– Thor Thunder Spin: This ride is like those long corn on the cob spinning rides at amusement parks. You spin upside down several times.
In addition to the five rides, you can eat at the tablecloth service Tony Stark's Skyjack restaurant, which features a bar, aquarium and of course two Iron Man suits. Or you can eat shawarma of course at the casual Downtown Shawarma restaurant.
The gift shops sell some merchandise exclusive to Marvel in Dubai, including T-shirts, and the Zem casual shoes for Iron Man, Spider-Man and Captain America.
Cartoon Network land features rides and attractions themed to Finn and Jake, Powerfpuff Girls, and other characters.
Motion Gate 
Hollywood studios represent at Motion Gate, where DreamWorks, Sony Columbia Pictures and Lionsgate have teamed up to create different lands of this Hollywood themed theme park.
DreamWorks land features separate lands for Kung Fu Panda, Shrek, and Madagascar, each with a fast coaster, kiddie ride, restaurant, and themed land.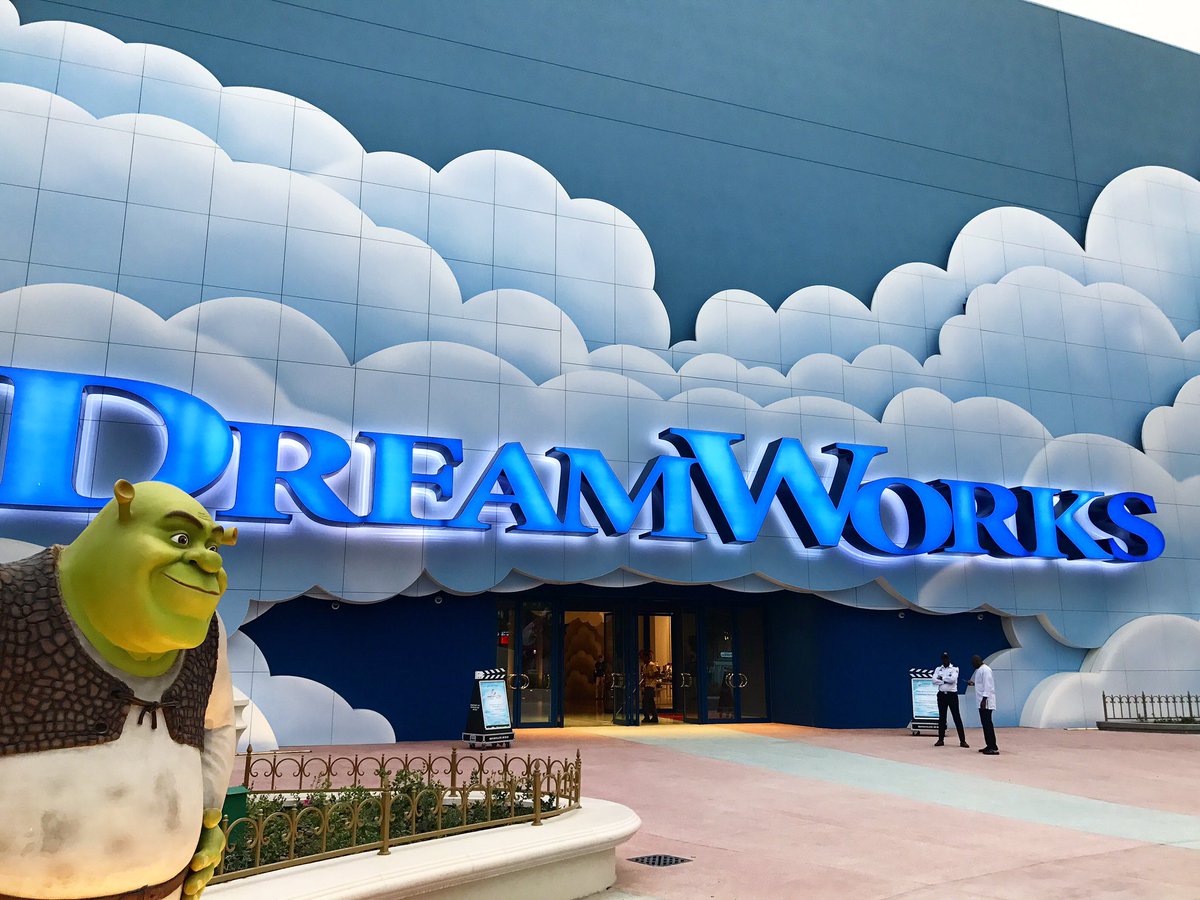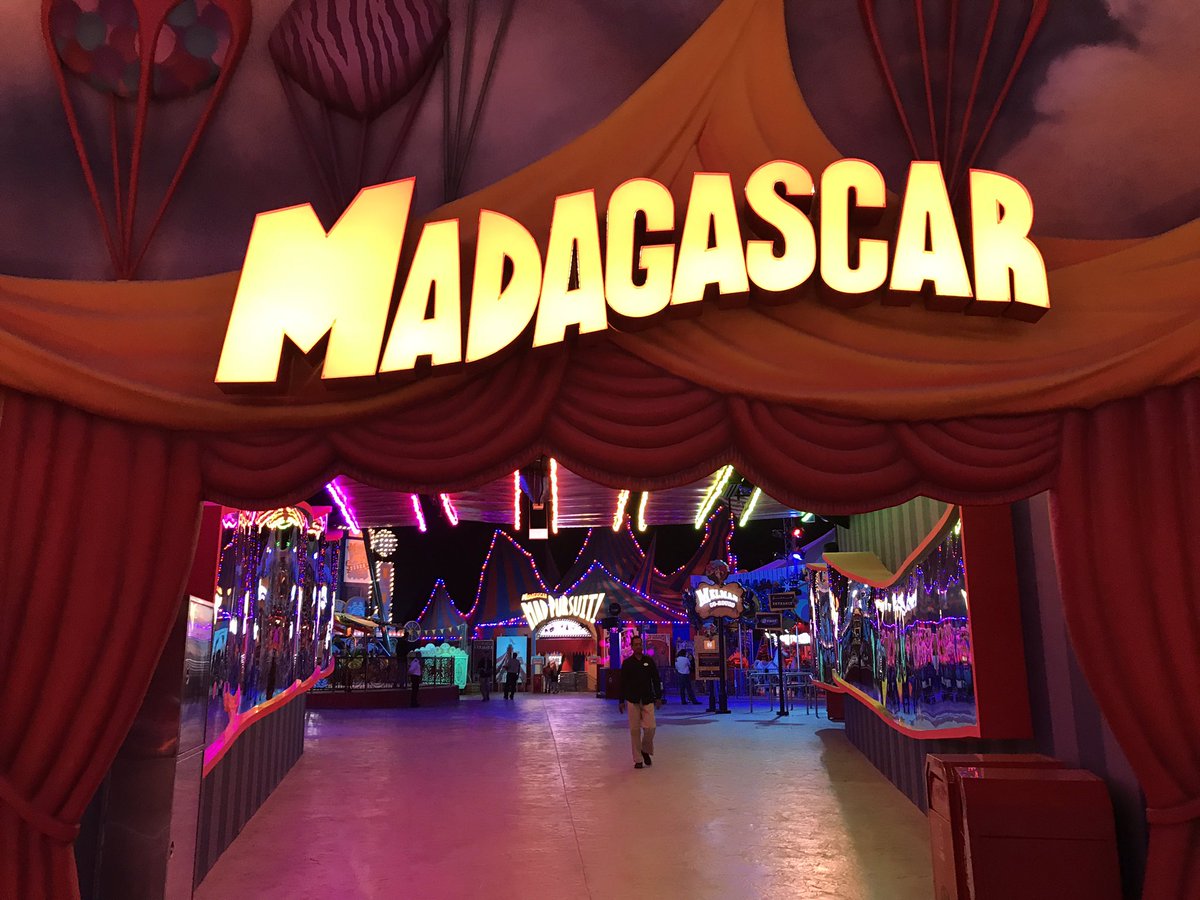 Columbia Pictures land rides include: Ghostbusters: Battle for New York, Hotel Transylvania, Cloudy with a Chance of Meatballs: River Expedition, Zombieland Blast Off, Underworld 4D, and the Green Hornet. The Cloudy themed restaurant Baby Brent's Luncheonette with jumbo food is a perfect fit. Or try the green slime at Slimer's Diner.
At Smurfs Village, you walk along streets with huge mushroom houses. Ride the Smurfs Village Express first Smurfs roller coaster ride. See Smurfette star in a film at the Smurfs Studio Tour ride. Interact with animated Brainy Smurf at the Smurfs Village Playhouse. And meet Papa Smurf, Smurfette and Brainy Smurf at the character meet and greets.
The Lionsgate land, currently under construction, will feature Hunger Games themed attractions. Hunger Games merchandise is already available for purchase in the stores at Silver Screen Sundries.