Emmys went all virtual this year with Creative Arts Emmys this Mon-Fri and the big final awards on Sunday.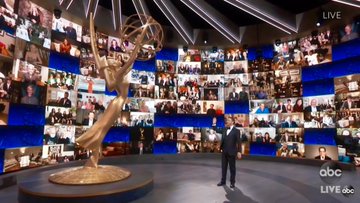 Congrats  to the Emmys production team on the herculean first-ever task of connecting more than 100 nominees from around the world live attending with their families via the Super Zoom wall, combined with a few in person stars to help host Jimmy Kimmel – it worked!
This year, we got to see a little more of each nominee than a typical show where people show up in a nice suit or dress – yet out of context. This year, we got to see their families' support and reaction – and what everyone in their family is wearing! We got to see their cute kids and pets. And where they live: what a nice living room, or that's an unexpected couch to go with that carpet.
Some nominees and presenters participated via social distanced events and masks.
And dispatching the statue-presenters in hazmat suit and statue to hang out near each nominees's home, and award or walk away with award was just hilariously and sad bizarre commentary on 2020.
Some of Jimmy's and presenters joking banter fell a little flat without audience applause or reactions. Maybe a laugh track would have helped? Or potentially cheesy and non-authentic?
EMMY WINNERS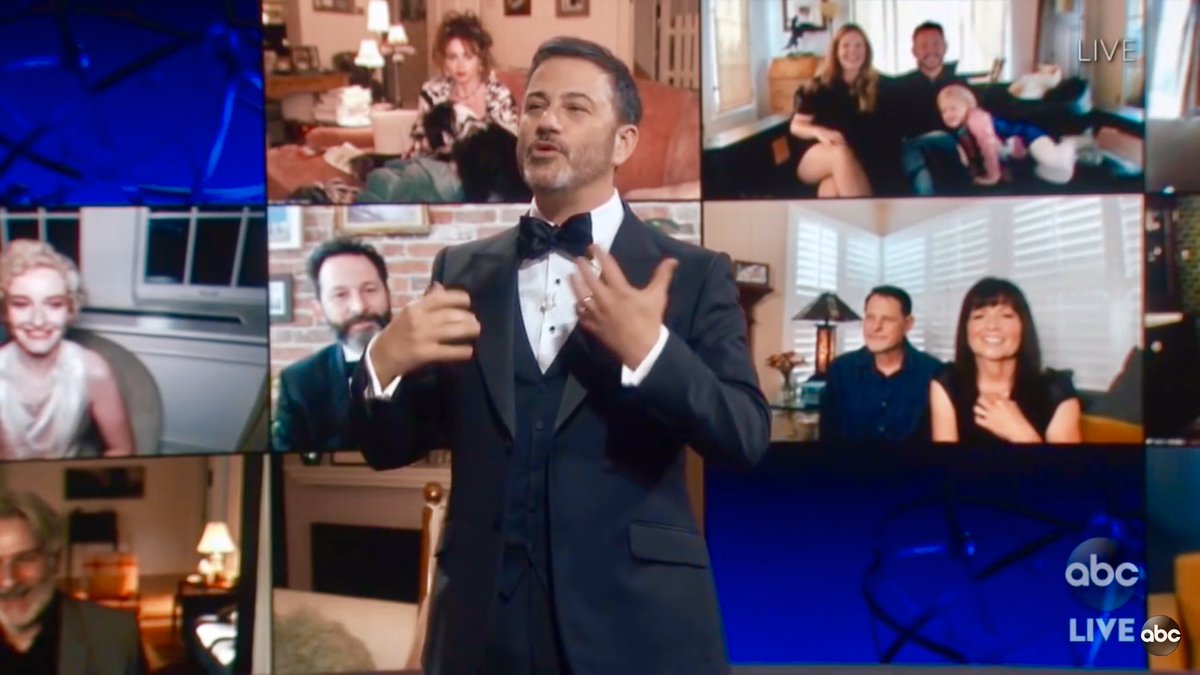 HBO was the big winner, with its shows Watchmen and Succession each winning four Emmys.
Watchmen won Best Limited Series, Lead Actress Regina King, Supporting Actor Yahya Abdul-Mahteen II, and Writing. In addition it also won Casting, Music Composition, Sound Editing, and Fantasy/SciFi Costumes awarded previously.
Succession won Best Drama Series, Lead Actor Jeremy Strong, Directing, Writing. It previously had one Casting.
This Emmys set records for most Black actor wins: seven, including Regina King and Yahya of Watchmen, Maya Rudolph, and Zendaya.
Schitt's Creek swept all seven Comedy awards in the first hour in what must be a record: Comedy Series, Lead Actor, Lead Actress, Supporting Actress, Supporting Actor, Directing, Writing. In addition it appropriately had won Casting earlier.
Zendaya made history as the youngest person to win Lead Actress in a Drama. She made a very gracious heartwarming acceptance speech surrounded by a dozen family members. Then at the end, she excitedly waved her Emmy in the air, in a triumphant moment that was instantly gifed on the Internet.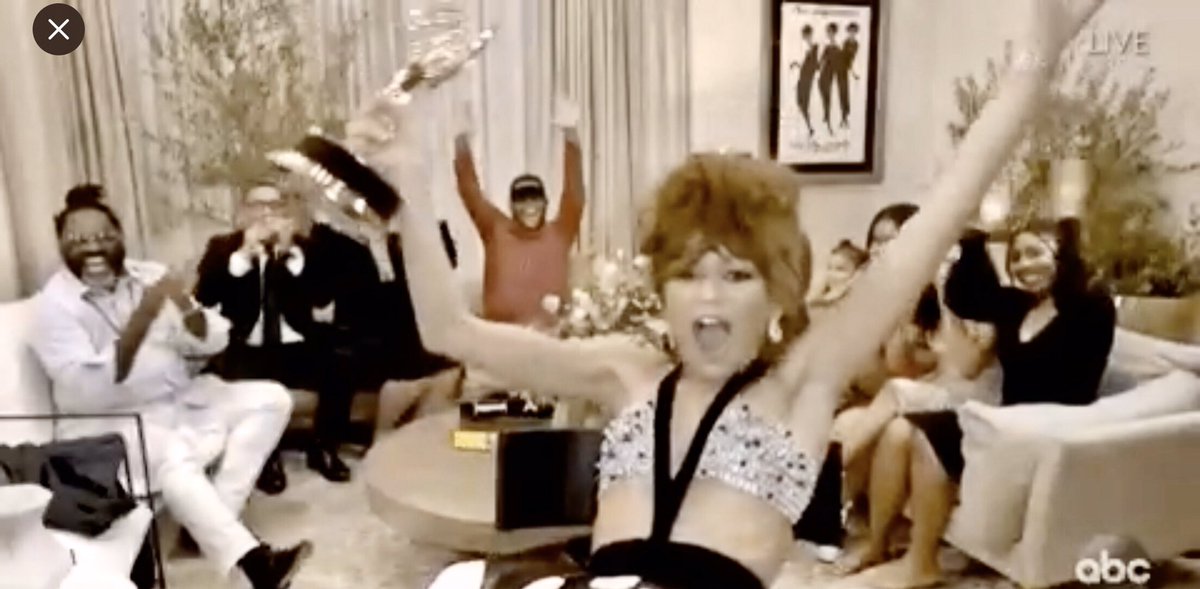 DIGITAL WINNERS
The popular Mandalorian on Disney+ won several digital related awards including VFX, Cinematography, Production Design, Sound Mixing, Sound Editing, as well as Music Composition and Stunt Coordination. The Mandalorian has been widely praised for its virtual green screen production which was considered novel and innovative last year. Post-Pandemic, it's now a case study or guideline for how to do show production when travel and people on set on severely limited.
Interactive winners included:
Disney+ comedic Forky Asks a Question: What is Love won Short Form Animated Program. The shorts feature Toy Story 4's Forky character asking simple questions kids often ask, with his catchy catch phrase "I don't know!"
The Messy Truth VR experience by Oculus won Original Interactive Program.
The Innovation in Interactive Programming juried award two winners were Create Together on YouTube, and The Kine on Oculus.
FAN PARTICIPATION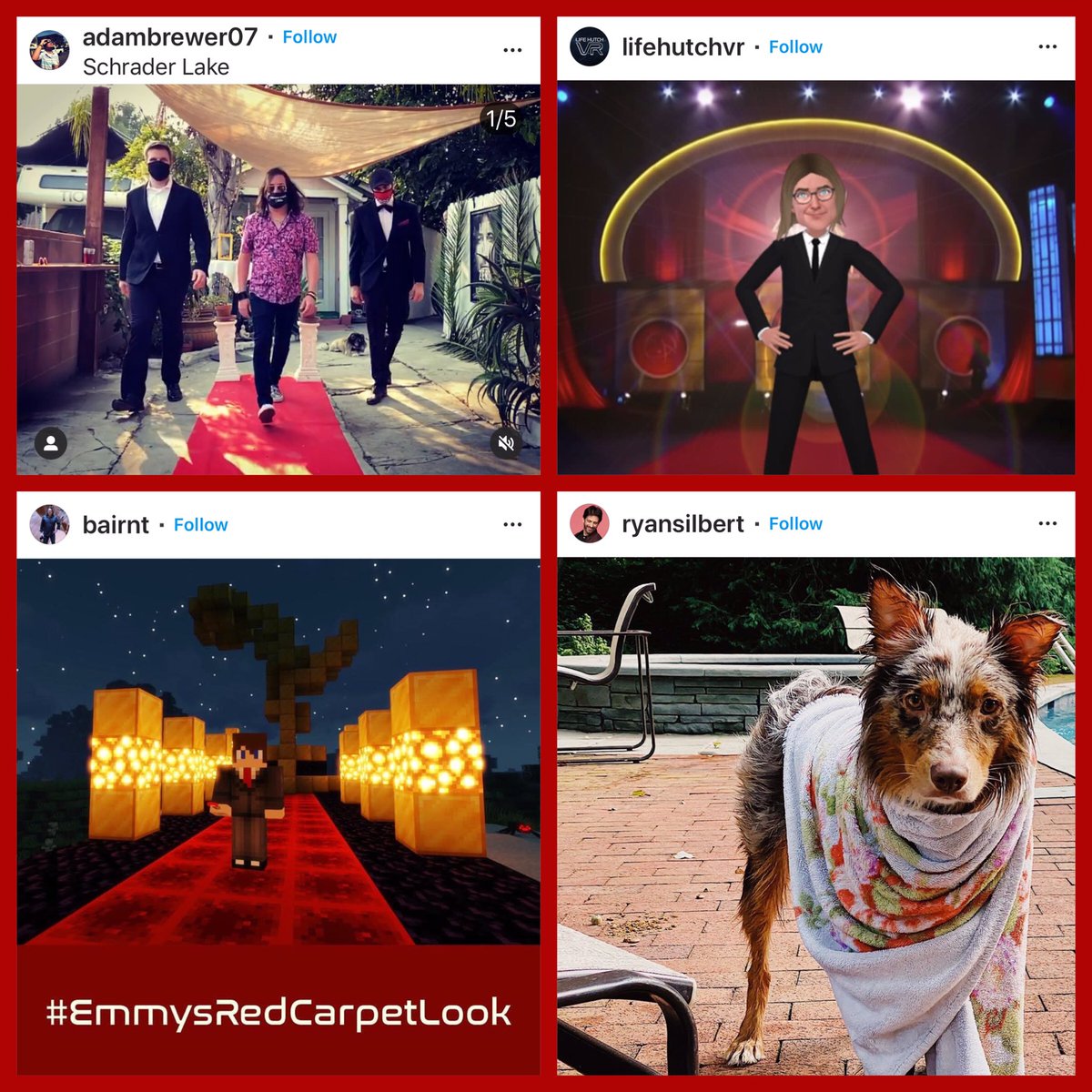 Television Academy members were asked to tweet their Emmys red carpet look at home on social media with the #EmmysRedCarpetLook hashtag. By the morning following the show, there were 34 tags on Instagram, with people posting their makeshift red carpets at home, viewing by the pool, a dog, and 3D avatars on digital red carpets.