In the Dear Evan Hansen musical at the Ahmanson Theatre, the Internet and social media take center stage – literally, like a main character. Abstract projections of emails, websites, and social media from the characters' laptops and phone screens are projected onto a collage of screens and stage walls the entire show.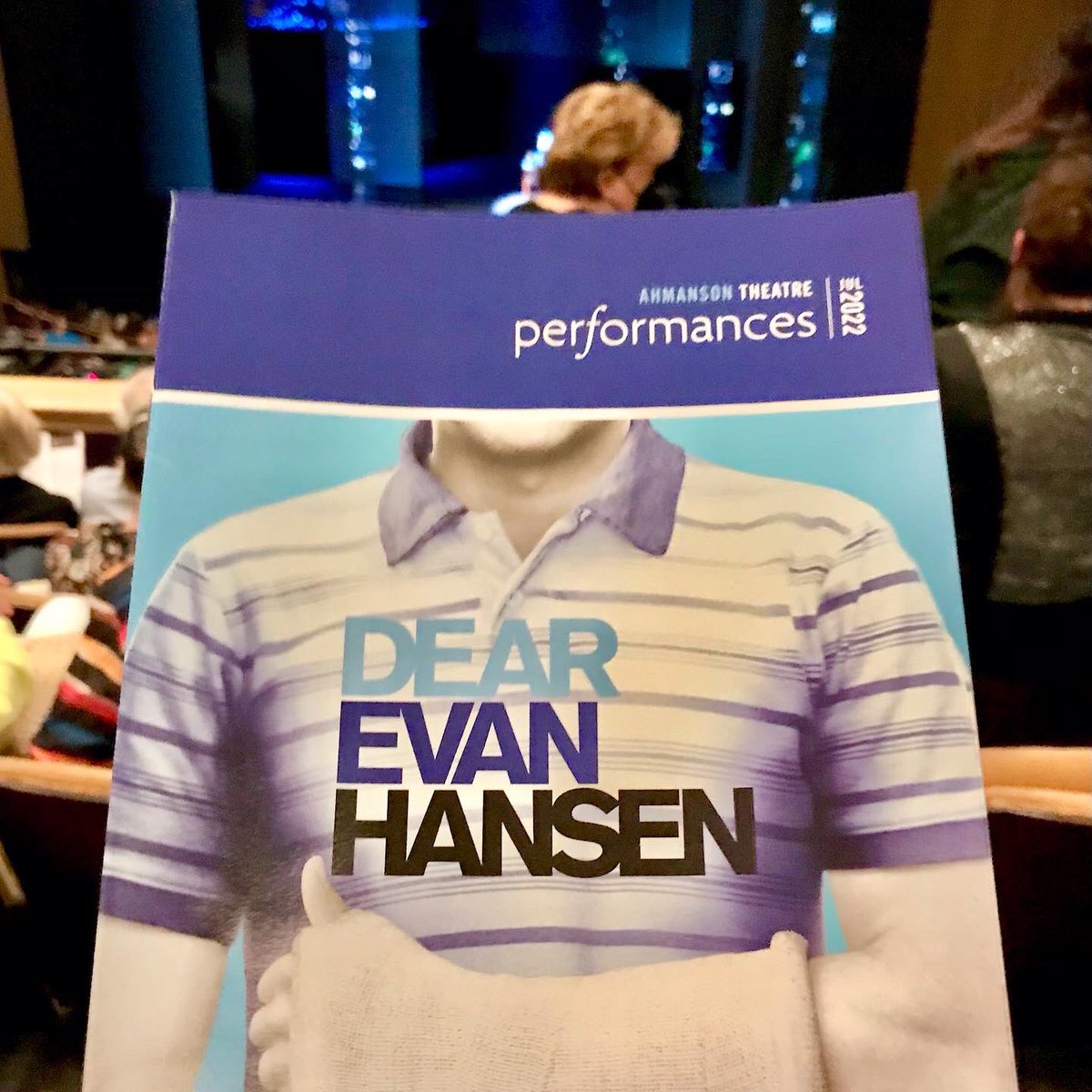 As the characters are reading emails, video calling, or live streaming, the screens and social media are always on in the background, a reflection and commentary on the role of the Internet in our daily lives. Always on, somewhat distracting in the background.
Unlike most plays and musicals which demonize Internet technology, Evan Hansen presents it somewhat neutrally to favorably. It is a tool that can be used for good or bad intentions. It can help expose truths, and reveal deceptions. It can help build confidence. It can also be used to Kickstart $40,000 to raise money for a good cause.
The characters use email, tweet, post and livestream usually using programs and apps that are not-branded on the projection screens. Verbally, Facebook and Kickstarter are mentioned, and 'tweet' is used implying Twitter.
The show's use of digital technology and high school cast make it instantly relatable to younger audiences, and draw them into the musical.
When Dear Evan Hansen debuted in LA about five years ago, it set a record for $2M in ticket sales in its first week, with a continued stellar run. LA's social media savvy residents can definitely relate to these "social media in daily life" themes of the show.
REVIEW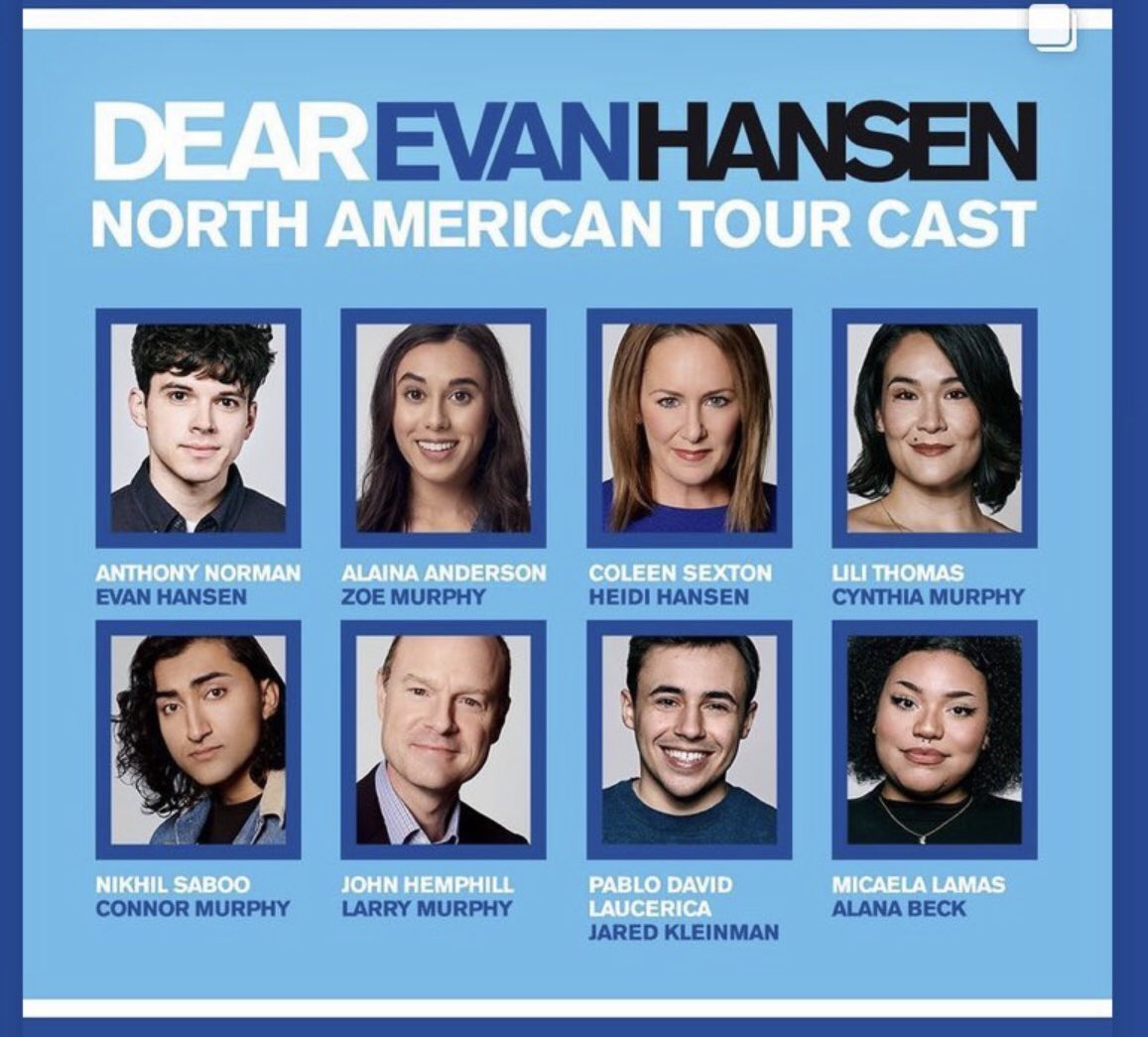 The cast acting and singing is excellent. Lead Anthony Norman plays Evan Hansen as socially-awkward lovable and sympathetic enough to counterbalance his lying actions. Alaina Anderson plays Zoe, who traverses from angry teen to warm-hearted romantic. Evan's Mom played by Coleen Sexton brings a struggling working class Mom relatability. The rest of the cast rounds out the show.
The songs are catchy: Waving Through a Window is a favorite upbeat song to help kick things off in the first act. You Will Be Found is a heartwarming ending song that gives hope to people struggling from grief, depression, or loneliness.
The musical adds two songs that aren't in the movie, including one much-needed song in which Evan's scorned friends and Mom yell right back at him. The cast does an excellent job performing the songs. Norman hits most of the high falsetto notes in several of his songs.
The cast is also refreshingly diverse: Zoe Murphy's family is of mixed / Desi decent.
And as mentioned, the set is simple but effective: a few props like tables and beds, with a collage of projection screens in the background. You'll find yourself reading the social media comments and posts to see what people are saying online, much like you would in real life. It's very Meta (pun intended, since Facebook is mentioned).
The touring cast is much paired down compared to the NYC Broadway production, which has an Ensemble of high school kids and multiple Evans. And the orchestra of 7-8 performers, perched on a second floor on stage the entire show, still delivers a moving musical performance.
PLOT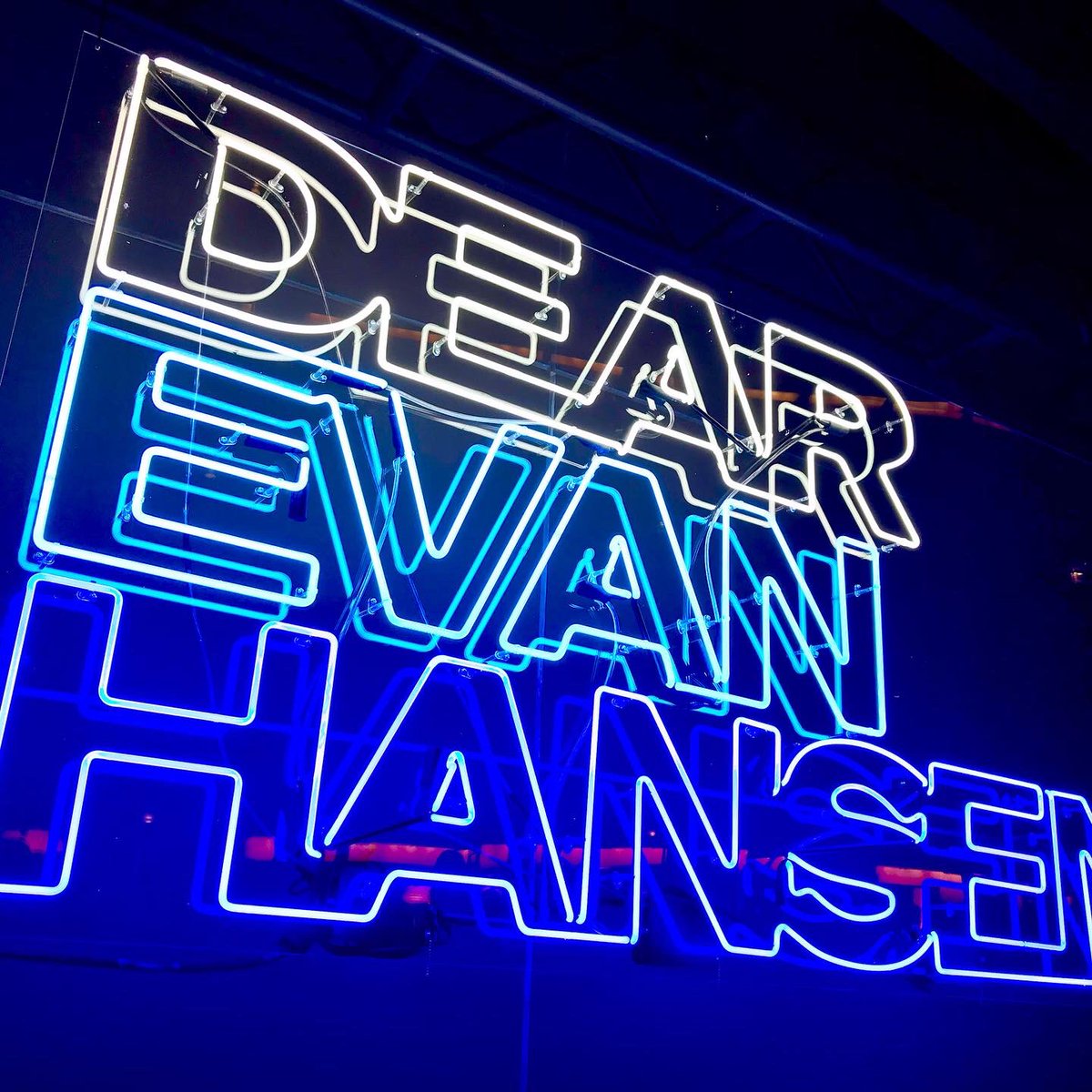 If you've never seen or heard about the Dear Evan Hansen musical or movie, brace yourself for the plot before you go. The show stars Evan, a poor anti-social high school kid with a single mom and few friends at school. When the school bully Connor commits suicide, a misunderstanding leads Evan to lie that they were best friends. This snowball-triggers an avalanche of lies: Evan first ingratiates himself into the bully's rich family, then makes moves on the dead bully's sister, and then with help of complicit friends enjoying the 'Remember Connor' popularity ride, uses online and social media to start a Kickstarter to raise money to build a commemorative orchard.
Unlike Aladdin, also the story of a poor kid (street rat) who uses deception (Genie-powered Prince Ali) to get the girl, and get ahead (marry into the Sultan's castle), Evan is just not a likable or loyal guy. He lashes out and backstabs his only supporters – his friends – and Mom. It can be difficult to watch a show where the main character is not very sympathetic, and continually says the wrong things, without much comeuppance, regret or repercussions.
And while suicide is not your typical happy musical subject, the show has been praised for bringing dialogue about suicide, student mental health, and coping with loneliness into mainstream discussions.
Dear Evan Hansen runs 6/29-7/31 at the Ahmanson Theatre in DTLA.