Fusion LA demo day featured 9 startups that pitched October 23 in Santa Monica.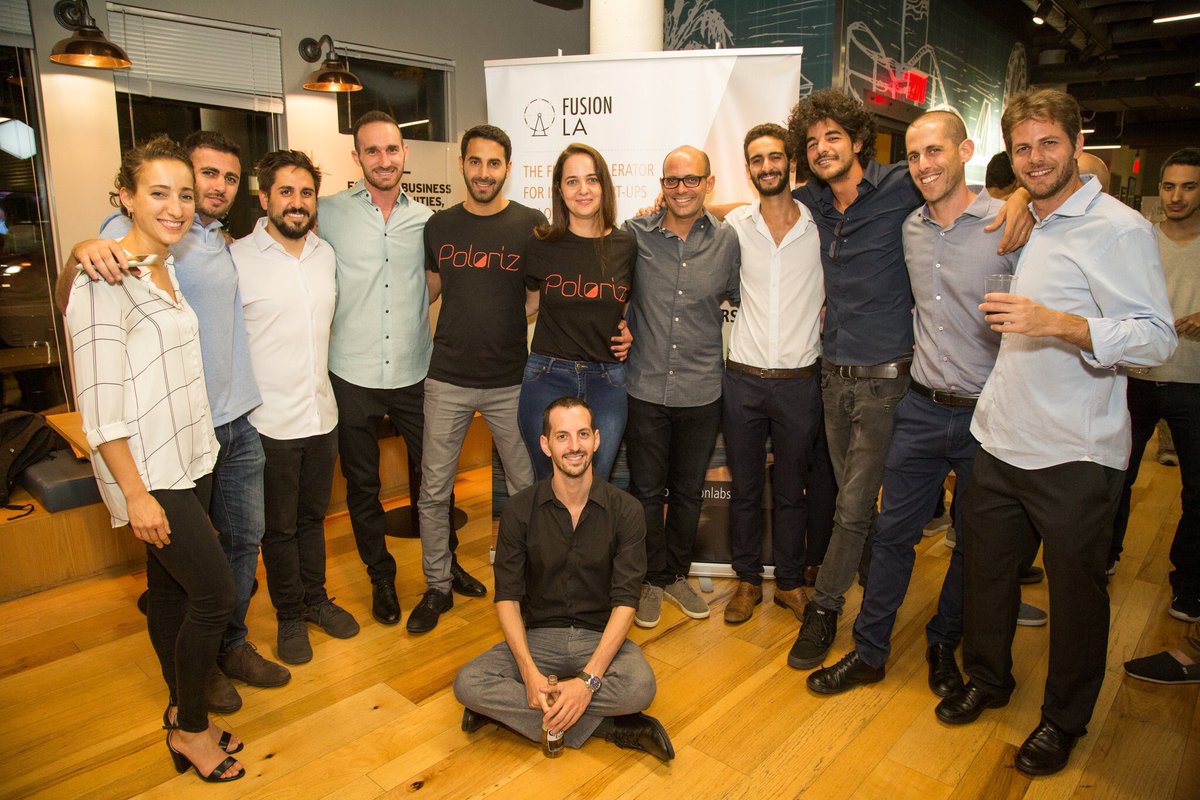 Fusion LA is the first accelerator for Israeli start-ups in Los Angeles. Fusion LA selectively accepts 6-9 teams every 6 months to go through its intensive mentorship-driven program. Fusion focuses on helping portfolio companies commercialize their products, "Americanize" their value propositions and adapt their go-to-market strategies to the US market.
Fusion LA team facilitates meetings between its Israeli founders and Venture Capitalists, tech executives & like-minded entrepreneurs in LA and Silicon Valley. The program participants – Israeli founders of early-stage start-ups – have been selected from hundreds of applicants in Israel. These founders are actively looking to work with US clients and partners.
Fusion LA has invested in 36 Israeli-led start-ups in the past 2 years: Fusion alumni have raised +$50M combined, while 25% of them already relocated to the US & 80% have raised additional capital after the program. 25% of our startups are women-led.
Meet the 9 startups that pitched in Fusion LA's fifth class:
(1)
Agora – A designated investment management SaaS solution for real estate investment firms | Fintech, Proptech, Real Estate-tech | Raised: 400K | CEO: Bar Mor
Agora Real Estate a modern, easy to use platform built specifically for real estate investment firms and funds, which allows GPs to automate back office operations, instantly communicate and securely share information with clients in an easy to use manner, while allowing LPs to discover new offerings and effectively track and monitor their investment with an advanced, comfortable user interface.
(2)
Class.Me – A mobile educational communication platform that provides a learning center and virtual classroom for schools | Education | Raised: $2.1M | CEO: Nir Zioni
Class.Me provides a chat-based online learning center for schools which enables effective social learning with classmates and teachers, when you need them the most: homework after school or before an exam. Class.Me provides a Market Network of virtual tutors to assist students achievements and contributes to the teacher's success and effectiveness, by leveraging significant insights on their class, based on in-depth analytics platform and future AI capabilities.
(3)
fitto – The first intelligent bottle for powder-form supplements connecting brands and consumers | Wellness, IoT | Raised: $1.3M | CEO: Yaniv Lavi
fitto is an IoT and SaaS analytics solution for the supplements and healthcare industry. fitto provides supplements brands first-of-its-kind data-driven sales growth, market visibility, and user engagement tools. We do so by reinventing the experience of taking supplements with a patented monitoring drinking kit of scoop size pods and an app-connected bottle.
(4)
InnPlay Labs – A casual & hyper casual mobile gaming studio | Mobile Games | Raised: 350K | CEO: Ore Gilron
Innplay Labs is an online games studio with a specific focus on hyper-casual and casual type games.
The Innplay Labs founding team is composed of product experts, with unique knowledge in monetization, gaming, and data-oriented background. Established in 2019 with offices in Los Angeles & Tel Aviv, the team have developed 12 games. The goal is to publish 30 new games by the end of the 2020. The company signed publishing agreements with the leading publishers in the industry, to maximize distribution.
(5)
Peck – ERP & CRM Software design central platform for enterprise companies | AI, Enterprise, ERP/CRM | Pre-Seed | CEO: Gilad Wilk
Peck's SaaS platform helps companies build ERP & CRM systems, tremendously cutting the project cost & time. By focusing on the design phase, the platform helps solution implementers collaborate with the customers and present system designs in the form of complex diagrams and detailed documents, guided by a smart AI agent that points out potential problems. The product provides a complete and correct design document, eliminating countless development iterations, thus saving ~30% in project cost and time.
(6)
Poloriz – A new and better way to consume content and shop on mobile | eCommerce, Media, Big Data | Pre-Seed | CEO: Amir Barhak
Poloriz helps brands and publishers improve their customers' experience and engagement via personalized stories. Poloriz solution automatically transforms content into a modern, innovative, and desirable display that keeps users more engaged and active. Currently serving over 20 clients & 85M+ monthly page-views in the US and Israel.
(7)
Spetz – Candidate management tool for HR powered by a personalized direct-message communication platform | HR tech, Recruitment, SaaS | Pre-Seed | CEO: Yam Dvir
Spetz is an HRtech venture in the world of recruiting communication and candidate experience, which provides smart, data-oriented communication solutions through a direct-message-based candidate management tool. The platform allows companies to screen, engage and make more educated decisions regarding their recruitment funnel.
(8)
Supertools – "Chief of Time" – Productivity assistant for enterprises to boost employee's performances and wellness | Software Productivity Tools | Pre-Seed | CEO: Tommy Barav
Humans are tool users by nature, but most of us don't have the skills to use the tools around us like pros. In an age of ever-increasing demand for our attention and time, we need to deal with constant interruption, too many apps, and pointless meetings. Supertools challenges this status quo by offering "Chief of Time" services, a holistic productivity assistant for enterprises to give individuals superhuman abilities to focus, manage their time, and optimize their body using the power of software. With 14,000+ "prosumers" (only in Israel), the Supertools Community is expanding to the US.
(9)
Whizzco – The first AI yield management tool for content recommendation | Adtech, SaaS, AI | Raised: $1.5M | CEO: Alon Rozi Rosenthal
Whizzco is the first AI yield management tool for content recommendation. Whizzco provides a unique
ecosystem for serving multiple content recommendation vendors at the same time, analyzing and optimizing performance, through a unified & intuitive dashboard. By opening the content recommendation market for competition and providing full transparency, the platform maximizes publishers' revenues and bottom line – Changing the rules of the game. The founding team has over a decade of ad tech experience serving publishers' interests.