Guillermo del Toro's Pinocchio starts with familiar characters Pinocchio and Gepetto, and takes you on a beautiful journey going beyond the story you know to explore, with beautiful stop-motion animation, gorgeous visuals and a triumphant score.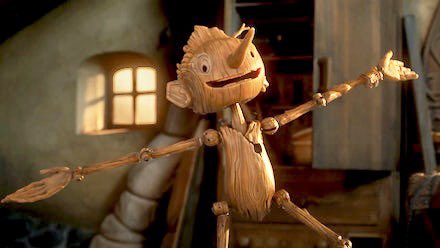 The film premiered at AFI Fest – Saturday night, followed by a Q&A with Guillermo del Toro, the cast, filmmakers, and composer Alexandre Despot.
In this film, Pinocchio doesn't want to be a real boy; he wants to be a real son to his father Gepetto. Unlike most transformation fairy tales, he doesn't wish upon a star to change his form to be more human. He's quite happy as a wooden boy. Pinocchio's childlike innocence and energy usually end up inspiring the other characters in the film to change for the better.
"Basically we turned the whole story upside down. Instead of everybody changing Pinocchio, he changes everybody,' Del Toro said. "It was not about obedience being a virtue, but disobedience."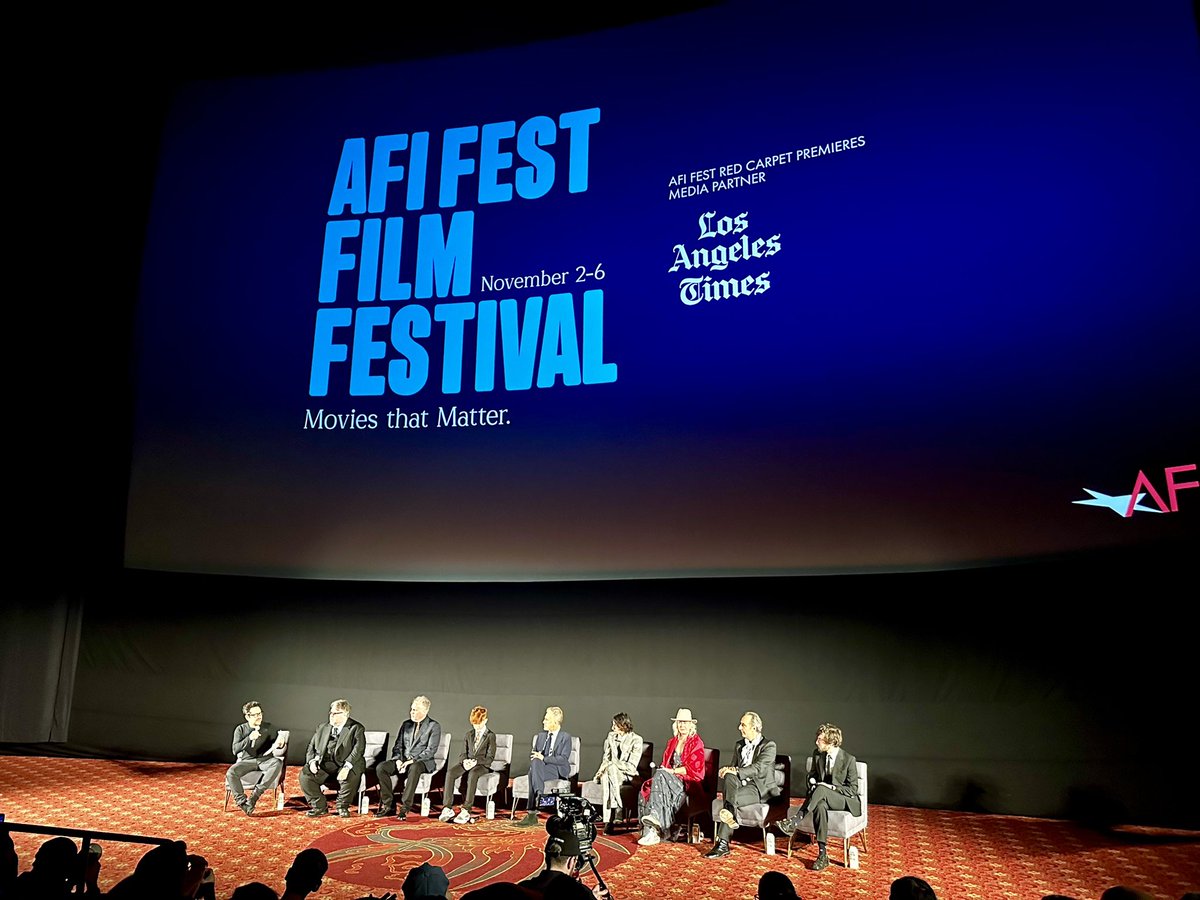 In the film, after Gepetto loses his actual son, in a depressed drunken rage, he carves a wooden Pinocchio. Overnight, a cricket and blue fairy magically bring the animated puppet to life. Gepetto is overjoyed to have a son again, but the townspeople are not. Rejected, Pinocchio eventually sets out on his own, and meets a circus master who recruits him for shows.
Along the way, Pinocchio discovers that when he lies, his nose grows. He also discover he has another power: immortality. This eventually gets him recruited by Mussolini's fascist army as a potential unstoppable super soldier. And yes, there's a whale like creature that swallows him and Gepetto.
The stop-motion animation using actual puppets is gorgeous, and energetic. The animation was done mostly by studios in Portland, Oregon. The puppets themselves have tremendous character and heart.
"It took about 16 years to make the movie," said del Toro, due to story development, finding a studio Netflix, long stop-motion animation time, and pandemic delays. "We shot for 1000 days,"he added.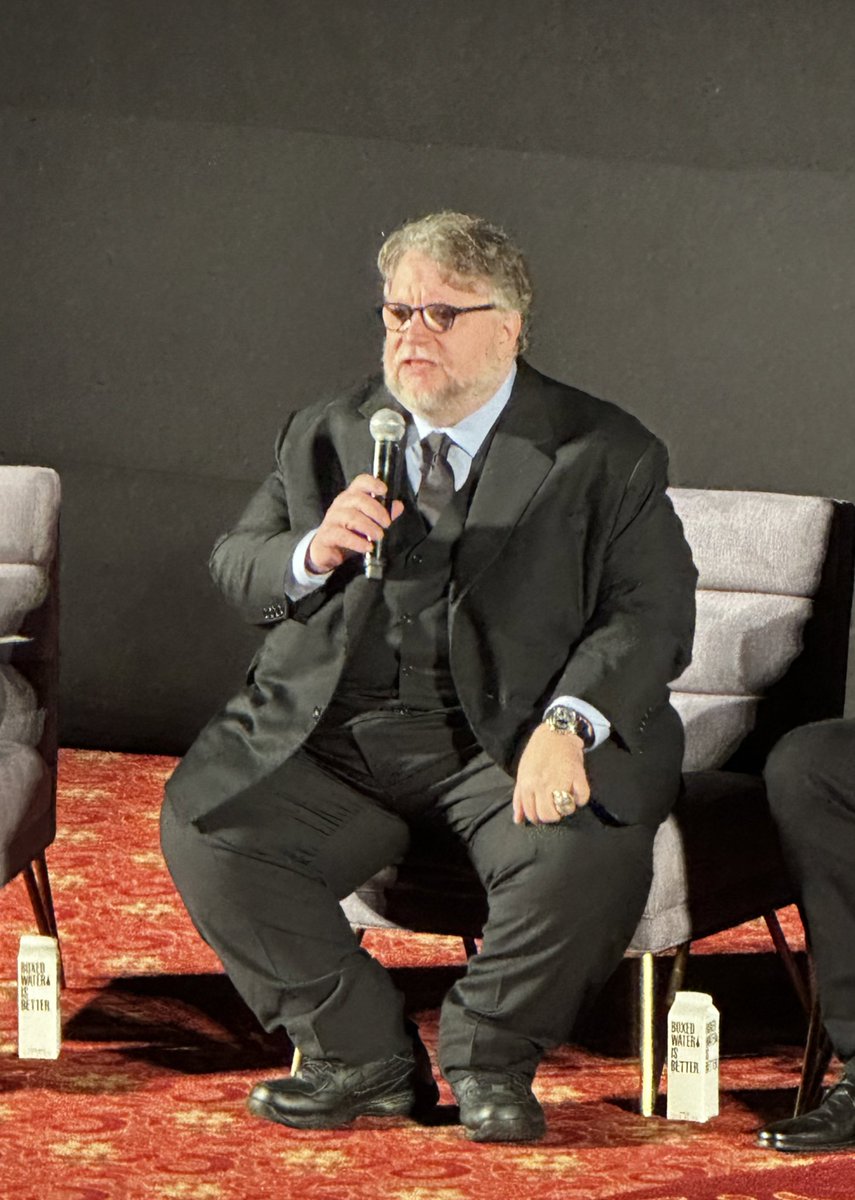 "It was very clear to be from the beginning, that it was going to be about losing a child, and gaining another…and doing it in time of war." Pinocchio eventually meets Mussolini.
Other themes in the film are father-son relationships, the dark shadow of war, and Catholicism. During one scene in a church when Pinocchio is looking at a carving of Jesus on the cross center in the church, Pinocchio wonders why that wooden figure gets so much praise and attention, whereas the townspeople are afraid of him.
The visuals are enhanced by the loving score, composed by musical genius Alexandre Desplat. In the Q&A, Desplat said that since Pinocchio is made of wood, the orchestra contains only instruments made of wood: Violins and strings, woodwinds, piano and harp. No brass. This all-wood, no-brass orchestra creates a very airy, spritely sound to match Pinocchio himself.
The Ciao Papa song starts off fun and sprightly, as Pinocchio enthusiastically sets off to explore the world. But also has ominous tones foreshadowing dark times ahead in his journey.
Pinocchio debuts on Netflix on December 9.
Rating: 8 / 10.
The premiere featured actual puppet stars used in the film, including Pinocchio, Gepetto, Cricket and more in the lobby of the Chinese Theatres.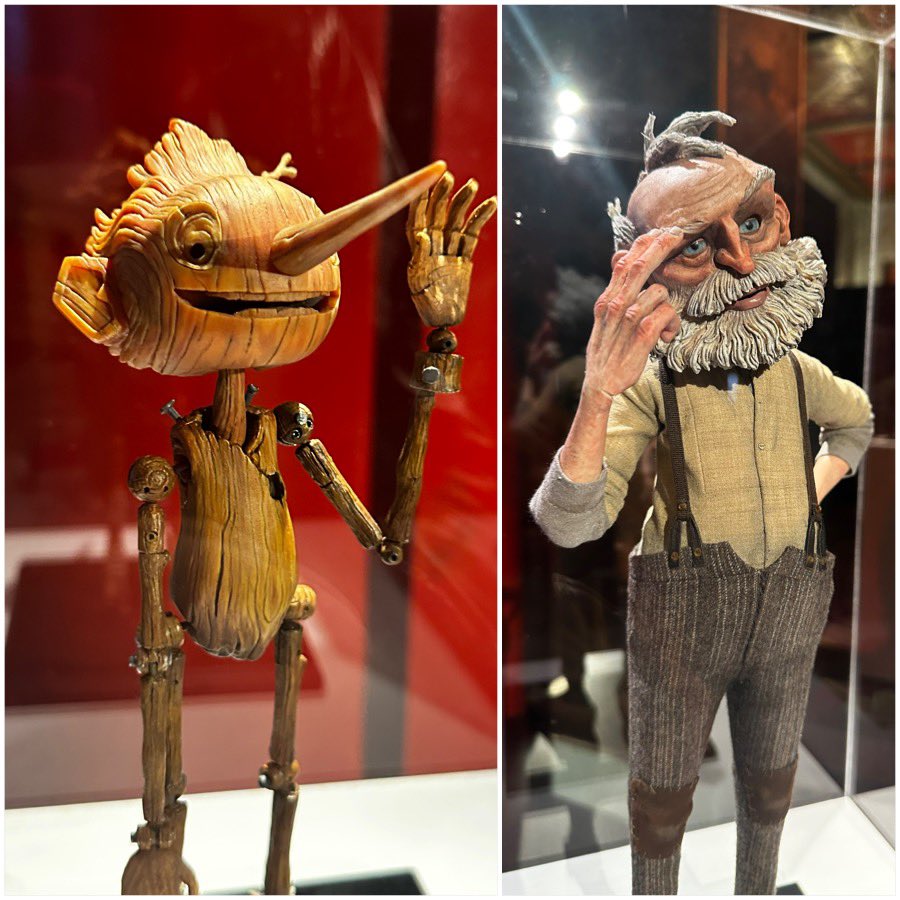 The Pinocchio premiere after-party was perfectly themed with Italian pasta and pizza, band, and signage engraved on wooden plaques.