On Giving Tuesday, inspirational digital founders shared how their organizations give back via content, commerce, art, and coding classes at our annual Digital LA #GivingTuesday panel via Zoom on Tuesday Dec 1.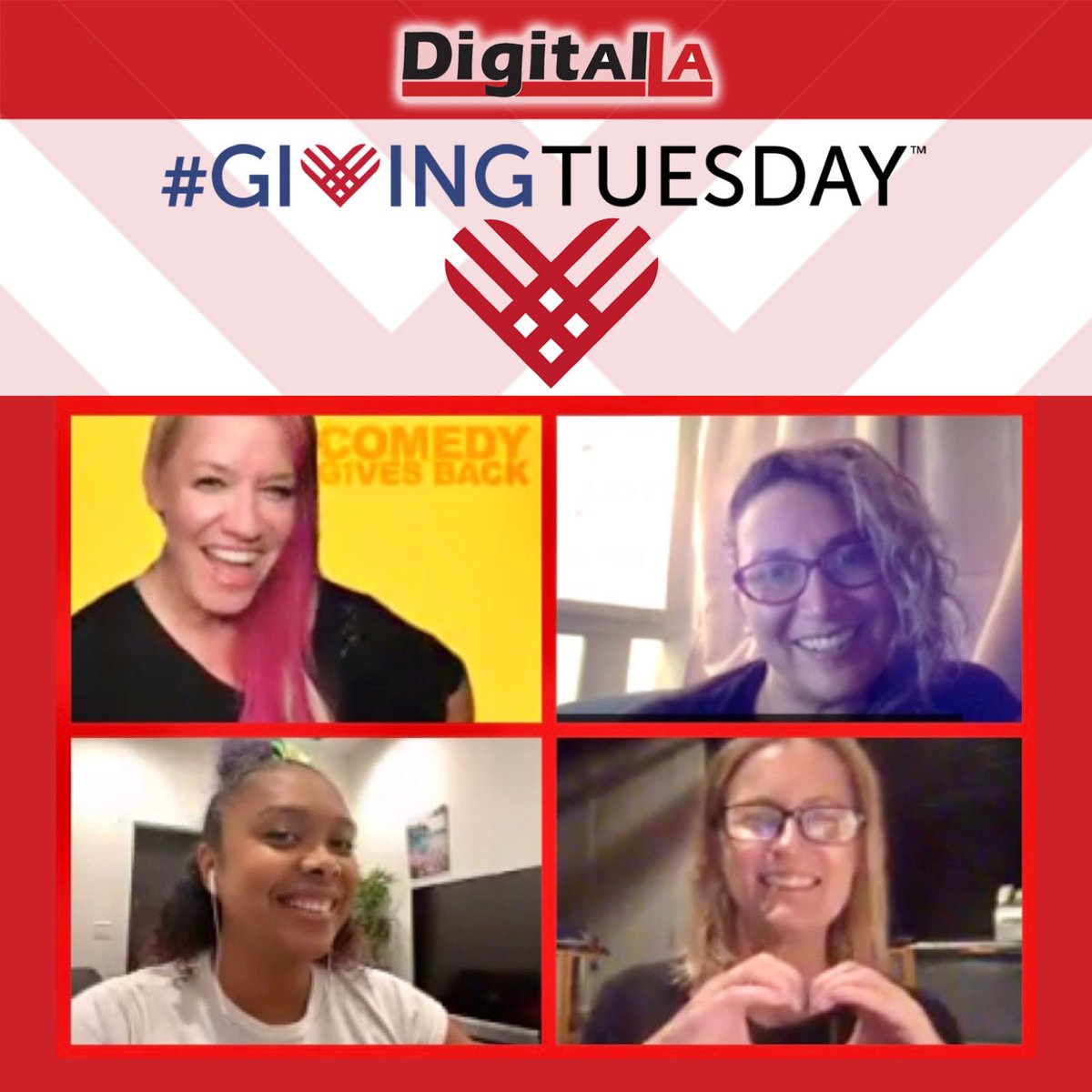 Speakers describe how they've adapted to pandemic, including how to create engaging online events via Zoom and other platforms that also encourage people to give donations via tools including text-to-vote, donating by listening to a song to donate, Zoom events with frequent calls to donate on-screen and links in the chat, and more.
Speakers included LA based founders: Amber J Lawson of Comedy Gives Back, Cassie Betts of Made in South LA and MARTY; Justine Lassoff of Novica, LOVE GOODLY and TuesdayNights, and Tatiana EL-Khouri of Road to Artdom.
Three of the four speakers had participated in our Giving Tuesday panel in 2015, making this panel a 5-year reunion.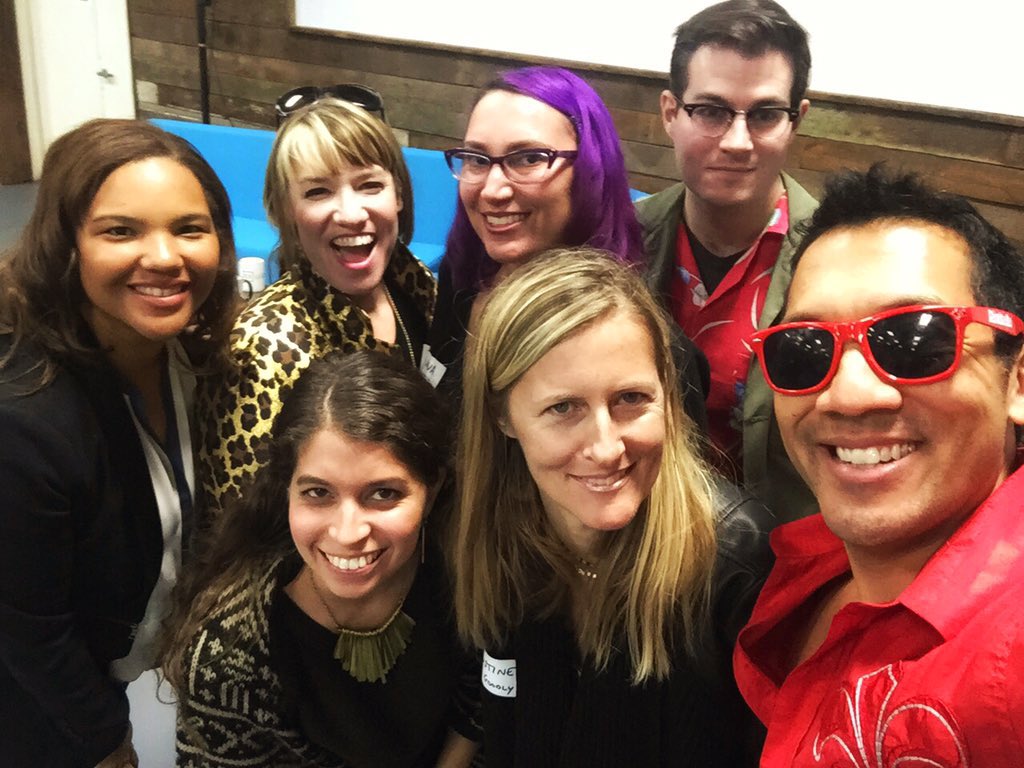 It was amazing to see how the speaker's organization have grown, expanded, are been acquired over the past 5 years, and adapted to pandemic, a testament to the founders' passion, leadership, and dedication to serving their communities.
Giving Tuesday, held the Tuesday after Thanksgiving, encourages people, companies, and organizations nationwide to donate to social good, charities, and non-profit organizations, after the consumer buy-buy-buy fest of Black Friday and CyberMonday. Find out more at GivingTuesday.org
The panel was live streamed to the Digital LA – Facebook page. Watch the panel! Very inspirational!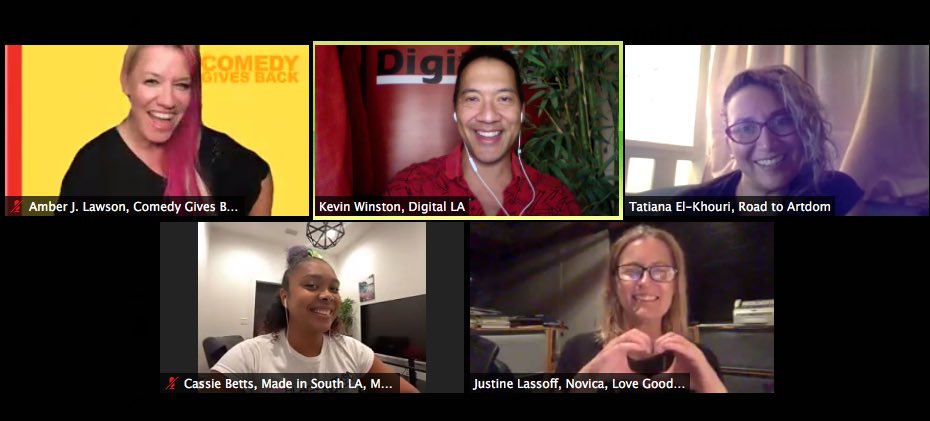 Amber J Lawson co-founded Comedy Gives Back, a nonprofit to help provide a safety net to comedians in need. Comedy Gives Back typically organizes in-person fundraisers with top comedians like. In pandemic, it moved fundraisers online with virtual comedy shows with top comedians.
Since many comedians are still unable to perform live comedy club gigs, Comedy Gives Back created a COVID-19 General Emergency Relief Fund which comedians who've lost gigs can apply to. After the BLM events of June 2020, With funding from Netflix, Comedy Gives Back also launched a COVID-19 BIPOC StandUp Comedian Fund specifically for comedians of color.
Amber J also said that in pandemic, people have time are hungry for more comedy content. So Comedy Gives Back is licensing and repackaging its past comedy shows videos as more content. It's a good lesson for other content creators: repackage past shows where people could do standup/ act together, and release now when people have time and are craving digital content.
Comedy Gives Back upcoming events include: Christmas Magic holiday video with more than 60 performers singing holiday songs. Performers include Louie Anderson, Adam Devine, Jim Jefferies, Anjelah Johnson
Howie Mandel, Sherri Sheppard and 60 More. Every view raises money for comedians in need.
Apply for grants, watch comedy shows, and find out about upcoming events at the Comedy Gives Back site https://www.comedygivesback.com
Amber J Lawson also participated in our Digital LA – Comedy in Corona panel where comedians described how they've adapted to pandemic with Instagram Live, Zoom comedy shows, guest comedy at corporate Zooms, etc.
Cassie Betts described her work with Made in South LA, which helps create coding classes and conferences to teach skills and support underrepresented disadvantages black and other youth in South LA. She said that the BLM events of June have done much to increase awareness of tech equity and education for Black and Brown communities, as well as donations. She said that Best Buy has been a terrific corporate partner, by providing laptops and other tech support, and letting MISLA run the show.
In summer 2020, Cassie also helped launched MARTY, a social enterprise agency that trains BIPOC inner city entrepreneurs and small business owners with on-the-job training via Zoom. MARTY has partnered with award-winning Hawke Media, a Santa Monica based marketing consultancy, to work on projects and create campaigns.
Details at MARTY site.
Justine Lassoff co-founded Love Goodly with Katie Bogue Miller as a bimonthly subscription box for clean beauty. Earlier this year, it was acquired by Novica, an online marketplace for handmade crafts, clothing, jewelry, home decor and more, from artisans around the world.
International artisans revenue and livelihood depends a large part on tourist travel, festivals and fairs, and night markets, which are all reduced or shut down in the global pandemic. So they've appreciated and increased supplying their products to Novica to help bring their products online and exposure to a larger online audience, Lassoff said. International artisans share their personal stories via the Novica site and their social media to connect with shoppers, creating a personal connection that increases sales and repeat customers.
Shop Novica site.
Justine is also the co-founder of TuesdayNights, a women entrepreneurs networking group, with co-founder Melinda Moore. TuesdayNights typically has regular in-person networking events and successfully launched their firstIMPACT conference last year. In pandemic, Justine has moved its networking events to Zoom; some of them with sponsors like Deloitte and TriNet, as well as women winemakers including Kunin Wines and Nasty Women wine, which are shipped to attendees in advance. They are hosting their annual holiday party virtually that will include a fundraiser for frontline healthcare workers in NYC.
Tatiana El-Khouri conceptualized Road to Artdom as a traveling bus filled with art supplies that visits schools, and teaches pop up art classes. Tatiana realized that many public school's art programs were being scaled back or eliminated, so she wanted to ensure that school kids are exposed to art.
During pandemic, many schools are closed, or outside visits are not allowed. So Tatiana had to pivot. She brought her art classes online. Kids get sent art supplies in advance, and then can join the Zoom session to learn how to do art.
To fund the art supplies, she launched a series of corporate and private event art Zoom classes, to make a corporate event more fun with art.
For more info, visit https://roadtoartdom.org