At the GLAAD Awards, Eternals, Hacks, and other shows won awards, with winners and presenters giving impassioned calls for action, on April 2 at the Beverly Hilton in Beverly Hills.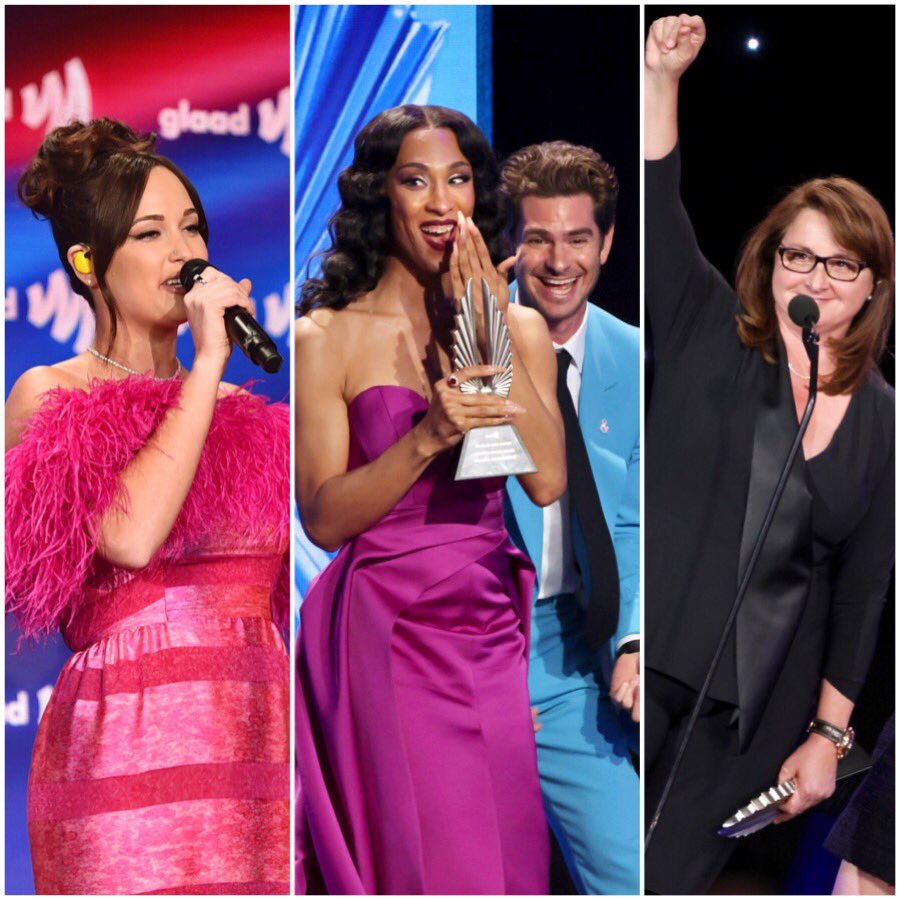 The 33rd Annual GLAAD Media Awards honor accurate, and inclusive representations of LGBTQ people and issues in movies, TV, music, games, comics, and other media.
Outstanding Film – Wide Release: Eternals won the top movie awards. In the film, actor Brian Tyree Henry plays Eternal Phastos, whose love for his husband and son reconnects him with humanity, said Director Chloe Zhao in her acceptance speech. Eternals also shows the first on-screen gay kiss in a Marvel Cinematic Universe film, with actor Brian Tyree Henry and his husband.
Marvel Studios' Victoria Alonso, Executive Producer of Eternals, and more than a dozen MCU movies and series, gave an impassioned acceptance speech calling for action.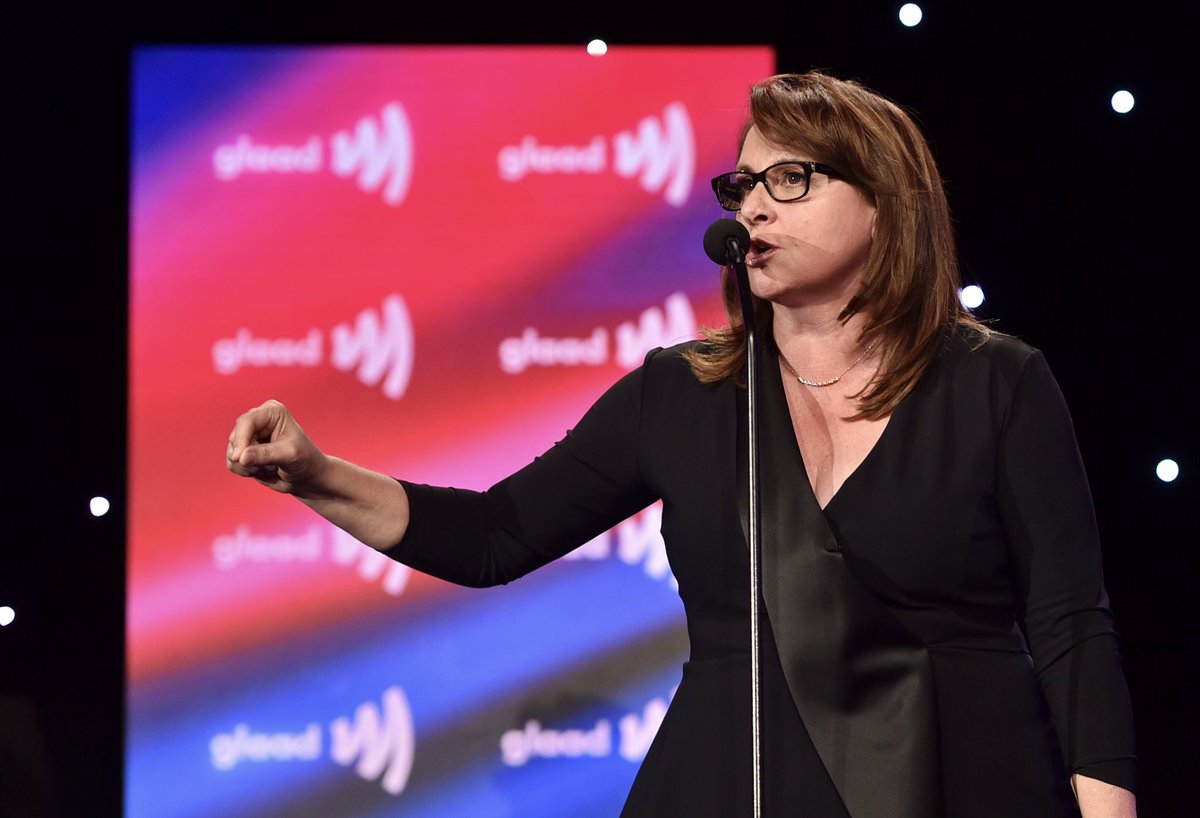 Acknowledging its been a tough time for LGBTQ employees at the Disney company, she said "it's time to "take a stand against all these crazy outdated laws." She added: "Stop saying you 'tolerate' us. No one 'tolerates' me, I'll tell you that!…You don't tolerate us. We deserve the right to live, to love."
'Stop being silent. Silence is death.' she said, urging Hollywood filmmakers, writers, attendees and everyone to action. 'Fight, fight, fight. As long as I am at Marvel Studios, I will fight for representation," she concluded. The audience cheered and gave her a standing ovation. Watch her
YouTube speech.
Alonso, Zhao and Marvel Studios executive producer Nate Moore accepted the award.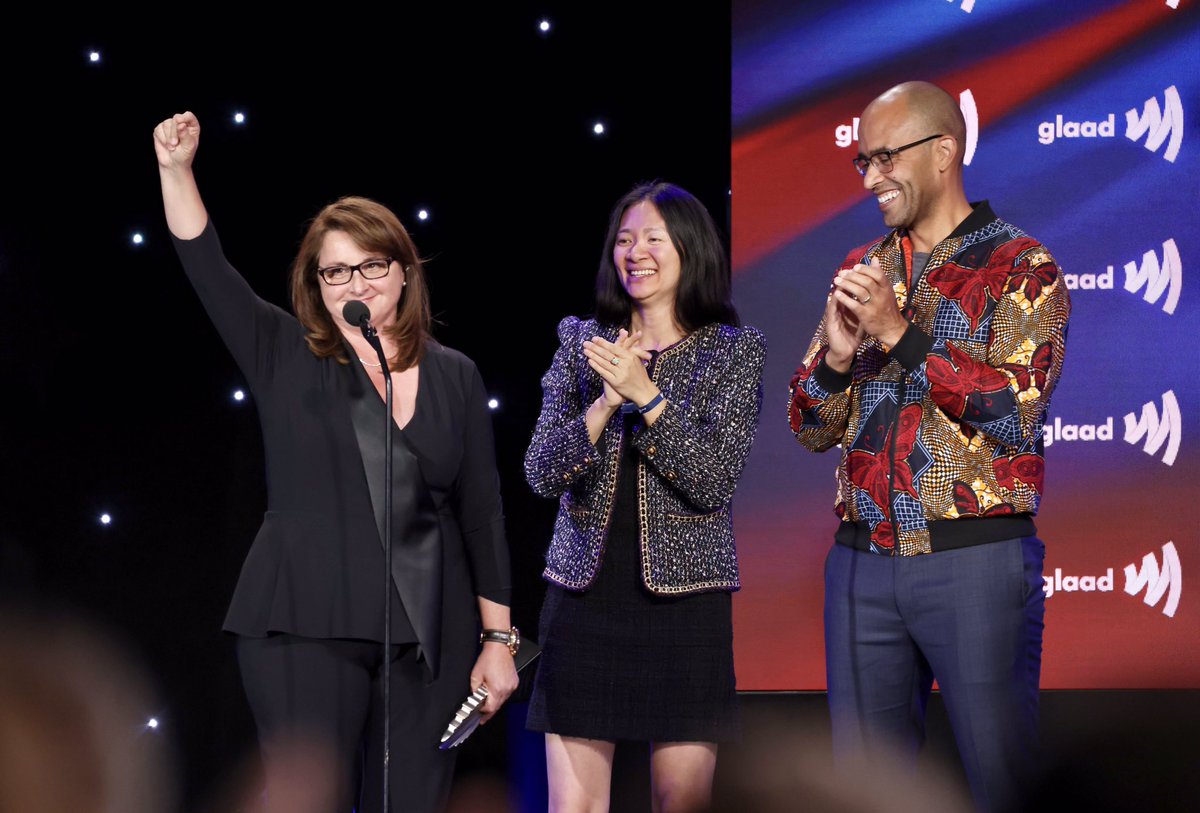 Other On-stage announced winners included:
Hacks received the award for Outstanding New TV Series [presented by Ronen Rubinstein & Rafael L. Silva]
Saved by the Bell received the award for Outstanding Comedy Series [presented by Harvey Guillén and Leo Sheng]
RuPaul's Drag Race and We're Here tied for Outstanding Reality Program [presented by Jasmin Savoy Brown and Liv Hewson]
Presenters included: Andrew Garfield, Troye Sivan, JoJo Siwa, Jeopardy! Champion Amy Schneider, Ben Platt, Cynthia Erivo, Liv Hewson and Jasmin Savoy-Brown, Zeke Smith and Nico Santos, Peppermint, Meredith Marks, Harvey Guillén, John Cameron Mitchell, Jonathan Benett, Nicky Champa and Pierre Boo, Leo Sheng, Nicole Maines, Jazz Jennings, August Getty, Nats Getty, Gigi Gorgeous Getty, Mira Sorvino, Ronan Rubinstein, Rafael Silva, and GLAAD President and CEO Sarah Kate Ellis.
The GLAAD Media Awards will premiere on Hulu on Saturday, April 16, 2022, the second year Hulu will stream the awards.
GLAAD President and CEO Sarah Kate Ellis was introduced by JoJo Siwa. Ellis called for action from Hollywood: "In this moment of crisis, what's different is our community is holding companies accountable," she said. "So I have a message for the industry: Don't wait until you're in the hot seat. There's no more time to sit on the sidelines. We need Hollywood on the front lines, fighting for our rights and telling our stories."
Ellis continued: "GLAAD is calling on Hollywood to take meaningful action and will soon convene the biggest brands, agencies, studios, and streamers together with two goals: 1, to commit to improving the quantity, quality, and diversity of LGBTQ images – especially in kids and family programming; and 2, to speak out against anti-LGBTQ legislation in favor of rights like the Equality Act. I expect every industry executive in this room to join us. GLAAD will give you the playbook. But we won't give you a pass."
Stephen F. Kolzak Award: Michaela Jaé Rodriguez received the Stephen F. Kolzak Award, presented by Andrew Garfield.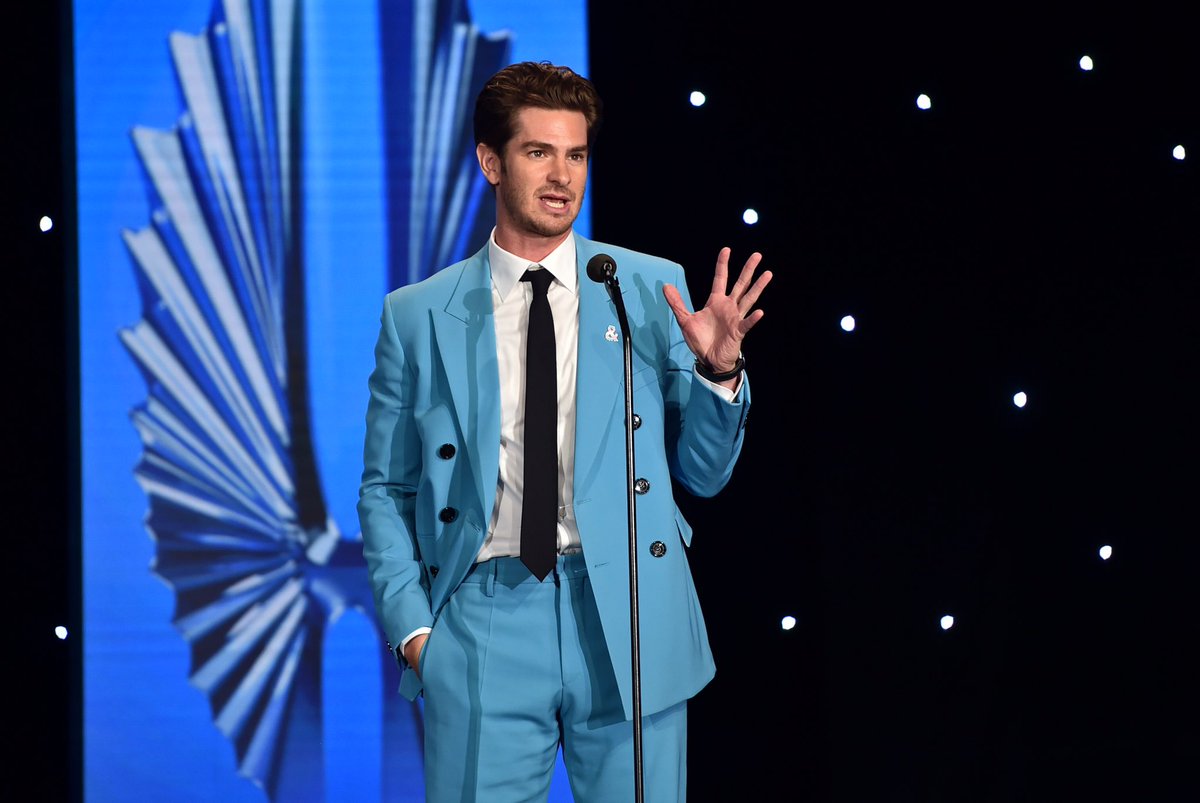 "Through her art and her energy, Michaela Jaé is making the world respect Black women, Latinas, and all women as we should," Garfield said. "In a moment of reckoning for our industry, she is leading the charge to create and produce stories centered on LGBTQ lives and experiences, particularly those of trans women of color. She reminds us that you can't just say you're an ally. Allyship means action. She inspires me to love others as boldly as I can."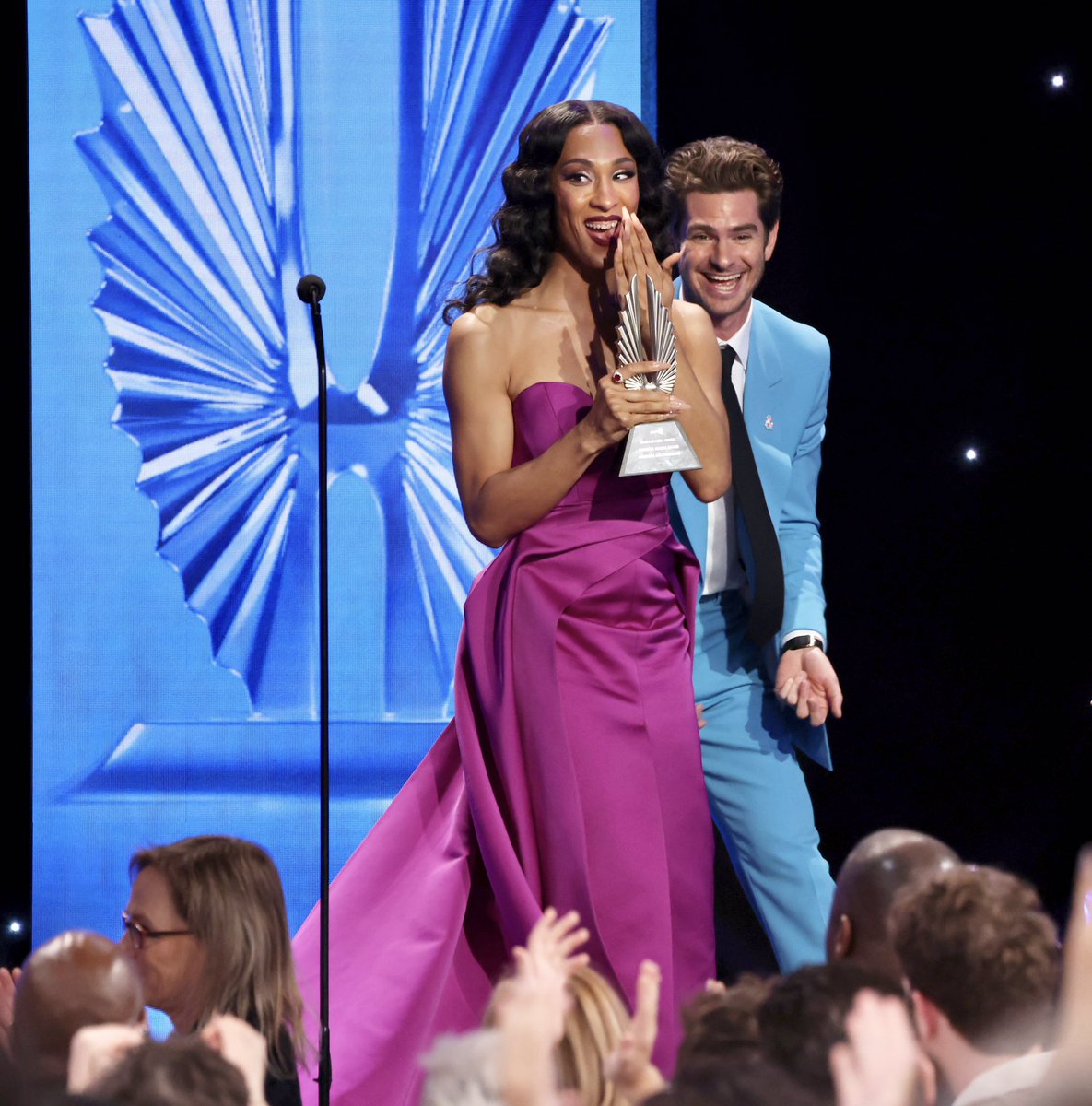 Accepting the award, Michaela Jaé Rodriguez stated: "I have to thank my mother and father for seeing me and loving me. When a child is loved, whether you are LGBTQIA or not, it makes all the difference. When you tell your queer child that you love them, they think, 'I love me too.' I thank all the parents in Texas, Florida, Idaho, Arizona, and around the world who are standing up to fear and ignorance, and grounding their LGBTQIA children in love and acceptance."
Vanguard Award: Country artist Kacey Musgraves received the Vanguard Award, presented by Ben Platt.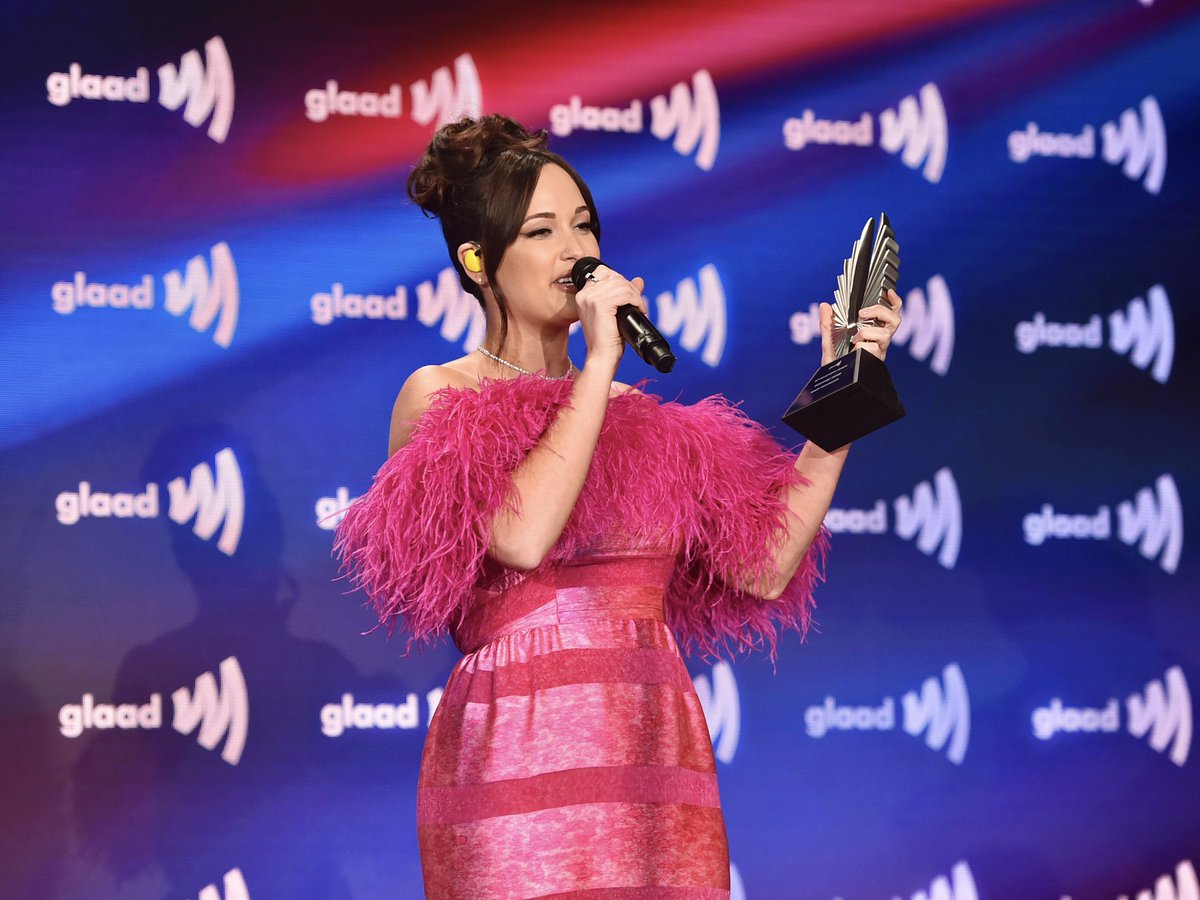 Accepting her awards, Kacey Musgraves stated: "One of the biggest compliments I've ever gotten in regards to my career is a gay country fan telling me they heard my music and finally felt invited to a party they'd never got invited to. I will continue to have your backs and I so dearly appreciate you having mine."
The only digital related category (excluding streaming) is the Video Game category, won by Life is Strange: True Colors (Deck Nine Games/Square Enix). In the Life is Strange game series, your character can engage in queer and straight relationships. In True Colors, the protagonist Alex Chen is a young Asian-American bisexual woman who the super power of psychic empathy. She can see colorful auras reflecting people's emotions, and control emotions. LGBTQ community praises the game for showing Alex Chen as a bisexual in the story, not player-sexual, just matching whatever preferences the player wants. The colors used in Alex Chen's promotional artwork match the colors of the bisexual flag.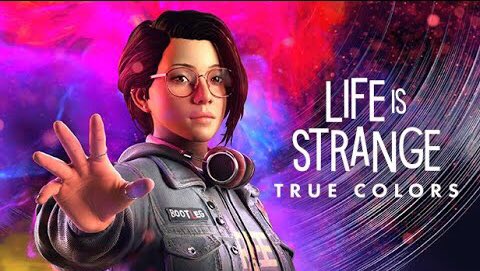 List of Winners
During the ceremony, GLAAD announced four awards on stage, and a dozen more via on-screen slideshow and social media. Remaining winners for select categories will be announced at GLAAD's New York Ceremony on Friday, May 6.
Outstanding New TV Series: Hacks (HBO Max)
Outstanding Comedy Series: Saved by the Bell (Peacock)
Outstanding Film – Wide Release: Eternals (Walt Disney Studios Motion Pictures)
Outstanding Reality Program: RuPaul's Drag Race (VH1) and We're Here (HBO) TIE
Outstanding Documentary: Changing the Game (Hulu)
Outstanding TV Movie: Single All The Way (Netflix)
Outstanding Film – Limited Release: Parallel Mothers (Sony Pictures Classics)
Outstanding Limited or Anthology Series: It's A Sin (HBO MAX)
Outstanding Video Game: Life is Strange: True Colors (Deck Nine Games/Square Enix)
Outstanding Comic Book: Crush & Lobo (DC Comics)
Outstanding Original Graphic Novel/Anthology: Cheer Up! Love and Pompoms (Oni Press)
Outstanding Magazine Overall Coverage: The Advocate
Outstanding Breakthrough Music Artist: Lily Rose, Stronger Than I Am (Big Loud Records/Back Blocks Music/Republic Records)
Outstanding Spanish-Language Scripted Television Series: Maricón Perdido (HBO Max)
Outstanding Spanish-Language TV Journalism: "Orgullo LGBTQ: 52 Años de Lucha y Evolución" (Telemundo 47)
Special Recognition: All Boys Aren't Blue by George M. Johnson [filmed reading + performance]
Special Recognition: "Alok Vaid-Menon" 4D with Demi Lovato (Cadence13/OBB Sound/SB Projects)
Special Recognition: CODED: The Hidden Love of J.C. Leyendecker (Paramount+)
Special Recognition: Jeopardy! Champion Amy Schneider
Special Recognition: The Laverne Cox Show (Shondaland Audio/iHeartMedia)
Special Recognition: Life Out Loud with LZ Granderson (ABC News)
Special Recognition: Outsports' Coverage of the Tokyo 2020 Olympics and Paralympics
Special Recognition (Spanish-Language): "Celebrando el Mes del Orgullo" (Telemundo)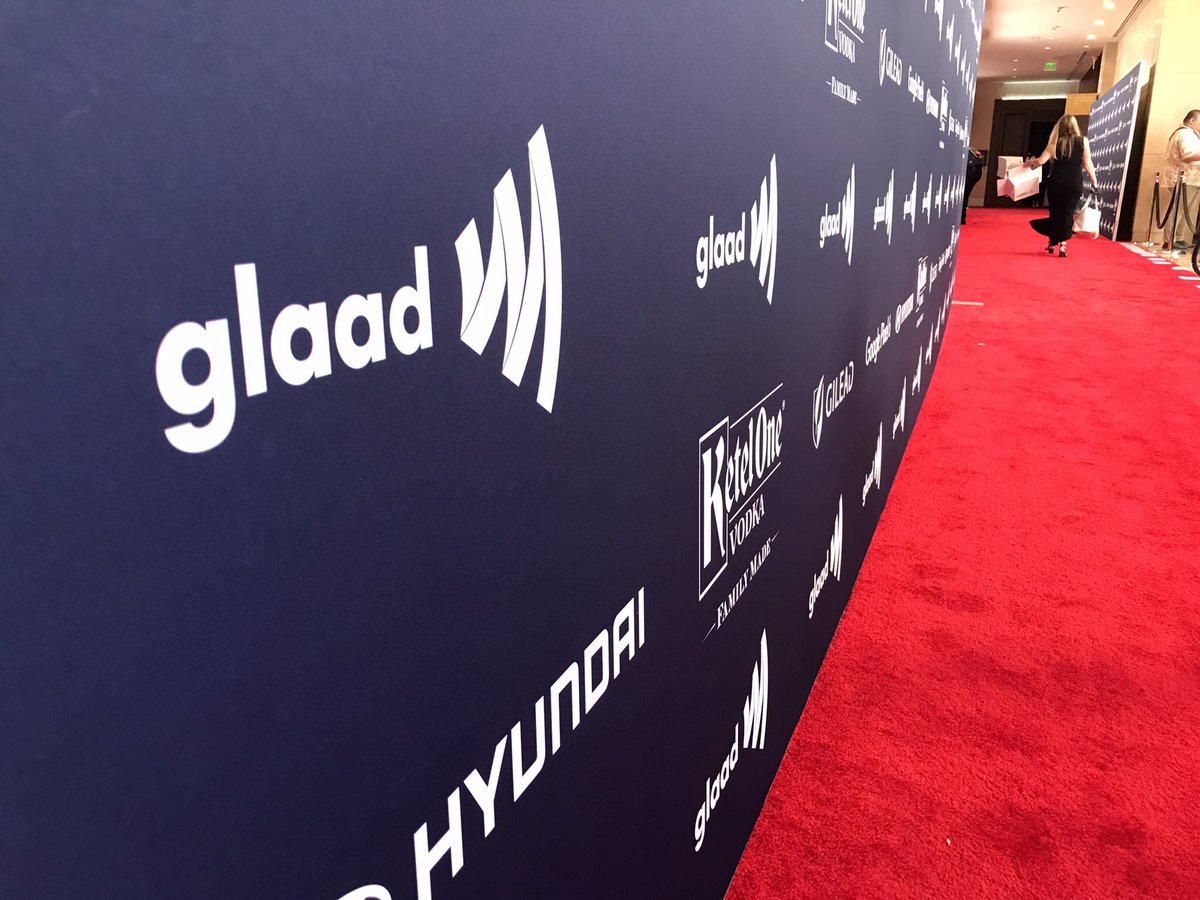 The 33rd Annual GLAAD Media Awards are presented by Gilead Sciences, Inc., Hyundai, and Ketel One Family Made Vodka. Delta Air Lines is a Major Sponsor of the events, Sony Music Group is an Official Sponsor, and Comcast NBCUniversal Telemundo is a Titanium Sponsor.
The nominees for the 33rd Annual GLAAD Media Awards were published, released, or broadcast between January 1, 2021 and December 31, 2021. For a full list of nominees, click here.
On socials, please follow @GLAAD and #glaadawards.
The GLAAD Media Awards ceremonies, which fund GLAAD's work to accelerate LGBTQ acceptance, are held in Los Angeles at the Beverly Hilton on Saturday, April 2, 2022 and in New York at the Hilton Midtown on Friday, May 6, 2022. GLAAD President and CEO Sarah Kate Ellis serves as Executive Producer of the GLAAD Media Awards, alongside GLAAD staff Rich Ferraro and Anthony Allen Ramos. Juana Guichardo and Jose Useche serve as Associate Producers and Wendy Shanker serves as Head Writer.
All Photos: Getty Images